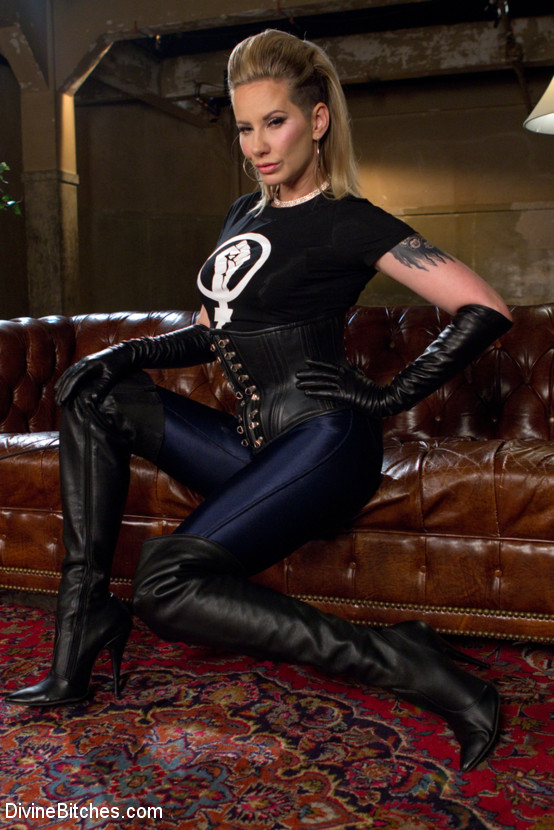 Matriesse Madeline at Kink.com's Divine Bitches
Name : Maitresse Madeline Marlowe
Alias : Alyssah Simone, Mistress Madeline
Date of Birth: July 31st 1977
Home Town : Michigan (US)
Measurements : 32B – 26 – 32
Bra/ Cup Size : 32B
Boobs :  Natural
Height : 5'8 (1.72m)
Weight : 123lbs (56kg)
Hair Colour : Blonde/ Red/ Brunette
Eye Colour : Green
Shoe Size : Women's 8.5 (US)
Piercings : Tongue and nipples
Tattoos : Fairy design on her lower back, black coffin with a red cross design in her right armpit and two crescent moon designs surrounding a face in her left armpit
Years Active : 2006 – present (as a performer) , 2014 – present (as a director)
Number of Scenes : 80+ (as performer) 10+ (as director)
Every performer, producer, director, distributor and production company operating within the femdom industry has either heard of, or collaborated with, Maitresse Madeline Marlowe!
Strikingly beautiful, incredibly confident and staggeringly talented, as soon as aspiring fetish model Alyssah Simone established herself as Maitresse Madeline Marlowe, a breathtakingly beautiful blonde dominatrix, she became a force with which to be reckoned. Consequently, within merely ten years working within the adult film industry, Maitresse Madeline has amassed a besotted fan base and established herself as the matriarch of the femdom community!
It all began in 2006 when Maitresse Madeline began working as a fetish model and BDSM performer. During her first few years working within the adult entertainment industry Maitresse Madeline featured within a series of popular pornographic productions including; A Long Drawn-Out Affair, All About Her Pleasure, Controlling His Orgasm 1 and 2, Controlling His Orgasm With her Feet, Cuckold Dresser, Whipped Ass 10, 12 and 13 , Divine Bitches 2, 3, 4, 5, 6, 10, 13, 14 and 15, Hooded Handjobs, It Always Ends In Frustration, Keeping Him On The Edge, Forced Orgasms From Gloved Hands, Making A Cuck, Life Of A Cuckold, Men In Pain, Public Disgrace, The Upper Floor, Training Trisha Uptown, Pissing.com, Many Ways To Ruin An Orgasm, Kink Live 6: Maitresse Madeline's POV Instructions! and Kink Live 11: Maitresse Madeline Teases and Denies.
These lesbian, POV, femdom, BDSM and foot fetish web scenes and DVD feature releases enabled Maitresse Madeline to collaborate with some of the biggest fetish production companies and distributors in the adult film industry; from Dark Circus and Wasteland Studios to Klip.com and Kink.com.
Matriesse Madeline Marlowe at Divine Bitches
Maitresse Madeline's scenes became such a popular fixture on Kink.com that she was eventually given command of their femdom division; Kink Bitches. Under the Kink Bitches label Maitresse Madeline performed within and directed numerous web-cam sessions, live events as well as sex scenes and feature releases for the sites WhippedAss.com, DivineBitches.com, ElectroSluts.com and FootWorship.com. Maitresse Madeline also introduced an innovative new program which equipped Kink.com dommes to exact more control when interacting with their audiences such as via chastity key holding services.
In the years that followed Madeline's sex scenes and cam-site sessions became so popular that one of her private hour-long web-cam shows was reportedly auctioned off for $42,000! However, fans loyal to Maitresse Madeline need not worry as you can still view her live public and private chat sessions via Kink.com as well as enjoying sessions with her liege of dominas via sites such as chaturbate
Always in command, in 2014 Maitresse Madeline began to establish herself as a highly accomplished femdom and BDSM director. Some of Maitresse Madeline's most popular directing projects include Anal Lesbian Blasphemy, which featured fan-favourite femdom model Mona Wales in 2014, the Hardcore Gangbang series for which she began shooting instalments in 2015 and Nightmare On Mission Street: Annie Cruz Gets a Wet Cream Pie. Although these feature releases are just a taste of Maitresse Marlowe's prolific directing career, she went on to work with some of the most popular straight, gay and transsexual stars within the adult entertainment industry; from Aubrey Kate and Yasmin Lee to Aiden Starr, Daisy Ducati, Lorelei Lee, Tommy Pistol, Mick Blue and countless others! Collaborating with these seasoned performers and providing aspiring porn stars with their adult film screen debuts has enabled Maitresse to hone her own directing and performing skills, establish a devoted fan following and established a distinguished reputation amongst her colleagues and adult entertainment industry representatives.
Maitress Madeline Marlowe : "A Devoted Man" With Will Havoc
In March 2015 Maitresse Madeline also performed within and directed "A Devoted Man"; a saucy sex scene that featured her real-life life-partner Will Havoc. The pair met on a Kink Bitches shoot in 2013 which was Will Havoc's first ever adult film shoot. Instantly attracted to one other, this sub and domme have been inseparable ever since! However, since this initial Kink Bitches shoot Maitresse Madeline and Will have never been shot together since. Consequently, when asked about her decision to film another adult film scene with Will, the pair wanted to depict an authentic reflection of their personal relationship. In an AVN press release Maitresse Madeline explained that;
 "Will and I discussed the idea over a number of weeks, and ultimately decided that it was important for us to counter the misrepresentations about BDSM relationships that have dominated the media this year. We're both adult performers, but bringing our actual relationship on set was a level of exposure that was new and challenging…Because this is the love of my life, I felt comfortable doing things I'd never done before on camera, like getting fucked and having him cum in me. I think the scene will implode a lot of stereotypes about relationships with a female dominant".
Viewers entranced by Maitresse Madeline's appearance in "A Devoted Man" can also watch the interview which accompanies it. Shot for the documentary "Behind Kink", this interview offers an exclusive insights into Maitresse Madeline and Will's relationship and their motivations for shooting "A Devoted Man". As Will explained during this documentary;
 "Madeline's persona on-camera is authentic to real life…But what a lot of people don't see maybe is that she's very kind and loving and thoughtful. And that's a really super key aspect if you're going to have any kind of BDSM dynamic in your real life. You can't have it without that".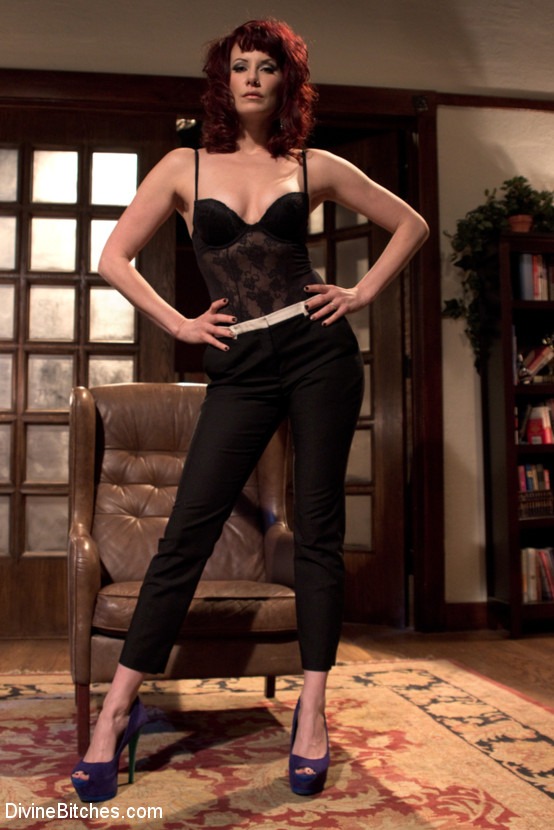 Matriesse Madeline at Divine Bitches
Maitresse Madeline : Adult Film Awards
Maitresse Madeline finally received the praise she deserved for her acting prowess and directing talents when the first ever Femdom Awards were held in 2015 in Los Angeles. Broadcast on The King Network several days later, this awards ceremony was the first of its kind to recognize achievements made within the femdom community. Not only was Maitresse Madeline nominated for 12 awards out of 16 available categories at the Femdom Awards, but she and her Kink.com division won 7 of them! Maitresse Madeline also participated in the hosting of the ceremony itself alongside her friend and fellow femdom performer Aiden Starr who went on to pick up the accolade for "Professional Domme of the Year". Some of Maitresse Madeline's most prestigious adult film award wins and nominations have been listed below;
2015: AVN Awards nominee — "Kinkiest Performer (Fan Award)"
2015: Femdom Awards winner — "Femdom Scene of the Year" — Maison De La Maitresse
2015: Femdom Awards winner — "Domme of the Year"
2015: Femdom Awards winner — "Cuckold Scene Of The Year" — Maison De La Maitresse
2015: Femdom Awards winner — "Roleplay Femdom Scene of the Year" — Le Dragon Rouge
2015: Femdom Awards winner — "Dungeon/Bondage Scene of the Year" —Maison De La Maitresse
2015: Femdom Awards nominee — "Femdom Site of the Year" —com
2015: Femdom Awards nominee — "Strap-on Scene of the Year" — Maison De La Maitresse
2015: Femdom Awards nominee — "Ass Worship Scene of the Year" — A Sound Decision
2015: Femdom Awards nominee — "Dungeon/Bondage Scene of the Year" — Le Dragon Rouge  (Part 2)
2015: Femdom Awards nominee — "G/G Femdom Scene of the Year" — Le Dragon Rouge
2015: Femdom Awards nominee — "Fetish Scene of the Year" — A Sound Decision
When asked to comment on these multiple adult film award nominations in a November 2015 AVN press release, Madeline enthusiastically responded;
"To get this level of recognition from AVN is tremendous…We don't do a lot of DVD releases, so this really speaks to the quality of what we're doing. Shooting vital and compelling Kink content isn't just about business to us, it's about engaging the community and celebrating sexuality. It's wonderful to have that recognized so forcefully".
Speaking about this Femdom Awards recognition in a separate AVN press release, Madeline similarly enthused;
"We're thrilled…And it shows the potential when you match high-end production and authentic BDSM. I'm really proud of my team—they really busted their asses to make these shoots happen…As pornographers, we have a unique opportunity to show how responsible, sane and consensual BDSM is practiced…We live at a time when there's greater awareness and interest in BDSM and fetish, but there's also a lot of misinformation. I want to continue to produce movies that are hot, because their honest and real—and I call on my fellow nominees to do the same".
Subsequently, following her Femdom Awards success and the commerical releases of her Divine Bitches, Electro Sluts and Whipped Ass productions, in 2015 Maitresse Madeline was invited to take over Kink.com's "Hardcore Gangbangs" line. After speaking with her friend and fellow performer, Lorelei Lee, Maitresse Madeline decided to accept the position. According to an April 2015 XBIZ press release, Maitresse Madeline accepted the position due to the fact that;
"Lorelei showed me that just because a woman is the center of a gangbang, doesn't mean she shouldn't be in total control…I want my women to be in control of the scene. I want them to own their sexuality…And so a site that had been previously known for abduction scenarios, is taking a different tack — putting the scene design almost entirely on in the hands of the female performer….
The first thing I have them do is write out what would turn them on, almost like erotic fiction. It could be a few short sentences or something long and detailed. I ask them to choose the male talent they'd most like to work with. I ask them what they want to experience sexually, what turns them on. And then I start crafting it…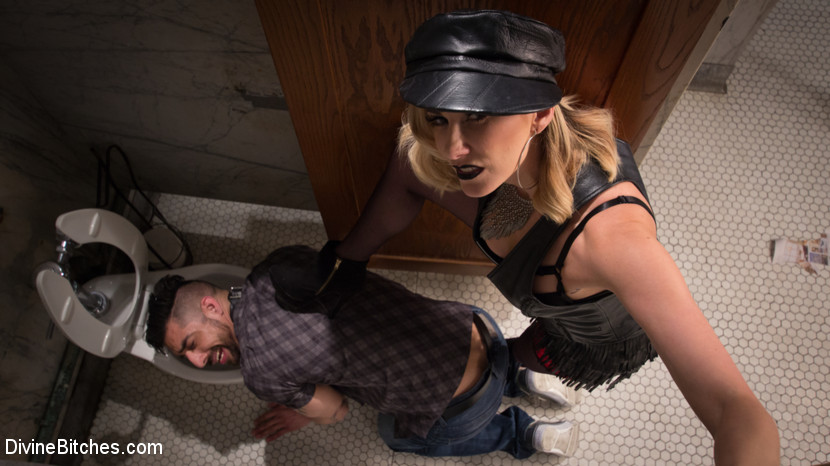 Matriesse Madeline at Divine Bitches
I want to bring in female performers who might not have thought about doing this kind of shoot before…We've been very blessed with fantastic subs who are often really involved in the BDSM community, and understand how to control from the bottom. But I think a lot of other women might look at it from the outside and think — oh, that's not for me. I want to change that…Women are sexual creatures. Women have all sorts of fantasies that men would never imagine," Madeline said. "But you have to ask them what they want".
After assuming this position, Maitresse Madeline collaborated with Ella Nova in a shoot inspired by Michelle Pfeiffer in Midsummer Night's Dream. Describing the process of directing and starring within this innovative new shoot, Madeline conveyed how;
 "To be quite honest, it's hard to organize a gangbang, even when there aren't cameras rolling. This was a unique opportunity to really create something authentic that would redefine the traditional gangbang from a woman's point of view".
This groundbreaking gangbang scene appeared in Whipped Ass 7 (2015) and served as the first of many popular Hardcore Gangbangs shoots directed by, and often starring, Maitresse Madeline and her protégés. Some of Maitresse Madeline's fan-favourite shoots which were released during this time included Divine Bitches 11, Foot Worship 10 and Whipped Ass 12. When asked to comment on the commercial success of these recent releases in a June 2015 AVN interview, Madeline commented;
"We're successful because we're authentic. I work really hard on my films—not only to bring in my vision as a director and domme, but also to allow the performers live out their own submission fantasies. The scenes are incredibly hot to film, and I think that carries over".
One of Madeline's most popular gangbang scenes to be released in recent months was Make America Gape Again; a hardcore gangbang scene featuring five Donald Trumps dominating Ella Nova as Miss America. Set within Trump's California primary headquarters and incorporating real dialogue from Trump rallies, speeches and interviews, this gangbang scene indulges the deeper, darker desires behind the 2016 Presidential campaign! As Maitresse Madeline herself conveyed;
"I've directed a lot of hardcore, but this is this is by far the darkest thing I've ever done…There's something about Trump that inspires both fear and awe. As a dominatrix, I wanted to try and invoke that dark power, so we had actors using his own words. There were times on set when it felt actually overwhelming, which is good in sex, not so much in politics…We didn't want to show Trump as a comic figure; we wanted to show him how we see him: as a powerful but frightening force. That's why we mixed in actual footage of Trump in some of the promos…Of course, the truly scary thing has been his rise to power. Even a five person gangbang can't compete with that. At least a gangbang is consensual".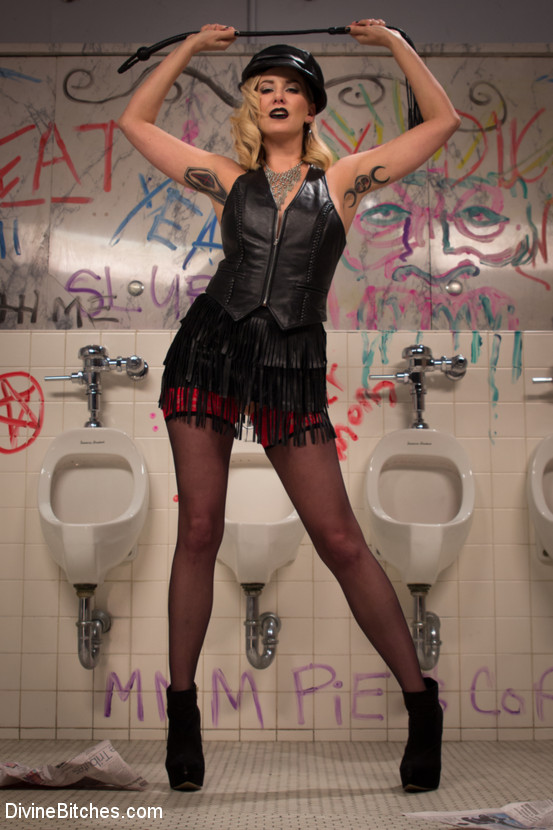 Matriesse Madeline Marlowe at Divine Bitches
Maitresse Madeline Marlowe: Our Bodies Our Choice Campaign
Always one to defend the rights of others, in May 2015 Maitresse Madeline, Fivestar and several of their fellow adult entertainment performers and directors provided testimonies against Cal/OSHA's controversial proposed law which would require mandatory condom, dental dam, and goggle use on porn production sets in California. Reflecting on the experience during a Kinky.com interview, Maitresse Madeline commented;
"I was anxious to be heard while waiting to testify but that soon turned into a feeling of honor and pride. It was an honor to be able to represent an industry that I love while speaking truths that are not popular belief. Demystifying what actually happens on a porn set and educating the public, is why it's so important our voices are heard. I was prideful to be united with fellow performers in solidarity to express what we know is right for our bodies…
Performers were ready to be heard. I felt contentment to state truth and facts concerning our bodies with respected medical professional there to back us up. I really want to thank the doctors and organizations who have supported us during all of this. It was powerful to have their testimony be heard free of bias opinion. Just cold hard facts…
During my testimony I requested that all my colleagues and fellow performers rise while I stated my last line, "Our Bodies, Our Choice." I don't know about anyone else but I was choked up!".
Madeline's friend and fellow adult film director Fivestar also stated;
"Standing behind a podium with several government officials staring at you is nerve-racking, but I really appreciate the opportunity to speak my mind and present information about the industry that will help OSHA develop more applicable and appropriate regulations…
Generally, from my perspective, there was a base level of anxiety in the room. There was a lot at stake and adrenaline was running high for both sides. Stress levels from our side seemed to subside as more and more articulate, heart felt and compelling testimonies were presented…
It felt empowering to know that producers, behind the scenes staff, performers, doctors and non-profit HIV/AIDS support organizations could unite to defy regulations that would compromise privacy, health and safety and the ability to do business in California".
You can learn more about Maitresse Madeline and Fivestar's campaign efforts by investigating their Our Bodies Our Choice campaign online today.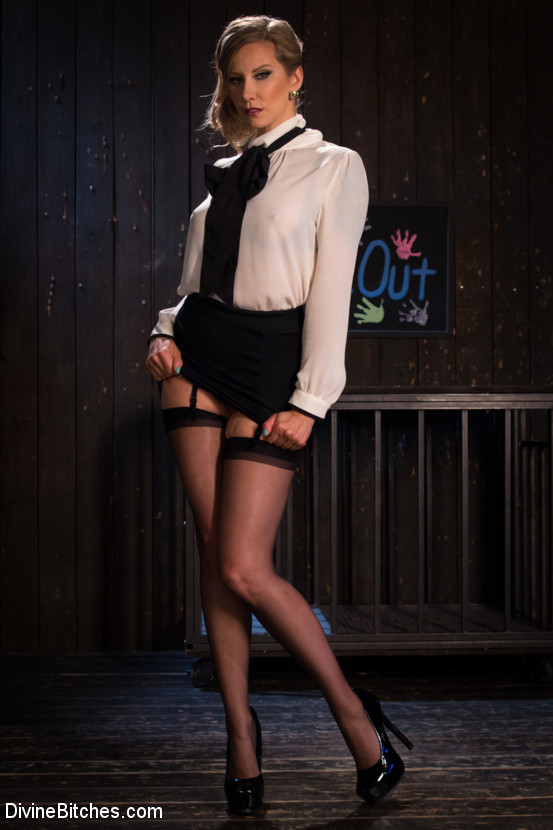 Matriesse Madeline at Kink.com's Divine Bitches
Maitresse Madeline Marlowe: Upcoming Projects And Immersive VR Experiences
Maitresse Madeline is a powerful and highly influential presence within the San Francisco independent film scene; exploring new genres with like-minded performers, producers and directors within the femdom industry. For several years Maitresse Madeline has collaborated with rising stars such as adult film director Fivestar. Discussing their collaborations within an AVN press release Fivestar explained;
 "As a team, we never want to rest on our laurels…We want to always be pushing forward, with new concepts, new technologies and new ways to engage the viewer. We're very excited for 2016″.
If you are a fan of Maitresse Madeline's performances and directing projects then you should check out for her latest collaboration with Fivestar; Kink VR! This innovative online femdom porn experience looks set to revolutionise adult cam-site viewing experiences because it will enable viewers to become fully immersed within their favourite femdom scenarios via the use of Oculus Rift, Gear VR, Google Cardboard and alternative virtual reality (VR) headset formats.
What's more, as matters stand Kink VR is undergoing beta testing so whilst it is in these preliminary stages you can currently download all of their videos for free! Whilst you are waiting for this revolutionary new viewing experience to iron out all its kinks (pun intended) why not check out Maitresse Madeline's existing adult-cam site channels, DVD releases and Kink.com profile? All of the links to Maitresse Madeline's official social networking channels have been listed below:
Social Networks
Kink.com profile : Maitresse Madeline Marlowe
Twitter : @MaitresseM
Instagram : https://www.instagram.com/maitressem/?hl=en