Personal Info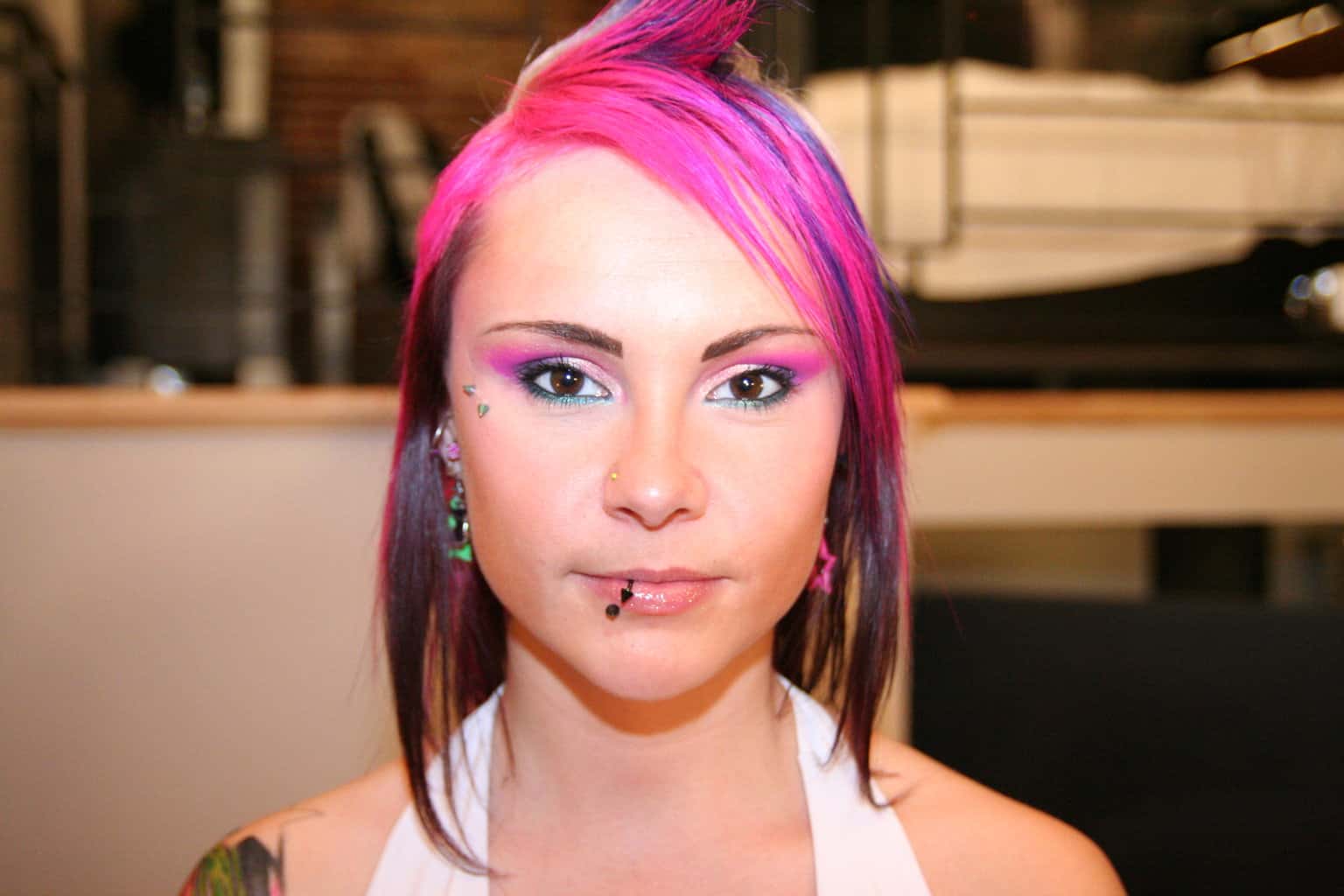 Vandal Vyxen at Pegas Productions
Name : Vandal Vyxen
Alias: Vanda Vixen, Shana Ryder, Zophya Miaw, Zophia Myaw, Myriam Crépeau
Hometown : Montreal, Quebec (Canada)
Date of Birth: September 20th, 1984
Measurements : 36C – 28 – 34
Bra/ Cup Size : 36C
Boobs : Natural
Height :  5'10 (1.78m)
Weight : 130lbs (59kg)
Hair Colour : Brunette / Blonde / Magenta / Rainbow
Eye Colour : Hazel
Tattoos : Vandal has a wealth of intricate tattoos across her entire body including various stars, script and symbol designs on her hands, a series of large multi-coloured designs travelling down her right side and across her back, an detailed rainbow design with script that travels across her collarbone, and a multi-coloured sleeve around her entire right arm which incorporates an auto-portrait of Vandal herself as well as numerous rainbow designs, faces, script and symbols; the list goes on!
Piercings: Navel, cheeks, lips, nose, tongue and multiple ear piercings
Pets : A snake called M. Chat (aka Mr Cat) and a tabby cat called Squirt
Years Active : 2005 – present
Number of Scenes : 50+
Instantly recognisable by her vibrant tattoos, ravishing rainbow locks and punk rock piercings, French-Canadian female porn star Vandal Vyxen is a truly sensational adult film star, model, dancer, BDSM enthusiast and professional dominatrix. Bold, beautiful and eager to explore her sexual limits, the sky's the limit when it comes to Vandal Vyxen's prolific porn star portfolio!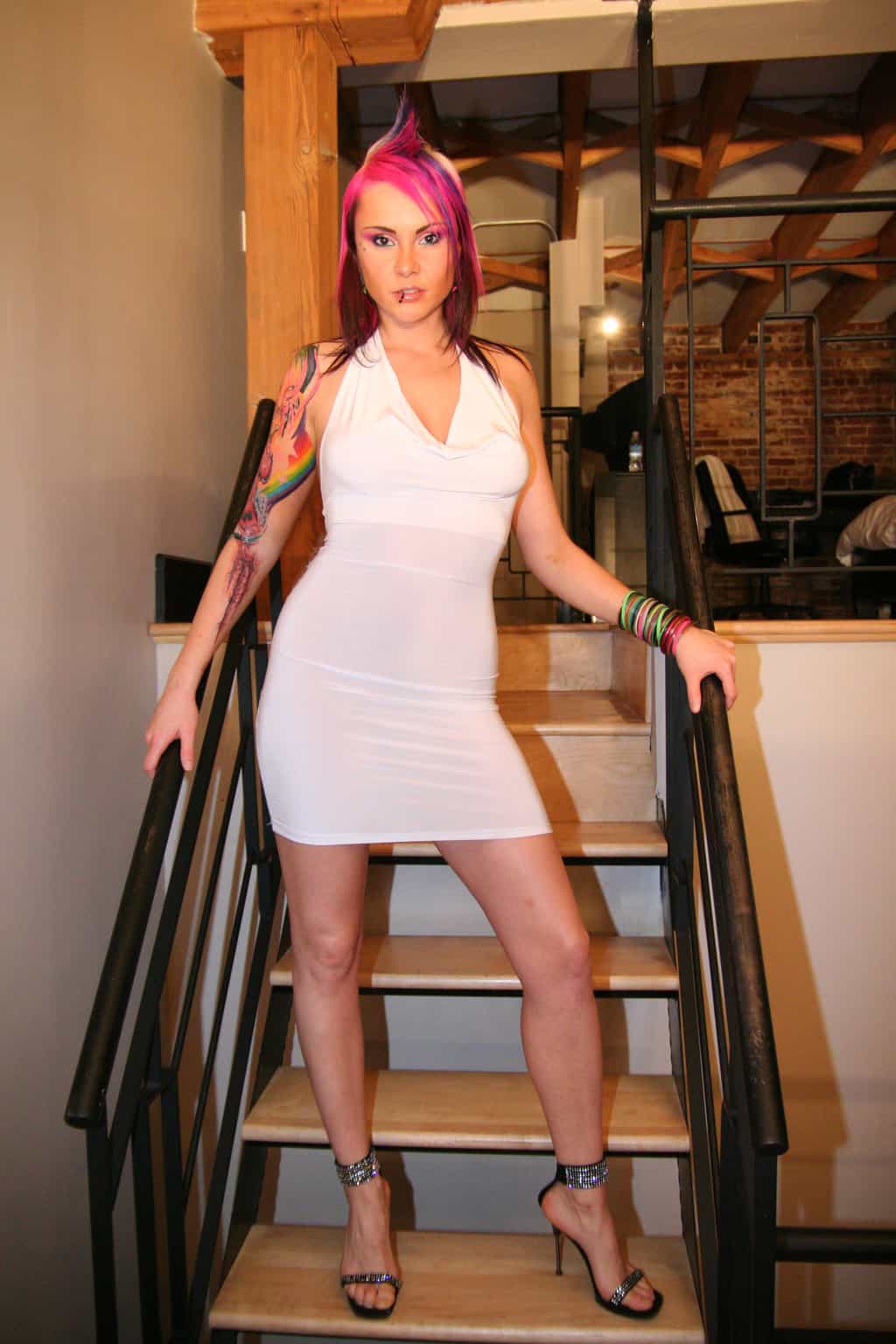 Vandyl Vyxen at Pegas Productions
Born and raised in the city of Montreal in Quebec, Canada, French-Canadian femme fatale Vandal Vyxen was adopted by her uncle and aunt after her parents passed away. After studying TV Production at the Cité Collégiale in Ottawa, Vandal started working as a editor for various pornographic productions.
In 2005 Vandal decided to progress from working behind the camera to starring within her own pornographic productions and in this manner she started filming several saucy sex scenes under the porn star stage name Zophia Myaw. However, Vandal quickly changed her porn star stage name to Shana Ryder before ultimately deciding upon her punk rock persona Vandal Vyxen that her fans know and love.
Bold, beautiful and captivated by all things BDSM, Vandal is an enthusiastic and eminently extroverted porn star who has enthused about her passion for porn via her official solo website. As Vandal puts it in her own words;
"Hiii you crazy dumdums, wazzup?! Yeah that's me Vandal *ding dong* time to get Vandalized! People often say about me that I'm colourful and 'cray cray', the 'Squirt Queen' of Quebec…Cameras turn me on and I'm an extremist in so many ways! It's like the beast chasing his prey, basically I am a sex hunter! I live on the edge and sex is my drug! I love Squirting, I love squirting on my partners and flood the place. Ultimately I would love to squirt all over you, all over the planet! Just can't stop squirting!!! LOL! I just can't stop thinking about hard cocks and wet pussies! Over the years I have come to master the art of pleasure and there is nothing that would stop me from discovering new ways to inflict pleasure, because my goal is to vandalyze you! I am always going further to please my fans there is nothing that i wouldn't try to make them happy!".
Vandal Vyxen : Adult Film Career
Ever since she first began to take the adult entertainment industry by storm in 2005, Vandal Vyxen has garnered a loyal fan following due to her spectacular sex scenes in such best-selling Dog House Digital porn productions as Bruno B. The World's Luckiest Guy Volume 8 (2005), Bruno B. The World's Luckiest Guy Volume 10 (2005), Swallow My Rod & Share The Wad 2 (2005), Swallow My Rod & Share The Wad 3 (2005), Sperm Banks Volume 5 (2006),and Sperm Banks Volume 9 (2010); many of continue to be distributed via the French-Canadian porn network Sexe.ca.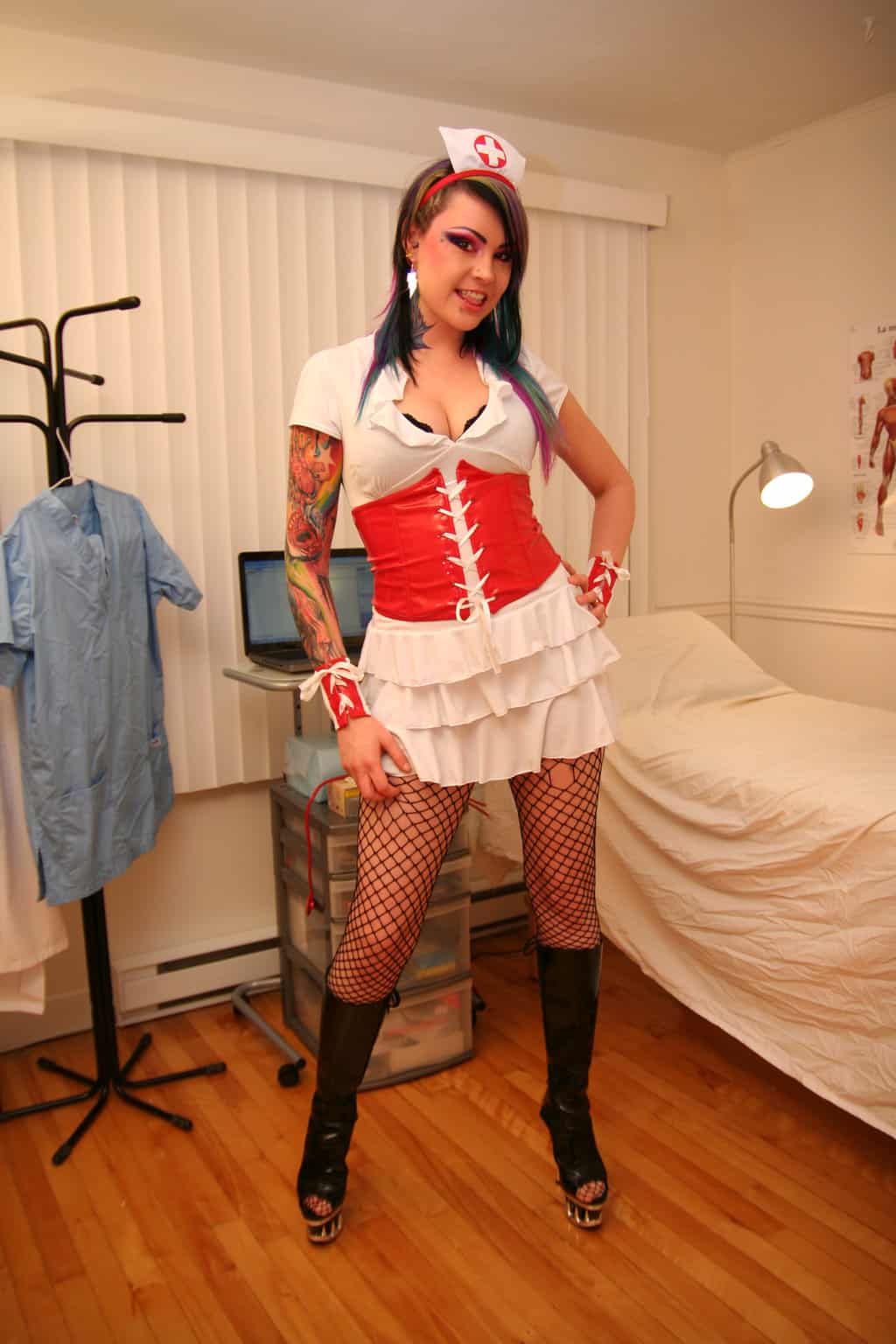 Vandyl Vyxen at Pegas Productions
During these early days of her porn star career, Vandal also began to attract the attention of fans and film critics due to her sizzling girl/girl sex scenes that featured within the all-girl gangbang porn productions Girly Gang Bang Volume 4 (2005) and Girly Gang Bang Volume 5 (2005) that were both filmed for Dog House Digital. Over the years, Vandal has continued to star within many of Dog House Digital's amateur-themed lesbian feature releases such as Lesbo 101 Volume 6 (2005), Lesbo 101 Volume 9 (2005) and Lesbo 101 Volume 12 (2005) as well as their DVD compilation title Lesbo 101 4-Pack (2011). Famous for her raunchy girl/girl sex scenes, Vandal has since starred within the Home Made Adult all-girl porn production Young Lesbian Lovers Volume 2 (2009), the Combat Zone DVD title Sexy Lesbians (2010) and she has filmed some sizzling all-girl group sex scenes with Vyxen Steel, Hellyzabeth, Lily Douce and Malory Maze for the kinky Cream HD feature release Amateur Lesbian Orgy (2012).

Vandal Vyxen takes centre stage in all of her DVD feature release performances due to her mesmerising multicoloured locks, captivating tattoo artwork and sexy piercings. Over the past decade, Vandal has proceeded to dominate the punk rock porn genre alongside her friends and fellow fetish porn stars Kream, Lily Douce, Kelly Summer and Sindy Foxx among others. Some of Vandal's raunchiest punk rock pornographic productions to date include; Naughty Girls At Play (2006) for Combat Zone, Freaky Punk Ass Volume 1 (2009) and Freaky Punk Ass Volume 2 (2010) for Home Made Adult, and Skate Fuck Or Die (2012) for Cream HD.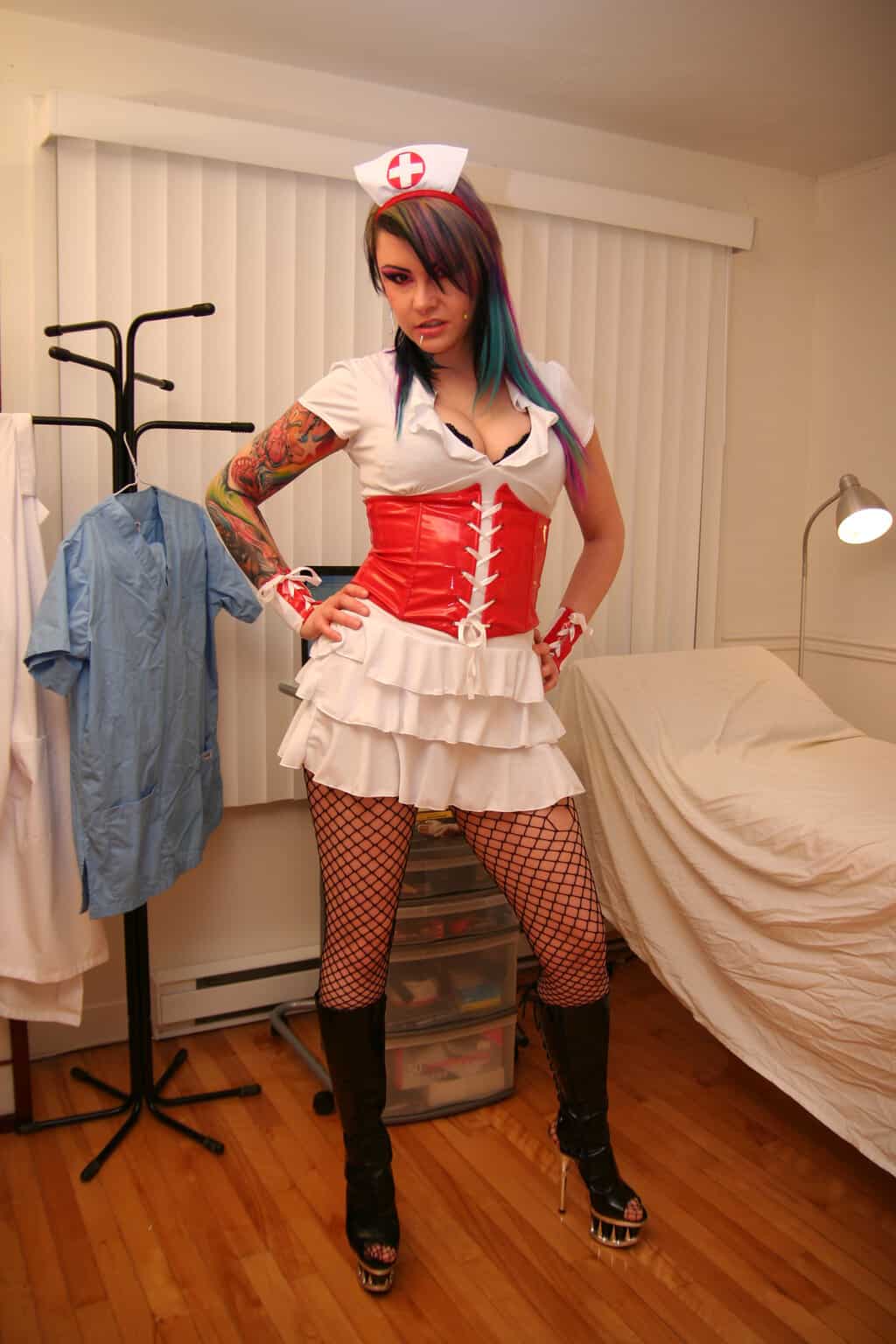 Vandyl Vyxen at Pegas Productions
Furthermore, Vandal has amassed a devoted fan following across the globe due to her scene-stealing sex scenes that have featured within a broad spectrum of fetish porn productions. One of Vandal's most popular fetish porn feature releases has been her femdom pegging star showcase 3 Dudes Get Their Asses Attacked (2013) that was filmed for Cream HD and which went on to receive a notable nomination for "Best Fem-Dom Strap-On Release" at the 2014 AVN Awards!
Fans who are eager to discover Vandal's kinkster side should also check out her earlier femdom pegging DVD title Girly Strap On (2005) that she filmed for Dog House Digital, her anal-themed DVD title Pushin' Ass (2005) for Sex Machine Studios, her bondage-themed Sex Machine Studios DVD feature release Gagdolls  (2005), the saucy Home Made Adult lesbian femdom feature release Quebec Fetish Girls (2008) and the Home Made Adult sexy strap-on gangbang production Kream's Quebec Sex Party (2010).

What sets Vandal apart from her fellow performers are her spectacular squirting sex scenes; a technique which she learned from her friend and fellow porn star Kream. In fact, Vandal and Kream have collaborated on several best-selling squirting themed DVD compilation titles for Home Made Adult including Real Squirts Volume 1 (2005) and Real Squirts Volume 4 (2006).

In recent years, Vandal has starred within such best-selling fetish porn productions as; the taboo relations title Teacher By Day Pornstar By Night (2012) for Cream HD, the raunchy massage themed feature release Massage Parlour Orgy (2012) which was also filmed for Cream HD, the Mile High Extreme taboo relations title My Daughter's Secret Sex Life Volume 3 (2012), the Dog House Digital production Quebec Lesbian Fetish (2013), the Cream HD house party porn production Jack's House (2013), the Dancing Llama outdoor erotic adventure DVD title Outdoor Pounding (2015), the Dancing Llama femdom and leather/latex fetish themed feature release Whip That Ass (2015), and the all-girl femdom Pegas Productions DVD feature release 100% Kinky Lesbians (2015) but to name a few!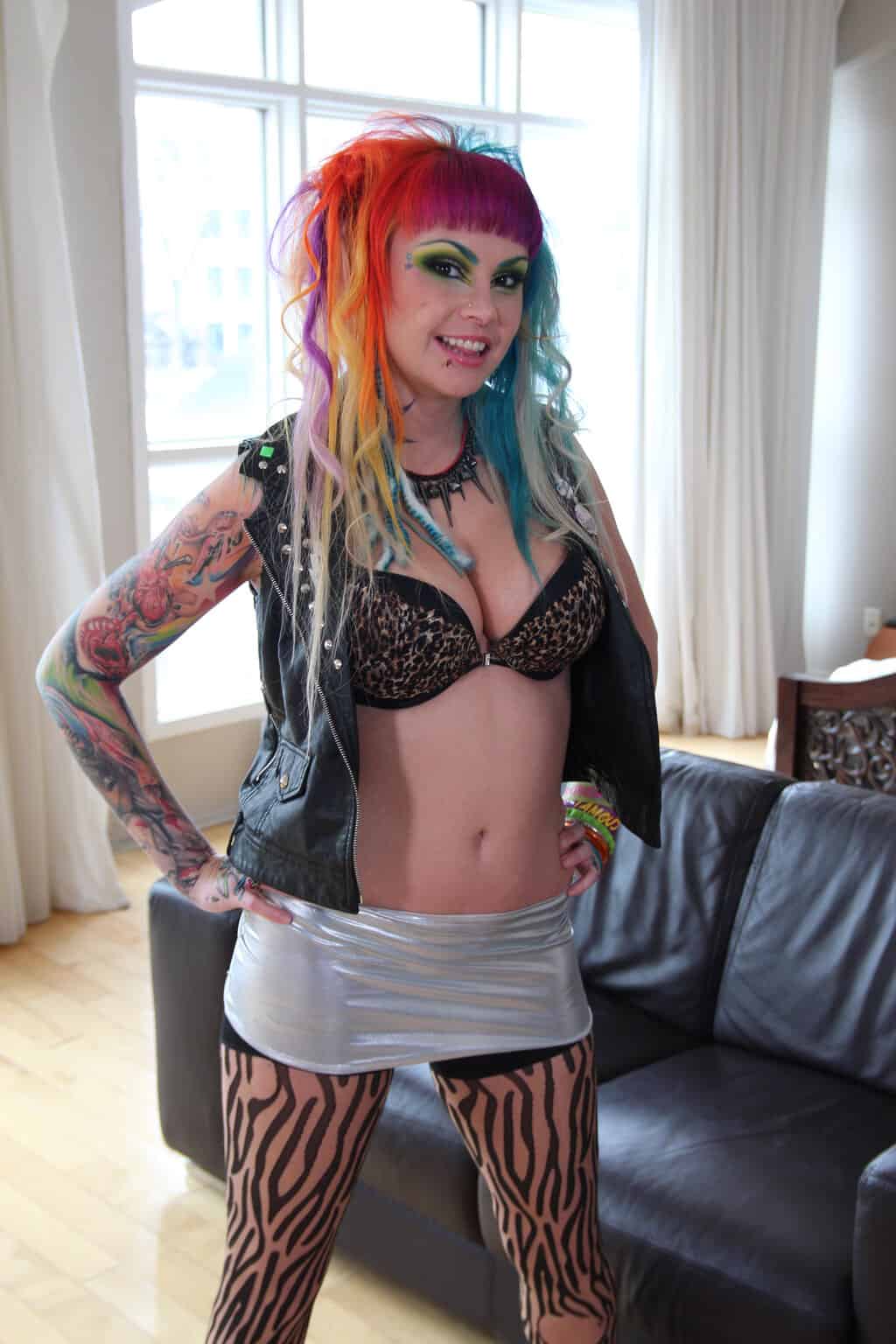 Vandyl Vixen at Pegas Productions
Based in Quebec, Vandal has collaborated with Quebec Productions on numerous DVD titles throughout her prolific porn star career including Baise D'Un Fan (2014), Le Strip Club (2014), Quebec Ink (2014) which showcases Vandal alongside her real-life romantic partner Mylee Cruz, and Sa Premiere Chatte (2015). Fans of Vandal Vyxen should also check out her impressive collection of Home Made Adult DVD titles such as Amateur Solos Volume 1 (2009), Canadian Amateurs Volume 2 (2009), Canadians Suck Dick Volume 2 (2010), Quebec Starlets Volume 2 (2010), Canadian Girls Take Miami (2010), and Born In Quebec: Livia Monroe (2010) as well as her road trip themed DVD feature releases Road Trip: Fucking French Girls (2008) for Dog House Digital and Canadian Girls In Vegas (2013) for Cream HD. Vandal filmed a vast majority of these saucy Canadian themed productions with her fellow captivating Canuk female porn stars Kream, Eve Luxuria, Lily Douce, Livia Monroe, Kelly Summer, Sarah Wild and Franceska.
Sexually adventurous and eager to shoot all manner of girl/girl, boy/girl, femdom pegging, BDSM, anal and group sex scenes, Vandal has featured within a wide range of mainstream and fetish porn productions over the years. In fact, in June 2016 Vandal made history when she became the first porn star in Quebec ever to film a three-way sex scene with a male porn star (Gabriel Clark) and an transsexual performer (Danika Dreamz)! This titillating three-way sex scene was distributed by leading French-Canadian pornographic production company Pegas Productions in June 2016 and it cemented Vandal's status as one of the most pioneering female porn stars in Canada.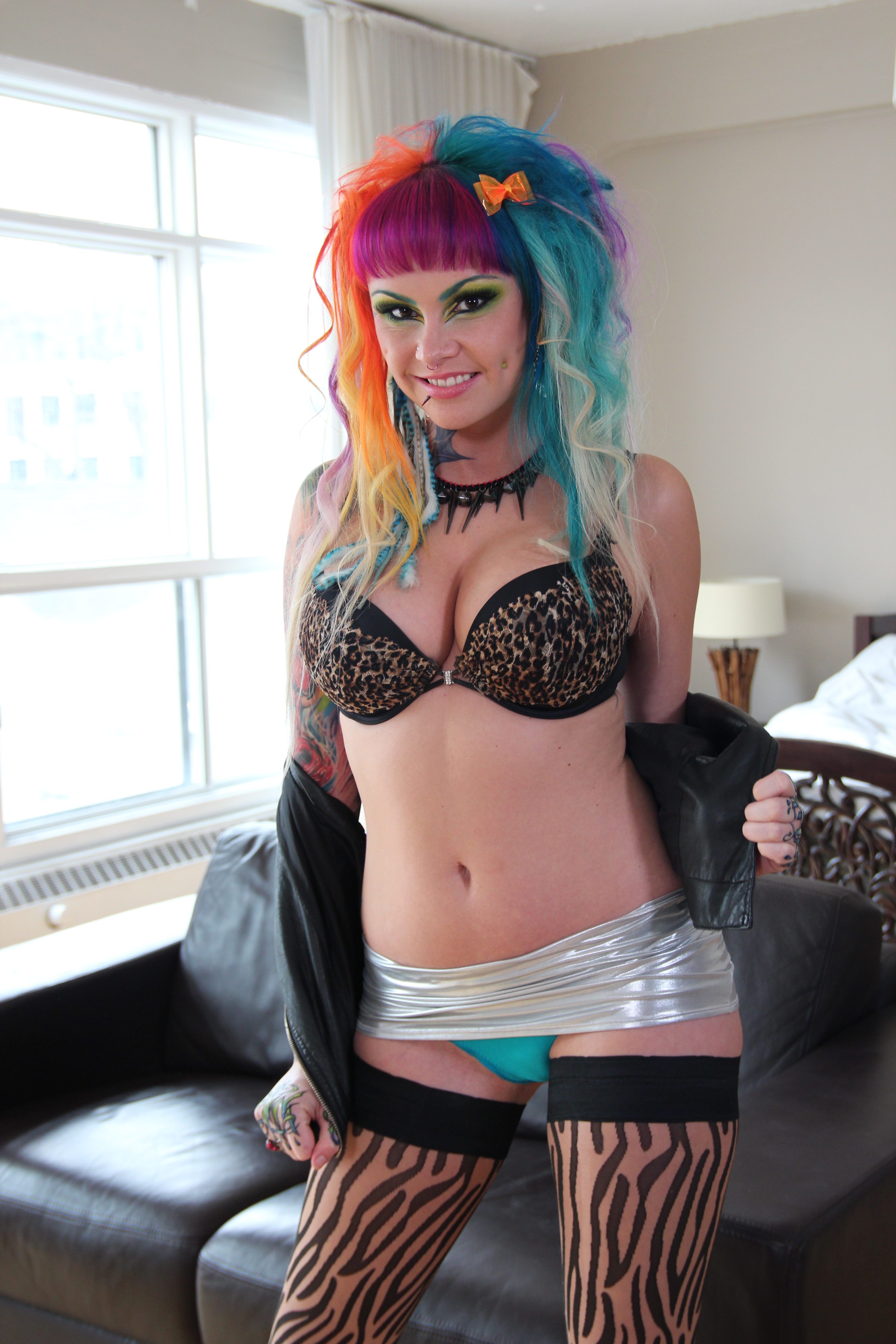 Vandyl Vyxen at Pegas Productions
Furthermore, Vandal has continued to break records within the Canadian porn industry such as when she participated in Quebec's biggest ever gangbang with 28 of her fellow porn stars as part of one of Pegas Productions' fan-favourite poolside orgy sex scenes! Another of Vandal's most outrageous orgy sex scenes to date has been her Pornstar Orgy At The Spa sex scene with Samantha Ardente; a fellow female porn star and former high school teacher who caused controversy when it was discovered that she was working as a porn star in her spare time. Vandal and Samantha's Pornstar Orgy At The Spa sex scene also showcased adult film stars Sunny Spark, Vyxen Steel, Pamela Kayne, Kelly Summer and Hellyzabeth Queen and it featured within the Pegas Productions DVD feature release Beach Party De Cul Quebecois (2009). Some of Vandal's sauciest Pegas Productions feature releases to date include; her first ever full length movie 5 Jours/5 Filles (2010), 5 Infirmieres Et Des Pervers (2010) which stars Vandal as a naughty nurse, 1 Idiot Fourre 5 Gardiennes (2010), Mechanté Orgie Chez Vandal that showcases Vandal in a sizzling summertime orgy and Gicle-o-rama Quebecois (2015) which features Vandal in a hardcore squirting sex scene with Jay Lex.
In addition to these French-Canadian DVD titles, Vandal has also filmed for several leading American pornographic production companies including Elegant Angel, Pink Visual, JM Productions, Combat Zone and Red Light District as well as for the French pornographic production company Alkrys. Some of Vandal's most popular US DVD titles include; the Red Light District foot fetish production Ten Little Piggies 7 (2005), the Elegant Angel fetish porn DVD title Fetish Finishing School (2006) that showcased Vandal in a sultry group sex scene with Emmanuelle, Kelly Summer and Lady Jade, the all-girl Pink Visual production Virgin Teen Lesbians 1 (2007), the JM Productions deep-throat themed DVD title Throat Fuck Gangbang 4 (2009), Gagged And Juicy (2010) for Freaky Steve Studios, Indulgence 4 (2011) for Abigail Productions and the El Diablo Productions DVD titles Young And Alone 1 (2009) and Puck Bunnies (2009) among many more.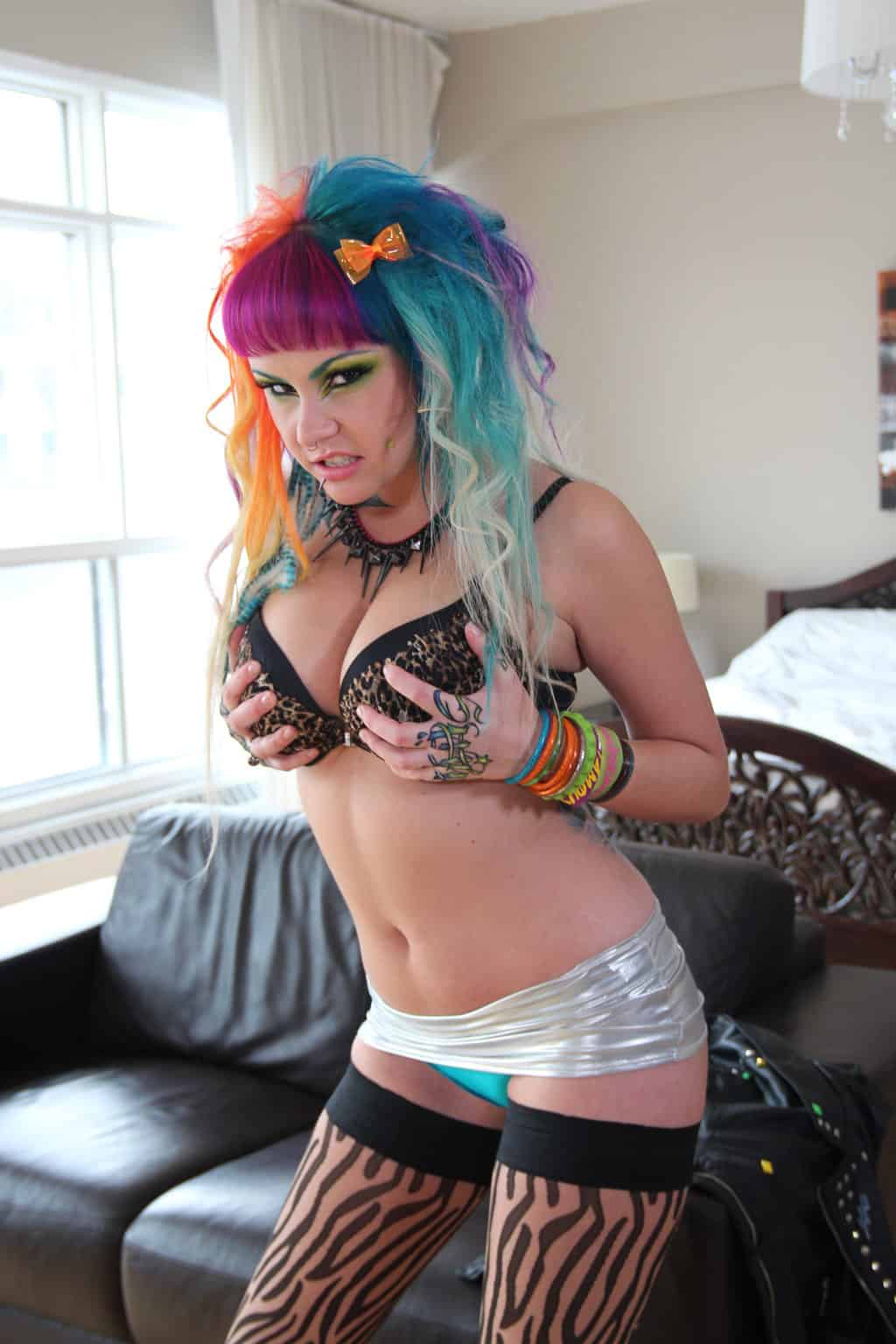 Vandyl Vyxen at Pegas Productions
Most recently, Vandal has filmed a thrilling three way sex scene with Leena Ray and James Deen for the James Deen Productions DVD feature release Canadian Sex Trip (2016) and she has performed within the latest instalment of Quebec Productions' fan-favourite DVD series Confessions Of An Escort Volume 3 (2017).

When she isn't filming her latest pornographic productions, Vandal enjoys making her own punk rock jewellery accessories and relaxing with her pets; a white snake named M. Chat and a tabby cat named Squirt! Vandal loves performing for her fans and as such can often be found hosting some saucy live shows within local Quebec strip clubs. Never one to rest on her laurels, Vandal has even launched her very own official solo website, vandalvyxen.xxx, her own production company, Vandal & Swarm Productions, as well as her own adult film talent agency through which she provides all manner of erotic entertainment for bachelor parties, birthdays and special occasions. Vandal strives to deliver a devilishly deviant sexual experience for her fans throughout all of her adult film industry endeavours. After all, as Vandal herself has enthused via her official solo website;
"With VandalVyxen.XXX I feel that all my deviant fantasies are coming to life! But don't worry! For those who prefer sensual yet dirrrrrty sex, you'll find everything you're looking for! Wishing you hard Cocks and dripping wet pussies!!!".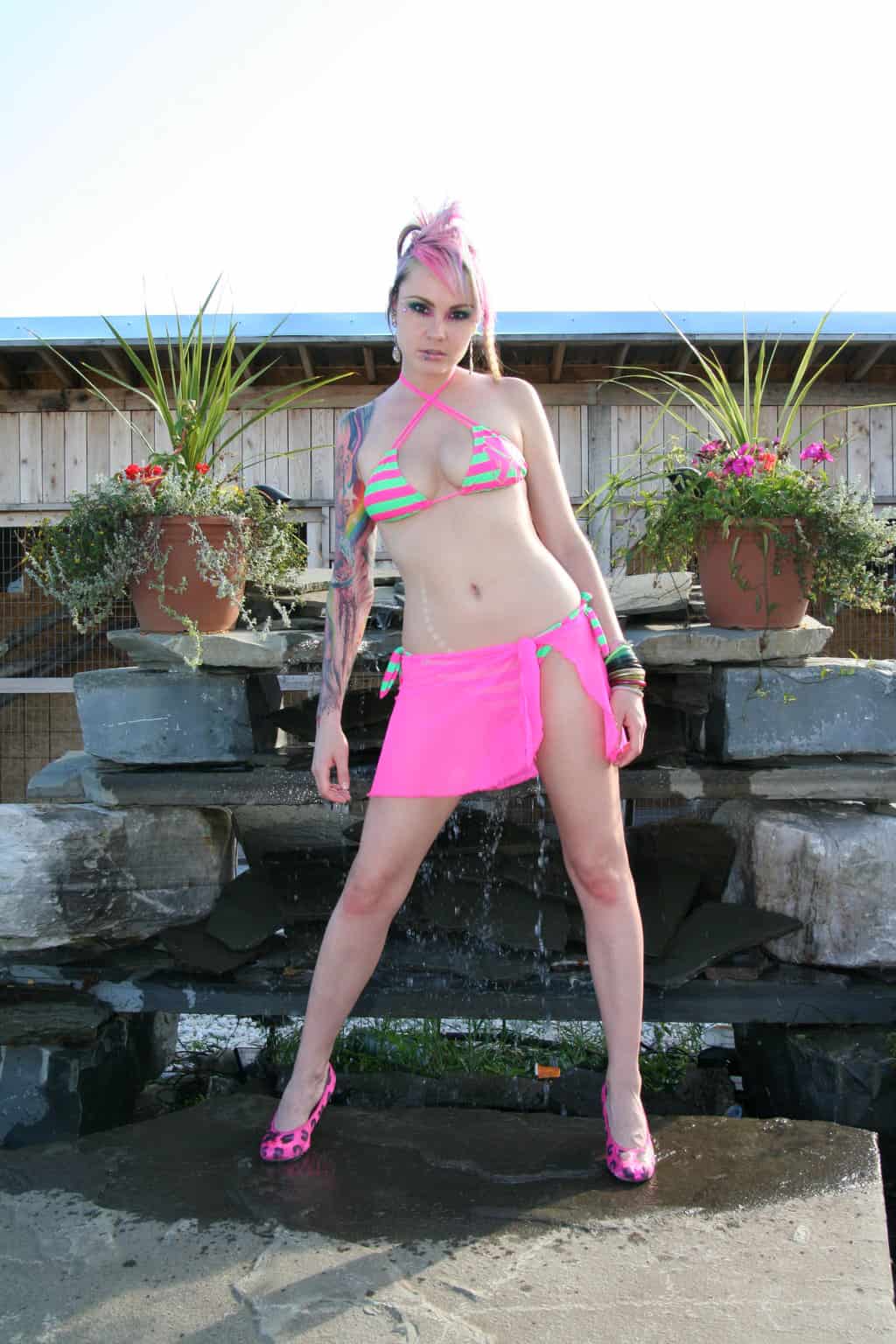 Vandyl Vyxen at Pegas Productions
Currently living in Quebec, Canada, Vandal continues to take the adult entertainment industry by storm with her phenomenal punk rock porn productions! You can learn more about Vandal's latest DVD feature releases, exclusive online sex scenes and upcoming erotic events by visiting her official social networking channels today using the links provided below. Sexually adventurous, devilishly kinky and excitingly unpredictable, there's never a dull moment when you're following Vandal Vyxen's ever-evolving porn star career!
Social Networks
Pegas Productions Profile : Vandal-Vyxen
Official Website : http://vandalvyxen.xxx/
Twitter : @Vandal_Vyxen
Facebook : https://www.facebook.com/VandalVyxenOfficial
Adult Empire Profile : Vandal-vyxen-pornstar 

Gamelink Profile : Zophya-Myaw at Gamelink
IMDB Profile : http://www.imdb.com/name/nm2014078/