Have you always been curious about femdom pegging? Looking to explore a new fetish this Valentine's Day? Then you'll want to check out our in-depth Introduction To Pegging guide. Irrespective of whether you're a BDSM beginner looking to discover an exciting new niche, or if you're a seasoned kinkster who wants to find out more about your favourite fetish, the following guide will finally answer all those kinky questions that you've been too afraid to ask!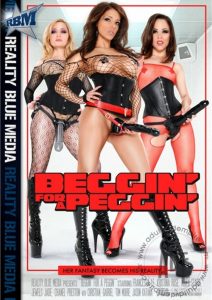 What is pegging?
Pegging, often referred to as 'strap-on play' or 'femdom pegging', is the act of a sexual partner being penetrated by a woman wearing a strap-on dildo. The actual term 'pegging' was coined in 2001 by the American journalist Dan Savage who held a naming competition for this particular BDSM fetish within his sexual advice column Savage Love. Ever since the term 'pegging' won this competition it has been readily used to describe female on male penetration.
In fact, in the last few years, femdom pegging and anal sex have become increasingly popular fetishes among young partners. Just one look at a recent study published in the Journal of Sex Medicine shows that more than 45% of women in their 20s and at least 11% of men in their 20s have been on the receiving end of anal sex at least once in their lifetime. Many celebrities have even been rumoured to enjoy the art of pegging! For instance, a sex tape emerged showing Usher and his ex-wife Tameka Foster enjoying the practice which sparked the attention of the mainstream media in 2011. Moreover, with the release of BDSM themed feature films such as 50 Shades of Grey and Fifty Shades Darker capturing public interest, we can expect to see more and more members of the public and celebrities alike embracing and exploring the boundaries of this thrilling femdom fetish behind closed doors.
Why do women enjoy it?
There are several aspects of pegging which many women find thrilling and empowering for different reasons. Firstly, there is the act of 'power play' and 'role reversal' wherein women enjoy the act of having sexual power over their man in dominant position. As screenwriter Claire commented within a January 2016 Vogue magazine article titled Why (Some) Women Love Strap-Ons;
"I think every woman should experience fucking a man at some point in her life, even just as a therapeutic tool. It's very empowering. I never thought this would be part of my life story, but here I am. I'm fucking a man…It's such a shift in the power dynamic. I kept thinking, I'm literally penetrating someone right now. Plus, it's a vaginal workout because you have to grip the dildo with your vagina while you use it. It's basically exercise, which I love".
As well as having an empowering affect on women who would have usually assumed a submissive position in their sexual encounters, pegging can also establish a greater sense of trust and a stronger emotional connection between sexual partners due to the amount of control that the woman has over her male partner and the ways in which she uses it. After all, as Claire further elaborated with this January 2016 Vogue article;
"The person has to be very trusting of you. You have to listen to their physical cues and gauge if they're having pleasure or if you're hurting them. You have a lot of control, and that became very sexy to me…I'd always thought of myself as submissive, but through that experience I accessed a totally different side of myself".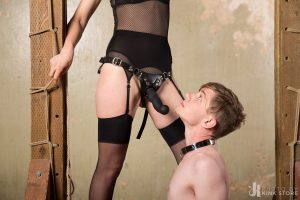 Many women also receive an intense thrill over the immense act of physical exertion that pegging requires. As an August 2013 LTA Sex pegging article revealed;
"One big misconception about pegging is that wearing a strap-on has no physical pleasure for the wearer. Fact is: besides being really turned on by pleasing your partner, the harness – or whatever apparatus you are using – can totally be used to rub up against your sexy bits. There are even dual pleasure toys – such as the feeldo – that are made specifically to give the top some extra pleasure".
Moreover, many women also enjoy the ways in which pegging enables them to introduce their male partners to a new type of anal pleasure. For instance, numerous women who  discussed their personal femdom pegging experiences within a November 2014 Cosmopolitan articled titled Sex Talk Realness: What Women Think About Pegging revealed that;
"Having a guy underneath you, with the gasping and groaning, is spectacular. It's a very energetic act too. You're constantly moving. You also have a lot of control over what your partner is feeling, and that's fun…
I thought it was fun and interesting, but I think he liked it more. He was the one who requested it, and I was like, 'Oh, OK, sure'. So we did it, and then post-sex — pegging, vaginal, everything — he turned to me and asked, 'Was that weird, how much I liked that?' On reflection, you could clearly see he was wondering, 'Am I gay?'…
It was nice to have control. And it was really interesting to see how much he liked it. It kind of took me aback, like, Wow, he really likes that".
Why do men enjoy it?
A large majority of heterosexual men regard the act of anal penetration as a solely homosexual act. However, the male prostate has an erogenous zone, commonly referred to as the 'p spot', that is located within the rectum and that becomes stimulated by the act of pegging. In this manner, pegging can trigger an immense orgasmic pleasure completely irrespective of the psychological components associated with anal domination. As one man who experienced pegging for the first time with his female partner conveyed within a November 2014 Cosmopolitan article titled Sex Talk Realness: What Men Think About Pegging;
"I think she enjoyed it more psychologically and I enjoyed it more physically. She had more of an ingrained gender-flip fantasy, and I was more just curious to experiment. We were definitely both into it".
On the other hand, there are a substantial proportion of male pegging enthusiasts who enjoy this particular fetish due to the psychological element of completely submitting and giving complete sexual control over to their female partners. In fact, several of the men questioned within this aforementioned November 2014 Cosmopolitan article advocated that the aspects of pegging which they enjoyed the most were the power play and the thrill of experiencing a submissive sexual position for the first time;
"The role reversal was very exciting. We're steeped in a culture of prescribed sexual roles for men and women, so it's a thrill to break the "rules" and experience things that most people don't dream of trying. Letting my girlfriend fuck me in the ass didn't make me feel any less masculine or her any less feminine, but it did allow me to feel a vulnerability I was not accustomed to, since she could easily hurt me if we weren't in tune. It was also a way to trade perspectives for a bit, which is always eye-opening…
It was great. I love the idea of being submissive and having a power exchange. Plus, it just feels good…
It was different, but in a good way. While it's nice to give the power to someone else, I felt like I was completely in control, in that if it hurt, I could slow the pace".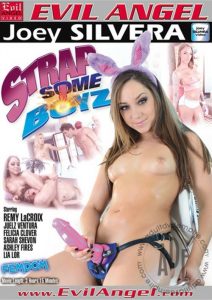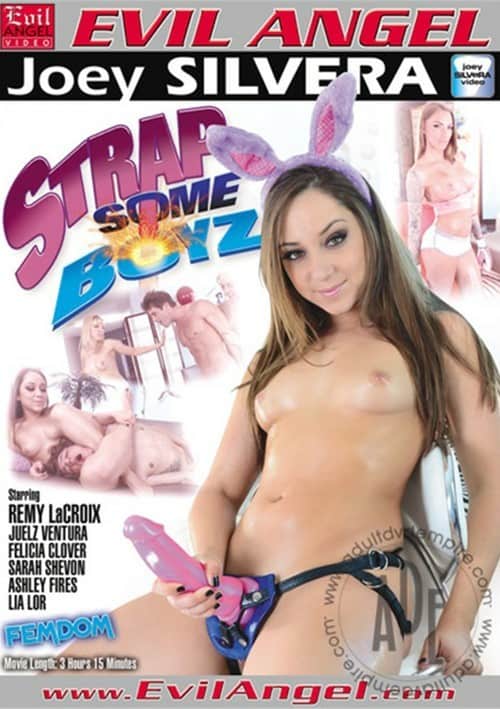 There are even men who practise pegging because it enables them to improve upon their own anal domination techniques whilst simultaneously indulging in an exciting and taboo sexual experience. As a recent VICE article titled What's Pegging & Why Do Men Like It So Damn Much? highlighted;
"Your guy might be really great at trying to make anal sex pleasurable for you, but let's be honest: it's a high-maintenance beast at times. You need lots of lube and he needs to take things really slowly, etc. When a guy gets to experience anal sex through pegging, he achieves a much better grasp of back door action because he knows what it feels like for you — how it can be painful at times and amazing at other times. By being interested in trying it out, he could make your sex lives and sexual communication so much more satisfying…
It's so much more acceptable for women to say they want and enjoy anal sex than it is for men to admit that they'd like to be penetrated from behind. But the fact that it's so scandalous can make it something really sexy for him to explore behind closed doors. FYI, some guys might worry if they admit to wanting their girlfriends to wear strap-ons, it means they'll be seen as wanting an actual penis inside them…Any guy, straight or gay, can enjoy anal play without it having to mean something about his sexual orientation".
What are the best types of strap-on harnesses and dildo combinations to use?
When it comes to pegging and strap-on play there are two options which couples have at their disposal; strapless strap-on toys and strap-on harnesses. Listed below is a brief overview of these different pegging sex toys and the pros and cons of using each option;
Strap-On Harnesses: When most people envisage pegging they think of a conventional strap-on harness with an 'O ring' design that has been specifically designed to keep a dildo in place for perfect penetration. The benefits of using a strap-on harness are the ability to choose from a wealth of jock straps and dildo attachments in varying sizes, shapes and vibrating styles with which you can experiment as you become more accustomed to pegging. As long as you choose a dildo with a 'flare base', it can be inserted within most 'O ring' harnesses thereby enabling you to and explore new and exciting aspects of this thrilling fetish. The disadvantages of using a strap-on harness are the fact that you may have to guide the strap-on with your hand in order to stop it from rotating and to ensure you hit the 'p spot'. Moreover, as mentioned earlier, if you intend to use a strap-on harness then you will need to make sure that you purchase dildos with a flared base otherwise they will not remain fixed within your strap-on harness throughout the act of pegging.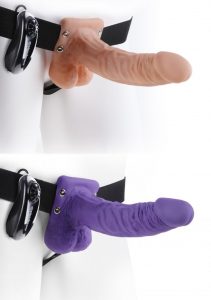 Strapless Strap-Ons : These types of 'strapless strap-on' pegging sex toys look like a conventional dildo or vibrator but they are equipped with a bulb shaped insert that female partners insert into their vagina for 'hands-free' pegging action. The main advantages of strapless strap-ons are the ways in which they are meticulously contoured to deliver excellent prostate stimulation and the fact that they can be fitted with electronic vibrators in order to simultaneously provide enhanced anal and prostate stimulation for male submissive alongside intense clitoral and vaginal stimulation for female dominants. The only disadvantage of using strapless strap-ons is that the lack of a harness means that you have to exert your pelvic muscles more strenuously in order to hold the strap-on in place throughout the act of pegging. As such, strapless strap-ons are better suited for seasoned pegging enthusiasts rather than first-time kinksters.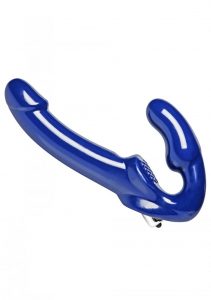 Once you have decided whether you want to use a strap-on harness or a strapless strap-on device, you have to decide which dildo you want to use. As a rule with first-time pegging enthusiasts, you should always start off small and work your way up; i.e. 5 inches or less! What's more, you should always opt for a silicone, rubber, latex, jelly or PVC dildo at first as these smoother materials will facilitate easier glide and comfort as you and your partner hone your pegging techniques. You should only advance to using harder materials such as leather, neoprene and metal dildos. Alternatively, if you are a pegging novice then you could even invest in one of the many Introduction To Pegging packs for beginners, intermediates and advanced kinksters which will equip you with everything you need in order to begin experimenting with pegging in one go!
What is the best type of lube to use?
The key to an enjoyable and intensely orgasmic pegging experience is lots of lube! Whether you are trying pegging for the first time or if you have previous experience with strap-ons, all seasoned kinksters will advise you to use plenty of silicone based or water based anal lubricant in order to ensure a comfortable and pain-free introduction to pegging. You can even invest in specially design anal relaxing lubricants which are ideal for soothing pegging novices without diminishing your orgasms.
Not only will using lube facilitate a smoother, more pleasurable pegging experience, but it can also be used as a form of foreplay. Start by using your fingers and work your way up before you introduce strap-ons. Similarly, you can begin by experimenting with lubricated anal beads, prostate vibrators and butt plugs if you are apprehensive about losing your pegging virginity. Above all else, use plenty of lube and take it slow as both you and your partner grow accustomed to the act of pegging and find your natural rhythm.
How do I prepare myself for pegging?
You have your strap-on harness, dildo and lube at the ready; now where to start? Not to worry, if you're apprehensive about pegging then here is our four step guide for first-time kinksters;
Douche : Ideally the bottom (i.e. the male or female partner who will be penetrated) should take an enema or douche approximately three to five hours before pegging. If you don't have time to do so then just make sure you can carry out a douche 15-30 minutes beforehand and that you have emptied your bowels in order to avoid any embarrassing incidents! If you have never carried out a douche before then here are some recommended travel douche sets, easy-to-use douche kits, unisex douche and enema sets, silicone shower cleansing systems, mini douche bulb kits, multi-nozzle douche systems and deluxe douche shower sets that you may wish to investigate.
Find your favourite position : When it comes to perfect pegging there are three positions we recommend; lying on your back in the missionary position, bending over on all fours or bending over the edge of your bed, a table or any surface that is below waist height. Doing so will facilitate optimum comfort during penetration and you can always experiment with more adventurous positions as you become more accustomed to pegging.
Lube, lube and more lube! : After cleaning your strap-on with some sex to cleanser and placing a condom over your strap-on to facilitate a quick and easy clean-up process afterwards, you should liberally apply some water based or silicone based lubricant to your strap-on dildo and anus in order to ensure a comfortable and pain-free pegging experience. Some discomfort is to be expected at first but if you feel any pain during pegging then you should always hit pause and apply more lube!
Start slow and build momentum : Even if you have practised pegging before you should always start slow; inserting a few fingers to get your partner accustomed and then slowly introducing your strap-on a few centimetres at a time. Putting your hands on either side of your partner's hips can help you to position yourself correctly and pulling back slightly before thrusting in slowly can help you to gauge your partner's pleasure response. Communicate with your partner throughout the act of pegging to learn which moves work best for both of you and get ready to experience one of the most thrilling sexual experiences of your life; vanilla sex will never be the same!
How do I suggest femdom pegging to my partner?
If you've always been intrigued by pegging but feel nervous about approaching the subject with your partner then there are several methods which you can try. Whether you are a man or a woman who wants to dominate your partner or if you have been curious about acting as the submissive then you should start by beginning a casual conversation about sex with your partner and mention the topic of fetishes. Asking your partner if they have ever heard of certain fetishes such as pegging, BDSM and sex-toy play enables you to learn more about their understanding of pegging and whether they have any particular fetishes of their own about which they have been curious. After all, as one man mentioned with the November 2014 Sex Talk Realness: What Men Think About Pegging Cosmopolitan article;
"Bring it up! It's much less likely he'll mention it on his own because he may be afraid you'll think he's weird or gay. He'll be glad his girlfriend expresses her sexual desires — even if he's not into it, he'll probably share some other fantasy he's been holding onto. And once you go down that sexy road, he may warm to your ideas. If your partner is into it and you're on the fence, remember that you don't have to go straight into harnesses and role reversals. You can start by using a small toy on him while you go down on him, and see how that feels for you both. When you see the effect it has on him, you'll be excited to push it further!".
Consequently, by opening up this channel of honest, judgement-free communication about sex and fetishes you can begin to discuss your own feelings about pegging with your partner. Whether they are interested in trying pegging or not, letting them know where you stand and explaining why you have been curious about it may spark some intrigue of their own and lead to you experimenting with different fetishes such as bondage and anal play before you work your way up to pegging.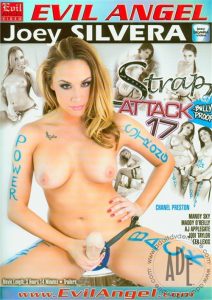 You could even suggest watching some fetish porn content  with your partner that incorporates pegging such as Kink.com's Divine Bitches femdom web series, DVD compilation titles such as Evil Angel's Femdom Pegging 4 Pack (2016) or instructional pornographic productions such as Tristan Taormino's Expert Guide To Pegging (2011). Watching these pegging-centric pornographic productions can help to dispel any concerns that your partner may have about pegging as well as sparking some curiosity within them regarding this thrilling femdom fetish. As a January 2016 Bustle article titled How To Ask Your Partner If You Could Try Pegging suggests;
"As is the case with many sexual acts, there are a lot of myths surrounding pegging. Like it's going to hurt, if a man likes it then he's gay, a woman, because she's on the giving end, derives no pleasure, among other fallacies. In addressing these myths, you're more likely to put a lot of the concerns to bed…If they need to ease into it with smaller toys, or even your finger for starters, respect that and discuss how you'll go about making it as comfortable and pleasurable as possible (i.e. using lots of lube)… If you left the subject open for further discussion, then give your partner time, but circle back eventually. If your partner gave you a firm "no," then don't press the subject. Pegging may be something you want to try, but you can't force your partner to do something in which they're not interested, either by guilt or playful taunting…Besides, you never know what's in your future. Your partner might come home one night with a strap-on in a bag and totally ready for it. You never know; but it's also someplace they need to get to on their own".
We hope that this Introduction To Pegging guide has broadened your understanding of this exciting femdom fetish and that it helps you and your partner to broaden your sexual horizons together. If you want to explore femdom pegging in greater depth then we recommend checking out our 5 Of The Best Femdom Pegging DVD Titles blog post that delves deeper into this naughty niche. If you have any further questions about femdom porn, pegging feature releases and BDSM websites, then please feel free to post your queries in the comments section below!