With only a couple of days to go before Christmas Day there's still some time to squeeze in a few more saucy seasonal shoots! So without further ado we bring you A Very Anal Xmas; a spectacular online sex scene that was first distributed via Kink.com on Christmas Day 2015. Filmed as part of Kink.com's best-selling TS Pussy Hunters web series, A Very Anal Xmas showcases transsexual superstar Venus Lux alongside female fetish performer Arabelle Raphael in some sizzling hardcore sex scenes that will delight TS fans and fetish porn enthusiasts alike! As Kink.com devilishly declare via their official site;
"Arabelle and Venus are both trying to get home for the holidays but they are snowed in in the middle of Butt Fuck Kentucky. With all the locals out at their annual holiday party, Arabelle and Venus are left alone in a bar with nothing better to do than get to know each other. They will be snowed in for a day and to stay warm and entertained they strip down and fuck hard. Arabelle undresses our Beautiful TS lady, and reveals her nice firm cock. We get Blow Jobs, Pussy fucking and Hard core Anal Fucking".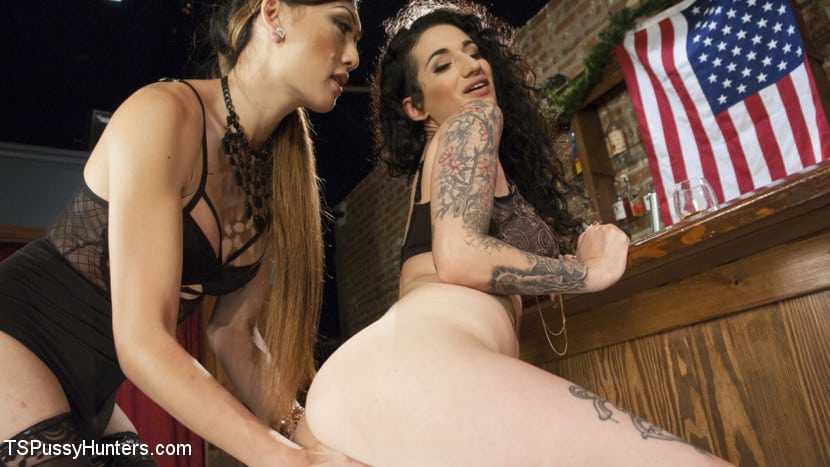 Fans of the fantastic fetish porn star Arabelle Raphael will be happy to hear that she has also filmed for TS Pussy Hunters with one of Kink.com's most popular transsexual stars; Morgan Bailey. Fans of these terrific tattooed starlets should check out their January 2016 Kink.com collaboration which incorporates all manner of oral, anal and cream pie content.
Moreover, if you love TS superstar Venus Lux, and can't get enough of her TS Pussy Hunters sex scenes, then why not also check out some of her raunchy performances for Kink.com's fan-favourite TS Seduction web series? Most recently Venus has starred in some sizzling TS Seduction sex scenes in December 2016 with Mike Panic titled Her Willing Slave; must-see content for Venus Lux fans and femdom porn enthusiasts!