Personal Info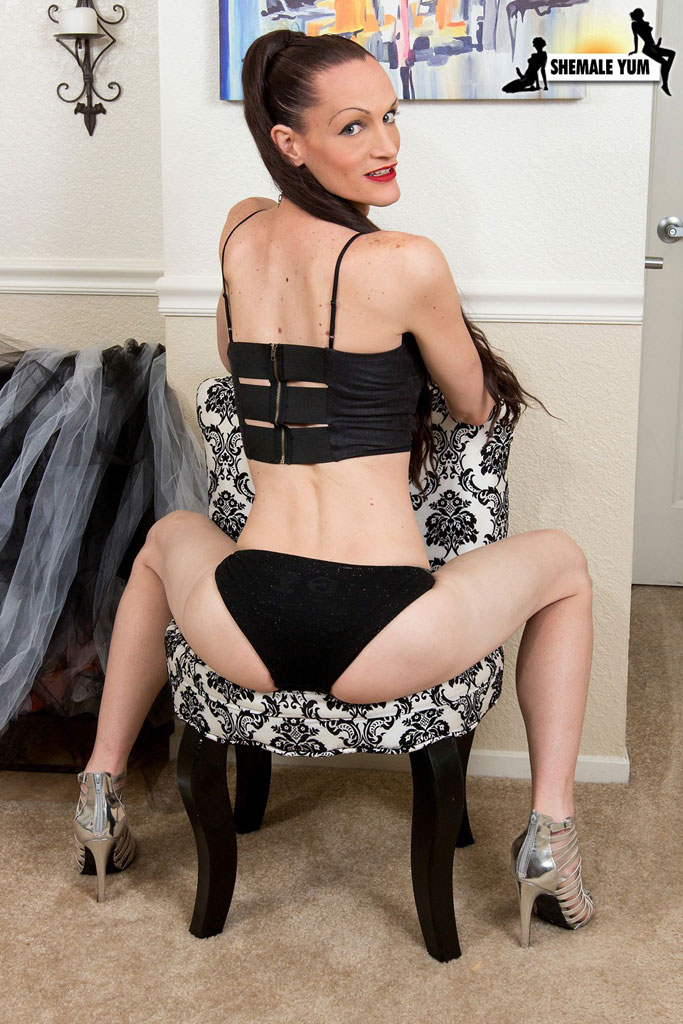 Name : Brooke Zanell
Hometown : San Antonio, Virginia (US)
Date of Birth: April 17th, 1987
Bra/ Cup Size : 34D
Boobs : Enhanced
Height :  5'9 (1.75m)
Weight : 140lbs (63kg)
Hair Colour : Blonde / Brunette / Red
Eye Colour : Green
Tattoos : Two doves with a ribbon surrounding a heart design on her neck
Years Active : 2009 – present
Number of Scenes : 20+
Busty blonde bombshell Brooke Zanell is a stunning transsexual performer who has attracted a devoted fan following for her Shemale Yum and Shemale Strokers solo sex scenes. Currently nominated for "Best Solo Model" and "Best Scene" at the 2017 Transgender Erotica Awards, Brooke Zanell has overcome adversity to become one of the most popular rising TS starlets in the adult entertainment industry; watch this space!
Born and raised in San Antonio, Virginia, Brooke comes from a large family; she was the second youngest of five siblings. Raised by a single mother, Brooke's older and younger brothers were all athletic whereas Brooke was feminine and she already thought of herself as 'one of the girls' by the time she had reached second grade. As Brooke herself explained within her January 2016 Porn OCD interview;
"I was raised by a single mother. Susan is her name and she raised four boys and one TS daughter. lol. Three brothers were older and one was younger, but we were raised like twins. All my brothers were athletic and involved with sports. I wasn't going anywhere near anything that would bulk up my skinny ass 'cause I was tiny and feminine and already thought of myself as one of the girls by second grade. Me and mom were the cheerleaders and best friends 'til I hit 12…
School my was cool. My brothers said I might be gay and all that, but I wouldn't be no punk! So I had to fight and fight I did. If you dared called me out my name…. But after awhile, I stared hanging out with all the cool girls and then started sleeping with their crushes. I was naughty little bitch, all in the bathroom in school having the boys (we were all underage and it was all agreed to)".
Brooke revealed during this Porn OCD interview that turning 12 was the toughest year of her life; she was beginning to discover her sexuality and gender identity but her mother and her stepfather did not understand her feelings and were not willing to embrace her true gender identity. Unable to cope with this troubling environment, Brooke ran away from home when she was 14 years old and began living with a group of like-minded transsexual teenagers who looked out for one another. Unfortunately, life on the streets was not a healthy environment for Brooke or her fellow transsexual teens and after a series of hardships she was arrested and incarcerated for eight months. Brooke has been incredibly open about discussing this tumultuous period of her life and divulged during her Porn OCD interview how;
"The age of 12 was the toughest in my life. I hated dressing like a boy. My mom let me grow my hair out only if I got the chili bowl haircut which I agreed to. I had to have something to swing. But as I begin dressing in more girl's clothes and became more feminine, things got rougher at home. My mom's new husband, ol' Shack, was old school to the core and wasn't trying to understand me, so complications occurred. I ran away at 14 years old to Indianapolis, Indiana and found a group of kids just like me. We were our own family. We fed each other we fought for each other. We provided shelter for each other. We were all we had (Alexis, and Dominique, and Annastacia). So the streets were my home and it's no place for a kid, let alone TS girl like me. More complications occurred and I went to jail for eight months".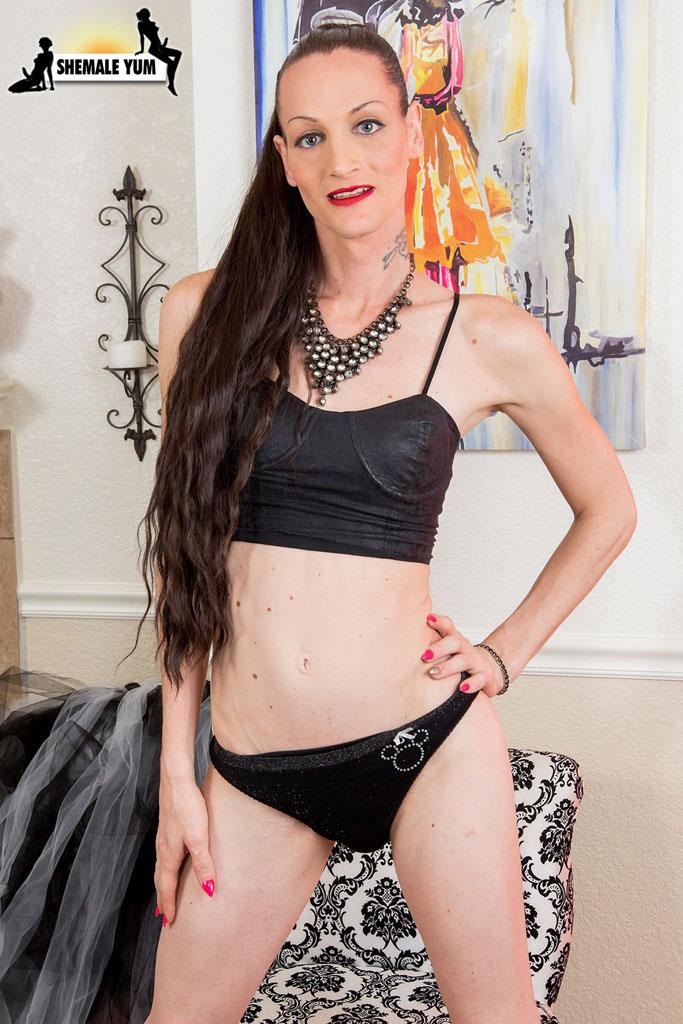 Although living on the streets and being incarcerated for eight months was an extremely difficult period of Brooke's life, it eventually led to a reconciliation with her mother who apologised for her previous actions and promised that she would ever do anything that would damage their close bond ever again. In this manner, Brooke moved back home with her mother after she was released from prison and was able to return to school, attained her GED and enrolled in community college whereupon she graduated with an Associate's Degree in History. Brooke described this pivotal moment in her life within her Porn OCD interview, conveying how;
"After that, I went back home to my mom. My mom missed me. She told me never again would she do something so stupid again, that I was her best friend and that I always had been. It took me going missing to realize what she had. She wasn't willing to do anything to mess up our bond again, and she has kept that promise to this day. So I came home at the age of 19 with a 7th grade education, and had a lot of catching up to do. I went and got my GED and then I enrolled in Community College and got my Associates Degree in History. I did so because my fascination with the Monarchies of Europe".
Brooke Zanell : Adult Film Career
Brooke began working within the adult entertainment industry when she was 24 years old and living in Indianapolis. After meeting Zori Zanell (aka TS Lady Godiva), Brooke began to feel confident publicly embracing her true gender identity and she began travelling around the United States working as an escort. Brooke's first ever sex scenes were a spur of the moment decision that came about whilst she was staying in Florida with TS Lady Godiva. Upon attending an adult film shoot with TS Lady Godiva that she was filming for tonyaworld.com, Tonya Cline approached Brooke and asked if she would be interested in posing for her own solo sex shoot. And the rest, as they say, is history! Brooke discussed the thrill of shooting her first ever sex scenes within her January 2016 Porn OCD interview, commenting that;
" Then at 24 years old in Indianapolis, I met one of my greatest influences, Zori Zannell aka TS Lady Godiva. With a little help from a friend, I went from a little girl to grown woman, started escorting and traveling around the USA. While in Florida, Lady Godiva had a shoot with Tonya Cline. Tonya, who owns tonyaworld.com, asked me to come along with her, so I did. And when Tonya asked me if I wanted to do a shoot and I did, man the magic I felt! And you should of seen Tonya's house. It was a mansion with a indoor pool that she owned. OMG I had to have me a piece of the pie. I knew I was pretty. Everyone always told me that. So that's where my adventures in porn began".
A defining moment in Brooke's adult film career came in May 2009 when she made her adult film modelling debut via the Grooby Network porn site Shemale Yum with a sultry solo sex shoot titled Smooth Horny Brooke that was filmed by popular porn cinematographer Remy. After being crowned "Shemale Yum Model of the Month" in May 2009, Brooke continued to shoot a wide range of sizzling solo sex scenes for Shemale Yum with Remy including Brooke Sexes It Up in June 2009, Tall Beauty Brooke in June 2010 and Brooke Heats Up Bathroom in August 2010.
In addition to her fan-favourite Shemale Yum collaborations with Remy, Brooke has also filmed several sultry sex scenes with fan-favourite cinematographer Radius Dark. Fans of Brooke's steamy solo sex scenes have to check out her series of sizzling Shemale Yum shoots that she filmed with Radius Dark among which include Brooke Stokes Her Piece that was first distributed via Shemale Yum in June 2013, Brooke Strips Down that was released in July 2013, Brooke Takes Black Cock that she filmed in August 2013 with male porn star Trey, Southern Beauty Brooke that was unveiled in May 2014, Sexy Brooke that she filmed in July 2014 and Brooke Sex Party in December 2014. In recent years Brooke has collaborated with Radius Dark on such raunchy Shemale Yum solo sex shoots as Brooke Works It in January 2015, Slender And Sexy Brooke Zanell in May 2015, Pretty In Pink Brooke Zanell in July 2015, Brooke Zanell Jacks Her Big Cock in October 2015, Brooke Zanell Strokes Her Huge Dick in December 2015, Heritage Model #19 – Brooke Zanell! in May 2016 and most recently some raunchy Hung Country Girl Brooke Zanell! cowgirl themed solo sex scenes that were distributed via Shemale Yum in July 2016. As well as these Shemale Yum collaborations, Radius Dark has filmed Brooke's thrilling four-way transbian sex scenes with Holly Parker, Nina Lawless and Sami Price for dirtyblondetranssexuals.com in March 2015. Honey loves working with Radius Dark and enthused during her January 2016 Porn OCD interview how;
"He is my shining light and always knows what works best for the Brooke Zanell brand. So shout out to Radius Dark Productions".
As well as her captivating web content with Radius Dark and Remy, Brooke has teamed up with award-winning director Sammi Mancini in order to shoot some sensational solo sex scenes for his fan-favourite shemalestrokers.com web series. Out of all of her amazing shemalestrokers.com web clips, we recommend viewing Brooke's Hard Workin' Trans Girl solo sex scenes that were filmed by Sammi Mancini in September 2016. In fact, in recent years Brooke has collaborated with Sammi Mancini on a wealth of sizzling solo sex scenes for shemalestrokers.com that have been featured within his Mancini Productions DVD compilation titles She Male Strokers 74 (2015) and She Male Strokers 84 (2016). Performing within this best-selling TS DVD series has enabled Brooke to feature alongside rising TS starlets Franchezka, Evie Eliot, TS Melanie, Jamie French, Aubrey Kate, Aubrey Starr, Natalie Mars, Alexa Scout, Cherry Mavrik, Kinky Kora and Eva Cassini. What's more, performing in these scintillating TS DVD titles have also earned Brooke a wealth of coveted adult film awards nominations including;
2015: Transgender Erotica Awards nominee "Transcendence Award"
2016: Transgender Erotica Awards nominee "Miss Unique"
2016: Transgender Erotica Awards nominee "Best Scene" Dirty Blonde Transsexuals (with Holly Parker, Nina Lawless and Sami Price)
2017: Transgender Erotica Awards nominee "Best Solo Model"
2017: Transgender Erotica Awards nominee "Best Scene" Shemale Strokers
Upon being asked about her adult film career during her January 2016 Porn OCD interview, Brooke stated that she has always been a determined individual who has never let adversity set her back. During this insightful interview Brooke also stressed the importance of transsexual performers sharing their life experiences in order to support and inspire others. As Brooke puts it in her own words;
"Being a tranny coming from a era where majority of the girls either escorted or did drag, it was quite a easy choice – sink or swim and I am swimming…
you live, you learn , and you keeping it moving, honey. I just want to add one more thing. We must share our life experiences so the next generation of tgirls do not have to go through the same trials and struggles as some of us girls went through. So I thank everyone who has ever been interested in me".
Currently nominated for "Best Solo Model" and "Best Scene" at the 2017 Transgender Erotica Awards, Brooke's adult film career seems to be going from strength to strength! You can learn more about this beautiful blonde bombshell by visiting her official social networking channels online today using the links provided below.
Social Networks
Twitter : @Brooke317Zanell
Shemale Yum Profile : Brooke Zanell at Shemale Yum
Adult Empire Profile : Brooke Zanell at Adult Empire
Gamelink Profile : Brooke Zannell at Gamelink