Personal Info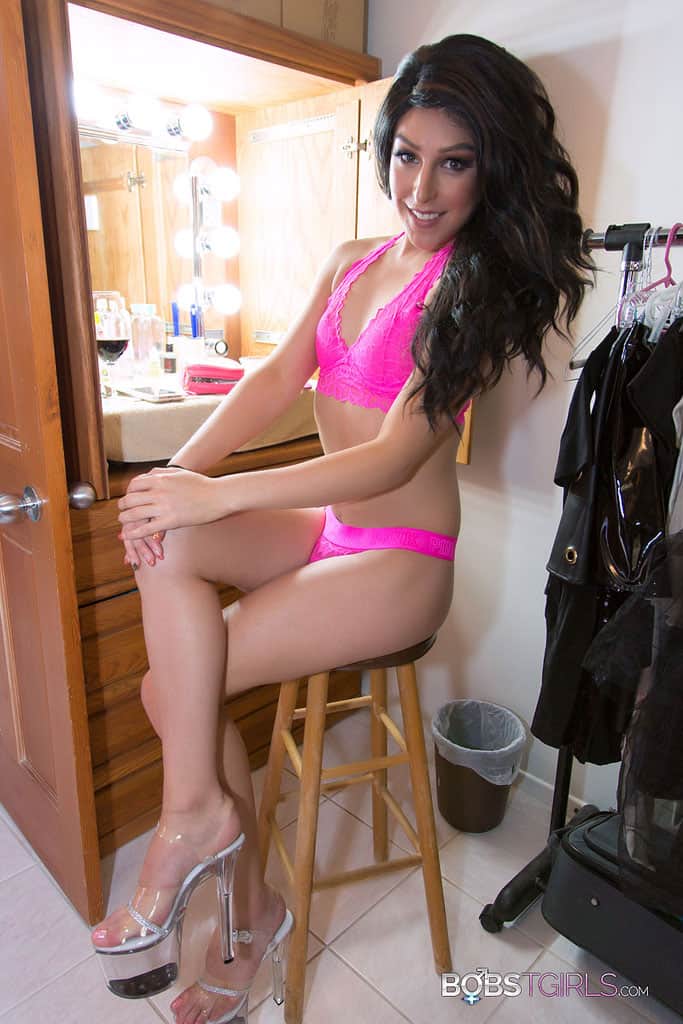 Chanel Santini at Bob's T Girls
Name : Chanel Santini
Alias : CiCi, CC Santini
Date of Birth: January 7th, 1998
Home Town : Albuquerque, New Mexico (US)
Measurements: 34A – 28 – 36
Bra Cup / Size : 34A
Height : 5'8 (1.73m)
Weight : 120lbs (50kg)
Hair Colour : Black / Brunette / Blonde
Eye Colour : Hazel
Years Active : 2015 – present
Number of Scenes : 15+
Introducing the glamorous TS starlet Chanel Santini! Born in Albuquerque, New Mexico, Chanel Santini has Hispanic heritage and describes herself as;
"[the] dream supermodel girl that you've been looking for. with sexy, long, tan, legs. Dark hair and sparkling Hazel eyes. I like to think of myself as your ultimate glamour girl, always looking my very best.  I am Spanish, from Sandia Peaks of New Mexico. which gives me that sexy exotic look…You will find me to be a great conversationalist and listener. I love to make a connection with you and really enjoy being in the moment. I tend to be very upbeat and positive, although I'm feminine and sweet I also have a wicked sense of humor". 
Although she exudes confidence in front of the camera, Chanel conveyed within her September 2016 Fleshbot interview how she struggled to find her own sense of style during her teenage years;
"I was really awkward in high school. I came out as Trans at the age of 15 and I would go through many phases trying to find my style. I didn't date much in high school; I wasn't as cool as I am now. I was kind of a loner".
Upon graduating from high school, Chanel decided to move to Las Vegas with her best friend at the time. After working at the clothing store Hollister for several months and struggling to live from pay check to pay check, Chanel began to investigate adult entertainment advertisements on Craigslist after her friend received a job offer from a Grooby Productions talent scout. As Chanel explained in her own words during her Fleshbot interview;
"It's a long story but long story short. I moved to Vegas with my former best friend back in December of 2015. I was working at Hollister, living pay check to pay check. My friend was posting to Craigslist looking for work and it was the week of the AVN's in Vegas. A producer from Grooby Productions contacted my friend asking if she was interested in doing a scene. She showed me, and we laughed. We took it as a joke. Then I looked into it more and started thinking about it more and I ended up taking the deal. I shot at the MGM Grand, and my career took off".
Chanel Santini : Adult Film Career
When she was 18 years old Chanel Santini filmed her first ever solo sex shoot for Shemale.XXX that was titled Barely legal Chanel Santini. Filmed by Omar Wax and distributed in February 2016, Chanel swiftly followed her successful adult film debut with another sultry Shemale.XXX solo shoot titled Beautiful Chanel Santini Takes A Bath as well as filming some hardcore sex scenes with male porn star Danny titled Chanel Santini & Danny Get Turned On.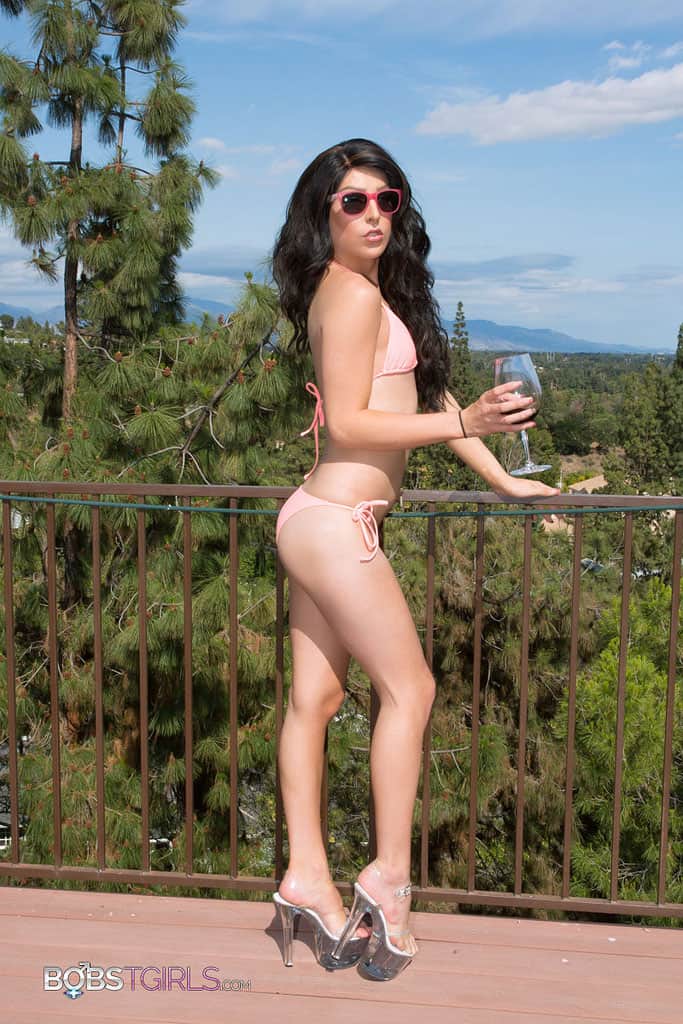 In the months that followed, Chanel continued to film a variety of glamorous photo sets and hardcore sex scenes for Shemale.XXX as well as for the popular transsexual porn sites TSGirls.com, BobsTGirls.com, Pure-TS.com, SheMaleStrokers.com and TGirls.porn. Chanel also began to establish an international reputation as a multi-talented webcam model due to her saucy live chat sessions on Chaturbate. Fans of seductive rising starlet Chanel Santini will not want to miss out on such sizzling sex scenes as; 18 Year Old Teen CC Santini Enters Porn With A Bang and Brand New TS Starlet CC Santini Worships A Big Dick that were both filmed with Christian XXX in February 2016 for Pure-TS.com, Chanel's first ever girl-on-girl sex scene with Coco Dahlia that was shot by Omar Wax for TGirls.porn in March 2016, her Desert Wind Studios solo sex shoots TS Beauty Goes Anal and Photographer Gets Surprised, as well as Chanel Santini: Pretty In Pink which was distributed via Shemale.XXX in June 2016, filmed a fantastic fetish porn sex scene for Kink.com's TS Seduction web series titled The Devil In A Red Dress in October 2016 and most recently starred in Beautiful Chanel Santini In Glorious 4K! that was released via Shemale.XXX in November 2016.
A landmark moment in Chanel's adult film career came in May 2016 when she signed with the leading adult entertainment network TransErotica. Speaking within a series of XBIZ News press releases, Chanel enthusiastically stated how;
"I am thoroughly enjoying working in this industry…To have my official site built and launched on the TransErotica Network is thrilling. I am looking forward to the finished product…
I finally decided it was time to build my very own website full of exclusive, raw and amazing content. I am quite confident putting my trust in the TransErotica team, and I feel they have done a great job building a site that captures my personality".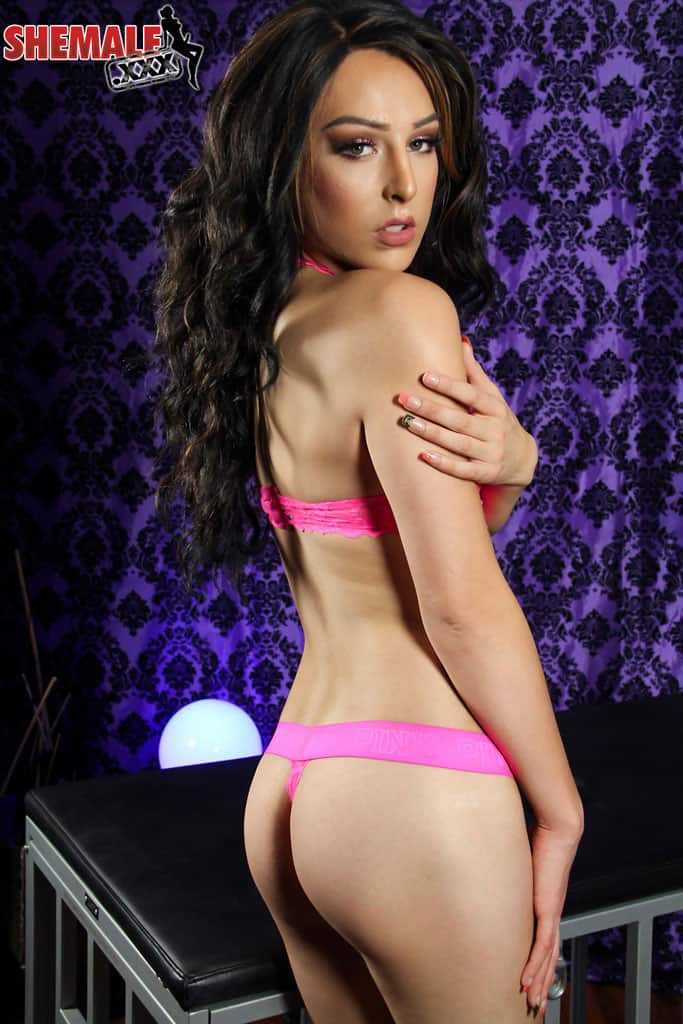 Alongside fellow rising TS starlet Alexa Scout, Chanel was able to launch her official solo website which has enabled her to shoot exclusive HD video clips and high resolution photo sets much to the joy of her international fan following. TransErotica President JC Baumgartner enthused at the opportunity to launch both Chanel's and Alexa's official solo website, advocating within these XBIZ News press releases that;
"To say we are lucky to grab these two popular teen stars is an understatement…Each girl is bringing her own unique personality and style to the table, which is going to complement our family of sites so well…
It's an exciting time for us here at TransErotica…Chanel brings not only a lot of energy, talent and her trademark glamour to the network — she is also very active on social media and has quite the fan following. Her site allows us to officially dip our toes into the TS teen market". 
Following this exciting announcement, Chanel's official solo website ChanelSantini.XXX was up and running by July 2016 and she soon began to upload all manner of captivating content including; Chanel Santini Sits And Strokes, Chanel Santini Is Pretty In Platinum, Loving Las Vegas, Chanel Santini Red and Ready and Chanel All Alone In A Bubble Bath as well as shooting some sizzling hardcore sex scenes with Jasmeen and Alexa Scout such as Chanel Santini Creampies Jasmeen, Chanel Santini Fucked By Alexa Scout and Chanel Santini In Kinky Hardcore With Jasmeen.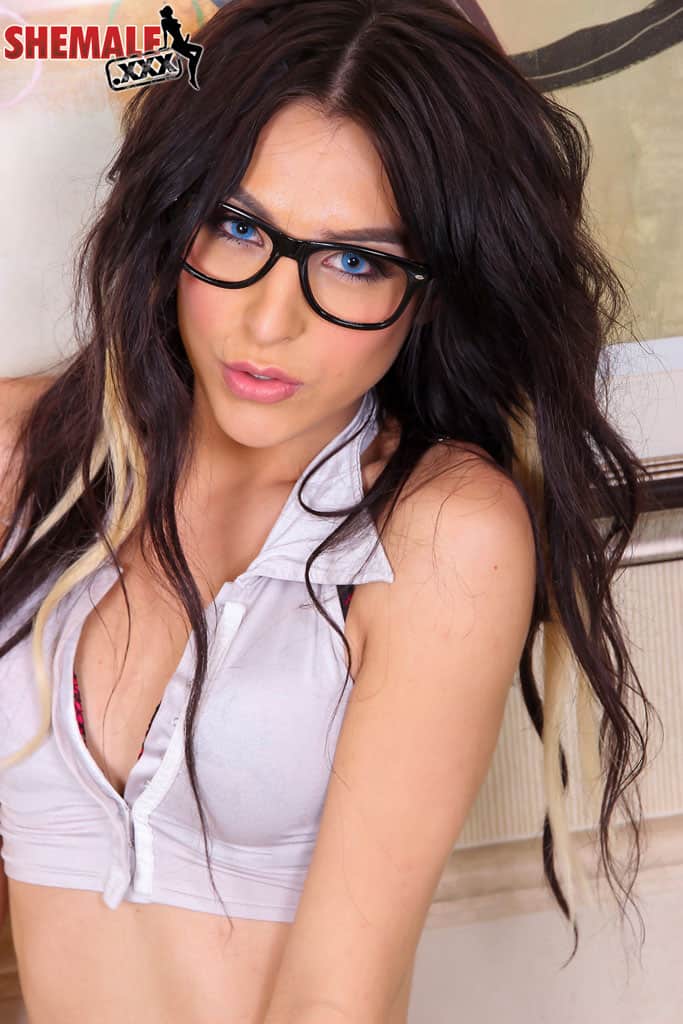 Chanel has been extremely busy throughout 2016. In fact, in addition to launching her official solo website and collaborating with all manner of popular transsexual porn sites, this stunning rising starlet has also featured within multiple best-selling DVD titles for the fan-favourite pornographic production companies CX WOW Studios, Grooby Productions, Rodnievision and Mancini Studios. We recommend that fans of Chanel Santini check out her scene-stealing moments within Amateur Transsexuals 5 (2016) that was filmed for CX WOW Studios alongside Britney Boykins, Beth Bell, Brittany Snow and Christian XXX,  Bang My Tranny Ass 14 (2016) which was directed by Sammi Mancini  and enabled Chanel to work with famous transsexual performers Korra Del Rio, Isabella Sorrenti, Evie Eliot and Barbie Jo, and the Grooby Productions feature DVD sequel release T-Girls Porn Volume 2 (2016) that showcased a stellar cast of transsexual performers including Jamie French, Eva Cassini, Chelsea Marie, Coco Dahlia, Morena Black, Vixxen Goddess, Kira Krash and Crystal Sopen. Chanel posed as one of the DVD cover models for T-Girls Porn Volume 2 alongside her friend and former co-star Coco Dahlia and advocated within an XBIZ press release how;
"It was great working with CoCo…She's such a professional and I loved being with such a cute fiery redheaded hottie. I hope I can twerk my sexy booty in her face again soon!".
Chanel's seductive charm and fresh-faced beauty was also encapsulated within Sammi Mancini's award-winning TS DVD series She Male Strokers 81 (2016) and She Male Strokers 83(2016) alongside Korra Del Rio, Isabella Sorrenti, Stefani Special, Alexa Scout, Aspen Brooks, Sue Lightning, Lianna Lawson, Casey Kisses and Nadia Love.
When she isn't uploading exclusive new content onto her official website or collaborating on exciting new adult film projects, Chanel can be found hosting transsexual nightclub events with her friends and fellow performers. Chanel made her first ever feature dance appearance at Tranny Strip, "New York's Biggest Transsexual Party" on September 17th 2016. Held at the Headquarters Gentlemen's Club in New York City, Chanel was joined by Jaemy Paris, Ebonee Excell, Sandy Michelle, Miss Pearl and Seasonse Beste as well as over 20 transsexual dancers. Thrilled to host and dance at Tranny Strip for the first time, Chanel exclaimed within a Grooby Network press release how;
"I'm super excited to be Hosting Tranny Strip!…I love to dance, and I have been practicing my sexy moves on and off the pole. I  absolutely love New York City! I went for the first time back in April and fell in love with it! That was also my first time dancing at Tranny Strip. I'm excited to be back in the Big Apple!".
Chanel loved her debut Tranny Strip hosting and feature dancing experience and as such was more than happy to participate within their Trans All-Star Party that was held at the Little Darlings club in Baltimore on September 23rd. Joined by award-winning transsexual performers TS Foxxy, Morgan Bailey and Natassia Dreams, Chanel helped to host this two night erotic extravaganza that was sponsored by Tranny Strip and TGirl Events.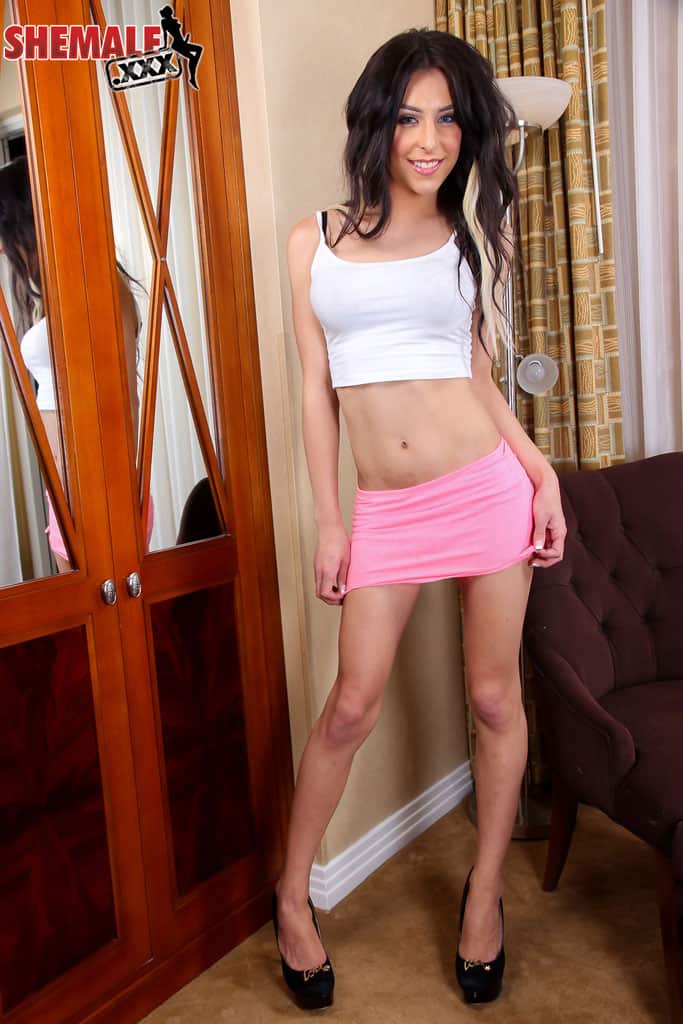 Confident and charismatic Chanel Santini is a natural born host who has been announced as one of the presenters who will be overseeing the next Trans All-Star Party at the Ego Nightclub in Providence, Rhode Island! This lavish nightclub event will take place on November 20th as part of Trans-Awareness month and Chanel will be joined once again by TS Foxxy, Morgan Bailey and Natassia Dreams as well as Tiffany Starr and Tara Emory. An ardent transgender rights activist, Chanel is eager to participate within nightclub events such as these in order to support transsexual business ventures and to raise awareness towards important issues which impact the LGBT community as a whole. As Chanel herself stated within her Fleshbot interview;
"I would like to develop my brand more. I would like to make TS porn more mainstream. TS is a really big niche in the industry but it's still something that a lot of people keep on the down low. I would like to be signed with a major agency because no trans woman are, or at least none I know about, and I want to show other TS girls to embrace our bodies and to not be ashamed".
Given that Chanel has recently been spotted on set with Isabella Sorrenti, continues to host live chat sessions via Chaturbate and regularly uploads all manner of sizzling sex scenes to her official solo website, we think it's safe to say that we'll continue to see big things from Chanel Santini towards the end of 2016 and beyond! If you'd like to learn more about rising starlet Chanel Santini then please feel free to visit her official social networking channels; the links for which have been provided below. Catch up with Chanel's latest content via her official solo website, schedule yourself in for a live chat session with the seductive starlet herself, or nominate her for the upcoming 2017 TEA Awards via Twitter; the choice is yours!
Social Networks
Bob's T Girls : Chanel Santini at Bob's T Girls
Shemale XXX : Chanel Santini at Shemale XXX
Twitter : @CCSantini
Instagram : @ChanelSantini
Chaturbate Profile : https://chaturbate.com/chanelsantini/
Kink Profile : http://www.kink.com/model/59709