Personal Info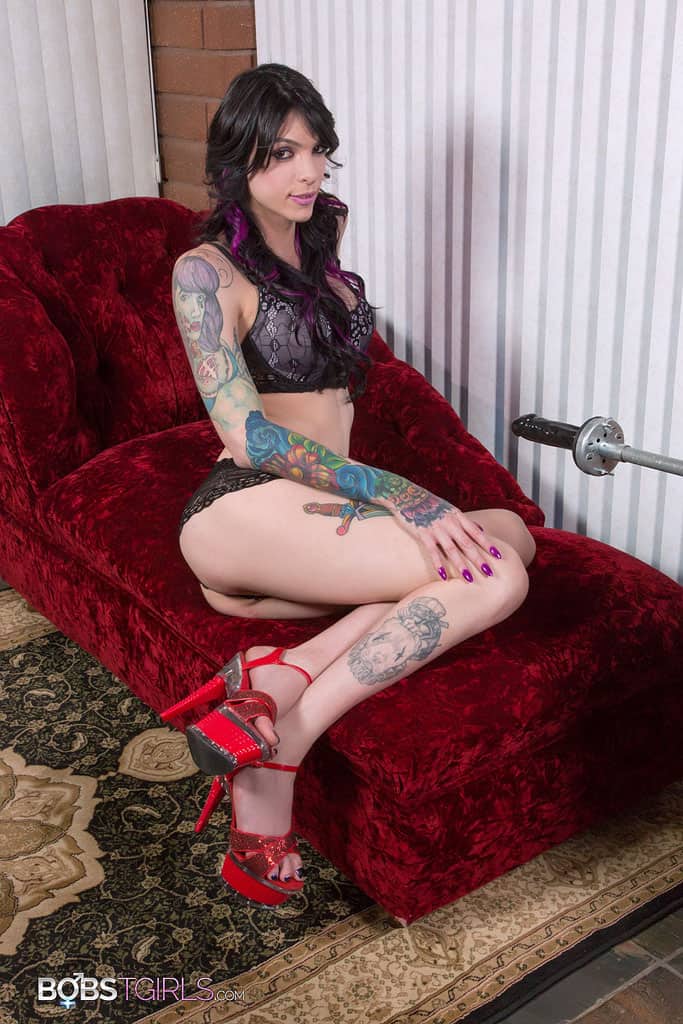 Chelsea Marie at Bob's T Girls
Name : Chelsea Marie
Date of Birth : May 16th
Home Town :  West Palm Beach, Florida (US)
Measurements : 34D – 28 – 34
Bra/ Cup Size : 34D
Height : 5'10 (1.77m)
Weight : 126lbs (57kg)
Hair Colour : Brunette / Black / Blonde / Red
Eye Colour : Brown
Tattoos : Multiple intricate tattoos across her entire body including; a black cross necklace tattoo on her chest, a red and blue roses sleeve design along her left forearm, a multi-coloured skeleton girl sleeve on her left upper arm, a dragonfly design above her right breast,  a clown face design on her left hip, a large black angel wings design across her upper and lower back, a multi-coloured dagger design on her upper right thigh, a detailed black ink Pit-bull design on the outside of her left calf, a multi-coloured zombie girl sleeve on her right upper arm, a multi-coloured right forearm sleeve and two black ink paw print designs on the right side of her neck
Years Active : 2011 – present
Number of Scenes : 25+
Bold, brazen and beautiful, tattooed starlet Chelsea Marie has been taking the adult entertainment industry by storm since her first Shemale Yum shoot in July 2011! Born and raised in West Palm Beach, Florida, Chelsea divulged within her December 2014 Shemale Heaven interview how she began to discover her true gender identity when she was 8 years old. As Chelsea puts it in her own words;
"I know I was different since the age of 8 years old. I used to love playing with Barbie's and running around in my grandmas heels. I really didn't know what transgender was until I was about 12 of 13 when I saw a picture of a naked transsexual in porn and something inside me said that is what you are. Made sense because I was always very feminine, I just never liked being a boy and I am very happy I decided to transition into a transgender female".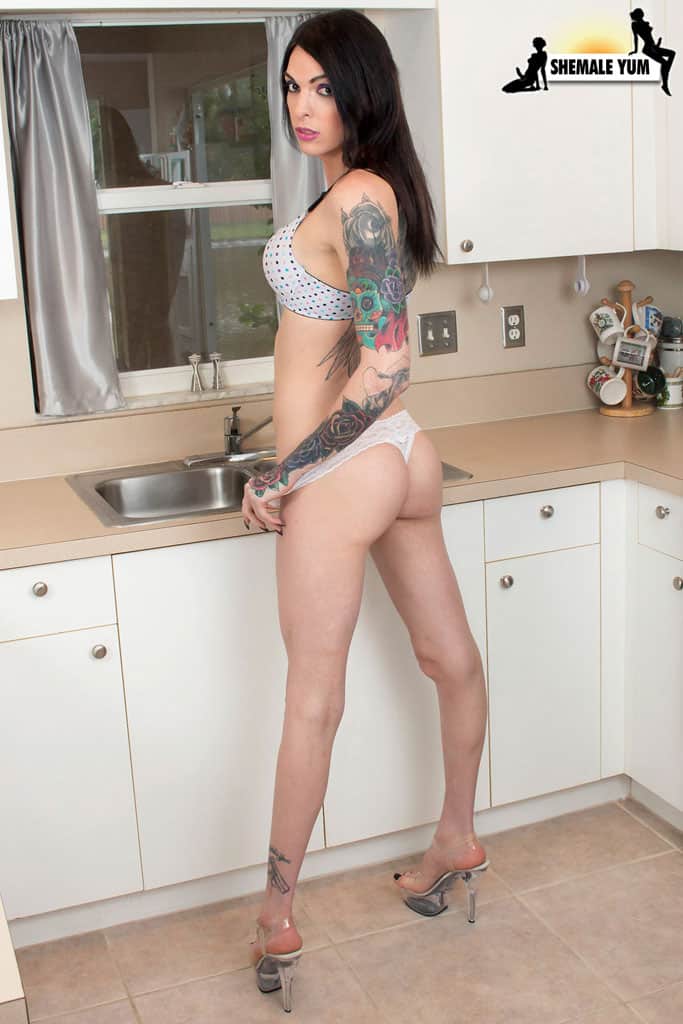 Chelsea comes from a large family with seven siblings and has often stated that this family dynamic made her transition process even more difficult. For instance, Chelsea revealed within her Shemale Heaven interview how;
"It was hard for me to transition, growing up in a big family with 7 other siblings and them being hateful towards the terms gay, faggot etc. I was very scared to come out as myself because I thought I would be picked on more then I already was. I thought I would lose my family and friends. My family always called me a girl and a sissy but telling them I am this way was so hard for me to do. I would cry in my room by myself thinking why am I like this and why can't I be happy as a boy. High school knew at this time I'm was girl but lived a straight boy life so I could have a good teenage life even though I had gay and lesbian friends I was scared to tell anyone. I felt it was my secret and no one should know because I was ashamed of myself".
As well as embracing her true gender identity, Chelsea is bisexual and during her Shemale Heaven interview she discussed her personal dating experiences to which many transgendered persons can relate;
"I am bisexual and have had many relationships with trans women and cis women but I've only had one real boyfriend in my life. Dating can be hard because of jealously or not being trust worthy. I am not an expert at dating something I'm still new at because I'm looking to be loved in a relationship and find that one person who could love me for everything I do".    
When asked about the possibility of undergoing sexual reassignment surgery during this  Shemale Heaven interview, Chelsea candidly responded that;
"This is a question I am questioning myself every day. I love what I have but still want SRS one day. For me it's about being happy and accepting myself and love my body with SRS or not. I consider myself a women no matter what. Stay true to yourself it's just a surgery in my mind. There are transsexuals that get SRS and still not happy with themselves. Love yourself no matter what you are because you only get one life, this isn't Mario Bros".
Chelsea Marie : Adult Film Career
In July 2011 Chelsea Marie made her adult film modelling debut via a solo photo set for the pioneering trans-friendly porn site Shemale Yum. Chelsea's first ever photo set was titled The Debut Of The Beautiful Chelsea Marie and Chelsea mentioned during her Shemale Heaven interview that she decided to pursue a career as a porn star because;
"My story is easy, I'm a South Florida girl but living in California but I started in Florida. I got into it because I thought doing a porn seemed like fun and wanted people who are curious about being with a transsexual women to be okay with their personal sexuality. I am comfortable being naked and showing off my body. If it helps people to be okay being attracted to transsexuals then I am doing my job and look many years later from my very first porn I'm still an adult model. I have won an award at the Transgender Erotica Awards and Nominated at this 2015 awards here in Hollywood California. I am hoping I will win more Awards for the years to come in my career as a Porn Star and keep working with the Big names in the industry".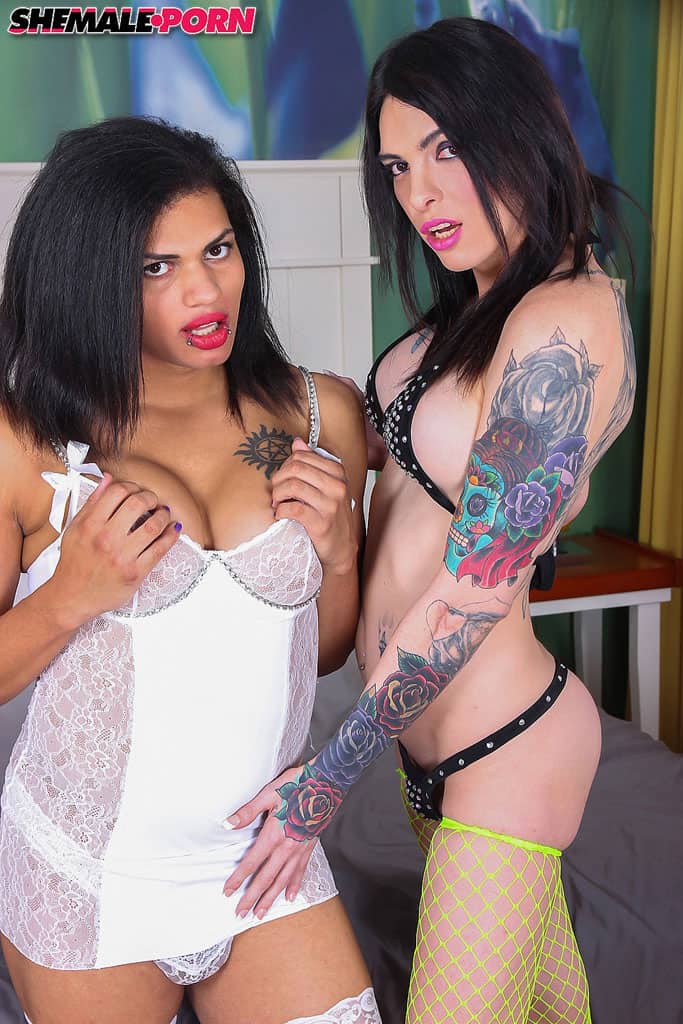 Chelsea Maria and Morena Black at Shemale.porn
Chelsea swiftly followed her first ever adult film photo set with a September 2011 Shemale Yum shoot titled The Sexy and Tatted Chelsea Marie. Over the years, Chelsea has continued to feature within a series of exclusive video clips and high quality photo sets for Shemale Yum as well as filming for the popular trans-friendly porn sites TGirls.com, Shemale.XXX, Bob'sTGirls.com, SheMaleStrokers.com, Shemale Club, Interracial T-Girl Sex, Frank's T-Girl World, Shemale Pornstar, SMC Network, TwoTGirls.com, TS Playground, Altomic Visuals and Shemale.Porn. Chelsea also films a steady stream of sizzling content for her official solo website TSChelseaMarie.com as well as taking the time to shoot exclusive video clips for the official websites of her friends and fellow transsexual performers such as Jamie French and Tiffany Starr.
From 2012 onwards, Chelsea began to feature within several  long running TS DVD series including Sammi Mancini's best-selling She Male Strokers 55 for Rodnievision. This particular instalment starred Chelsea alongside rising TS starlets Khloe Hart, Morgan Bailey, Venus Lux, Tyra Scott, Kitty Kaiti and Khloe Reyes and it was nominated for "Best DVD" at the 2012 Tranny Awards and "Transsexual Release of the Year" at the 2013 XBIZ Awards. In 2012 Chelsea also performed in the White Ghetto DVD feature releases Monsters Of She Male Cock 28 and 29 alongside Joanna Jet, Ariel Everitts, Ellen Silva, Naudy Nadia, Eric Jover and Mark Galifiore.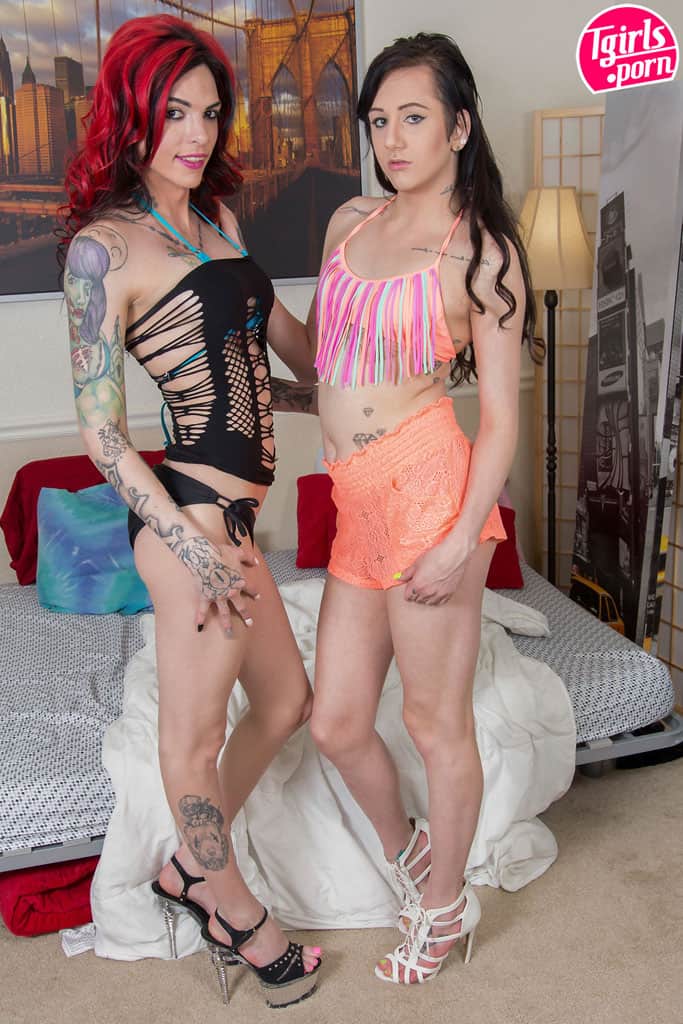 Chelsea Marie at T Girls. Porn
Throughout her adult film career Chelsea's tattoos and sexually adventurous nature have earned her an ardent fan following within the fetish lifestyle market. In fact, since October 2013 Chelsea has established herself as one of the most popular transsexual performers to film for the fetish porn site Kink.com and remains a frequent feature within their TS Pussy Hunters and TS Seduction online franchises. Fans of Chelsea Marie's kinkier side should check out her debut Kink.com online sex scene with Bella Wilde for TS Pussy Hunters titled Sexy Newcomer TS Dom, fucks Bella Wilde in Art Class, as well as viewing Chelsea Marie's First Creampie! which was filmed for TS Seduction in June 2016 with Corbin Dallas and TS Chelsea Marie wants girlfriend Mia Li to get into BDSM with her that was filmed for TS Pussy Hunters in 2016. In addition to these raunchy Kink.com sex scenes, Chelsea has filmed a wide range of femdom, BDSM and fetish porn content for leading pornographic production company Evil Angel and has featured within such saucy sex scenes as Tasty TS-On-TS Fuck Date with Britney Boykins July 2016 and TS-On-TS Sodomy And Cum Facials with Korra Del Rio in September 2016.
A defining moment in Chelsea Marie's adult film career came in October 2013 when she launched her official solo website, TSChelseaMarie.com, through the Grooby Network. Chelsea was thrilled at the opportunity to manage her own website and at the prospect of devising, shooting and starring within her own exclusive web content. As Chelsea herself enthused via a Grooby Network press release;
"I've always wanted to have my own site so I could give my fans a chance to see me as I am in everyday life…I want to fulfill the fantasies they've never seen before. I love being the bad girl and I am extremely excited to launch my official site".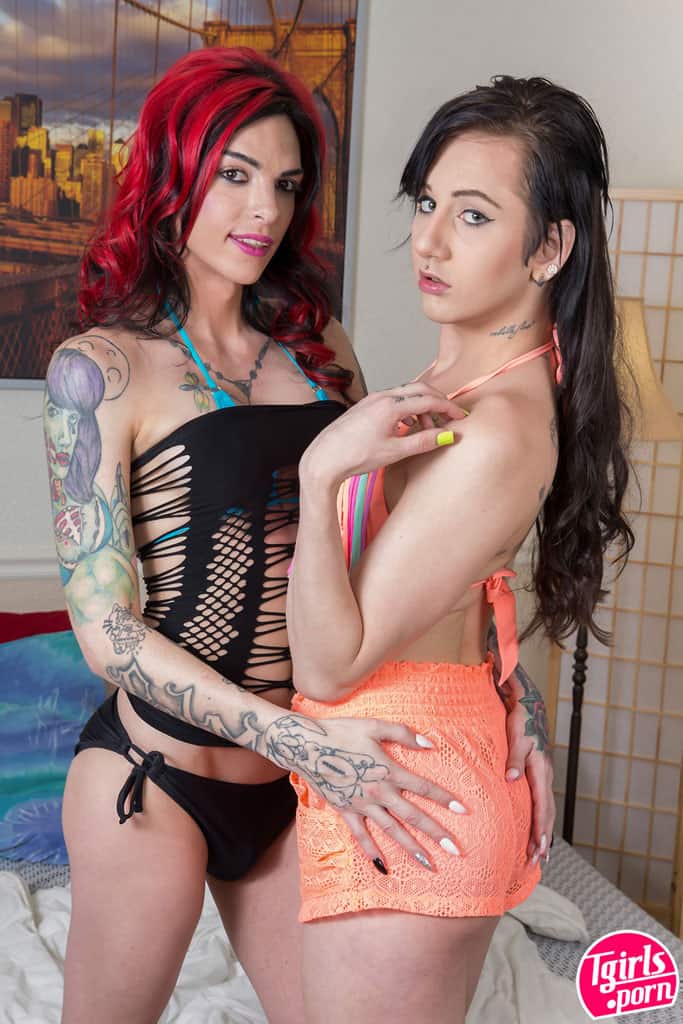 Chelsea Marie at T Girls. Porn
Steven Grooby, founder of Grooby Productions, praised Chelsea's new website and ongoing adult film projects, even hinting within this October 2013 press release that;
"Chelsea is working closely with our photographer Radius Dark on her site and I think it speaks to the high quality of her scenes…Expect big things from Chelsea Marie. She's one to watch".
Chelsea's adult film career continued to soar to new heights throughout 2013 as she began to perform within multiple fan-favourite pornographic productions including; Tranny Fucking Machines 1, 11 and 20 and Trannys And Their Toys 3 which were all filmed for Michael Kahn's World. Fans of Chelsea Marie will also want to check out some of her best-selling DVD titles including; All T-Girls 1 (2014) for Grooby Productions starring Nina Lawless, Miranda Meadows and Michelle Firestone, She-Male Reform School 8 (2014) for White Ghetto with Jesse Flores and Christian XXX, Transsexual Road Trip 16 (2014) for White Ghetto, She Male Strokers 70 (2014), Tranny Ass Fuckers (2014) for Ultima Entertainment alongside Jamie French, Eva Cassini, Danika Dreamz and Nelly Taylor, and TS Playground 14 (2014) wherein Chelsea performed alongside Savannah Fox, Sheylla Wandergirlt, Juliana Souza, Nicole Bahls, Danielly Colucci and Bianca Hills. TS Playground 14 received rave reviews from adult film critics such as XCritic column writer Apache Warrior who highlighted within his February 2015 online review how;
"TS Playground 14 is a film by director Jay Sin.  This series has always been a pretty solid one for Evil Angel and it's tranny fans. Even though Jay has been filming tranny films for a long time and is very reputable in this genre, it still feels like he is an unsung director since legendary filmmaker Joey Silvera also films transsexual porn for Evil Angel… This film is filled with hot performances and women. The best performances that provided non-stop hotness were the Juliana Souza-Bianca Hills and Chelsea Marie-Savannah Fox ones. Each woman wanted the other badly. It created solid passion. Nicole Bahl and Sheylla Wandergirlt gave very worthy efforts too. Much jacking off moments among these four scenes. I highly recommend this film".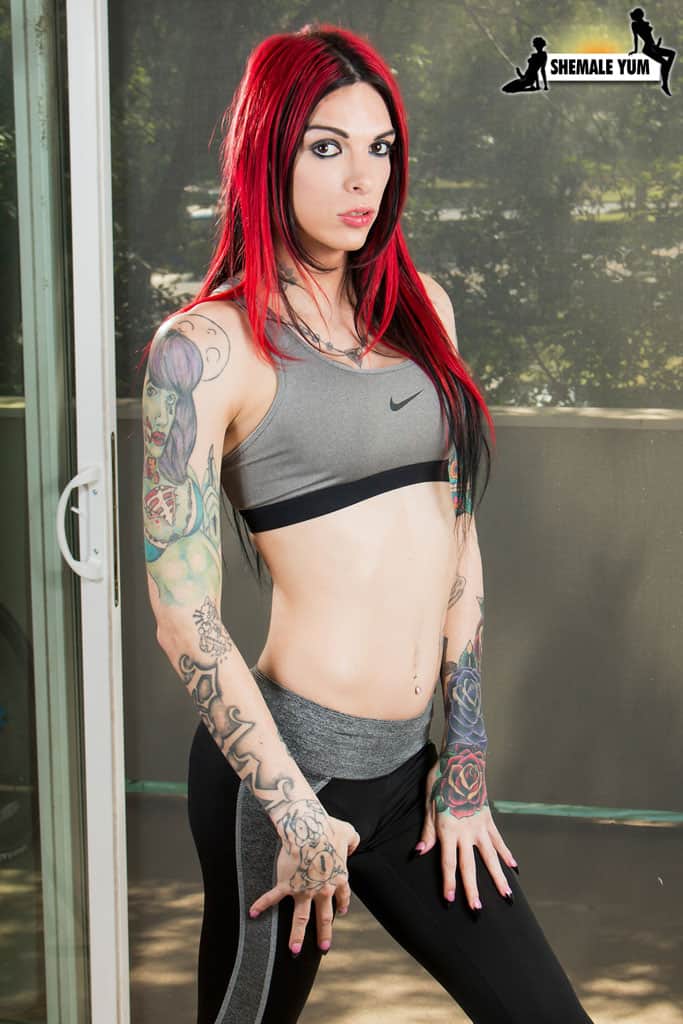 Chelsea Marie works out at Shemale Yum
Chelsea's extensive porn star portfolio continued to expand throughout 2015 as she delivered some scene-stealing performances in the Evil Angel and Joey Silvera Productions DVD feature releases She-Male Idol: The Auditions 5 (2015) and Trans-Visions 2 (2015) alongside Amy Faye, Sheylla Wandergirlt, Fernanda Cristine, Venus Lux, Savannah Fox, Bianca Sereia, Danielly Colucci and Gysely Araujo. Over the years Chelsea's adult film performances have earned her a wealth of distinguished adult film award nominations including but to name a few;
2013: Tranny Awards nominee "Best Hardcore Performer"
2013: Tranny Awards nominee "Best Alternative Model"
2014: Tranny Awards winner "Best Alternative Model"
2015: Transgender Erotica Awards nominee "Best Solo Performer"
2015: Transgender Erotica Awards nominee "Ms. Unique"
2016: Transgender Erotica Awards winner "Ms. Unique"
2016: AVN Awards nominee "Favourite Trans Performer (Fan Award)"
2017: AVN Awards nominee "Transsexual Performer of the Year"
2017: XBIZ Awards nominee "Transsexual Performer of the Year"
Upon receiving these prestigious adult entertainment accolades, Chelsea has always been eager to express her sincere thanks to her international fan following for their ongoing support and praise. As Chelsea ardently conveyed during her December 2014 Shemale Heaven interview;
"To those of you who are reading this and to my fans you are what I am today as a model. Without your support who knows where I would be at in my life today. So I am happy to say thanks to all of you. I hope my fan base will get bigger and me as a model and as a person become the woman I am and still happy with my future to come. Life isn't always easy and we don't always get what we want but be happy and enjoy who you are".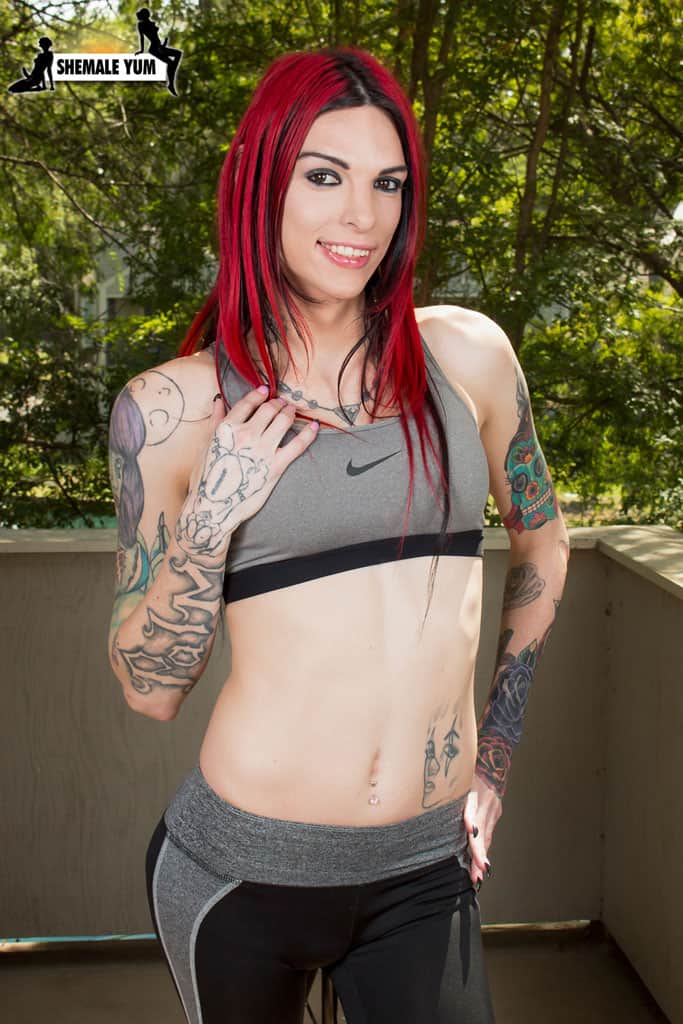 Chelsea Marie works out at Shemale Yum
As of 2016, Chelsea had continued to collaborate with prominent adult film director Joey Silvera on such bestselling Evil Angel DVD titles as Rogue Adventures 43 and 44. During this time Chelsea also starred within the Grooby Productions DVD feature releases T-Girl Porn Volume 1 and Volume 2 alongside rising TS starlets Morena Black, Athena Addams, Treasure Barbie, Emy Amethyst, Sasha Skyes, Vixxen Goddess, Jamie French, Eva Cassini and CiCi among others. Chelsea also appeared in the 2016 Devil's Film DVD feature release Transsexual Girlfriend Experience which enabled her to film with the famous transsexual performers Aubrey Kate, Alexa Scout and Franchezka. As well as her immensely popular DVD titles, Chelsea performs as a webcam model for adult cam-sites such as Chaturbate and Camsoda. Happy to perform on her own or alongside fellow transsexual performers such as Morena Black, Chelsea's live chat sessions have received rave reviews from adult film bloggers such as TS Caramel who enthused during her January 2016 caramelstgirls.com post how;
"Sometimes unpredictable things happen in porn that are as hot as anything you could have thought about requesting yourself. The last time this happened to me was last week when I was on Chaturbate browsing the Transsexuals room. Since I'm one of Chelsea Marie's biggest fans on the planet, I was erotically surprised to see her performing live, and on top of that, with one of my favorite new girls, Morena Black…Last week has been the hottest transbian week of January 2016 for me. I'll be tuned in…to see what happens next".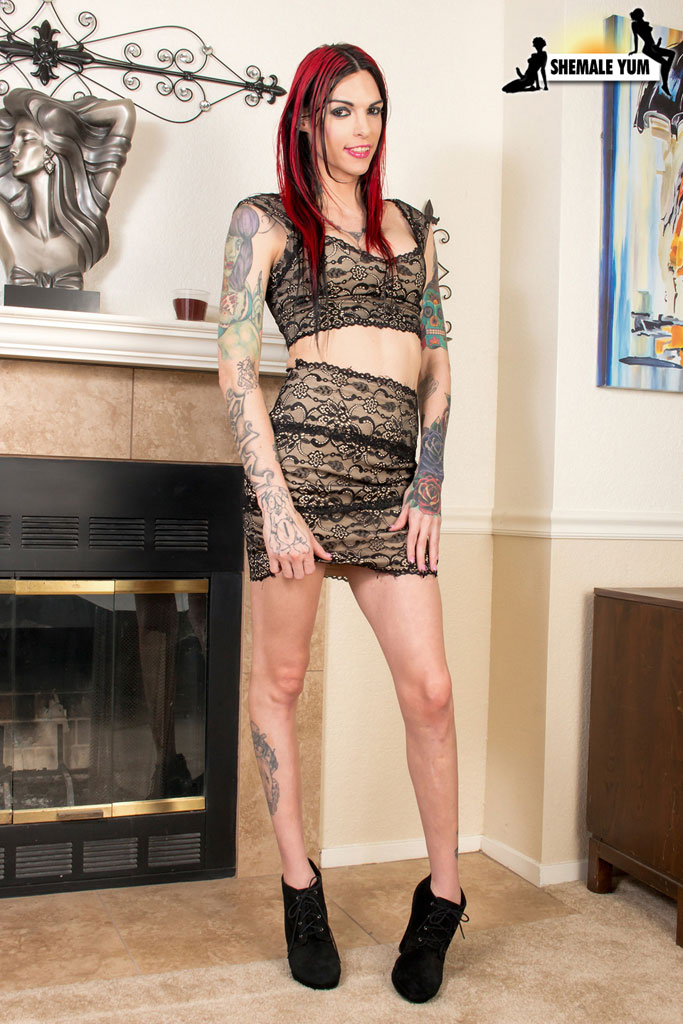 Most recently, in October 2016 Chelsea teamed up with Al Tom of Altomic Visuals in order to feature within his groundbreaking Skin City creative collection. Inspired by the cult classic Sin City, these high quality black and white photo sets showcased Chelsea Marie and fellow transsexual performers Holly Parker, Michelle Austin and Brooke Zanell via a series of alluring erotic artwork. As Al Tom himself explained within an October 2016 Grooby Network press release;
"Anything someone creates, that's all art to me. Porn is no different. It's all created by someone or a group of people who gave some thought of how to put it together so others can enjoy it or use it…Without giving away my untested ideas I'd like to just have fun with how the scene is captured and assembled. Which is why I talk about doing some dry runs and getting feedback. I like to experiment with my photography and video so this is the process I'm in right now. I mean it could be a total disaster, but it's exciting to me because, what if it works…It's obviously a take on Sin City the movie. That whole movie is a work of art to me. It just recharged my batteries to make some art myself. Plus I really liked the "look" of the movie…Black and white just gives me a little more to think about. Depending on the picture it can be more calming, more mysterious or more erotic. Without the color information I think it makes you think about what you're looking at just a little more".
Chelsea Marie : Transgender Spokesperson, Advocacy Work & Future Plans
Throughout her adult film career Chelsea Marie has exuded a captivating and confident nature with regards to all of her adult film projects. Consequently, Chelsea has never been afraid to come forward and speak out against important issues which can negatively impact the LGBT community. An ardent transgender rights advocate, Chelsea has often utilised her adult film industry influence in order to dispel the common misconceptions that society in general can often harbour towards the transgendered community. For instance, during her December 2014 Shemale Heaven interview Chelsea highlighted how;
"Lots of uneducated people think most transgender women are a man in a wig with hairy bodies. I think that's just what TV portraits us, to look and in movies or we are made into a bad joke, I don't like this at all. Also that we are always horny and want sex, this is not true. I don't want to see a text message of a dick when I'm having dinner or just waking up (This has happened to me). I feel a lot of people always judge transgender men and women as we will never be Real men and women. It takes guts to be transgender putting up with the bullshit that follows mostly from uneducated people or hateful people that believe transgender is a sin and we are going to hell because we chose to be happy in our bodies, being the sex we truly want to be… I think it's a good thing we are becoming popular and more mainstream. People need to know we exist and not going to hide in the shadows because of hate or of not being accepted. We are fighting for more rights as equals, we are no different from cisgender people. We have feelings and bleed. We want the same things as anyone else. Love family, friends, career and insurance to be happy in our own skin".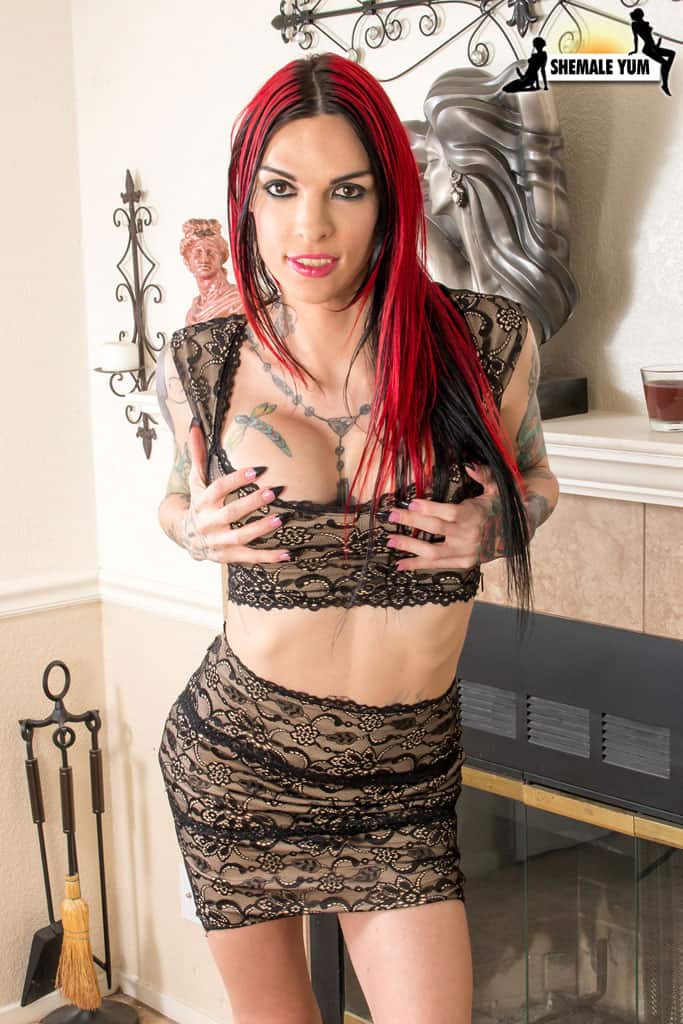 In addition to utilising her adult film industry influence in order to raise awareness towards important issues impacting upon the LGBT community, Chelsea  has continued to participate in numerous fundraising campaigns which support transgender business ventures. For example, in June 2016 Chelsea was one of the famous transsexual performers to attend Robbi Racks' A Porn Star Is Born nightclub event which was held at the Las Vegas Lounge. This exotic event was organised to raise funds to support the upkeep of the Las Vegas Lounge which serves as the only transsexual bar in town. Due to new management, the livelihood of the Las Vegas Lounge has struggled in recent months so Chelsea teamed up with some of her friends and fellow performers, including Robbi Racks, Michelle Austin and Tyra Scott, in order to help the new owners. Produced and marketed by Grooby Productions, Robbi Racks' A Porn Star Is Born nightclub event enabled fans to meet Chelsea Marie, Robbi Racks, Brooke Zanell, Holly Parker, Sasha Tremayner, Shavonna Starr and photographer Radius Dark and to watch as they indulged in a fabulous Fake Orgasm Contest! By participating in these fantastic fundraising events, Chelsea, Robbi and their fellow performers have been able to help provide the Las Vegas Lounge with legal assistance, as well as paying for a name change, gender marker program, STD testing facilities and health benefits.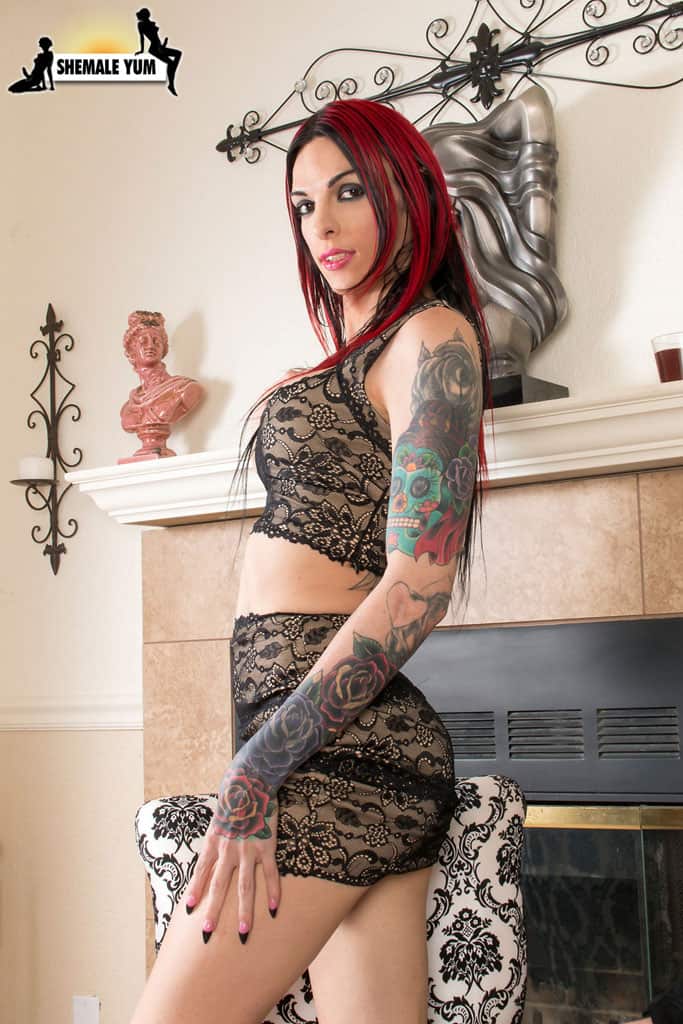 Chelsea's ongoing transgender advocacy work and phenomenal adult film projects have resulted in her becoming a role model for many aspiring transsexual performers and members of the LGBT community. When asked about her personal role models, Chelsea cited fellow transsexual performers Sarina Valentina and Bailey Jay, enthusing how;

"I think they both are beautiful trans women and have looked up to them even though we are around the same age. I love their work they do in porn and hope I can be as good as a model as them. I have gotten the chance to talk to and hangout with Sarina Valentina at one of the secret pool parties that go down in Hollywood. I was a bit nervous because she is one of my idol's after talking with her and knowing she is just as sweet in person as she is online.
I would love to meet Bailey Jay as well one day, anyone who knows me knows I'm a huge Fan of Ms. Bailey".
Currently living in Los Angeles, Chelsea remains dedicated to expanding her official solo website and collaborating with leading trans-friendly production companies Grooby Productions, Evil Angel, Kink, Devil's Film, White Ghetto and Ultima Entertainment among many others. If you would like to remain updated regarding Chelsea Marie's latest feature releases, exclusive web content, live chat sessions and upcoming public appearances, then please feel free to visit her official social networking channels using the links provided below. With multiple adult film award titles to her name, including multiple "Transsexual Performer of the Year" nominations for the upcoming 2017 AVN and XBIZ Awards, and a wealth of exciting pornographic projects in the works, the sky's the limit when it comes to terrific tattooed starlet Chelsea Marie's ever-evolving adult film career!
Social Networks
Official Solo Website : TS Chelsea Marie
Two T Girls : Chelsea-Marie
Bob's T Girls : Chelsea Marie at Bob's T Girls
Shemale.Porn : Chelsea Maria and Morena Black at Shemale.porn
Shemale Yum : Chelsea Marie at Shemale Yum
Twitter : @XXXChelseaMarie
Chaturbate Profile : https://chaturbate.com/chelseamarie1morenablack/
Kink Profile : https://www.kink.com/model/40544
Wish list : Chelsea Marie wish list
IMDB Profile :  http://www.imdb.com/name/nm7126291/