Personal Info
Name : Delia DeLions
Alias : TS Delia, Delia Delions
Hometown : Seattle, Washington (US)
Date of Birth: October 31st 1974
Measurements : 38D – 29 – 39
Bra/ Cup Size : 38D
Boobs :  Enhanced
Height : 6'0 (1.83m)
Weight : 165lbs (75kg)
Hair Colour : Blonde/ Brunette
Eye Colour : Brown
Years Active : 2004 – present (as a webcam model) 2010 – present (as an adult film performer)
Number of Scenes : 50+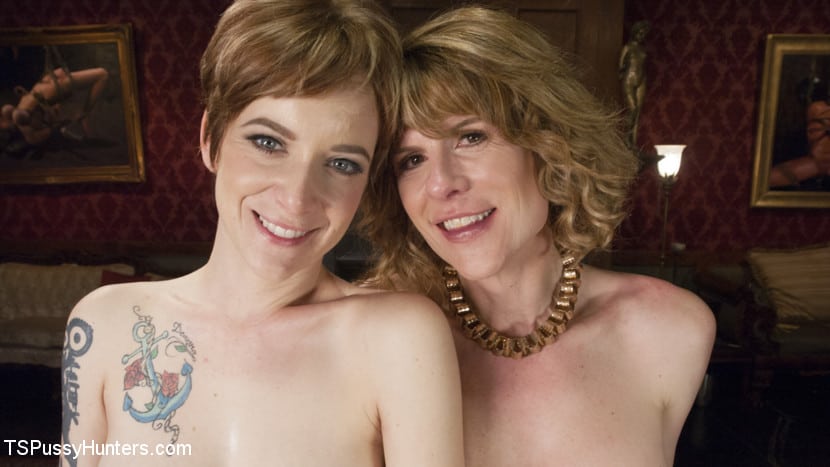 Delia Delions at TS Pussy Hunters
Without a doubt Delia DeLions is the queen of the independent website! This prolific transsexual performer has amassed a vast international fan following due to her network of solo websites which enable fans to sneak a peek into the personal life of a transsexual porn star and her partner.
Before she ascended to porn super-stardom, Delia DeLions was born and raised in Seattle, Washington, and has never lost touch with her Pacific Northwest roots. From an early age Delia knew that she was different from the other children in her neighbourhood. However, Delia did not let these differences deter her from embracing her true gender identity and as such began cross-dressing when she was a young child.
Delia has always been an intelligent woman with a keen eye for business. After graduating from high school Delia attended college in Washington State whereupon she acquired her Environmental Studies degree. With this degree in her hand, alongside her entrepreneurial spirit and ambitious nature, Delia was able to launch her own landscaping business which she successfully managed until she began her full-time adult film career in 2004.
Upon graduating from college Delia met and moved in with her partner, Trixie Fontaine, who had been working as a webcam model and phone sex operator since 2000. With the support of Trixie, Delia began to run her own cross-dressing website, titled DeliaCD, and also began to post content via her pre-transition 'boy' website titled Trixie's Houseboy.
Delia Delions : Webcam Model & Transition Process
Since 2002 Delia had dabbled in the adult entertainment industry via her DeliaCD and Trixie's Houseboy websites. However, in February 2004 Delia decided to pursue a full-time career as a webcam model alongside her partner Trixie who had already established her own website; Tasty Trixie. Delia created her own website, DeliaTS, through which she and Trixie began to post all manner of raunchy video content that they had filmed themselves in and around their Pacific Northwest home. As Delia explained via her official solo website;
"I've worked in the adult entertainment business since shortly after meeting my partner Trixie in 2002. Together we run a network of unique sites featuring ourselves and many aspects of our lives (not just our naked bodies)…I've been living with my girlfriend, Trixie, since 2002 (and if you join my site you'll get instant access to her site too at no extra charge). I take almost all of her pics!…Our sites are homemade by us, NOT produced by some big giant porn corporation. Not that there's anything wrong with studio-shot content (we'd LOVE to have a bigger budget to make shinier porno, too!), but our sites are more personal. You can see us at home in our photos, videos and on cam and outside in the forests and wet spaces of the Pacific Northwest".
Fans who visited Delia and Trixie's websites were able to view the couple having sex, discussing intimate aspects of their relationship together and going about their day-to-day lives within their home. During a caramels t-girls interview that was carried out in April 2009, Delia described the day that she decided to pursue these adult film exploits on a full-time basis and her partner's enthusiastic reaction to the news;
"Trixie was super excited when I told I wanted to work full time on the sites.  I remember the day I told her I wanted to sit down and talk about it.  She totally thought I was leaning the other way and wanting to get out of the porn business altogether.  So she was quite relieved and happy to find out that I would be at home and working with her a lot more…
It's funny, I was already self employed at the time, I owned a small landscaping business,  so I kind of missed out on the big "take this job and shove it" moment.  Once the website started taking off though working and running the sites got to be a little too much.  Gradually I started taking on less landscaping clients and putting more time and energy into my site.  And finally quit landscaping all together".
By creating and managing these adult entertainment websites, Delia and Trixie were able to establish ardent fan followings across the globe. In fact, it was due to donations from her generous fans that Delia was eventually able to undergo breast augmentation surgery. Consequently, Delia has always been extremely appreciative of her devoted fan following since the beginning of her adult film career in 2004, enthusing via her official solo website how;
"We're not rich! Every single one of our members makes a measurable difference in our lives and ability to keep doing what we love (making homemade porn)!…We'd *love* to shoot other people with all different gender identities for Trixie's Houseboy, DeliaCD and future projects; every new member we get puts us one step closer to having the time and money to branch out and include more kinky friends on our sites!".
In  this manner, Delia and Trixie continued to manage their personal websites from 2002 until 2007. In May 2007, Delia transitioned into living full-time as a transsexual woman. In order to do so, Delia underwent numerous feminisation procedures as well as hormone replacement therapy. Delia was happy to talk about her transition process during her caramels t-girls interview in April 2009 whereupon she explained her personal experiences with hormone replacement therapy as well as discussing her future plans with regards to additional facial feminisation procedures;
"A few things that I've noticed physically are softer skin, a slight loss in muscle mass and a little more padding around my ass and hips.  I noticed my scent has changed too, I'm not sure exactly how to describe it other than a "less boyish" smell.  I haven't had any of the big emotional outbursts or mood swings that some girls experience.  I do feel a bit calmer and more grounded though, more at peace with myself…
I've never really felt comfortable with my voice as a male or a female.  I have a naturally deep voice so just to get it to where it is now has taken quite a bit of work.  I know I still have quite a ways to go with it.  But I think eventually it will develop along with the other aspects of my transition...I still feel a bit torn between getting the maximum feminizing effects from hormones and keeping my genitals in working order…
 I go through a physician.  I don't have anything against people who do it themselves, but they should be aware of the risks involved.  I just feel more comfortable working with a physician and getting regular checkups.  It makes me feel a bit more at ease…
I kind of went back and forth for awhile on the idea of facial surgery.   I mean, I don't hate the way I look or anything.  But I do have a pretty good image of what I want to look like and could look like.  And there really isn't any way to achieve that look without some reconstructive surgery.   I know that I could probably get by okay without changing a thing.  As I get further and further into my transition I seem to care less and less about what other people think.  So having facial surgery and breast augmentation has become more about me feeling good about the way I look and less about what society deems as passable".
Delia Delions : Adult Film Career
After transitioning to living openly as a transsexual woman in May 2007, Delia decided to take her adult  film exploits one step further and progressed from webcam modelling to featuring within pornographic productions.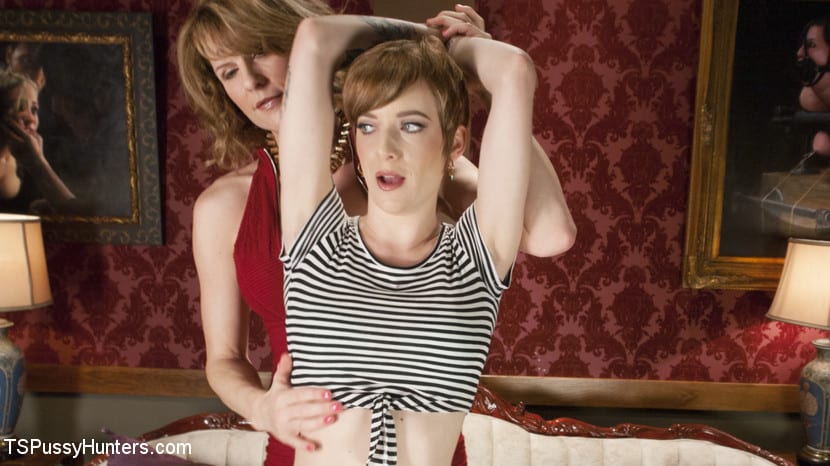 Delia Delions at TS Pussy Hunters
During her caramels t-girls interview Delia discussed how the fact that her partner Trixie had been working as a webcam model and phone sex operator since 2000 helped her to launch her own adult film exploits;
"I wouldn't say that she is responsible for it but she definitely has encouraged and inspired me to take things in that direction.  I've always been interested in things that are considered taboo or outside of societal norms.  I've always been a bit of an entrepreneur also, so it really didn't take too much to convince me to get naked and sell my ass on the Internet".
Within no time at all Delia's online sexual exploits had earned her a nomination for "Best TG Amateur Style Website" at the 2008 Tranny Awards which was sponsored by Grooby Productions. Speaking during her caramels t-girls interview about being nominated for this prestigious title alongside TS stars Tara Emory and Jamie Cross, Delia conveyed how;
"It really was an honor. Tara Emory and Jamie Cross are two people that I admired before I even started my site.  I think you can see a little bit of both of their influence in some of stuff that I do.  So it was nice to be thought of as being at the same or similar level as those two.  And like you said there were some other really great sites in that category.  So even though I didn't win the award I was pretty excited just to get a mention and the recognition that came with it.  Second place to someone as talented as Tara is certainly nothing to sneeze at".
After receiving this distinguished adult film award nomination Delia's porn star career went from strength to strength. For instance, between 2010 and 2014 Delia appeared in Sammi Mancini's award-winning DVD series; She Male Strokers. Delia filmed a series of solo sex scenes that were featured in the popular instalments She Male Strokers 39, 47, 51, 61 and 65 alongside her fellow TS stars Morgan Bailey, Aly Sinclair, Hazel Tucker, Kendra Sinclair, Tori Mayes, Penny Tyler, and Brittany St. Jordan.
These transsexual DVD feature releases were smash-hits amongst fans and film critics; with She Male Strokers 47 being nominated for "Best Transsexual Release" at the 2012 AVN Awards and She Male Strokers 51 being nominated for "Best DVD" at the 2012 Tranny Awards. Delia also earned herself the prestigious title of "She Male Strokers Model of the Year" at the 2011 Tranny Awards and a "Best Transsexual Sex Scene" nomination at the 2013 AVN Awards for her saucy solo shoot in She Male Strokers 51.
Following her She Male Strokers commercial successes Delia continued to work with adult film director Sammi Mancini upon various DVD feature releases such as Suck My Tranny Cock 7 in 2010 and Bang My Tranny Ass 11 in 2013 with Eva Lin, Venus Lux and Sunshyne Monroe.
In addition to her Sammi Mancini adult film collaborations, Delia has also appeared within multiple CX WOW Productions DVD feature releases such as My Transsexual Lover in 2014 with Jessy Dubai and Gianna Rivera, TS Bikini Party in 2014, Tranny Starlet in 2014 with Kylie Maria and Robbi Racks, Tranny Handies in 2015 with Aubrey Kate, Miran, Kelli Lox and Tyra Scott, and Tranny POV 1 in 2015 with Kylie Maria, Treasure Barbie, Alexa Scout and Christian XXX.
As well as shooting with Sammi Mancini, Delia has also worked with leading adult film director Joey Silvera for his Evil Angel DVD series; TS Playground. As matters stand, Delia has appeared within TS Playground 9: TS Gape Lovers, which received a nomination for "Best DVD" at the 2015 Transgender Erotica Awards, and TS Playground 11 in 2014 alongside Bruna Butterfly, Sienna Grace and Mandy Mitchell amongst others. Delia also appeared in Joey Silvera's 2015 Evil Angel DVD feature release She-Male Idol: The Auditions 6 with Fernanda Cristine, Nina Lawless, Vixxen Goddess and Thalia Brasil which was nominated for "Best Transsexual Movie" at the 2016 AVN Awards.
Delia returned to her online sex scene roots in 2014 when she filmed a series of live cam shows for Shemale.com and began to contribute articles to their online blog. Since 2015 Delia has also performed with male porn star Christian XXX for his trans-friendly website pure-ts.com. Some of Delia's most popular pure-ts.com sex scenes with Christian XXX include; Bareback POV Anal With A Horny TS, Mature TS Delia Gives An Expert Handjob, Post Workout Anal Sex Session, Hotel Room Mix-up Leads to A Tranny Threesome and Delia Teaches Aspen How to Properly Fuck A Man.
Eager to shoot a wide range of soft-core, hardcore, BBW, BDSM and fetish content, in 2015 Delia appeared in Super Ramon 2 for Trans 500 Studios alongside Jessy Dubai as well as Workout My Tranny Ass; a BBW DVD feature release that starred TS Michelle Austin, Tyra Scott, Wendy Summers and Christian XXX.
Most recently, Delia has worked with Devil's Film on their Brady Bunch DVD parody release Tranny Bunch. Directed by Jim Powers and distributed in 2015, this pornographic parody starred transsexual performers Aubrey Kate, Holly Parker and Khloe Hart and was a commercial success amongst fans and adult film critics alike.
In fact, Tranny Bunch won "Best Transsexual Movie" at the 2016 AVN Awards and earned Delia a "Best Transsexual Sex Scene" nomination for her saucy scene with male porn star Ruckus XXX.
All in all, Delia's prolific porn star portfolio has earned her a massive online fan following alongside a wealth of prestigious adult film award nominations. Some of Delia's most impressive accolades to date include;
2009: Tranny Awards winner — "Best Amateur Website" — DeliaTS
2010: Tranny Awards winner — "Best Independent Website" — DeliaTS
2011: Tranny Awards winner — "She Male Strokers Model of the Year"
2012: Tranny Awards nominee — "Best Solo Model"
2013: AVN Awards nominee — "Best Transsexual Scene" — She Male Strokers 51
2015: Transgender Erotica Awards nominee — "Best Solo Performer"
2015: Transgender Erotica Awards nominee — "Best Solo Website"
2015: Transgender Erotica Awards nominee — "Best Internet Personality"
2015: Nightmoves Awards nominee "Best Transsexual Release" Tranny Bunch
2016: AVN Awards winner "Best Transsexual Movie" Tranny Bunch
2016: AVN Awards nominee "Best Transsexual Sex Scene" Tranny Bunch
2016: AVN Awards nominee — "Transsexual Performer of the Year"
2016: AVN Awards nominee — "Favourite Transsexual Performer (Fan Award)"
2016: AVN Awards nominee "Best Parody" Tranny Bunch
2016: AVN Awards nominee "Best Screenplay: Parody" Tranny Bunch
2016: XBIZ Awards nominee "Transgender Release of the Year" Tranny Bunch
Delia Delions : Personal Life & Upcoming Projects
In addition to her thriving porn star career, Delia continues to enjoy a healthy relationship with her partner Trixie Fontaine. When asked about their relationship during her caramels t-girls interview, Delia enthused about the joys of their day-to-day lives and commented upon their future family plans;
"Oh yes, I am definitely the queen of the kitchen in our household.  I've loved to cook ever since I can remember.  When I was little I always wanted one of those Holly Hobby easy bake ovens. I guess that should have been a clue early on.  I also spent a lot of time in the kitchen growing up.  It was one of the ways I bonded with my mom.  So I do most of the cooking and cleaning in the kitchen, other than that I think we split up the household chores pretty evenly…
Trixie and I tried for over a year to conceive using natural methods plus some medical intervention and for a variety of reasons it just didn't work out.  I do have quite a bit of sperm stored up in case we want to try again in the future.  Personally I think I'll make a great mom someday".
However, life has not always been this idyllic for Delia. Before she embraced her true gender identity, Delia struggled for many years with alcoholism and substance abuse. Fortunately Delia has been clean and sober for several years and remains focused upon expanding her various adult entertainment enterprises;
"I struggled most of my life with alcoholism and substance abuse so achieving a lasting sobriety has been a huge deal to me.  It's the toughest thing that I've ever done and something I still have to work at on a daily basis.  So I'm pretty proud of that.  I do all the photography for Trixie's site as well so I'm pretty proud of the work I've done there.  Getting my degree in Environmental Studies was another big accomplishment for me…
I do think the personality angle has worked well for me.  I know my looks help but I also know that I'm no Vaniity or anything.  So having the more personal features on my site has helped set me apart a bit from some of the bigger sites out there.  Also a pretty good chunk of my members are transgender to one degree or another so I do think that my story and experiences are something that they can relate to on a personal level.  I think there is a bit of David vs. Goliath mixed in there as well.  Not only with trying to compete with bigger companies but also having to compete with transsexual sites and being labelled as a cross-dressing site.  I think a lot of people like that aspect of it, kind of like rooting for the underdog.  I think they also feel good knowing that their money is going to me (which in turn goes right back into the site) and not some big production company".
So if you'd like to keep up close and personal with blonde bombshell Delia DeLions then why not investigate her network of websites online today? You can arrange a live chat session with Delia herself, as well as remaining updated on all of Delia's latest pornographic productions and business ventures, by checking out her official social networking channels. Bold, beautiful and business savvy, the sky's the limit for Delia DeLions' adult film career!
Social Networks
Amazon : Delia DeLions New Wish List
Official Blog Site : http://deliats.com/ , http://deliats.com/blog/
Twitter : @DeliaTS
Chaturbate: Chaturbate

Kink Profile : http://www.kink.com/model/57489