Personal Info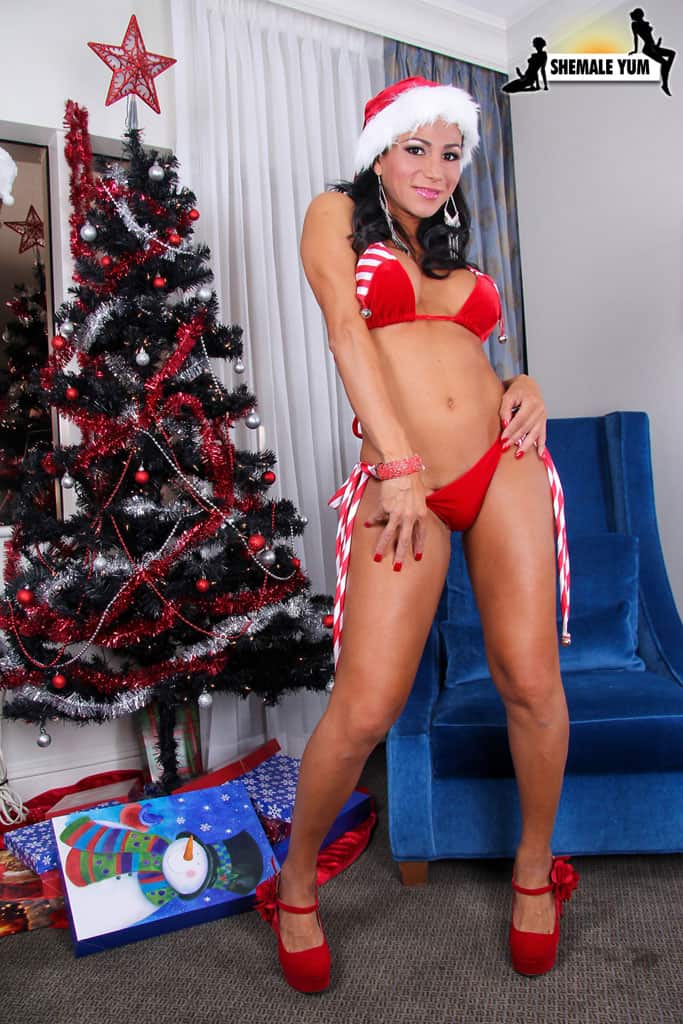 Jacquelin Braxton at Shemale Yum
Name : Jacquelin Braxton
Alias : Jacqueline Braxton, Jaquelin Braxton
Date of Birth: February 19th
Home Town : Dallas, Texas (US)
Measurements : 34 – 28 – 38
Bra/ Cup Size : 34C
Boobs : Enhanced
Height : 5'4 (1.63m)
Weight : 130lbs (59kg)
Hair Colour : Brunette/ Black
Eye Colour : Brown
Years Active : 2013 – present
Number of Scenes : 20+
Over the past four years luscious Latina TS star Jacquelin Braxton has established a ravishing reputation as one of the most formidable femdom performers to shoot for Kink.com's TS Seduction web series. Whether she is dominating a devoted sub in a kinky role-play scenario, sharing some hot hardcore scenes with fan-favourite porn stars Wolf Hudson, Ruckus XXX and Lance Hart, or showcasing her captivating curves in a sultry solo shoot, there's no disputing that Jacquelin Braxton is one of the hottest TS femdom porn stars in the adult entertainment industry!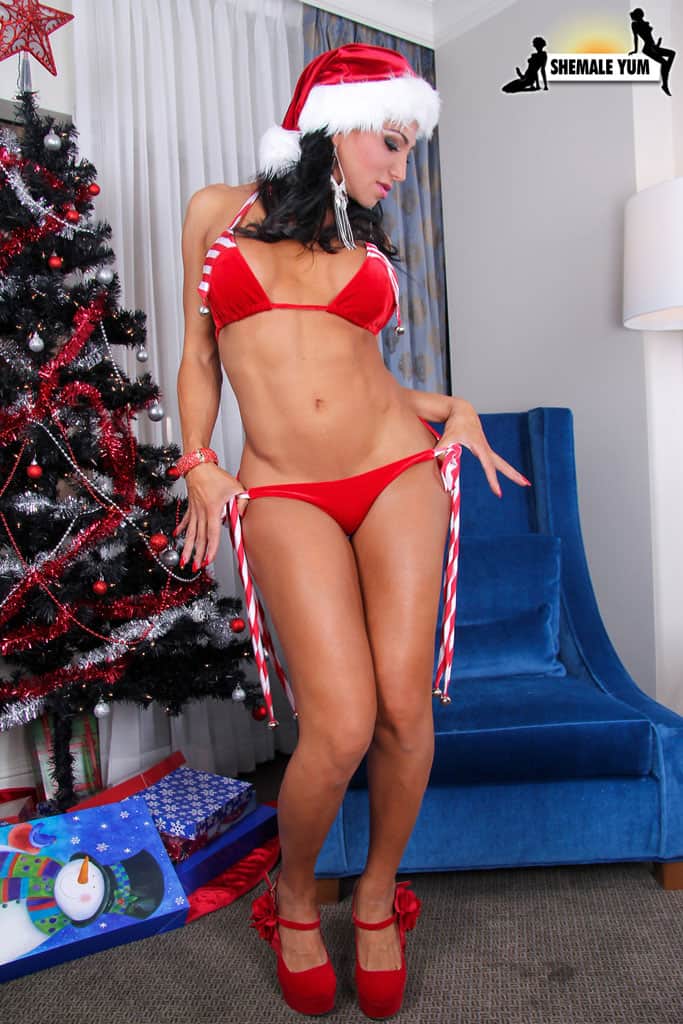 Jacquelin Braxton at Shemale Yum
Born in Guatemala but raised in Dallas, Texas, Hispanic hottie Jacquelin Braxton began working in the adult entertainment industry in the summer of 2013 following the suggestions of some ardent admirers. As Jacquelin herself explained within her February 2014 The Sex Files interview with Ralph Greco;
"I received a lot of compliments on my looks and suggestions to get into the industry. Once I looked into it, I thought it would be fun and exciting; it has proven to be both!".
Jacquelin made her official adult film industry debut in May 2013 when she teamed up with popular porn photographer Omar Wax in order to film a glamorous Belle Of A Beauty Jacquelin Braxton solo shoot that was unveiled via the Grooby Network porn site Shemale Yum. In the months that followed Jacquelin continued to collaborate with Omar Wax on some spectacular solo sex scenes for Shemale Yum such as Spicy And Fabulous Jacquelin in June 2013, the festive-themed Christmas Fantasy Jacquelin Braxton in December 2013, Gorgeous Jacquelin Cums In Bed in January 2014 and Pretty Jacquelin Braxton Brings Sizzle in March 2014.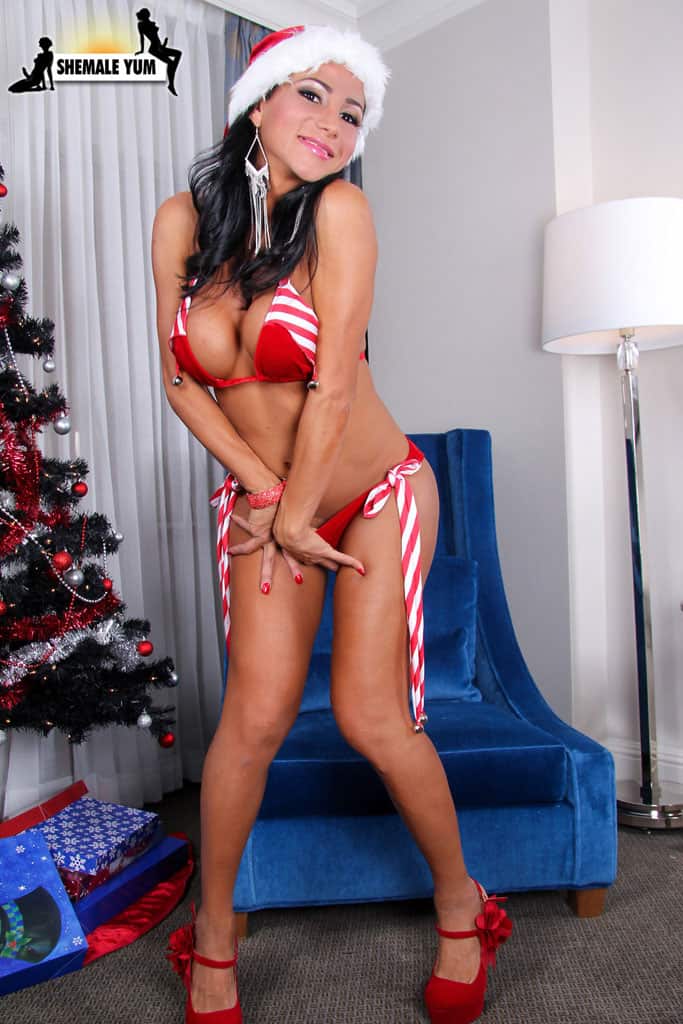 Jacquelin Braxton at Shemale Yum
After making her adult film modelling debut via Shemale Yum with the help of Omar Wax, Jacquelin began to shoot a wide range of sizzling solo sex scenes and hot hardcore collaborations for the fan-favourite Grooby Network porn sites Shemale.XXX, Frank's TGirl World, Shemale.Porn, Shemale Pornstar as well as for Kink.com, Shemale Club, Tranny Pros and Bob's TGirls. If you're keen to catch up on some of Jacquelin's sauciest web clips then we recommend checking out her sultry black lingerie themed solo shoot for Shemale Club in February 2014 as well as her titillating Horny Jacquelin Needs Her Man sex scenes with Giovanni that were directed by award-winning cinematographer Buddy Wood for Shemale Yum in August 2013 and her alluring The Sassy Jacqueline Braxton and Shining Starlet Jacquelin Braxton solo shoots that were both filmed by famous porn photographer Frank Druchman for Frank's TGirl World in March and April 2014. Jacquelin loved shooting with Frank and eagerly expressed via her official solo website that;

"While I was in Los Angeles attending the 6th Annual Tranny Awards I contacted Frank of Frank's T-Girl World about modelling for his long running site, he said he was excited about working with me too….Frank is a legendary photographer in the transgendered niche, he travels the world and has filmed just about every shemale on the globe, so I felt like my transsexual adult career would not be complete without poses for his famous lens…
Working with Frank was a pleasure and so much fun, I can see why so many girls adore him, he's quite handsome too. We did a couple of solo sets including my hot cumshot, and I had some cute outfits to wear that I picked up while I was in California…I hope you like my debut scene guys, I felt so sexy in this set and was thinking about all my fans getting hard and horny for me while I posed. Look for more of my work with Frank and don't forget to follow me on for more updates on my sexy shoots and adventures".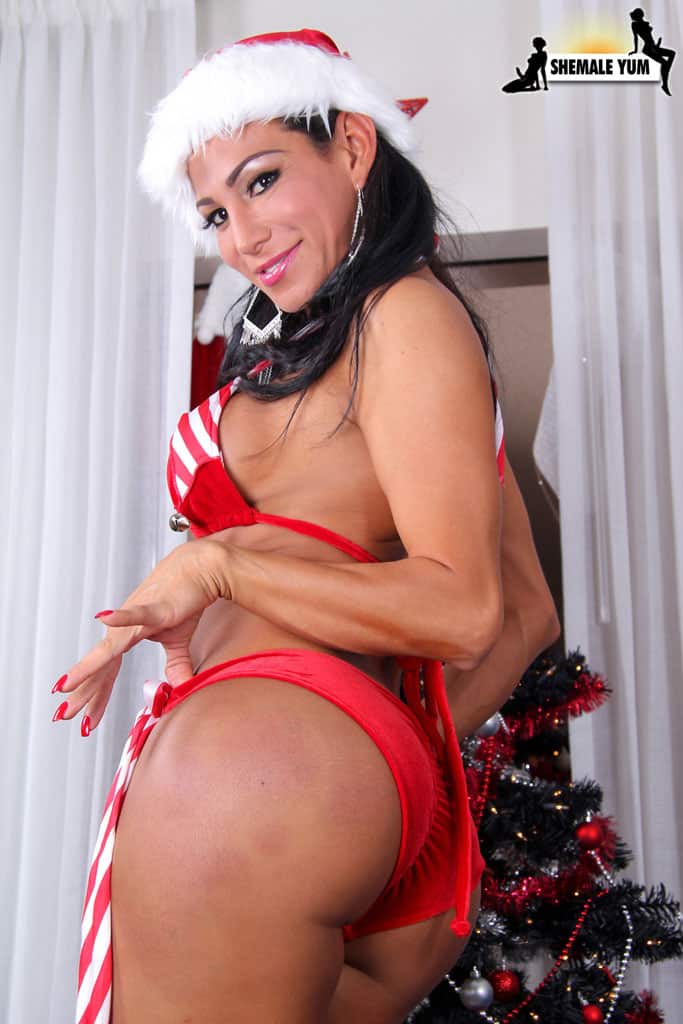 Jacquelin Braxton at Shemale Yum
In recent years Jacquelin has filmed some sensational Stunning Jacquelin Braxton! and Jacquelin Braxton Cums For You! solo shoots for the popular Grooby Network porn site Shemale.XXX that were directed by the fan-favourite porn photographer Blackula in March and April 2015. Blackula has since directed Jacquelin's steamy Jacquelin Braxton & Wolf's Sexytime! hardcore shoot that was first unveiled via Shemale.XXX in April 2015 and which was subsequently uploaded via Shemale.Porn in August 2015. Fans of Jacquelin's raunchy hardcore collaborations will also not want to miss out on viewing her Jacquelin Braxton Enjoys Rick's Hard Cock sex scenes that were photographed by Jack Flash for Shemale.XXX in February 2016. This hot hardcore collaboration proved so popular among fans and film critics that it has since been showcased via Shemale Pornstar in April 2017.

Out of all of her sensational web clips, Jacquelin is best known for the broad spectrum of fantastic femdom collaborations that she filmed for the internationally renowned fetish porn network Kink.com. Distributed as part of Kink.com's award-winning TS Seduction web series, these captivating kinkster collaborations have earned Jacquelin an avid fan following within the fetish lifestyle market. What's more, Jacquelin's first sex scenes for TS Seduction in May 2013, titled Another Brand New Dom Debut – The Latina Hottie, Jacquelin Braxton, actually served as her first ever hardcore sex scenes! This scintillating femdom collaboration with John Jammen showcased Jacquelin's formidable femdom prowess as she dominated her devoted sub whilst wearing a pair of her fantastic white fishnets. Jacquelin loved shooting this fiery femdom scenario for Kink.com and eagerly expressed via her official solo website how;

"I made my debut in transsexual adult for the shemale domination site TS-Seduction. I must admit I was a little nervous being naked in front of the camera for the first time, but as soon as I got in the ass of the sexy guy I was working with, I felt right at home…My scene partner was a very hot guy, he never had good tranny cock before and I'm sure he'll never forget mine after the deep fucking I gave him…He worshiped my body, sucked on my toes, and swallowed my big dick all the way down his throat…It's a great experience working at the Amory for Kink, the whole staff is professional and easy going, they really made me feel at home…I actually got lost in the scene and with all the hot fucking I had to do, I knew this is well worth all the hard work…I hope you like my scene, especially when I shoot my hot cum all over the guys face, I love doing that".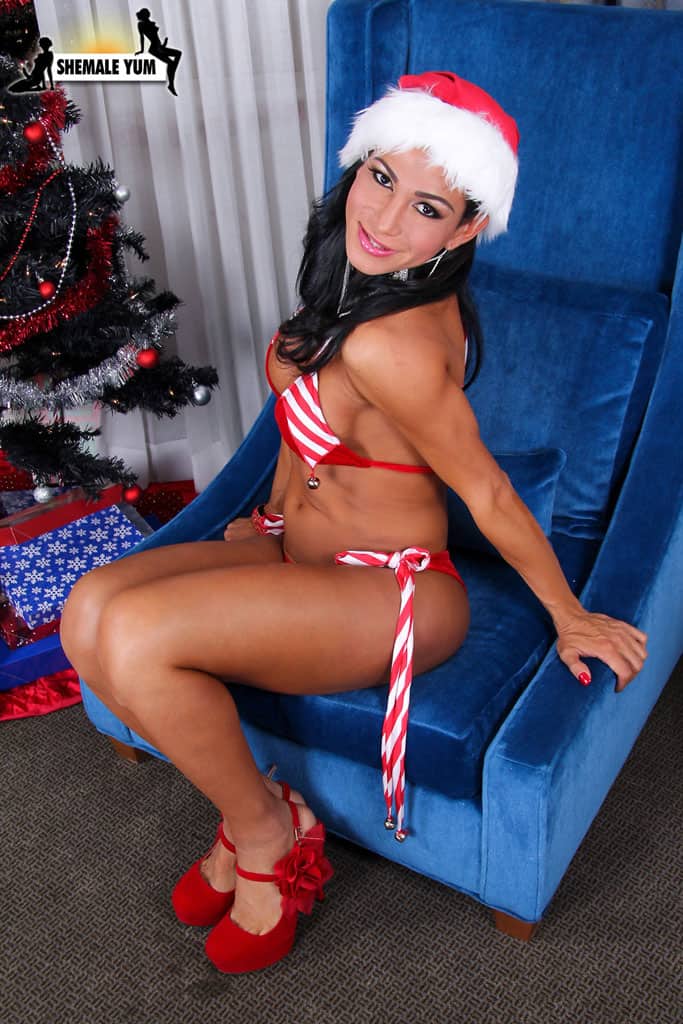 Jacquelin Braxton at Shemale Yum
Less than a month later Jacquelin returned to TS Seduction with a mesmerising Year 2113: Black Market Sex Droids futuristic femdom role-play shoot with Jesse Carl. In fact, throughout her amazing adult film career, Jacquelin has treated her fans to some truly fantastic femdom role-play sex scenes for TS Seduction. We recommend checking out Jacquelin's Serving Your Ass To Her Cock To Spring Yourself From Jail prisoner/lawyer role-play scenes with Mike Panic in August 2013, her raunchy California Start Up Hires A Pro Dom For Team Building – Wha? femdom worship shoot with Jonah Marx in October 2013, her feisty fitness themed Hot And Nasty Gym Shower Blowjob sex scenes with Beau Warner in November 2013, her saucy Hot For Teacher student/teacher sex scenario with Reed Jameson in February 2014, her feisty fitness themed discipline session, titled Exercise Torment By Sexy Fitness Babe, that she shot with Reed Jameson in March 2015 and her kinky Star Pupil Turned Hungry Slut Fucks Student With Her Dominating Cock! police academy scenario that she filmed with Lance Hart in April 2015; must see sex scenes for devoted Jacquelin Braxton fans and femdom porn enthusiasts!
If you just can't get enough of fiery femdom fatale Jacquelin Braxton then you will love watching some of her more recent TS Seduction shoots among which include her Jacquelin Braxton Takes Down The Boss femdom worship role-play with Mike Panic in September 2015, her magnificent Jacquelin Braxton Catches Pervy Peeping Tom motel room scenario with Nathan Explosion in October 2015 and her brilliant Jacquelin Braxton Fucks & Then Gets Fucking Shooting A Huge Fat Load! bartender role-play with Ruckus in May 2016; not to be missed! Jacquelin was thrilled to collaborate with Ruckus XXX for TS Seduction and enthusiastically stated via her official solo website that;
"I'm back guys, did you miss me? Back where I got my start and the place I love to show off my kinky side for your guys. My new scene for TS-Seduction is out and it's a hot one, I know I had big fun fucking, getting fucked, and cumming all over the place…I play a cocktail waitress in this scene, then of course I get to shove my cock in some tail. Check out my outfit, isn't it cute, I like they it shows off my ass. And of course the story is my co-worker has had a hard-on for me for the longest time, and finally I give him what he wants and more…
I'm always so happy to be working with Kink, they've allowed me to do so many things on camera that I like to do. So I want to make sure you guys unzip and take you pants off while you're watching me on screen, especially when I'm getting my cock sucked because you know how much I like that…So I hope you guys like my new movie, I'm so happy to be back on your screen and want you to fantasy that you're with me, fucking me or taking my hard cock up your ass, I like it all".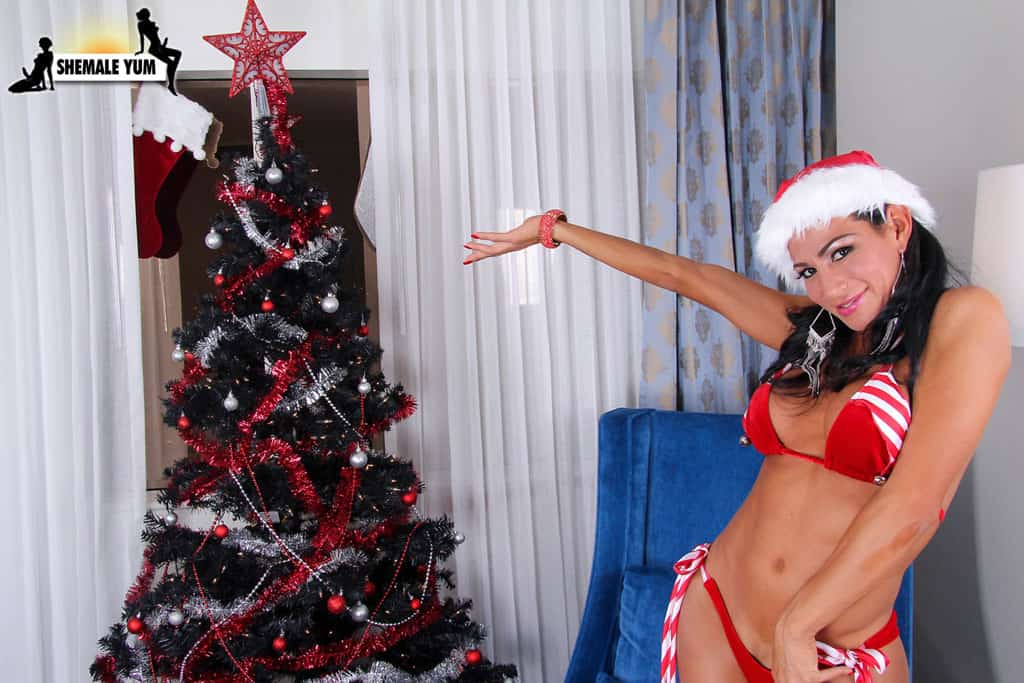 Jacquelin Braxton at Shemale Yum
Over the years, Jacquelin has become one of the most popular femdom, BDSM and fetish performers on TS Seduction due to her devilishly delightful dominatrix exploits, captivating curves and sensual sexual charisma. Eager to explore some of Jacquelin Braxton's raunchiest Kink.com content? Then we recommend watching her unforgettable Creepy Hotel, Hot Sex – Jacquelin Braxton In A Rare Switch Scene hardcore collaboration with Tatum in August 2014, her mesmerising No! Don't Make Me Suck Her Cock! I Don't Do That! femdom BDSM scenes with Tony Orlando in January 2014, her raunchy Three Cum Shots – Two From Her Cock tease and denial BDSM scenes with Blake in March 2014, her intensely alluring No I.D.? No Problem – You Can Pay With Your Ass bank teller femdom worship role-play with Patrick Knight in May 2014, her formidable Jacquelin Braxton Trains The Gym Rat With Her Cock! shoot with Brock Avery in July 2014, her First Wives Club – Punishment Of An Unfaithful Husband hardcore BDSM shoot with Lucas Knight in October 2014 and her sizzling She Owns His Cock, His Ass, His Mouth latex clad femdom sex scenes with Will Havoc in February 2015.
When she hasn't been shooting these phenomenal femdom sex scenes, Jacquelin has been starring within several best-selling DVD titles for Mancini Productions, Deviant Entertainment, Devil's Film and TransSensual Studios. As matters stand, Jacquelin has performed within Sammi Mancini's best selling Rodnievision/Mancini Productions DVD series Shemale Strokers 65 (2014) also starring Aubrey Starr, Ryder Monroe, Tammie Twist, Delia DeLions, Carmen Moore and Cherry Mavrik, she has appeared in Transsexually Speaking (2014) for Deviant Entertainment alongside Jessy Dubai, Kelly Klaymour and Carmen Moore that was nominated for "Best Transsexual Release" at the 2015 AVN Awards, she has featured in Transsexual Babysitters 27 (2015) for Devil's Film with Aubrey Kate, Honey Foxxx and Holly Parker that was nominated for "Best Transsexual Release" at the 2015 Nightmoves Awards and she has also earned herself a starring role in Nica Noelle's pioneering TransSensual Studios DVD feature release TS Bad Girls (2015) which enabled Jacquelin to shoot with famous porn stars Chelsea Poe, Tiffany Starr, Suzie Spindrift and Wolf Hudson as well as fan-favourite dominatrix Mz Berlin.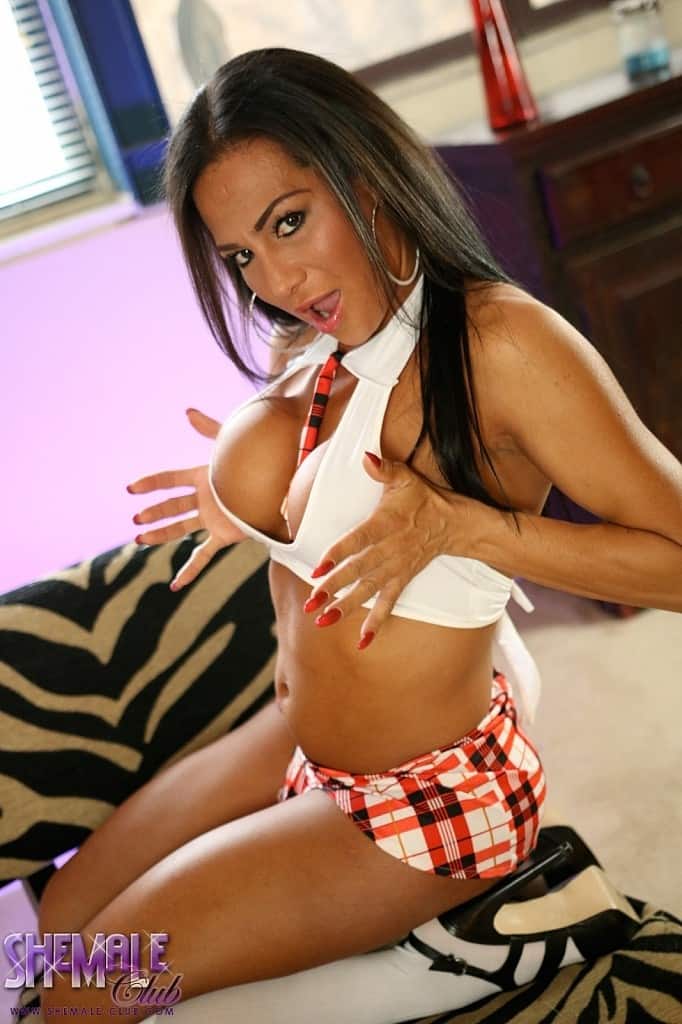 Jacquelin Braxton at Shemale Club
Combine her scene-stealing moments in these best-selling DVD titles with her formidable femdom web clips and sensational solo shoots, and it's really no surprise why Jacquelin Braxton has garnered a vast global fan following over the past four years! Moreover, Jacquelin's sizzling sex scenes have also secured her some notable nominations for "Best New Face" at the 2014 Tranny Awards and most recently for "Favourite Trans Performer (Fan Award)" at the 2016 AVN Awards.
If you're eager to explore all of Jacquelin Braxton's raunchiest web clips, sultry photo sets and sensational DVD feature release performances then please feel free to use the links provided below to begin exploring all of her official social networking channels. Catch up with your favourite lusty Latina TS star online today!
Social Networks
Official Website : http://ts-jaquelinbraxton.com/
Twitter : @jacquelinbraxton
Kink Profile : Jacquelin Braxton 49373
Shemale Yum Profile : Jaquelin Braxton at Shemale Yum
Shemale.XXX Profile : Jaquelin Braxton at Shemale XXX
Shemale Club Profile : Jacquelin Braxton at Shemale Club 
Shemale Pornstar Profile : Jaquelin Braxton at Shemale Pornstar 
Bob's TGirls Profile : Jacquelin Braxton at Bob's TGirls
Frank's TGirl World Profile : Jaquelin Braxton at Frank's TGirl World
Shemale.Porn Profile : Jaquelin Braxton at Shemale.Porn
Tranny Pros Profile : Jaqueline Braxton at Tranny Pros

Adult Empire DVD Profile :  Jaquelin Braxton at Adult Empire , Jacquelin Braxton at Adult Empire (second profile)

Gamelink DVD Profile : Jaquelin Braxton at Gamelink
IMDB Profile : http://www.imdb.com/name/nm7760141/#actress