Personal Info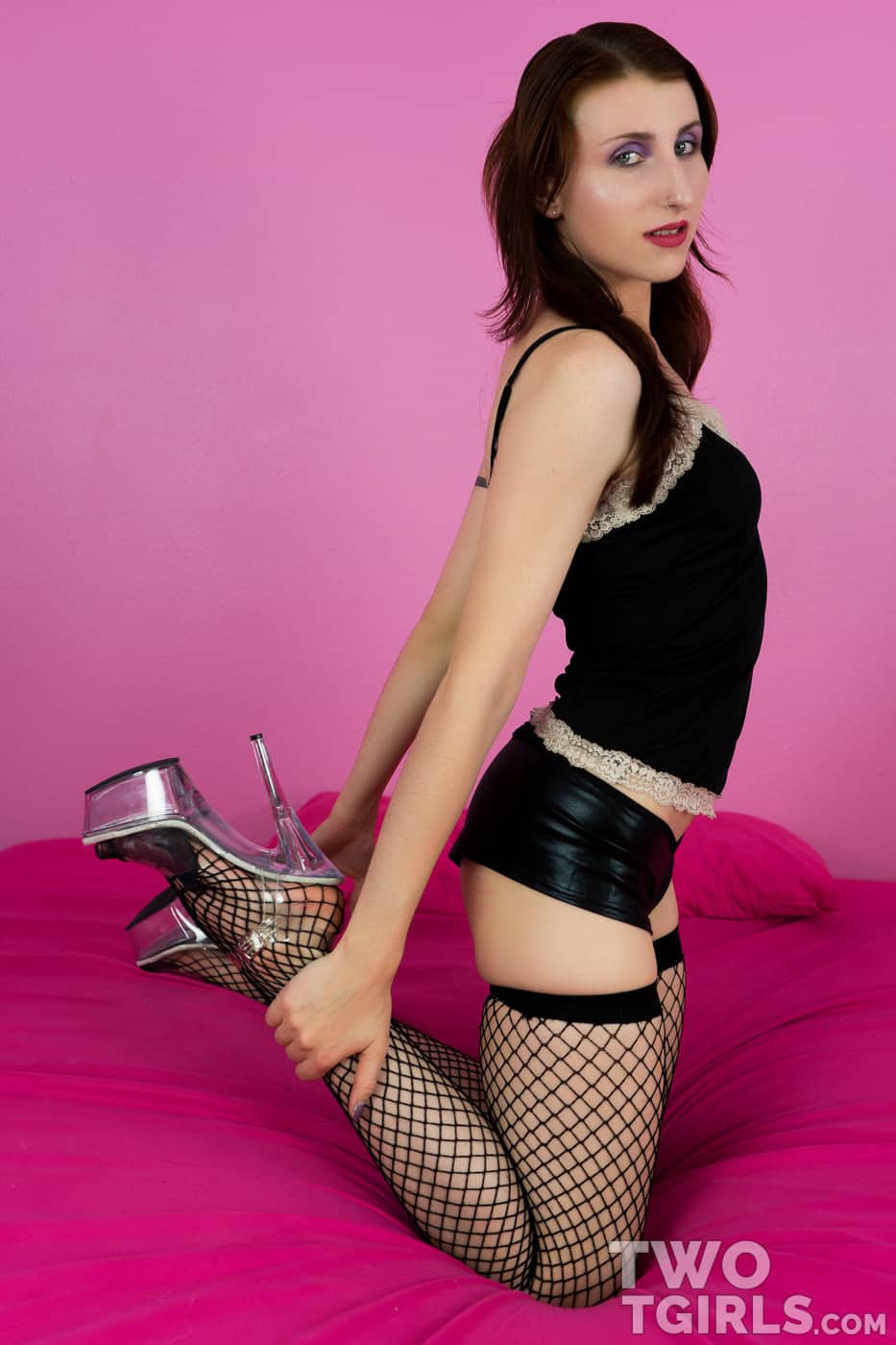 Jelena Vermilion at Two T Girls
Name : Jelena Vermilion
Alias : TS Jelena, Isis Intrepid
Date of Birth : August 27th
Home Town : Cambridge, Ontario (Canada)
Hair Colour : Brunette / Red
Eye Colour : Blue
Tattoos : Two Egyptian style snake designs around her upper left arm, a red ankh design on the back of her neck, 'Isis' script on the inside of her wrist and 'Lion-Hearted' script on her left flank. Jelena has posted images of her tattoos via Twitter and noted within her Porn OCD interview that; "I have four. My first one was the red ankh between my shoulders, in 2012. I do have some vague ideas for future ink, but my ideas for tattoos develop over time usually. The last one I got was last year, exactly".
Piercings : Right nostril
Years Active : 2014 – present
Number of Scenes : 15+
Introducing Canadian cutie Jelena Vermilion! A talented dancer, model and adult film star with a passion for performing and a keen interest in Egyptian history and mythology, Jelena has amassed a devoted fan following  ever since she began featuring in solo sex shoots for Canada-TGirl.com in 2014. Jelena's amicable personality, natural beauty and her collection of saucy solo modelling shoots have earned her an ever-expanding network of fans from across the globe and a reputation as one of porn's most promising TS starlets.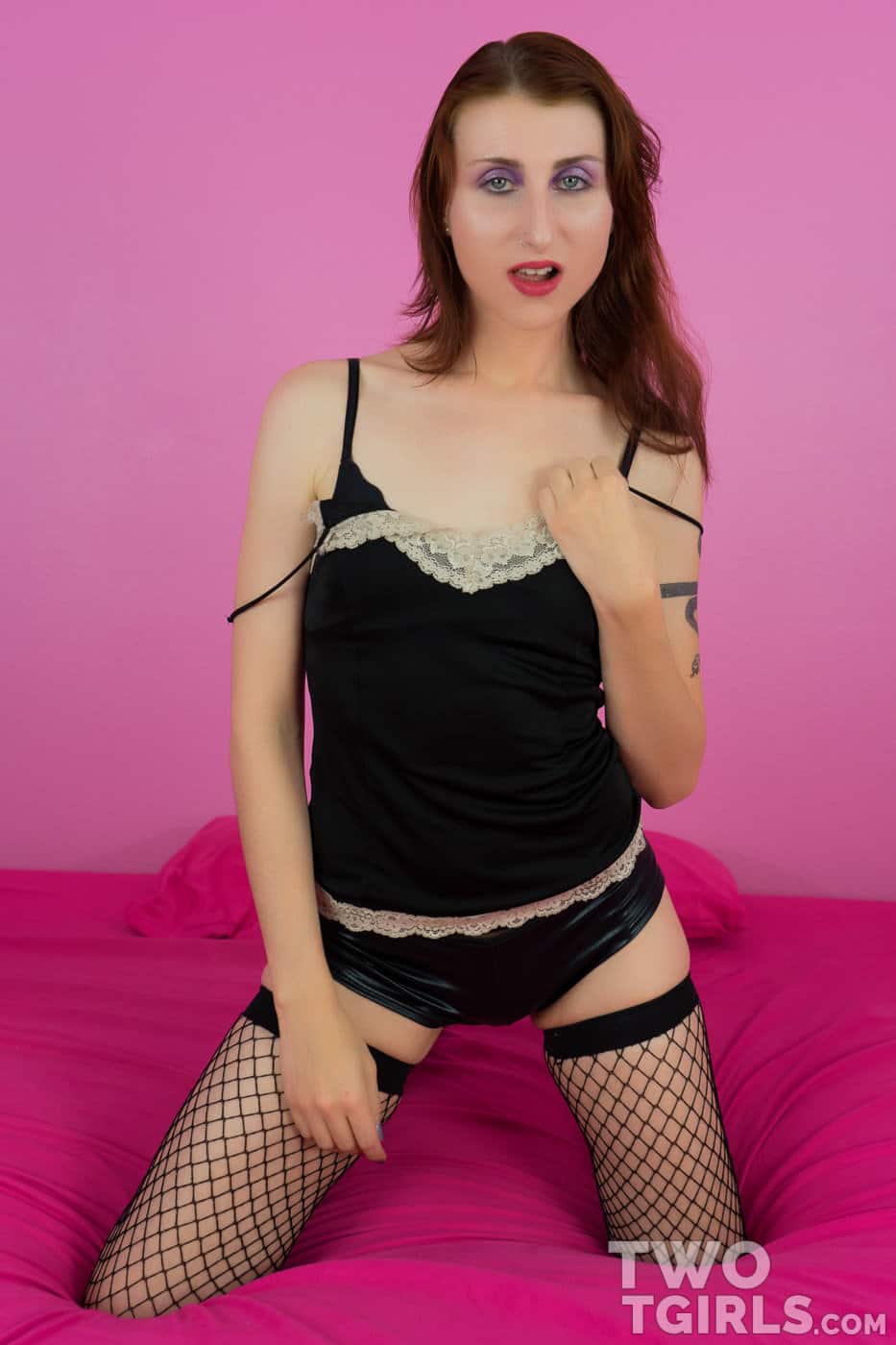 Jelena Vermilion at Two T Girls
Before she became a fan-favourite transsexual porn star, Jelena Vermilion was born and raised in Cambridge, Ontario. Although she is proud of her Canadian roots, Jelena had a difficult childhood because she faced a tumultuous relationship with her family and was often the target of bullying from her classmates. Jelena explained during her September 2016 Porn OCD interview that;
"Cambridge is divided into three subsections: Galt, Preston, and Hespeler.  The first two are known for being a bit rough, but I grew up in Hespeler.  Growing up was difficult.  I had a difficult home life with my family and I was a target at school for bullying.  Cambridge itself isn't horrible, as I've definitely experienced worse.  Overall I still have good feelings associated with the city".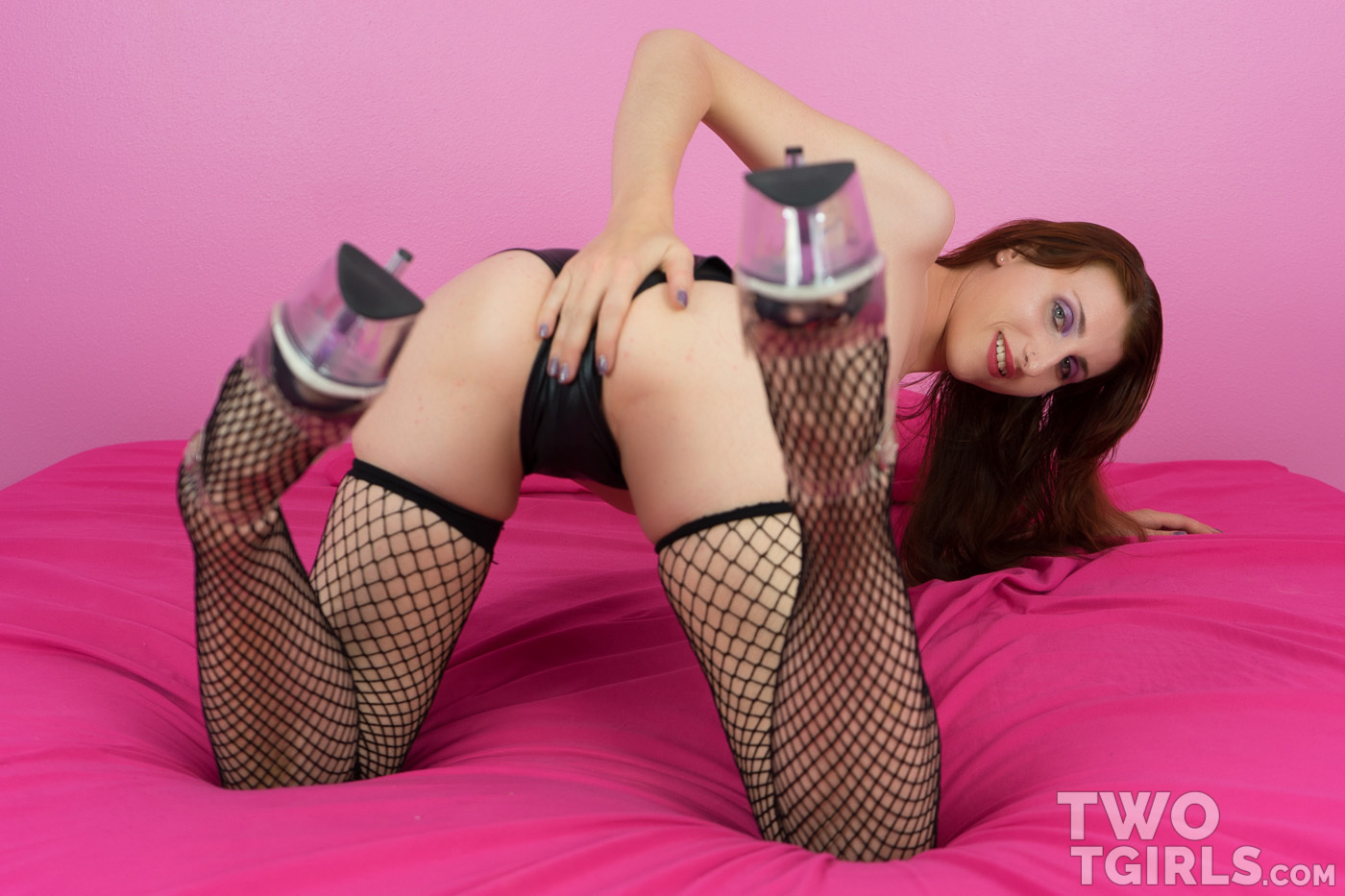 Jelena Vermilion at Two T Girls
Within this illuminating Porn OCD interview, Jelena revealed that she has been aware of her true gender identity from a very young age but did not begin to fully understand and embrace the concept of being transgendered until she was a teenager. As Jelena explained in her own words;
"I think growing up (between 3-6) watching Sailor Moon, I was really inspired by the beauty of it – Specifically the transformation scene(s).  I remember being affected in a visceral way by those images. Of course, at that time I didn't know what a transsexual or transgender person was.  So I didn't conceptualize it like that.  As far as when I chose to commit to transitioning, and starting HRT, I'd say 17.  Though I was dressing full time for two years prior to that…
I didn't have friends, really, until grade nine.  I thankfully grew up with a minimally judgemental mother, and she was a nurse, so any medical or sexual questions I had were always met with supportive, informative answers.  As far as my being trans, I didn't fully figure it out until my mid-teens.  I can also say that my one sister was really supportive of me growing up, even if we weren't super close".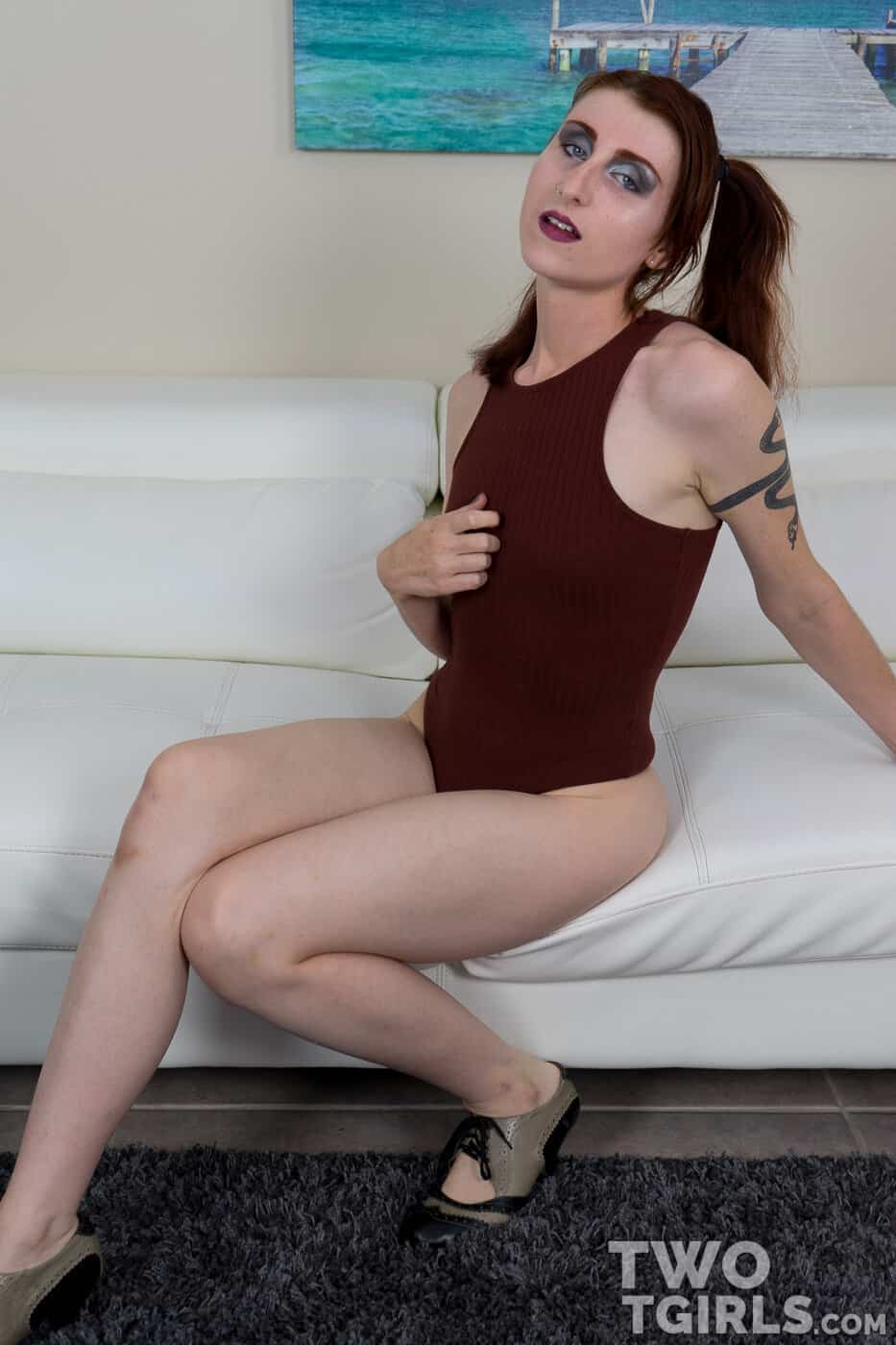 Jelena Vermilion at Two T Girls
Although it took Jelena several years to understand and publicly embrace her true gender identity, she divulged within her Porn OCD interview that she has never been afraid to confront narrow-minded individuals;
"I was pretty feisty growing up.  So my go-to response is telling my detractor to "Fuck off"…I had to place a restraining order against someone in High School for threats. But otherwise, I just kept being as flamboyant as I was, and trying my best to sustain myself".
Before she embarked upon her successful porn star career Jelena worked as a professional dancer and has been performing at local LGBTQ events since 2011. When Jelena was asked during her Porn OCD interview about her dancing career, and about her long term plans before she discovered her porn star potential, she expressed that;
"I've always been a tactile person, I suppose.  Growing up I didn't have the opportunities to have formal dance training.  I just move the way the music inspires me.  So I describe my dancing as lyrical, interpretative, or contemporary.  I started off by volunteering at some of the LGBTQ-oriented events held at the University of Waterloo, and other venues.  I made connections quickly, and given the audience's receptiveness, I've been afforded the opportunities to dance pretty much at any of these kinds of events in my home region… Ironically, I get nervous every time before I perform (I have generalized anxiety).  But yeah, I'm not necessarily uncomfortable.  However, with that being said, I've always felt the drive to push myself into fearful situations in order to grow and culture courage within myself...Growing up, I wanted to work with computers, or be a dancer, or to be a psychologist.  Now, I'm pretty annoyed by capitalism and I mostly list "being happy" as my life ambition.  As far as a career, I've had the privilege of dancing and modelling for five years.  And my adult industry experiences have been the cherry on top!".
Jelena Vermilion : Adult Film Career
In late 2013 Jelena decided to progress from professional dancing roles to posing for adult film modelling shoots. Jelena revealed during her Porn OCD interview that she had been contemplating a porn star career since she was a teenager and that her adult film modelling debut eventually occurred because she was contacted by a Grooby Productions talent scout;
"Well, I was already open minded and positive about sex trade workers growing up, so I always fantasized of experiencing that one day.  I'd imagine around 16-18 is when I thought about it more seriously.  I'm honoured to say that I was actually scouted by Grooby Productions (First by Kevin, their former producer based in Toronto, and then again by Vito who's based in Montreal two years later.)  So the pornographic opportunities afforded to me was because of the image I had constructed for my escorting advertisement and business model.  And for this, I am very grateful.  I am currently looking into producing my own content".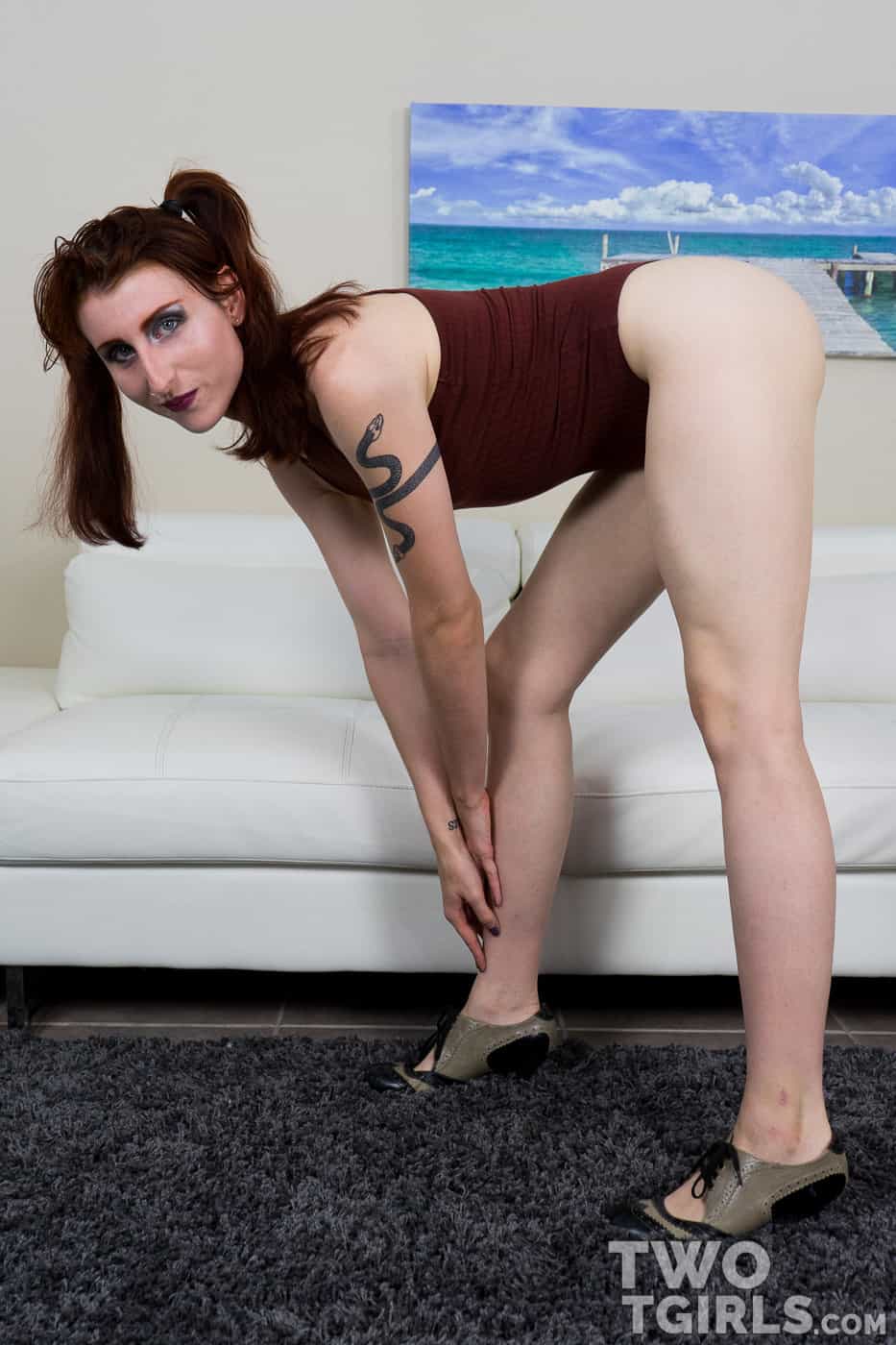 Jelena Vermilion at Two T Girls
In this manner Jelena filmed her first ever adult film modelling shoot, Jelena Rocks It Out, which was directed by Kevin Dong and distributed via the popular Grooby Network transsexual porn site Canada-TGirl.com in January 2014. During her Porn OCD interview Jelena highlighted how Kevin helped her to calm her initial stage fright on the day of her first ever solo sex shoot;
"My very first set was a solo set, filmed in Toronto by Kevin, one of Grooby's former producers.  I was feeling pretty good that day, if a bit nervous.  Thankfully, speaking with Kevin beforehand helped to calm me, as we had pretty good social chemistry.  We got along well enough that we shared our legal names by the end of our working together…I think I only got a taste from my first set as I wasn't performing with a male model, so I wouldn't say I felt that way immediately, no.  I do think that any industry that subverts modern culture is an industry for me, however".
Prominent porn director Kevin Dong proceeded to direct many of Jelena's saucy solo sex shoots for Canada-TGirl.com including Jelena Rocks It Out and Jelena Sexes Up that were both filmed in January 2014, Jelena Fucks Herself that was uploaded in April 2014, Jelena Opens Up which was unveiled in May 2014, Jelena Takes It Off that was promoted in October 2014, Jelena Toys Her Ass that was released in November 2015, as well as Jelena With Her Man and Jelena Bends Over that were both uploaded in December 2015. Kevin also directed Jelena's kinky costume photo set Jelena Naughty Devil alongside her sultry solo sex shoot Jelena Has A Good Time that were both uploaded in February 2016. In addition to directing many of Jelena's fan-favourite solo sex shoots, Kevin Dong also directed one of Jelena's first ever hardcore sex scenes, Alex Fucks Jelena, that was promoted via Canada-TGirl.com in March 2016.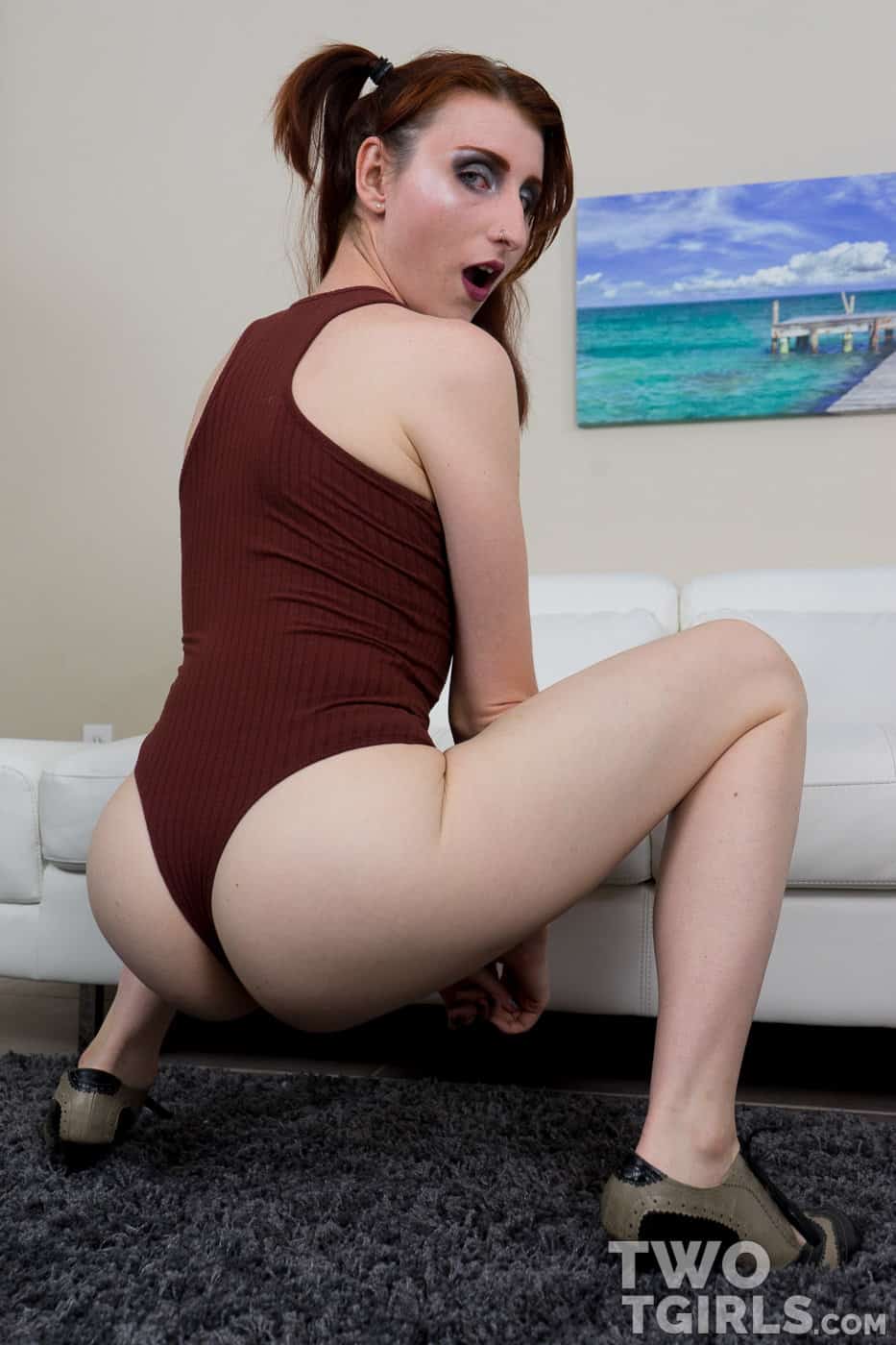 Jelena Vermilion at Two T Girls
Throughout her adult film career Jelena has filmed multiple hardcore sex scenes with male porn star Ray Bans for Canada-TGirl.com. If you're a fan of Jelena Vermilion's raunchy video clips then we recommend checking out such compelling hardcore sex scenes as; her sizzling Jelena Enjoys Her Man online sex scenes that were directed by Kevin Dong and uploaded via Canada-TGirl.com in July 2014, and her epic Jelena Takes It hardcore sex scenes with Ray Bans that were distributed in October 2014. Upon being asked to name her favourite Canada-TGirl.com sex scene to date during her Porn OCD interview, Jelena cited her raunchy September 2014 solo modelling shoot Jelena Lays Out that showcased Jelena's phenomenal physique in a sultry white lace bodysuit. As Jelena herself enthused;
"My favourite scene that I made was this solo shoot with Kevin, one of the last he produced of me. I wore this lovely white lace bodysuit. During the cumshot scene, I put my legs over my head and came in my own mouth...I've shot a total of 14 sets thus far with Grooby Productions, for Canada-TGirl.com.  Roughly half are solo sets, and half are hardcore sets".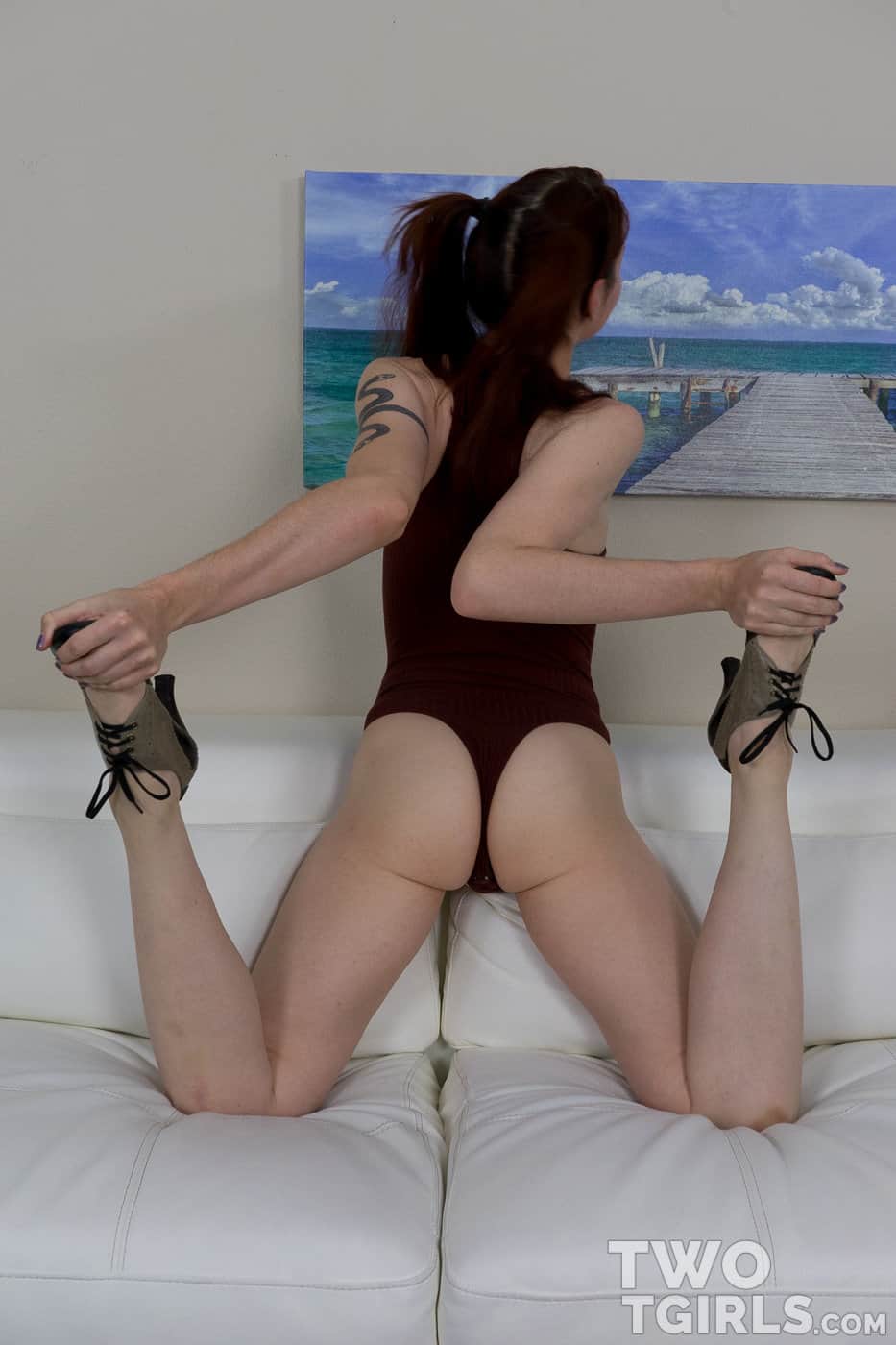 Jelena Vermilion at Two T Girls
After taking a brief adult film hiatus in early 2016, Jelena made her triumphant return in the summer of 2016 with a captivating photo set, Jelena's Homecoming, that was created with the help of prominent porn director Vito. Talking about her comeback career during her Porn OCD interview, Jelena explained how;
"I was a bit nervous, and excited to shoot again.  It was a new producer, but Vito (@VeeSo) was really great to work with, and professional.  Most of all, he was friendly and fun.  I didn't even use the Viagra. aha".
As well as filming Jelena's Homecoming, Vito and Jelena have also collaborated on the saucy solo sex shoot Jelena's Dildo Date that was unveiled via Canada-TGirl.com in September 2016. Adult film blogger TS Caramel enthused about Jelena's raunchy return to Canada-TGirl.com via her official blog site caramelstgirls.com, sincerely stating that;
"The Kitchener, Ontario, model is a dancer and that's explains her amazingly toned form. Jelena asks if we missed her when her 14th Canada-TGirl video begins. I can almost hear shouts of, "Are you kidding me? Of course!"… Jelena's dirty talk is absolutely mind-blowing and cock stiffening. If you already know Jelena, welcome her back to Canada-TGirl. If you're just getting to know her, consider this your lucky day!".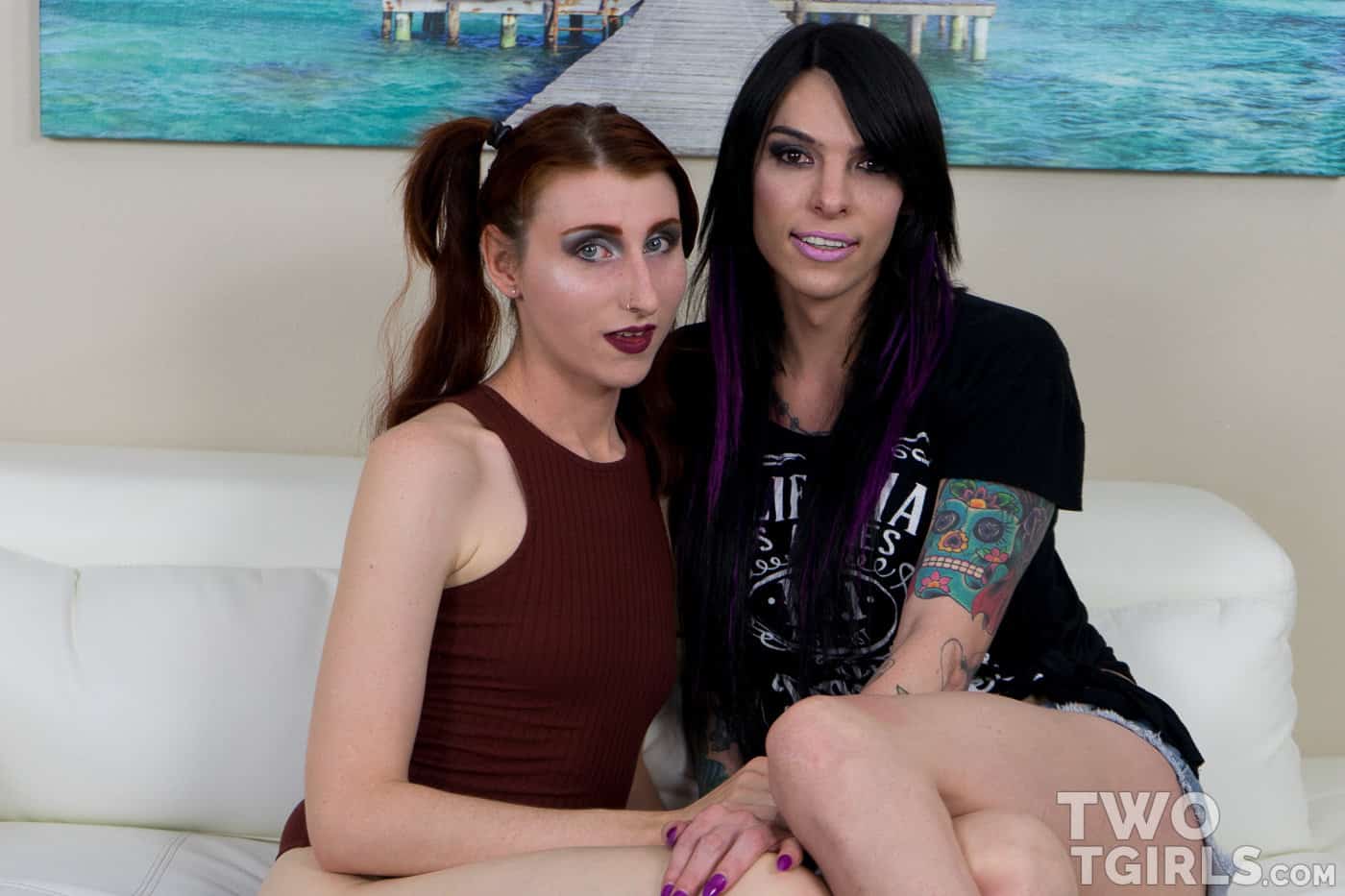 Jelena Vermilion and Chelsea Marie at Two T Girls
Most recently, Jelena has collaborated with 2017 AVN and XBIZ Awards "Transsexual Performer of the Year" Nominee Chelsea Marie on multiple hardcore sex scenes for the popular transsexual porn site TwoTGirls.com. Fans of Jelena Vermilion have to check out her Escort Has The Wrong Address and Stripper University sultry sex scenes with Chelsea Marie that were both distributed in November 2016. When asked about her favourite transsexual performers with whom she would like to collaborate in the near future, Jelena eagerly exclaimed during her Porn OCD interview that she would love to work with Natalie Mars;
"That one is easy. Natalie Mars…She is sassy, sweet, geeky, and I have a penchant for freckles and pale skin".
Want to keep yourself updated regarding Jelena's latest pornographic productions? Then why not visit her official social networking channels using the links provided below? By doing so, you can interact with Jelena via her live adult-cam site chat sessions, you can view her impressive portfolio of Canada-TGirls.com content, and you can even glean some exclusive industry insights from the terrific TS starlet  herself via her Twitter and Instagram profiles!
Social Networks
Two T Girls profile : Jelena-Vermilion
Canada TGirl Profile : Jelena
Twitter : @IsisIntrepid
Instagram : @isis_intrepid
IAFD Profile : http://www.iafd.com/person.rme/perfid=jelenavermilion_ts/gender=m/jelena-vermilion.htm
Shemale Canada Profile : https://www.shemalecanada.com/escort/yelena/