Personal Info
Name : Juliana Souza
Alias : Juliana Sousa, Juliana De Sousa
Date of Birth: January 5th, 1991
Home Town : Sao Paulo (Brazil)
Hair Colour : Black / Brunette / Blonde
Eye Colour : Hazel
Tattoos : Butterfly and flowers design on her right hip and upper thigh (Juliana acquired this tattoo in 2013 and it covers what used to be a 'Minha Mae Minha Vida' script and stars tattoo)
Piercings : Left upper lip piercing, tongue and navel
Years Active : 2012 – present
Number of Scenes : 35+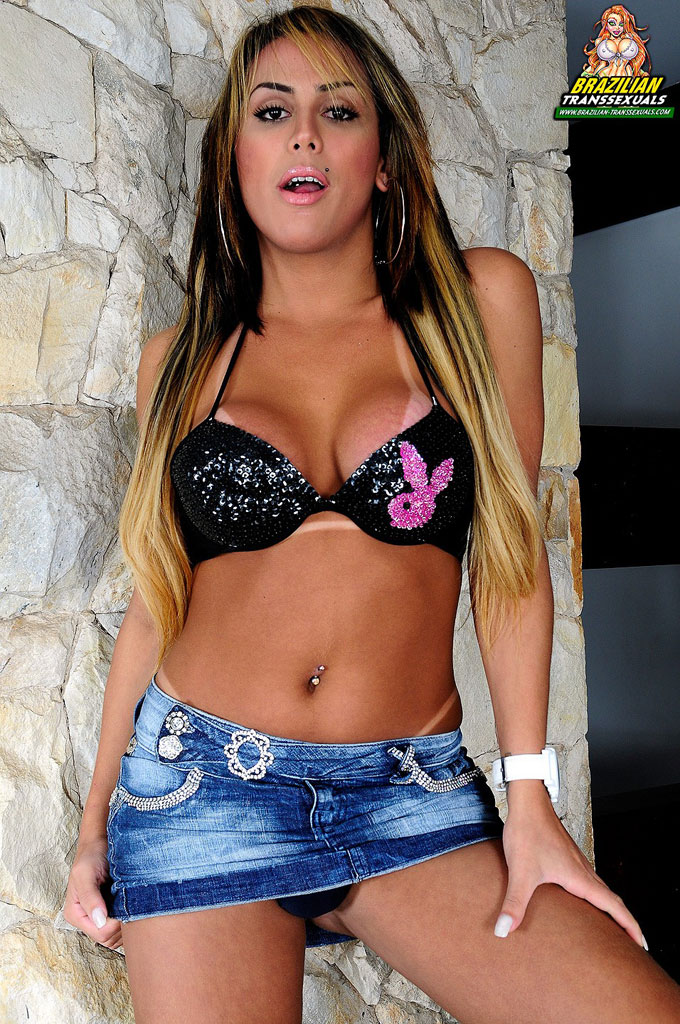 Juliana Souza at Brazillian Transsexuals
Stunning Sao Paulo TS starlet Juliana Souza is one of the most prolific Brazilian transsexual performers in the adult entertainment industry! Famous for her extensive porn star portfolio of soft-core, hardcore, solo, fetish, femdom and BDSM  content, Julia kick-started her adult film career in 2012 when she filmed a series of saucy sex scenes for various Reality Kings and TrannyPack.com websites. Some of Juliana's earliest adult film collaborations include; Phat Shemale Booty Barebacked with Yago Ribeiro for transexbareback.com in April 2012, Trifeca of Shemale Punishment with Gabriela Carvalho and Vanessa Maclayne for shemalepunishers.com in May 2012, TS Domme Juliana Souza In Control with Pedro for tskink.com in May 2012, as well as Fabulous TS Juliana Souza in April 2012 and Busty And Hung TS Juliana Souza in October 2012 which were both distributed via tsdolls.com.
Juliana early adult film content featured the Brazilian beauty in all manner of wild and wonderful sex scenes with some of the biggest Latin male  porn stars in the adult entertainment industry. Some of Juliana's fan-favourite online sex scenes include; Hung TS Juliana Souza Tops with Tony Lee for megacocktranny.com, Juliana Souza Takes Black Cock with Capoeira for tspantyhose.com in September 2012, TS Juliana Oiled Up For Cock with Ricco Puentes for oiledupshemales.com in April 2013, Double Impact with Jessica Ketlen in May 2012, Snake Enchanter with Yago Ribeiro in June 2012, Tight Ass with Vinny in May 2013 and Back For More with Yago Ribeiro in December 2013 that were all filmed for trannysurprise.com.
In addition to her Reality Kings and TrannyPack.com website content, Juliana also began filming numerous captivating video clips for the Grooby Productions website shemales-from-hell.com which included some compelling collaborations with Rafael Angel in June 2012, Vinny in August 2012, Rico Puentes in April 2013, Alex Victor in August 2013. Fans of Juliana Souza can also find a wide range of solo sex shoots, group sex scenes and BDSM content on the trans-friendly porn sites Brazilian Transsexuals, Shemale.XXX, She Male Club, Shemale Erotica, Franks T-Girl World, Latina Tranny, Pinko T-Girls, Trans500, Shemales Club, transatplay.com, tsgirlfriendexperience.com, Channel 69,ikillitts.com, TS Kink and She Male Yum; the list goes on!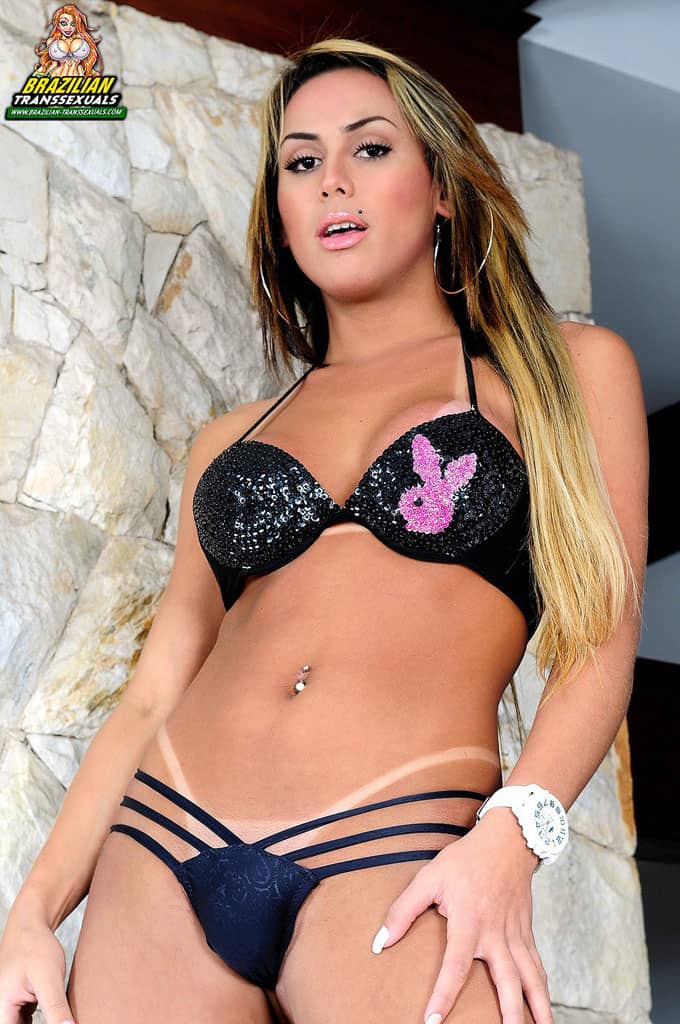 After establishing an international reputation as a raunchy Brazilian TS starlet, Juliana began to feature within a number of popular TS DVD series which were filmed within Brazil as well as in the United States of America. One of Juliana's most popular DVD titles has been the Evil Angel feature release Rogue Adventures 38 (2013) with Kelli Lox, Beatrize Velmont, Bruna Castro, Danika Dreamz, Jacqueline Woods and Zoey Monroe. This particular production won "Best Transsexual Release" at the 2014 AVN Awards and received rave reviews from adult film critics such as XCritic column writer Apache Warrior;
"The two scenes with the most replay value are the Zoey Monroe-Jacqueline Woods performance as well as the Juliana Souza-Bruna Castro pairing. These performers are highly photogenic and beautiful. I love it when Joey Silvera bypasses a regular guy fucker and instead pairs a tranny with either another tranny or a female. I enjoy seeing a lot of pretty performers on screen. In other scenes, Beatricy Velmont and Danika Dreamz are very sexy performers too. This film is going to be replayed a lot. I highly recommend it".     
Another of Juliana's best-selling DVD titles has been TS Playground 3 (2013) for Evil Angel and Jay Sin Video which featured Juliana in a saucy sex scene with Brazilian TS starlet Bruna Butterfly. TS Playground 3 was a critical and commercial success that was nominated for "Best DVD" at the 2013 Tranny Awards, "Best Transsexual Release" at the 2014 AVN Awards and "Transsexual Release of the Year" at the 2014 XBIZ Awards.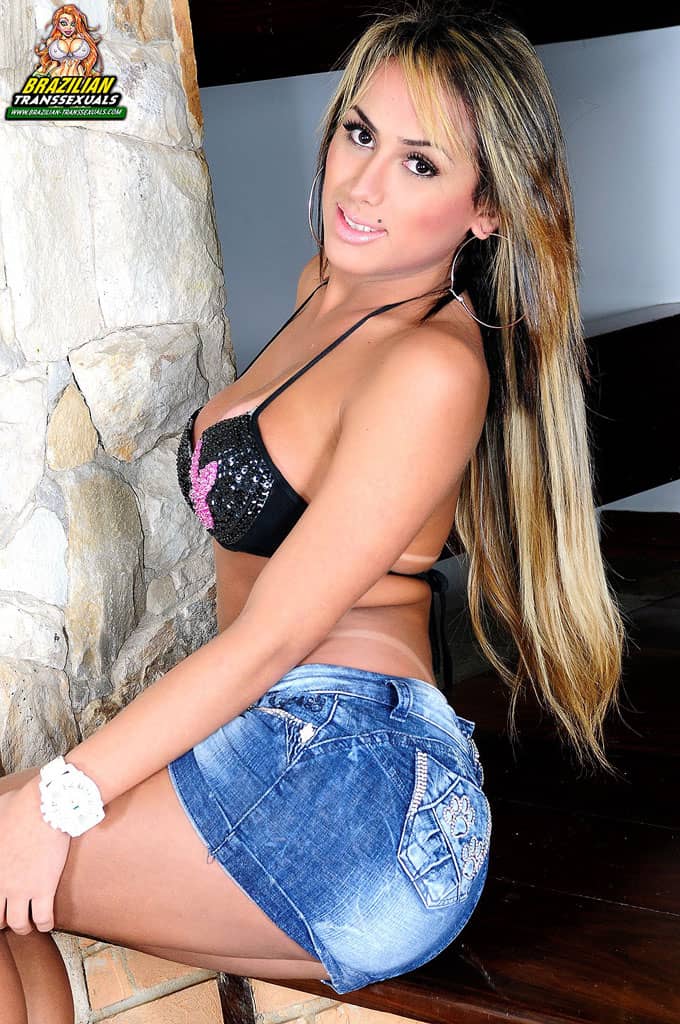 If you have been looking to discover even more of Juliana Souza's saucy adult film content then we recommend that you also check out the following DVD feature releases and online sex scenes; Reverse Cream Pie (2013) which was filmed for Dream Tranny, the Trans 500 Studios online sex scene Brazilian Shecock Strokers (2014) featuring Juliana in a three-way sex scene with Rafaela Ferrari and Alessandra Ribeiro, the 2014 Reality Kings feature releases Tranny Surprise 32 and Tranny Surprise 34 (2014),Transsexual Escapades (2014) for Trans 500 Studios that enabled Juliana to collaborate with prominent transsexual porn stars Eva Lin, Nina Lawless, Daisy, Alessandra Ribeiro and Rafaela Ferrari, and TS Playground 14 (2014) for Evil Angel and Jay Sin Video that showcased Juliana alongside fellow Brazilian transsexuals Sheylla Wandergirlt and Nicole Bahls.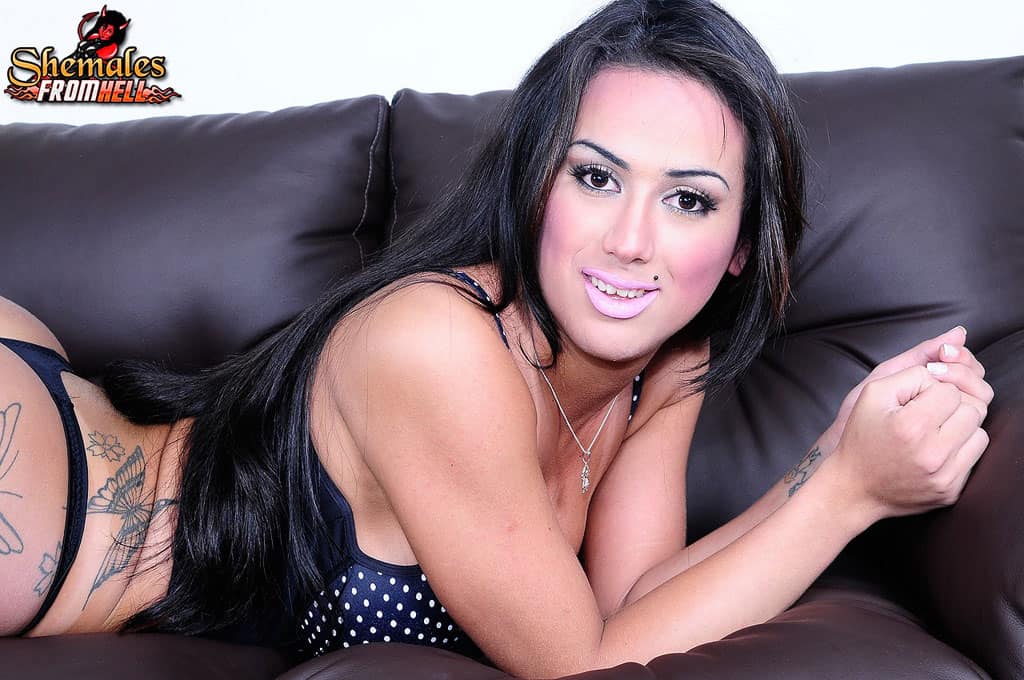 Juliana Souza at Shemales from Hell
In fact, Juliana has since starred within multiple instalments of Jay Sin's award-winning TS Playground DVD series; from TS Playground 17 (2015) alongside Melainy Vilhena, Sinful, Kendra Sinclair, Holly Parker, Bianca Cordelly and Gianna Rivera, to TS Playground 20 (2015) with her friends and former co-stars Bruna Butterfly, Sheylla Wandergirlt, Nicole Bahls, Nina Lawless, Kendra Sinclair, Brenda Castro and Anna Hickhiman. Juliana's TS Playground performances have continued to earn her ardent acclaim from numerous adult film bloggers such as Apache Warrior who stated within his XCritic online review of TS Playground 14 how;
"Gal pals Juliana Souza and Bianca Hills play with each other a bit and tease the camera…Jay Sin did a very good job in allowing the two trannies be showcased all around that bed so that the viewers can obtain maximum eye candy pleasure of these two attractive hotties…This film is filled with hot performances and women. The best performances that provided non-stop hotness were the Juliana Souza-Bianca Hills and Chelsea Marie-Savannah Fox ones. Each woman wanted the other badly. It created solid passion. Nicole Bahls and Sheylla Wandergirlt gave very worthy efforts too. Much jacking off moments among these four scenes. I highly recommend this film".
Apache Warrior was similarly enthusiastic in his online review of TS Playground 17 and heralded Juliana's three-way sex scene with Melainy Vilhena and Max Scar as the highlight of the film;
"In TS Playground 17, even though the three-way with Juliana Souza, Melainy Vilhena, and Max Scar is the most outstanding performance, the other four scenes are really hot too. Kendra Sinclaire and Sinful deserve honorable mention status while Holly Parker, Gianna Rivera, and Bianca Cordelly are fantasy girls who you want to fuck badly. If you are looking for beautiful trannies having hot sex, this film is for you. I highly recommend it. Evil Angel continues to produce the best quality transsexual films in this industry".
What's more, XCritic column writer Sex Reed also endorsed Juliana's TS Playground performances.  Within his online film review of TS Playground 20 Sex Reed even advocated how;
"Bruna Butterfly and Juliana Souza are dressed in identical powder blue bra and pantie combinations, plus matching bunny ears…Together, they are fun and playful…Bruna looked so cute in her bunny ears while she's licking Juliana's ass…It was a hot threesome that wrapped up this disc perfectly…The TS Playground series is one of my favorite series in TS porn because it combines very attractive transbabes with excellent production values, but, as displayed in this case, still remaining kinky…After 20 volumes, TS Playground remains vital and kinky. This disc is highly recommended".

Juliana's three-way sex scene with Bruna Butterfly and Christian XXX was so popular that it was also distributed via Christian XXX's trans-friendly porn site pure-ts.com in November 2015 under the title Bruna and Juliana Are Two Sexy TS Bunnies That Love Sex.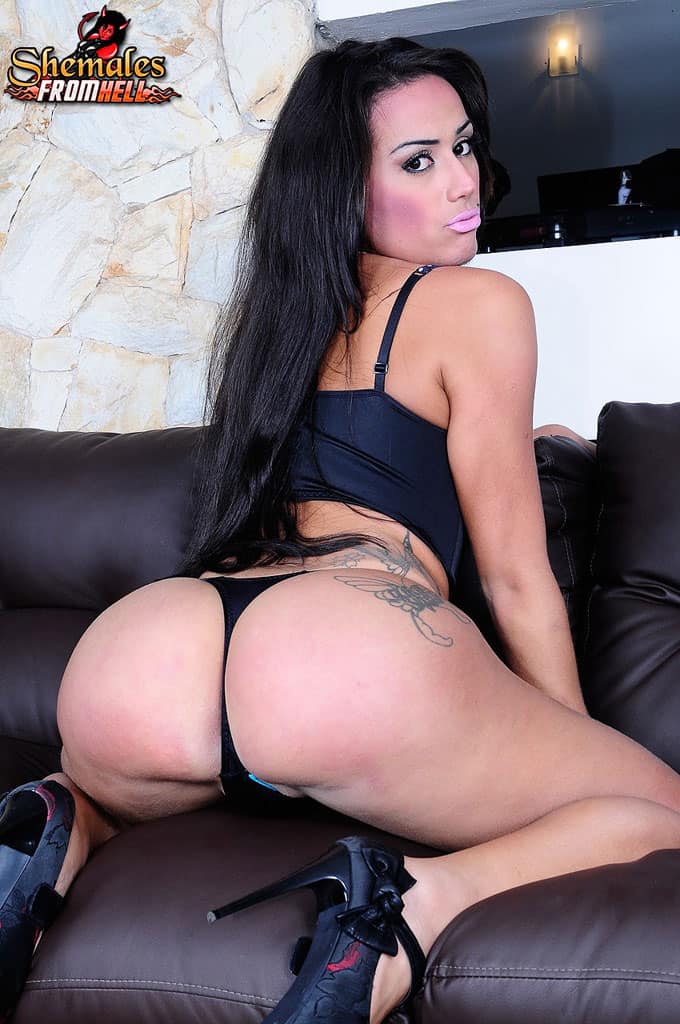 Motivated by the overwhelmingly positive reception to her TS Playground feature releases, throughout 2015 Juliana has continued to collaborate with some of the biggest Latin porn stars within the adult entertainment industry. Fans of Juliana Souza will not want to miss out on her 2015 Trans 500 Studios production Super Ramon 3 that was nominated for "Transgender Release of the Year" at the 2016 XBIZ Awards, her January 2015 ikillits.com online sex scene, Souza's Super Stuffing, with Ramon, or her 2015 Harmony Films DVD feature release Trans Trans Revolution which featured Juliana in a three-way sex scene with Sabrina de Castro and Britney Bitch as well as reuniting her with Bruna Butterfly for another raunchy on-screen session.

If you just can't get enough of buxom Brazilian babe Juliana Souza? Then why not head on over to her official social networking channels online today to glean some exclusive insights about her latest online sex scenes, live chat sessions and adult film productions! All the links you'll ever need to savour this seductive Brazilian TS starlet have been provided in the section below;
Social Networks
Brazilian Transsexuals : Juliana Souza at Brazillian Transsexuals
Shemales from Hell : Juliana Souza at Shemales from Hell
Shemale XXX : Juliana Souza at Shemale XXX
Chaturbate Profile : Chaturbate

Kink Profile : http://www.kink.com/shoot/33766
IMDB Profile :  http://www.imdb.com/name/nm5795731/