Personal Info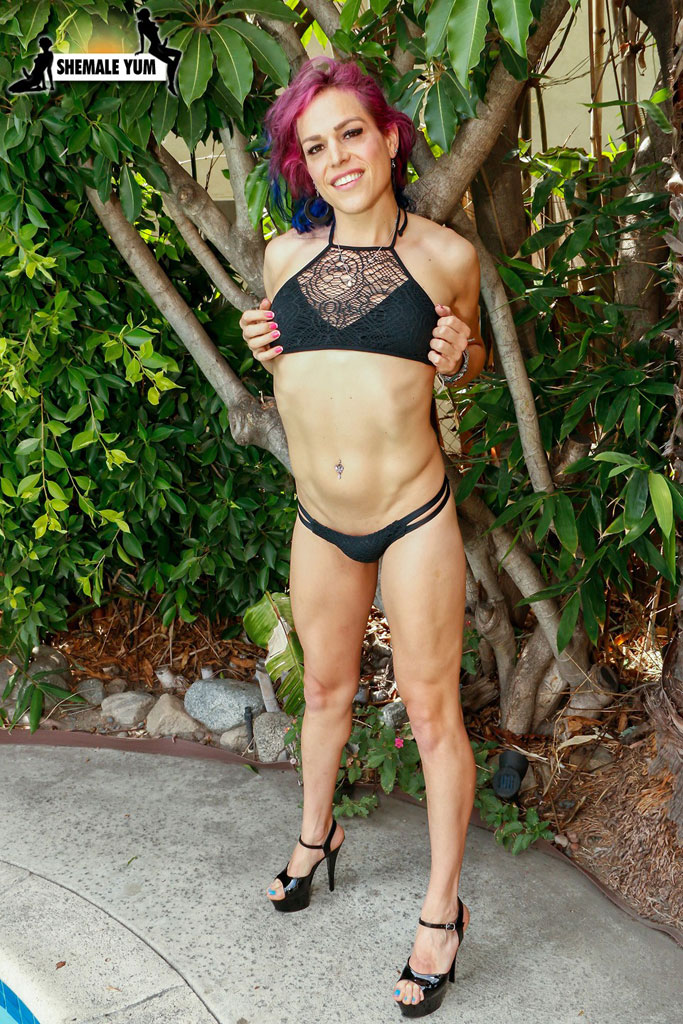 Name : Kelli Lox
Date of Birth: September 4th, 1986
Home Town : Boise, Idaho (USA)
Measurements : 36A – 26 – 36
Bra/ Cup Size : 36A
Boobs :  Natural
Height : 5'9 (1.76m)
Weight : 145lbs (66kg)
Hair Colour : Brunette
Eye Colour : Brown
Tattoos : Red butterfly design on her right hip
Piercings : Navel
Pets : Kelli is an ardent animal lover but she does have an allergy to cats! As Kelli explained within her XCritic column interview;
"Atchoooo!!!!  I'm so allergic to cats. I sneeze just thinking about them! I'm definitely a dog person.  As a matter of fact, I was just visiting with my neighbour, enjoying homemade lemonade on her porch, and she has like 4 dogs. As we chatted, her dogs took turns coming up to me and getting rubbed & scratched behind the ears! They are so cute! I used to have a dog – she was a long-nosed black chow. I miss her a lot. She was the best. Her name was Sumia".
Years Active : 2012 – present
Number of Scenes : 20+
Introducing Kelli Lox; a multi-talented transsexual porn star, musician, dancer and graphic design artist who has just been nominated for "Transsexual Performer of the Year"at both the 2017 AVN and XBIZ Awards!
Born and raised in Boise, Idaho, Kelli Lox has always been aware of her true gender identity. However, Kelli revealed during her September 2014 Adult DVD Talk interview with TS superstar Wendy Williams that she hid her true self from others during her childhood for fear of prejudice, discrimination and alienation;
"I've known as long as I can remember that I was really a girl, but I was born and raised in Boise, Idaho and I learned quickly that I had to hide it if I wanted a normal childhood. So I hid it all through elementary and high school. It wasn't until I went to college that I started letting people know here and there, but it was still a big secret. It wasn't until I graduated college and moved to California that I finally decided to transition. After that, it was only a matter of time before all of my boy clothes had been packed away and donated to goodwill".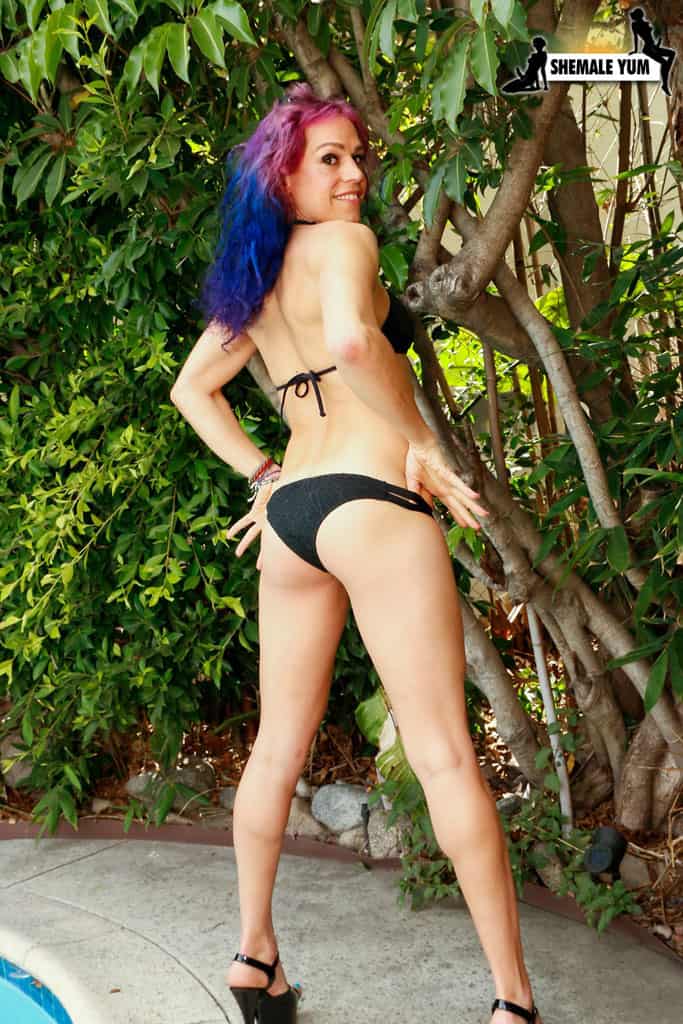 Kelli was a rebellious child who, despite receiving multiple detentions, still received good grades, played soccer, worked at the local ski resort and was the president of her school ski team. As she explained via her XCritic column interview, Kelli adopted this 'hell raiser' person in an effort to protect herself from scrutiny;
"I was a trouble-maker.  I was the one who would stun the other kids by talking back to the teacher, upending their supposed supreme authority over us.  Yet I was always at the top of the class, smarts-wise.  Why was I such a little hellion? Well, I had to protect myself.  I saw a lot of tender boys getting teased, ostracized, excluded, and disrespected.  I knew right away that the only way I would enjoy my youth was to establish social rank among the other boys in my town. I was not the best at sports, nor was I the coolest, richest, or most popular. So being an independent rebel with a fuck you attitude allowed me to party with the boys and fuck the girls in high school, and no one cared that I had danced ballet, spoke other languages, read a lot, played piano, etc. – Christ, I lettered in Drama! But, I was automatically "cool enough" because I was a crazy little fucker who was brave enough to have fun even at the risk of serious consequences.  I had a great childhood".
Kelli explained during her April 2013 Tranny Lives interview that although she hid her true gender identity from her friends and family, she has always known that she was transgendered;
"I always knew that i was supposed to be a girl. I mean, i can look back now and say "did i feel it in kindergarten? yup. Preschool? yup." Ever since i can remember, I experienced intense thrills while wearing girls' clothes – or even thinking about it. I was drawn to girly things, clothing, and activities, but i knew that pursuing anything would come with risks. So i learned to be sneaky and hide it. Yet, I suppose it must have been obvious to anyone who had been paying attention. In the fourth grade, a girlfriend of mine started taking ballet lessons after school. I told my mom i wanted to join and within a week, there i was: a little boy taking ballet with the girls. I loved it. It was like i had gotten behind the lines and now was a member of a new realm of femininity. But no one said anything – at least not to my face. I guess i never exhibited the behaviour that my social sphere categorized as "acting gay" so i always got treated like a normal boy through high school. Tell you what, though: when a girlfriend left some clothes at my house, i would masturbate with pretty much every item, and usually try to keep something…
I remember lying in my bed as a child, just staring at the ceiling and wishing that when i got up i would have a girl's body. It's kind of sad lol. I wasn't a sad kid, though – i was happy!! I just had this sense that my body didn't match my spirit. A part of me just said to myself "hide the cross-dressing for now, but keep sneaking it in privately. In the future, there will come a day when we won't have to hide it anymore." So that's what i did. I just enjoyed being a boy, and doing things that boys did, and had this secret obsession with girls' clothes. Well, a few years ago, that day finally came, and i was no longer afraid, and i got rid of all my boy clothes entirely !!".
Although Kelli is now confident in her true gender identity, she has suffered prejudice and discrimination during her life due to the fact that she is transgendered. For instance, Kelli revealed during her Adult DVD Talk interview that;
"There are times when people make me feel like I'm not a "real woman." like one time recently, we were at a nice hotel and casino in Reno, and we had planned to use the spa. Well, one person in my group of friends takes it as her personal mission to go down to the spa counter, hours before we were planning to get there, and asks them what their transgender policy was. So she talks to the girl, then she calls her supervisor, then she is sitting with the supervisor discussing the fact that a TRANS person is coming shortly and omg we have to have some POLICY in place… How fucking ridiculous. So, it turned into this big deal and was very awkward and hurtful. We ended up just napping that afternoon and skipped the spa altogether. IT SUCKED because really, I'm a woman and I would have used the spa the same way that other women do, period. Why did it have to be an issue? Why do people feel the need to, like, make sure special arrangements are in place before I show up, or that some staff has ample warning that I'll be coming? It's really fucked up. Anyways, shit like that where I am considered neither male nor female, but "other." I'm a girl and I really appreciate it when people just take that and run with it like it's no big deal. I don't like it when people take it upon themselves to "help" me or anticipate problems that probably aren't even really there".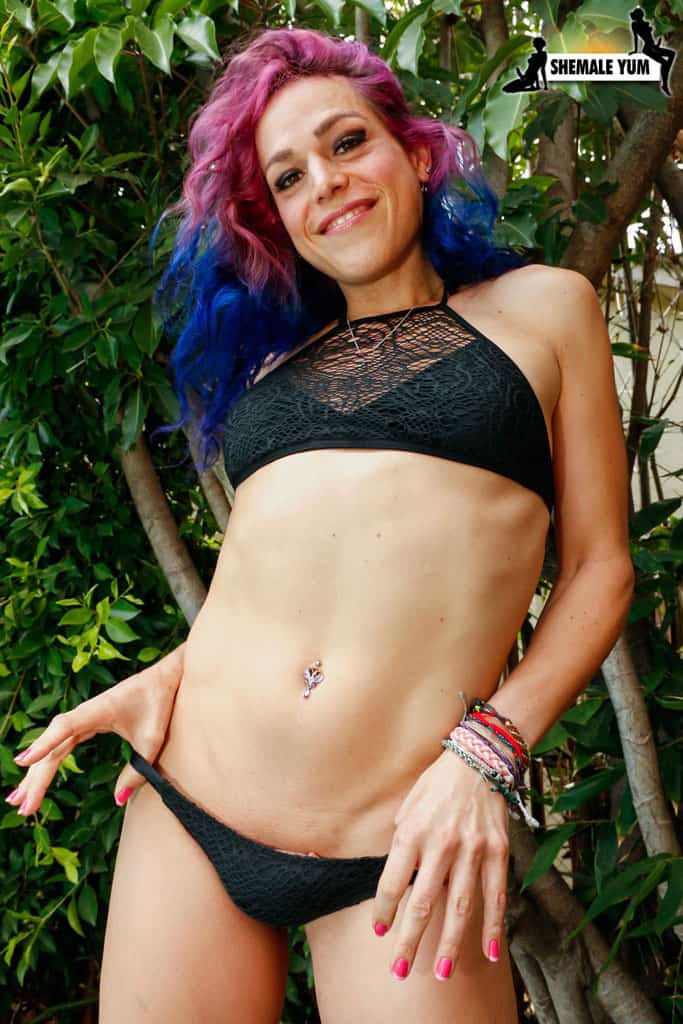 Kelli began to embrace her true gender identity when she was in her 20s and explained during  her Tranny Lives interview that she was glad that she waited until she was 24 years old before she commenced hormone replacement therapy (HRT);
"I started a few years ago, so like, i guess i was around 24. I had already boxed up all my boy clothes and was dressing in girls clothes daily, but it took a while before i was cleared for hormone therapy. I'm glad i started when i did. Any earlier in my life and i would have lacked confidence for such a permanent course of action; any later and i would have become too irreversibly male. You know, stuff like male pattern baldness and all that AHhahha. Anyways, it was the perfect time in my life to start over with a new identity whose gender finally was the same as me. My boobs have grown – they're pretty solid A cups right now!! I think they might still be growing – I'm not sure…. ::looking down, squeezing breasts:: pretty cute boobies, huh?…
I'm not a fan of surgery, actually. I got my wisdom teeth removed a long time ago – that's the only time I've been put to sleep and operated on. So it's really really foreign to me to just casually "have work done." Plus, it's expensive as shit. I'd rather travel to India or something. When it comes to my penis, let me just say that i have quite a nice cock. ::smiles:: Seriously. If i were to cut it off, there are people who would be mad at me ::laughs:: and I don't want any boob job ; i like my boobies nice and cute and little, just the way they are. I've never found huge tits very attractive". 
As Kelli mentioned above within her Tranny Lives interview, although she has undergone hormone replacement surgery she has never undergone any cosmetic procedures and has no plans to do so in the future. Kelli elaborated on these views during her Shemale Heaven interview, stressing that;
"I have never, ever, wanted any type of surgery. I have good genes and i eat super clean and i take care of myself and i work out. Plus, i have quite an amazing cock lol … lots of ppl would be really mad at me if i had it removed.=)".
At this stage in her life Kelli began to miss her art modelling days so she created an online modelling profile. After working as an independent model for several months, Kelli was contacted by a Grooby Productions talent scout who asked if she was interested in filming a solo sex shoot for their transsexual porn site Shemale Yum. Kelli highlighted within her Adult DVD Talk interview how this spur of the moment solo photo set paved the way for her successful adult film career;
"Well, I started modelling for art classes when I was in college. A few years ago, I really started to miss those days. The skill of holding poses was fun, but getting paid to be naked in front of people was the thrilling part! So, I started modelling again. I did a few trade-for-content shoots and then, I was like, what the fuck am I going to do with all this content? I wanted to get paid! Eventually, I was offered a porn shoot. It was a solo set for Grooby. I basically had to talk, strip, move around on a bed, and masturbate. That was my first porn shoot. It's funny looking at it now, because I was so nervous, and I really had no idea what I was doing lol. But, I felt really good about it, and it did well, and it was the start of my career in the adult industry".
Kelli Lox : Adult Film Career
In January 2012 Kelli Lox made her adult film modelling debut on the transsexual porn site Shemale Yum with a saucy solo sex shoot titled Cock Stroker Kelli Lox that was directed by Radius Dark. Talking about filming her first ever solo sex shoot within her Tranny Lives interview, Kelli revealed that;
"My first adult shoot was a photographer who had done some foot fetish sites and was trying to get into selling ts shoots to shemale yum. He found me through my modelling profile, and we met in a hotel room in a nearby town. Although i was nervous and he was fumbling a little, the shoot went great, shemaleyum bought it, and it did very well !! People liked it !! The success of that set led to a shoot with shemale xxx as well as the establishment of my social media presence, my webcamming channel, and working at Divas SF (an all-trans strip club). The Divas SF job is what brought me to the 2013 Tranny Awards in Hollywood. I met a lot of great people there, including the photographer for Shemale Strokers. We stayed in contact and i ended up flying to Seattle to do a shoot with him. That was one of my best shoots ever !!! Since then, things have been going really well!!"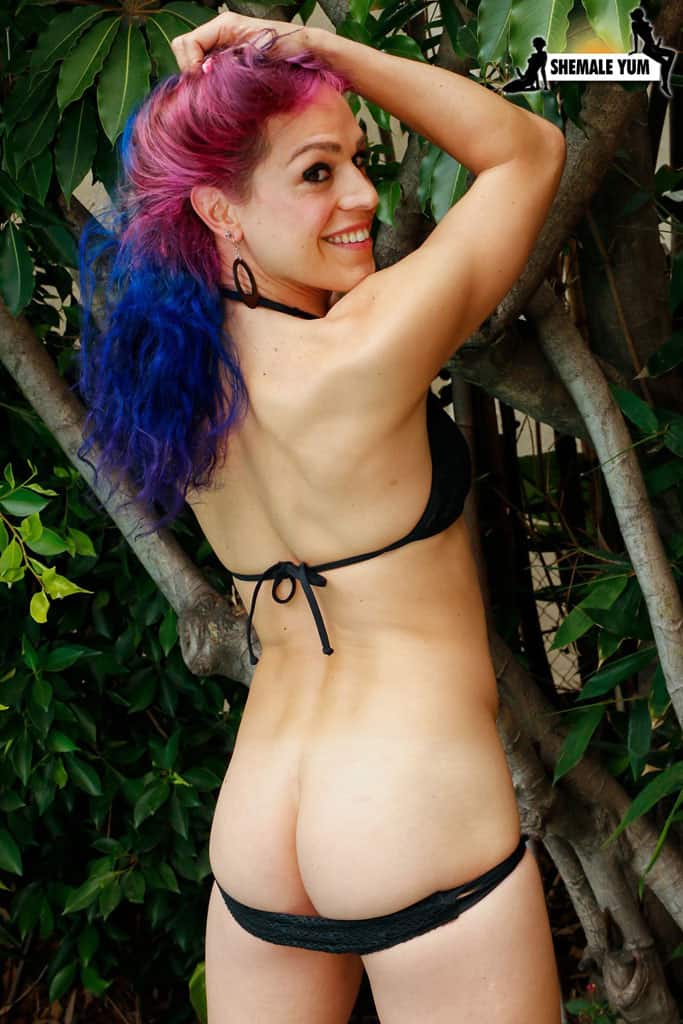 Kelli has continued to film for many fan-favourite Grooby Network sites throughout her adult film career including Shemale Yum, Shemale.XXX and Bob's TGirls. Some of Kelli's sauciest online sex scenes include Stairway To Heaven, Kelli Lox! that was directed by Blackula for Shemale.XXX in May 2012, Kelli Lox Rocks that was filmed by Radius Dark for Shemale Yum in May 2013 and Kelli Lox & Robert Axel Fuck Poolside! which was directed by Buddy Wood for Shemale Yum in August 2016.
Over the years Kelli has also filmed a diverse array of sultry solo sex shoots for some of the most popular trans-friendly porn sites in the adult entertainment industry. Fans of Kelli Lox will want to check out her October 2013 WendyWilliamsXXX.com solo photo set, her Cheerleaders Fuck After Practice sex scene that was filmed with Mayumi Sparkles for TwoTGirls.com in August 2016, and her multiple sex scenes with Christian XXX that were distributed via pure-ts.com such as Sensual Kelli Lox Gets Her Ass Fucked Bareback in August 2015 and Sexy Kelli Lox Gives A Lesson In Jerking A Guy Off in October 2015. What's more, Kelli has starred alongside Christian XXX within many of his CX WOW Studios DVD titles such as Horny Tranny Cougars (2015) also starring Alexis D'vyne, Amanda Jade and Lexxxis Kanyon, and Tranny Handies (2015) alongside famous TS starlets Aubrey Kate, Delia DeLions, Athena Addams, Demii D. Best, Kara Lynn, Miran, Oriana Frost, Tasha Jones, Peach and Tyra Scott.

Kelli's big break came in 2013 when she featured within the Evil Angel DVD feature release Rogue Adventures 38. Directed by Joey Silvera, Rogue Adventures 38 served as the latest instalment of Joey's long-running Rogue Adventures TS DVD series and it enabled Kelli to feature alongside famous Brazilian transsexuals Bruna Castro, Juliana Souza and Beatrize Velmont, as well as Danika Drama, Jacqueline Woods, Zoey Monroe, Rico Steele, John Magnum and Alex Magnum. Rogue Adventures 38 was a critical and commercial success; winning "Best Transsexual Release" at the 2014 AVN Awards and introducing rising TS starlet Kelli Lox to a vast international fan base.
Throughout her adult film career Kelli has continued to performed within a broad spectrum of best-selling DVD feature releases. We recommend fans of Kelli Lox check out her sex scenes within the Devil's Film DVD title America's Next Top Tranny 17 (2013) that was nominated for "Transsexual Release of the Year" at the 2014 XBIZ Awards as well as the Trans 500 Studios DVD feature release I Kill It TS 12: Monster Ass Fucks (2014) starring Bia Bastos, Irina Chanell and Ramon. In fact, Kelli's I Kill It TS 12 sex scene with Ramon was so popular that it was nominated for "Best Transsexual Sex Scene" at the 2016 AVN Awards. In fact, Kelli has been nominated for a wealth of prestigious adult film awards including;
2014: AVN Awards nominee "Transsexual Performer of the Year"
2014: XBIZ Awards nominee "Transsexual Performer of the Year"
2015: AVN Awards nominee "Transsexual Performer of the Year"
2015: AVN Awards nominee "Best Transsexual Sex Scene" Tranny Chaser 2: Confessions Of A Poolboy (with Jessy Dubai)

2015: Transgender Erotica Awards nominee "Best Internet Personality"
2016: AVN Awards nominee "Transsexual Performer of the Year"
2016: AVN Awards nominee "Best Transsexual Sex Scene" I Kill It TS 12: Monster Ass Fucks (with Ramon)
2016: AVN Awards nominee "Favourite Transsexual Performer (Fan Award)"
2017: AVN Awards nominee "Transsexual Performer of the Year"
2017: AVN Awards nominee "Best Transsexual Sex Scene" The Adventures of Sunshyne Monroe (with Sunshyne Monroe)
2017: XBIZ Awards nominee "Transsexual Performer of the Year"
Out of all of her raunchy DVD feature releases, fans of Kelli Lox will not want to miss out on viewing Tranny Chasers 2: Confessions of A Pool Boy (2014). Directed by Buddy Wood for Third World Media, Kelli starred in Tranny Chasers 2 alongside Jessy Dubai, Nelly Taylor, Sienna Grace, Roxxy Thorne and Smith. Tranny Chasers 2 was immensely popular among Kelli's international fan following and it was nominated for "Best Transsexual Release" at the 2015 AVN Awards, "Best DVD"  at the 2015 Transgender Erotica Awards and earned Kelli a "Best Transsexual Sex Scene" nomination at the 2015 AVN Awards for her three-way sex scene with Jessy Dubai and Smith. Prominent adult film critic Apache Warrior endorsed Tranny Chasers 2: Confessions of A Pool Boy within his XCritic online review, enthusing how;
"This long-awaited feature film is a good one. The storyline is an effective and entertaining one that allows Smith to get involved with the trannies of the house. As to our Mr. Smith, he is definitely the top leading male performer in the transsexual film genre. The Tranny Chaser 2 is a very good showcase film for him. It deserves to be nominated for AVN Best Transsexual Release and XBIZ Transsexual Release of the Year at their ceremonies. Furthermore, Smith deserves to be nominated and win the Best Non-TS Performer award at next year's TEA Party awards…I recommend The Tranny Chaser 2″.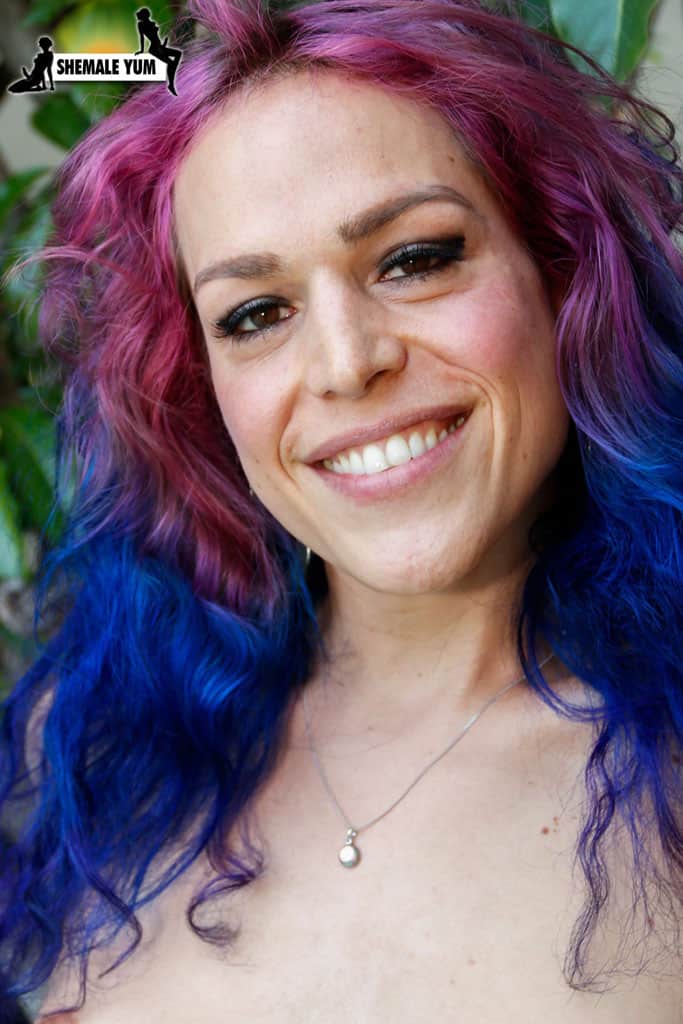 Throughout her adult film career Kelli has also collaborated with award-winning director Sammi Mancini on multiple online sex scenes for SheMaleStrokers.com as well as starring within some of his best-selling DVD feature releases such as She Male Strokers 58 (2013), She Male Strokers 62 (2014) that was nominated for "Best Transsexual Release" at the 2015 AVN Awards, She Male Strokers 64 (2014), She Male Strokers 67 (2014) and She Male Strokers 75 (2015), that was nominated for "Transgender Release of the Year" at the 2016 XBIZ Awards. Kelli's She Male Strokers solo sex scenes received rave reviews from Apache Warrior who enthused within his July 2014 and September 2014 XCritic film reviews that;
"Kelli Lox, Eva Cassini, and Hazel Tucker are the main standouts. As a matter of fact, I love Hazel's blonde look. She has never looked better. She is super hot. Much credit needs to go to director and writer Sammy Mancini in developing a creative and imaginative plotline for many of these scenes. I recommend this production. It's one of the better She-Male Strokers films of the series…
Jonelle Brooks, Nina Lawless, and Gina Hart gave the most turn-on performances and the ones with the most strokable value. They also have very attractive bodies to jack off too. Kelli Lox is a fun-loving transsexual who would be quite entertaining to pleasure if you were under the sheets with her. There would never be a dull moment".
Kelli loves filming with Sammi Mancini and sincerely expressed during her Adult DVD Talk interview that;
"First of all, Sammy Mancini and I just click. We have the same sort of style. Neither of us take it too seriously, but at the same time, we both really pay attention to the storyline or plot, and make the scene as engaging as possible for the viewer. We are both into some fairly kinky stuff, like peeing or licking up my own come, stuff like that. Also, Shemale Strokers is not a southern California site, where glam fake tan plastic surgery girls are everything. Shemale Strokers is a Seattle company. It seems his viewers like more "real' girls, as in girl-next-door, or more down-to-earth, or a girl you could actually meet, girls with personality, stuff like that. I'm not sure. But, I do visit Seattle often, and each time I let Sammy know I'll be in town cuz I love working with him".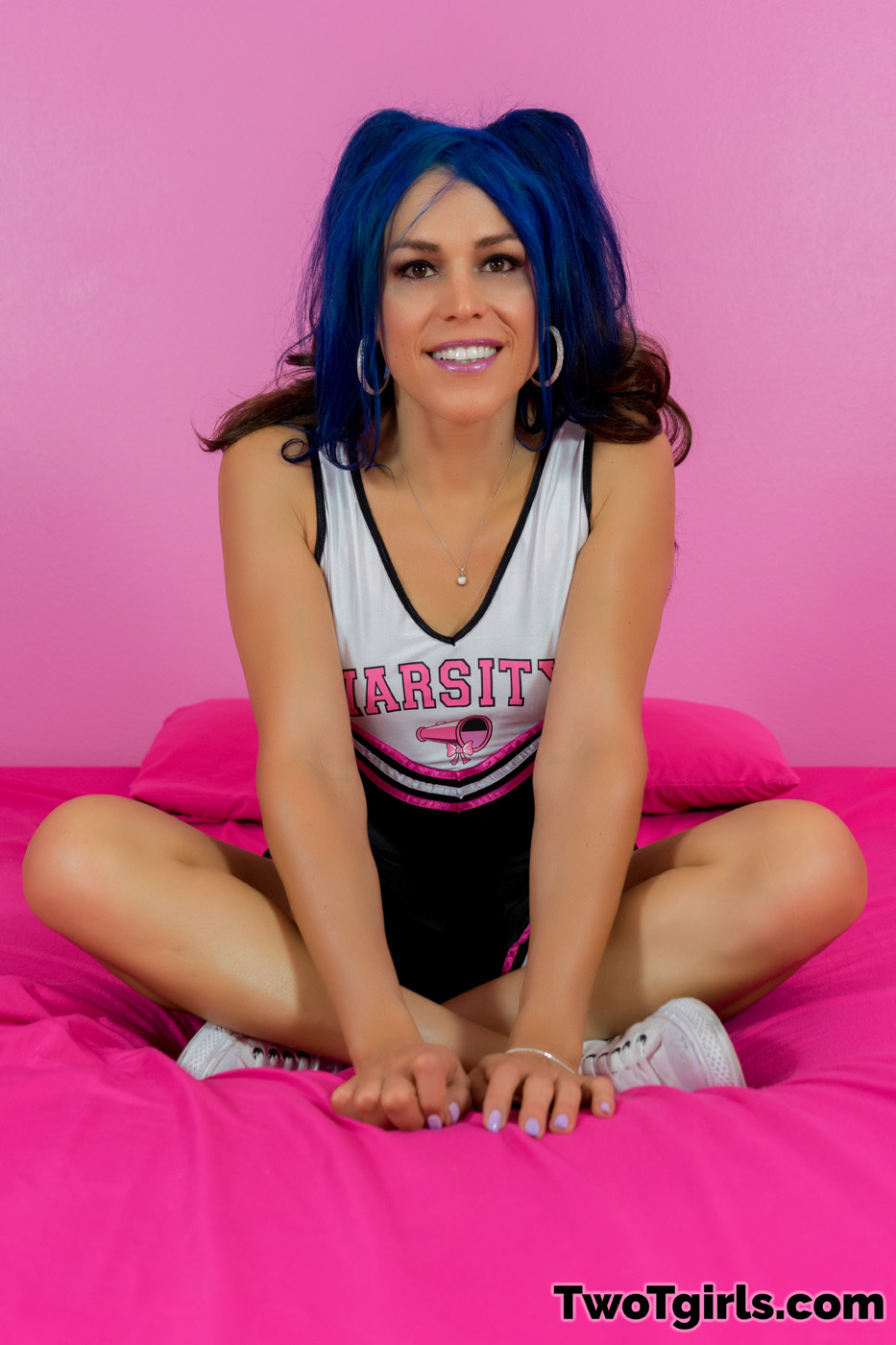 Most recently Kelli has starred in Sunshyne Monroe's signature showcase The Adventures of Sunshyne Monroe which has earned them both a "Best Transsexual Sex Scene" nomination at the 2017 AVN Awards. Kelli has also reunited with femdom superstar Mona Wales in order to star within her directorial debut, Real Fucking Girls, that was just nominated for "Best Transsexual Movie" at the 2017 XBIZ Awards. There's just no stopping Kelli Lox!
Kelli Lox : Official Solo Website & Transformation Magazine Cover Model
In January 2012 Kelli launched her official website; kellilox.com. Talking about the evolution of her official solo site during her 2013 Tranny Lives interview, Kelli divulged that;
"I bought the domain a few years ago, but didn't really know what to do with it. For the longest time, it simply contained links to my Facebook, YouTube, SoundCloud, and Twitter. About 2 months ago, i finally hired a PR person. They straightened out my website. Now it looks more like a typical tgirl porn website. However, it still just contains mostly links to sites I've worked with. I mean, i don't host my own stuff, so there's no membership capability or anything. I chose not to have my own site because i don't want to be obligated to keep producing fresh content all the time. Like, what if i want to take a week off or whatever?? lol you know?".
As well as managing her official solo website and shooting for leading trans-friendly pornographic production companies, in September 2014 Kelli was named as the cover model for Issue 91 of Transformation Magazine. Thrilled to be chosen to pose for this distinguished publication, Kelli expressed during her Adult DVD Talk interview that;
"Well, it's a pretty good birthday present !!! (my bday was on September 4th) It's really fucking awesome. I remember years ago, right before I transitioned, I picked up an issue of Transformation in Sacramento. I was floored. I was super impressed. And I dreamed of being on the cover of that magazine someday. And holy shit, 4 years later that day has finally arrived. I do wish we had scheduled a shoot just for that feature, because the shoot we chose is from a while ago and I have lost some weight since then. And I didn't have my signature pig tails hairstyle in it either lol. But I'm just being hard on myself – some really great photos came out of that shoot and I'm sure people will love it and I am super excited to get my copy, look through it, and brag to all my friends !!!!! Seriously, being on the cover feels really good. It's a great feeling when people recognize and appreciate the time and energy I've put into my porn career".
Kelli Lox : Fetish Lifestyle Market
Since 2013 Kelli has begun to  indulge her kinkier side by filming a variety of scintillating fetish porn, femdom and BDSM content for the fetish porn site Kink.com. Kelli made her Kink.com debut in July 2013 with a saucy sex scene with Bella Wilde titled Wet Pussy Pole Dancing up and down on TS Cock – DEBUT of KELLI LOX for their fan-favourite TS Pussy Hunters web series.
Ever since Kelli has appeared in multiple instalments for Kink.com's TS Pussy Hunters web series. Out of all of these sizzling sex scenes, we recommend that fans of Kelli Lox check out; Jessica Fox and TS Foxxy Double Team MILF Sensation Simone Sonay and Feature Finale To The MILF Double Team: Fucking The Daughter-in-Law that were both uploaded in September 2013. Kelli Lox fans will also not want to miss out on her raunchy three-way September 2016 birthday sex scene with transsexual femdom star Jessica Fox and saucy sub Angel Allwood titled Angel Allwood is the gift that keeps on giving and receiving head, her October 2016 erotic wrestling sex scene with Francesca Le titled Battle of the Tough Bitches – Winner Fucks Loser, her raunchy Great Fucking Pitch sex scene with femdom superstar Mona Wales that was uploaded in February 2016, and her gangbang with Venus Lux, Jessica Fox and Cheyenne Jewel titled Cheyenne Jewel's first TS gang bang!! that was distributed in April 2016. When asked to name her personal favourite fetishes during her August 2016 Fleshbot interview, Kelli confessed that she has a foot fetish;
"Toes. Holy hell, I love cute toes. I'll look at a cute girl's cute toes as I orgasm, for sure. I'll think about cute toes when I'm trying to come. Tights, pointe shoes, etc.–my spank bank is full of that kind of stuff".
Kelli Lox : Talented Musician, Feature Dancer & Graphic Design Artist
Kelli is a natural born performer who is trained in ballet, piano, guitar and drums. In fact, Kelli has been writing and performing her own songs from a young age. Kelli's professional dance training has resulted in her performing some stunning feature dancing performances at the all-trans strip club Divas SF. In addition to her thriving adult film career, feature dancing performances and musical talents, Kelli has also established a successful side career as a graphic designer. Kelli discussed her wide range of creative interests during her Tranny Lives interview, explaining how;
"I draw and paint, and i mess with photos in Photoshop and stuff. One of my other side jobs is graphic design and comic strips. Mainly, though, i make music. I've been in lots of bands over the years, and i play a bunch of different instruments and sing. I'm not in any bands right now, i guess because I'm so busy, but i still post some of my own songs on my sound cloud. I used to dance a lot, too. Mainly ballet. I would love to do a shoot in the future that highlights some of my artsy interests !! …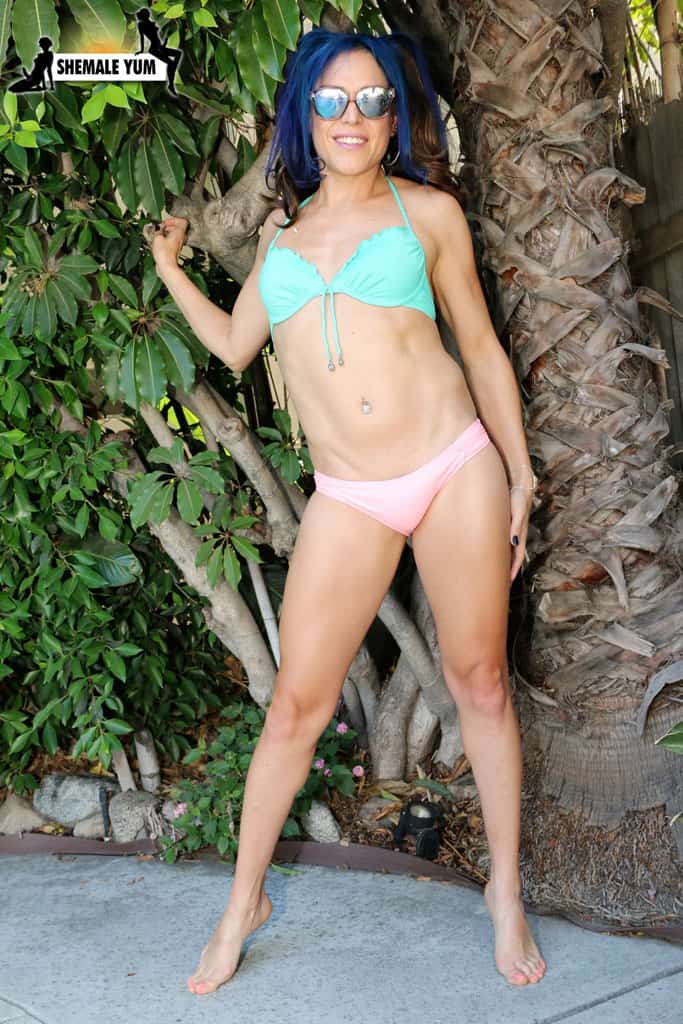 I can play piano and keyboards, guitar, and i write songs. I sing, too. But my main instrument is drums. Yeah, when i was 14, i was taking drum lessons from the guy who played for Steve Miller's Sun Valley gigs. My drum teacher was cool. He was, like, the lead drummer for the BSU band and he worked at a music store. I had my eyes on a black Premier set. I wanted it so bad. But, at the last minute, he found a white Pearl set that was a little less expensive. My parents were thrilled, and they bought it for me. I was grateful for the drum set, but i probably grumbled a bit about that Premier set… maybe i still do !! HAHha …
I started taking piano lessons when i was 5 years old. I started learning guitar and drums as a teenager. Even as a kid, i was always making up songs. I still have some of those recordings !!! In high school, i was in a rock band. Once, we played for our school in the gym, on the gym stage, with everyone in the audience up in the bleachers, after the talent show was over. During a cover of Pixie's Monkey gone to Heaven, i ask if they can hear us. (i had "borrowed" the band teacher's PA system for this gig, by finding the janitor and insisting i had permission – i didn't. The band teacher owed me a favor anyways, though. I wasn't even in band, but when their drummer was going to miss 3 games, they called me out of class and taught me their entire songbook in like 30 minutes. I had been conscripted into the high school band !! hahhaha so yeah, he owed me a favor.) Anyways, the entire student body was in the bleachers (it was a smallish high school. catholic high school.) and they said "no" when i asked if they could hear us. So i told them to come closer and they rushed the stage and they were stage-diving and it was really rocking!! Then the principal got onstage and shut it down. Oh well, it sure was fun !!".
Kelli Lox : Romantic Relationships & Transgender Advocacy Work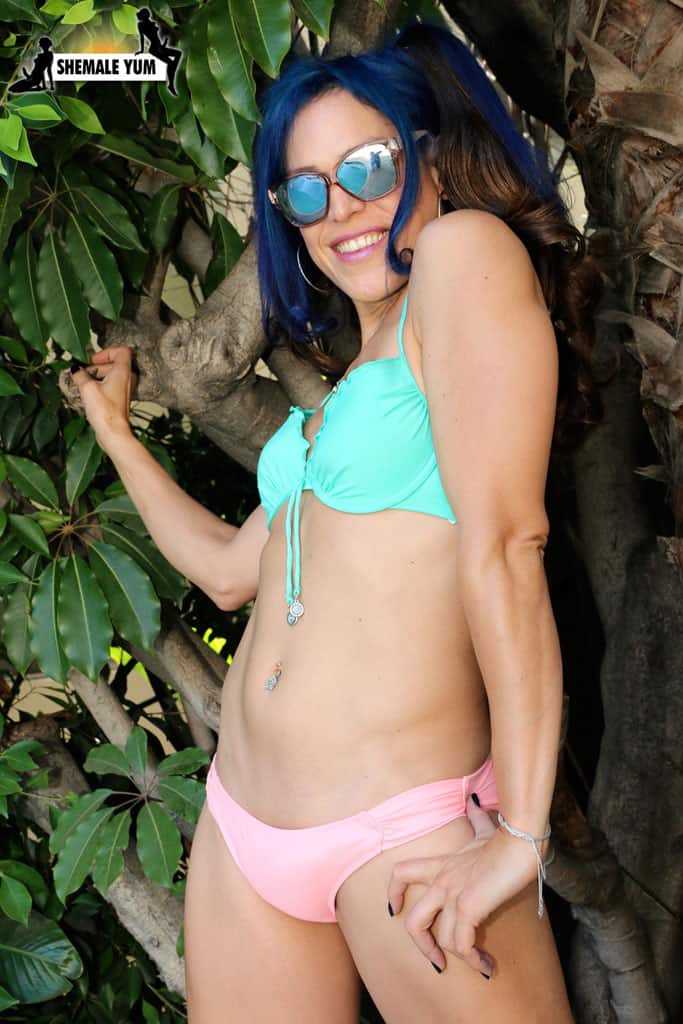 One of the main reasons why Kelli Lox has become such a fan-favourite TS star is her amicable personality and candid honesty during adult film industry interviews. For instance, Kelli was happy to discuss her sexuality and romantic relationships during her Adult DVD Talk interview and divulged that;
"I like having sex with cute people, what is that called? Is there a name for that? cutesexual? Don't know. I have lots of sex with guys. I love being wined and dined, treated like a princess and then fucked really hard =)…But long-term for me, when it really comes down to it, at the end of the day: I like girls…I had a couple of incidents where I was getting to know a guy and we started getting intimate, and we were making out and stuff, and that eventually led to heavy fondling, and removal of clothes, and then -!!!!!!!!!!!!!!!!- omg this girl has a penis!!!! It was scary. They were in shock. It was fucked up. It was terrible. It's not a good situation to be in. This happened a few times before I realized I really should avoid that. Now when I get the sense things with a guy are heading to intimate land, I start dropping a few clues here and there, so if it's going freak him out, he has a chance of a smooth escape and we can part. But if he really doesn't care, or is super into it actually, then we keep going. That was a tough lesson for me, because I always thought of the crisis awkward close-minded-ness as "their problem, not mine! I'm just being me." but those shocker moments are really not fun for anyone, and if I can do something to easily reduce the frequency of those instances, it's probably a good idea".
Similarly, Kelli was happy to discuss her romantic relationships during her January 2015 Shemale Heaven interview and revealed her personal opinions on dating fellow adult film stars;
"There's nothing difficult about dating someone who is not trans. Actually, i have never dated another trans person, ever. I have dated and been in relationships with genetic guys and genetic girls. The difficult thing is to date CIVILIANS (people who are not adult workers/strippers/porn stars). They always think it will be super fun but like clockwork they get possessive and mega jealous. It's very no es bueno. Always ends badly. In fact, just last week i broke up with a girl i really loved, but her jealousy had transformed our relationship into a toxic brew and i had to end it, or else we'd never be able to be friends again. It sucked, but i know it was the right move, and i look forward to rekindling our friendship someday =)".
By discussing her own romantic relationships within these adult film industry interviews Kelli has been able to raise awareness towards certain prejudices that members of the transsexual community face on a regular basis. For example, during her TransEthics interview Kelli highlighted the negative response that 'transbian' relationships can often evoke;
"It's a major problem in the trans community and for young trans people who are trying to find their way. What is the goal of transitioning? For a guy to think you're a cis girl? For a guy to treat you the way he treats cis girls? To be objectified the same way men objectify cis girls? To "pass" in men's eyes? For a lot of [trans women], the answer is "Yes! All of those things". I think that's dangerous because (a) it's reinforcing the oppression of women in our culture: [that] your worth is decided by men, based on your looks, and (b) a lot of trans girls are still attracted to females. If they see this as detracting from their femininity or regressing into male patterns, it can cause a lot of conflicting inner dialogue or even self-loathing…Part of the female experience is having non-sexual friendships with other females and being attracted to some of them in a more than friends way. If trans girls exclude that from their experience, they are doing themselves a disfavor and reinforcing so many negative stereotypes about both women in general and trans women specifically. That ultimately hurts all of us. Cis women and trans women need to embrace each other and recognize and appreciate the fact that both of their experiences, though different, are both completely valid types of the female experience. I have struggled with this personally because I FUCKEN LOVE PUSSY!…
I have had relationships with both guys and girls, and have had to reason with myself and deal with the judgment of others for a long time to figure out what that all means for me. only recently have I been able to articulate it on twitter. One follower said "We don't deserve an explanation of who you're attracted to. You aren't obligated to explain it to us or justify anything." I responded that I am living the transgender experience openly, that's what I'm doing, and I want to share the cool parts, the scary parts, the confusing parts, and my private parts. (laughs) Just kidding. I have no private parts. They are very public too".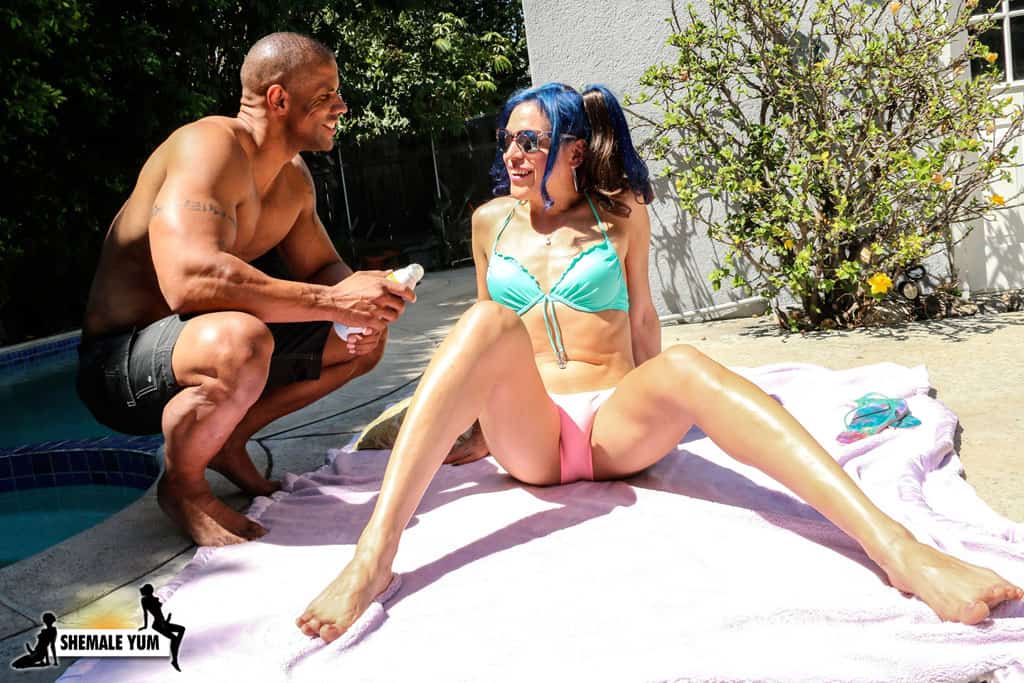 In this manner, Kelli has often used her adult film industry influence to confront the adversity that transgendered persons face in their daily lives. For instance, when asked about common misconceptions regarding transgendered persons during her Shemale Heaven interview Kelli highlighted how;
"Well, i don't think there is one single misconception about transgender folks. In reality, the misconception is the same as it is for any minority – you get judged and put into a box. Like ppl see you as a one-dimensional person all of a sudden. Like, that person is black and that's all there is to them and that explains everything about them and now they have to conform to whatever i think of black people in my mind and stuff like that. Like people think my whole life revolves about being transgender, as if that is my single piece of identity. It's complete bullshit. I am a real person with lots of interests, hobbies, relationships, skills, and stuff you don't even know about and yet ppl just say "she's trans" and that's all there is to me, end of story. It's that 'token' thing. Sure, i happen to be trans, but i am a human and a woman first. Fuck yer boxes lol you can't put me in one. Well, unless you pay me… I'll get into a box if I'm getting paid to =)".
Although she has never regarded herself as a transgender rights activist, Kelli hopes that her adult film career and personal revelations within her Tranny Lives interview can help young transsexuals with their own journeys of self-discovery;
"I don't really know how to reach out and help others who realize they are in the wrong gender. It might be good enough, for now, that i serve as a visible example of someone who made a brave decision, and i can inspire that same bravery in others who want to make a similar change in their life – whatever it is. If there's a way i can do more of that, I'm happy to!! ".
In fact, Kelli has announced her plans to found a boarding school for struggling trans girls in order to ensure that they receive educational and emotional support whilst they begin to embrace their true gender identities. As Kelli explained during her June 2015 TransEthics interview;
"It's basically a stable living situation for them, with a positive and healthy support network, with the goal of obtaining education and a way to make a living that they can be proud of. We actually send them to college classes and they are required to keep their grades up. There is also porn and a reality show involved, and the audience gets to follow the students making difficult decisions and watching them strive for success, and have fun without endangering their futures. We will start accepting applications later this fall or early next year. it's called [the] "Kelli Lox Academy for Wayward TGirls". It's about entertainment, of course, but the result is providing a better future for trans women who otherwise would not have thrived. I am looking for investors currently because this really takes a ton of money to make it happen and to make it successful. Plus, it's a boarding school… with uniforms!  CUTE!!! Keep your eyes peeled for some online fundraising effort…
Right now we are having the website built, and although it's pretty simple in its initial phase, once we get chugging along it will require a good chunk of change. Then to hire faculty and develop a cast and make a sizzle reel etc. We're talking $50,000 just to make it go. I'm focusing on generating buzz right now, building up some interest. Once it gains momentum there will be no stopping it…
I've heard [young trans women] rule out a college education as if it's beyond their reach for some reason. Or entirely impossible, or something that they can't do or that is off-limits to them. [They think that] stable healthy careers are not an option, and getting a degree is somehow an absurd idea for trans girls.I say FUCKEN BULLSHIT! COMPLETE BULLSHIT! Trans girls have just as much right to educate themselves and make a living in a field of their choosing. Whatever life a trans girl wants to lead, is a 100% viable option. I feel very strongly about this and that's why the school is named after me…This is making the rubber meet the road. This is making change happen. This is helping real people improve their lives and the lives of those around them. This is changing society. No marching or sign-making — these girls are studying for exams. [There's] no time to march down a street with a sign".
Kelli Lox : Upcoming Adult Film Projects & Awards Nominations
When she isn't filming her latest online sex scenes and DVD feature releases, Kelli commented in her Adult DVD Talk interview that;
"I spend lots of time with friends and family. I like to travel. My friends are a super fun crew and we are always organizing camping trips, skiing trips, and all sorts of crazy parties. I used to garden a lot but now I can't really find the time. I play the piano almost every day if I can. You should hear me play!!! Sometimes I play for hours. Most of the time, however, is spent either at my day job or at home procrastinating cleaning my room".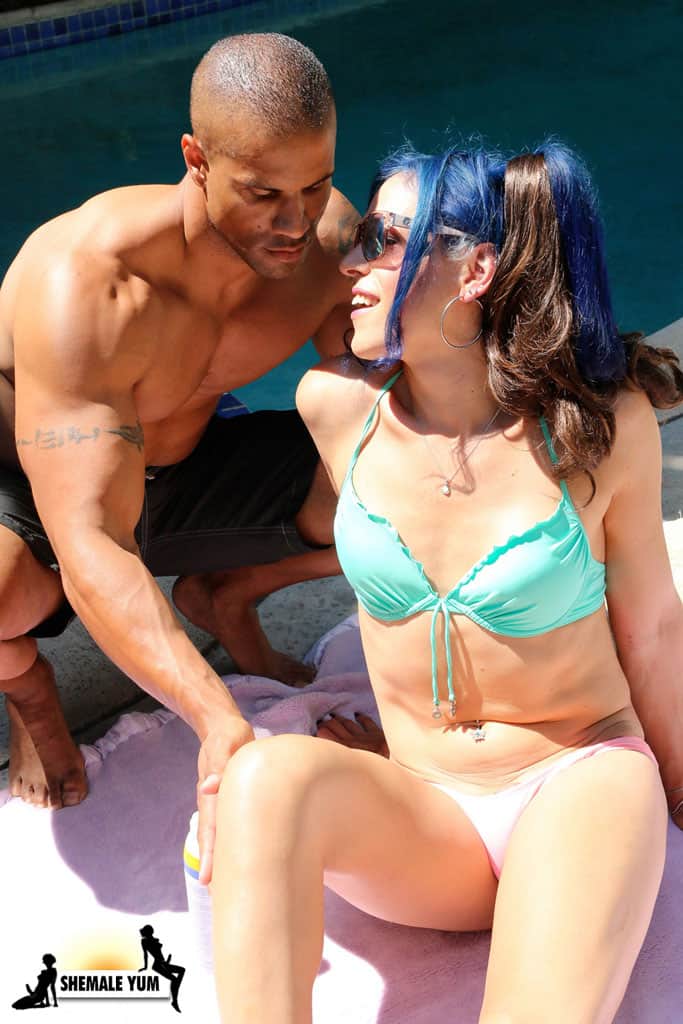 Most recently, Kelli has received multiple adult film award nominations for the upcoming 2017 AVN and XBIZ Awards. Not only has Kelli been nominated for "Transsexual Performer of the Year" at both the 2017 AVN Awards and the 2017 XBIZ Awards, but her sex scene with Sunshyne Monroe in The Adventures of Sunshyne Monroe has also been nominated for "Best Transsexual Scene" at the 2017 AVN Awards. If you'd like to learn more about transsexual superstar Kelli Lox then please feel free to use the links provided below to check out her official social networking channels online today. From her scene-stealing sex scenes in multiple best-selling DVD feature releases, to her thrilling live chat sessions and captivating online sex scenes for Shemale Yum, Shemale.XXX and Kink.com, Kelli Lox loves to keep her fans updated with exclusive new content!
Social Networks
Amazon : Kelli's Wish List
Two T girls : Kelli Lox
Shemale Yum Profile : Kelli-Lox
Shemale.XXX Profile : Kelli-Lox
Official Website : http://kellilox.com/
Twitter : @KelliLox
Facebook : https://www.facebook.com/kelli.lox
YouTube Channel : https://www.youtube.com/user/kellilox
Kink Profile : http://www.kink.com/model/37743
IMDB Profile : http://www.imdb.com/name/nm5783757/