Personal Info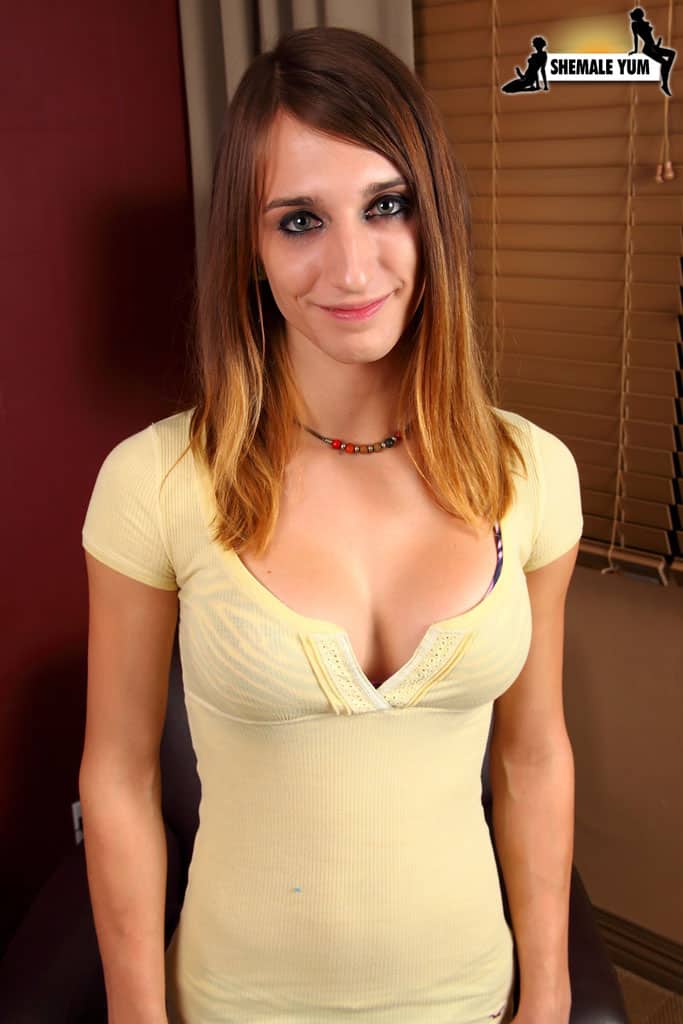 Name : Kelly Klaymour
Alias : Kelli Klaymour
Hometown : Kansas City, Missouri (US)
Date of Birth: April 18th 1991
Measurements : 32DD – 25 – 36
Bra/ Cup Size : 32DD
Boobs :  Enhanced
Height :  5'6 (1.68m)
Weight : 117lbs (kg)
Hair Colour : Brunette/ Blonde
Shoe Size : Women's 10 (US)
Eye Colour : Blue/Green
Piercings : Navel, medusa (upper lip), nose and right eyebrow
Years Active : 2013 – present
Number of Movies : 30+
Born and raised in Kansas City, Missouri, Kelly Klaymour is of Serbian, Irish and English descent and can speak both German and English. As Kelly explained during a 2015 TransEthics interview;
"I took German all the way up to the AP level my junior year of High School. Got our school districts first ever 5 on it. Turns out German is pretty pointless to learn in terms of a job. They all take English from something like 4th grade on as a core class. I loved it though. I had a French Au Pair friend that would teach me French everyday and I loved it too. I really like foreign languages, so I'd like to get to interpret for a living. Had I not plastered my naked self all over the web, I would have shot for United Nations or something, but that's kind of out the window now (laughs). I'd ideally like diplomatic work like that, though. Wars can get started by miscommunication –and if I could speak some rarely learned languages and get to use that, and bridge some peace between people, that'd be great. If I get a college degree I'm totally going for Peace Corps".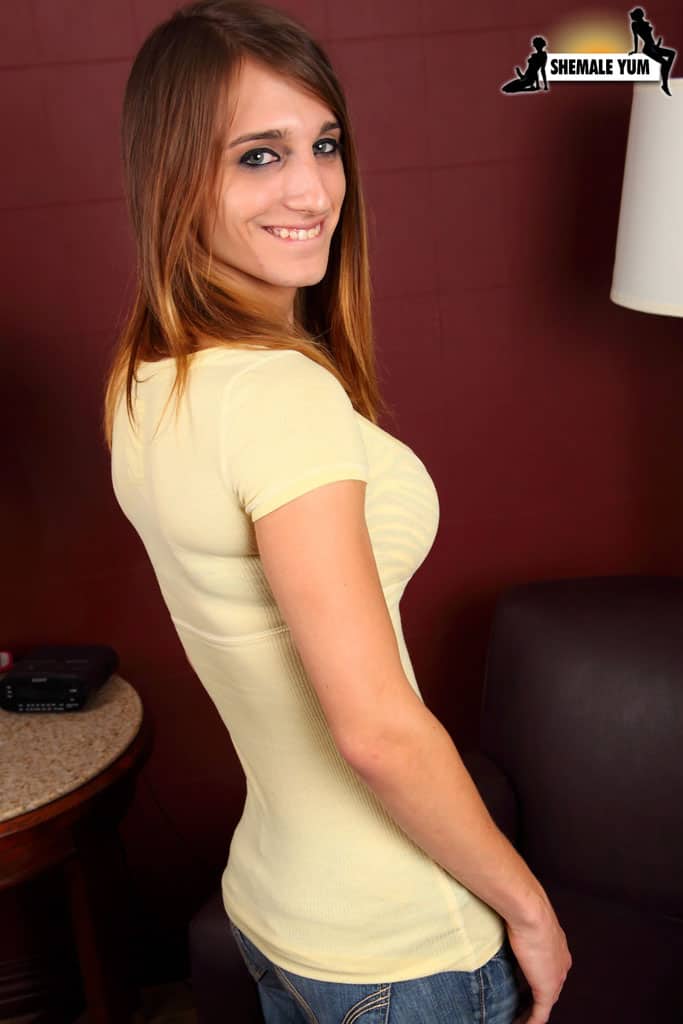 From an early age Kelly was aware that she was different from the other children in her neighbourhood, but her true gender identity became even more apparent once she reached puberty. As Kelly divulged during an Adult DVD Talk interview with fellow TS star Wendy Williams;
"I had always experienced dysphoria for as long as I can remember, but when puberty(the first one) hit, it became crystal clear. Also, I don't identify as trans, but rather as female…I started to transition a few months after my 18th birthday when I was legally able. It took a road trip from Kansas City, MO to New Hope, PA in order to get the prescriptions for HRT… I define my sexuality as Lesbian with a preference for Natal-born women, or Post-op transwomen".
Although Kelly began hormone replacement therapy when she was 18 years old, she soon found that her various retail jobs would not pay for her gender reassignment  surgery. Consequently, in November 2013 Kelly decided to pursue a career as a porn star as a means of paying for her transition process.
Kelly Klaymour : Adult Film Career
Kelly filmed her first ever sex scene in November 2013 with male porn star Chad Diamond for Deviant Entertainment. Kelly described this experience within her Adult DVD Talk interview with Wendy Williams, revealing that;
"I got into porn to have the chance at raising the money for SRS [sexual reassignment surgery]. It was a seemingly impossible goal to reach when I was working dead-end customer service jobs. I'm still not any closer to my goal, but I'm hopeful. I did my first solo almost exactly a year ago! Towards the end of November, 2013…My first scene was for Deviant Entertainment, and my scene partner was Chad Diamond. Both the Director (Michael Adam) and Chad were very kind to me, and made my nerve-wrecking first scene completely fine".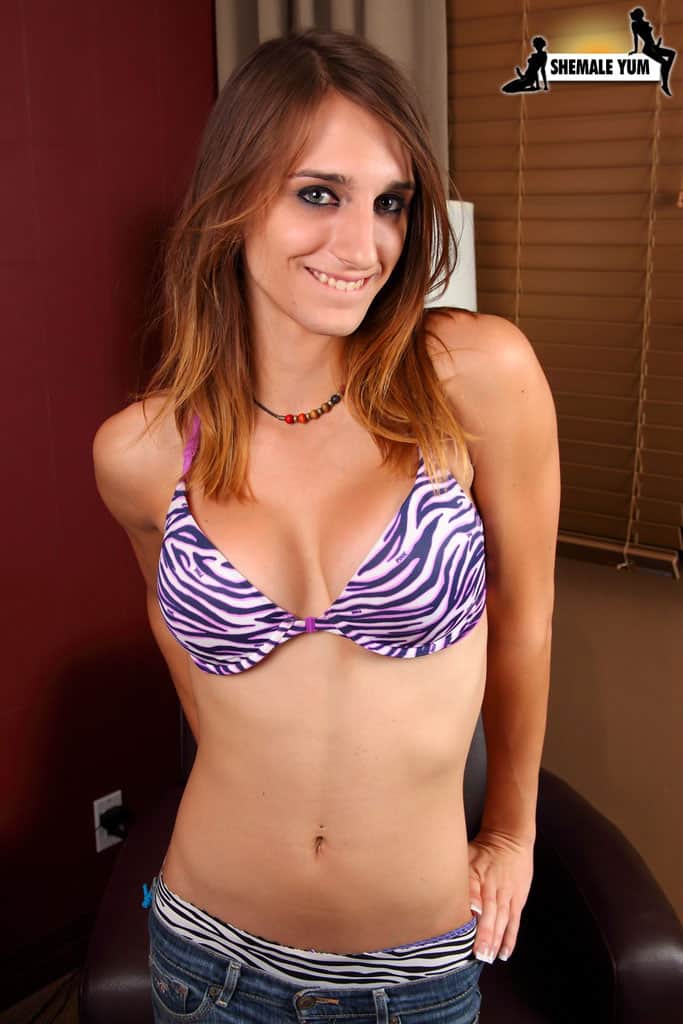 After shooting her first ever sex scene at the end of 2013, from 2014 onwards Kelly began to feature within a wide range of saucy sex scenes that were promoted via the BDSM website Kink.com. Fans of Kelly Klaymour should check out her wide range of hardcore, fetish and erotic wrestling themed Kink.com performances which were filmed for their TS Pussy Hunters web series such as; Introducing TS Kelly Klaymour with the Sex Maniac, Ava Devine!! in April 2014, Birthday Mistress:Ts Kelly Klaymour Doms Savannah Fox for her Birthday in August 2014,Ultimate Surrender & TsPussyHunters Combine for Wrestling & Sex! in November 2014, Chaperone Sex: Kelly Klaymour fucks her House Arrest Girl in January 2015, Lost and confused College Girl seeks advice from a seductive Psychic for TS Pussy Hunters in May 2015, Ultimate Sex Fight Championship with Kelly Klaymour and Mona Wales in July 2015 and Best Little Whore House in San Francisco in November 2015 but to name a few!
Although Kelly quickly began to experiment with various different porn genres, she has revealed in previous interviews that she never used to watch much porn before working within the adult entertainment industry. As Kelly stated within her Adult DVD Talk interview;
"The first time I remember seeing porn, was in the 6th grade. One of my friends had stolen his dad's Playboy and cut out the pictures. We taped them to the inside of the pages of a paperback book and would pass the book around during recess. Over the next couple of years I would sometimes set my TV to turn on around 2am to watch whatever was playing on the Skin-e-max(Cinemax) channel. I remember liking Planet of the Babes and Lord of the G-Strings. All throughout high school and up until about a year ago, I can honestly say I never watched porn".
Subsequently, Kelly's raunchy online shoots for Kink.com throughout 2014 enabled her to discover exciting new niche genres of porn which she had previously never known existed. In 2014 Kelly also collaborated with Evil Angel by appearing within their pornographic production How To Please a She-Male 5.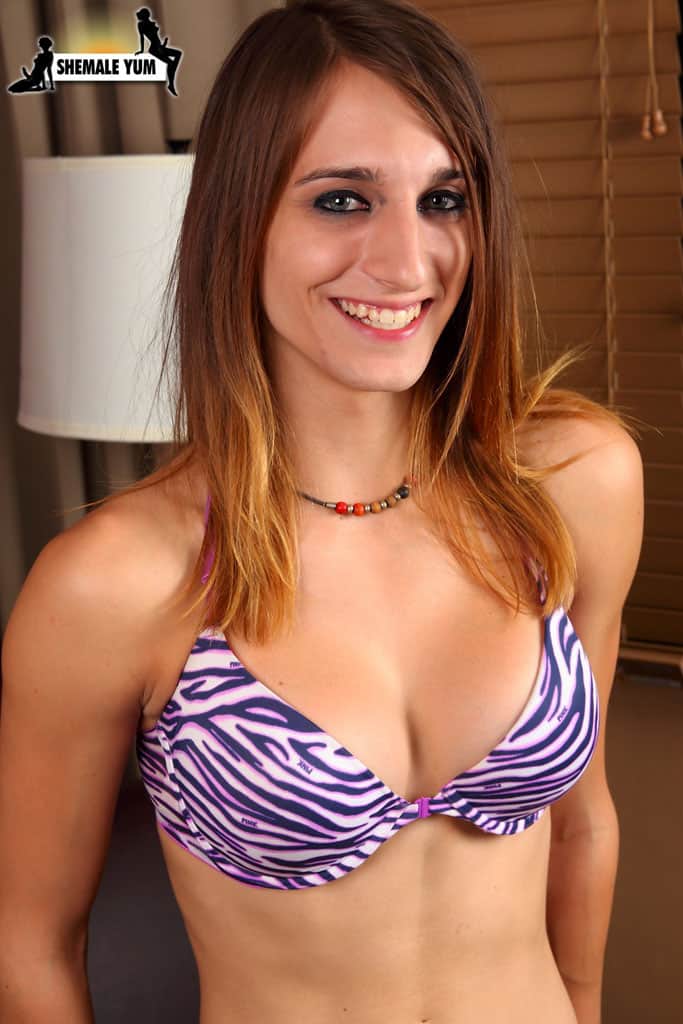 Kelly worked with Evil Angel again in June 2014 when she starred alongside Venus Lux, Jessy Dubai, Hazel Tucker, TS Gina Hart, Darling, Mattie Borders, Mikki Lynn, Tinslee Regan and Robert Christian in American She-Male X 6. Directed by famous adult film director Joey Silvera, this popular DVD feature release was nominated for "Best DVD" at the 2015 Transgender Erotica Awards and for "Transsexual Release of the Year" at the 2015 XBIZ Awards. Kelly continued to collaborate with Joey Silvera and Evil Angel throughout 2014 and appeared within his popular DVD feature release Next She-Male Idol 9. Kelly's saucy sex scene with Raine Degrey within this production earned her a nomination for "Best Transsexual Sex Scene" at the 2015 AVN Awards.
In 2014 Kelly also starred in the Deviant Entertainment production Transsexually Speaking with Jessy Dubai, Carmen Moore, Jaquelin Braxton, Chad Diamond and Robert Christian which was nominated for "Best Transsexual Release" at the 2015 AVN Awards.
Between 2014 and 2015 Kelly also appeared in multiple instalments of the long running TS DVD series She Male Strokers that was created by renowned adult film director Sammi Mancini. By featuring within She Male Strokers 67, 69, 71, 73 and 75 Kelly was able to work with some of the leading transsexual performers in the adult film industry including; Jonelle Brooks, Kendra Sinclair, Kelli Lox, Nina Lawless, TS Gina Hart, Annalise Rose, Aubrey Starr, Iris Indigo, Tori Mayes, Penny Tyler, Korra Delrio, Lexa Harding, Jaslyn Lee, Tyra Scott, Stefani Special, Lina Cavalli, Mew Mew, Eva Cassini, Brittney Markham, Vixxen Goddess, Kennadie Havoc and Bella Mae. Appearing within this extremely popular TS DVD series also earned Kelly multiple adult film awards nominations including "Transgender Release of the Year" at the 2016 XBIZ Awards.
Fans of Kelly's performances within the She Male Strokers DVD series were even able to meet and greet their idol via the She Male Strokers Entertainment Booth at the Adult Entertainment Expo in January 2016! From this entertainment booth within the Hard Rock Hotel & Casino in Las Vegas, Kelly spent hours meeting her adoring fans and posing for photos as well as signing posters and promoting her latest merchandise.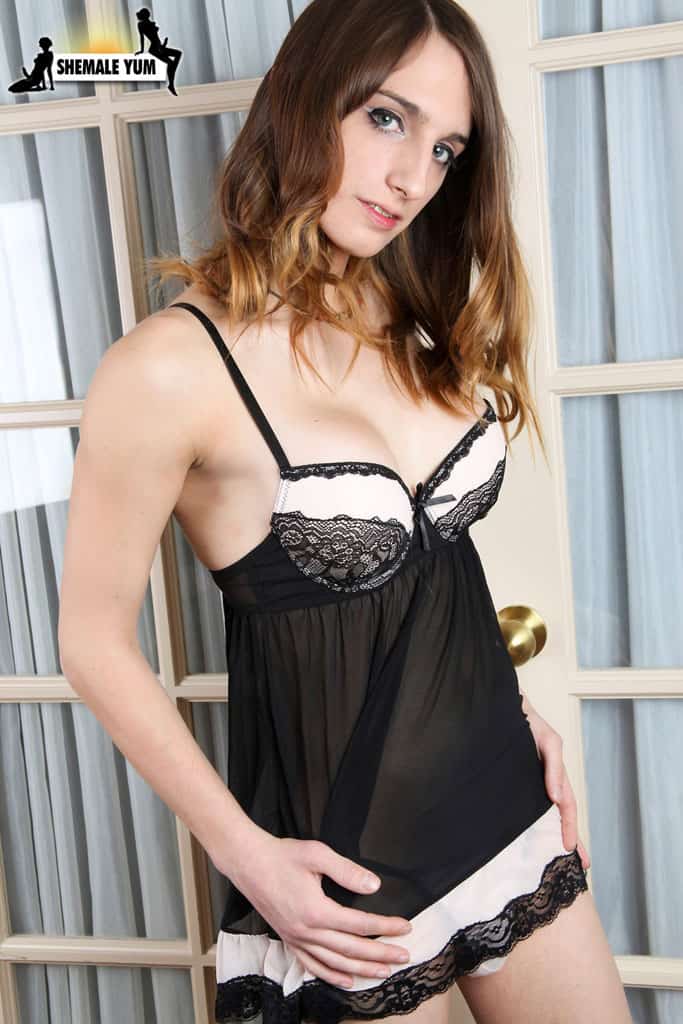 In 2015 Kelly starred within another popular TS DVD series; TS Playground 16. Directed by Jay Sin and starring Sienna Grace, Cherry Torn, Anna Hickhiman, Gabriela Ferrari, Laela Knight, Gaby Abelha and Shirley Soares, this DVD feature release was praised by adult film critics including XCritic blogger Apache Warrior who commented how;
"In TS Playground 16, I consider Laela Knight, Gabriela Ferrari, and Gabi Abelha as the MVPs. Others who deserve much recognition are Sienna Grace, Kelly Klaymour, Cherry Torn, and Christian XXX.  Their scenes are amazingly hot and epitomize why this series continues to be one of the best transsexual ones in this genre. Jay Sin never rests on his laurels. He continues to want to make better tranny porn even though he has been one of the pioneers of this genre. You have to respect him".
Despite having worked within the adult entertainment industry for less than three years, Kelly has already worked with the leading adult film director Buddy Wood on his Grooby Productions DVD feature release Shemale Shenanigans. This popular pornographic production was distributed by Third World Media in December 2015 and starred transsexual performer Aubrey Kate alongside femdom porn star Mona Wales; both of whom Kelly would continue to collaborate with throughout her adult film career. For instance, if you are a fan of Mona Wales and Kelly Klaymour then we would recommend you check out their saucy Kink.com sex shoot titled Kelly Klaymour and Mona Wales in an Erotic Wrestling Sex Fight which was released in 2015. As well as performing with Mona online and within DVD feature releases, Kelly also continues to work with this feisty femdom star in San Francisco as her production assistant. Discussing her contribution to Mona's Grooby Productions directorial debut during a March 2016 AVN press release, Kelly stated;
"It was incredible!…It features five TS performers, and each one got to pick their scene partner. It was non-formula, so it was, 'Camera's on. Have fun.' Super-organic with people who were super-attracted to each other, and with good makeup and awesome sets".
Another Grooby Productions DVD feature release upon which Kelly collaborated in 2015 was Trans6uals. This landmark pornographic production was the first in a line of Grooby Spotlight releases and was directed by former transsexual porn star Jamie French who herself had won the "Best Solo Site" accolade at the 2015 Transgender Erotica Awards. Grooby Productions founder, Steven Grooby, praised the commercial release of Trans6uals during an AVN press release, stating that;
"Jamie French comes up with amazing concepts and unlike so many people, she actually delivers them…Trans6suals is one of the most exciting releases I've seen in a long time and different from what we usually do. When we had the idea of inviting other producers to release under our 'Grooby Spotlight' label, this was the title I really wanted to launch. I'm excited to see what can be done with this as I believe it's going to be one of biggest trans titles of the year".
As Jamie French herself explained during a separate AVN press release;
"I'm proud to be the first production to be featured as part of the new Grooby Spotlight line of DVDs, distributed by TWM…Trans6uals features Kelly Klaymour, Stefani Special, Eva Cassini, birdmountain, Jade Downing, and myself in an hour long, six-way, t-girl orgy. The DVD is packed with content, including each performer in their own solo scenes, behind the scenes bonus footage, animated photo sets, and links to additional productions".
This fan-favourite pornographic production was nominated for "Transgender Release of the Year" at the 2016 XBIZ Awards. In fact, Kelly has received multiple adult film award nominations throughout her porn star career which have been listed below;
2015: Transgender Erotica Awards winner — "Best New Face"
2015: Transgender Erotica Awards winner — "She-Male Strokers Model of the Year"
2015: Transgender Erotica Awards nominee — "Best Hardcore Performer"
2015: AVN Awards nominee — " Best Transsexual Sex Scene" — Next She-Male Idol 9
2015: AVN Awards nominee — " Best Transsexual Release" — Transsexually Speaking
2015: AVN Awards nominee — "Transsexual Performer of the Year"
2016: AVN Awards nominee — "Favourite Transsexual Performer (Fan Award)"
2016: XBIZ Awards nominee — "Transgender Release of the Year" — She Male Strokers 75
2016: XBIZ Awards nominee — "Transgender Release of the Year" — Trans6uals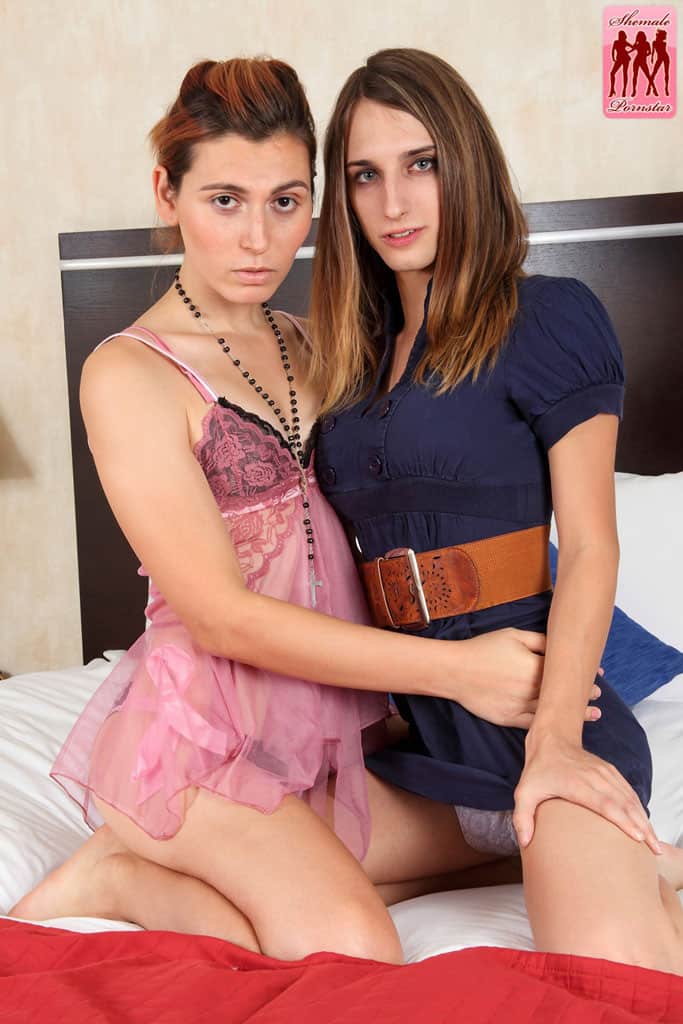 Kelly Klaymour and Korra Del Rio at Shemale Pornstar
When asked about her feelings upon receiving these impressive adult film award nominations, Kelly exclaimed during her Adult DVD Talk interview how;
"It feels amazing to have these nominations! Never had I thought I'd be here a year ago when I was just starting out. I still don't feel like I really know what I'm doing, but this makes me feel like I'm doing something right! The most surprising was being nominated for TEA hardcore performer, and AVN transsexual performer. As far as I've pigeon-holed myself in this industry, I never expected to have an "Overall" type nomination. Especially from 2 different awards shows!".
Following her award successes at the Transgender Erotica Awards, Kelly was invited to appear in the Grooby Productions DVD feature release; The TEA Show 2015. As Grooby's Marketing and Editorial Director, Kristel Penn, explained in a July 2015 XBIZ press release;
 "We wanted to give fans a title that features some of our favourite standout performers from this year's show. Much like we did with previous bestselling DVDs, "5th Annual and 6th Annual TS Awards The Winners'". 
Kelly discussed her performance in The TEA Show 2015 during an AVN press release, expressing that;
"This was a fun scene…I play the role of a hard-ass CEO, teaching my secretary a lesson after an administrative error… with hot bareback anal, of course! After the punishment, I drown her in so much cum that I almost feel bad for her. Almost!" .
Kelly Klaymour : TransEthics Interview
In May 2015 Kelly participated in an illuminating interview with TransEthics wherein she revealed her personal opinions regarding various issues which have affected the LGBT community, transsexual porn stars and the adult entertainment industry as a whole. Never one to shy away from seemingly controversial topics, Kelly kick-started this interview by divulging her conservative political views;
"I had considered myself quite far on the left side, until being a part of this community for an extended amount of time. I've slowly realized I'm what's considered a "shitlord" of sorts now (laughs). I guess my main issue that ends up blowing up into debates over social media is my opinion that nobody is entitled to [porn]work, and that I support the industry as a free market capitalistic complex".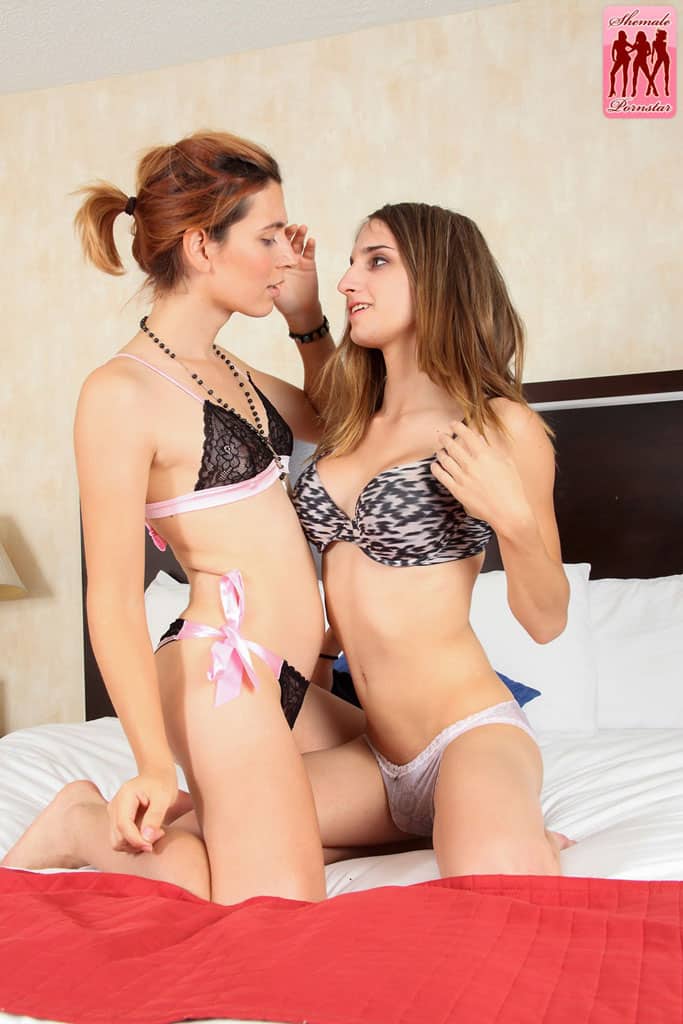 Kelly Klaymour and Korra Del Rio at Shemale Pornstar
Following on from this point, Kelly took some time to explain her views on the recent campaigns by fellow transsexual performers such as Courtney Trouble and Chelsea Poe which have endeavoured to remove certain terms such as 'Shemale' and 'Tranny' from the titles of pornographic productions, online video content and DVD feature releases. Unlike many of her fellow TS stars, Kelly does not regard these terms as offensive and instead views them as a necessary tool for promoting her latest pornographic projects to an international audience. As Kelly herself explained;
"Thank God it is finally blowing over, though. That and these militant attacks on companies that don't shoot TS content like Twistys, Brazzers, etc… for not hiring on trans performers…Sure I can comment on the use of the words! –I couldn't be bothered by them. They keep porn with porn, resources with resources. They are BY FAR the highest search term hits, especially for non-native English-speaking persons… and when it comes down to it, I'm not doing this for the fun of it. Don't get me wrong, it's a fucking blast! I'm doing it for the money. You bet your tight little asshole I'm hashtagging, tumblr tagging, etc… EVERYTHING with those so I can get more views that lead to more joins, more clip sales, etc so I can pay my stupid rent bill every month lol…
And on the topic so often brought up: "These terms [slurs] continue the dehumanization of transgender persons in real life" — That's an opinion… an opinion I disagree with. Having met so many TS porn fans –my podcast friends, radio DJs, fans at events, bars, airports, etc… — hell no. Just no. They're incredibly kind, more so than the Regular Joe walking down the street. There's always going to be made up silly words out there, but that's all they are. I believe in thick skin..and that's what I have to say about that".
If you'd like to learn more about the recent campaigns from various TS performers and directors to remove certain terms from transsexual pornographic productions, then why not read our in-depth coverage of this topic within our Chelsea Poe XXX Bio online today?
Throughout her adult film career Kelly has always been honest with her fans, friends and colleagues concerning her personal opinions. After all, her Twitter handle is 'Slayer of SJWs'! As a result, Kelly was not afraid to state during this TransEthics how she feels that this 'in-fighting' between transsexual performers is counterproductive to their acceptance within the adult entertainment industry as a whole;
"It's just incessant bitching and bickering [which is] in my belief being used as a marketing ploy via attention and appealing to the SJW (Social Justice Warrior) community. They love to talk about fetishization… I think they're fetishizing their minority status and reaching for anything remotely possible to act offended by for the attention of it. Hence blowing non-issues out of proportion…
I don't mean to talk your ear off with my bias. (laughs) This has all just gotten so out of control that I'm totally ticked off by it all…I have a low tolerance for bullshit. I hate sugar-coating, beating-around-the-bush, etc. I'm also strongly opinionated, so when I see something being spouted off from atop a high horse with an unhealthy splash of entitlement, I jump in head first. 90% of the debates I jump into stem from 'SJW' rhetoric, so they're my main 'foe'".
During this TransEthics interview Kelly also proclaimed herself to be an ardent feminist, stating how she believes in;
"Equal rights for all. There are a lot of factions and waves of feminism I don't agree with, though. Like the misandrists to name one… but in the true definition of feminism, of course I think women are entitled to the same equal rights as men!… I live as the gender construct of "female", and I'm attracted solely to other females. I can add that as I do in fact recognize that I am not the physically the female sex, I'm living as the gender".
When asked by her TransEthics interviewer about her thoughts on some feminists who proclaim the adult entertainment industry to be damaging for women, Kelly used the example of femdom, BDSM content and the fetish lifestyle to highlight the ways in which porn can actually be extremely empowering for women;
"The women in that genre, in my opinion, embody the essence of [female] power. Well its whole "thing" is Female Domination. Either dominating men, women, or the non-binary community's members. They are in complete control over the bottom. I think it's hardly "degrading". I'd love to see the spin someone could put on it, though. They never cease to amaze lol".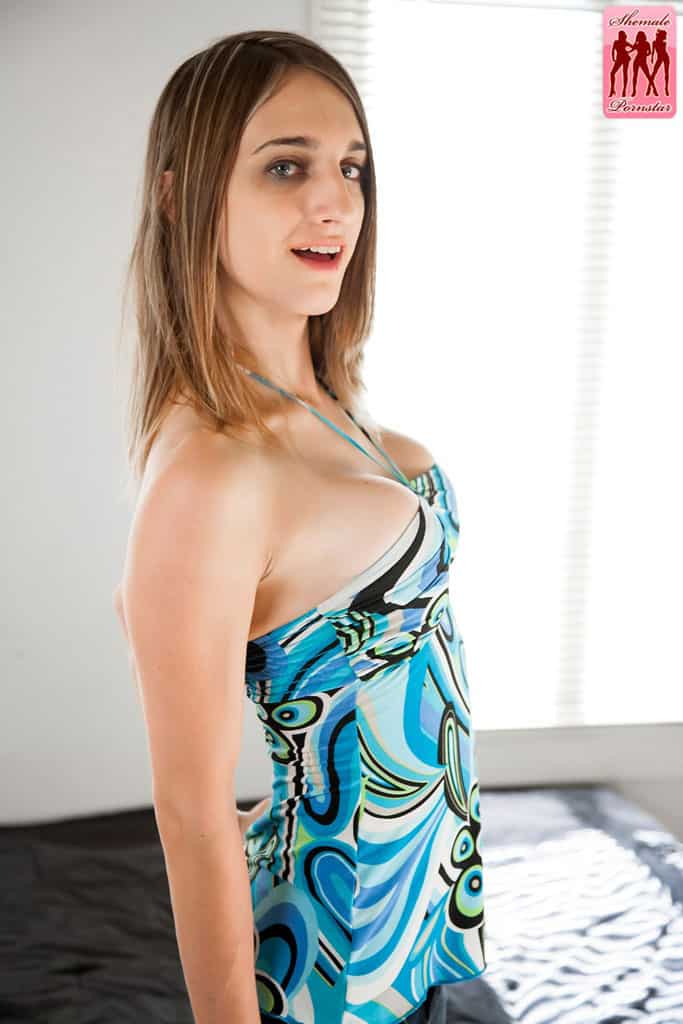 Kelly Klaymour at Shemale Pornstar
Kelly also had some brutal words of honesty to impart upon readers who may pirate pornographic content, angrily expressing that;
"I don't know where they think professional porn is going to be coming from here in the next few years if they don't pay for it. They're gonna be stuck with all fixed angle or POV (Point Of View) camera phone crap that exhibitionist put up for the thrill of it. They don't realize there is no incentive other than profit for us to continue. This is a job…I had a clip end up on a tube site once that I made a total of $7 on… It had over sixty-thousand views on it! If even 1% of those people had the ethical sense to pay for it, that'd be AMAZING!".
After discussing these controversial topics, Kelly concluded her TransEthics interview by imparting some words of wisdom to young transsexuals who may be considering pursuing a porn star career;
"I'm planning on writing a huge piece myself on this subject once I'm done. There are so many things I wish I would've had known, instead of learned on my own.
Most importantly ONLY do it if:
you don't care about your friends and family finding out
you don't ever want a high-profile job
you realize you cannot make a living off of porn alone
you aren't shy"
Wise words indeed!
Kelly Klaymour : Official Solo Website & Virtual Reality Porn
In May 2015 Kelly launched her official solo website in collaboration with the Grooby Network. As part of the Grooby Network's ongoing partnership with ModelCentro, Kelly was able to design and manage the content on her own website; thereby enabling Kelly complete creative liberties over her own solo sex shoots, fetish themed clips and raunchy online content. Kelly enthused about this online opportunity within an XBIZ press release, exclaiming;
"I'm super stoked to launch my new members' site for you guys!…You'll get weekly updates in an easy to use, streamlined version of my smut distribution!".
Grooby's Marketing and Editorial Director, Kristel Penn, also took this opportunity to praise Kelly's adult film talents, stating how;
"Kelly is one my favourite performers and I'm thrilled she's launched her official website through the Grooby Network…Fans who want a look into Kelly's personal adventures will love getting to know her with this platform".
Within a year Kelly had also launched KlaymourVR.com; a virtual reality (VR) pornographic website that she created in collaboration with ModelCentro.  Launched in March 2016, this website would serve as a breakthrough for transsexual porn; offering Kelly's fans a new immersive platform through which to enjoy her online content in spectacular fashion. Promising to update this website with all manner of VR pornographic content on a weekly basis, Kelly enthused during an XBIZ press release how;
"I am so excited to bring my smut up to the next level in crisp HD virtual reality. This technology is so exciting and hot. I'm thrilled to be among the first in bringing transsexual porn up to speed. The viewer will be able to get right in on the action, with exciting POV and voyeuristic scenarios with a complete 180-degree field of view".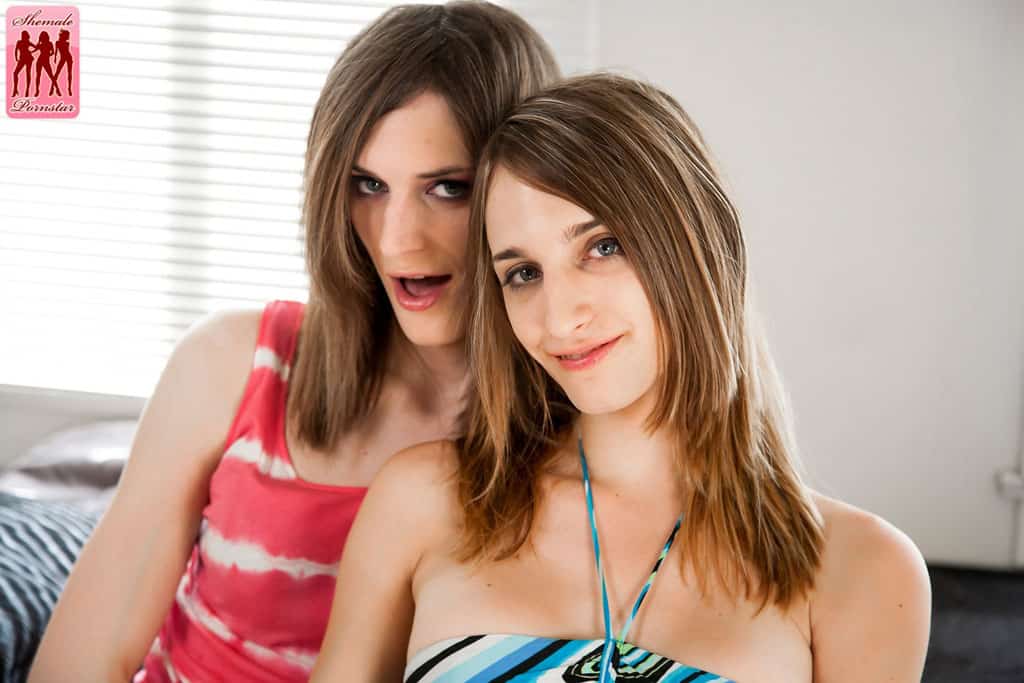 Kelly Klaymour and Birdmountain at Shemale Pornstar
In March 2016 Kelly also attended the first ever TEA Con; an adult entertainment convention devoted to TS porn stars which was held on Sunset Boulevard within the performance space next to The Stockroom's Syren Boutique. Kelly utilised this opportunity to promote the launch of her new TS VR website, informing AVN media representatives that;
"Coming up is my VR website…I know it will be the first solo site for a trans model. If I can beat Steve here at Grooby, I'll be the second U.S. company with TS VR, and as far as I know, the third worldwide, so I'm trying to jump the gun as quickly as possible. I've got three scenes so far, and they're all with another performer, too, Rizzo Ford out of Chicago, so it's not just solo stuff. We've got foot fetish, a POV blowjob, we've got a shower scene, and I'm going to do some solo stuff too, and that's going to launch as soon as I get home from here".
Despite being nicknamed the 'IT Girl of transsexual porn', Kelly Klaymour remains extremely humble and down to earth. As Kelly herself divulged during her Adult DVD Talk interview;
"I'm completely flattered by this! I certainly don't consider myself anything special, though I have been very fortunate in the amount of support and castings I have received! As for social media, I've been told many times that people admire my honesty and down-to-earthness. As far as my scenes go, I often hear about my size, so I'm guessing that the pole plays a role haha".
Ultimately, with this humble nature, her stunning looks and plenty of projects planned for the future, Kelly Klaymour looks set to remain the 'IT Girl of transsexual porn' for many years to come!
Social Networks
Official Blog Site : http://klaymour.xxx/
Twitter : @OhJeezDoode
Kink Profile : http://www.kink.com/model/53469

Chaturbate Profile : kellyklaymour