Personal Info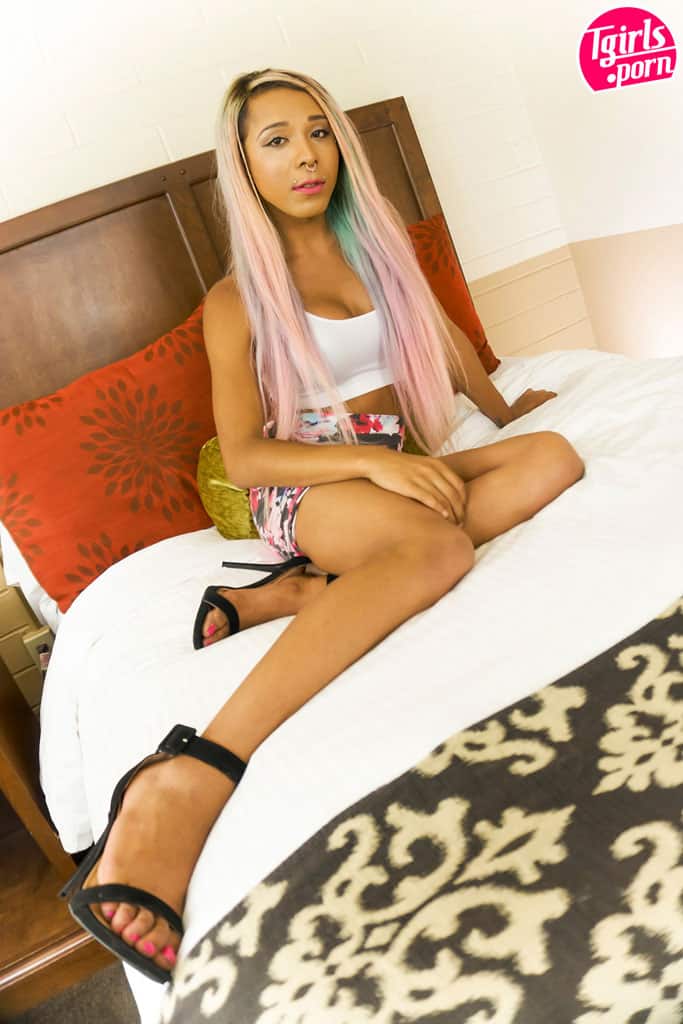 Name : Mara Nova
Date of Birth: July 22nd, 1994
Home Town : San Diego, California (US)
Measurements : 34C – 28 – 34
Bra/ Cup Size : 34C. Upon discussing her breast augmentation surgery during her May 2016 TS Dreamland interview, Mara explained that;
"So when I had first got them, I had originally wanted them to be a full C or baby D, but now that I've been properly measured, my breasts are the exact size I wanted which is a 34C. I'm waiting to see how things work before I decide to go bigger. I think what a lot of girls forget is that they don't let their hormones help and they just rush to get bigger breasts, which can cause a lot of complications. I've noticed this with some past friends, hence why I'm not in any rush and I'm finally okay with my body".
Boobs :  Enhanced
Height : 5'6 (1.67m)
Weight : 120lbs (54kg)
Hair Colour : Black/ Blonde / Light Blue / Rainbow
Eye Colour : Brown
Tattoos : Crescent moon design on the left side of her lower abdomen which symbolises the Nega Moon clan from Sailor Moon, script on the inside of her lip and a symbol on the inside of her right wrist which is the emblem of the Water Tribe from Avatar: The Last Air Bender
Piercings : Septum
Years Active : 2015 – present
Number of Scenes : 20+
Instantly recognisable by her bold blue locks, adult film star Mara Nova is a no holds barred transsexual starlet who has just been nominated for  the coveted titles of "Best New Face", "Miss Unique",  "Best Solo Website" and "Best Scene" at the upcoming 2017 Transgender Erotica Awards.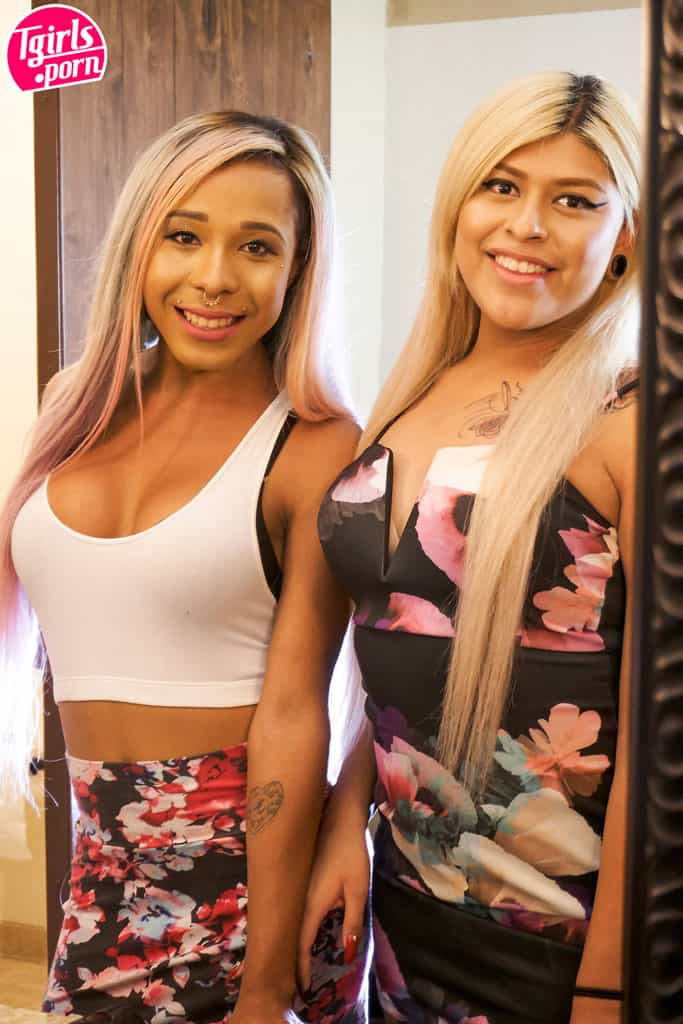 Born and raised in San Diego, California, Mara has mixed Mexican, Native American and European heritage and has jokingly stated within her May 2016 TS Dreamland interview that;
"I'm Mexican, native American, black and European a great blend of different mixes to make the perfect mutt hahah".
Mara conveyed within this TS Dreamland interview that she was a shy and reserved child until she began her transition process and was able to embrace her true gender identity;
"I was very shy growing up, yet outgoing around certain people. It wasn't till I transitioned that I showed my true colors…my mom was very closed minded and would deny I was different. I remember being 4 and knowing I wanted to be a girl. It wasn't till I was 14 and had tried committing suicide that I was like, "I want to be a girl." I didn't know what it was called or what trans even was. I just knew that I was gonna become a woman no matter what...My friends were more accepting than my family was, but now my family are my biggest supporters and accept everyone's differences".
Mara reinforced these sentiments within her March 2016 Tranny Love Magazine interview, sincerely stating how;
"I'm very lucky to have had such a smooth transition at such a young age and I'm glad to have such an amazing family and friends that have always been there for so they are my strength system".
Although she has a wonderful support network, Mara was sexually abused when she was a child. As a result, Mara now strives to serve as an advocate for fellow transgendered women who have suffered abuse, prejudice and discrimination. As Mara expressed within her March 2016 Tranny Love Magazine interview;
"I was taken advantage of…from ages 7- 11 now i speak and try to help other trans youth or kids in general who need an outlet to go to…It means a lot when other trans women tell me that I'm a role model to them . i want all my trans sister to do well in life".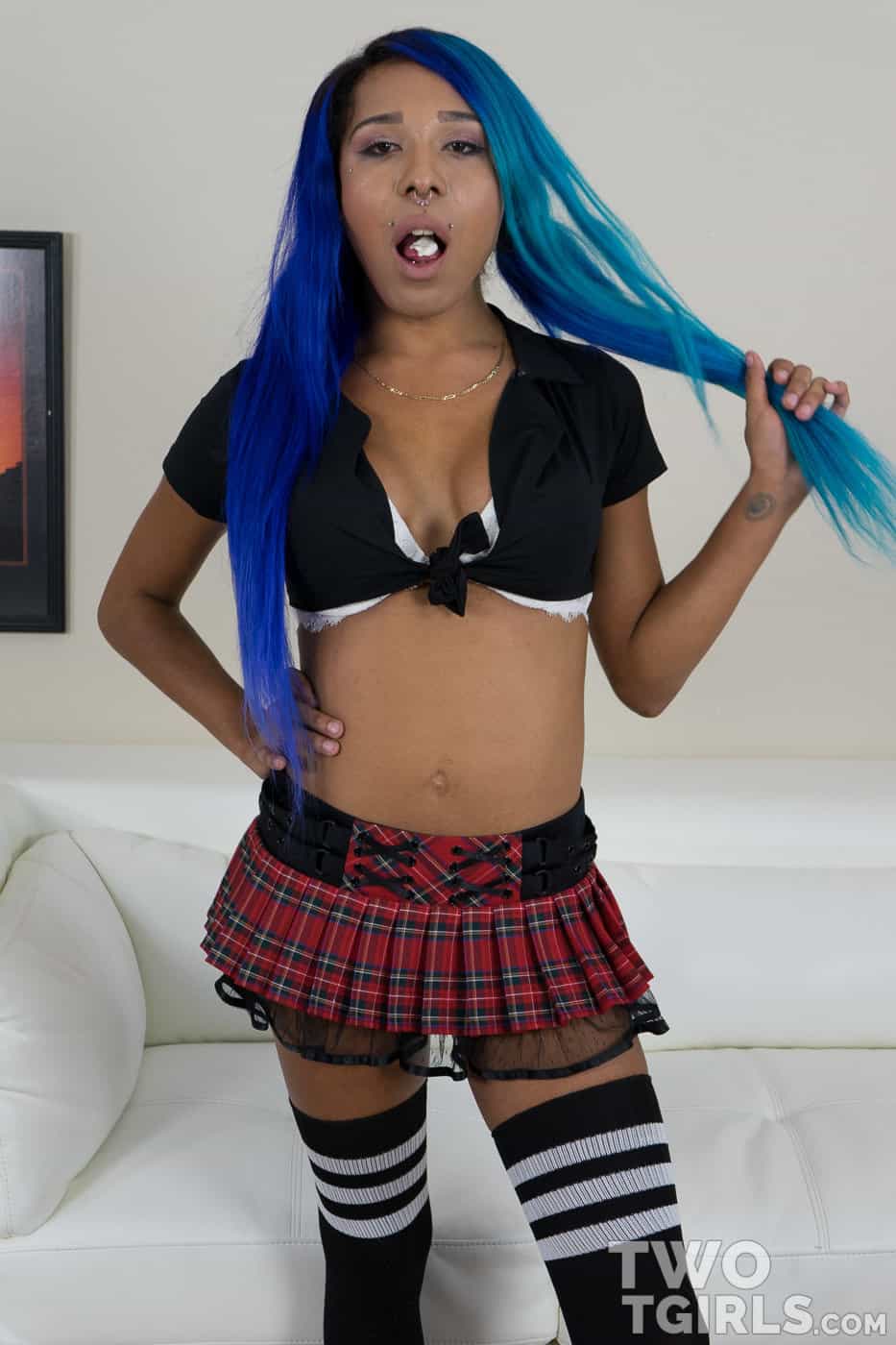 Mara describes herself as a '420 friendly girl' and has become famous for her raunchy adult film exploits, her multi-coloured locks and her terrific tattoos. In fact, Mara revealed within her TS Dreamland interview that she got her very first tattoo when she was 15 years old;
"I was about 15. At my high school, we were allowed to leave campus for a hour for lunch, so me and my best friends left to go get tats on the inner part of our lips. Yes, I got my septum at 14 because my mother had found out I was doing it myself and wanted me to get it professionally done".
Mara Nova : Adult Film Career
Mara has always had a passion for porn and revealed within her March 2016 Tranny Love Magazine interview that she begun considering how to pursue a career as a porn star during her high school years;
"Well it was something I've always wanted to do and I talked about in high school and then others would tell me that I have a  unique style and sex drive so i would do great".
Consequently, in April 2015 fresh-faced beauty Mara filmed her first ever hardcore sex scenes with male porn star Christian XXX for his trans-friendly porn site Pure-TS.com which were titled Sexy New TS Mara Nova Gets Fucked For The First Time.  Mara has since filmed a wealth of online sex scenes with Christian XXX for Pure-TS.com including Young Amateur Mara Nova Gets Barebacked in September 2015, Mara Nova Gets New Boobs and Wants to Show Them Off in December 2015 and Mara Nova Wakes Up To A Big Dick in June 2016. Mara discussed during her TS Dreamland interview how working with Christian XXX was instrumental in kickstarting her successful adult film career;
"I met him through Instagram. It was amazing we connected right off the bat and he actually made me feel at ease. Even though I was extremely nervous only because I'd seen him like everywhere and it was my first time meeting a super well known adult performer, so I just wanted to leave a good and lasting impression… It honestly helped a lot because he produces so much content and he kind of was pushing me to get more out there. So with some of his connections, it helped get me a foot in the door than it would for most girls".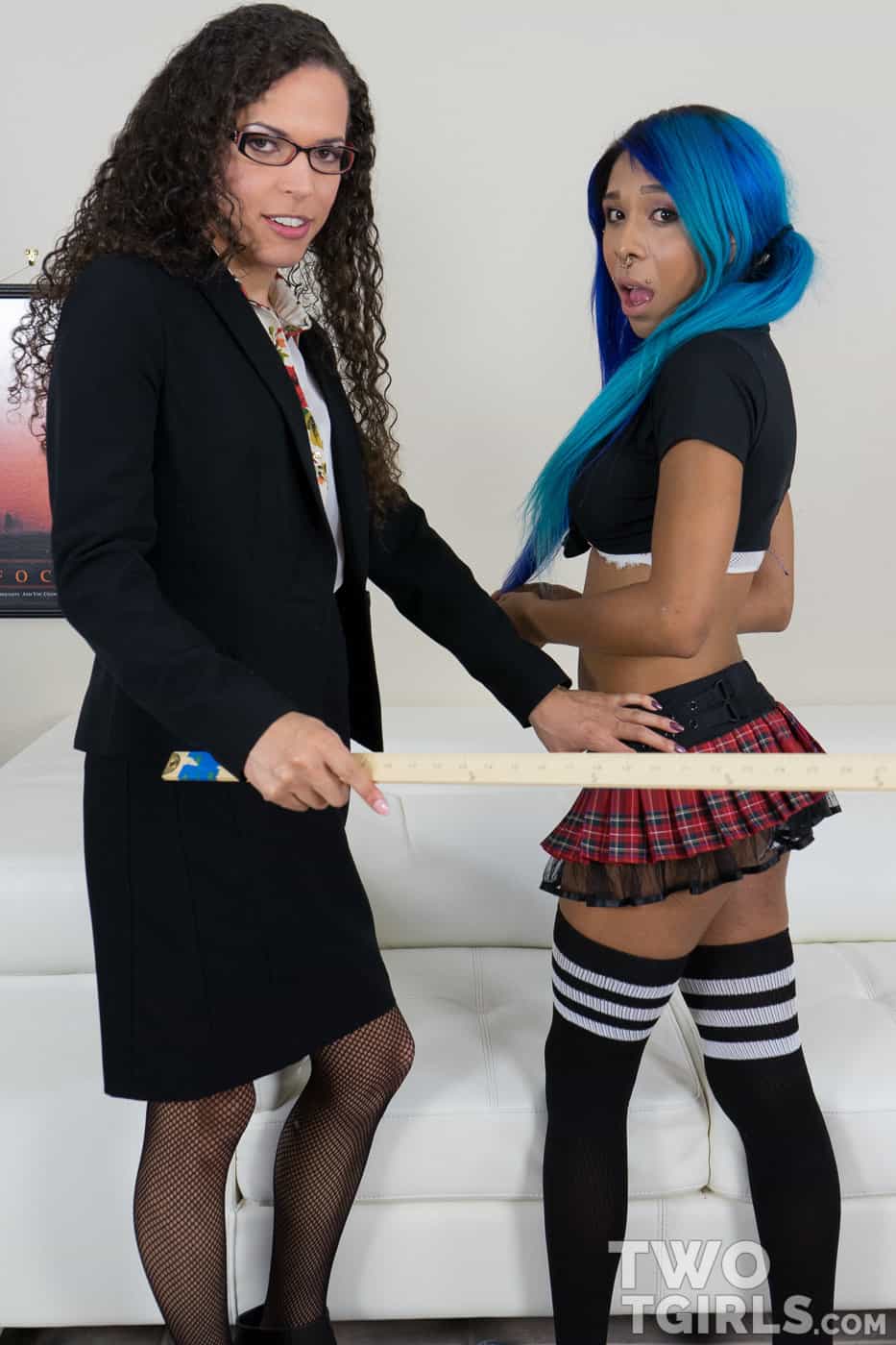 Most recently Mara has filmed a raunchy three-way sex scene with Christian XXX and Becca Fatale for Pure-TS.com in November 2016 titled Summertime Shenanigans In Las Vegas. You can also watch Mara showcasing her raw sexuality in the CX WOW Studios DVD titles Amateur Transsexuals (2015), TS Latina Babes (2015) and Amateur Transsexuals 4 (2016).
After filming her first ever hardcore sex scenes with Christian XXX in April 2015, Mara made her adult film modelling debut on the internationally renowned Grooby Network porn site Shemale Yum in December 2015 via a saucy solo shoot titled Mara Nova Lounges By The Pool. This seductive photo set and video were filmed by famous director Buddy Wood with whom Mara collaborated once again in January 2016 for her sultry Shemale Yum solo shoot Mara Nova Masturbates & Cums.
Following her successful Shemale Yum modelling debut, Mara has proceeded to film for a wealth of popular trans-friendly porn sites including TGirls.Porn, Bob's TGirls and TwoTGirls.com. Fans looking to check out some of Mara's sauciest transbian sex scenes will not want to miss out on her first ever transbian sex scene that was filmed for TwoTgirls.com in May 2016 with Mayumi Sparkles titled Hard Sell, her subsequent June 2016 TwoTGirls.com sex scene with Mayumi Sparkles titled Caught Masturbating, her raunchy TwoTGirls.com sex scenes with Sydney Farron in September 2016 and October 2016 titled Bikini Beach Babes Bang and Schoolgirl Fucked On Principals Desk, as well as her May 2016 TGirls.Porn collaboration with Nina Lawless and her July 2016 bathroom sex scenes with Beth Bell that were both filmed by Radius Dark. In fact, Mara's hardcore sex scene with Beth Bell has just been nominated for "Best Scene" at the 2017 Transgender Erotica Awards!
In November 2015 Mara launched her official solo website, tsmaranova.com, which has recently been nominated for "Best Solo Website" at the 2017 Transgender Erotica Awards. Mara enthused within her TS Dreamland interview how creating and finally unveiling her exclusive solo website has been a lifelong dream of hers;
"Yes, it was a huge dream of mine. I plan on having another site because I kind of feel my needs aren't being met and I want more of my ideas to be out there. I wanted my porn scenes and photos to be artistic, even if that means spending hours editing things".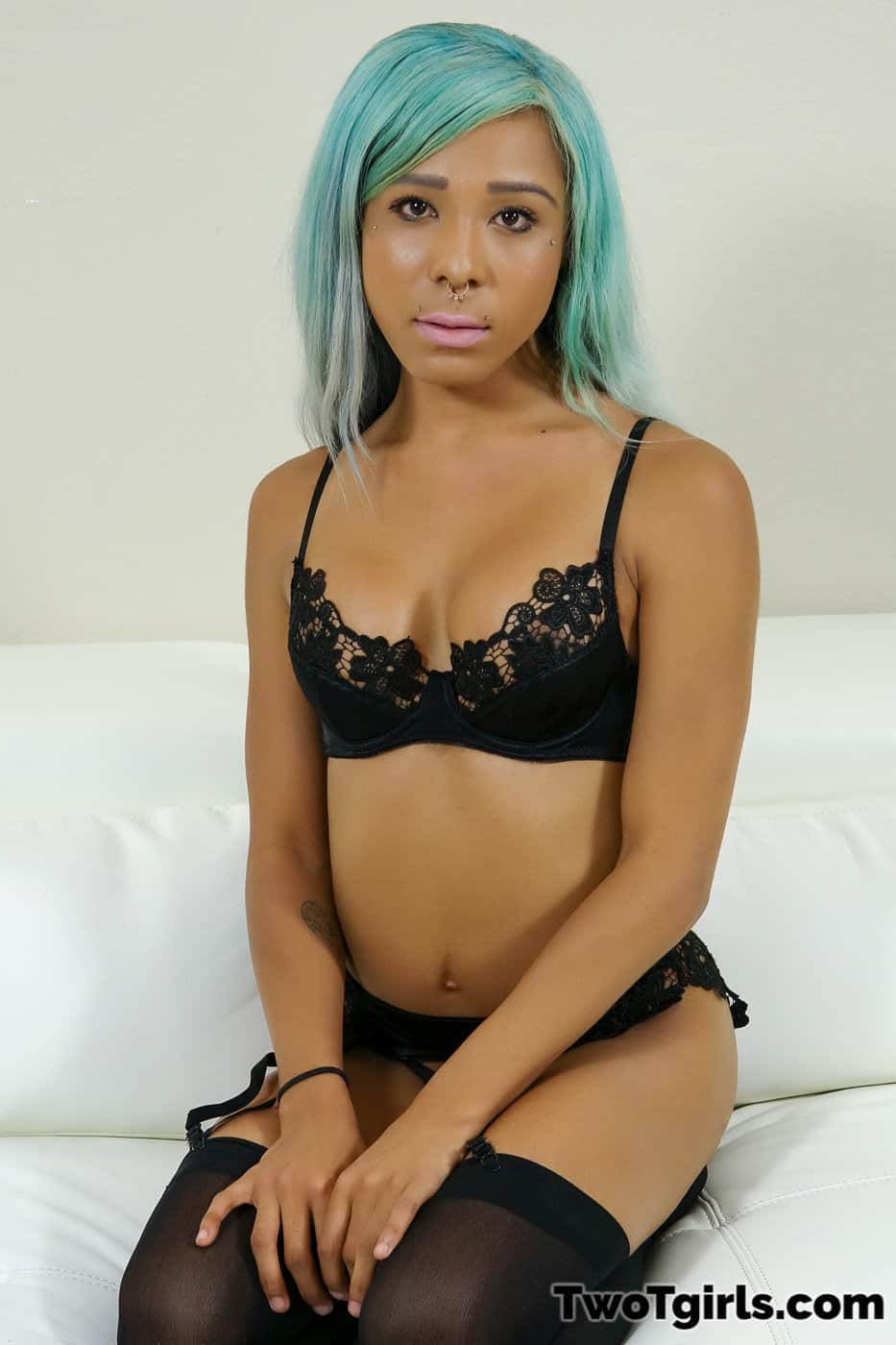 Spurred on by the success of her online sex scenes and her official solo website, throughout 2016 Mara has featured within some of Evil Angel's best-selling TS DVD series including Trans-Visions 8 (2016), TS Factor 2 (2016) and TS Factor 3 (2016) which has been nominated for "Best DVD" at the 2017 Transgender Erotica Awards. Directed by Joey Silvera, TS Factor 3 showcases Mara's first ever sex scene with a cisgender female; Mia Li. Moreover, performing in these fan-favourite DVD feature releases has enabled Mara to collaborate with a string of stunning transsexual stars such as Felipa Lins, Luna Rose, Honey Foxxx, Vixxen Goddess, Tatiana Torres, Aspen Brooks, Eva Paradis, Freya Wynn, Giselly Soares, Tori Mayes and Taryn Elizabeth. Mara has also featured within the TranSensual Studios production TS Love Stories (2016) alongside Aubrey Kate, Jessica Fox, Leoni Dark and Stefani Special.
Since August 2016 Mara has also begun to film some show-stopping web content for the fetish porn site Kink.com. To date Mara has featured within two instalments of Kink.com's epic TS Pussy Hunters web series in August 2016 titled Sweet Innocent Ella Nova Does not so innocent things with TS Mara Nova and Queer Gym, stranger fucking with Bella Rossi and Mara Nova in November 2016. When asked about her plans to shoot BDSM, femdom and fetish porn within her TS Dreamland interview, Mara revealed that;
"I wanna try suspension and hardcore gang bang".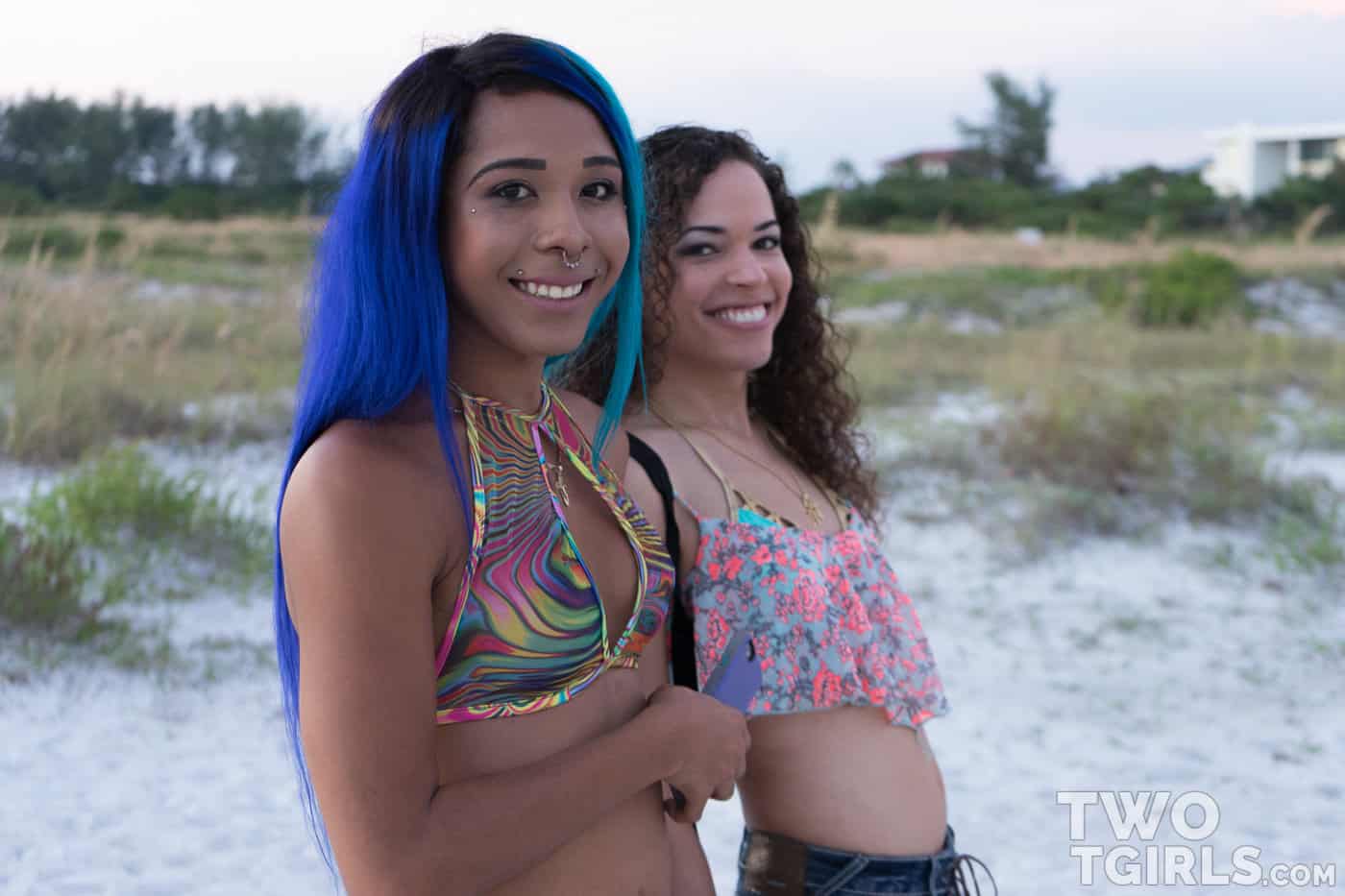 In addition to her fiery fetish lifestyle exploits and her captivating DVD feature release performances, Mara is also a multi-talented webcam model who has performed via the adult cam site Chaturbate under the name Sailor_maranova. When asked about her future webcam modelling plans in her TS Dreamland interview Mara hinted that;
"I plan on returning and I feel bad, but it's hard because I don't have my own lap top. So I usually cam late at night or when I'm at a friend's".
Similarly to Sailor_maranova, many of the usernames for Mara's various social media profiles have been inspired by celestial beings and anime characters. What's more, Mara often posts holographic artwork and mermaid inspired content via her official solo website. When asked about these anime influences, artistic inspirations and unique nicknames during her TS Dreamland interview, Mara explained that;
"They're really just stuff I find interesting, things that catch my eye. With mermaids, I've always been into mythology, so that's where that came from…I really love things that have to do with celestial beings, entities and being obsessed with Sailor Moon, the fox part came from it being my nickname, Foxie. And that I loved reading stories about mystical Nine-tail fox / Kitsune".
As matters stand, Mara Nova continues to film for multiple Grooby Network sites and has plans to continue starring within several best-selling TS DVD series. As well as pursuing a thriving adult film career, Mara also plans to undergo sexual reassignment surgery in the future and has plans of forging a career as a professional hair stylist and makeup artist;
"I'm just more happy to be home with my family and saving up money and trying to get back into school for my other passion which is hair and special effects makeup and regular makeup".
As Mara explained in greater detail during her March 2016 Tranny Love Magazine interview;
"Well i am a person who has lots of interests and I hope that I can achieve them and that is by transitioning into more of things like cosmetology  and doing special effects make up for horror films  then hopefully get into acting for them and maybe even coming out in modelling gigs or coming out in music videos hahaha. i just want to be something successful so that i can take care of my family like they've always done for me". 
To keep yourself updated on all of Mara Nova's exciting new adult film projects, webcam modelling exploits and exclusive solo website content, why not head on over to her official social networking channels today? The links provided below will equip you with everything you need in order to follow Mara Nova's inevitable ascent to adult film stardom!
Social Networks
Official Solo Website : http://tsmaranova.com/
Twitter: @sailorFOX
Two T girls Profie : Mara Nova at Two T Girls
Shemale Yum Profile : Mara-Nova at Shemale Yum
TGirls.Porn Profile : Mara-Nova at TGirls Porn
Chaturbate Profile : sailor_maranova
Kink Profile : https://www.kink.com/model/59558