Personal Info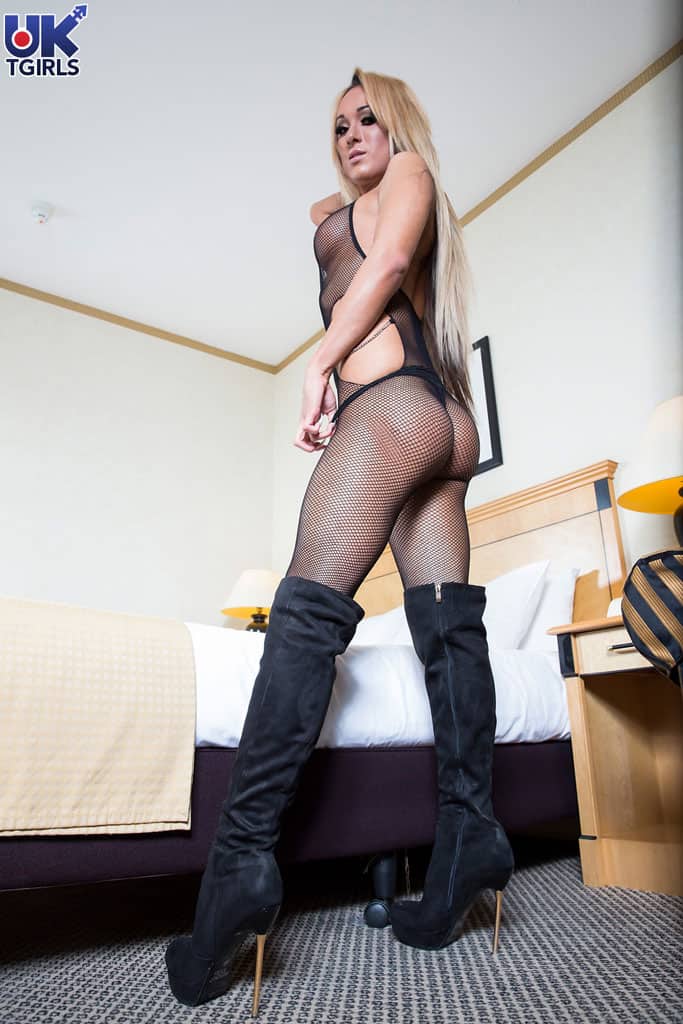 Name : Mia Maffia
Alias : Mia Maffia XXX
Hometown :  Huddersfield (UK)
Date of Birth: March 29th, 1991
Bra/ Cup Size : 34D
Height : 5'7 (1.70m)
Hair Colour : Blonde
Eye Colour : Brown
Tattoos : A cross necklace design on her chest, a leopard print design across the top of her right shoulder, script on her upper back, tribal designs across her right shoulder and upper arm, Disney Ursula design around her right forearm, Disney Maleficent design around her right hand, a butterfly design on her upper right forearm, text on across inner left wrist, 'Porn' vertical script with a small black star underneath it on the left side of her torso, a demon's tail design on her lower back, a tribal design on the side of her right hand and script on the inside of her left wrist
Years Active : 2014 – present
Number of Scenes : 20+
Buxom blonde bombshell Mia Maffia is one of Britain's most popular rising TS starlets and looks sets to take the American adult entertainment industry by storm! Growing up in Huddersfield in West Yorkshire, England, Mia yearned for the big city life and as such moved to Blackpool when she turned 18 years old. Born of English and Thai descent, Mia discussed her upbringing within her April 2016 Porn OCD interview and explained how;
"It wasn't that bad! A couple of lads used to take the piss at school, but I generally got on with everyone! I couldn't wait to move away though! I grew up in Huddersfield which I believe is the biggest town in the UK, but it was still too small for me. I needed to live in a big city with bright lights and opportunities and that, and Huddersfield wasn't ever going to be that place. But hey, the lads who took the piss out of me at school are all up in my DM's now trying to get some Mia luvin', so all's well that ends well".
During this Porn OCD interview Mia divulged how she began to realise that she was different from the children in her neighbourhood when she was 5 years old. Unfortunately, Mia's mother was not accepting of her true gender identity and strongly discouraged Mia from dressing in girls' clothing;
"I remember when I was about five or six, I used to go to bed wishing that I'd wake up as a girl, so deep down, I guess I've always known. Growing up I was always more in to Barbie's than football and all my friends were female. I used to put my pajama bottoms on my head and pretend I had long pig-tails! But my mum didn't understand. She'd tell me dressing up and acting like a girl wasn't acceptable for a little boy and it was something I should be embarrassed about. Eventually I stopped dressing up. I put it all to the back of my mind and convinced myself I was gay. During High School I made the decision to come out as gay. Once I turned eighteen, I got a job working at a cabaret bar in Blackpool called Funny Girls where the bar staff would dress in drag – the "bar trannys". This was when I got chance to learn about hair and make-up and I soon realized I felt most at ease when dressed up… With that, 'Mia' was born…My mum doesn't speak to me anymore. She's not a bad person. She's just got some deep issues. I used to get upset about it, but there's nothing I can do, so I've built a bridge and I'm getting on with the rest of my life. The rest of my family are all really supportive though, in particular my Grandma. Granny Maffia is the best".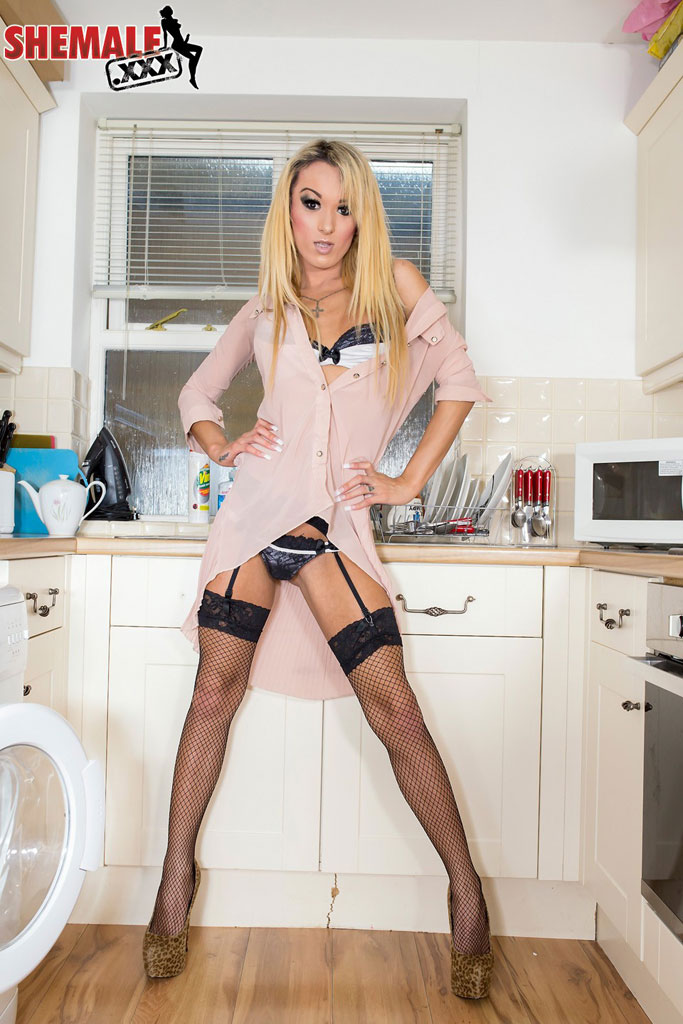 Despite her strained relationship with her mother, Mia has been able to rely upon the support of her grandmother and extended family as well as a close knit group of friends from her hometown who are all members of the LGBT community. Mia expressed her immense gratitude to this group of friends within her Porn OCD interview and conveyed how it was their ongoing support which has helped her to embrace her true gender identity;
"Yes, thankfully I had a group of older friends who were all LGBT and they really helped me to understand that what I was feeling wasn't 'strange' or 'abnormal'. A big part of who I am today is thanks to that group of friends and I'm forever grateful".
Mia has never been shy about discussing the cosmetic procedures which she has undergone to achieve her captivating curvaceous figure. To date, Mia has undergone breast augmentation surgery to grant her buxom 34D assets as well as multiple butt implant procedures. Unfortunately, following her first butt implant surgery at the Beau Clinic in Belgium Mia suffered a dangerous infection which caused her implants to burst. Mia explained within a February 2015 interview with British newspaper The Mirror how;
"The first time I had the surgery on my bum, the surgeon examined me and measured me up and said I would need bum implants of 350cc, only 5cc bigger than my breast implants…I pleaded with him for a bigger implant but he refused, saying that it would be impossible to put a bigger implant into a woman my size – so I accepted it…
I thought that the operation would complete my life, but I didn't realise what could possibly go wrong…For ten days after I got home, I put myself to bed and rested…Travelling home from Belgium had been a nightmare because it was impossible to sit and put any real weight on my bum…I found myself waiting an hour to catch both trains, feeling weak and lying on the platform on my front just to rest and feel comfortable…Then on the tenth day after my operation, I woke up from an afternoon nap after taking painkillers to feel my mattress was absolutely wet all the way through….I didn't think I'd wet the bed, so couldn't understand what was going on until I put my hand underneath me….It was then I discovered the litres of blood and pus oozing out of me…I tried to move but it was impossible, so I called an ambulance who took me to Leeds Royal Infirmary…I begged with the ambulance crew, 'please don't let them take my implants out, anything but that,' but they told me that my implants had ruptured and I may not have a choice…They were right. Doctors told me that to save my life, my implants had to come out…My friends told me it wasn't worth the risk but I was determined to have the implants and didn't listen".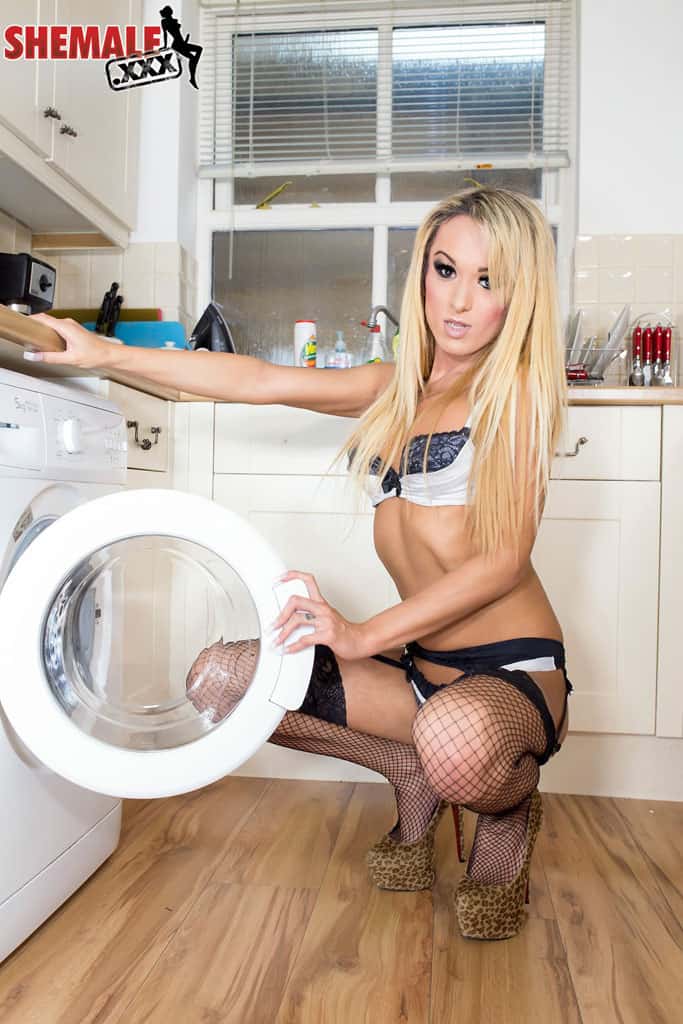 Despite the complications she faced as a result of her first butt implant procedure, Mia remained undeterred to achieve her dream body and in December 2014 underwent a second butt implant procedure at the Beau Clinic in Belgium. Mia has also stated that she would like to undergo hip implant surgery which would make her the first woman to undergo both butt implant and hip implant procedures. However, Mia has learned from her previous ordeal and stressed within her Mirror interview that;
"This time I rested properly and did everything to let my body heal, I even put myself on a self-imposed sex-ban for six weeks because there was no way I was going through that again…I wasn't going to let my implants get infected for a second time and risk my life like a few months before…I am totally obsessed with having a big bum. I look at women with 'bubble butts' in total envy and don't think I can ever be truly happy until I've got one…I knew how much happier my life will be if I had a nice round bum like Kim's and now, I couldn't be happier".
As well as discussing her various cosmetic procedures, Mia has never been afraid to speak her mind regarding important issues that impact the British transgender community. For instance, Mia took some time during her Porn OCD interview to highlight how;
"Whilst I do think the UK girls are very lucky to live in a country where there aren't high amounts of trans phobic related attacks or murders (compared to others!), it still saddens me that transphobia is shrugged off. Prejudice is unacceptable whichever form that may be in. And it's almost impossible to find a guy willing to openly date a trans girl due to how he thinks his friends or family will react. Which is funny because SO MANY guys love TS girls – I was once fucking a guy and he told me he only liked trans girls, but he felt he couldn't do anything about it because of how his family and friends might react. He didn't know though that I was fucking his cousin at the same time and I'd had a similar conversation with him?!…If someone makes a snide comment about me, my reaction can vary from being able to ignore them and walk away with my dignity still intact, to having a slagging match in the middle of town screaming at someone telling them to go suck their mum's dick! Haha, but I generally don't let ignorant people affect me. At the end of the day I'm happy with who I am. I know I'm a good person. And I know that if it's a lad saying something shitty, it's because he can't handle the fact he wants to fuck me. And if it's a lass, I've probably fucked her fella anyway. So who's really winning? hahaha…no particular motto's. I just try to be a good person and live and enjoy my life the best I can".
Mia Maffia : Adult Film Career
Although Mia did not film her first hardcore sex scenes until 2014, Mia has considered working within the adult entertainment industry since she was 20 years old. Having worked as an escort since she was 17 years old, as well as performing within the Blackpool cabaret bar Funny Girls since she was 18 years old, Mia was eager to pursue a career as a porn star but lacked the necessary connections and industry insights. As Mia explained within her Porn OCD interview;
"I was seventeen when I did my first client! It's not a tragic story though. I found a website where you could list yourself as an escort. I wanted some money to get a tattoo (The hideous devil's tail that comes out of my ass crack), so I gave it a go! It was easy money and I'm a sexual person anyway so I enjoyed it! I didn't see any other clients after that for a while though until I was living in a shared house where one of the other girls happened to be escorting at the time. She told me there was a big market for TS girls and she was right! I've been escorting on and off ever since…
I'd been wanting to get in to porn since I was about twenty. I just didn't know how to go about it. Then a few years ago, I began emailing a few companies trying to get my first shoot lined up, but I never heard anything back! Eventually Fiona Cooper (A British company) gave me an opportunity, which I'll be eternally grateful for, and offered me my first shoot. Then I got shoots with Grooby (who are amazing for giving trans girls the opportunities they do!) and the legendary Joanna Jet, and the rest is history. It actually worked out pretty well that I was knocked back when I originally started applying – I was a different person back then- I was a full time party girl and really in to my party drugs and the chances are I would have messed up any opportunities of a career in porn before I even started! My look wasn't as polished back then either, so I doubt I would have done as well as I have".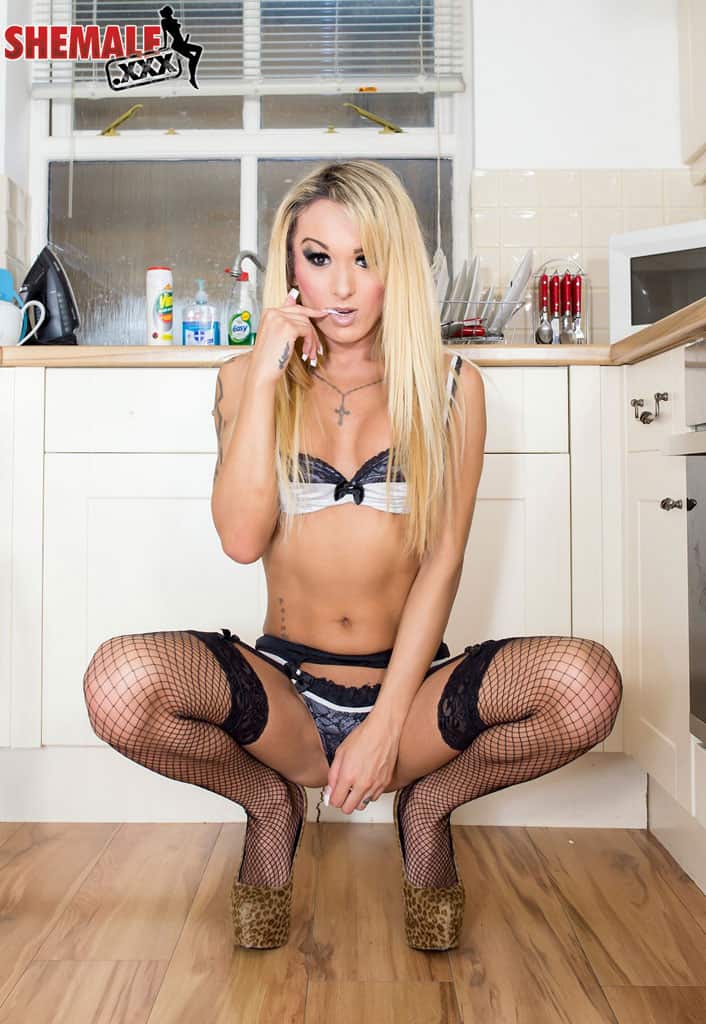 In this manner, Mia began filming for trans-friendly porn sites such as Shemale.XXX, Shemale.Porn and TGirls.com from June 2014 onwards. In no time at all, Mia quickly began to amass an ardent fan following due to such saucy sex scenes as; her debut Shemale.XXX solo shoot Meet Mia in June 2014, her July 2014 Kitchen Slut! photo set and her Mia & Big Johnny XXX hardcore sex scenes that were distributed in November 2014. Mia has since starred in the Shemale.XXX solo sex shoots Stunning Brit Mia Maffia in June 2016 and Mia Maffia Fucks Her Fleshlight in July 2016.
Mia's blonde bombshell beauty was also showcased via Joanna Jet's official website in a series of June 2014 and July 2014 photo sets titled Mia Maffia, Mia Maffia: Dinner Date and Mia Maffia: Casual. Mia also collaborated with British adult film superstar Joanna Jet on a series of exclusive video clips titled Mia Maffia: Cute and Dirty, Mia Maffia: Evening Wear and Mia Maffia: Lingerie.
Throughout her adult film career Mia has continued to work with the pioneering adult entertainment network Grooby Productions and has filmed for some of their most popular porn sites including Shemale Yum, Shemale.XXX and UK T-Girls. In fact, Mia was one of the first transsexual performers to be featured on UK T-Girls when it launched in the summer of 2015. After all, as a July 2015 Grooby Network press release reported;
"It's long been known that the UK has its own little hot bed of trans girls just waiting to show themselves to the world. It's not a secret, after all Jordan Jay, Sammi Valentine, Liberty Harkness & Joanna Jet all hail from those shores, so here at Grooby we decided it was about time to develop a new site, aimed at the UK scene. When we started shooting for this late in 2014, we first brought in models that Kalin had shot for ShemaleYum.com, girls like Mia Maffia, Red Vex & Jazmin but quite quickly, we heard from other models so we're really excited to be able to start the site with a larger spread of brand new models including Alexa Angel, Isabelle, Alicia Snow, Bonnie, Lexus Bradbury and Larissa Arazi. We even managed to get the awesome Evain Diamond in".
Mia loves working with UK-TGirls and has enthused within her Porn OCD interview how;
"It's great! I get on really well with Kalin the photographer @Ineedescort, so our shoots are always easy and relaxed. I think the site's a great idea. There are some really pretty, talented UK girls who would unfortunately fade in to the background next to some of the bigger names from the US on some of the other sites, so it's great that Grooby have given us our very own platform to showcase ourselves on! But yeah, I love shooting for UK-TGirls and can't wait to get back in front of the camera for you boys!".
Mia made her UK T-Girls debut via a May 2015 saucy solo session titled Leeds Wild Child Mia Maffia and has continued to enthral fans from across the globe with all manner of UK T-Girls sultry solo sessions and hardcore sex scenes such as Mia Rides Again… in July 2015, Mia Turns Up The Temp and Leeds Superstar Mia Maffia which were both filmed in October 2015, Mia & Her Purple Pal that was uploaded in November 2015, Merry Christmas from Mia! that was distributed in December 2015, Mia Gets Wet in January 2016 and most recently Mia Maffia Rides Again which was promoted in February 2016.
Throughout 2015 and 2016, Mia has also filmed numerous online sex scenes and DVD feature releases with leading male porn star Christian XXX for his pornographic production company CX WOW Studios and for his trans-friendly porn site pure-ts.com. Fans of Mia Maffia will not want to miss out on her August 2015 pure-ts.com sex scene Busty Blonde British Bird Mia Maffia Gets Loved Up And Banged, her captivating performance within the DVD feature release Popular T-Girlz 3 (2015) alongside rising TS starlets Sienna Grace, Luna Rose and Morgan Bailey, and her appearance within the best-selling 2015 DVD title Tranny Handies 2 which starred Mia alongside a stellar cast of US transsexual stars including Joanna Jet, Treasure Barbie, Tasha Jones, Korra Del Rio, Sienna Grace, Taryn Elizabeth, Robbi Racks, Amanda Jade, Harper Kelly and Ariel Everitts. In recent months Mia has also collaborated with Christian XXX for the February 2016 pure-ts.com sex scene Busty Blonde Bombshell Mia Maffia Works Over A Big Dick and for the October 2016 pure-ts.com sex scene Perfect 10 Brit Blonde Mia Maffia Loves Americans.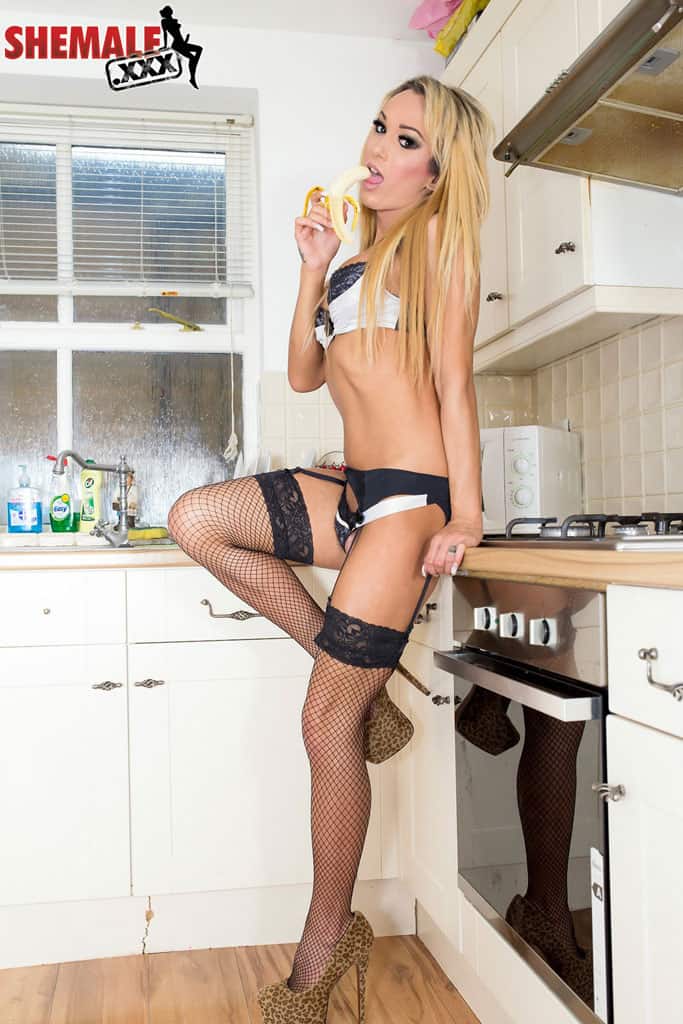 This string of successful DVD feature release performances and sizzling web content collaborations resulted in Mia being nominated for "Best Non US Performer" at the 2015 Transgender Erotica Awards. Spurred on by this adult film industry success and her ever-expanding international fan following, Mia teamed up with the Grooby Network in order to launch her official solo website, MiaMaffia.XXX, in July 2016. Ecstatic at this exciting new opportunity to manage and design her own website and shoot a steady stream of unique web content, raunchy photo sets and real life sex tapes, Mia enthused within a Grooby Network press release how;
"Hey boys! Allow me to introduce myself for those who don't already know who I am – I'm the notorious Mia Maffia and I'm the UK's finest transsexual cock hungry whore!" said star Mia Maffia. "Today I'm launching my brand new website with the Grooby Network where you'll be able to see exactly why I've earned my title!".
Moreover, Grooby's Marketing and Editorial Director Kristel Penn further elaborated within this July 2016 press release how;
"Mia caught our eye since her debut on UK TGirls and we're thrilled to see her branch out to launch her own website…Her popularity stretches across continents, so I think this is a great for both fans and affiliates alike".
As matters stand, Mia continues to upload a exciting variety of soft-core, hardcore and fetish porn content onto her official solo website including such fan-favourite video clips as; Mia's Fuck Boys: Mia In The Middle Parts 1 and 2 that were both distributed in July 2016, Fucking Bonnie Addison and Getting Fucked By A Horny Squaddie that were both filmed in August 2016, 4 Cocks 1 Slut that was posted in September 2016, Rip My Fucking Clothes Off, Cum Shot Queen, Find A Girl That Can Do Both…, Yes Sir! and Bath Time Bonus Update which were all uploaded in October 2016 as well as Blowing In Barcelona and Water Sports that were both distributed in November 2016. Mia continues to post exclusive photo sets onto MiaMaffia.XXX and fans of this British blonde bombshell will not want to miss out on such scintillating shoots as; Flirting With Bonnie that was first posted in August 2016, I Love 'Fuck Me' Boots which Mia uploaded in September 2016, All Pink Evvvverything!, Stripping Off Outdoors, Black CKs and Feeling Flirty In Red Lingerie that were distributed in October 2016 and Mia's most recent high quality photo set All Fur Coat And No Knickers. What more could you ask for?
When she isn't filming new and exciting web content for MiaMaffia.XXX, you will most likely find Mia watching WWE and discussing the latest fights on Twitter. In fact, throughout her entire life Mia has been an avid WWE fan who has often stated that her dream one night stand would be with Roman Reigns and Randy Orton! Mia has always been inspired by strong, confident female WWE athletes, in particular Trish Stratus whom Mia regarded as her role model growing up;
"My room was completely plastered in posters of WWE Diva Trish Stratus! I loved her growing up. My mum thought I fancied her, but she was everything I wanted to be – a confident, sexy, blonde bombshell!".
Currently living in Leeds, Mia is in the middle of embarking upon her #FuckAPornStar UK tour whereupon she plans to visit her fans in Liverpool, Manchester, London, Newcastle and Nottingham. You can learn more about Mia's sizzling UK sex tour, her latest MiaMaffia.XXX web content and her upcoming adult film projects in the UK and the USA by checking out her official social networking channels online today. All of the links you need to keep up close and personal with this buxom British beauty have been provided in the section below!
Social Networks

Mia Maffia XXX : "Fuck me boots"
Mia Maffia XXX : "Can you help me with my homework?"
Mia Maffia XXX : "Mia Maffia, Smoking hot!"
UK T Girls : Mia Maffia at UK T Girls
Shemale XXX : Mia Maffia at Shemale XXX
Official Website : http://miamaffia.xxx/home
Twitter : @Mia_Maffia
Instagram : @mia_maffia
Snapchat : Mia_maffia