Personal Info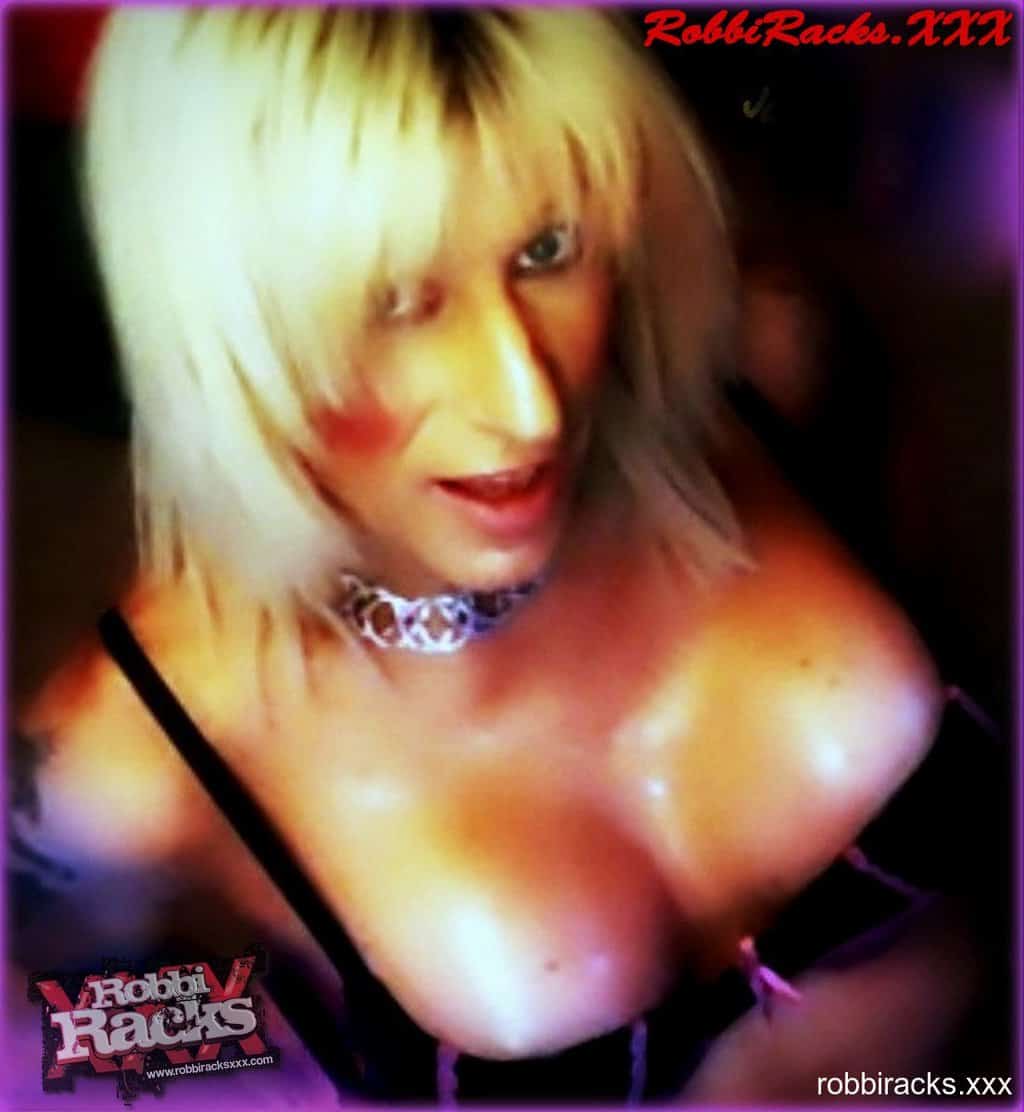 Robbi Racks at Robbi Racks XXX
Name : Robbi Racks
Alias : TS Robbi, Robbie Racks
Hometown :  Las Vegas, Nevada (US)
Date of Birth: August 27th 1981
Measurements : 34DD – 27 – 36
Bra/ Cup Size : 34DD
Boobs :  Enhanced
Height :  5'11 (1.80m)
Weight : 150lbs (68kg)
Hair Colour : Blonde
Eye Colour : Hazel
Tattoos : Large multi-coloured flames design which covers her left upper arm, a large panther design across her right upper arm, a black chain band that travels around her left bicep and a matching black chain band that travels around her right bicep, a black thorn band around her left calf, a black animal design around her right calf, a black and red skull design on her upper right thigh and a pilot's style insignia across her pelvis
Piercings : Navel
Years Active : 2014 – present
Number of Movies : 30+
Introducing blonde bombshell Robbi Racks! Currently living in Las Vegas, Nevada, Robbi Racks is a multi-talented adult film performer who was instrumental in founding the trans-friendly pornographic production company VegasTrannySex Productions. Beautiful, bold and business savvy, Robbi has devoted herself to supporting local transsexual nightclubs, adult entertainment businesses and LGBT community projects within the Las Vegas area. As Robbi herself often states; she's doing her best to keep the sin in Sin City!
Robbi Racks : Adult Film Career
Since 2014 Robbi has filmed a variety of sex scenes for pure-ts.com, Kink.com, HotClits.net and ShemaleStrokers.com. Some of Robbi's raunchiest online sex scenes include; TS Robbi Racks Gets It Good (2014), Tranny Gets It Deep (2014), TS Robbi Racks Takes Charge (2014), Women Who Get Ass Fucked 5 (2015) Amateur MILF TS Bareback Orgy Erupts (2015), Mature TS Robbi Racks Gets Barebacked by the Handyman (2015), MILF TS Slumber Party Leads to Bareback Anal Threesome (2015), Shemale MILF Babes Get Fucked Together (2015) and Dueling Creampies (2016) for HotClits.net.
Robbi has also collaborated with male porn star Christian XXX within a wealth of raunchy online sex scenes for pure-ts.com. Fans of Robbi Racks should check out the popular pure-ts.com titles; Wild Orgy As Three Transsexuals Get Fucked (2015) which also starred Robbi's friends and fellow TS stars Tyra Scott and Holly Parker, Christian Gets Over on 2 Hot TS Girls (2016) which paired Robbi with Holly Parker once again, Amazon Trannies (2016), Shemale Threesomes 2 (2016) and Busty MILF Babes Share A Big Dick (2016) with Jenna Ranee.
After featuring within multiple online sex scenes for various trans-friendly websites, Robbi was presented with her very own official solo website via the Grooby Network in July 2015. Thrilled at the opportunity to create her own content, manage her own website and interact with her fans across an updated multimedia platform, Robbi enthused within a Grooby Network press release how;
"I'm so excited to announce the opening of my new solo website…I have partnered with the GroobyNetwork.com and we have created a smoking hot Grooby Girl site that invites you to follow me more closely than ever before. I invite you to come check it out let me know what you think".
When she isn't filming online sex scenes for her official solo website, pure-ts.com or HotClits.net, Robbi Racks has been collaborating within multiple DVD feature releases for CX WOW Productions such as Tranny Starlets in 2014, Submissive SheMale Sluts, Shemale Threesomes, Robbi Racks Slutty, SheMale, Shemale Cougar Club and Tranny Handies 2 in 2015 and Tranny Handlers 2 in 2016.
Starring within these popular DVD titles has enabled Robbi to perform with some of the adult entertainment industry's most popular transsexual performers including Joanna Jet, Sienna Grace, Korra Delrio, Mia Maffia, Kylie Maria, Delia Delions, Holly Parker and Tyra Scott amongst others. Robbi's captivating personality and seductive charm have also earned her multiple adult film award nominations including;
2012: Transsexual Porn Stars Awards nominee – "Las Vegas' Best Oral Skills by a Shemale"
2013: Transsexual Porn Stars Awards nominee – "Las Vegas' Best Oral Skills by a Shemale"
2014: Transsexual Porn Stars Awards nominee – "Las Vegas' Best Oral Skills by a Shemale"
2015: Crowd's Choice Awards nominee — "Best TS Porn Star Breasts"
2016: AVN Awards nominee — "Favourite Transsexual Performer (Fan Award)"
2016: Transgender Erotica Awards nominee — "Grooby Girl Model of the Year"
2016: Transgender Erotica Awards nominee — "Best New Face"
2016: Transgender Erotica Awards nominee — "Best Solo Website"
Robbi Racks : Founder of VegasTrannySex Productions & Transgender Spokesperson
Throughout her adult film career Robbi has lived in Las Vegas, Nevada. Robbi has always been an ardent Sin City girl and has stated via her official blog site that;
"Las Vegas, the city I love living in. This city makes the perfect setting for my transition.  Now equipped with a tall slender body, tan skin and impressive Double D tits I find myself to be one of Sin Cities most wanted sextoys".
Consequently, it was only inevitable that Robbi would found her very own production company titled VegasTrannySex Productions! As well as managing this brand new production company, Robbi also featured within many of their raunchy TS titles including; CockPit LV (2014), Shemale Cougar Club (2015), 5 Trannys 5 Cocks (2016) and Let's Flip A Coin (2016).
Robbi also continues to host and sponsor numerous nightclub fundraising events under her VegasTrannySex Productions label. Among these erotic extravaganzas include the June 2016 "A Star Is Born Transsexual Party" which was held at the luxurious Las Vegas Lounge. Grooby Productions promoted this upcoming transsexual party within a June 2016 press release, explaining how;
"Grooby Girl Robbi Racks is hosting the next Transsexual Party at the world famous Las Vegas Lounge.  This event is the third event in a series of fund raising parties hosted by Las Vegas  local  TS Pornstars at the only transsexual bar in town, the Las Vegas Lounge…
The LVL recently changed ownership, management and has been remolded.  For the past few years the LVL has suffered and the trans girls that try to support the bar have had little positive influence and their efforts went thankless.  Since the new changes have occurred at the LVL several TS Pornstars, including Michelle Austin, Tyra Scott and Robbi Racks, have been stepping up to show their support for both the new owners and to help the trans girls known to frequent the club showing a sense of support and hope.  Support has been shown through legal assistance, a fully funded name change and gender marker program, health benefits and STD testing".
In addition to fundraising for local transsexual nightclubs, Robbi has also used her industry influence to sponsor the "Best Internet Personality" award at the 2016 Transgender Erotica Awards ceremony. A February 2016 AVN press release covering the upcoming Transgender Erotica Awards ceremony in March 2016 reported that Robbi and Steven Grooby decided to sponsor the "Best Internet Personality" award;
"with the intention of awarding it to someone in the industry who uses their social media presence to support the community".
As Robbi herself explained within this AVN press release;
"In the past year, I'm happy to have been fortunate to have been a Grooby Girl and be able to host a solo website with the Grooby Network…Now I'm able to step up and support the greater transgender community in several ways and that includes being a sponsor of the 2016 Transgender Erotica Awards (TEA). Locally, in Las Vegas, I work closely on a no charge name and gender marker change program for less fortunate transgender individuals. It is my hope that both of these programs continue for a very long time…
In 2015, I met a gentleman that holds a strong passion in both community service as well as the rights of transgender persons. After several conversations we agreed that the transgender adult entertainment community should acknowledge those individuals, be it transgender talent, filmmakers, producers or staff, that use their good fortune and take from their own personal time to give back to other transgender persons, whether that be through fundraising, volunteering, mentoring or other activities. So this year we're very happy to sponsor the TEA's 'Best Internet Personality' Award".
Grooby's Marketing and Editorial Director, Kristel Penn, enthused about Robbi's ongoing projects that support the transsexual community during a Grooby Network press release when she stated;
"I really appreciate Robbi's desire to sponsor this particular category and suggest we use it to honor not only someone who has a strong social media presence, but a person who also uses that reach to help their community…I think it gives recognition to many in our industry who want to do more than just make porn".
If you'd like to learn more about Robbi's latest DVD feature releases and fundraising projects, or if you'd like to arrange a public or private live chat session with the blonde bombshell herself, then all you have to do is visit her official social networking channels today!
Social Networks
Official Blog Site : Robbi Racks XXX
Twitter : @TSRobbiRacks
Kink Profile : https://www.kink.com/shoot/40722