Personal Info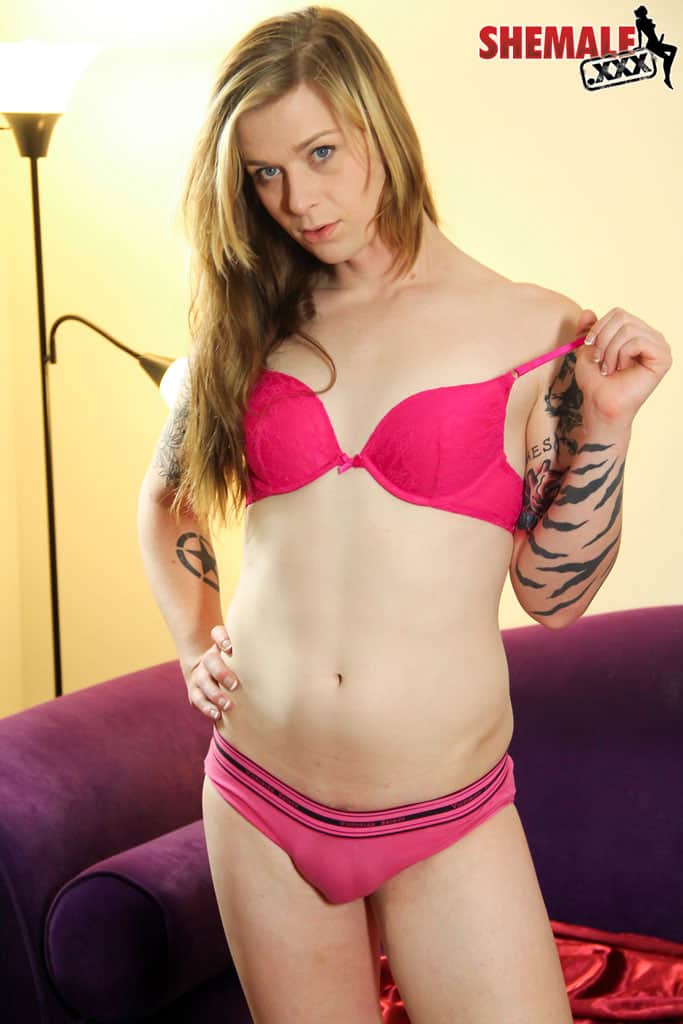 Taryn Elizabeth at Shemale XXX
Name : Taryn Elizabeth
Alias : Empress Taryn, TS Tarynxo
Home Town : Birmingham, Alabama (US)
Date of Birth: March 23rd, 1992
Height : 5'9 (1.75m)
Weight : 135lbs (61kg)
Hair Colour : Brunette / Blonde / Red
Eye Colour : Blue
Tattoos : A black five pointed star inside a circle design on the inside of her right forearm, a large black floral design on her upper right arm, a black tiger print design that travels all around her left forearm with 'Are We Dancing All Alone?' script in the centre, a multicoloured dragon design on her upper left arm and a multicoloured anatomical heart on her upper left arm with 'Bad Bitches Give Stitches' script around it
Years Active : 2015 – present
Number of Scenes : 20+
Introducing rising TS starlet Taryn Elizabeth! You may know her as Empress Taryn from her feisty fetish porn clips on Kink.com, or as TS Tarynxo from her extrusive porn star portfolio on Evil Angel. Irrespective of where you may have stumbled across Taryn Elizabeth before one thing's for sure; this terrifically tattooed transsexual performer is a multi-talented adult film star with an ever-expanding international fan following.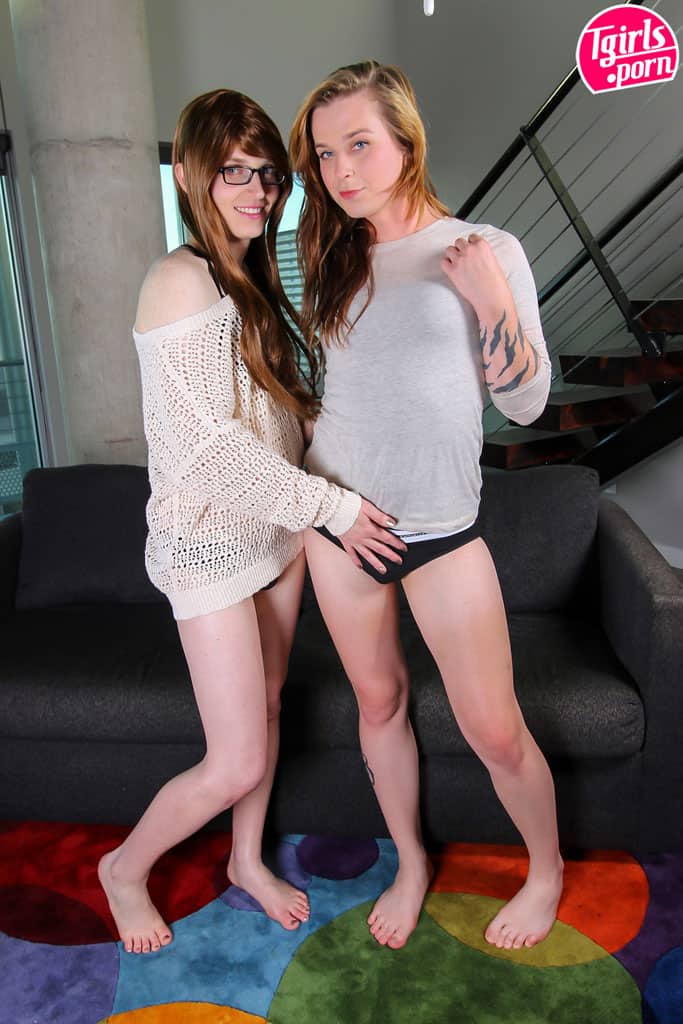 Taryn Elizabeth and Natalie Mars at T Girls Porn
Currently based in Denver, Colorado, Taryn Elizabeth was born and raised in Birmingham, Alabama. This Yellowhammer State girl posed for her first ever adult film modelling shoot in April 2015. Taryn's debut solo sex shoot was titled Red Head Dreamboat Taryn and it was filmed by famous adult film cinematographer Radius Dark for the popular Grooby Network porn site Shemale Yum. Taryn's first foray into the adult entertainment industry received rave reviews from fans and film critics such as popular adult film blogger TS Caramel who praised within her April 2015 caramelstgirls.com review how;
"Gorgeous 24 year old Taryn Elizabeth is a from Colorado and her Shemale Yum debut shot by Radius Dark is fantastic. I like that Dark allows new models to tell us something about themselves as opposed to jumping directly into a masturbation session. She's proud of her body, face and lovely eyes, yet there's a charming modesty about her. She plays music on just about anything with strings and loves hiking, 420 and some kinky sex. The sex part was touched on, but Dark delved deeper when he asked about fetishes and got more exciting information about that. Taryn Elizabeth talks about her most sensitive parts, what she considers her best features are. After taking off two tops, her jeans and long socks, she turns her back to show off one of those best features she gets compliments on. Bam! I can see why. You will too and it's time for her masturbation session, now that you're all warmed up. If you're on Twitter, follow @TSTarynxo. Don't miss her debut on Shemale Yum".
Following this successful adult film debut, Taryn proceeded to shoot a wealth of popular saucy modelling sessions and hardcore sex scenes for the Grooby Network porn sites Shemale Yum, Shemale.XXX and TGirls.Porn as well as for the trans-friendly porn sites Pure-TS.com, Black Shemale Hardcore, Trans Erotica and SheMaleStrokers.com. We recommend checking out some of Taryn's stunning solo sex shoots such as Sexy Punk Taryn Elizabeth that was directed by Radius Dark for Shemale Yum in May 2015 and Horny Taryn's On The Kitchen Counter! which was filmed by Omar Wax for Shemale Yum in April 2016 as well as Taryn Elizabeth Has A Great Ass! in January 2016 and Sexy Taryn Elizabeth Jacks Off in March 2016 that were both filmed by award-winning director Blackula for Shemale.XXX.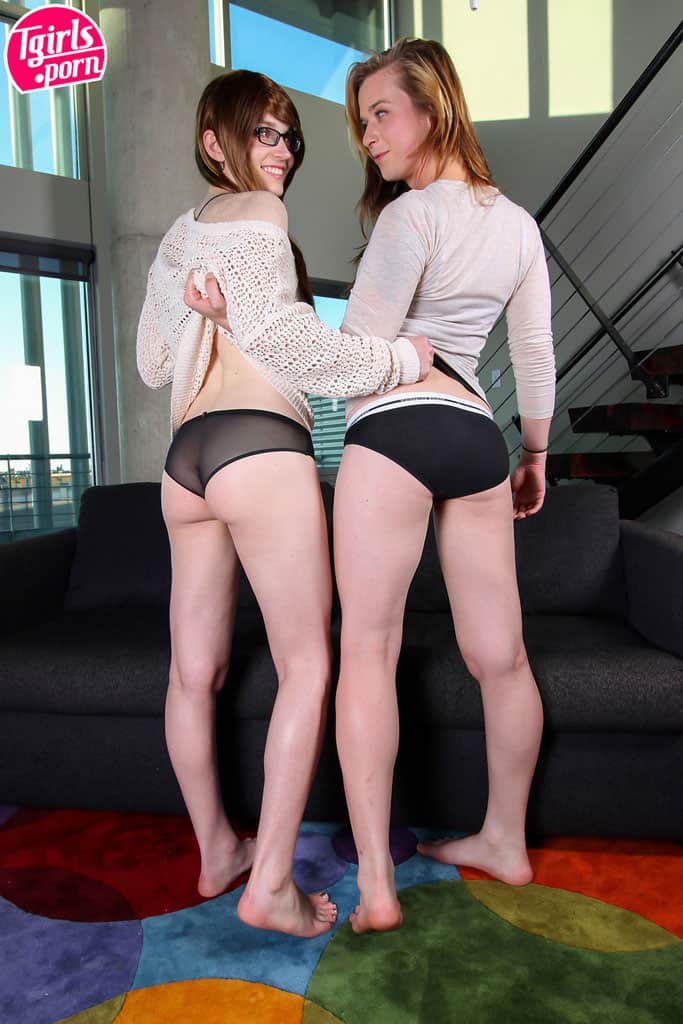 Taryn Elizabeth and Natalie Mars at T Girls Porn
From 2016 onwards Taryn began to shoot hot hardcore sex scenes for many of these Grooby Network porn sites. Fans of Taryn Elizabeth will not want to miss out on viewing her hardcore sex scenes with Soldier Boi that were filmed by Omar Wax for Shemale Yum in January 2016 titled Taryn Elizabeth Takes A Ride On Solider Boi's Cock, and her sizzling transbian sex scenes in December 2015 for TGirls.Porn with gamer girl Natalie Mars. In fact, one of Taryn's most popular online sex scenes to date has been her captivating January 2016 transbian collaboration with fellow rising starlet Lexi Cooper for TGirls.Porn; not to be missed!
As well as collaborating with many of the Grooby Network's most popular porn sites, Taryn has appeared in a series of saucy three-way sex scenes for the trans-friendly porn site Pure-TS.com. In October 2015 Taryn made her Pure-TS.com debut when she filmed her first ever sex scenes with Christian XXX titled Brand New TS Starlet Taryn Elizabeth Gets Loved Up And Banged. Taryn swiftly followed this fan-favourite web content with her Sex Doll Taryn Elizabeth Waits For Her Man's Cock sex scenes with Christian XXX in December 2015 and a three-way sex scene with Harper Kelly and Christian XXX titled DPing Taryn Elizabeth's Hot Ginger Girlfriend that was first distributed on New Year's Day 2016. Taryn's most recent Pure-TS.com content has been a three-way sex scene with blonde bombshell Taylor and Christian XXX titled TS Girlfriends Share A Big Cock Together that was released in July 2016. During this time Taryn also featured within the 2015 CX WOW Studios DVD title Tranny Handies alongside famous transsexual performers Joanna Jet, Sienna Grace, Mia Maffia, Treasure Barbie, Tasha Jones, Robbi Racks, Korra Del Rio, Ariel Everitts and Amanda Jade.
In recent months Taryn has begun to amass an ardent fan following within the fetish lifestyle market due to her raunchy BDSM content which she has filmed as her femdom alter ego Empress Taryn. In fact, in March 2016 Taryn filmed her first ever sex scenes for the fetish porn site Kink.com with Nora Riley titled Coupon For A Spa Day Leaves Nor Riley With A Nice Facial. Fans of Taryn Elizabeth who are eager to discover her kinkier side should check out this raunchy video clip  that was filmed as part of Kink.com's long-running TS Pussy Hunter web series.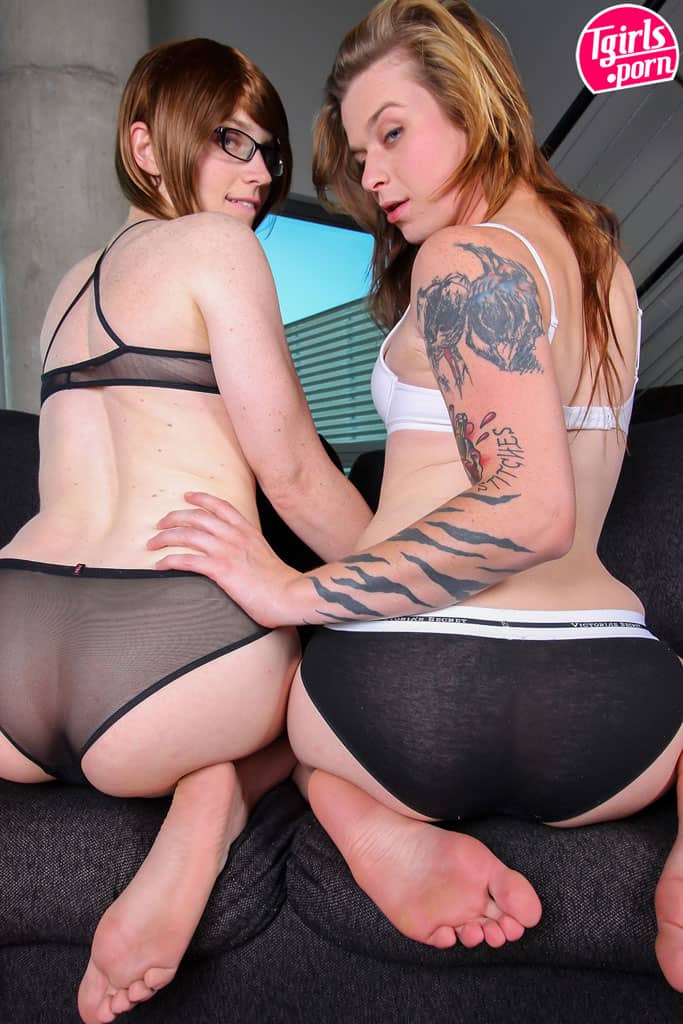 Taryn Elizabeth and Natalie Mars at T Girls Porn
Throughout 2016 Taryn began to perform with many best-selling DVD feature releases for Grooby Productions and Evil Angel. As matters stand Taryn has starred within two instalments of Joey Silvera's long-running TS DVD series Rogue Adventures alongside Alexa Scout, River Stark, Chelsea Marie and Morena Black. Taryn featured within Rogue Adventures 42 in a sultry sex scene with Holly Hearts and in a compelling sex scene with Riley Cruise for Rogue Adventures 43.

Taryn has also collaborated with Joey Silvera and Evil Angel on the best-selling DVD titles Trans X-Perience 5 (2016) also starring Chanel Santini, Cheyenne Jewel, Kylie Maria, Leony Dark, Nikki Vicious and Sophia Grace, Trans-Visions 7 (2016) with Brazilian transsexuals Felipa Lins and Fernanda Cristine, as well as within Joey's long-running TS DVD series TS Factor. To date Taryn has been showcased within TS Factor 2 (2016) and TS Factor 3 (2016) alongside a stellar cast of transsexual stars including Felipa Lins, Eva Paradis, Giselly Soares, Tori Mayes, Mara Nova and Aspen Brookes. In fact, Taryn's TS Factor 3 sex scene with Tori Mayes has just been nominated for "Best Scene" for the 2017 Transgender Erotica Awards! You can also watch Taryn in the hot Grooby Productions and Exquisite DVD feature release collaboration TGirls Volume 1. Performing in this smash-hit transbian themed DVD title enabled Taryn to work with famous Grooby girls Athena Addams, Chelsea Marie, Cherry Mavrik, Emy Amethyst, Lexi Cooper, Sabina Sinn, Treasure Barbie, Kaylee Kuddlez and Sasha Skyes. After all, as Exquisite and Grooby sales manager David Peskin advocated within an April 2016 Grooby News press release;
"TGirls Porn: Volume 1 is the inaugural title in Grooby's new series featuring hardcore scenes exclusively with trans girls. 'All TGirls Volume 1' was our best selling title of 2014 and continues to be one of our best re-order titles. No doubt based on that previous titles success, our Distributors knew 'TGirls Porn: Volume 1' is destined to become another boner-fide winner! The numbers out the door already reflect this title will be at the top or very near the top of all upcoming 'Specialty" best seller charts".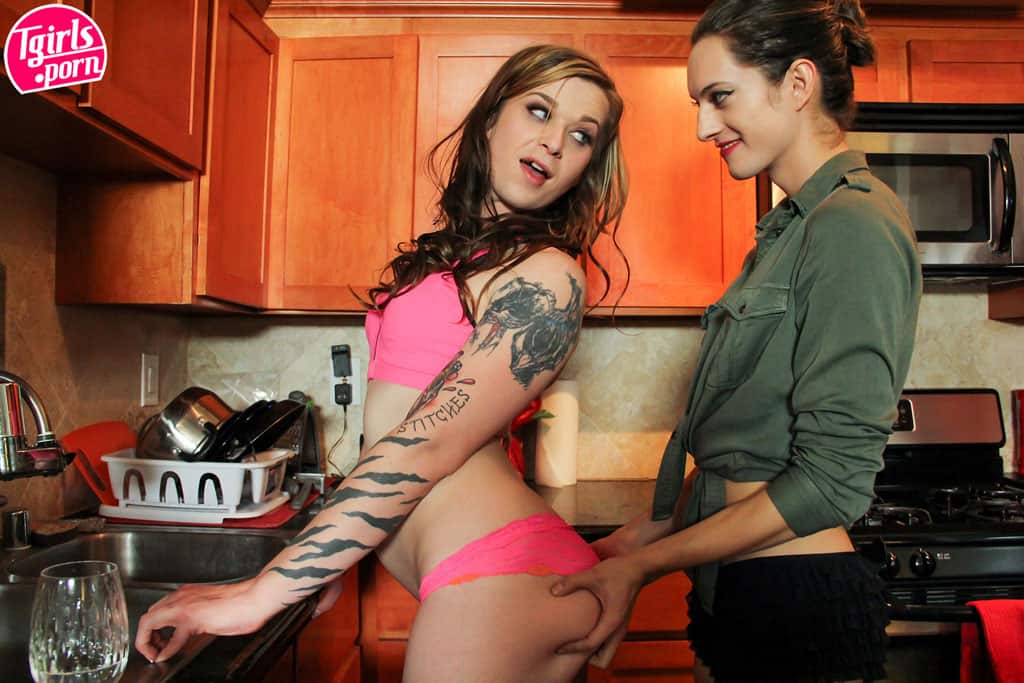 Taryn Elizabeth and Lexi Cooper at T Girls Porn
When she isn't filming her latest pornographic productions Taryn can be found socialising with her friends, chilling at her home with her dog and uploading thought provoking posts via her Twitter and Tumblr profiles. Taryn has never been afraid to speak her mind and describes herself via her official Tumblr as;
"Hey! I'm EmpressTaryn, Tranny adult entertainer and gunslinger from CO. NSFW a lot. #AmericanNationalist pro-capitalism, pro-individualism, pro-choice, pro-shit-poster. Army Vet (68W). #2a as fuck. "no gods, no masters" Want to book an appointment or send me a review? click here > empresstaryn.indyfiles.com
my grammar is shit, I'm working on it #SocialJusticeCanLickMyBalls".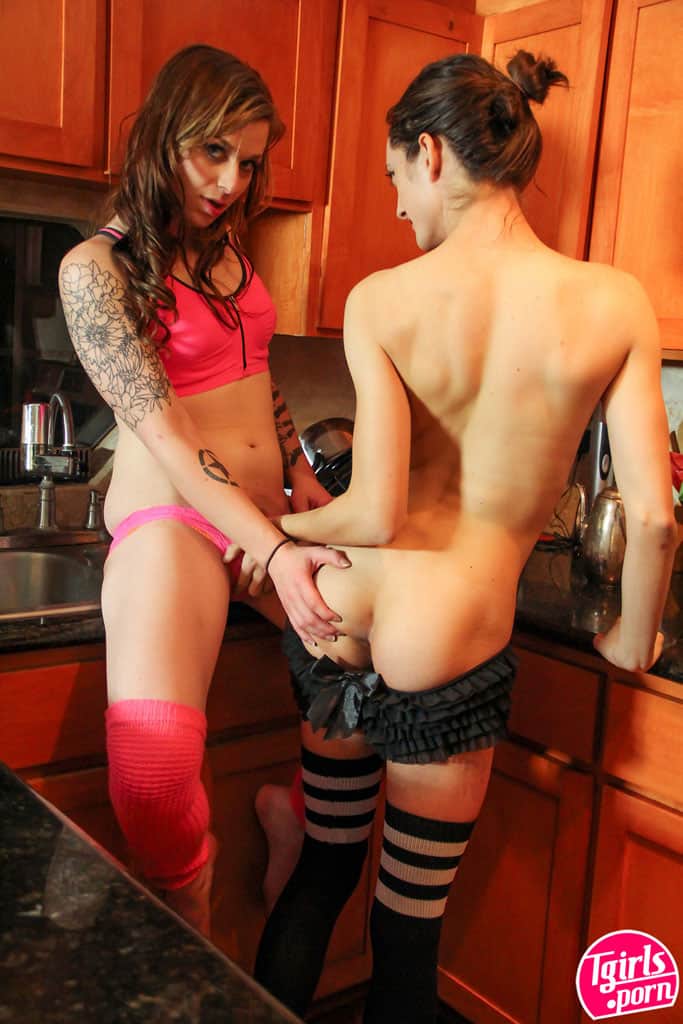 Taryn Elizabeth and Lexi Cooper at T Girls Porn
If you'd like to learn more about rising TS starlet Taryn Elizabeth then why not head on over to her official social networking channels using the links below? In no time at all you can begin watching exclusive video clips featuring this terrific tattooed starlet, learn more about her upcoming adult film projects and catch up with Taryn herself via one of her public or private live chat sessions!
Social Networks
Shemale Yum Profile : Taryn-Elizabeth at Shemale Yum
Shemale.XXX Profile : Taryn-Elizabeth at Shemale XXX
TGirls.Porn Profile : Taryn-Elizabeth at T Girls Porn
Twitter : @EmpressTaryn
Tumblr : http://imthefuckingempress.tumblr.com/
Kink Profile :  http://www.kink.com/model/58993

IMDB Profile :  http://www.imdb.com/name/nm7841815/