Personal Info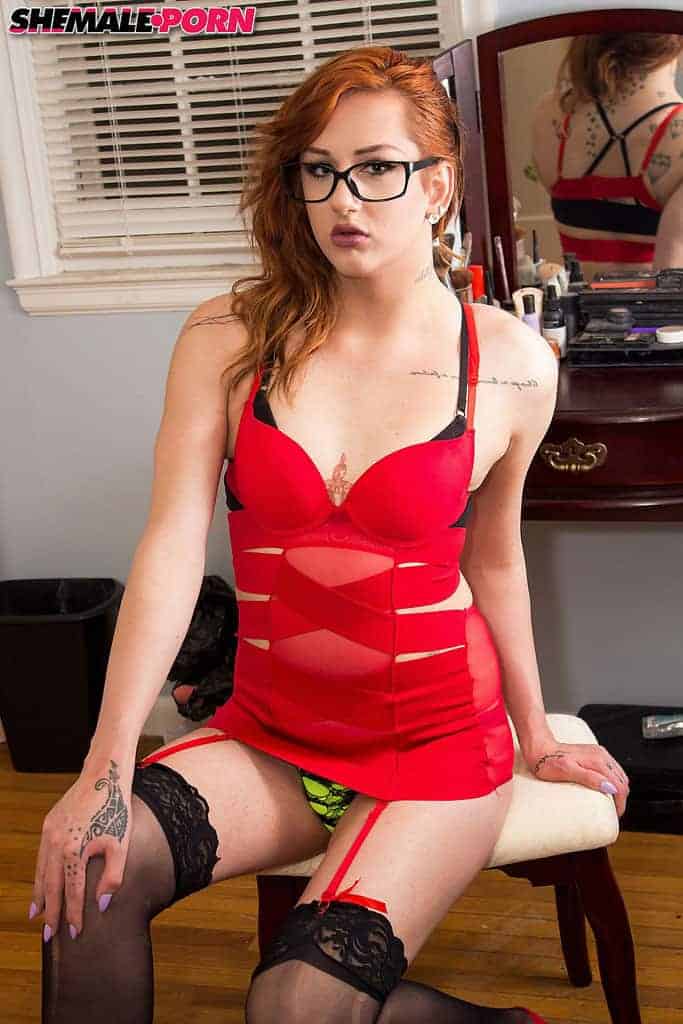 Treasure Barbie at Shemale.Porn
Name : Treasure Barbie
Date of Birth: July 1st
Home Town : Orem, Utah (US)
Hair Colour : Brunette/ Black/ Auburn/ Lilac
Eye Colour : Green
Tattoos : Treasure has a wealth of intriguing tattoos including matching 'Wild' and 'Heart' text on the back of her left and right thighs, a pair of scissors design on the side of her left foot, script on the left side of her neck, a face with a floral headdress design on her upper left arm accompanied by an intricate heart design and various symbols, a large bird design underneath her breasts, a skull and cross bones design on the back of her left shin, a series of diamond designs on the side of her left rib cage, a series of small designs on the left side of her lower abdomen, script across her left collarbone, an intricate spiral design on her right hand and a series of small symbols across the fingers on her left hand
Piercings : Nose and multiple ear piercings
Years Active : 2015 – present
Number of Scenes : 10+
Introducing Treasure Barbie; a rising TS starlet who has just been nominated for "Miss Unique" at the 2017 Transgender Erotica Awards!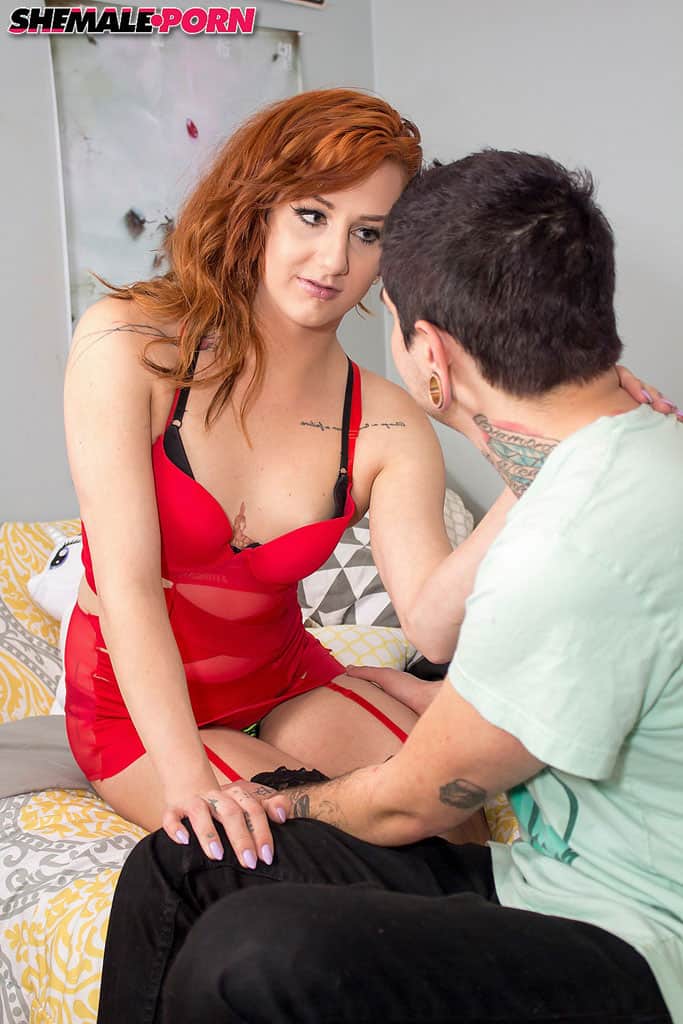 Treasure Barbie at Shemale.Porn
Born and raised in Salt Lake City, Utah, Treasure attended high school in the neighbouring city of Orem. Although she has become famous for her raw sexuality and charismatic presence in front of the camera, Treasure was a reserved child during her high school years. As Treasure herself conveyed within her November 2016 Fleshbot interview;
"I was definitely not popular. I was always the outspoken 'gay' kid and I graduated high school in Orem, Utah, so you can imagine what school was like being around all the church goers. I actually didn't date through high school, drink, or even have sex! I was a virgin until my 18th birthday!".
After losing her virginity, Treasure decided that she wanted to become an adult film star and explained within this aforementioned Fleshbot interview how she made a video following a night out advocating how she was going to become a porn star;
"I made a video when I was 18 after a night out at the club saying in it that I'm going to be a porn star and I made that happen. I pushed my way into the industry and didn't take no for an answer so here I am!".
Treasure further elaborated within this Fleshbot interview how working within the adult entertainment industry has worked wonders for her self esteem by enabling her to realise;
"That I am beautiful the way I am. That I don't need to change, that I should love the body I'm in and be comfortable as myself. Doing porn has helped me find myself and for that, I am so thankful!".
Treasure Barbie : Adult Film Career
In July 2015 Treasure Barbie had made her adult film modelling shoot for the Grooby Network porn site Shemale Yum. Treasure's first ever solo sex shoot was filmed by famous director Radius Dark in July 2015 and it was titled Introducing Treasure Barbie. Treasure received a rave review via caramelstgirls.com for this saucy Shemale Yum solo sex shoot and adult film blogger TS Caramel enthused within her online review that;
"Treasure Barbie of Salt Lake City, Utah is on Shemale Yum for the first time at 21 years old in a spectacular photo and video shoot by Radius Dark… Watching Treasure Barbie talk is as mesmerizing and sexy as the things she has to say about herself…This is an incredible Shemale Yum debut and there's no doubt in my mind that Treasure Barbie is going to be a major porn star. It's already happening for her so freaking quickly".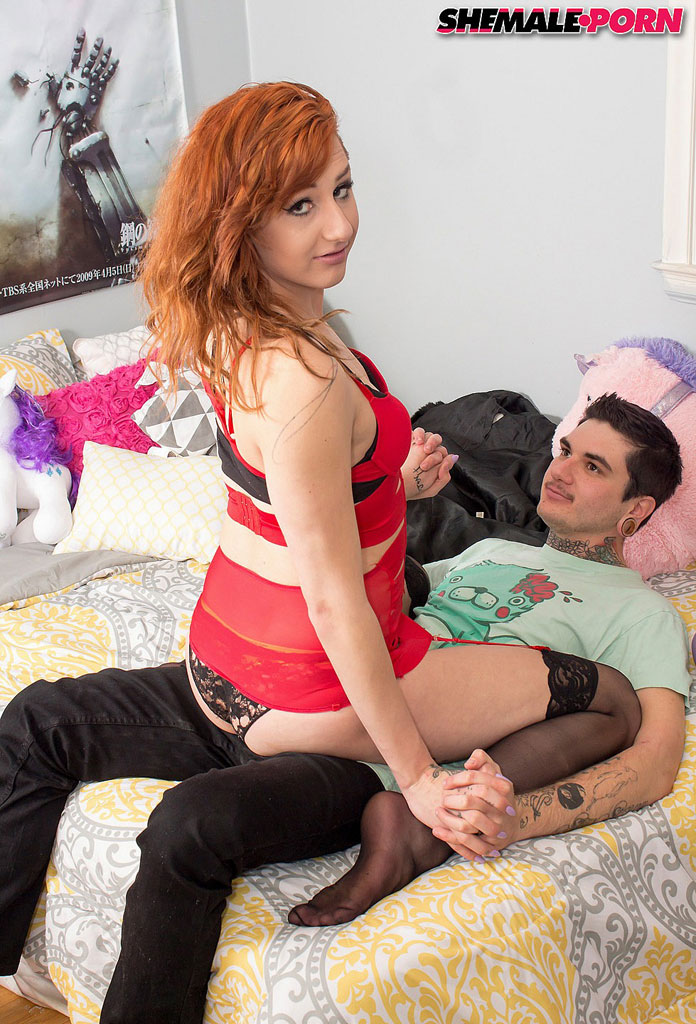 Treasure Barbie at Shemale.Porn
Treasure has since filmed a variety of solo shoots and hardcore sex scenes for the Grooby Network porn sites Shemale Yum, Shemale.XXX, TGirls.Porn, Shemale Pornstar and Shemale.Porn. Fans of Treasure Barbie will want to check out her hardcore sex scenes for Shemale Yum in July 2015 titled Treasure Barbie and Ruckus Fuckfest, her collaboration with Chelsea Marie for TGirls.Porn in December 2015 titled Beach Babes Chelsea Marie and Treasure Barbie, her Treasure Barbie and Dizzy Dixxon's  Fuckfest! hardcore sex scenes for Shemale Yum in February 2016 and her Shemale.XXX solo sex shoot Treasure Barbie Shakes Her Booty! that was first distributed in November 2016.
Treasure discussed filming these various online sex scenes during her Fleshbot interview in November 2016 and advocated how much she loves filming solo shoots;
"As I'm growing, I love doing solo shoots. I feel like I can connect more and make it more and make it more personal for the viewer. I hope as I grow and learn, I can get better! I do have some shoots in the works that I'm super excited about".
During this insightful interview, Treasure also took the time to highlight how much she has enjoyed filming with male performer Ruckus and her fellow transsexual superstar Chelsea Marie, highlighting how;
"Ruckus would have to be my favorite male model, alongside Chelsea Marie. I love them both and have had such a good time with them. They make it easy to just be myself, have fun and love doing what I'm doing! They are both super respectful and laid back but let's be honest, Chelsea Marie is crazy fun. If you ever get to hang with her, you're lucky!".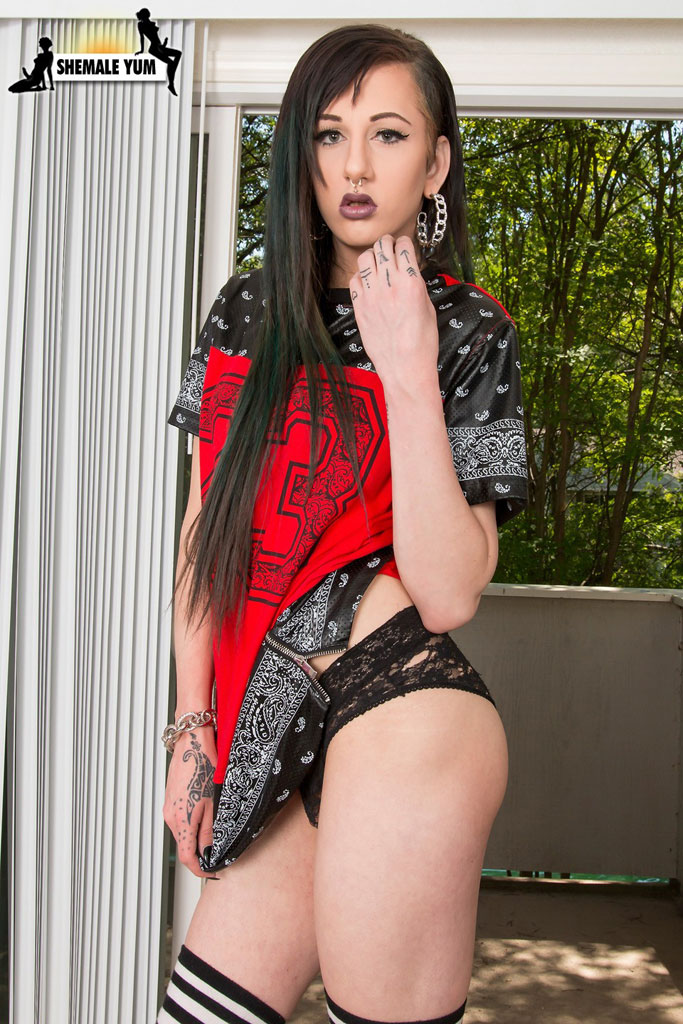 Treasure Barbie at Shemale Yum
As well as her Grooby Network solo sex shoots and raunchy hardcore sex scenes with Ruckus and Dizzy Dixxon, Treasure has also collaborated with prominent male porn star Christian XXX for his popular trans-friendly porn site Pure-TS.com. To date Treasure has filmed five hardcore sex scenes with Christian XXX for Pure-TS.com including Pervy Stepdad Seducing Teen Stepdaughter in June 2015, Creepy Christian Sneaks Into Treasure's Room For Some Anal Sex in September 2015, Young TS Treasure Barbie  jerks Off A Lucky Cock in November 2015, Young TS Starlet Gets Down On Her Favourite Cock in December 2015 and Beautiful Young TS Treasure Barbie Makes Out With Christian in March 2016. In fact, Treasure revealed within her Fleshbot interview that Christian XXX was one of her favourite porn stars to watch before she became an adult film star! As Treasure conveyed in her own words;
"Kimber James was always my icon! I feel like I always would watch her and be like, 'damn' I wanna be like her one day'! I've always been a porn junkie. I remember getting caught in like the 9th grade watching one of Christian XXX's pizza delivery videos! Then, getting to actually shoot with him in my adult life was pretty epic!…I love watching Christian XXX's website. He always has something new, fresh, and hot waiting for me!".
In addition to her online sex scenes for Grooby and Pure-TS.com, most recently Treasure has begun to feature within several best-selling DVD titles. One of Treasure's most popular DVD feature releases to date has been the Grooby Productions and Exquisite April 2016 DVD collaboration TGirls Porn: Volume One which starred Treasure in a saucy sex scene with Chelsea Marie. Performing in TGirls Porn: Volume One also enabled Treasure to feature alongside her fellow rising transsexual stars Sasha Skyes, Cherry Mavrick, Athena Addams, Taryn Elizabeth Emy Amethyst, Kaylee Kuddlez, Lexi Cooper, and Sabina Sinn. TGirls Porn Volume One was directed by Radius Dark who had collaborated with Treasure on many of her fan-favourite Shemale Yum photo sets. Radius enthused about filming TGirls Porn: Volume One during a Grooby News press release, eagerly expressing that;
"These lovely Starlets got what they wanted during these scenes and it showed on their faces…From Lexi Barbie getting lift fucked by a strong man, to Evie Eliot getting fucked hard and fast by an Adonis, to Cherry Mavrick throating a cock so big she can't get to the base! First timers and Utah natives Treasure Barbie and Lusinda Devine massively enjoyed taking it from their tall dream man as well. It was an all-around great time".
If you want to catch up on some more of Treasure's best-selling DVD titles then we recommend viewing Radius Dark's TS Starlets 1 (2016) which featured Treasure alongside Evie Elliot, Lusinda Devine, Lexi Barbie and Cherry Mavrik as well as the CX WOW Studios DVD titles Tranny Handies 2 (2015) and Tranny POV 1 (2015) also starring famous transsexual performers Delia DeLions, Kylie Maria, Alexa Scout, Joanna Jet, Korra Del Rio, Harper Kelly, Sienna Grace, Taryn Elizabeth, Mia Maffia, Robbi Racks, Ariel Everitts, Amanda Jade and Tasha Jones.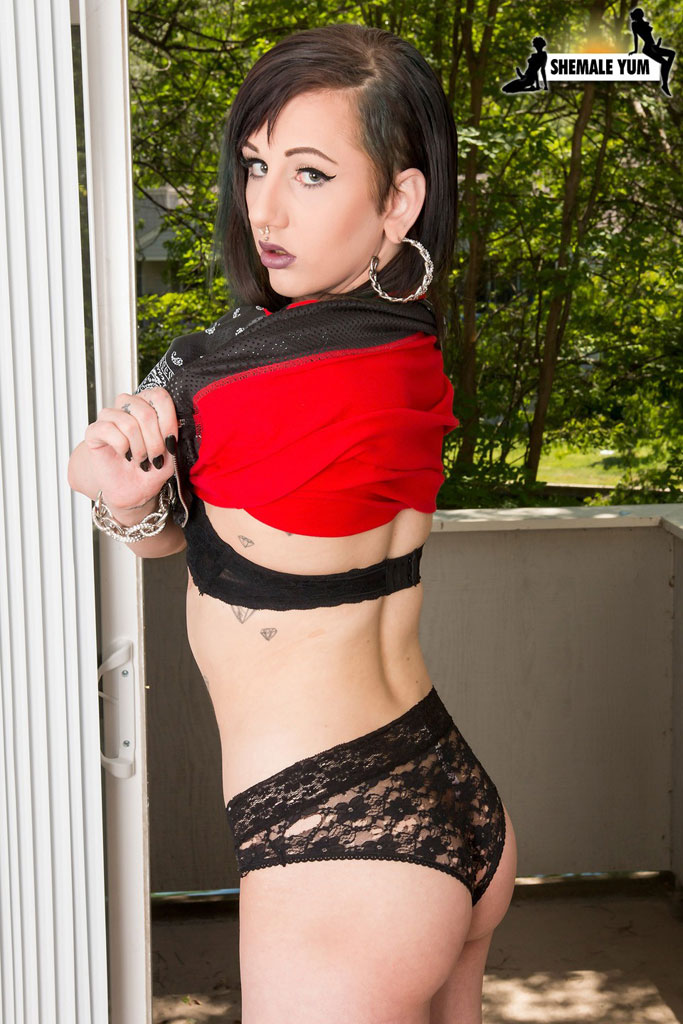 Treasure Barbie at Shemale Yum
As a result of her amicable personality, raw sexuality and ever-expanding adult film portfolio, within the last year Treasure has amassed a devoted fan following across her various social media profiles. Treasure has been extremely grateful for the ongoing support of her international fan base and sincerely exclaimed within her recent Fleshbot interview that;
"I love my fans and I'm lucky to have such an amazing support group!! I've gained over 20K followers in a little over a year, and I'm so thankful for all the love and support you have shown me!… "Thank you all again. Stay true to you and thanks for all the gifts, love, and support!! I promise I'll keep you wanting more!".
Currently living in Sacramento, California, in her spare time Treasure loves honing her hair stylist and makeup skills. In fact, one of Treasure's tattoos is a pair of scissors that she acquired in order to symbolise her passion for pampering! Within her Fleshbot interview Treasure revealed that when she isn't filming her saucy sex scenes;
"I love doing hair and makeup!!! I'm obsessed. I also have two beautiful nephews I enjoy playing with! I love to cook and dance and I can make a killer martini. I love hiking. I'm from Utah and my backyard is the mountains!".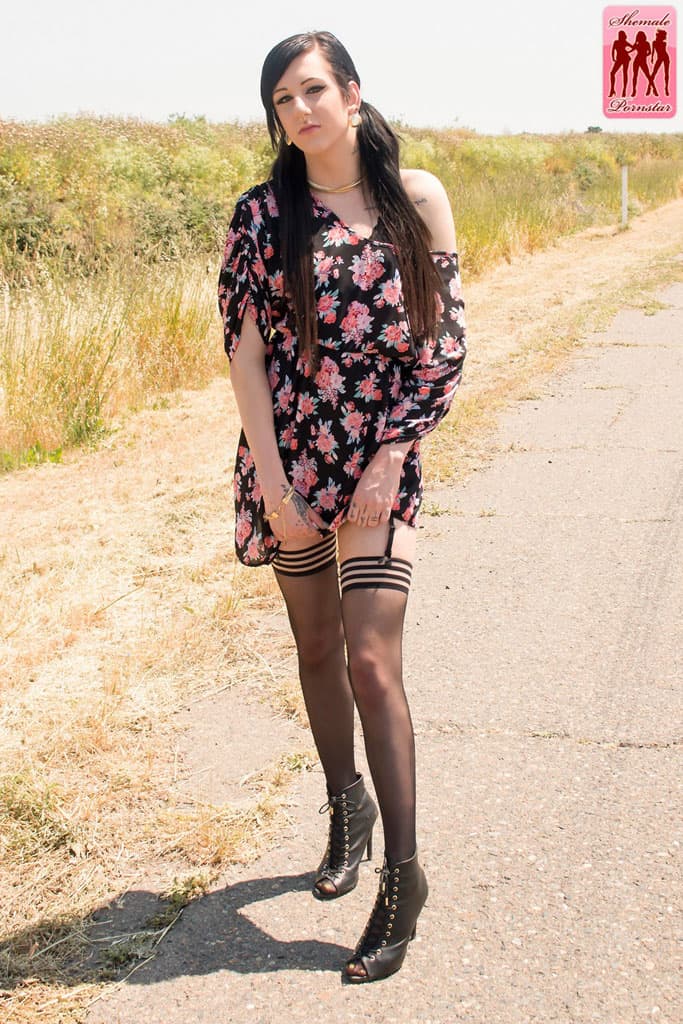 Treasure Barbie Shemale Pornstar
Moreover, when she was asked about her future adult industry plans during this November 2016 Fleshbot interview Treasure hinted that;
"I guess you will have to wait and see. I do have a few things coming my way…I'd love to work with Bailey Jay, I mean, who wouldn't? I just feel our styles and bodies would mesh so well. (: Then there's Mara Nova who I'm obsessed with!! I wanna do more fun shoots like slumber party interactive stuff!! Oh, and I'd like to work for Bob's T-Girls, I've been waiting and messaging for a year so he's on my list!!…I wanna win an award and make movies people love. I want my fans to know that I'm so thankful for them and that I love my job!".
Given that Treasure has recently been nominated for "Miss Unique" at the upcoming 2017 Transgender Erotica Awards, we think it's safe to say that she will continue loving her job for many years to come! In the meantime, if you'd like to remain updated on Treasure Barbie's latest solo photo sets, online sex scenes and DVD feature releases then why not use the links provided below to check out her official social networking channels online today?
Social Networks
Twitter : @Treasurebarbiee
Shemale Yum Profile : Treasure-Barbie at Shemale Yum
Shemale.XXX Profile : Treasure Barbie at Shemale XXX
TGirls.Porn Profile : Treasure-Barbie at T Girls Porn
Shemale.Porn Profile : Treasure Barbie at Shemale.Porn