Personal Info
Name : Tyra Scott
Alias : Tyra, TS Tyra Scott
Hometown :  Richmond, Virginia (US)
Date of Birth: August 27th 1981
Measurements : 34DD – 27 – 36
Bra/ Cup Size : 34DD
Boobs :  Enhanced
Height :  5'6 (1.68m)
Weight : 135lbs (61kg)
Hair Colour : Blonde/ Brunette/ Red
Eye Colour : Blue
Tattoos : Tribal symbol on her upper right thigh and script across her lower back
Piercings : Navel
Years Active : 2006 – present
Number of Movies : 40+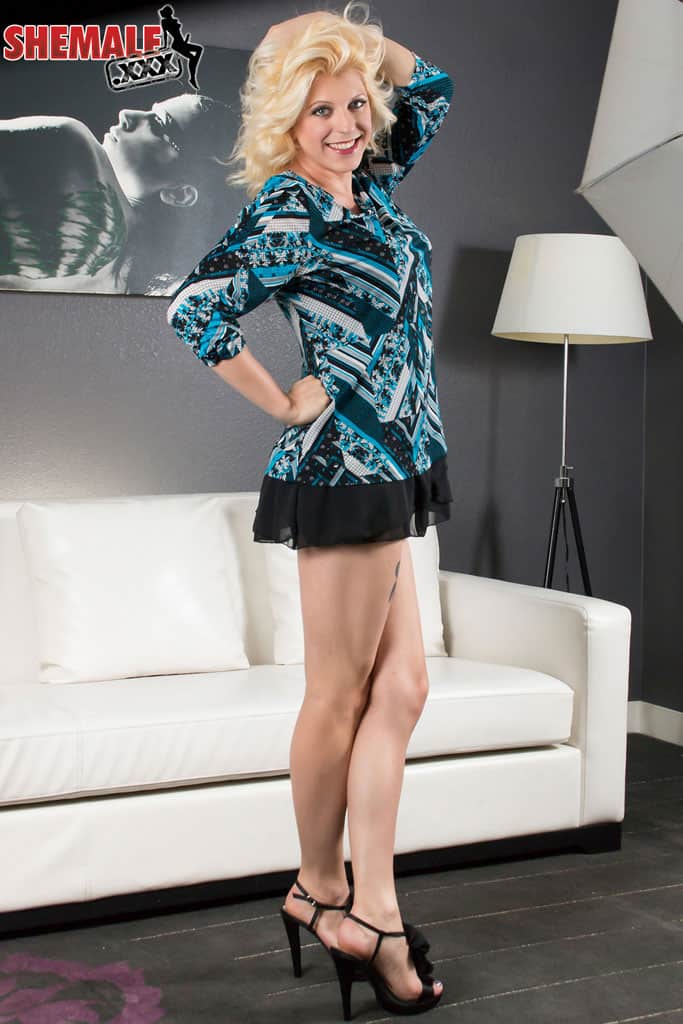 Behold buxom beauty Tyra Scott! This incredibly popular transsexual porn star was born and raised in Richmond, Virginia. Despite loving her home town, Tyra has commented during her XCritic column interview that she felt very shy and lonely throughout her early childhood;
"Growing up as a kid was difficult. I kept to myself and didn't have many friends. I felt secluded and alone. I think my childhood helped mold and create who I am today. It pushed me to strive to better myself and become who I am supposed to be and meant to be".
During her caramels t-girls interview in July 2012 Tyra revealed that her gender identity had a significant impact on her confidence as a child  and that she first became aware she was transgender when she was 7 or eight years old;
"I would say that I was very young knowing something wasn't quite right. I was about 7 or 8 and it was Christmas Eve. I remember standing in front of my dresser saying, "Santa Claus, please bring me girl clothes for Christmas"  I had always had an attraction to men.  But when I was about 19 years old and was dared into doing drag that I actually felt whole and complete while wearing women's clothes…I would say that the first crush that I developed on someone was for a guy that I went to High School with. He was tall, skinny and blonde and bad boy, but what girl doesn't like a bad boy?…I would say that I am primarily attracted to men. Though I have not ruled out doing scenes with other beautiful transsexuals".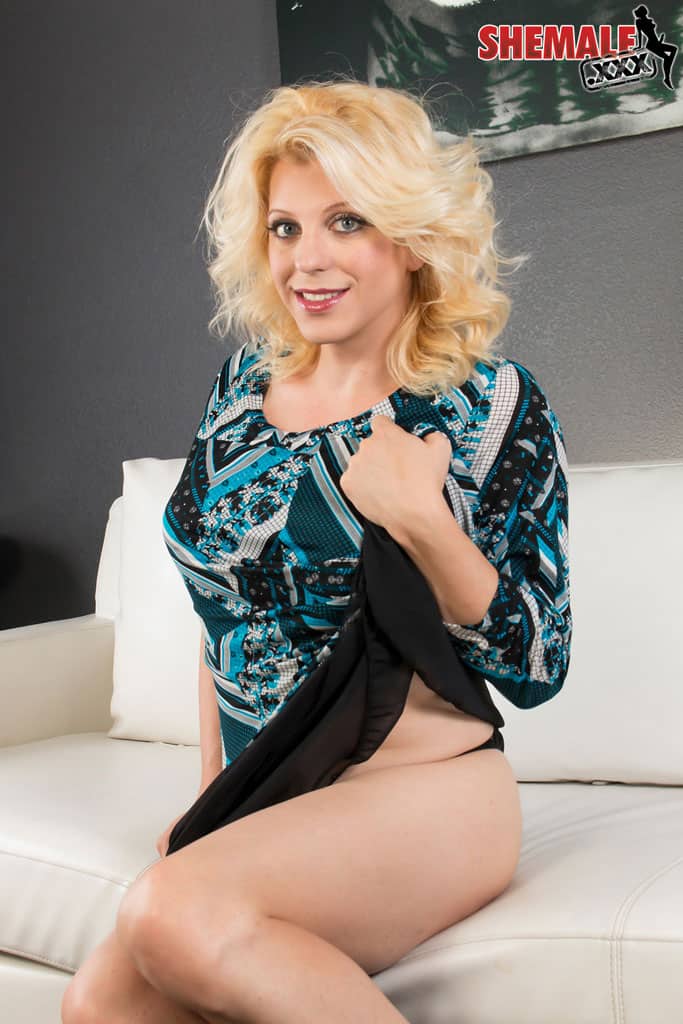 Despite this early awakening of her true gender identity, Tyra revealed that her family have not accepted her as a transsexual and that only a few close friends currently know about her adult film career;
"My family knows nothing of what I do. A few of my friends do know about my career in the adult entertainment business".
Tyra began hormone replacement therapy in 2003 and in her June 2012 Tranny Lives interview Tyra was extremely open about her transition process as a whole. During this interview Tyra revealed that;
"My transition has been rocky and emotional.  I have been on and off hormones for 9 years, currently off.  The friends I have, have been absolutely amazing.  Even my friends who knew me back in kindergarten are still my friends and are very supportive.  My family on the other hand, is a whole different story, and we can save that heartbreak for another time…
I honestly do feel I was born in the wrong body.  My brain doesn't process things the same way that all my male friends process things.  The majority of my female and male friends are all straight. I had always had an attraction to men, but at about age 7 or 8, I remember standing in front of my dresser on Christmas Eve saying "Santa, please bring me all girl clothes for Christmas"  I wasn't until I was actually 19 and was dared to do drag, that I actually felt right, whole, correct, complete…
I am still a virgin in a biblical sense, if you catch my drift.  I first started watching gay porn and going into gay chat rooms when I was about 17.  I have my first experience with another guy when I was about 19 years old, and that was just oral.  I didn't go all the way with a guy until I was 20.  And it was GLORIOUS!! LOL…
SRS definitely a long term goal.  Now that I have had breast augmentation, I am more comfortable with my body, though going all the way with SRS would be a full circle for me, and I believe would bring me a great peace within my mind and soul".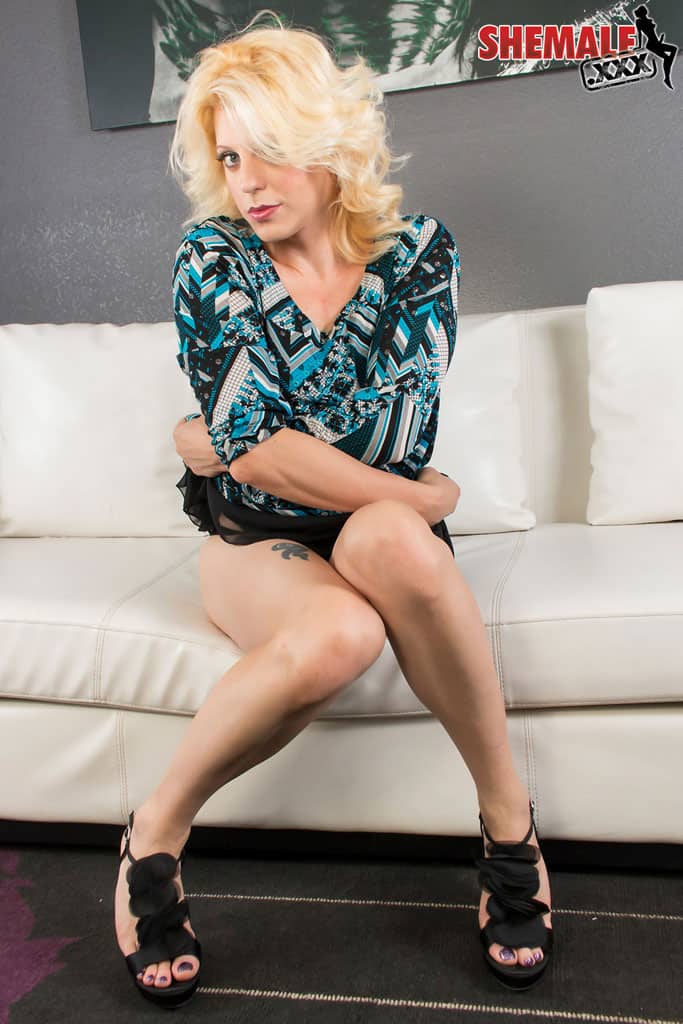 From 2001 onwards Tyra began to perform in cabaret acts which enabled her to showcase her theatrical talents and socialise with fellow transsexuals, drag queens and members of the LGBT community. In the fall of 2003 Tyra decided to legally change her name to Tyra Scott and began living openly as a transsexual woman. This life-changing decision coincided with Tyra moving from Richmond, Virginia, to Las Vegas, Nevada, whereupon she continued to perform in cabaret acts. Tyra explained her reasons for moving to Las Vegas during her caramels t-girls interview, divulging that;
" It was the fall of 2003 and a very good friend suggested we move to Vegas. I had nothing really holding me on Vegas, and I had made the decision to live my life as I felt I was supposed to be born,  I said ok, let's move to Vegas. And the rest is history…Legally changing my name was the foundation of starting my new life.  It helped build confidence in me that I desperately needed as a new woman in this world. Would I have picked a less dramatic name if I could do it over? Yes. But my real legal name is unique just as I am unquiet and wonderful".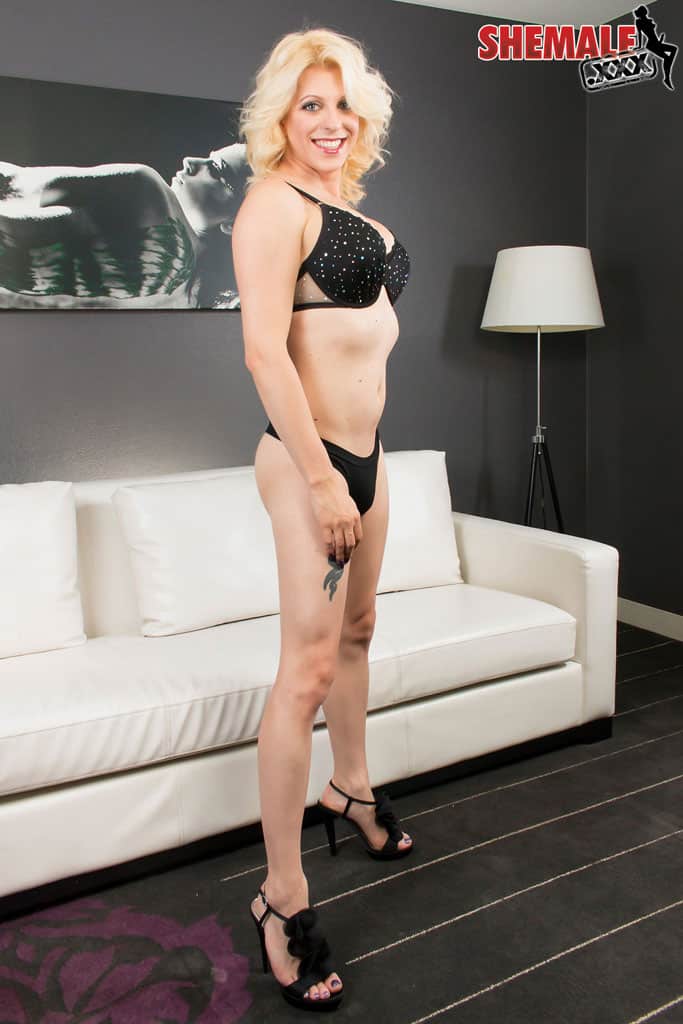 Tyra discussed her move from Richmond to Las Vegas in greater detail during her Tranny Lives interview. Within this interview Tyra explained the main differences between the nightclub circuit in Richmond and the thriving Las Vegas Strip;
"I am from Richmond Virginia.  Born and raised!! Virginia is for Lovers!!…One of my very good friends, who is also a TS came to Las Vegas on Vacation.  When she got back to Virginia, she said "girl we gotta move to Vegas!! There is money in Vegas!!"  So at the time, I had no man, no real job other than working behind a bar, and no family behind me, so I said "Why not".  And 3,000 miles later, I become a Las Vegas resident.  I have been living in Las Vegas now for, 9 years.  Moved here in November, 2003…
the longer I am away from Richmond, the more I am starting to miss it.  One big difference though is Richmond is much slower town than Vegas.  Vegas is now now now, Richmond is tomorrow tomorrow tomorrow.  A much slower paced way of life.  And for, that would be very difficult for me to go back to. Virginia is beautiful and I would love to go back soon and visit friends and maybe have a meeting with my family.  (That would make for a good documentary LOL)".
Tyra Scott : Adult Film Career
Tyra began to learn more about the adult entertainment industry whilst living in Las Vegas and ultimately decided to pursue a career as a porn star in 2006. Within her Tranny Lives interview Tyra explained that she decided to launch her porn star career in 2006 because;
"I knew I needed to find a way to bring in extra money, and I was scared to death of escorting.  So the next best thing was the adult entertainment business.  I placed an ad on sexyjobs.com and got an email from shemalestrokers.com and the rest is history".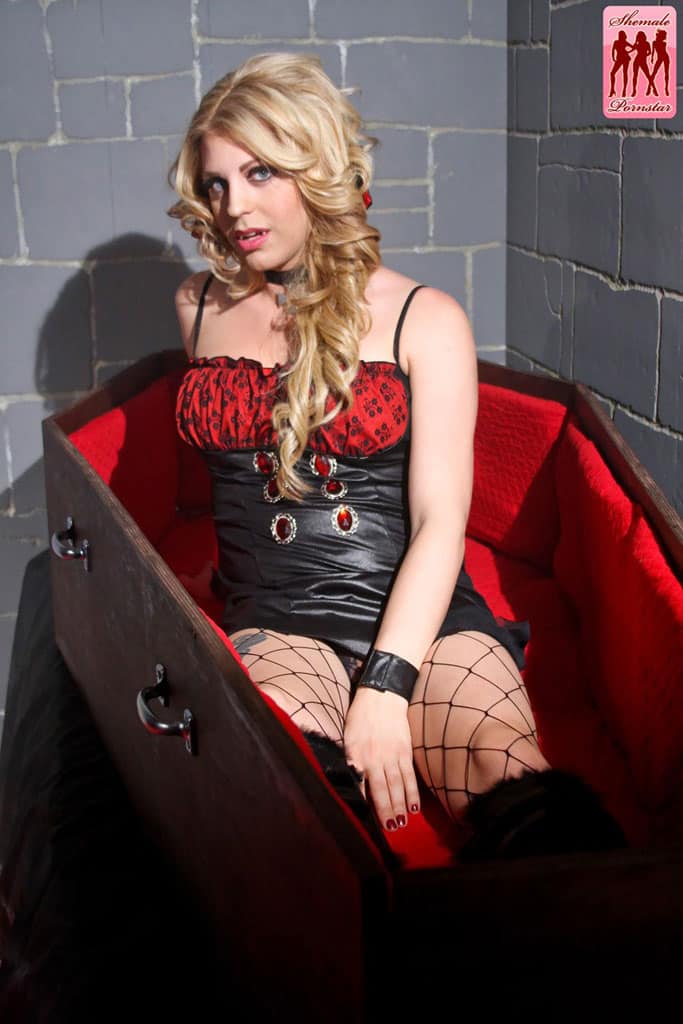 Tyra Scott as a sexy vampire at Shemale Pornstar
As Tyra further explained via her official solo website;
"Getting into the adult entertainment industry had always been something that interested me, because it wasn't mainstream. So I found an ad on CraigsList for TS Adults Models and shortly thereafter I did my first shoot for Shemalestrokers.com and that began my career in the adult industry".
Tyra discussed shooting her first ever sex scenes for Shemale Strokers during her caramels t-girls interview, noting that;
"My first shot with SMS was so long ago, I was a Shemale Strokers baby back then, lol. I can't honestly can't remember how it first happened, whether it was a Craigslist ad I answered or if it was in reply to my SexyJobs.com resume, but I am 100% grateful for it. If it wasn't for SMS, I wouldn't have all the opportunities I have now. SMS introduced Tyra Scott to the world…There always come a point when you know you need to grow, and I will still be doing work for SMS without a doubt. My roots are with Shemale Strokers. LOL. I was so happy to get hooked up with SMC Productions, and that came about from my resume on sexyjobs.com. It was a great shoot and the pictures are amazing. I think everyone is going to be pleasantly surprised. My Shemale Yum shoot all came about basically from me blowing up their email. The producer was crunched for time, be we were able to knock it out".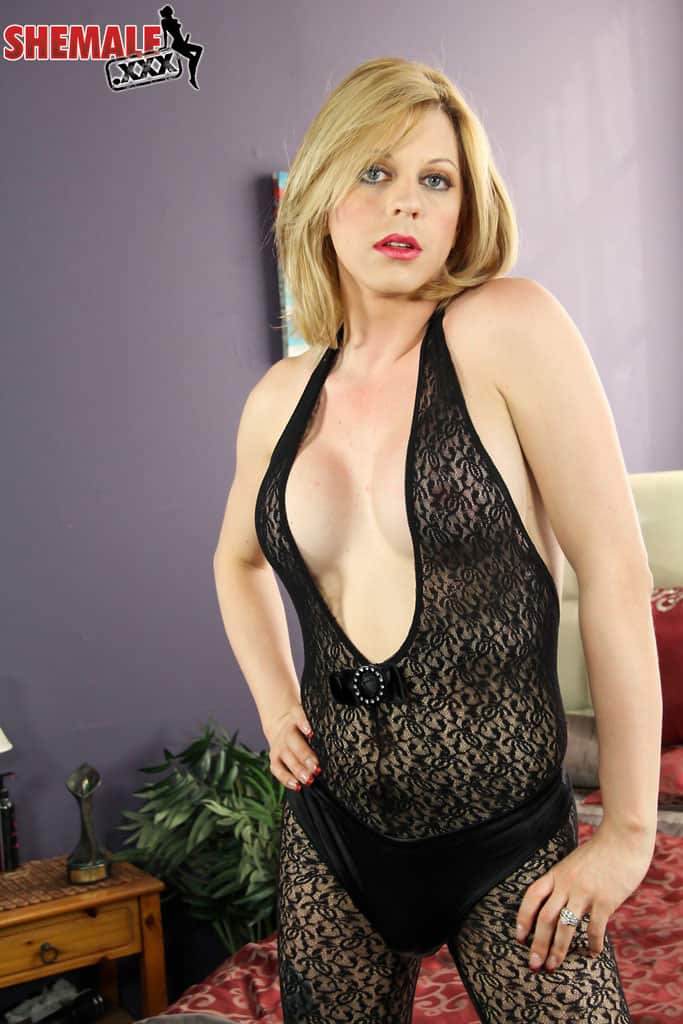 After impressing She Male Strokers director Sammi Mancini with her initial sex scenes, from 2007 until 2015 Tyra would become a frequent feature within Sammi's popular TS DVD series She Male Strokers. Tyra appeared in She Male Strokers 23, 34, 43, 45, 48, 55, 59, 62 and 73 which enabled her to perform alongside numerous industry leading TS stars including; Allanah Starr, TS Noriko, Domino Presley, Joanna Jet, Mia Isabella, Amy Daly, Wendy Williams, Jonelle Brooks, Kelly Klaymour, Khloe Hart, Morgan Bailey, Venus Lux, Sienna Grace, Eva Cassini, Penny Tyler and Kelli Lox.
Many of these She Male Strokers installments were nominated for prestigious adult film awards. For instance, She Male Strokers 55 was nominated for "Best DVD" at the 2012 Tranny Awards and "Transsexual Release of the Year" at the 2013 XBIZ Awards. Similarly, She Male Strokers 59 was nominated for "Best DVD" at the 2013 Tranny Awards and "Transsexual Release of the Year" at the 2014 XBIZ Awards.  She Male Strokers 62 was also nominated for "Best Transsexual Release" at the 2015 AVN Awards.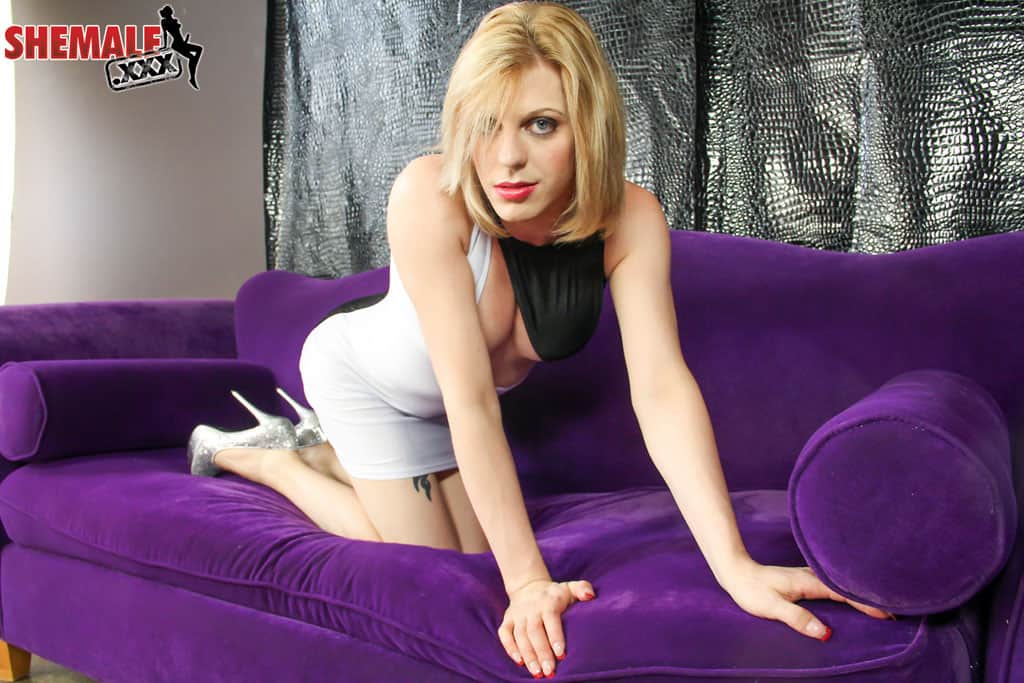 Following this string of She Male Strokers commercial successes, in December 2011 Tyra took a brief hiatus from the adult entertainment industry in order to undergo breast augmentation surgery. Thrilled with the results of this cosmetic procedure, Tyra decided to make her triumphant return to the adult film industry in March 2012 whereupon she showcased her latest assets within the DVD feature release Private Transsexual. Tyra discussed how her new breasts improved her self esteem and bolstered her porn star career during her caramels t-girls interview in July 2012, expressing how;
"I am so excited about my new beautiful breasts. I did get flack from members about not having big breasts, but praise for not having them out weighed out the negative. There was one post from someone who was very nasty about me not having breasts, but not to quote a movie "I let my haters be my motivators" lol".
Similarly, when asked during her June 2012 Tranny Lives interview about which adult film shoot has turned her on the most throughout her entire career, Tyra noted;
"Oh, that's a hard question. I have 2 answers for that though. My first shoot for Shemale Strokers definitely turned me because it was my first shoot ever, and it felt so naughty. But I loved it.  Then a close second was my shoot for Private Transsexual because it was my first shoot with my new beautiful breasts".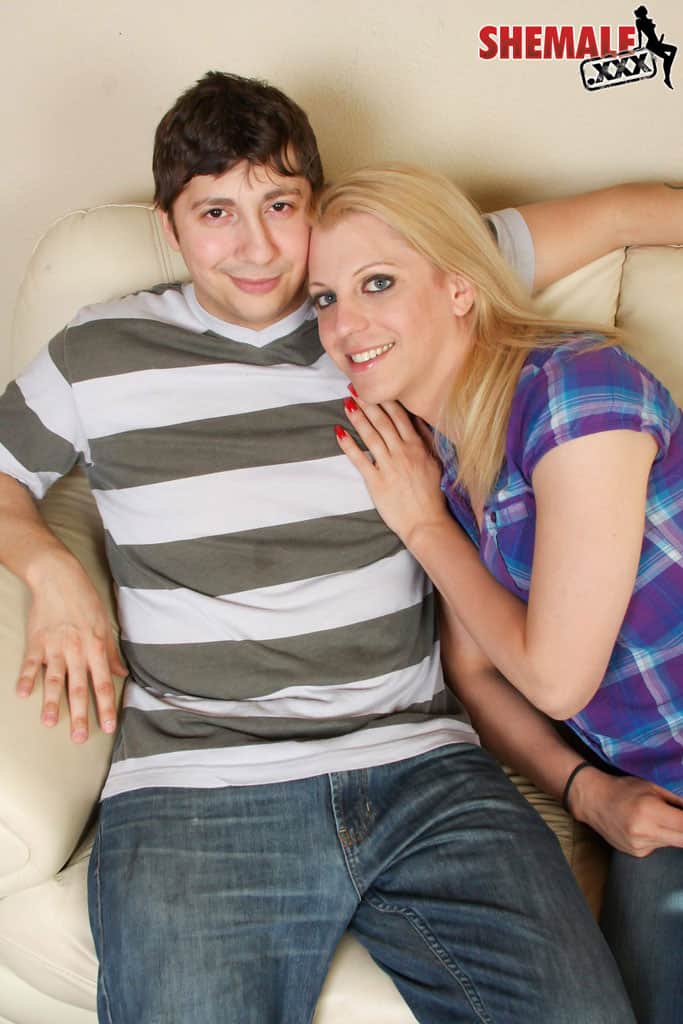 With this renewed confidence spurring her on, Tyra made her TransErotica.com debut in August 2013 with male porn star Rico Steele. The pair starred in a saucy role-play shoot; Scottish Chick Role-Play. In August 2013 Tyra also collaborated with sex toy manufacturers Spunk Lube in order to launch her own exclusive line of Tyra Scott' s Spunk Lube products. Tyra showcased this raunchy merchandise in a saucy sex scene that was distributed via Kink.com. As Spunk Lube representative Jeff enthused via an XBIZ press release;
"I decided to branch out and offer labels of Spunk Lube to porn stars like Tyra who love using Spunk Lube and who tell people how great Spunk Lube is…This way Tyra can now promote her own lube instead of mine. I believe in work that's fun and not work that's work. I enjoy working with Tyra and I appreciate her hard work ethic as well".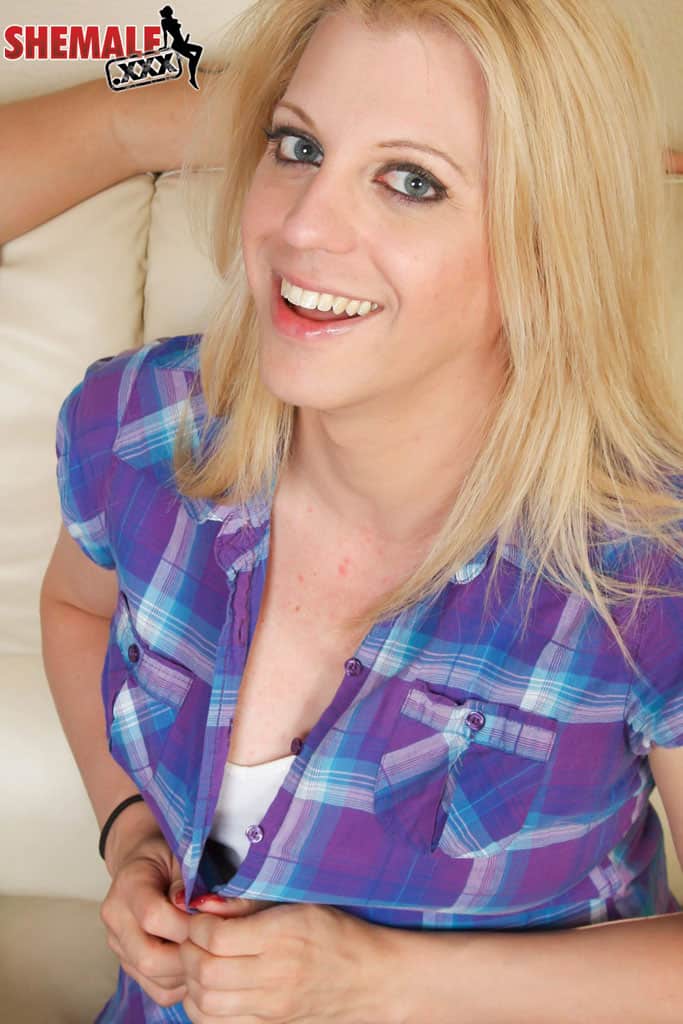 Throughout 2013 and 2014 Tyra continued to establish her reputation as a prominent TS star by conducting a series of radio talk show interviews and magazine modelling shoots. For example, in April 2013 Tyra was a guest co-host on The DerekD Show With Peter Dickem; an internet radio talk show for the Pleasure Press network. Tyra also appeared on the panel talk show Reali-Tea which was broadcast via PapiChuloRadio.com in May 2013. Tyra was also a guest on XXX Porn Star Radio with hostess Alesia Pleasure in November 2013. In addition to these radio talk show appearances, Tyra posed as the cover model for TS Girlfriend Experience 3 in October 2013 alongside fellow cover models Vaniity and Sunshyne Monroe, appeared on the cover of Transformation Magazine (Issue #88) in December 2013, a publication that also included an in-depth interview with the rising TS star, and featured within the 2014 Venus Girls Productions DVD feature release Tricked By A Tranny 7.
Tyra Scott : Official Solo Website
In March 2015 Tyra and her fellow TS star  Jessy Dubai became the first performers to launch their official solo websites via the new TS network TransErotica.com. This exciting new TS network was a collaboration between Your Paysite Partners and Grooby Productions. As Your Paysite Partners' Kenny B stated within an XBIZ press release;
"To be able to start in the TS niche with two of the nicest and hottest TS performers has been a fantastic experience…I look forward to working with friends like Steven (Grooby), a leader in the TS world and the man behind the Transgender Erotica Awards, where Jessy took top honors in a couple categories".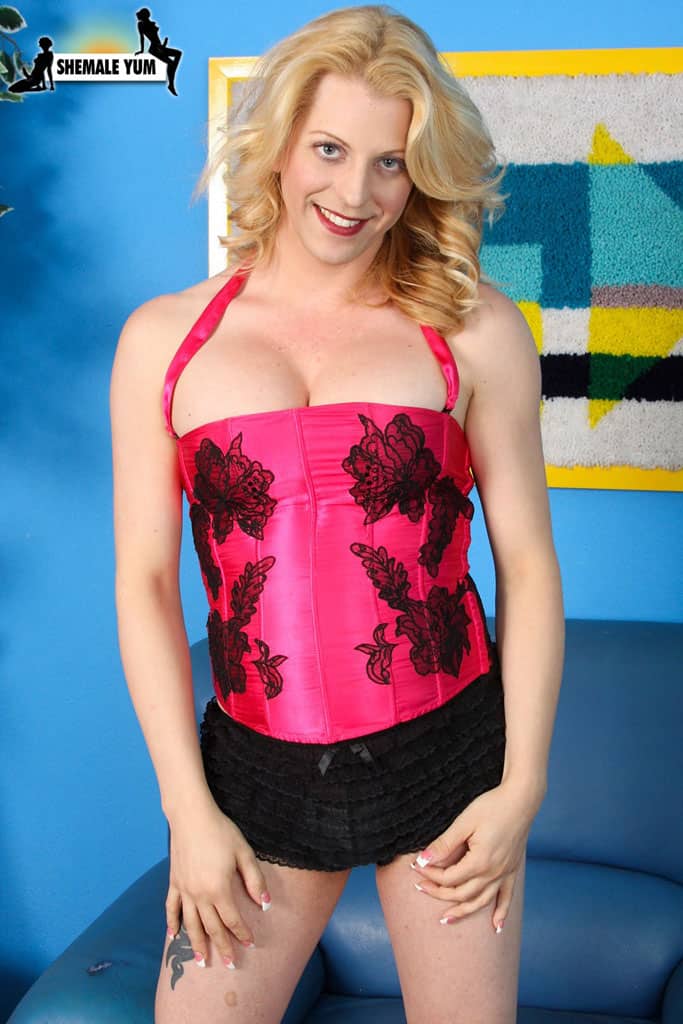 Tyra had previously performed with Jessy Dubai in the CX WOW Productions DVD feature release Tranny Cock Craving. Throughout 2015 Tyra continued to perform with many of her former co-stars in a variety of popular trans-erotica DVD feature releases. Fans of Tyra Scott should check out the Venus Lux Entertainment productions TS Fetishes with Venus Lux, Eva Lin, Charity Bangs, Robert Christian and Will Parks, Tranny Hoes in Panty Hose 3 for Devil's Film, Manage Trois with Tyra Scott and Christian for elizaallure.com, and the Trans 500 Studios DVD feature release TS Girlfriend Experience 3 with Vaniity, Natassia Dreams, Sunshyne Monroe and Rico Steele.
Tyra also collaborated on the highly anticipated Evil Angel DVD feature release Hot for Transsexuals 1 in 2015 that was directed by formidable femdom performer Aiden Starr and starred Jonelle Brooks, Honey Foxxx and Nina Lawless. This incredibly popular Evil Angels DVD feature release was nominated for "Transgender Release of the Year" at the 2016 XBIZ Awards.
In fact, throughout 2015 and into 2016 Tyra appeared in a wealth of popular productions for leading adult film studios such as CX WOW Productions.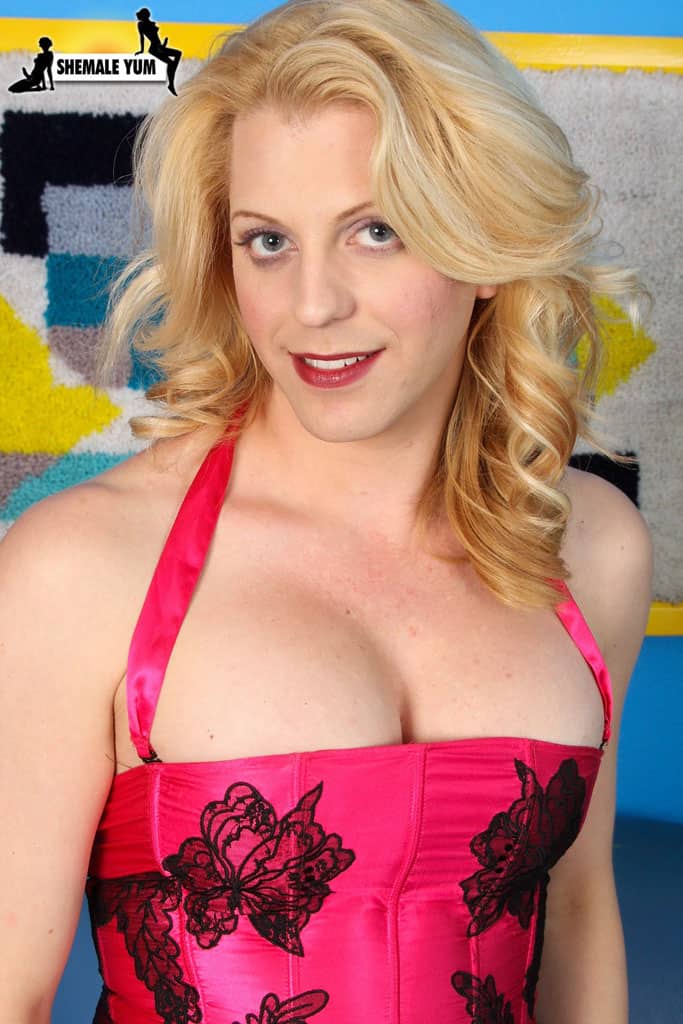 Tyra's performances in Shemale Threesomes with Holly Parker, Robbi Racks, Kylie Maria and Christian XXX are must-see instalments, as are her performances in TS Bikini Party (2014), Tranny Handies (2015) and Tranny POV 2 (2016) with Aubrey Kate and Delia Delions.
In recent years Tyra has starred in a multitude of hardcore sex scenes for online trans-friendly sites such as pure-ts.com. Fans of Tyra Scott will not want to miss such instalments as; Wild Orgy As Three Transsexuals Get Fucked with Holly Parker, Robbi Racks and Christian XXX, Tyra Scott BTS interview, Tyra Scott and Kara Lynn Share A Big Dick in Vegas, TS Schoolgirls Tyra Scott and Riley Quinn Get Fucked After Class, Sexy Blonde Shemale Makes A Big Dick Squirt, Blonde TS Porn Babe Tyra Scott Gets Fucked by Her Boyfriend and Hot Blonde Ts Gets Barebacked After Her Workout and Superstar Snow Bunnies Crave Butt Sex.
Tyra Scott : Adult Film Award Titles & Nominations
Throughout her prolific porn star career Tyra has received a multitude of adult film award accolades and nominations. Some of Tyra's most impressive titles that she has received to date include;
2012: Tranny Awards nominee — "Shemale Strokers Model of the Year"
2012: Tranny Awards nominee — "Best Solo Model"
2013: Tranny Awards nominee — "Best Hardcore Performer"
2013: Tranny Awards nominee — "Best DVD" — TS Girlfriend Experience 3
2013: The Fannys Awards nominee — "Transsexual Performer of the Year"
2014: XBIZ Awards nominee — "Transsexual Performer of the Year"
2015: BBWCon Awards winner — "Best Fetish/Specialty Scene of the Year" — Manage Trois with Tyra Scott and Christian (shared award with Eliza Allure and Christian XXX)
2015: AVN Awards winner — "Best Transsexual Release" — TS Girlfriend Experience 3
2015: BBWCon Awards nominee — "XXX Crossover Co-Performer of the Year"
2015: AVN Awards nominee — "Transsexual Performer of the Year"
2015: AVN Awards nominee — "Best Transsexual Sex Scene" — TS Girlfriend Experience 3
2015: AVN Awards nominee — "Best Transsexual Sex Scene" — TS Girlfriend Experience 3
2016: AVN Awards nominee — "Best Transsexual Movie" — TS Fetishes
2016: AVN Awards nominee — "Transsexual Performer of the Year"
2016: AVN Awards nominee — "Favourite Transsexual Performer (Fan Award)"
2015: Transgender Erotica Awards nominee — "Best Solo Website"
2015: Transgender Erotica Awards nominee — "Best Solo Website"
2016: Transgender Erotica Awards nominee — "Best Solo Model"
2016: Transgender Erotica Awards nominee — "Best Scene" — TS Schoolgirls Tyra Scott and Riley Quinn Get Fucked After Class (shared with Christian XXX and Riley Quinn)
In particular, Tyra was ecstatic to win the title of "She Male Strokers Model of the Year" at the 2012 Tranny Awards and exclaimed during an XBIZ press release how;
"I was literally shocked and excited to win…I have always enjoyed working with Sammy, Stevie and Fran at Strokers and look forward to appearing again. In 2013 I hope to appear on other websites and see where my place is in the industry".
Tyra Scott : Multi- talented Makeup Artist, Business Woman & Webcam Model
Throughout her adult film career Tyra has always been praised for her broad spectrum of talents; from her on-screen charisma to her business acumen. In fact, in addition to her prolific porn star portfolio Tyra has also established a thriving career as a professional accountant! Discussing this 'double life' and how her transition process was received by her accounting colleagues during her Tranny Lives interview, Tyra noted that;
"Well, I made a career change about 1 year into the world of accounting and I absolutely love, which is weird because I HATE math. LOL.  But I work with my best friend, and she does know about me, and has always known.  A few other people I work with also know.  But my "secret" is kept a secret.  I don't blab it around as it really is no bodies business unless I want it to be there business.  I try to have as normal a life as possible…
I do enjoy my full time job, but I also love and enjoy my career in the adult entertainment industry.  I would like very much to spread my wings within the adult entertainment world and work on more projects and really build a name for myself.  I like to succeed and work very hard to succeed".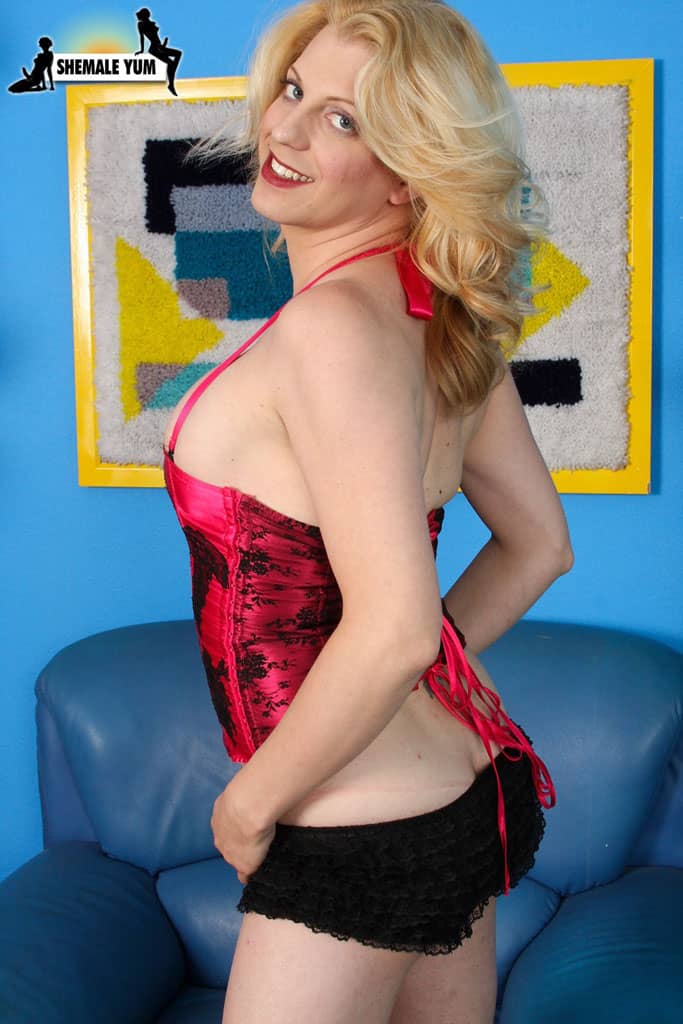 Another interesting anecdote that you may not know about Tyra Scott is the fact that she does her own hair, makeup and nails for all of her modelling shoots, DVD feature releases and online sex scenes. Tyra has been able to execute an immaculate look for all her adult film performances despite not having acquired any professional beauty training. In fact, Tyra taught herself how to style her hair, apply her makeup and decorate her nails via online video tutorials. As Tyra revealed during her caramels t-girls interview, she actually attained all of these skills;
"By mimicking other photos and watching video of peoples different makeup techniques.  YouTube is amazing for learning new make-up and hair ideas. Last year I did attend beauty school for 6 months but was not able to finish. Though I do wish to go back and graduate from beauty school".  
Tyra confessed during her XCritic column interview that styling herself before shooting a sex scene is one of her favourite aspects of working as a porn star. As Tyra explained when asked 'What is your favourite thing about being an adult performer?' by adult film blogger Apache Warrior;
"This question always gets me because my answer is quite vain. I love getting all done up with the hair and makeup and standing in front of the camera. I would be lying if I didn't say I didn't like it".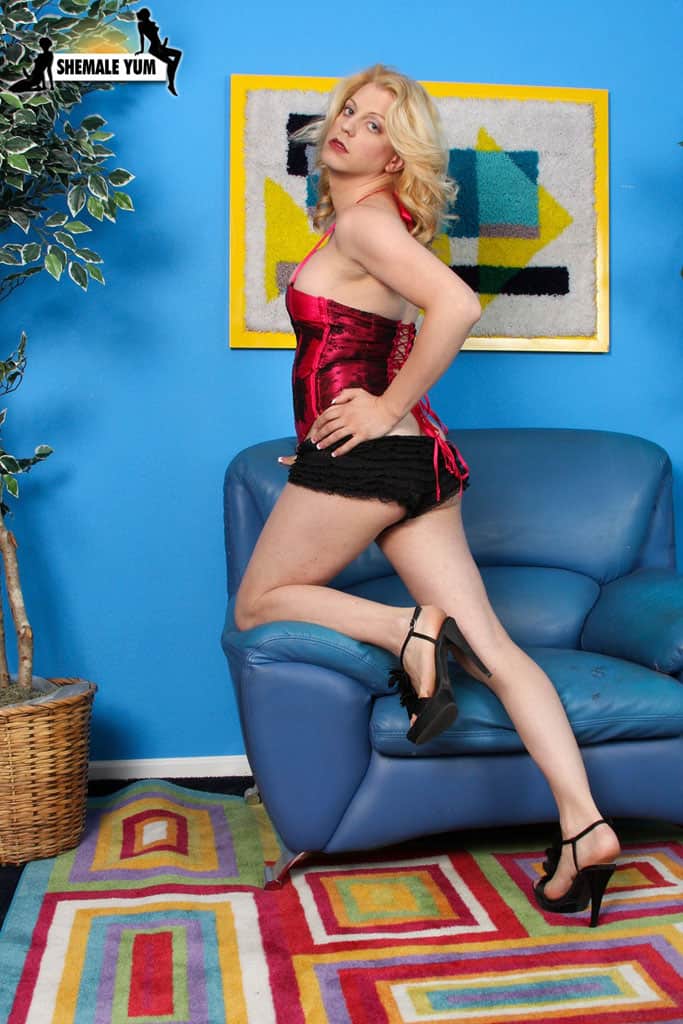 Even though she loves getting dolled up, Tyra also conveyed during this XCritic column interview that she believes a woman's sexiest trait to be the way she carries herself. As Tyra herself commented;
"I think what makes a woman sexy is the way she carries herself. The way she presents herself. It's not the clothes or lack of clothes, but the way she can look at you and cause stir within you. And that is what I strive to do. I think that with one look, you can make a man's heart to race…I think the same about a man. It's about the way he carries himself. A little scruffy and a wicked grin are definitely sexy to me though. Big turn on".
In addition to performing, modelling and honing her beauty training, Tyra is also a keen webcam model and can be frequently found hosting public and private live chat sessions via chaturbate. Tyra has also appeared on live weekly shows for Shemale.com since May 2015. As Tyra explained during her caramels t-girls interview;
"I absolutely love doing cam shows…Doing cam shows actually gives me a chance to talk to my fans. Many of my viewers have been watching me since my first show with ShemaleStrokers.com and that really means a lot to me".
As Tyra conveyed during her XCritic column interview with adult film blogger Apache Warrior;
"Cam shows are so much fun. The cam shows are just another way for me to connect with the fans and talk to them and help fulfil a little bit of a fantasy for them. I have so many viewers that join me in my shows from all over the world and I think that is so great to be able to connect with my fans in other countries".
Tyra Scott : Political Views & Transgender Spokesperson
For many years Tyra has been an ardent supporter of gay marriage and equality for the LGBT community as a whole. During her Tranny Lives interview Tyra expressed her desire to become more involved in social activism and LGBT support groups much like her fellow TS stars Wendy Williams, Chelsea Poe and Brittany St. Jordan;
"I would love very much to help spread the word about equality, especially when it comes to gay marriage.  I live a life that many people look down on with disgust.  But I wish people who are struggling with the decision to transition had a great support system and I would love to help find a way to create that support system and help promote it.  I do know that there are a lot of Transsexual Support Groups out there, but it is hard to find them".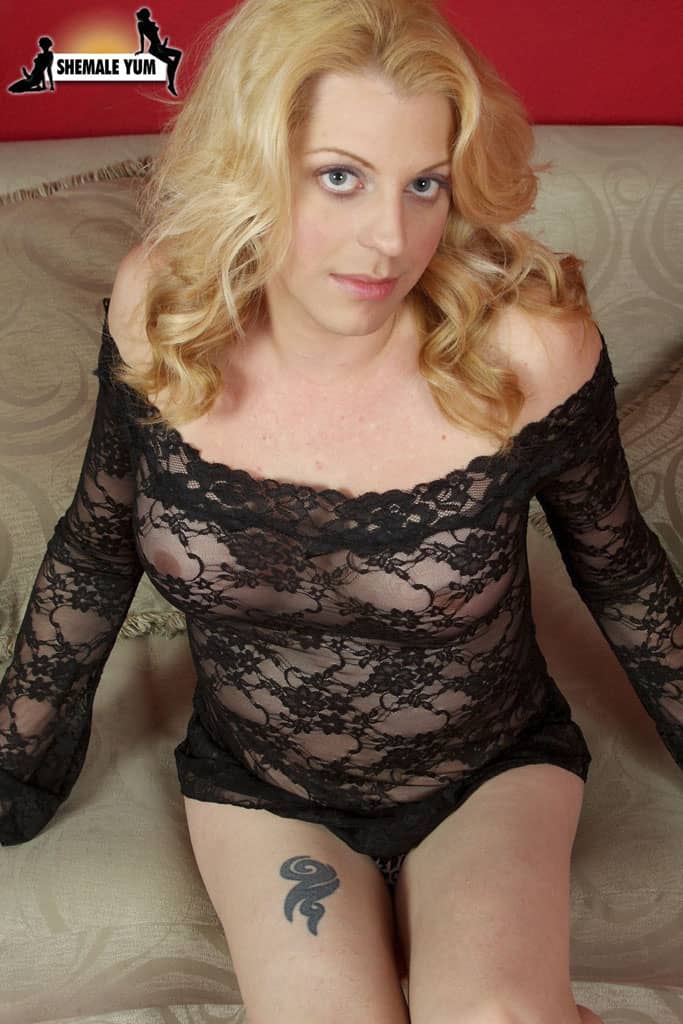 Despite her strong views on important issues that impact the LGBT community, Tyra has revealed that she is not politically active. Within her Tranny Lives interview in June 2012 Tyra explained how;
"My family wasn't really into politics so I really wasn't raised much of it.  I am a registered Democrat, but I honestly believe everyone has their good and bad points, and there is definitely a lot of mudslinging when it comes to politics and that I don't care for at all". 
In an effort to promote a dialogue on LGBT acceptance, in March 2014 Tyra shared testimonials via SexisBack.com. This pioneering website was created by education-focused adult store The Pleasure Chest in order to serve as a platform for performers who wished to  share their views and personal experiences on gender identity, sexual orientation and matters of sexual health. Alongside Tiffany Starr, Kelli Lox, Nina Hartley, Courtney Trouble and many more famous TS stars, Tyra Scott endeavoured to promote thought-provoking discussions about healthy sexuality amongst the transsexual porn industry and the LGBT community as a whole. Many of these TS stars were represented by HotWendyPR, a company run by TS star Wendy Williams. HotWendyPR encouraged the publication of these SexisBack.com testimonials in an XBIZ press release, noting that;
"Transsexual performers have continued to gain acceptance and presence in the mainstream adult industry…We hope that these performers' presence on Sex is Back, a mainstream education site, will help the men, women and couples who appreciate models such as Kelli Lox, Tiffany Starr and Tyra Scott to be more open and proud".
Tyra Scott : BBW Crossover Collaborations
For many years Tyra has performed with BBW porn collaborations with her fellow transsexual performers Wendy Williams and TS Michelle Austin. Some of Tyra's most popular BBW cross-over collaborations include; Some Like It Black with Wendy Williams, Allanah Allure and TS Michelle Austin for HotWendyPR in 2013 and Workout My Tranny Ass with TS Michelle Austin, Wendy Summers, Delia Delions and Christian XXX for CX WOW Productions in 2015.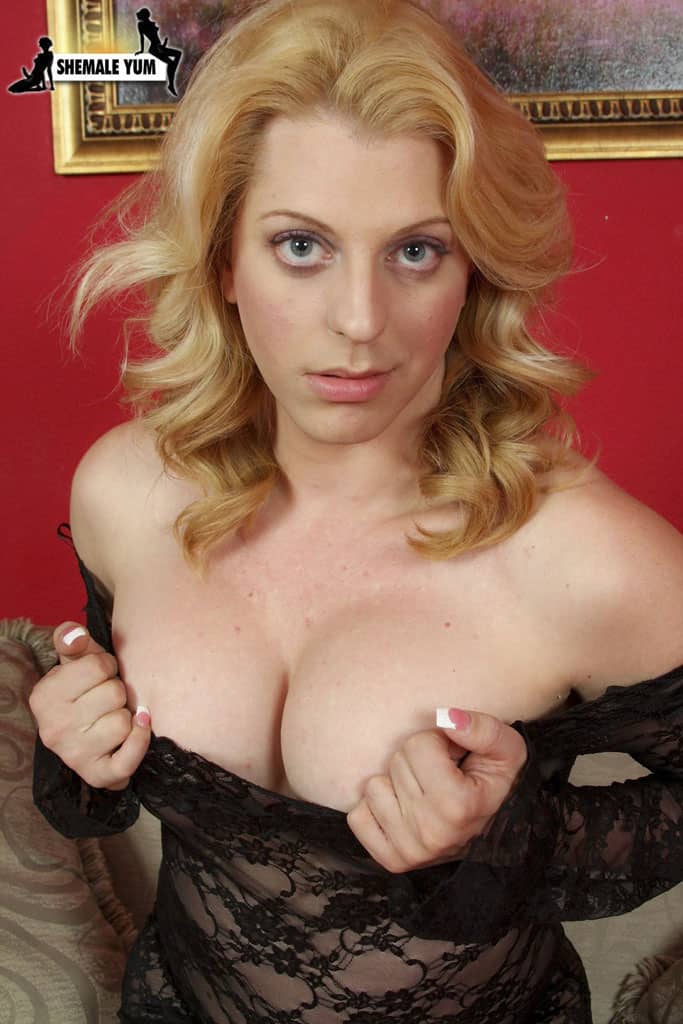 Consequently, in July 2015 Tyra was invited to attend BBWCon in Las Vegas; a three day event which honoured the BBW porn genre. Whilst attending this convention and its accompanying awards ceremony and Hustler Club party, Tyra was nominated for the BBWCon title of "XXX Crossover Co-Performer of the Year" and won the award for "Best Specialty/Fetish Scene of the Year" for her online sex scene with Eliza Allure and Christian XXX. Commenting on these BBWCon award nominations during an XBIZ press release, Tyra enthused;
"This was a total surprise, an overwhelming surprise…I am so thankful to be a part of the BBW world and I am looking forward to more wonderful scenes".
Tyra Scott : TransPride Committee Member & TEA Sponsorship
In November 2015 Tyra became a Las Vegas TransPride committee member and was instrumental in securing the sponsorship of Grooby Productions for the Las Vegas TransPride six day event. This landmark event endeavoured to raise awareness and garner ongoing support for members of the Las Vegas LGBT community and their associated businesses. As Tyra explained during an XBIZ press release;
"Las Vegas TransPride is overwhelmed with excitement that Grooby Productions is sponsoring our six days of events…Grooby Productions has made many strides with Transgendered advocacy and continuing their work with Las Vegas Trans Pride".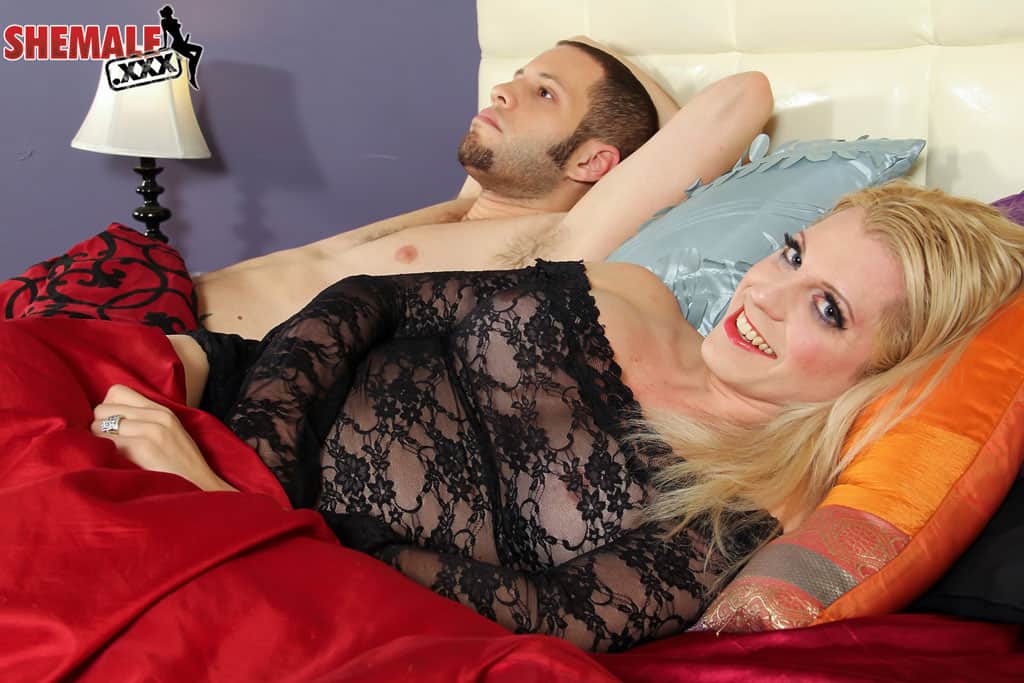 In March 2016 Tyra announced that she would be sponsoring the annual Transgender Erotica Awards alongside TransErotica.com. Tyra enthused about this opportunity in an XBIZ press release;
"I am so excited to be sponsoring the 2016 Transgender Erotica Awards with TransErotica.com…Grooby Productions has been a huge part of my success. And Grooby has done so much not only for myself, but for the trans community. I am thrilled to be a part of something that stands up for trans people in the adult industry. And now, with the support of TransErotica behind me, the sky is the limit".
Kristel Penn, the Marketing and Editorial Director for Grooby Productions, also commented within this February 2016 press release that;
"I've known Tyra for several years now, and she's doing such great work in and outside of the industry. We were thrilled to be part of Las Vegas TransPride back in November because of her, and we're grateful for her support and sponsorship of the TEAs this year". 
In March 2016 Tyra also attended the official 2016 Transgender Erotica Awards Pre-Party which was held at the Cheetahs Club in Hollywood and was presented by T-Girl Events, Tranny Strip NYC, Trans500.com and Eros.com. Tyra attended this exclusive nightclub event alongside her fellow TS stars Domino Presley, TS Michelle Austin, Natassia Dreams, Jane Marie, TS Jesse, Aubrey Kate, TS Foxxy, Kylie Maria, Penny Tyler, Jamie French, Georgina Van Der Meer, Jessy Dubai, Dicky Johnson, Morgan Bailey, Tiffany Starr, Tyra Scott and Tasha Jones.
Tyra Scott : Personal Life & Upcoming Projects
In addition to her wealth of personal and professional achievements, Tyra is also a keen chef and revealed during her XCritic column interview that;
"I have several things I like to do in my free time. I actually love to crochet and knit and sew. My biggest thing is cooking though. I love to be in the kitchen. I am actually in the process of putting all my recipes down on paper".
As well as looking out for a Tyra Scott cookbook in the near future, you can also keep yourself updated on her latest DVD feature releases, public appearances and live adult cam-site sessions by visiting her official social networking channels. With so many projects currently in the pipeline, Tyra Scott's adult film career seems to be going from strength to strength with each passing year!
Social Networks
Official Blog Site : http://tyrascottxxx.com/
Twitter : @tstyrascott
Chaturbate Profile: tyrascott
Kink Profile : http://www.kink.com/model/41733
Facebook : https://www.facebook.com/TyraScottTS
IMDB Profile : http://www.imdb.com/name/nm4127681/