Personal Info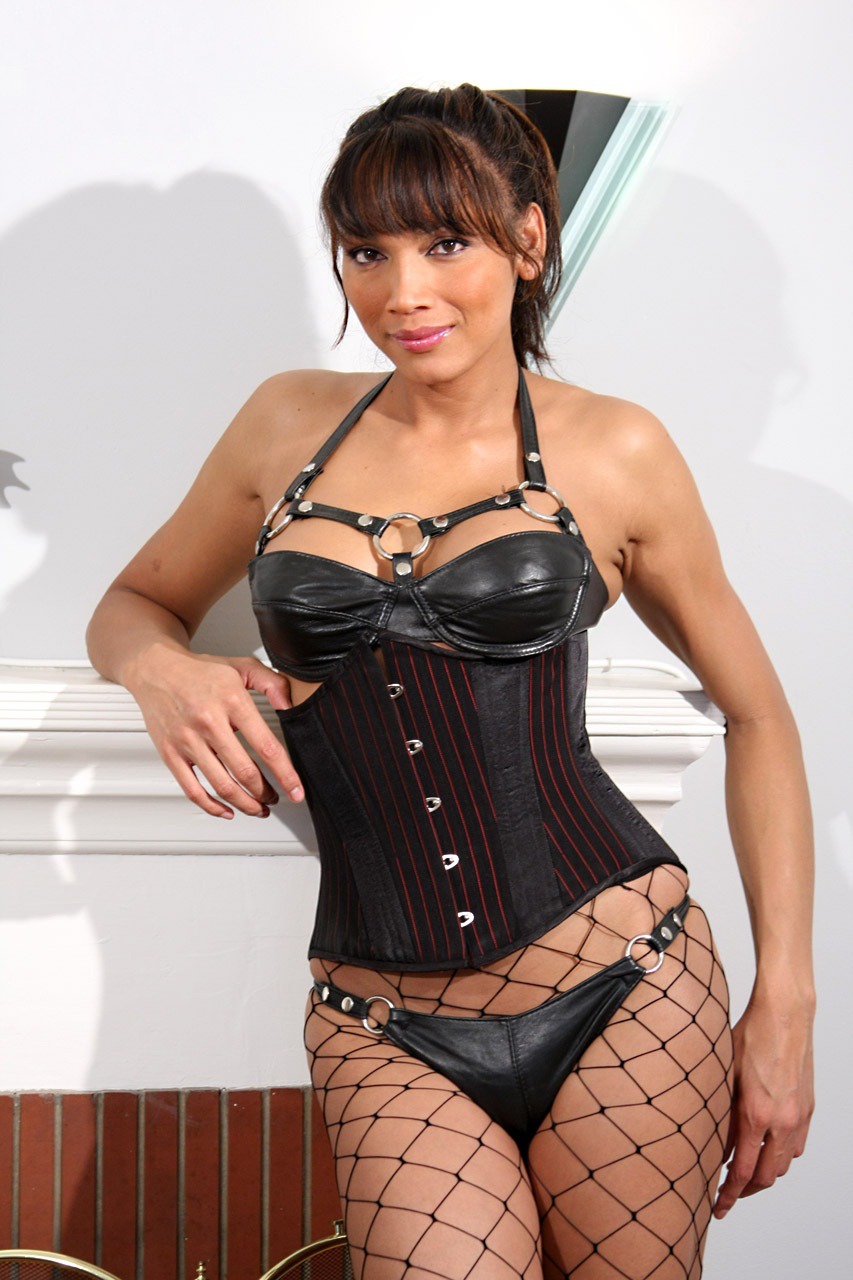 Transsexual Pornstar Yasmin Lee – Image source
Name : Yasmin Lee (born Kosal Sim)
Alias: Nohea Lani, Yasimine Lee
Date of Birth: June 3rd 1983
Home Town : Orange County, California
Measurements :  34C- 22 – 34
Bra/ Cup Size :  34C (75C)
Boobs :  Enhanced
Height : 5'11 (1.80m)
Weight : 138lbs (63kg)
Hair Colour : Brunette/ Black
Eye Colour : Brown
Years Active : 2004 – present
Number of Scenes : 40+
Beautiful, bold and brave, Yasmin Lee has overcome adversity to become one of the most successful transgender actresses to grace both the adult film industry and mainstream media. Perhaps best known for her role as Kimmy Lee, the Thai transgender dancer in The Hangover Part II, Yasmin Lee is a gorgeous, talented and successful transgender porn star, feature film actress and model. This brunette buxom beauty has inspired a wave of content on TS Seduction as well as the adult cam-site chaturbate where she is known to make frequent appearances to eagerly awaiting fans on a regular basis.
Born Yasmin Kosal Sim, the transgender porn star Yasmin Lee's exciting exploits began at birth! In a Heroines of my Life interview Yasmin reveals how her family were Cambodian refugees and that she was born whilst hiding in the deep jungle. As Yasmin explains in her own words;
"There are so many life changing moments in my life but I would say the most dramatic chapter might be my birth. If only I'm a writer. My birth name is Kosal, meaning to bless or one who blesses. It's a unisex name...
For the first time, my mom and dad didn't know what my sex will be at birth. They must have had clear dreams to guide them with the 7 siblings before me. Anyhow, my mom, along with my father, 6 sisters and brother, decided to escape from the concentration work camp in Cambodia. She was 7 months pregnant with me. I was birthed while in hiding in the deep jungle. My family told me bullets were flying, along with the white noise of chaos. It was a rainy night and my sisters gathered around holding banana leaves to help shelter my mom from the rain. Not many can say that their whole family helped to deliver them. One hour after the delivery, she got herself up and we kept on moving…
She refused to let anyone help carry me. She couldn't trust anyone. It's not uncommon to kill the baby when in hiding for the sake of the whole family or fellow runaways. I was told that I was a good baby just as much as luck as I don't make noise. The one time that I cried was when we sat on fire ants and they were biting me all over".
These truly inspiring, humble beginnings alongside her rich Cambodian, Thai, Chinese and Brazilian heritage have formed Yasmin's kind nature, exotic looks and determination to succeed in the face of adversity. Born whilst her parents moved from Thailand to the Philippines before eventually being raised in Orange County, California, this truly international porn star initially had plans for a military career; signing up with the U.S Navy when she was 18 years old. However, after facing harassment from fellow recruits and superiors due to her sexuality, Yasmin decided to leave the military to pursue a career as a make-up artist and drag entertainer. Upon talking about her initial jobs within the entertainment industry and her transition process, Yasmin describes how;
"When I first came to Los Angeles, I was a make-up artist and a drag impersonator showgirl along the coast by night. I enjoyed being on stage and performing. This was before I started my transitioning. I was fortunate enough to be in the right circle. Not many artists were fortunate enough to start right away working with Michelle Rodriguez, Paris and Nikki Hilton, Nicole Richie, Carmen Electra, Pussycat Dolls, etc".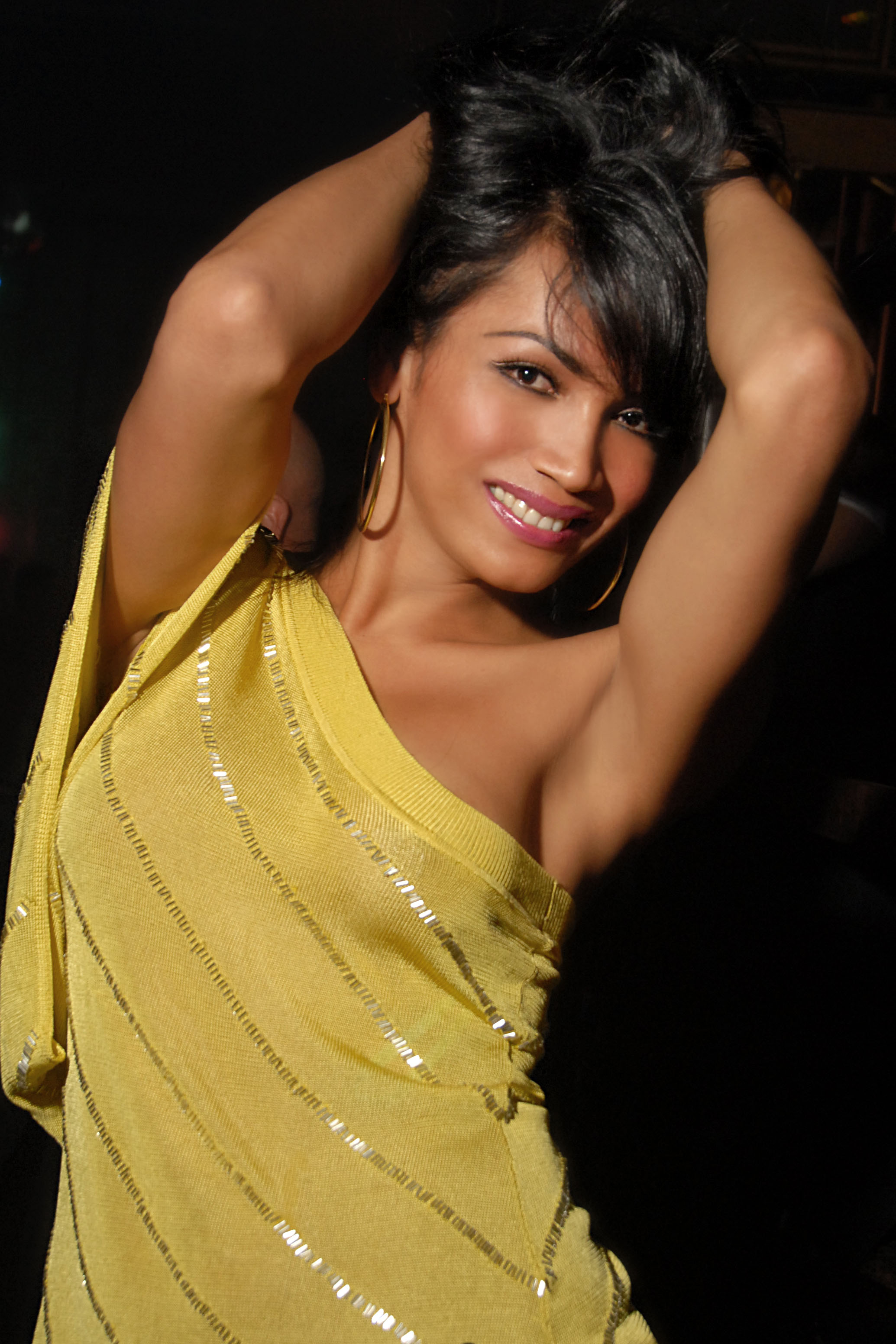 Yasmin Lee in 2009 – Image Source
Whilst working as a make-up artist on music sets and for Hollywood actresses, Yasmin began her transition process by undergoing breast augmentation surgery and circumcision procedures. Describing this period of her life, Yasmin expresses how;
"When I started to transition, I started working less and less. Not because I wasn't being hired but my own fear of facing people that knew me as a boy. Really wish I had role models or a support group to help guide me during that time. I was then introduced to a friend from the production company Anabolic. I started to do make-up for the girls and those extra money really help spring my transitioning. I was asked to help create their "Tgirls" line for an otherwise straight company…One week, after dealing with the girls repeatedly flaking on my shoot, I decided to jump in front of the camera. I didn't think much about it. I was comfortable after being around that world for some time now".
As such, Yasmin eventually decided to leave her career as a make-up artist due to fear of transphobic discrimination and launched a career as an assistant working on pornographic productions. Her cinematic talents were quickly spotted and her role as assistant was soon upgraded to casting director.
This career shift proved to be the instigator for Yasmin's porn superstardom as one day she took the place of a woman who did not show up for a scene. Thus began the legacy that is Yasmin Lee! Her distinctive beauty, unique talents and raw determination have enabled her to evolve into one of the most respected and recognisable faces within the adult film industry. During the initial years of her porn star career, Yasmin earned multiple adult film awards and nominations including;
2008: AVN Awards nominee — "Transsexual Performer of the Year"
2009: AVN Awards nominee — "Transsexual Performer of the Year"
2011: Kink.com Awards winner — "Kinkiest TGirl Domme"
2012: AVN Awards nominee — "Transsexual Performer of the Year" & "Crossover Star of the Year"
Inspired by her cinematic success and strong fan base with the adult film industry, Yasmin was determined to cross over to mainstream media. By appearing on popular TV programmes such as The Tyra Banks Show and The Maury Povich Show, Yasmin was able to discuss transgender issues on a national platform and establish her career aspirations as a mainstream actress.
Yasmin's looks, skills and talents were quickly spotted by casting directors and she secured a role as "The Succubus" in the 2011 independent horror/action film Red Ice. As described on succubus.net, Yasmin played a character who was;
"Born in Cambodia in 1528, the Succubus was a princess, one of the King's sisters. Hounded by the King to help manage the country's river commerce and, increasingly, its international trade through the Mekong Delta, the Succubus left the capital and settled in Angkor where, unencumbered, she could pursue her sexual interests
She died from the bite of a pit viper on her 29th birthday, at which time it was estimated her sexual conquests had exceeded 2000 men and women. In Hell, she soon discovered — much to her surprise — a talent for management, and quickly wrested control of the Tasmanian territory from a moribund demon. As she consolidated her power, she drove westward with her hordes, a travelling bacchanal which few mortals could resist".
The film was shot in San Francisco throughout 2009 and was commercially released in 2011. Although Yasmin was required to wear facial and torso prosthetics for her role as the Succubus which took five hours to apply, her previous career experience as a make-up artist meant that these special make-up effects did not phase her. After all, it was worth spending these hours in the make-up chair because it was actually her role as the Succubus which led to her being discovered via IMDB by casting directors who contacted for a role in the 2011 comedy feature film The Hangover: Part II. As Yasmin explains in her previously referenced Heroines of my Life interview;
" I was fortunate enough to run into these casting calls. Though I was living in Hollywood, I was not seeking out roles….I had nothing better to do and gave it a go. I walked in with no head-shot, resume, or expectation. A few days later they called me for a second reading, followed by the 3rd for the director Todd Philip. At the end of the reading, he asked me "so what do I do?" With a half a second hesitation I said I do domination porn. "I just can't help wanting to make grown men cry." Will never forget that awkward moment of why in the world would I say that…After that I received a phone call saying that it's down to me and a few girls but they are not even sure about that until they audition the girls in Thailand. I should know in a few weeks".
Without a doubt, her role as Kimmy in The Hangover: Part II has been Yasmin's most high profile mainstream media appearance to date. In fact, even The Huffington Post stated that;
"The highest profile fictional transgender film character of 2011 was the controversial role of Kimmy in the blockbuster "The Hangover 2″ ".
Although her appearance in The Hangover: Part II attracted criticism for its portrayal of the transgender community, Yasmin has been very open about how well she was treated throughout the entire filming process. Unlike previous career ventures where she was subject to prejudice and discrimination, Yasmin has expressed in multiple interviews how;
" I was treated like a star. Everything from what was in my trailer to having it next to Bradley Cooper…The experience was amazing. It was in and out to wardrobe and hair to work on the looks before shooting. We pick the outfit that I looked the best in and based on that, manufactured the outfit for all the girls in the movie in my scenes. I get to say I help pick and design that pink and white outfit for the girls…
I had an amazing time hanging with all the boys and the crew. Everyone from the lighting guy to my people for hair, make-up, and wardrobe assistance, to the studio big fish treated me with love and respect. As a matter of fact, though I'm a very proud transsexual woman I didn't feel like I was one on-set. I was there simply as an actress and they treated me as such. Not for one second did my gender become an issue. Can't say the same for Crystal the monkey. She had to play the part as a male monkey but did so fiercely".
Furthermore, in multiple interviews Yasmin has discussed how she feels that the role of Kimmy is not damaging to the transgender community in the manner that many critics have proclaimed it to be. Speaking in an interview with translabyrinth.com, Yasmin ardently advocated how;
"In my personal opinion, and by the way I was born in Thailand, I think that Kimmy is a very fair portrayal of a transsexual woman. Does she represent all transgender people of the world? No. Anyone that has gone to Thailand would agree that among the 300,000 transsexuals living in Bangkok, there are many who are working in the mainstream and are more accepted there than anywhere else in the world. But the majority of Thai transsexuals are sex workers. There are clubs after clubs of Go-Go dancing transgender women. Actually, it's a very big part of Thailand's economy, and these girls are loved, accepted and acknowledged by the people, the government…
I feel that this movie has done a great deal for the LGBT community in terms of exposure. The role of Kimmy was never meant to be a role model, or someone that represents the community as a whole. For me it was a means of income as well as an opportunity to shed light on who I am, and more importantly our community and our struggle for equality. With all the hype and talk about my controversial scene, it will lead to open discussion and then even more opportunities to educate".
The commercial success of The Hangover: Part II resulted in Yasmin featuring in another mainstream feature film Promoted which was released in 2015. Yasmin starred as Ying in this sexy comedy flick which parodies the inner workings of a chaotic Los Angeles Advertising Agency.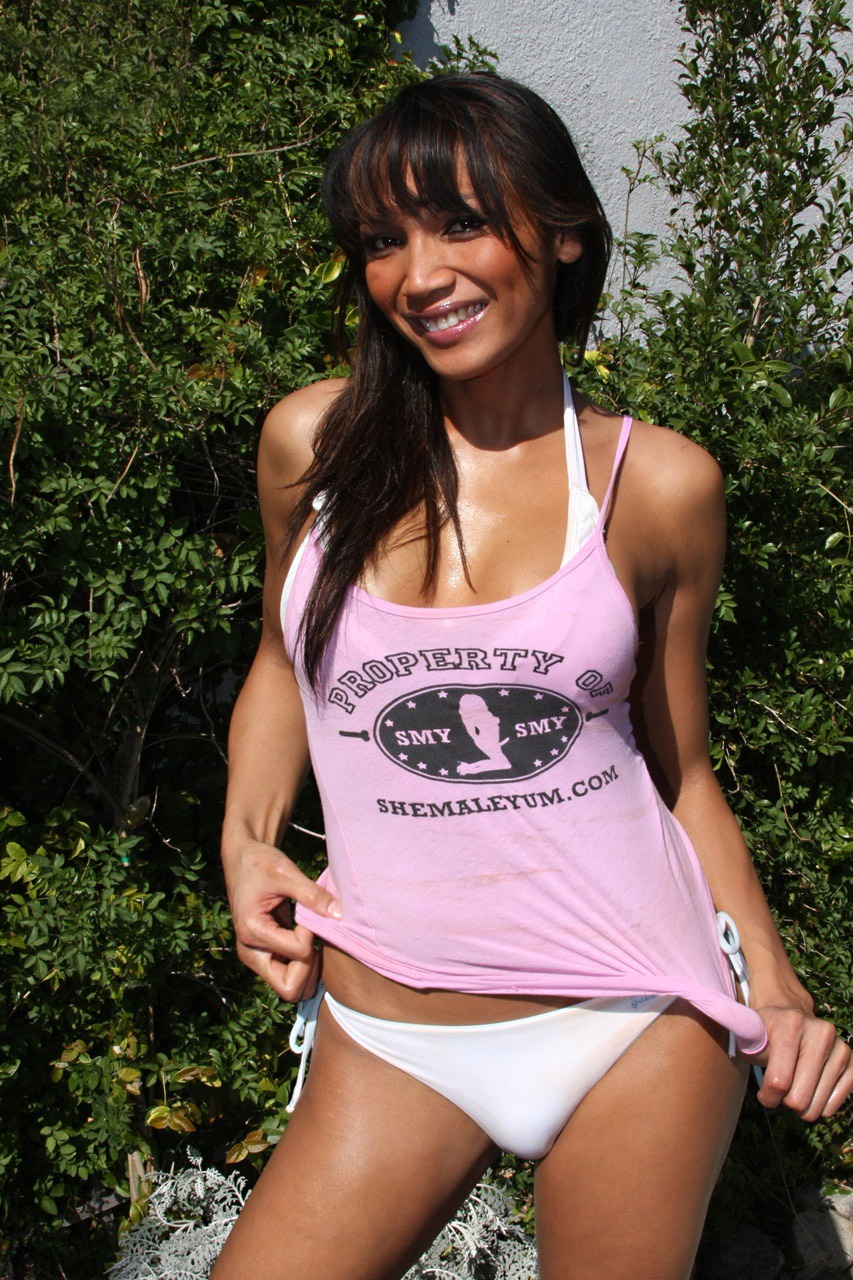 Yasmin Lee at Shemale Yum – Image source
In addition to her cinematic talents, Yasmin also continues to be a dedicated member of the American Civil Liberties Union (ACLU) and frequently appears at LGBT events to raise awareness towards transgender issues as well as to combat transsexual prejudice and discrimination.
When asked about her future career plans and whether she has any advice for aspiring transsexual actresses, Yasmin has advocated how;
 "Just like anything, if you put in the time and effort to work, you will get paid. I was fortunate enough to be loved and desired. If you follow my career, you'll realize that I attempt to reach for stardom. There was no promotion or networking to really play the game. My success truly came from fans and their marketing of me. I sure have. I think it is a great platform for the girls to celebrate their beauty, talent and intelligence. Not to mention the opportunity to come out and enjoy each other as a community". 
Her immense gratitude to her fans means that, despite her successful mainstream media career, Yasmin has never neglected to interact with her loyal porn star fan base. She continues to makes frequent appearances on the adult cam-site chaturbate where her adoring fans can tune in for a chat with the star herself or to enjoy watching Yasmin perform one of her famous stripteases. Yasmin also continues to update her fans with news about her latest projects via social media, so why not check out the links below to keep yourself up to date with the upcoming productions and public appearances of this transsexual superstar?
Social Networks
Twitter : @TSYasmin
Facebook : https://www.facebook.com/yasmin.lee.507
IMDB : Official Yasmin Lee Page
Chaturbate : Official Yasmin Lee webcam videos