Within the last decade the efforts of pioneering adult film directors, performers and trans-friendly production companies have created some show-stopping TS DVD series. These groundbreaking DVD series have achieved significant commercial and critical successes across the globe which in turn have enabled a wealth of phenomenal transsexual performers to establish thriving careers within the adult entertainment industry. If you have been looking to discover some of these fantastic adult film franchises then listed below are our top 10 picks for the best transsexual DVD series in recent years;
1 – TS Playground (Evil Angel 2012 – present)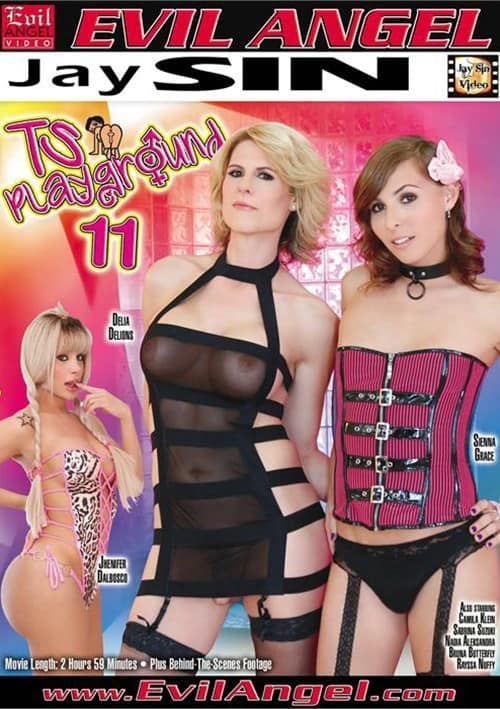 Launched in February 2012, TS Playground is one of Evil Angel's longest running TS DVD series. The first ever TS Playground feature release starred Eva Lin, TS Foxxy, Kimber James, Mandy Mitchell, Kitty Kaiti, Cherry Torn, Tameka, Morgan Bailey and Danni Daniels and it was nominated for "Best Transsexual Release" at the 2013 AVN and XBIZ Awards. Directed by Jay Sin, TS Playground has since spawned 24 sequel releases as well as a special edition DVD compilation titled TS Playground's Best of TS on Female.
Over the years TS Playground's DVD sequel titles have earned Jay Sin and their stellar casts multiple "Best Transsexual Release", "Best DVD" and "Best Transsexual Sex Scene" nominations at the AVN, XBIZ, Nightmoves and Transgender Erotica Awards. With TS Playground 25 due for commercial release in January 2017, this show-stopping TS DVD series looks set to continue to enthral fans for many years to come.
2 – Rogue Adventures (Evil Angel 1998 – present)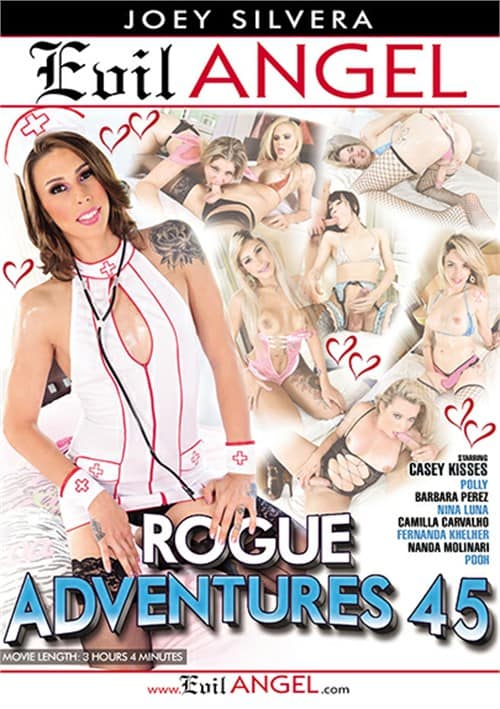 First distributed in 1998, Joey Silvera's best-selling Evil Angel DVD series has dominated the "Best Transsexual Release" category at the AVN, XBIZ, VOD and Transgender Erotica Awards for the past decade; with Rogue Adventures 25 (2005) winning "Best Transsexual Release" at the 2006 VOD Awards, Rogue Adventures 27 (2005) winning "Best Transsexual Release" at the 2007 VOD Awards, Rogue Adventures 37 (2011) winning "Best DVD" at the 2011 Tranny Awards and Rogue Adventures 38 (2013) winning "Best Transsexual Release" and "Best Transsexual Sex Scene" at the 2014 AVN Awards.
In addition to earning Joey Silvera and Evil Angel a string of adult film awards as well as a wealth of notable nominations, the Rogue Adventures DVD series has also become famous for showcasing rising Latina TS starlets alongside fan-favourite American transsexual performers. From Vaniity, Eva Lin and Wendy Williams, to Chelsea Marie, Mia Isabella, Giselle Bittencourt, TS Foxxy, Alessandra Ribeiro and Juliana Souza among many more, Rogue Adventures has featured some of the hottest TS stars from across the globe!
3 – She-Male XTC (Evil Angel 2007 – 2013)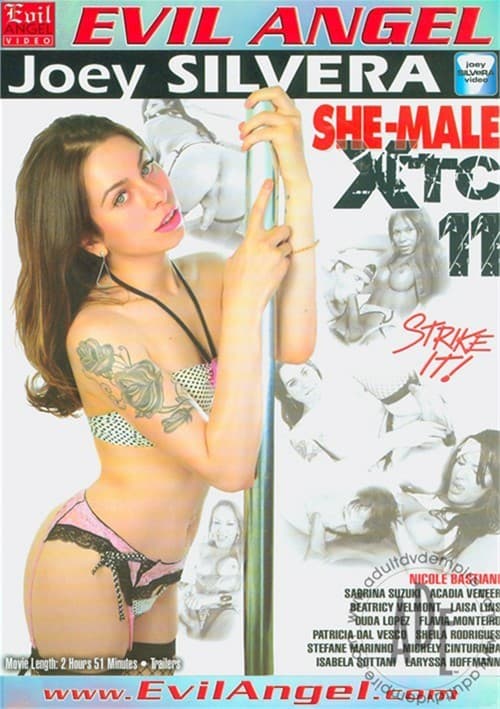 As mentioned above, throughout his directing career Joey Silvera has achieved landmark successes by pairing up Latina starlets with American adult film stars. In this manner, fans of Rogue Adventures will also love the TS DVD series She-Male XTC which Joey Silvera produced in collaboration with Evil Angel from 2007 until 2013. These 12 She-Male XTC DVD titles feature some sultry sex scenes with some of the adult entertainment industry's hottest TS stars including; Carla Novaes, Vaniity, Jesse Flores, Wendy Williams, Bruna Butterfly, Laisa Lins, Beatrize Velmont, Carmen Cruz, Brittany St. Jordan, Venus Lux, Aubrey Kate, Sunday Valentina, TS Doll, Khloe Hart, Alessandra Ribeiro, Adriana Rodrigues, Bailey Jay, Domino Presley, Morgan Bailey and Honey Foxxx. What more could you ask for?
4 – Shemale Strokers (Rodnievision / Mancini Productions 2003 – present)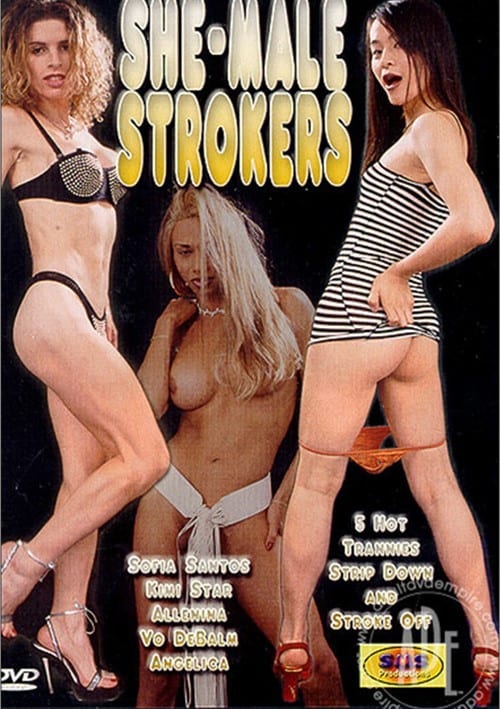 No top 10 TS DVD series list would be complete without mentioning Sammi Mancini's groundbreaking Shemale Strokers saga. Since 2003 this Rodnievision / Mancini Productions DVD series has served as a springboard through which many prominent transsexual performers have launched their adult film careers including Domino Presley, Morgan Bailey, Aly Sinclair, Hazel Tucker, Mia Isabella, Brittany St. Jordan, Tiffany Starr, Jesse Flores, Venus Lux, Jonelle Brooks, Chanel Santini, Isabella Sorrenti, Natalie Mars, Korra Del Rio and Sienna Grace but to name a few!
As matters stand the Shemale Strokers franchise remains just as popular as ever; with its latest installment, Shemale Strokers 83, showcasing rising TS starlets Casey Kisses, Sue Lightning, Leanna Lawson, Chanel Santini, Aspen Brooks and Nadia Love to an avid international audience. As Sammi Mancini himself stated within an October 2016 AVN press release;
"This latest edition of She-Male Strokers is definitely one of the best we've put out this year…It features fan favorites and even a few newbies. Every scene is amazing, and each girl delivers a command performance. The fans are really going to enjoy this one".
5 – Transsexual Babysitters (Devil's Film 2006 – present)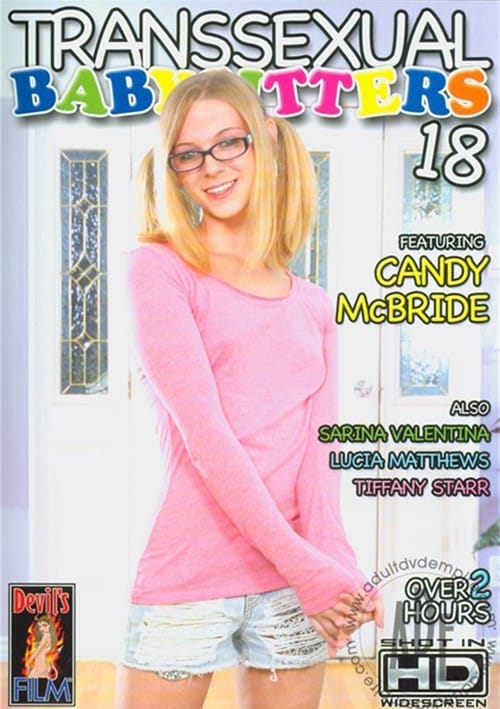 The first Transsexual Babysitters feature release was produced by Devil's Film in 2006 and starred Hangover 2 actress Yasmin Lee as well as Danielle Foxxx, Carmen Cruz and Sasha Ligaya. Over the years there have been 28 Transsexual Babysitters DVD sequels which have featured transsexual superstars Gia Darling, Kimber James, Jane Marie, Jessica Host, Aubrey Kate, Jesse Flores, Amy Daly, Khloe Hart and Holly Parker. Devil's Film have also released two Best of Transsexual Babysitters DVD compilation titles within which they have chosen some of the sauciest sex scenes from this best-selling franchise. Most recently Transsexual Babysitters 28, which was directed by Jim Powers, won "Best TS Release (Fan's Choice)" at the 2016 Nightmoves Awards; illustrating that this fan-favourite TS DVD series seems to be growing from strength to strength!
6 – Next She Male Idol (Evil Angel 2009 – 2014)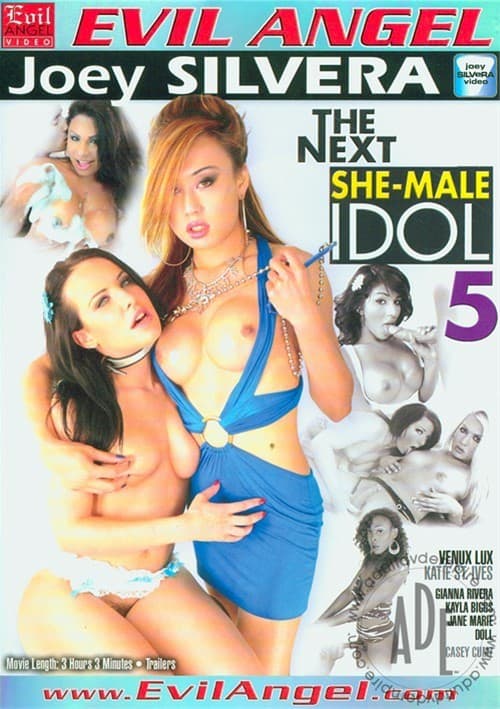 Once again we return to the prominent transsexual porn director Joey Silvera to provide us with another best-selling TS DVD series! Next She Male Idol has been captivating fans of Latina and American TS starlets since 2009 and over the years its 10 DVD sequel releases have been nominated for a string of "Best Transsexual Release", "Best Transsexual Sex Scene" and "Best DVD" accolades at the AVN, XBIZ and Transgender Erotica Awards. As XCritic adult film critic Apache Warrior explained within his review of Next She Male Idol 6 (2013);
"The Next She-Male Idol 6 is the sixth installment to one of the very best series in the transsexual genre. Director Joey Silvera has a way of finding top-notch tranny performers and matching them up with adult female performers to create high quality performances that generate good chemistry between them. A big reason why his tranny films have always been successful with mainstream adult viewers and not solely with the transsexual fans is because he tailors it towards the average gonzo porn fan. He realizes that good fucking is good fucking regardless of who is performing the fucking".
If you love the scintillating sex scenes included within Joey Silvera's Next She Male Idol feature releases then we also recommend watching his similarly styled TS DVD series spin-offs Black She Male Idol: The Auditions (2010 – 2013) and She Male Idol: The Auditions (2010 – present).
7 – TS Seduction (Kink 2011 – present)
Although it is technically a web series, TS Seduction has become one of the most popular adult film franchises within the fetish lifestyle market as well as within the transsexual porn industry as a whole. Filmed for the fetish porn site Kink.com from 2011 onwards, TS Seduction spectacularly showcases both prominent transsexual performers and rising TS starlets in a variety of femdom, BDSM and fetish porn sex scenes alongside all manner of male, female and transsexual co-stars. If you are a fan of TS Seduction then we recommend you check out the Kink.com DVD titles TS Seduction Volume 1 and Volume 2 which feature some of the raunchiest sex scenes from this long-running TS saga. TS Seduction fans will also want to check out such compelling content as; The Devil In A Red Dress with Chanel Santini, Goddess Venus Lux Punishes Arrogant Boy Toy, Yes, Mistress with Chelsea Marie, Blackmailed with Aubrey Kate and Honey Foxxx Corrupts Young Innocent Couple.
If you just can't get enough of TS Seduction then we also recommend viewing Kink.com's TS Pussy Hunters web series that depicts some captivating collaborations between Kelli Lox, Venus Lux, Tori Mayes, Isabella Sorrenti, Chelsea Marie and Morgan Bailey with female porn stars such as Ella Nova, Francesca Le, Maitresse Madeline Marlowe, Mona Wales and Bella Rossi.
8 – Transsexual Prostitutes (Devil's Film 1998 – 2014)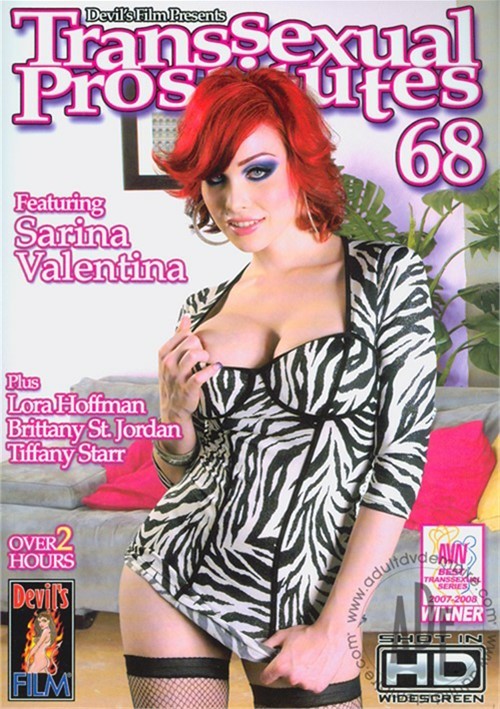 Comprising of 76 best-selling DVD titles, the long-running Devil's Film TS saga Transsexual Prostitutes has been a commercial and critical success since 1998; going so far as to win the coveted title of "Best Transsexual Series" for two years in a row at the 2007 and 2008 AVN Awards! Over the years Transsexual Prostitutes has formed the foundation of Devil's Film's TS DVD arsenal alongside such captivating collections as Transsexual Babysitters, Transsexual Cheerleaders, Transsexual Gang Bangers and Transsexual Superstars among others. Still a fan-favourite among transsexual porn enthusiasts across the globe, the most recent installment within this franchise, Transsexual Prostitutes 76 (2014), received a glowing endorsement from XCritic column writer Apache Warrior who advocated within his July 2014 film review that;
"This film is solid. The four trannies provide pretty good strokable and exciting stimulation. Amy Daly is a natural whenever she works for this company. It's not a surprise that they keep using her. I applaud Devil's Films for placing Chanel Couture on the DVD cover since not many Black performers get the sole cover photo when the film is not an all-Black title. Angelina Torres and Stefani Special have good strokable performance appeal. I recommend this film".
9 – Trans-Visions (Evil Angel 2015 – present)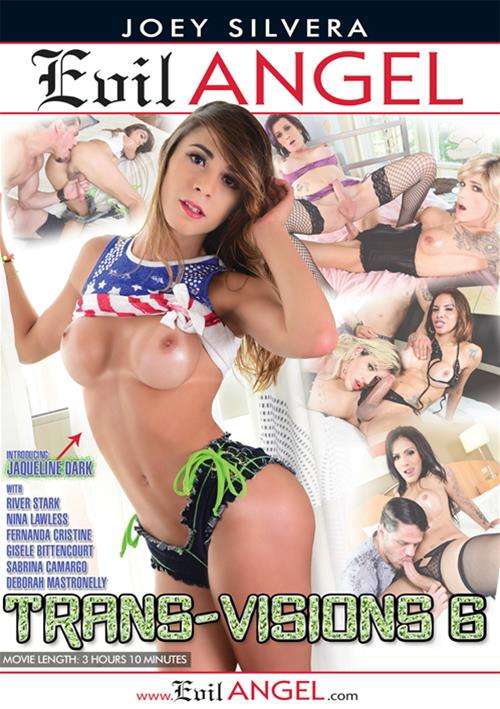 Although Trans-Visions has only been running since 2015, this popular Evil Angel TS DVD series has already amassed an ardent fan following and has received widespread critical claim within the adult film industry. For instance, adult film critic Apache Warrior has continued to endorse the Trans-Visions DVD series and enthused within his online XCritic film review of Trans-Visions 1 (2015) that;
"This series is off to a flying start. The performance with Jessica Fox and Zoey Portland could be nominated for a Transgender Erotica Award. It is very hot and highly strokable. Zoey's first time with a transsexual performer won't be her last. She will be in high demand for these types of scenes. The heat factor never stops. Honey Foxxx and Alana Rains is another TS/girl match-up that will have a very high replay value. The tranny on tranny action between Gabriela Ferrari and Fernanda Cristine provided effective turn-on variety as it was the only kind of match-up here. The two tranny on guy scenes were solid. Joey Silvera continues to be the leader in tranny porn. I highly recommend this film and series".
To date the Trans-Visions DVD series consists of 8 feature releases that include all manner of saucy sex scenes between leading transsexual performers Aubrey Kate, Jonelle Brooks, Sheylla Wandergirlt, Luna Rose, Nina Lawless, Kendra Sinclair, Fernanda Cristine, Felipa Lins, Honey Foxxx and Vixxen Goddess. Combine these stellar casts with glowing endorsements from notable adult film critics, and we think it's safe to say that Trans-Visions further cements Joey Silvera's status as one of the best transsexual porn directors ever to grace the adult entertainment industry!
10 – Transsexual Superstars (Shemale Club Productions 2009 – 2011)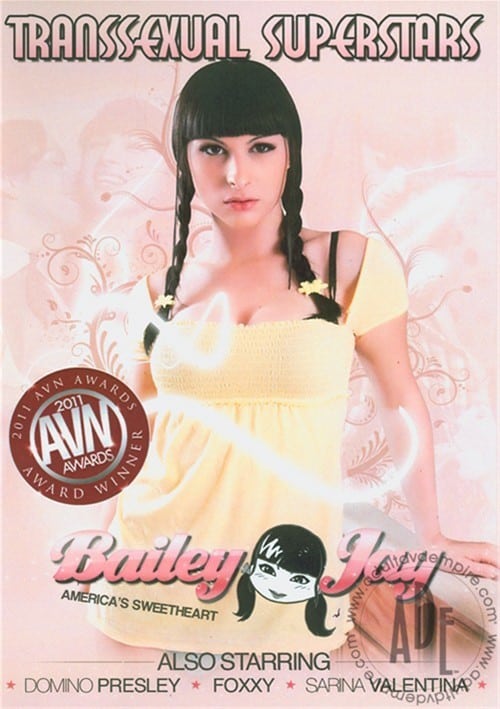 In the space of two short years, Shemale Club (SMC Productions) have released a range of Transsexual Superstars DVD titles that have served the test of time. Throughout 2009, 2010 and 2011 Shemale Club's Transsexual Superstars DVD series celebrated some of the biggest rising TS starlets within the adult entertainment industry, such as Natassia Dreams, TS Foxxy, Bailey Jay and Sarina Valentina, by equipping them with their own stunning signature showcases.
What's more, the Transsexual Superstars DVD series also featured a stellar supporting cast of adult film starlets including Kimber James, Morgan Bailey, Aly Sinclair, Domino Presley and Victoria Di Prada, as well as MILF star Ava Devine and female porn star Angelina Valentine. Consequently, it was no surprise when multiple Transsexual Superstars DVD titles proceeded to receive notable nominations at the Tranny and AVN Awards. For instance, Transsexual Superstars: Mandy Mitchell (2011) was nominated for "Best DVD" at the 2011 Tranny Awards and Transsexual Superstars: Vaniity (2011) was nominated for "Best Transsexual Release" at the 2013 AVN Awards.
Do you agree with our choices? Let us know in the comments section below! One thing's for sure; whether you prefer soft-core, hardcore, solo, gonzo, POV, BDSM, fetish porn or femdom content, this diverse array of TS DVD titles show that there are some spectacular transsexual porn series for fans of all kinks, quirks and interests!