Have you ever watched fetish porn and wondered what it would be like to  experience these titillating taboo trysts with your partner? Are you in a committed relationship and have been searching for new and exciting ways to spice up your love life this Valentine's Day? Then we have the answer for you; BDSM! By indulging in bondage and sensation play, you and your partner can give new meaning to the terms 'pain' and 'pleasure' and connect on a sensual, physical and emotional level like never before. Curious? Then why not have a read of our Top 10 Valentine's Day Gifts for BDSM Beginners list that has been outlined below;
 1 – Handcuffs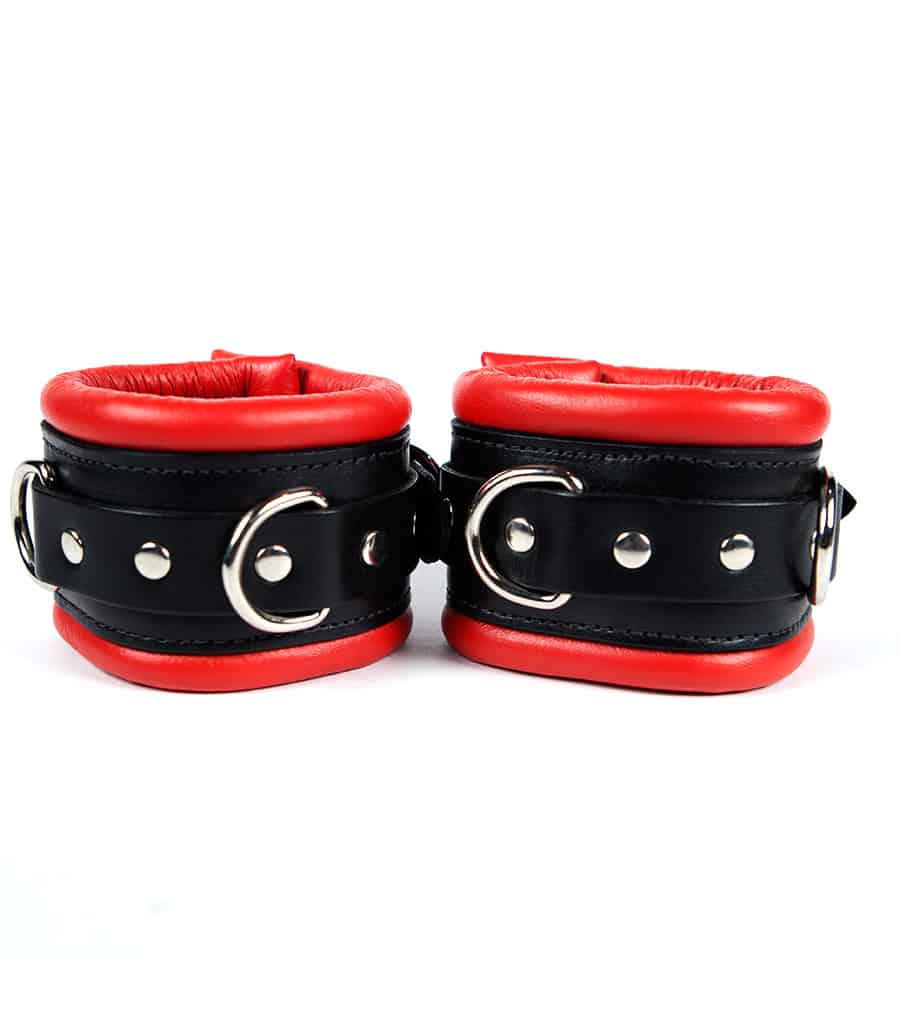 When you mention BDSM the first fetish that usually comes to mind is bondage. So why not invest in a pair of handcuffs if you're looking to add some kink to your Valentine's Day plans? As matters stand, there are a wide range of wrist cuffs on offer for seasoned kinksters and BDSM beginners alike to discover. It is recommended that you start experimenting with wrist cuffs before you work your way up to extra wide wrist cuffs, metal cuffs, ankle cuffs, collars with leashes, bondage ropes, fantasy harnesses, spreader bars and arm binders as you and your partner become more accustomed with restraints.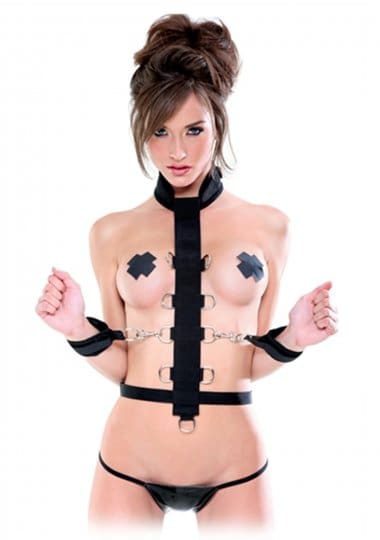 Using any form of restraint in bondage play enables you and your partner to experience a more intense sexual experience due to the level of trust required. Ensure that you follow the 'two finger' rule (i.e. leaving two fingers of space between the restraint and the skin), have some safe words at hand, and get ready to have some fun!
2 – Whips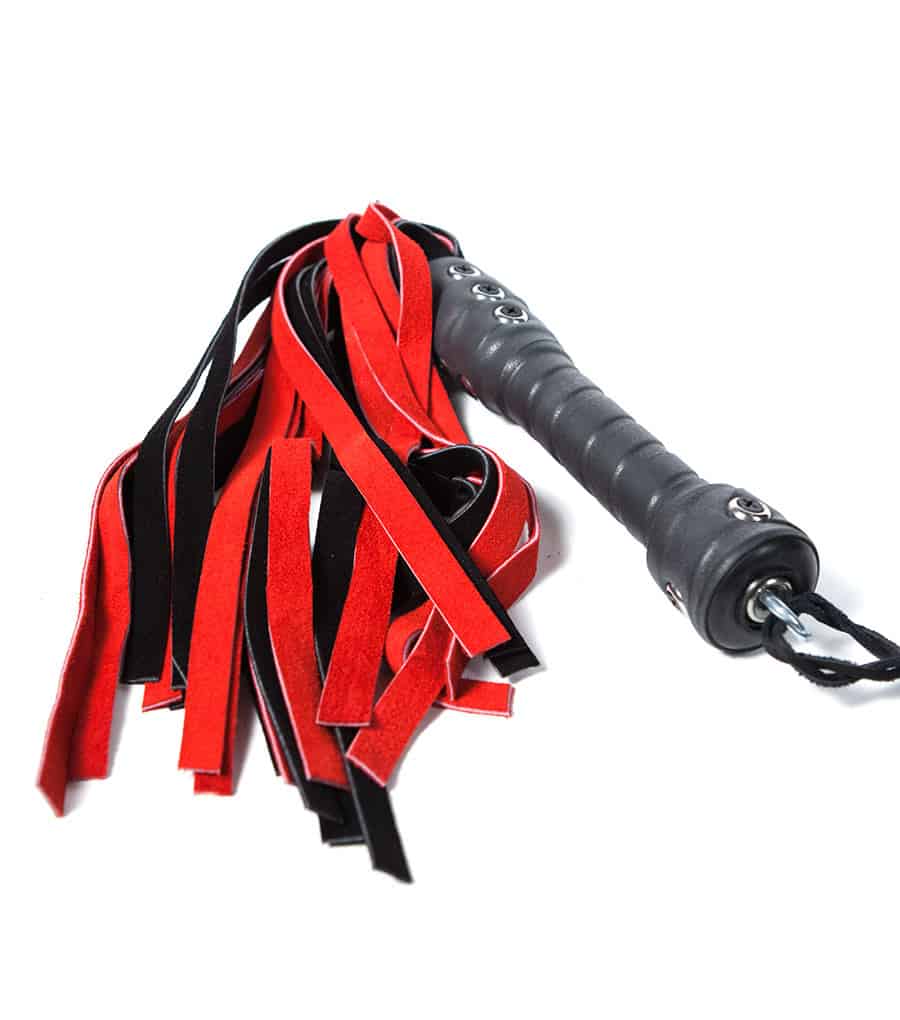 Did you know that spanking and whipping your partner on the butt stimulates the pudendal nerve which is the main nerve that carries sensation from your genitalia around the anus and perineum? Science lesson aside, this means that when you safely whip, spank or paddle your partner can trigger an unbelievable rush! For first time whip-ers or whip-ees we advise using a luscious suede flogger or super soft deerskin flogger so that you can test your pain limits before moving up to a more formidable silicone whip  or a duo crop and flogger which will take your saucy sexual encounters to a whole new level.
3 – Riding Crop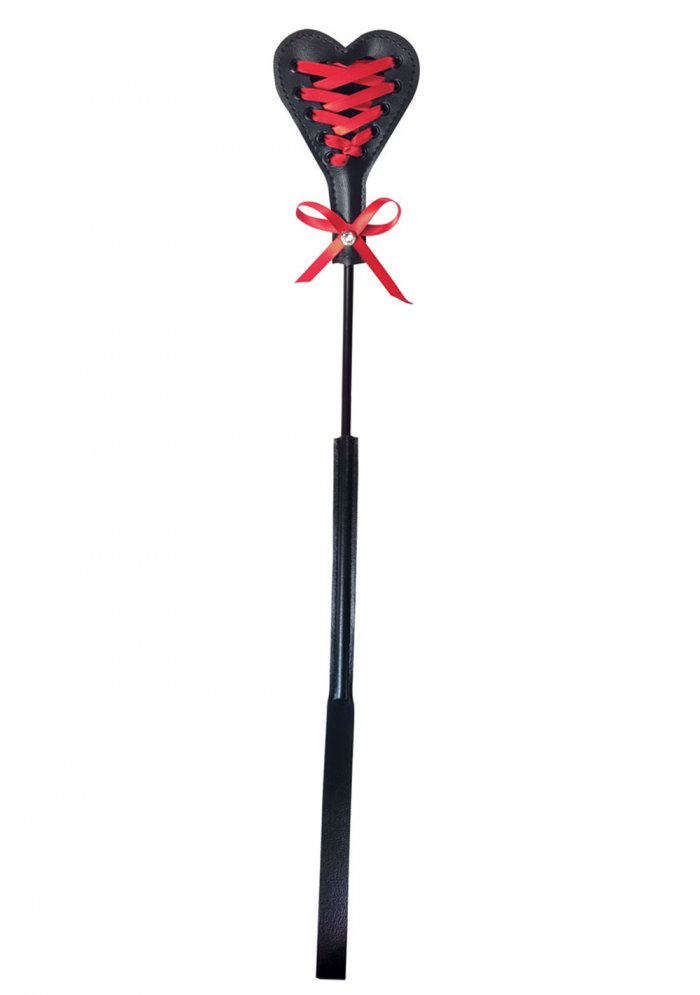 Sex and Mischeif heartbeat crop
Similarly to whipping, being spanked with a riding crop can generate an amazing high. This is due to the fact that, when you are spanked with a riding crop, a wave of endorphins are released by your body which counteract with the signals of 'pain' that are being sent to your brain and interact with your body's opiate receptors; thus triggering what many doms and subs fondly recognise as a 'natural high'. Whether you've always wanted to be spanked, or if you are eager to experiment with dominating your partner, then we strongly advocate making a flat end handle, an easy to inset pointed riding crop or a heart beat crop a staple of your Valentine's Day plans!
4 – Blindfold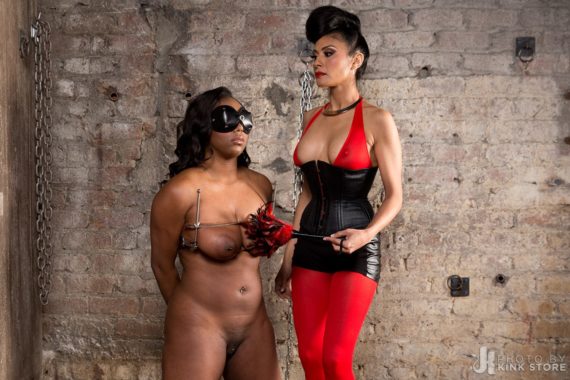 The time honoured practice of 'When one sense is restricted, the others are heightened' can be one of the most thrilling aspects of BDSM! As such, we recommend that all BDSM beginners test out the joys of using blindfolds. Use a silk, black-out or couture blindfold on its own or combine with restraints, a feather tickler or a femdom's trusty riding crop for an intense Valentine's Day experience that you will be eager to repeat!
5 – Feather Tickler
As mentioned above, one of the most intense aspects of BDSM can be sensation play. Depriving your partner of one of their senses through a blindfold, restraints or both, and then tickling their skin with a luxury feather tickler,an ostrich feather tickler , a whip and tickler duo or a foot fetish themed toe tickler can stimulate an amazing high. If you're feeling adventurous you can even combine these tickling sessions with a riding crop or whip. After all, the increased blood flow caused by spanking or whipping will make your partner more susceptible to every touch, taste or tickle; thus guaranteeing some spectacular sensation play that will add a fiery new rush to your conventional sexual experiences.
6 – Bondage Gags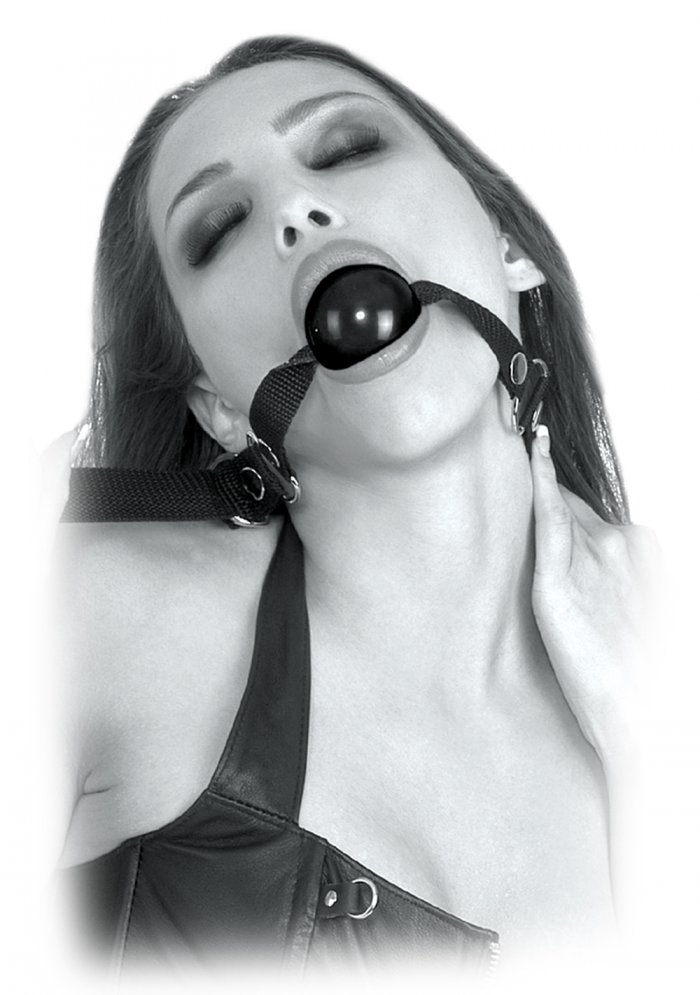 Another firm staple of the kinkster lifestyle is the use of bondage gags. From beginner's ball gags and bit gags to more advanced open mouth gags, inflatable gags, muzzle gags and medical gags, these tried and tested BDSM accessories are ideal for acting out dominant/submissive scenarios and are bound to have you and your partner screaming out for more! Beginners should start off with a silicone or leather bondage gag, as well as an agreed upon time limit and a non-verbal safe word so that you can start to indulge in your wildest fantasies in a safe, sensual and trusting setting.
7 – Pinwheels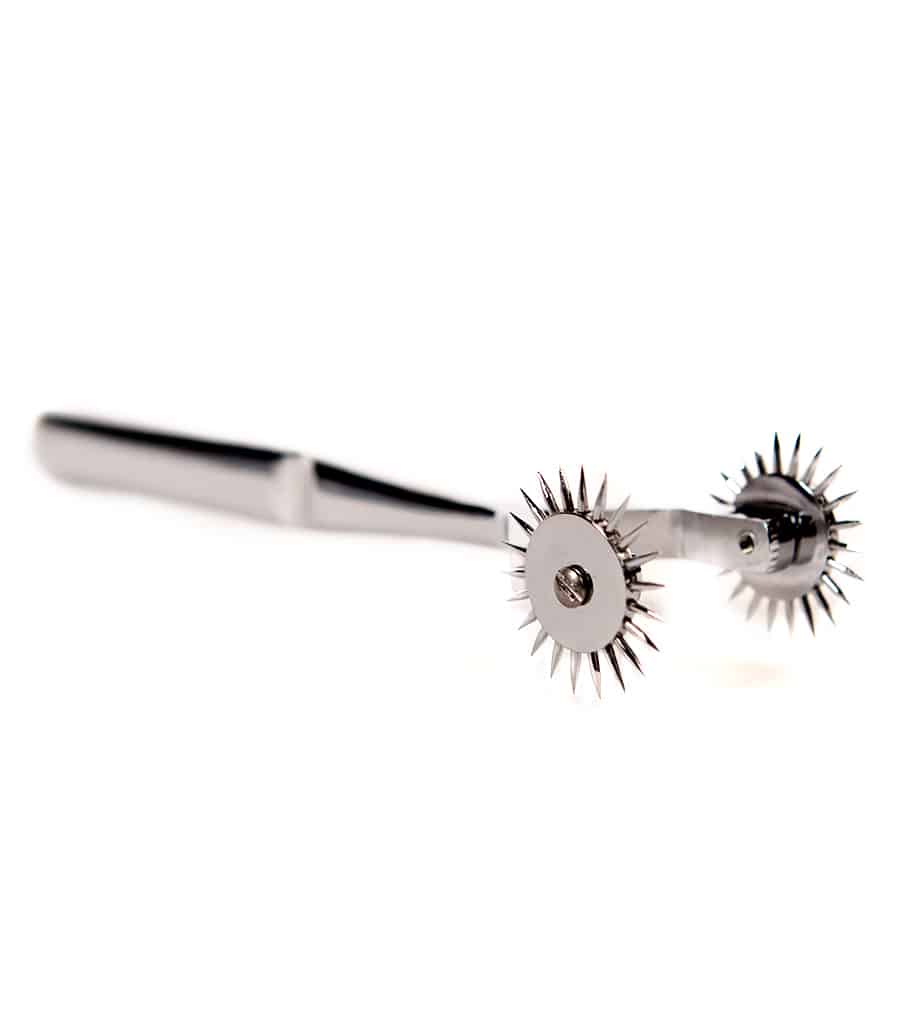 Interested in trying something a little more exotic this Valentine's Day? Then you have to get your hands on a pinwheel! Although they may look a little sharp, when used safely a pinwheel can add a heightened level of pain and pleasure to your sexual experiences. We always recommend using a pinwheel on yourself first so that you can get a feel for pressure levels before using it on your partner. Originally invented to test nerve sensitivity when rolled across the body, pinwheels have become a trusty tool within the fetish lifestyle market as they can stimulate intense pleasure when rolled across arms, around the back of your neck, along your thighs, across your feet or even more intimate areas. Use on its own or straight after spanking or whipping for some unparalleled sensation play!
8 – Nipple Clamps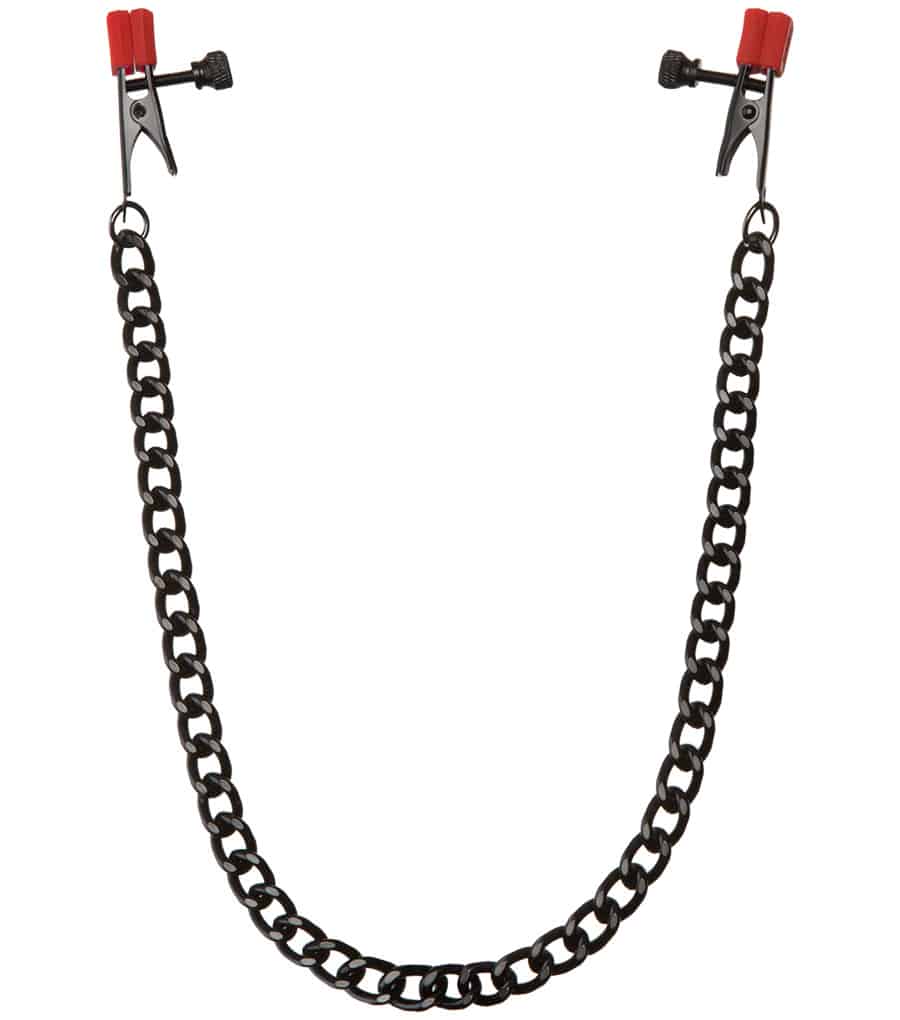 If you and your partner have never experienced nipple orgasms before then you need  to get your hands on some nipple clamps. Applying a set of nipple clamps onto erect nipples and experimenting with your fingers, feathers, ice cubes and all manner of BDSM accessories will stimulate your brain's genital sensory cortex and trigger an incredible orgasm from one of you and your partner's as yet unexplored erogenous zones! As a rule we advise that beginners only use nipple clamps for 10 minutes or less in order to become accustomed with the intricate sensations of nipple play before you move onto weighted sets. We also recommend that you invest in sets with bull nose nipple clamps that have adjustable thumbscrews so that you can control their grip as you and your partner test your sexual limits.
9 – Femdom Pegging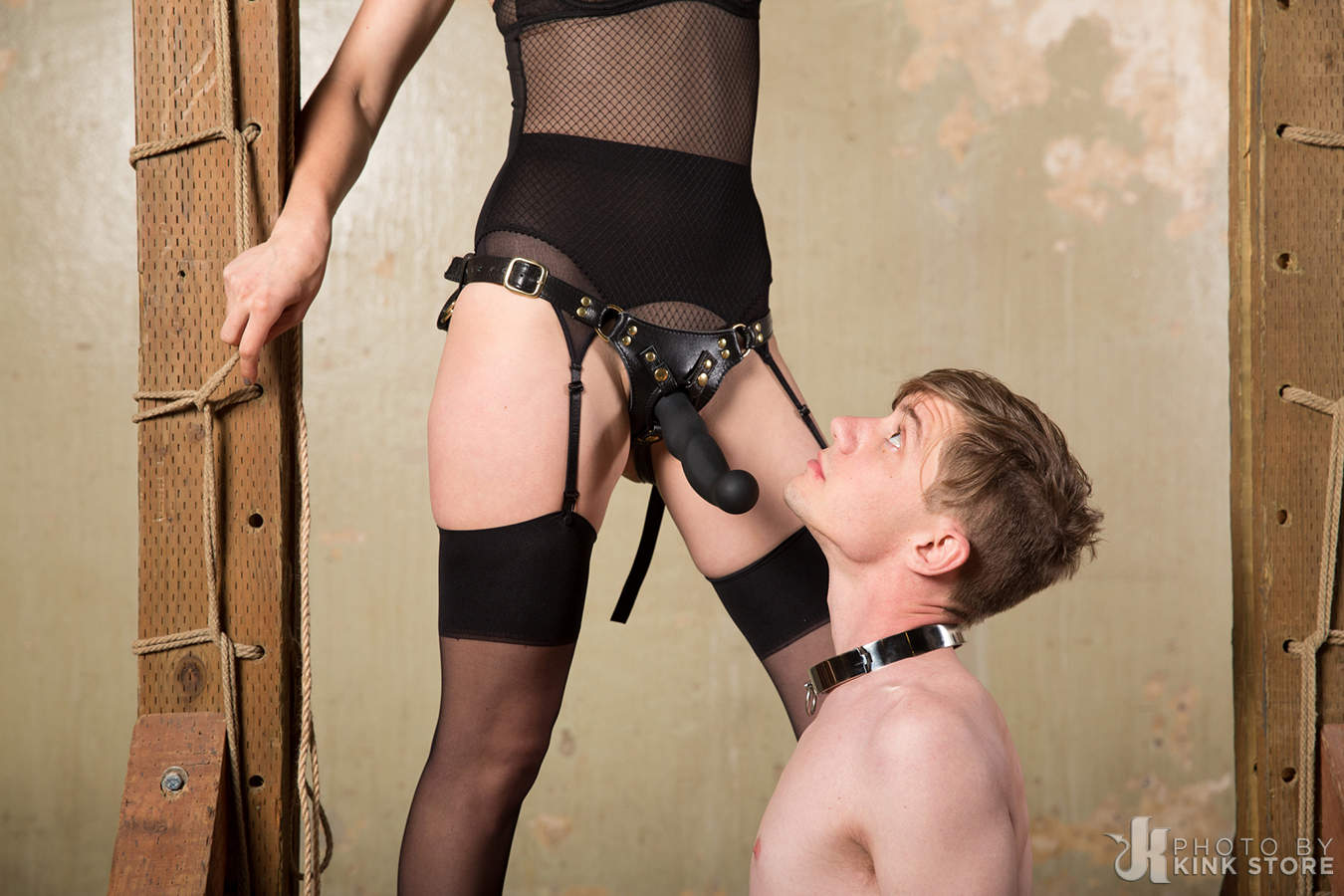 Black and brass pegging harness
Feeling adventurous this Valentine's Day? Looking for a BDSM experience that will truly test who is the dominant and who is the submissive in your relationship? Then we ardently recommend experimenting with femdom pegging, i.e. the use of a strap-on by a woman to enter either a male or a female partner's anus. Pegging can be extremely enjoyable for both men and women; enabling men to enjoy the thrill of a phenomenal prostate orgasm alongside the pleasure of entrusting themselves to the care of a dominating female partner. Similarly, femdom pegging can be an immensely empowering experience for female partners combined with the fact that the act of 'pegging' can stimulate clitoral orgasms. In fact, many pegging devices and femdom pegging starter kits come equipped with stimulation platforms that will prove incredibly pleasurable for their female wearers. It's a win/win situation for all!
10 – Fetish Wear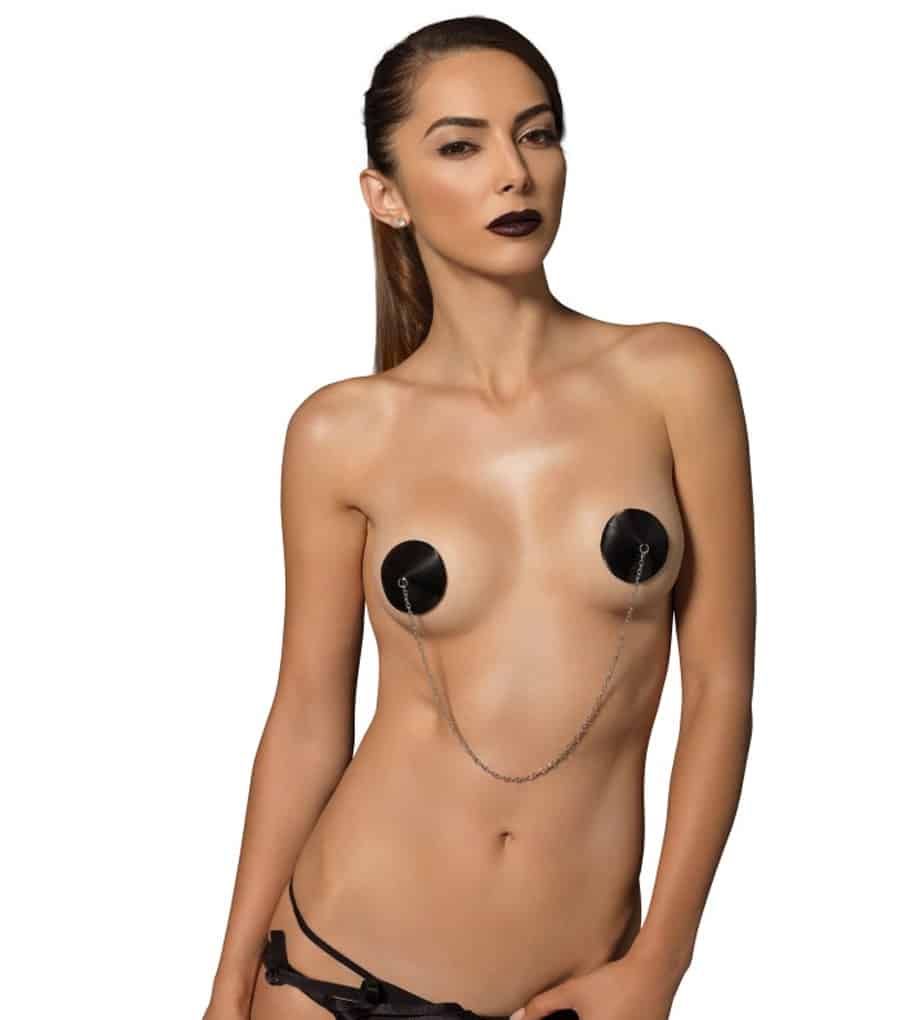 Always lusted after a doctor/ nurse scenario? Or have you been longing to live out a domineering officer/captive prisoner fantasy? Even if you simply love dressing up for the occasion, fetish wear can add new levels of eroticism to any themed Valentine's Day tryst! From latex wear, leather accessories and lace lingerie to nipple tassels and chains, waist cinches, slave collars, kinky pup paws and rubber gloves, dressing up for your first foray into BDSM can enhance your sexual experiences, enable you to lose yourself in a devilishly domineering or dutifully submissive persona and open up all manner of exciting scenarios for you and your partner to explore!
If you're looking for inspiration to guide you through your first foray into BDSM, or if you're a seasoned kinkster looking to get into the mood, then we recommend checking out some of the latest instalments of Kink.com's various Device Bondage, Hogtied, Dungeon Sex, Whipped Ass and Foot Worship online franchises which will give you and your partner some inspiration on your ideal scenarios to enact! You can also check out their long-running Kink University web series to learn how to indulge your deepest, darkest desires and to make sure that this Valentine's Day marks the start of a beautiful BDSM future for you and your partner. Enjoy!