Twitter : @GiaPaige   Instagram : @realgiapaige   Camsoda : giapaigexxx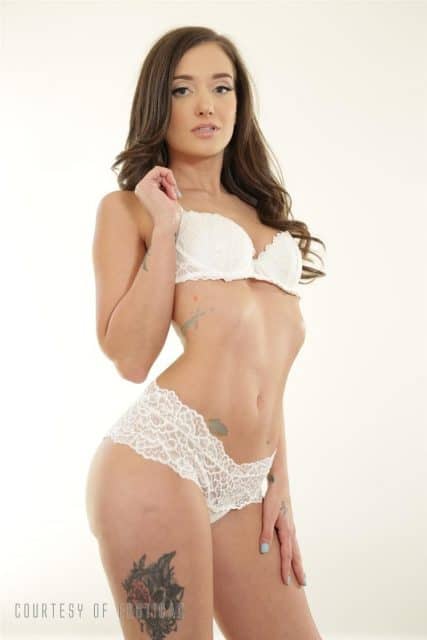 Gia Paige in First Kiss – Erotica X – Adult Empire Galleries
Personal Info
Name : Gia Paige
Date of Birth : June 18th, 1990
Hometown : Detroit, Michigan (US)
Measurements : 32B – 24 – 34
Height : 5'2 (1.57m)
Hair Colour : Brunette
Eye Colour : Hazel
Tattoos : Gia has a wealth of alluring body art including a bow on her hand, a bird on the inside of her wrist, a cloud on her lower abdomen, three flowers across her left side, two interlocking hearts on her wrist, a Woodstock cartoon from the Peanuts comic strip over her heart and a large design on her upper right leg of a raven holding a strand of pearls with a flapper's/50s themed skull. Gia talked about the origins of these tattoos in a September 2017 AVN Magazine interview, elaborating upon how;
"That one [large tattoo on her right upper leg]  to be honest doesn't really have any meaning, I just thought it was pretty…At the time most of my friends were getting these skull tattoos and I wanted a girly one…It has a raven inside of it holding a strand of pearls. It's like a theater skull, like a flapper's '50s-themed skull. Like the flapper dancer girls with big boas, pearls and accessories. I got the skull one when I was 22. I'm 27 now…
I have a Woodstock on my chest, because my Papa used to read me the Peanuts comics when I would come over…Woodstock was my favorite. And when he passed away I got Woodstock over my heart…Snoopy was his favorite…
Me and my best friend both have those [interlocking hearts on her wrist]…She's actually the only person who I stayed close with. I met her in elementary school in third grade and we're still best friends to this day…
They are birth month flowers for each of my sisters…I let them pick their favorite color and I went and got them done. I have two older sisters and one younger".
Piercings :  Navel and dermal on the left side of her lower abdomen
Years Active : 2014 – present
Number of Scenes : 100+
Gia Paige is a fan-favourite adult film star, model and cam girl who has been performing in porn since late 2014. Best known for her critically acclaimed Sweet Sinner DVDs that she continues to film with award-winning director Jacky St. James, Gia has already receive a wealth of "Best New Starlet", "Hottest Newcomer (Fan Award)" and "Most Epic Ass (Fan Award)" nominations at the AVN Awards.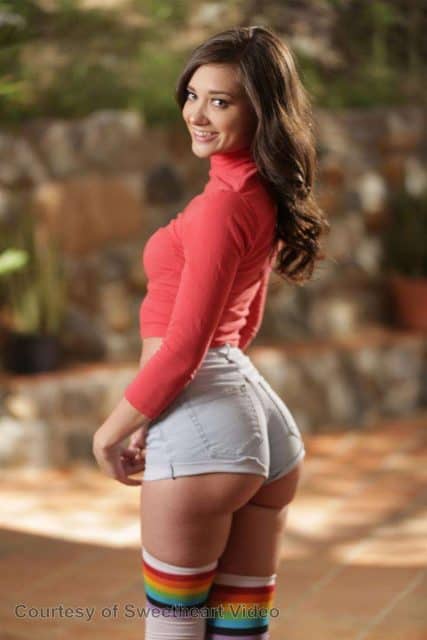 Gia Paige in Lesbian Stepsisters Volume 5 – Sweetheart Video – Adult Empire Galleries
So where did it all begin? Hailing from Michigan, Gia was raised in the Down River area with her three sisters and has mentioned in her June 2015 Adult DVD Talk interview that;
"I grew up in Michigan, the Down River area. I have 3 sisters, no brothers so home life was pretty fun. We had a great family life. My parents are divorced but happily remarried and we all get along. Before porn, I was actually just working my butt off at a pizzeria. (laughs) In school, I was the nerdy kid. I didn't have very many friends and I liked it that way. I was kind of a weirdo. I was in band".
Before she began working in the adult film industry Gia posed as an alternative model for the famous Suicide Girls as well as working in a pizzeria and taking various childcare jobs. Talking about this period of her life in her June 2015 Adult DVD Talk interview, Gia explained how;
"It's alternative modelling. Stuff you wouldn't see in Vogue Magazine. It was tatted up girls, piercings, crazy colored hair, just girls off the beaten path. I applied when I was 18 years old because you have to be an adult to model for them. They didn't actually buy any of my work until this year. That's when I officially became a Suicide Girl. It's been a long time in the making for that one…
I was nannying for a while and that's touch and go. You can't really be a nanny full-time, it's on an 'as needed' basis. So I ended up working at a Pizzeria and I became a General Manger. I've been really involved in my job, that's all I did for a really long time. I worked all the time so I stopped doing photo shoots for Suicide Girls and I randomly did one last October and that's the one they ended up buying…
They have photographers that they offer to you and then you meet up with the photographer. I had to go to Ohio for my shoot. You have to pay the photographer and they submit it to Suicide Girls site. And if they really like the set, they'll buy it. From then on, they start paying you to do shoots. I actually have my first paid photo shoot with them coming up next week".
Wondering when Gia first decided to pursue a career a porn? Well, Gia has explained in her June 2015 Adult DVD Talk interview that;
"Honestly, I was at a point in my life where the pizzeria got so boring to me that I moved out to my dad's house in a country area. Everything was just so boring and I did the same thing every single day. One night, I was watching this documentary on cam girls and there was this one girl who did porn. She was talking about what a blast she had. She created her own work schedule, she only did things she was comfortable with, she's her own boss, she can take vacations whenever, she gets paid to travel… 'Why am I not doing this?' I have no boyfriend, haven't had one in years, I'm bored with my life, I'm still young. I already did nude modelling so I'm obviously comfortable with myself so why not?".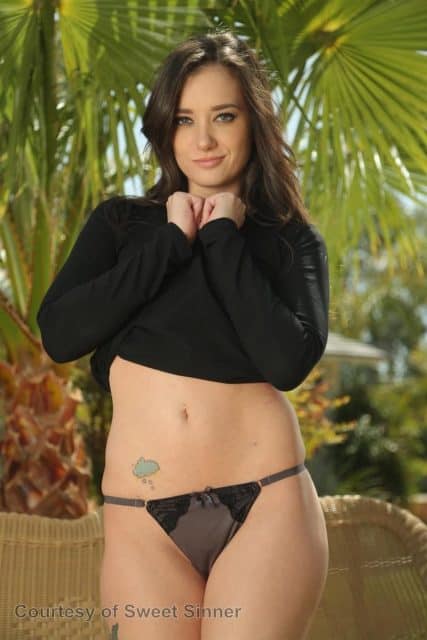 Gia Paige in Come Inside Me Volume 2 – Sweet Sinner – Adult Empire Galleries
Gia Paige : Adult Film Career
Gia filmed her first ever sex scenes in November 2014 and has divulged in her July 2016 Fleshbot interview that;
"Honestly, my very first scene was very rough and not really fun. I thought that all porn was going to be like that after this experience but I quickly learned that isn't the truth. People are so respectful of my boundaries and my comfort. I love it".
Eager to explore some of Gia's sauciest sex scenes? Then we recommend checking out her raunchy bondage scenes with James Deen in the Digital Sin sequel release Schoolgirl Bound 2 (2015), her epic anal-three-way with Francesca Le and Mark Wood in their LeWood/Evil Angel DVD Evil Couple Prowls Anal Teens (2016), her sizzling scenes with Gina Valentina in A Soft Touch 2 (2016) for Digital Sin and her orgy with A.J. Applegate, Amara Romani, Anikka Albrite, Holly Hendrix, Morgan Lee and Mick Blue in Mick Blue's Best Day Ever 2 (2016) for Evil Angel/BAM Visions which was nominated for "Best Orgy/Gangbang Movie" at the 2018 AVN Awards.
Fans of Gia Paige will also love viewing her amazing all-girl group sex scene with Jenna Sativa, Jojo Kiss and Kasey Warner in the Web Young porn production Three Little Sisters (2017), her hot hardcore shoot with Johnny Castle in Lay Her Down (2017) for Digital Playground that was nominated for "Best Action/Thriller" at the 2018 AVN Awards and her thrilling three-way with Ella Hughes and Ryan Ryder in How I Fucked Your Mother: A XXX Parody (2017) for Digital Playground that was nominated for "Comedy Release of the Year" at the 2018 XBIZ Awards. Gia enjoyed starring in this kinky comedy caper and stated in a December 2017 AVN press release that;
"It was really fun to be a part of this movie because I'm a huge fan of the actual show. I got to work with Ella and Ryan for the first time and I think we had great chemistry, which shows in the scene. I made a lot of new friends through this movie and I'm really grateful for Danny D, Sophia Knight, Dick Bush, A Hussey and Digital Playground for this awesome experience".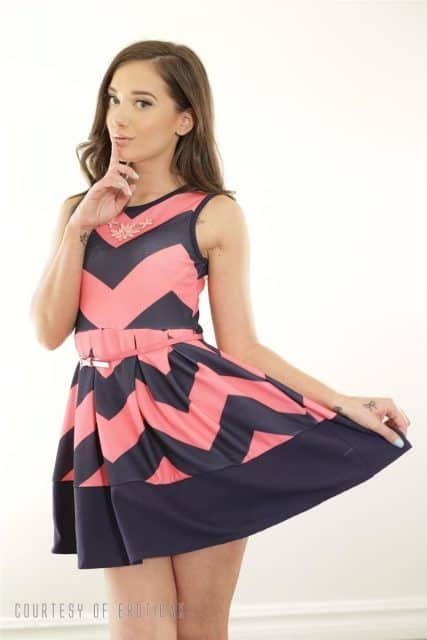 Gia Paige in First Kiss – Erotica X – Adult Empire Galleries
One of Gia's most popular porn productions to date has been the Sweet Sinner feature release Darker Side of Desire (2017). Directed by Jacky St. James and starring Cassidy Klein, Cherie DeVille and Riley Nixon, Darker Side of Desire was an instant hit which was nominated for "Best BDSM Movie" at the 2018 AVN Awards as well as earning Gia a "Best Boy/Girl Sex Scene" nomination for her raunchy shoot with James Deen.
Due to her popular performance in Darker Side of Desire, Gia was a natural choice to feature in Jacky St' James highly anticipated sequel release Darker Side of Desire 2 (2017) featuring Katrina Jade, Aidra Fox and Giselle Palmer. Talking about her role in this saucy sequel via a February 2018 AVN interview, Gia conveyed how;
"My role is somebody who used to be in a dominant/submissive relationship with somebody but who has since given up on that and is kind of cheating into the idea of maybe going back…I do like playing these roles, because I've never played with that kind of stuff before, the dom/sub type stuff, so it's really exciting. It's not something I've done in my personal life but working with it, I've grown pretty comfortable with it and actually like it. It's intriguing to try different things and to find out about yourself and your sexuality".
Jacky St. James has high praise for Gia's acting skills and sincerely enthused within this February 2018 AVN interview that;
"I always cast first, which is a little different, but then I can write to the strength of the performer…Gia is such a good actress, I can write anything for her and I know she can do it. She was in the first one, but in terms of my process, I find the people I like and then I figure out, okay, if the scene is, let's say, BDSM, how can I make this work? And so, usually I'll build around the lead character; like, okay, Gia's very much an ingénue so I'll build around this sort of lost ingénue character, and then I figure out what supporting types would make that character interesting".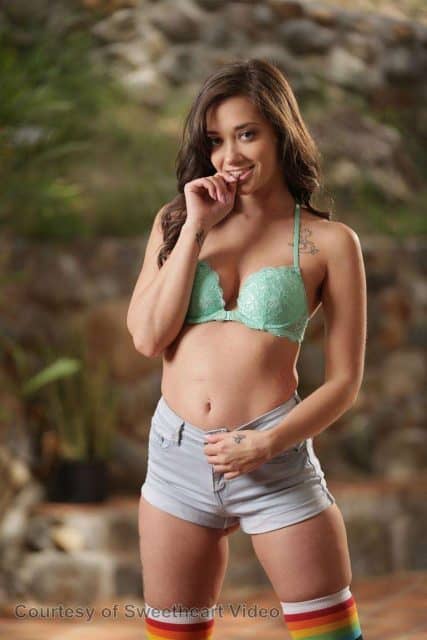 Gia Paige in Lesbian Stepsisters Volume 5 – Sweetheart Video – Adult Empire Galleries
As a matter of fact, Gia has collaborated with Jacky St. James on a wealth of thrilling Sweet Sinner taboo relations titles including Fathers & Daughters (2017) that was nominated for "Best Taboo Relations Movie" at the 2018 AVN Awards, Women Getting Even (2017) that was nominated for "Best Comedy" at the 2018 AVN Awards and Two of a Kind (2017) within which Gia played twin sisters! Talking about this raunchy role in a January 2018 AVN press release, Gia highlighted how;
"I love working with Jacky because she challenges my acting abilities. Playing twins was really fun, but it was also a little tough. There was a lot that went into this film, and I hope my fans enjoy it. I'll definitely be looking forward to part two!".
Another of Gia and Jacky's critically acclaimed collaborations has been The Proposal (2016) for New Sensations. Released as part of Jacky's Tales From The Heart series and starring Abella Danger, Adria Rae and Stevie Foxx, The Proposal was a critical and commercial success which won "Vignette Release of the Year" at the 2017 XBIZ Awards. Whilst discussing her sultry shoot in The Proposal with Logan Pierce via a September 2016 AVN press release, Gia enthusiastically explained how;
"Working with Jacky was an honor as always…She is my favorite person to work with. My role in The Proposal was one of my few romantic scenes, and I really enjoyed working with Logan, as well. I was able to feed off of his great acting and energy, and I think it shows".
Due to her impressive performances in a wide range of BDSM, taboo relations and all-girl porn productions, Gia has received several notable nominations at the AVN Awards including;
2016: AVN Awards nominee "Hottest Newcomer (Fan Award)"
2017: AVN Awards nominee "Best New Starlet"
2017: AVN Awards nominee "Best Three-Way Sex Scene (Girl/Girl/Boy)" Swingers Getaway (with Kimmy Granger and James Deen)
2017: AVN Awards nominee "Most Epic Ass (Fan Award)"
2018: AVN Awards nominee "Best Boy/Girl Sex Scene" Darker Side of Desire (with James Deen)
2018: AVN Awards nominee "Best Girl/Girl Sex Scene" Panty Raid (with Adria Rae)

2019: XBIZ Awards winner "Best Actress – Taboo Release" The Jealous Brother
2019: XBIZ Awards winner "Best Sex Scene – Couples-Themed Release" Love In The Digital Age (with Tyler Nixon)
2019: XBIZ Awards winner "Best Sex Scene – Taboo Release" The Jealous Brother (with Michael Vegas)
Gia has been incredibly happy to receive these prestigious awards nominations – especially "Best New Starlet" at the 2017 AVN Awards. After all, as Gia sincerely conveyed in a January 2017 AVN interview;
"To me being nominated for anything didn't seem possible. There's so many amazing girls in this industry who work so hard, and there's more coming in every day it. It's hard to feel like you stand out in a crowd full of your idols. When I found out I was up for Best New Starlet I think I kind of went into shock. That's when I realized all of my hard work actually did pay off, that all of this was worth it. Don't get me wrong, I love my career, I love the people I've met and the places I've been … I just didn't think that I would get noticed for it. I am very grateful to be up along with some of my good friends. I know they deserve it as well and I'm looking forward to attending AVN and meeting the new fans I made this year!".
In addition to receiving these notable nominations, Gia has since been named as the Bang.com "Ambassador of the Month" for October 2017. Gia was thrilled to receive this coveted title and commented in an AVN press release that;
"I'm absolutely thrilled to be the Bang.com ambassador! I had a blast shooting for this company, and I even performed one of my firsts in a scene that's due to come out. I'm really excited for my fans to see what we have been working on! It's going to be fun to be a part of the process".
You'll be happy to hear that Gia continues to interact with her fans via social media and adult cam sites (under the screen name 'giapaigexxx'). Believe it or not, Gia even once lived in a Camsoda house where fans could interact with her 24/7! When she was asked about her ever-expanding global fan base during her July 2016 Fleshbot interview, Gia enthusiastically stated that;
"My fans are absolutely everything to me (aside from Brian) and without them, I wouldn't work as much as I do. I'm so grateful for them. I love them because they support me in all my decisions and still view me as a person and not just a sexual object. They really care about me and that's why every day I take time to connect with them".
When she isn't performing in porn Gia enjoys painting and reading. As Gia herself explained in her July 2015 Die-Screaming interview;
"I paint whatever pops into my head. For a long time I really loved painting trees because there are so many different ways to paint them. And my favorite book of all time is "Freakshow" by James St. James".
So what's next for rapidly rising starlet Gia Paige? Well, when she was asked about her future career plans in her Die-Screaming interview, Gia hotly hinted that;
" I really want to work with Riley Reid!! Holy hell! That is how I can die happy…I will do porn as long as possible! Until people get sick of seeing me, I'll continue to shoot. I have loved almost everything about this industry and I'm not ready to stop yet!".
Want to catch up on all of Gia's recent releases, lusty live cam shows and exclusive web content? Then please feel free to use the links provided below to discover all of Gia Paige's official social networking channels online today!
Social Networks
Twitter : @GiaPaige
Instagram : @realgiapaige
Camsoda : giapaigexxx
Reality Kings : Gia Paige at Reality Kings
Brazzers : Gia Paige at Brazzers
IMDB Profile : Gia Paige Filmography