Personal Info
Image Sourced from Wikimedia, Attribution :  © Glenn Francis, www.PacificProDigital.com
Name : A.J. Applegate
Alias: Kaylee Evans, Ajay Applegate
Hometown : Redlands, California (US)
Date of Birth: September 23rd 1989
Measurements : 34B – 28 – 38
Bra/ Cup Size : 34B
Boobs :  Natural
Height : 5'2 (1.57m)
Weight : 116lbs (53kg)
Hair Colour : Blonde
Eye Colour : Blue
Tattoos : 'Ballo Di Amore' script with a red roses design surrounding it on her right hip
Piercings : Navel and three piercings in each ear
Pets : 1 German Shepherd. As A.J. enthused during her XCritic column interview;
"I am one of the biggest animal lovers you could ever meet! My family always thought I was going to end up being a vet. If it wasn't for my love of dance, I definitely think I would of ended up in a career with animals. I just can't picture being able to put them to sleep. I feel like I would be depressed every day, because I love animals so much! I'd have to say I'm a definite dog person. I've always had dogs growing up, and I currently have a German Shepherd/Husky. He is the best dog I could ever ask for!".
Years Active : 2012 – present
Number of Scenes : 302+ (as a performer) , 2+ (as a co-director)
A.J. Applegate was born in Massapequa, a town in Long Island, New York, but was raised in Connecticut. A.J. is of Italian and German descent and began her porn star career when she was 22 years old. A.J. has always been a passionate performer; dancing and singing before she could walk and talk! As A.J. explained during her XCritic column interview;
"I was the most outgoing kid you could ever meet! I was always putting on shows whenever my family got together. I always wanted to entertain, and make people laugh. I was also, a cheerleader from the age of 5 till I was 19. I was never the shy kid, and I think that always scared my mom a little lol…My biggest hobbies are singing, and dancing. In my baby book, there's a quote that says, "She danced before she walked, and she sang before she talked." That is 100% true lol. I would love to sing in a parody or even choreograph dances for a parody".
In fact, before A.J. began working within the adult entertainment industry she was a professional dance teacher and cheerleader for multiple pro-sports teams including two arena football teams and a semi-pro basketball team. A.J. was also the director/choreographer for a professional soccer dance team. This love of dance started from an early age and A.J. commented during her June 2014 Fleshbot interview how;
"During my high school years I was very involved with cheerleading and dance. I was captain of my cheerleading team and won 'All American Cheerleader',  where I got the opportunity to cheer at the Pro Bowl in Hawaii. I had my small group of close friends & didn't really have time to date. I think I had like 3 boyfriends and they were all long term relationships. I was kind of a 'closet freak' lol…
When I'm dancing I'm in my own world & nothing else matters at that time. Dance will always be a part of my life no matter what I'm doing. Before I got into the industry I was a dance teacher and danced for professional sports teams. I still currently dance for a go-go dance company in NYC. I'd like to go back to school eventually and finish getting my dance degree. My favorite styles of dance to perform are jazz, funk, and lyrical".
Although A.J. did not lose her virginity until she was a senior in high school, from a young age she had always been a very sexual person and started to develop a keen interest in porn when she was 10 years old. As A.J. revealed during a December 2013 AVN: Fresh Face interview;
"One of my good friends actually texted me the other day. He said, "Do you remember saying you wanted to be a porn star in eighth grade? Now you are one!" [Laughs]. My friends weren't surprised at all. I think they all knew this was coming. Growing up, though, I didn't lose my virginity until I was almost a senior in high school. I was more like a closet freak…I watched a lot of porn growing up. I really looked up to Jenna Haze, Briana Banks, Sky Lopez and Jenna Jameson. I love watching g/g porn. That's what gets me off the most. I still watch porn to this day, but only old-school porn…I think before entering porn, I had already reached my sexual peak. [Laughs]…I do love that porn has allowed me to fulfill my most desirable fantasies. The one act I never did in my personal life before porn was anal. I was always really scared it was going to hurt. Porn showed me the right way to go about it, and that it does feel good".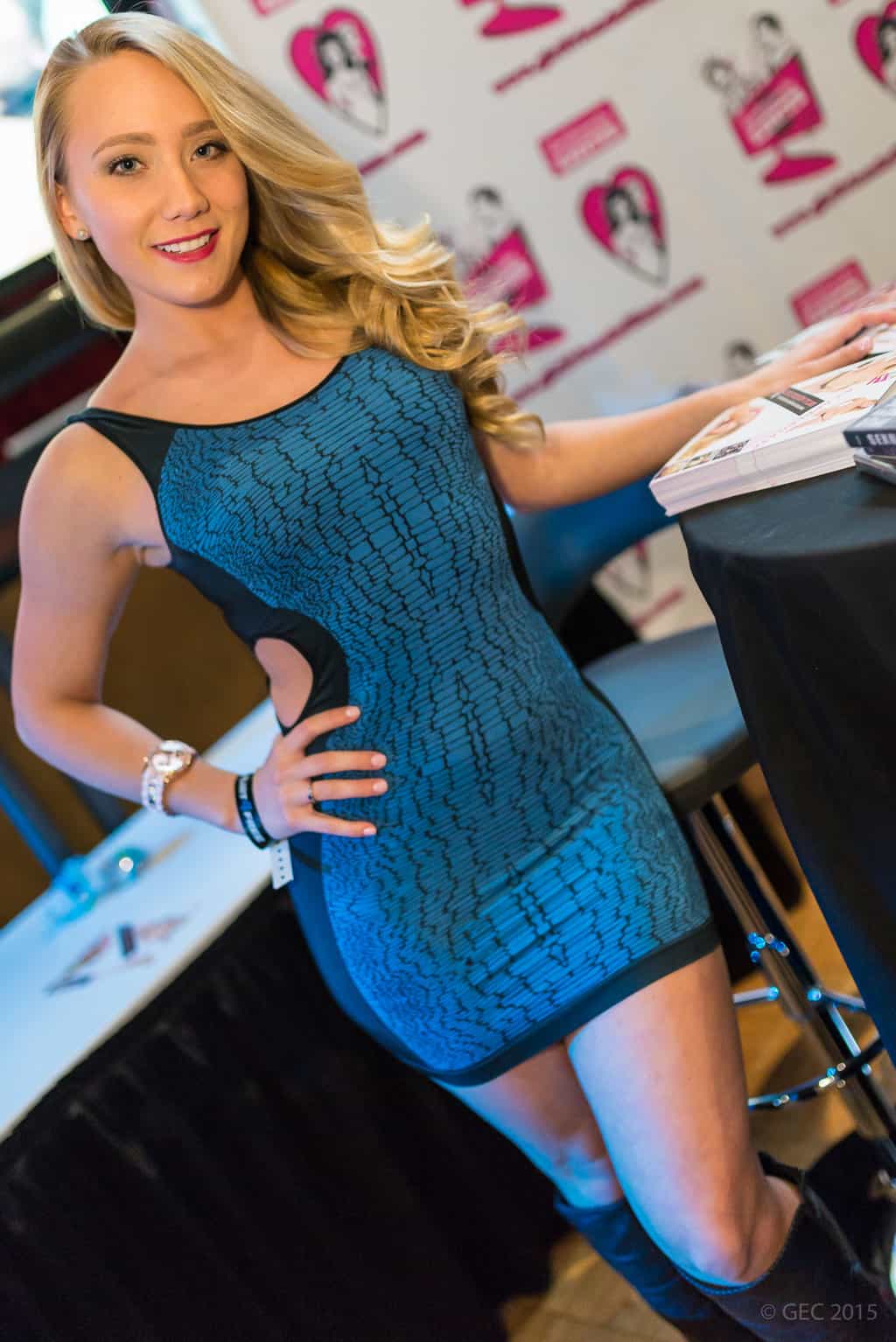 A.J. discussed some of her earliest sexual experiences during her Sinful Magazine interview, conveying how she lost her virginity when she was 16 year old and how she hooked up with her boss at her first ever job in a restaurant! As A.J. puts it in her own words;
"I lost my virginity to my ex-boyfriend in high School. It was his first time also. We waited until after school, when his parents weren't at the house. I actually had a game to cheer at that day, and my dad came to his house to pick me up early. We just finished and I was throwing on all my clothes, because my dad was banging on the front door. Then, I went and cheered at a football game…I was a cheerleader and dancer. I was really outgoing and bubbly. I wasn't a slut in high school; I was more of a tease. I would always get in trouble for wearing shorts or skirts that were too short. A lot of guys started to notice me in high school and were always talking about my ass, so a lot of girls didn't like me. I had my good group of girlfriends, though…
I remember my first job ever. I was a bus girl and ended up hooking up with my boss, who owned the restaurant. Yea, I know, not good. After that, I went to college and started teaching dance for a while and then went on as a dancing pro (AKA professional cheerleader) for sports teams".
A.J. identifies as bisexual and explained during her Adult DVD Talk interview how;
"I had this best friend that we would play around  and experiment with different things. I think that's when I realized that I was bisexual. I didn't know what bisexual was at the time but looking back on it, that's when I realized".
Similarly to female porn star Allie Haze, A.J. viewed porn as a safer way to meet girls and explore her wilder sexual fantasies than hanging out in local bars. Consequently, when A.J. turned 19 years old she decided to indulge her curiosity for the adult entertainment industry and started working as an erotic dancer at a local strip club whilst attending dance college. As A.J. conveyed during her Men's Mag Daily interview;
"I was a dance teacher and I did professional dancing for a couple of professional sports teams but I always had like a desire to go beyond what I could do sexually. That's why I was so intrigued by the adult industry. I didn't want to regret not trying it. It was now or never so I did it. I was always like the closet freak. I was never able to experience all the things I wanted to before porn. My boyfriends would tell me I was so great in bed or whatever but I never got to really experience the things I wanted until I got into porn".
Starting out as a stripper at the Gold Club in Hartford, Connecticut, when she was 19 years old, A.J. soon fell in love with the adult entertainment industry and began to branch out into nude modelling and fetish modelling before filming her first ever hardcore sex scenes when she was 22 years old. However, A.J. remains passionate about dancing and physical fitness; so much so that she started studying to become a personal trainer in December 2013 and in 2014 she became certified as a professional Zumba dance instructor. A.J. expressed during her YNOT interview that;
"Right now I'm a certified basic Zumba instructor. I'm working on getting certified in Aqua Zumba and Zumba Sentao. Zumba Sentao combines strength and resistance training with innovative dance moves using a chair".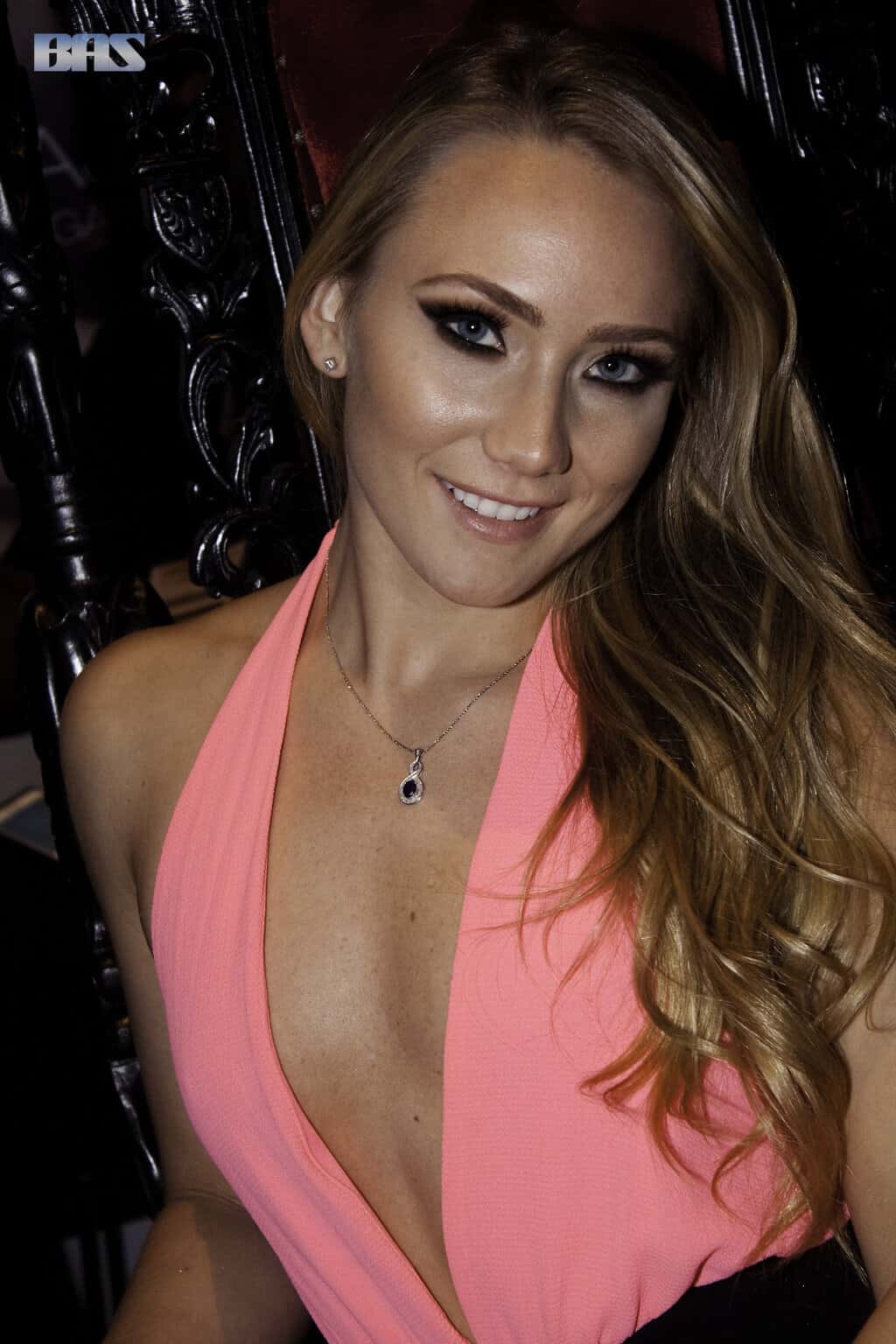 A.J. Applegate : Adult Film Career
Although A.J. starting working within the adult entertainment industry in early 2012, she highlighted during her Adult DVD Talk interview in July 2013 how she found it difficult at first to find work;
"At first, I was with a nobody agent in New York. And he sent me out to California and I didn't get any work because nobody knew who he was or who I was. Then I got together with Kevin at Type 9. He thought I was so cute and he thought I could make it in the industry. He really started pushing me \. For a while there, I thought I wasn't going to make it because nobody wanted to book me. He really pushed me and I filmed a couple things for a couple directors at Evil Angel and that's when I blew up".
In this manner, A.J. filmed her first ever hardcore sex scenes, titled Big Butt Bouncing, for the Mofos.com website I Know That Girl which were distributed in the summer of 2012. When asked about shooting her first ever hardcore sex scenes during her Sinful Magazine interview, A.J. confessed that;
"I wasn't nervous the whole day, until right before we were about to start the scene. Once the camera came on, I got totally lost in the moment and completely forgot that I was being filmed. It felt so natural to me. After the scene was over, the director was so impressed with me and he couldn't believe it was my first time. He told me he wouldn't be surprised if I developed a huge name in the next 2 years. He ended up hiring me multiple times after that scene".
A.J. released her first hardcore sex scenes under the stage name 'Kaylee Evans' and was also registered on the Bang Bros Network under this porn star alias. However, A.J. soon changed her porn star stage name to 'A.J. Applegate' after noticing that numerous girls had very similar stage names to Kaylee Evans. She chose 'A.J. Applegate' as her new porn star stage name because she had always been told that she resembled Christina Applegate and she had always been fond of unisex names like 'A.J.' As A.J. herself stated during her August 2014 YNOT interview;
"Every time I went on set, I was told I resembled Christina Applegate from Don't Tell Mom the Babysitter's Dead. Even throughout high school, a lot of people would tell me I looked like her, so I decided to take the last name. Besides, the name is original and I knew it would stand out…Also, it works for me because of my apple bottom".
Unlike many female porn stars, A.J. began to shoot anal sex scenes merely six months into her adult film career. In fact, A.J. filmed her first ever anal sex scene in August 2012 for the Mofos.com web series Let's Try Anal which was swiftly followed by her second anal sex scene which featured within the November 2012 Evil Angel production Mad Asses: All Anal Edition. Whilst talking about the early stages of her adult film career during her XCritic column interview, A.J. mentioned that;
 "The first time I ever did anal was on camera for a scene I did for 'Let's Try Anal' for Mofos. It was good, but it wasn't as amazing as I thought it would be. Then I shot my second anal scene for Mike Adriano's 'Mad Asses'. That was so intense and gave me so much pleasure that I knew anal sex was definitely going to be my thing…I've been pretty lucky throughout my career and haven't had any moments that I didn't get some sort of pleasure from".

A.J. has mentioned in a previous Gamelink interview that she began to shoot anal sex scenes earlier on in her adult film career because she had never felt confident enough to perform these sexual acts in her personal life;
"Most of my firsts have been on camera. First anal, first interracial, first gangbang…for me it feels like a personal accomplishment that you're achieving on camera, which is very exciting".
As A.J. elaborated during her July 2013 Adult DVD Talk interview;
" I started out doing boy/girl, I didn't really start doing anal until 6 months in. But I don't regret it at all because I'm still getting booked all the time and I've been doing it for a year now. I feel like I got more work once I started doing anal because of my butt. I think that was the biggest decision for me".
A.J. also explained during this interview how her family eventually discovered her erotic entertainment exploits. Although her parents have since accepted her adult film career, A.J. conveyed how they were initially shocked to discover that their daughter was a porn star;
"My mom found out from my uncle who saw something. I didn't want her to find out that way. Once she found out, she asked me. She said she needed a couple of days to think about it. But then she texted me the next day and told me she loved me and whatever makes me happy. Same with my dad. It's kind of like out of sight, out of mind but now she asks me questions about it. She just recently started doing that so she's easing into it now".
During this time A.J. began to amass a large fan following for her stunning looks, seductive charm and big butt! Appearing in a variety of anal sex scenes and big butt releases for Evil Angel, Hard X, Jules Jordan Video and Digital Sin including; Anal Assess, Ass Worship 14, Ass Party 3 and 4, Big Anal Asses 1, Big Booty Obsession, Anal Buffet, Anal Enthusiasts, Babysit My Ass, Backdoor Beauties and Wet Asses 2 alongside Anikka Albrite, Chanel Preston, Casey Calvert and Savannah Fox soon earned A.J. multiple AVN, XBIZ and XRCO adult film award nominations for "Best New Starlet". A.J. has always been extremely appreciative for these adult film award nominations and noted within her June 2014 Fleshbot interview how;
"When I won 'Best New Starlet' at XRCO this year I was ecstatic! I couldn't help but cry when I got off the stage lol. I really feel so honored to be recognized for what I really love doing".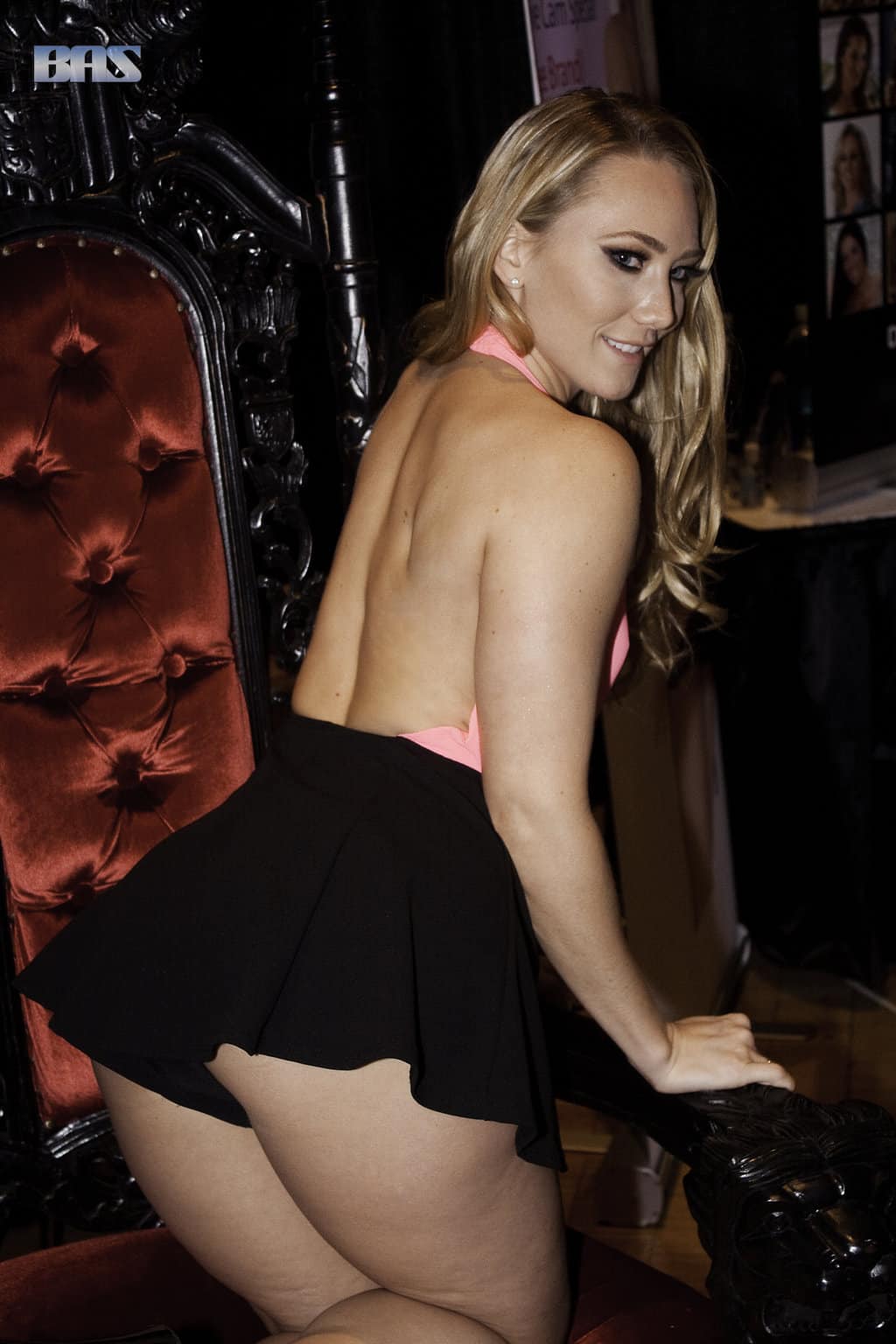 From the summer of 2013 onwards, A.J. began to feature within multiple interracial DVD feature releases including Mandingo Unchained with Allie Haze, Jessie Volt, Chastity Lynn, Vicki Chase, Juelz Ventura and Mandingo which was nominated for "Interracial Release of the Year" at the 2014 XBIZ Awards. A.J. also starred in Black Owned 5 with Riley Reid, Abbey Brooks, Giselle Leon, Lily Labeau, Prince Yahshua, Mandingo and Lexington Steele which was nominated for "Best Interracial Release" at the 2015 AVN Awards.
Throughout her adult film career A.J. has also drawn upon her earlier career experience as a fetish model and performed in a wide range of femdom, bondage and BDSM content for the popular fetish porn site Kink.com. After making her Kink.com debut alongside Francesca Le and Sheena Shaw in the December 2012 big butt fetish video Full Round Butt Sluts, A.J. began to star in numerous instalments of Kink.com's Everything Butt, The Upper Floor, Hogtied, Kinky Cuckold, Sex and Submission, Hardcore Gangbang and Whipped Ass franchises alongside femdom stars Aiden Starr, Lorelei Lee and Cheyenne Jewel. A.J.'s most recent Kink.com video was the August 2016 Evil Angel collaboration Ass Workout: A.J. Applegate and Mick Blue.
One of A.J.'s fan-favourite porn productions has been the June 2014 Hard X production Gangbang Me. Also starring Adriana Chechik, this hardcore DVD feature release enabled A.J. to film her first ever gangbang sex scenes which resulted in her winning her first ever AVN Award for "Best Group Sex Scene" in 2015! A.J. described filming her first ever gangbang during her August 2014 YNOT interview and revealed that;
"Getting gangbanged has always been one of my biggest fantasies. Getting that fantasy fulfilled was the most amazing sexual milestone of my life. To top it all off, I got to experience my first [double vaginal] and [double anal]…When the moment came that I had two cocks in my pussy and ass, I went crazy. It was the most amazing and empowering feeling I have ever felt. I seriously had so much fun that day and had so many orgasms…Everybody was involved the whole time. I had a great group of guys. The whole time they were all just trying to push my limits. That's what I love. That's what pushes me to make every scene I do better than the last".
In addition to shooting her first ever gangbang, in the summer of 2014 A.J. was featured in a layout for Hustler's Taboo Magazine and was named Elegant Angel's "Girl of the Month" for her online sex scene She Gets What She Wants. Talking about earning this prestigious title during her June 2014 Fleshbot interview, A.J. enthused how;
"I felt so honored when I found out I was 'Elegant Angel's Girl Of The Month' for May! Before I even got into the industry they were my dream company to shoot for. I really love their style of shooting and the kind of scenes they shoot. It was such an amazing feeling having them feature me".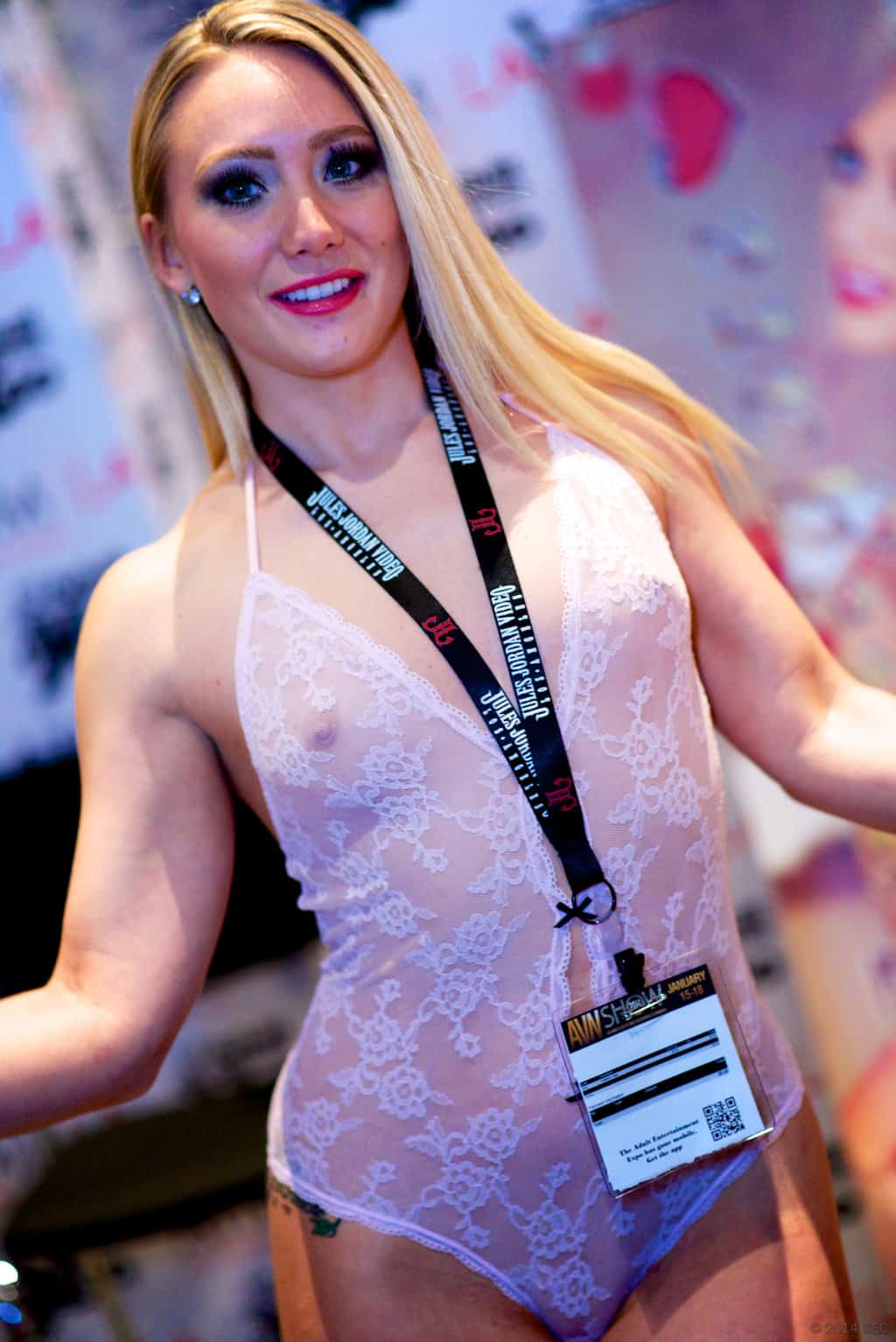 A.J.'s adult film career soared to new heights when she signed as a Spiegler Girl in February 2015. A.J. stressed the importance of being affiliated with this exclusive adult film talent agency within a recent press release, noting how;
"Being a Spiegler Girl means you're highly respected in this industry as a performer and as an individual. Even though the expectations may be higher, I don't mind that. I wanted to be part of more than just an agency, but part of a family. I'm so excited that I get to share my experience in this industry with all my fellow Spiegler sisters! I can't wait to see what this year brings for me. I love challenging myself more and more each year."
Signing as a Spiegler Girl paved the way for A.J. to appear within a number of award-winning DVD feature releases including; Silhouette for Girlfriends Films, Belladonna's Fucking Girls 8, Belladonna: Fetish Fanatic 16 and 18 for Evil Angel with Carter Cruise, Abella Danger and Adriana Chechik, Shades of Scarlet for Zero Tolerance with Romi Rain, and Big Booty Tryouts for Elegant Angel with Dani Daniels, Abella Danger, Keisha Grey, Alexis Texas and Anikka Albrite. These popular pornographic productions earned A.J. Applegate an impressive string of adult film awards nominations which have been listed below;
2013: XCritic Editor's Choice Awards winner "Best New Starlet"
2013: Sex Awards nominee "Hottest New Girl"
2014: XRCO Awards winner "New Starlet of the Year"
2014: AVN Awards nominee "Best New Starlet"
2014: AVN Awards nominee "Best POV Sex Scene" Elastic Assholes 11
2014: Nightmoves Awards nominee "Best New Starlet"
2014: Nightmoves Awards nominee "Best Body"
2014: XBIZ Awards nominee "Best New Starlet"
2015: AVN Awards winner "Best Group Sex Scene" Gangbang Me
2015: Nightmoves Awards winner "Best Butt"
2015: Spank Bank Awards winner "DP Diva of the Year"
2015: Spank Bank Technical Awards winner "Worship Worthy Booty"
2015: Spank Bank Technical Awards winner "Perfecter of the Perfect Stroke"
2015: AVN Awards nominee "Female Performer of the Year"
2015: AVN Awards nominee "Favourite Female Porn Star (Fan Award)"
2015: AVN Awards nominee "Hottest Ass (Fan Award)"
2015: AVN Awards nominee "Best Solo/Tease Performance" Gangbang Me
2015: AVN Awards nominee "Best Boy/Girl Sex Scene" Silhouette
2015: AVN Awards nominee "Best Double Penetration Sex Scene" Internal Damnation 7
2015: XBIZ Awards nominee "Best Scene – All-Girl" Belladonna's Fucking Girls 8
2015: XBIZ Awards nominee "Best Scene – Feature Movie" Shades Of Scarlet
2015: XRCO Awards nominee "Female Performer of the Year"
2015: XRCO Awards nominee "Orgasmic Analist of the Year"
2015: Nightmoves Awards nominee "Best Female Performer"
2016: XRCO Awards winner "Orgasmic Analist of the Year"
2016: Spank Bank Awards winner "PAWG of the Year"
2016: Spank Bank Awards winner "Life Sized Human Hand Puppet (Best Fistee)"
2015: Spank Bank Technical Awards winner "Feature Dancer of the Year"
2016: AVN Awards nominee "Female Performer of the Year"
2016: AVN Awards nominee "Favourite Female Porn Star (Fan Award)"
2016: AVN Awards nominee "Most Epic Ass (Fan Award)"
2016: AVN Awards nominee "Best Three-Way Sex Scene (Boy/Boy/Girl)" Sexaholics
2016: AVN Awards nominee "Best All-Girl Group Sex Scene (Boy/Boy/Girl)" Girls Kissing Girls 17
2016: XBIZ Awards nominee "Female Performer of the Year"
2016: XBIZ Awards nominee "Best Scene – All-Girl" Big Booty Tryouts
2016: XBIZ Awards nominee "Best Scene – Couples-Themed Release" Swinger 6
2016: XRCO Awards nominee "Female Performer of the Year"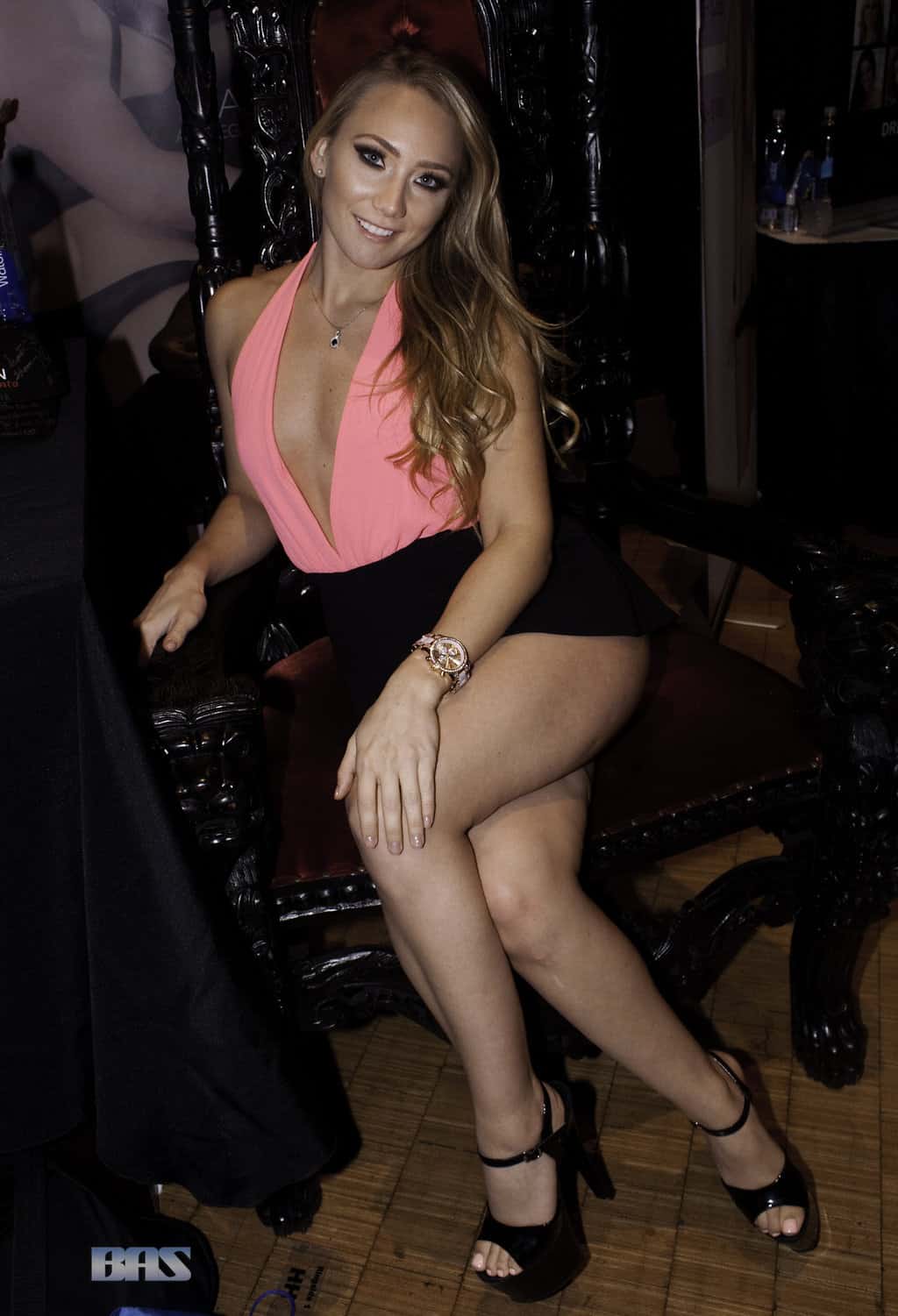 In November 2015 A.J. was crowned the ArchAngel Productions "2016 Booty Queen". As a contract star for ArchAngel Productions, A.J. has been able to film a wealth of star showcases and raunchy DVD feature releases for this leading production company throughout 2016. Thrilled to receive this distinguished title, A.J. commented during an ArchAngel Productions blog post how;
"I'm so honored that ArchAngel has named me their new Booty Queen…I saved my 1st IR anal and IR DP for something special, and I knew the Booty Queen would be the perfect showcase to include those two firsts. I really want to thank Mime Freak and Gabe for believing in me and giving me this title. I really put my all into this showcase, and I think the fans are going to go crazy and absolutely love this movie!".
After filming her first interracial anal and double penetration sex scenes with Mandingo for the ArchAngel Productions DVD feature release Booty Queen in late 2015, A.J. has continued to star in multiple interracial anal sex scenes alongside Mandingo. Amongst these fan-favourite feature releases include; the HardX.com production A.J. + Mandingo = Anal, Booty Queen 2 for ArchAngel Productions, and Meet Mandingo alongside Adriana Chechik, Aidra Fox and Morgan Lee. A.J. has also filmed interracial gangbang sex scenes for the 3rd Degree production My First Black Gang Bang which earned her a Gold Gangbang Medal at the 2016 Adult Empire Orgasmic Games.
Thus far in 2016, A.J. has appeared within a wealth of popular ArchAngel Productions DVD feature releases including Booty Movie 2 and Booty Lust as well as Ultimate Blondes 1 and 2. A.J. has also performed within her very own Zero Tolerance star showcase that was distributed in January 2016 and she starred within the June 2016 Elegant Angel DVD feature release Performers of the Year 2016 alongside Kleio Valentein, Adriana Chechik, Riley Reid, Anikka Albrite, Keisha Grey and Vicki Chase.

A pivotal moment in A.J.'s adult film career occurred in August 2016 when she co-directed her first ever pornographic production, A.J.'s Angels, alongside renowned adult film director Mime Freak! Starring Abigail Mac, Karlie Montana, Kenzie Taylor, Elsa Jean and Jenna Sativa, this ArchAngels Production paved the way for A.J.'s aspiring directing career. As A.J. has always stated within previous interview when asked about her future plans;
"I want to get the most out of this experience that I can. I hope that I can shoot as long as possible. Maybe even MILF status. [Laughs] I would love to eventually get the opportunity to direct or have my own production company. No matter what I do after the industry, I'm hoping I can use my name as a marketing tool and not have it be something negative".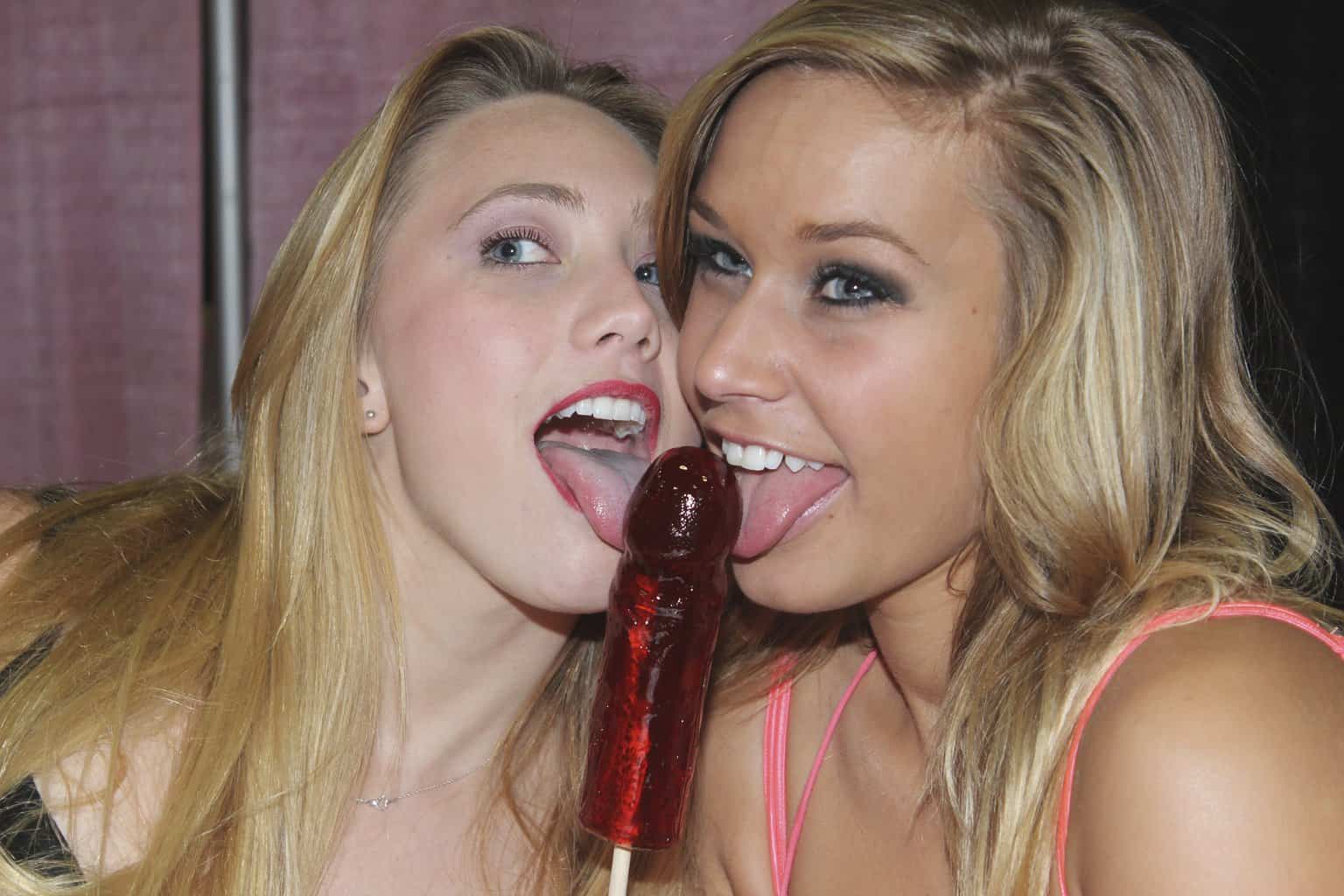 Most recently A.J. has co-directed and starred within The Archangels; a star showcase released in September 2016 by ArchAngel Productions. Co-directed by A.J. and Mime Freak and also starring Jada Stevens, Summer Brielle and MILF star Kendra Lust, The Archangels has already received rave reviews from adult film critics. As XCritic adult film blogger Don Houston advocated within his online review;
"The Archangels by director Mimefreak for Arch Angel was a lot of fun to watch and fans of the cast will find plenty to enjoy, each performance a stand out to a degree (making picking a "best scene" tricky as each had their own merits). I could tell you that I'd give my left nut to nail any one of the four fuck bunnies or how well matched they were with some of the most capable (and genetically gifted) male performers, led of course by Prince Yahshua, but if you like interracial porn with players that like engaging in it, top name ladies at that, you'll like this one a lot. I admit a certain level of affection for AJ Applegate and Jada Stevens but don't overlook Kendra Lust or Summer Brielle's performances either, Mimefreak kicking ass yet again as he does his own thing rather than follow the beaten path. The technical values were solid, the tease very appealing, and the short BTS feature all added points so I affirm this one earned a rating of Highly Recommended. In short, The Archangels was a showcase of company success stories proving their longevity and quality on a level that others no longer provide so check this one out and let me know what you thought of it".
Upon the commercial release of The Archangels, A.J. enthused to XBIZ News how;
"When I got the call from MimeFreak that they wanted to do an all-girl showcase with me, I was so excited…A lot of my fans tell me that they think my girl/girl work is so underrated, so this was the perfect opportunity to put my love for girls out there! Then, to top it all off, MimeFreak tells me that I get to co-direct!…It's so amazing to see my ideas and visions come to life," she added. "I even got to work the camera on the other ladies' teases! This really showed me the passion I have for my job, and how badly I want to direct more in the future. 'AJ's Angels' truly has something for everyone to enjoy. I'm so thankful to MimeFreak and ArchAngel for giving me this wonderful opportunity and being so supportive of me this year. MimeFreak was so patient with me throughout the making of this whole movie. I truly feel blessed to be part of such an amazing fam".
A.J. remains dedicated to expanding her porn star portfolio and pursuing more directing projects in the near future. When she isn't performing in porn or feature dancing at local nightclub events, you can find A.J. at the gym working on her ample assets! A.J. divulged her hardcore workout regime and her love of lifting weights within her Adult DVD Talk interview;
"I usually work out 6 times a week. There's nothing really special about I, I just work out the right way. I do shoulders and core one day; legs one day; glutes and abs another day; triceps and chest and then biceps and back. I just try to separate the muscle groups so that the other muscles can rest on the days I'm not working them. I used to do more cardio and once I started lifting heavy weights, it made a huge difference".
If you'd like to swap training tips with A.J. Applegate, find out more about her upcoming DVD feature releases, or simply spend some time with the blonde bombshell herself via a live chat session, then why not check out her official social networking channels that have  been provided below?
Social Networks
Twitter: @AJsapplebooty
Instagram : @realajapplegate
Chaturbate Profile : Chaturbate

Kink Profile : http://www.kink.com/model/45997
Tumblr : http://ajapplegatexxx.tumblr.com/
Snapchat : ajsapplebooty
Feature Dancing: @alistdave
IMDB Profile : http://www.imdb.com/name/nm5482171/