Sign up for our newsletter to stay closer to the hottest women in the world!
XXXBios – Who are we?

We write in depth biographies on adult film stars. Our biographies are written for the fans who want to learn more about their favorite performers. We are inclusive of everyone and non-judgemental. You may love us or hate us, but we always work our hardest to deliver the best, authentic and most respectful content about these performers.
XXXBios – Critically Acclaimed Biographies
XXXBios is a critically acclaimed website that was recently nominated for "Best Free AltPorn Site" at the 2018 Alt. Porn Awards.
Our biographies have also been cited by many prominent publications including The Daily Dot and Wikipedia. Other sites may reference our exclusive information, but you can find it here first!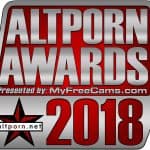 XXXBios – Shared By The Stars
Our in-depth biographies are regularly shared by the stars themselves who love our work. Here are a just few of the sensational stars who have recently endorsed our work:
XXXBios – Industry leading accuracy
At XXXBios we go a step beyond the rest; carrying out extensive research into all of our biographies before publishing. We pride ourselves on the validity of our content; continuously updating our biographies as the performer's careers thrive.
Our biographies are as accurate as possible and the stars agree:
XXXBios – Cutting Edge, Fully Inclusive Journalism
XXXBios is an inclusive site that does not discriminate against performers or users based upon their gender, race or sexual preferences. For too long adult film professionals and their fans have been disrespected and sidelined by mainstream channels. We feel it is our duty to shine a light on these individuals and the projects that they have worked so hard to create.
We are committed to improving our site and removing terms that performers and readers find offensive. As such, we no longer use the term "shemale" in our biography URLs but this remains in some of our historical screenshots.
We are proud to say that our transparent, judgement-free journalism has been praised by many performers:
XXXBios – International Coverage
From the United States to India and Korea, we love to showcase the stars that many sites ignore. Often overlooked, we feel these performers deserve their own spotlight. We always welcome recommendations from users who would like to learn more about certain stars. Please use our contact form if there is a star you would like us to add to our writing list.
Check out our Top 10 Lists to learn all about the amazing international stars from China, India, Japan, Korea and all across the globe!
Sign-up for our newsletter to immerse yourself in a whole new world. Find a new favorite star, discover an exciting new niche, or rediscover some sensational stars from your secret memories.
A treasure trove of erotica, novelty and fantasy is just a few clicks away!
Our newsletters are never repeated – if you miss one, you will never see it again. Sign up today and don't miss our next email!