Personal Info
Name : Anikka Albrite
Alias : Annika Albrite, Anikka Albright, Annika Albright, Annikka Albrite
Hometown : Denver, Colorado (US)
Date of Birth: August 7th 1988
Measurements : 34B – 24 – 38
Bra/ Cup Size : 34B
Boobs : Natural
Height :  5'6 (1.68m)
Weight : 125lbs (57kg)
Hair Colour : Blonde
Eye Colour : Blue
Years Active : 2011 – present (as a performer) , 2015 – present (as a director)
Number of Scenes : 370+ (as a performer) , 4+ (as a director)
Image Sourced from Wikimedia, Attribution :  © Glenn Francis, www.PacificProDigital.com
Born in Denver, Colorado, Anikka Albrite was raised in Arizona with her four siblings. Anikka's family have always been accepting of her adult film career; her mother even gave her a 'Congratulations' card to commemorate her first DP scene! Although her father was initially reluctant about his daughter working as a porn star, Anikka explained during her Men's Mag Daily interview how being honest with her parents about her adult film career has ultimately brought them closer together as a family;
"I have 4 sisters and brothers. My siblings all know what I do and are accepting of it. My oldest sister has even gone to the past AVN awards with me. Both my parents are supportive of my decision to go into porn…
 My mom guessed it pretty much at the beginning of my porn career. When I confirmed it, she took it pretty well and was good-humored about it. She even likes to hear about what's going on with work and congratulates me when I win awards. Most recently, for my 1st DP, my Mom gave me a congratulations card with a Victorian era looking woman on it with an arrow pointing to her front and an arrow pointing to her back, saying "Insert here" "And here". (Laughs) She's amazing; she is definitely my number one fan…
 I told my Dad about my career choice a year after being in the industry. He is more conservative and I was afraid of how it would affect my relationship with him. I knew that I had to tell him though and when I did he told me he kind of already suspected I was doing something like that due to my world traveling and many modeling shoots I didn't share details with him about. Once I explained exactly what it is I do and that I keep my safety in mind first, he was more accepting of it. Although my dad would prefer I do something else, he loves me regardless and is very supportive in my decision. I feel that I have a better relationship with my parents now than I did before because I can talk about anything with them".
Although Anikka initially pursued a career as a lab technician and home health care provider, her sexual nature and love of porn meant that she was always destined to work within the adult entertainment industry. After all, as Anikka confessed in her Men's Mag Daily interview;
"I was always a very sexual person. Even growing up, I loved to be naked and was fascinated with nudity. In high-school I masturbated with all kinds of random objects including food, etc. I didn't have any sex toys at that age and had to get creative. I discovered porn in my teens and became obsessed with it. My favorite kind of porn is hentai, girl/girl, and IR. When I had open-minded boyfriends, I liked playing with BDSM and role-playing…
I even had trouble studying in college sometimes because I was too horny and had to masturbate before studying and going to class. I thought I was hyper-sexual at one point in my college years and e-mailed an expert on hyper-sexuality for advice because it was interfering with my classes. Sex has always been my vice. I never had any issues or addictions with anything else, just sex. I can't get enough of it".
Anikka has lived across the United States throughout her life; moving from Arizona to California when she was a teenager and currently residing in Wisconsin. Anikka had a happy childhood and mentioned in her August 2014 Adult DVD Talk interview how she was engaged in a wide range of interests;
"I moved around with my family a lot as a kid; Colorado, Wisconsin, Arizona. I grew up mostly in Arizona, before moving to California. I loved the outdoors, & my Mom raised me to know everything about the surrounding wildlife. That's where my passion for Science began…As I grew older, that fascination grew into a sexual fascination for the human body. I was very shy, and always in my own fantasy world. I dreamt of traveling to faraway worlds & being a part of other cultures. I was always a free-spirit. I loved music; I started playing the flute at age 10, & I was a part of a traveling girls chorus. We would sing all over the State at different events. I also loved sports. I started playing basketball at age 6, & I played on boys basketball teams. My parents believed it would make me tough, & it did; I grew a reputation for being really strong with defense. I also played volleyball, & ran in track & field".
Before she began her adult film career Anikka studied molecular biology and business as double majors in college. After graduating, Anikka worked as a lab technician and as a home health care provider. In fact, Anikka only began her porn star career after being laid off from her home health care job;
" I contemplated joining the industry for a few years before actually taking the plunge. I was very aware of how it might affect my future, & during that time I wasn't sure I wanted to take the risk. Then, after a few years of working in other fields, I was laid off from my job. I had rent & bills to pay, & I was trying to save money for my advanced degree. I decided that was a sign from the Universe to join the adult industry. I figured, I only live once, & I want to live in the now & try something that I'm really passionate about. After I made the decision to get in, a friend of mine introduced me to my old agent, & I jumped right in! I am really glad I joined the industry! My only wish is that I would have joined it a few years earlier. I believe my real-world life experiences have helped me keep my head straight on my shoulders though, & I am grateful for that".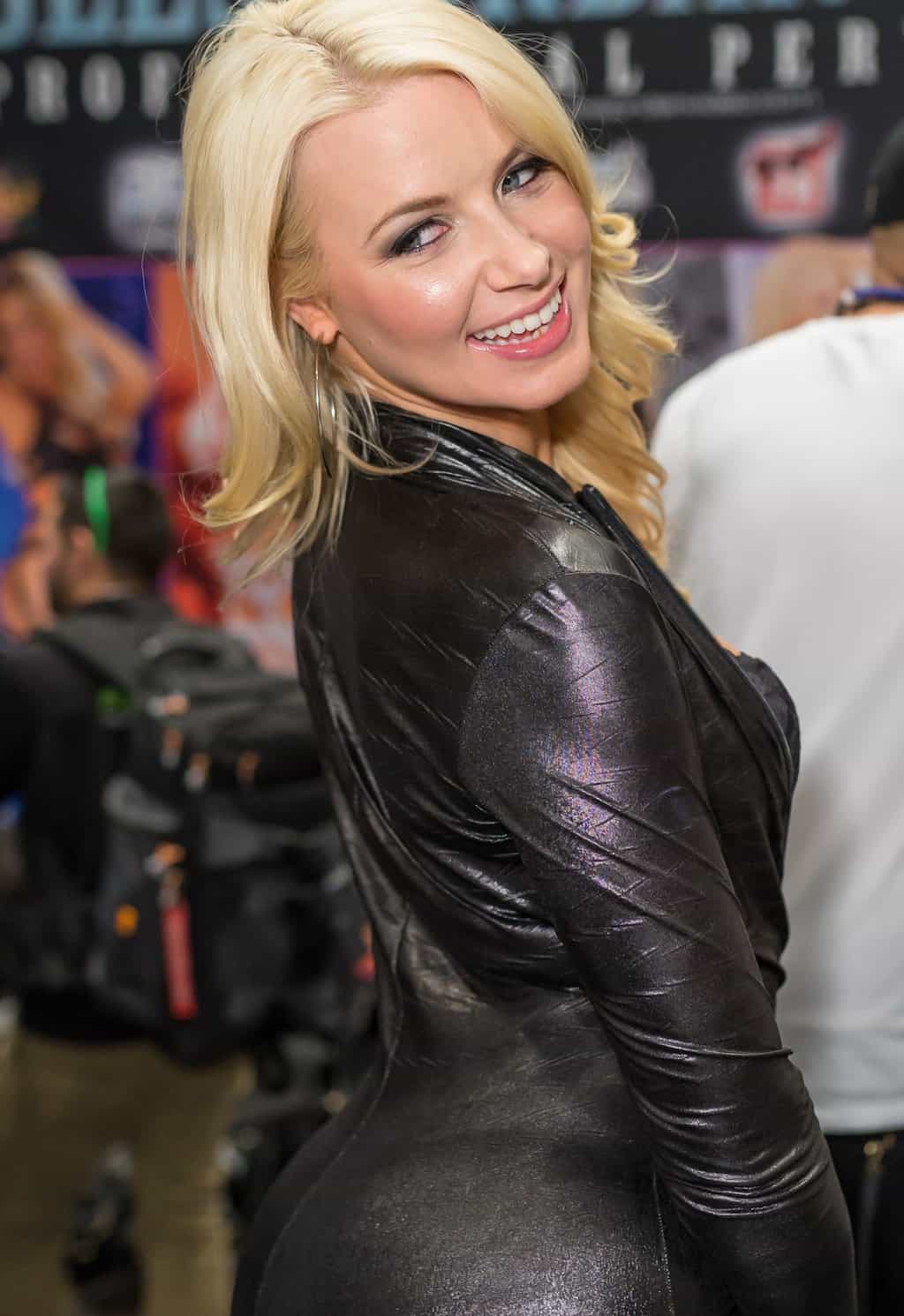 Anikka Albrite : Adult Film Career
By October 2011 Anikka had been working on and off as a mainstream model and TV extra before deciding that she wanted to pursue a career as a porn star. If you watch the 2015 Austrian horror film Chimney or Pit you will even be able to spot Anikka playing a grim reaper! As Anikka discussed during a Men's Mag Daily interview;
"I definitely wanted to do mainstream stuff and I'm still interested in it. Before I came into the adult industry, I did some mainstream modeling and was an extra on TV shows. Since being in the adult industry, I've done some mainstream acting for various TV shows and I was in an Offspring music video as well. I love the mainstream side of the industry as well".
Anikka discussed her porn star plans with a photographer friend who had connections with the adult film industry. In this manner, Anikka was booked to film her first ever sex scenes that were featured in the Lethal Hardcore production, Glory Holes Confessions 7. During her Captain Jack Adult DVD Talk interview Anikka described shooting her first ever sex scenes and thanked her photographer friend for his support and guidance;
"He found out I was interested so he introduced me to an agency that he knew did a good job with the girls, and they signed me. I'm really grateful to him because I didn't even know there was such a thing as an agent for porn. (laughs) I probably would have ended up in not such a good place if I had tried to do it on my own…
It was a boy/girl scene and it was pretty awesome actually. They e-mailed me the shoot information & address. I was really, really, really nervous. The director told the male talent & I the scenario is we end up getting distracted and fucking each other before we go out on our date. The director then gave us the video camera and told us we had to film each other doing it. So it was very, very similar to filming sex at home which I had done many, many times before! (laughs) So when I walked away from the set, I thought, "man, this is such a cool job!" Like I'd do exactly what I do at home and I get paid for it and these people are really cool! (laughs)…You have all these expectations or you really don't know what to expect. So it's just so nerve wracking trying to figure out if you're going to do well. But once the sex started, I just forgot about it all. And I just enjoyed myself".
Anikka's porn star career got off to a flying start when Glory Holes Confessions 7 was nominated for "Best Oral Release" at the 2013 AVN Awards. By 2012 Anikka had also entered and won the annual MeanBitches "Ass-Off" Contest alongside Shane Dos Santos and Sheena Ryder. Winning this competition enabled Anikka to film a new scene for Meanbitches.com and to appear on the cover of Femdom Ass Worship 20. Discussing her "Ass-Off" win during a 2012 Luke Is Back interview, Anikka enthused how;
"I have always wanted to win an Ass-Off. It has been my Life Goal since I was a child. While the other kids were dreaming about being Ballerinas and Astronauts, I was dreaming about having the Best Ass…
I studied booty tricks and mastered them in time for the Ass-Off. One of the rounds in the contest was the Lapdance round and I have never been a professional stripper. So I was particularly proud of winning that part of the contest. I was really happy that I gave good lapdances. I spent a lot of time practicing on my roommate Riley Reid".
In 2013 Anikka filmed her very first anal sex scenes for the DVD feature release Anikka. Performing alongside her boyfriend Mick Blue, this saucy film shoot won "Best Anal Sex Scene" at the 2014 AVN Awards. Describing this pivotal moment in her career during an XCritic interview, Anikka commented how;
"I was very much aware of the demand to have me do my first anal! It seems many times on set, the director or the male talent would ask me when I was planning on doing my first anal. It was always so amusing! I've wanted to do anal ever since the beginning of the year, but it didn't feel like the right time yet. I wanted to do a movie showcase for my first anal, so when Mason called me about doing one, I jumped at the chance! She is the perfect director to shoot something so important to me and I respect her tenacity. I knew it was the right time!".
Following the success of her first anal sex scene, in 2014 Anikka filmed her very first double penetration sex scene with Mick Blue and Erik Everhard for Anikka 2; a saucy shoot which went on to win "Best Double Penetration Sex Scene" at the 2015 AVN Awards! Anikka has continued to collect prestigious adult film awards throughout her porn star career. Anikka has even hosted the AVN Awards alongside Joanna Angel on January 23rd 2016! Some of Anikka's most impressive adult entertainment accolades include;
2013: Nightmoves Award winner "Best New Starlet (Fan Choice)"
2014: AVN Awards winner "Best Three-Way Sex Scene (Boy/Boy/Girl)" Anikka (with James Deen and Ramon Nomar)
2014: AVN Awards winner "Best Anal Sex Scene" Anikka (with Mick Blue)
2014: AVN Awards winner "Best Tease Performance" Anikka
2015: AVN Awards winner "Female Performer of the Year"
2015: AVN Awards winner "Best Solo/ Tease Performance" Anikka 2 (with Dani Daniels and Karlie Montana)
2015: AVN Awards winner "Best All-Girl Group Sex Scene" Anikka 2 (with Dani Daniels and Karlie Montana)
2015: AVN Awards winner "Best Double Penetration Sex Scene" Anikka 2 (with Mick Blue and Erik Everhard)
2015: AVN Awards winner "Best Three-Way Sex Scene (Girl/Girl/Boy)" Dani Daniels Deeper (with Dani Daniels and Rob Piper)
2015: XBIZ Awards winner "Female Performer of the Year"
2015: XBIZ Awards winner "Best Scene – Couples-Themed Release" Untamed Heart (with Tommy Gunn)
2015: XRCO Awards winner "Female Performer of the Year"
2015: Nightmoves Award winner "Best Female Performer (Fan Choice)"
2015: Venus Awards winner "Jury Award for Best Porn Couple" (with Mick Blue)
2016: AVN Awards winner "Best All-Girl Group Sex Scene" Angela 2 (with Angela White and Alexis Texas)
2016: AVN Awards winner "Best Three-Way Sex Scene (Girl/Girl/Boy)" Anikka's Anal Sluts (with Valentina Nappi and Mick Blue)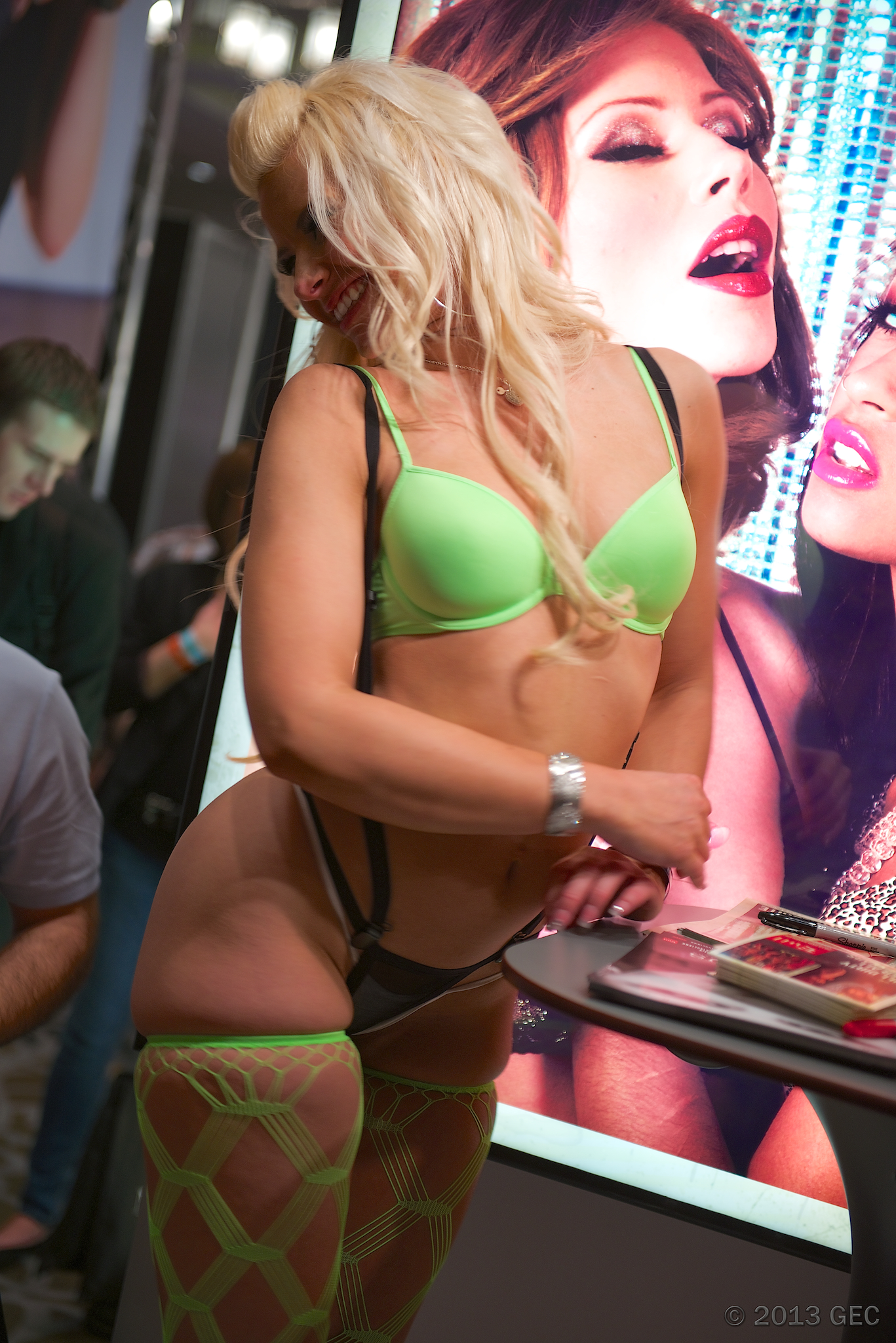 In addition to receiving these prestigious awards, Anikka was also ranked #1 in LA Weekly's "10 Porn Stars Who Could Be The Next Jenna Jameson" article and has been named within CNBC's famous "The Dirty Dozen: Porn's biggest stars" list for the last three years.
As well as performing with mainstream pornographic production companies, Anikka has always been eager to experiment within the fetish lifestyle market. Consequently, Anikka made her fetish porn debut on February 1st 2012 via the online sex scene Four Months into Porn and Hotter Than Jenna Jameson: There's A New Blonde Babe in Town which was distributed via the femdom and BDSM porn site Kink.com.
Anikka swiftly followed this popular fetish production with her very first bondage sex scene, Hot Blonde Anikka Albright's FIRST BONDAGE SHOOT EVER!, which was distributed via Kink.com on February 17th 2012. Over the years Anikka has continued to appeared in a wide range of  Kink.com content including frequent features within their various Device Bondage, Electro Sluts, Sex and Submission, Foot Worship, Everything Butt, Fucking Machines and Public Disgrace web series. Most recently Anikka collaborated with fellow female porn star Carter Cruise on the lesbian erotica-themed sex scene Fetish Squad 17.
Anikka has also been immortalised via her own Fleshlight sex toy line. In February 2016, Fleshlight released Siren and Goddess textured toys which serve as exact replicas that have been moulded from Anikka's body. Anikka explained the process of creating these saucy sex toys within her February 2016 Adult DVD Talk interview;
"It was the coolest thing! Basically, they had me stimulate my pussy so they can make it as puffy and engorged as possible so they can make the molding. It was awesome! I just laid down on the bed having a casual conversation with the guys that mold the Fleshlights, listening to good music using a Hitachi to masturbate. It was funny, they told me I couldn't cum. They wanted me to get as close to cumming but edge myself. I told them, 'You guys are driving me crazy! I can just cum again, I'm not like a guy!' (laughs) It was so funny. I was teasing them, 'I'm gonna cum! I'm gonna cum!' So every time I pleasured myself, they put on some green molding material, I'm not sure what it was, and then they put this other thing on top of it to heat it up and mold everything. They did that and it was pretty fun! I had never had anything done like that before. It was such a cool experience. Actually, I have a lot of photos, I should post those…
The molding process took about an hour and a half. The hardest thing was keeping my legs up for the process. I had to have them up for quite an extended period of time while it was settling in. They were falling asleep so I remember some guys had to hold my legs up. (laughs)".
In addition to her extensive porn star portfolio and personal sex toy line, Anikka is also a talented dancer and in June 2015 made her feature dancing debut at the Crazy Horse nightclub in San Francisco. Anikka is also extremely athletic and enjoys participating in all manner of adventurous sports activities from scuba diving and horse-riding to skydiving and hiking.  As Anikka stated within an XCritic column interview;
"I love anything that has to do with the outdoors! I scuba dive, skydive, surf, hike, go camping. I also enjoy horseback riding and caring for horses. I used to volunteer at a horse rescue ranch. I also love traveling. I've been to 20 countries so far! I play the flute and I also sing. Those have always been hobbies of mine since I was a young girl. I am also a huge sci-fi and fantasy nerd and love TV shows like Battlestar Galactica, Star Trek, Firefly, Doctor Who & Game of Thrones…I am an animal lover! I love cats, dogs, horses, hedgehogs, you name it! I currently have two cats and a dog. I'm hoping to have a horse someday as well!".
Is there anything Anikka Albrite can't do?!
Anikka Albrite : Marriage to Mick Blue
Anikka identifies as bisexual and since March 14th 2014 she has been married to male porn star Mick Blue. Outside of their adult film exploits, Anikka and Mick have described themselves as "very monogamous" and have become the hottest couple in porn. What does Anikka attribute as the key to their happy marriage? Sex! As Anikka herself stated during an Adult Empire interview in 2015;
"The thing that really helps us as a couple and helps our relationship is we always try to have sex every day. No matter if he comes or I come, or if it happens or it doesn't, it doesn't matter. We just always want to maintain that intimacy between us . . . that's what really keeps us close as a couple".
Their ongoing intimacy seems to be working as, without a doubt, Anikka and Mick have become the hottest couple in porn! Not only have they founded their own production label, BAM Visions, but they have also won the 2015 Venus Award for "Best Porn Couple". Most impressively, Anikka and Mick are the first married couple ever to win the "Female Performer of the Year" and "Male Performer of the Year" accolades simultaneously at the 2015 AVN Awards.
Anikka and Mick have even been featured within an October 2015 Cosmopolitan article titled 4 Porn Stars Talk About How They Fell In Love. Within this article Anikka discussed how the couple met and how their respective porn star careers have served to strengthen their relationship;
"We first met on a plane flying to San Francisco for work. We talked to each other a little bit, but Mick had a girlfriend at the time. A few months later, we worked with each other for the first time, and the sex was great and we talked about a lot of our similar interests, but it never went further than that between us. It wasn't until almost a year later when we ran into each other on the convention floor at AVN 2013, and Mick kissed me as soon as he saw me. The sparks flew, and he told me he was single again. Ever since that day, we've been inseparable…
Marriage means to be there for each other in good and bad times. It means to be each other's best friend and share every part of our lives together. It means to respect each other in everything. We make every decision together, and we are also very monogamous in our private sex life…
Porn doesn't determine how it affects someone; it is the individual watching porn that determines how it affects them. Porn gives people the possibility to relieve themselves on their own and get out their aggressions through masturbation, instead of going out and cheating on their partners with another person, or harming another person out of pent-up aggression. Being a married couple in the porn industry, we personally have benefited from porn, because we are completely open and honest and transparent with each other. We use work as a way to act out our fantasies, but at home, we love being with just each other, and we don't let work mix with our personal lives".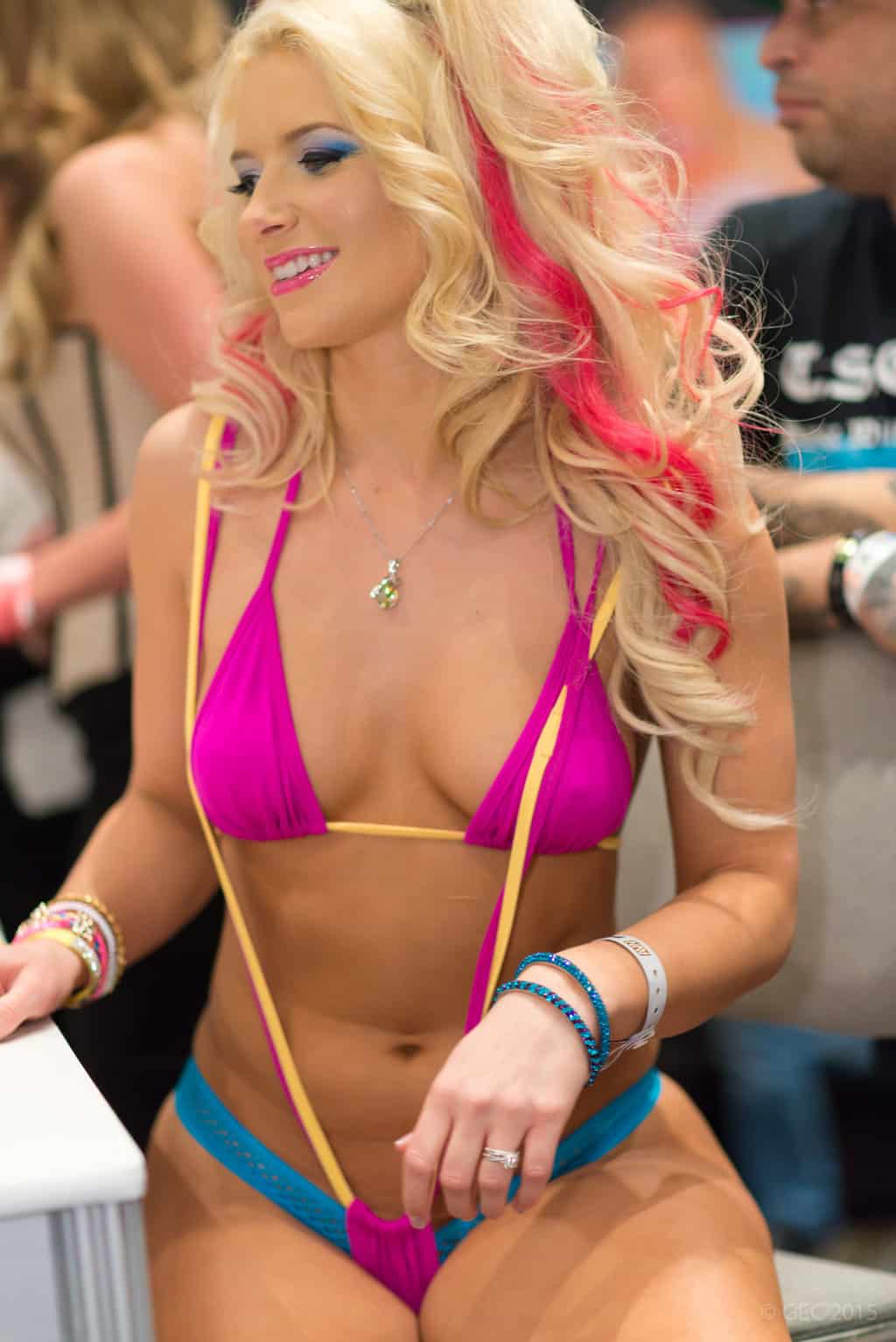 Anikka Albrite : BAM Visions Production Label
Alongside her husband Mick Blue and adult film star Maestro Claudio, Anikka formed the BAM Visions production label in June 2015 in association with Evil Angel productions. Through BAM Visions, Anikka made her directorial debut in October 2015 with the DVD feature release Anikka's Bootycise. This lesbian-themed erotica also starred Abigail Mac, Mia Malkova, Bree Daniels and Jenna Sativa.
Anikka has since directed multiple Evil Angel productions through the BAM Visions production label including; Anikka's Cuckold POV in February 2016, Anikka's Fuck-It List in May 2016 and most recently Mick Loves Anikka in June 2016 with Adriana Chechik, Aidra Fox, Erik Everhard and Mick Blue. Whilst promoting the commercial release of Anikka's Cuckold POV in February 2016, Anikka enthused during an Adult DVD Talk interview about how much she loves directing her own pornographic productions;
"I absolutely love directing. It's been fun figuring out ideas for my next movie. I have so much I want to do! Figuring out what I want to do next and who I want to shoot. It's fun to create new fantasies, not just play them but create them".
When asked about her future plans during an AIP Daily interview Anikka stated that;
"I would want to shoot a massive orgy scene with all my Spiegler sisters. My agency is full of a tight-knit group of sexy ladies. I think it would be so hot to have an all-out orgy with all 26 of them!…I would love to work with Jesse Jane. She was my girl crush before I even came into the adult industry. I would watch all her movies. I would also love to work with Toni Ribas. I don't know how I've been in this industry for three years and I haven't worked with the passionate Mr. Ribas yet!".
If you'd like to stay updated on all of Anikka Albrite's latest performances, directing projects and live cam-site sessions, then please feel free to use the links provided to connect with her official social networking channels. From feature dancing to performing, presenting and directing, this prolific porn star shows no signs of slowing down any time soon!
Social Networks
Amazon : Anikka Albrite's Wish List
Twitter : @AnikkaAlbrite
Instagram : @alotofbritesmiles
Facebook : https://www.facebook.com/anikka.albrite
Chaturbate Profile : Chaturbate
Kink Profile : http://www.kink.com/model/37246 
IMDB Profile : http://www.imdb.com/name/nm4920605/