Personal Info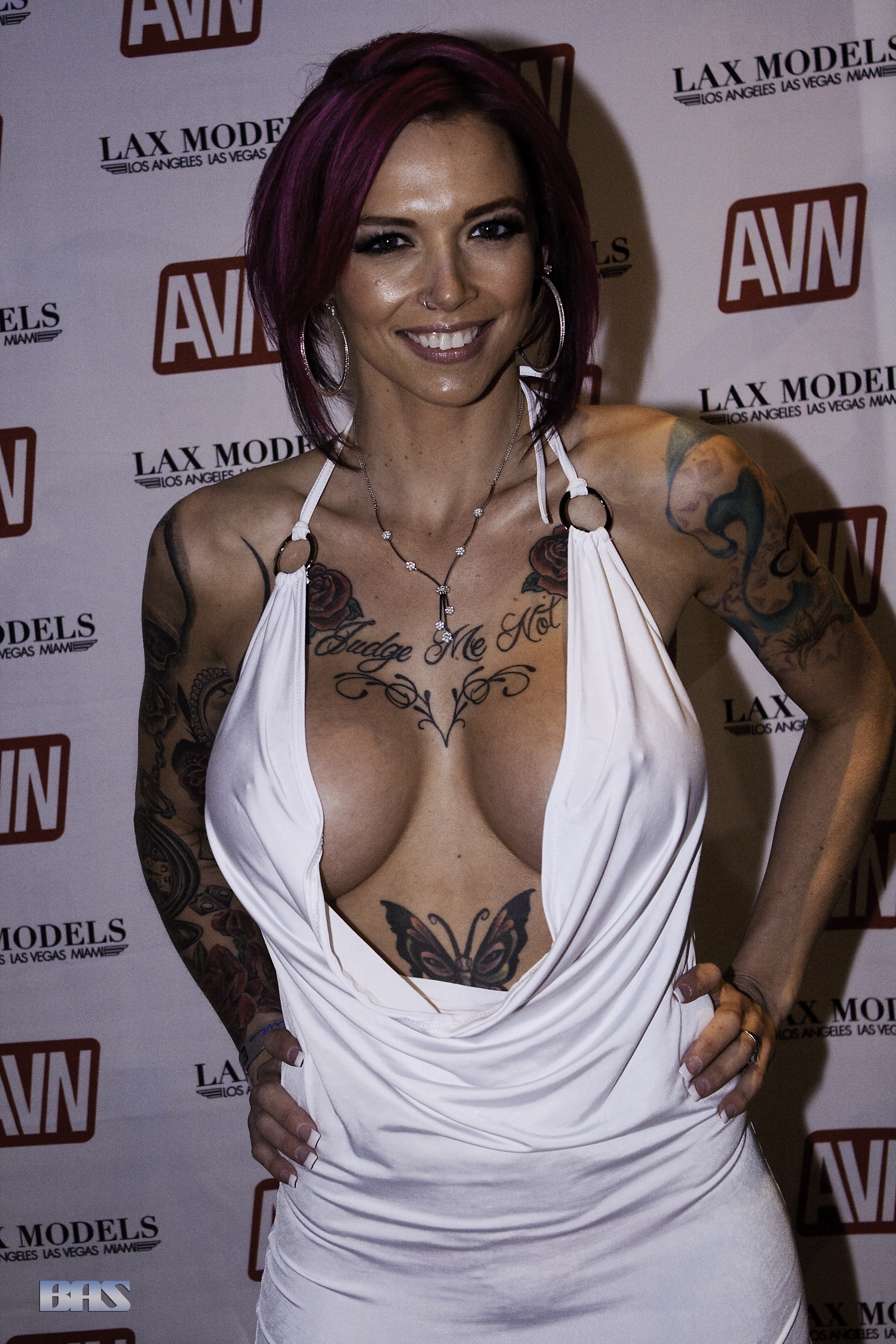 Name : Anna Bell Peaks
Date of Birth: July 26th, 1981
Home Town : Chatsworth, California (US)
Measurements : 32G – 25 – 32
Bra/ Cup Size :  32G
Boobs : Enhanced
Height : 5'6 (1.67m)
Weight : 118lbs (54kg)
Hair Colour : Magenta
Eye Colour : Blue
Tattoos : Anna has 27 tattoos in total including 'Judge Me Not' script with two roses on either side above her breasts, a large butterfly design above her navel, a black tribal design on her right flank, a multi-coloured sleeve on her upper left arm, a black skull and roses design on her upper right arm, a black pocket watch design across the side of her right elbow, a multi-coloured rose design on her right forearm, a rose design above her pussy, a large multi-coloured mask design with script across the front of her left thigh, a band around her right thigh, a large angel wings design and Chinese characters travelling down her upper back, a tribal design across her lower back, a multi-coloured floral design on the back of her left calf and matching bow designs on the back of each of her thighs.
Anna discussed her tattoos during her June 2015 Adult DVD Talk interview, divulging that "I got my first one when I was 18…I actually have a lot with sentimental meaning. Not all of them, some are just 'awww, a cute butterfly, let's get that!' And then there's some that really mean a lot to me when I got at a turning point in my life and things like that. I probably have a dozen of those".
Anna has also mentioned within her June 2015 All Hip Hop interview that; "I have 27 tattoos. I have a few favorites that mean a lot to me. The Judge me Not tat across my chest was a turning point for me, when I decided that I need to live myself instead of worrying about what everyone else thinks of me".
Piercings : Navel, right nostril, clitoris, tongue and both nipples
Shoe Size : Women's 8 (US)
Years Active : 2015 – present
Number of Scenes : 65+
2016 Inked Awards "Starlet of the Year" Winner Anna Bell Peaks is a terrifically tattooed female porn star who has captivated fans across the globe with her sizzling webcam modelling sessions, entrancing feature dancing performances and scene stealing moments within such award-winning DVD titles as Suicide Squad XXX: An Axel Braun Parody and Cindy: Queen Of Hell. From her broad spectrum of kinky web content to her saucy DVD feature release performances, Anna Bell Peaks is an unforgettable female performer with her sights set on adult film superstardom!
However, the terrifically tattooed starlet you see before you is a far cry from the mild mannered Midwestern girl that Anna Bell used to be during her childhood years. After all, within previous interviews Anna Bell has revealed that she led a fairly sheltered childhood and remained focused upon her studies; graduating as the salutatorian of her class and attending college whereupon she attained her Master's degree in Accounting and ultimately her Certified Public Accountancy (CPA) license. As Anna Bell divulged during her June 2015 Adult DVD Talk interview;
"I grew up in the Midwest. I grew up in a very sheltered family, probably like most Midwest girls. (laughs) I was a straight A student, I was absolutely a good girl. I graduated high school and was the salutatorian of my class, I went to college. I got my four year degree in accounting, got my Master's in accounting, got my CPA license. And then entered porn. (laughs)…I was ugly in high school! (laughs) I was an ugly duckling. I think I may have started to turn a corner when I was in the 10th or 11th grade. But no, no, no, I didn't fill out until the end of high school".
Anna Bell revealed within this Adult DVD Talk interview that she lost her virginity when she was 16 years old to her high school sweetheart to whom she has been married for the past 17 years. As Anna Bell puts it in her own words;
"I had a high school sweetheart who I started going out with in 8th grade. Although, to be honest, you don't go out with anybody in 8th grade, you just hold hands and what not. And I married him and we have been together for 16 years…in the last 6 or 7 years, we've had an open relationship only because it keeps things spicy. We've been together a very long time. We started doing the open relationship thing and it made it an easier transition than maybe the average couple".
Before she decided to pursue a career within the adult entertainment industry Anna Bell worked as a CPA in Chatsworth until she was 33 years old. Unfulfilled with working this 9 to 5 job and striving to pay off her student loan bills, Anna Bell decided to indulge her highly sexual nature and started performing as a webcam model via the adult cam sites Chaturbate and MyFreeCams from 2014 onwards. After all, as Anna Bell explained via her official solo website;

 "When I worked as a Certified Public Accountant the hours could be very long and I had to work hard, so it's super easy for me now that I'm doing something I really love…What could be better than making your living as a porn star?!".
Hosting numerous nightly live chat sessions via Chaturbate and MyFreeCams inspired Anna Bell to pose for some glossy glamour modelling photos at a local studio which she posted online via her webcam modelling profiles. In no time at all, Anna Bell's phenomenal photos were spotted by a talent scout who put Anna Bell in contact with several adult film modelling agencies and thus her porn star career was born! Anna Bell discussed this pivotal period of her life during her June 2015 Adult DVD Talk interview, highlighting how;
"I went to college, got my Master's degree, all that stuff. I'm in accounting with my CPA license, I'm doing well. I made pretty good money as a CPA. I was paying off my student loans. I got tired of paying and paying and paying on them so I started webcamming, at night at home. It was pretty easy to do, it was part time, at home, I like sex. So I started doing that and I made a lot of money doing that. What happened was, I got some pictures taken at a glamour studio because I wanted good pictures for my webcam site. A guy there said, 'Oh my gosh, you're beautiful! You need to be a model!' I just thought he wanted to get my phone number so I gave it to him. (laughs) And 2 days later, I had my phone ringing off the hook with different agencies. When it happened, I wasn't even looking for it. I was thinking of possibly webcamming full time but I wasn't looking for anything in the porn industry. It took a full month to think things through. Is it a positive thing? Is it a negative thing? It's going to be with us for the rest of our lives, all that stuff before I decided, 'Yeah, let's do this'".
Although she loves her adult film career, Anna Bell has commented within previous interviews that she may return to working as a CPA after she retires from the adult film industry; possibly even providing financial advice for her fellow porn stars! After all, as Anna Bell jokingly stated within her October 2015 AVN Magazine interview;
"When I'm old and ugly and they can longer use me I'll probably be a CPA, probably a CPA for porn stars because they need a lot of help with their taxes. I really did love that job. I'm just a very sexual person…I'm driven, I'm a hard worker, and I love what I do. I am a very goal oriented individual. That's how I became what I was in the accounting world; it's what I'm going to do in the porn world. I don't want to be second in awards. I want to win Best New Starlet at the AVN's. I'll do everything I can to get in front of the right people, meet the right people and do the best scenes that I can and just put my name out there so that they see me and hear my name a lot. I don't want to be second. [Laughs]".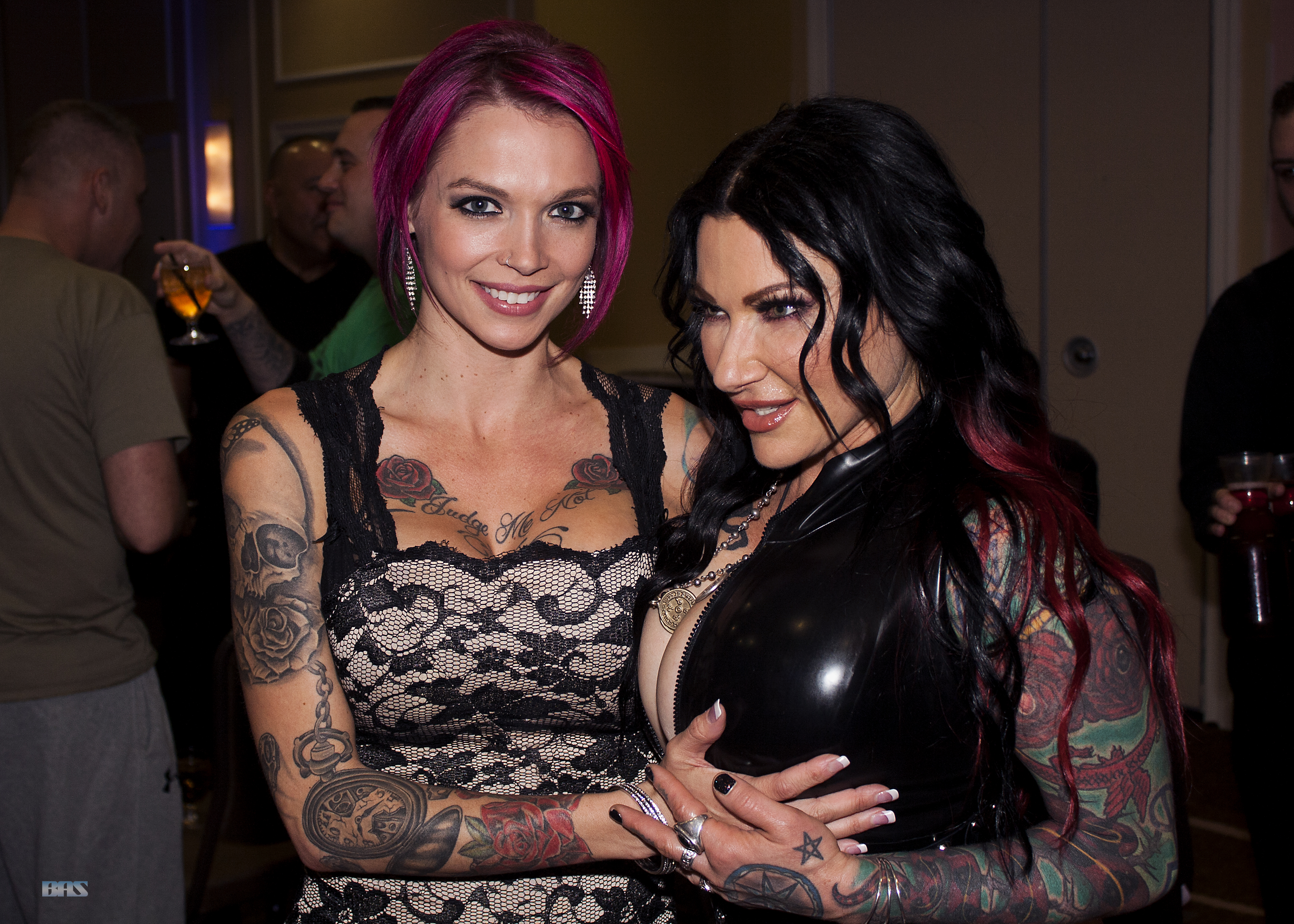 Anna Bell Peaks : Adult Film Career
In January 2015 Anna Bell filmed her first ever sex scenes with male porn superstar Lexington Steele for the Evil Angel DVD feature release Lex's Tattooed Vixens 1 (2015). Anna Bell discussed shooting her first ever sex scenes during her June 2015 Adult DVD Talk interview and explained how she feels that starting her porn star career later in life has enabled her to enter the adult entertainment industry with more confidence and sexual prowess;
"It came very naturally. I'm very voyeuristic, that's what I like. It's a turn on to know other people are watching you. It's not all that much different from webcamming…I got into porn late in life. A lot of girls get in at 18. I didn't like it when I was 18. I didn't like sex, I didn't know how to have sex. You're brand new, you don't know what you're doing. By the time I was 25-26, I knew that sex was the greatest thing on the planet. By then, you figured out how to do things, what turns you on. I can totally see why girls that are 18 and doing porn have trouble because they don't know their own bodies. Sometimes they're also not mature enough to handle everything that's thrown at them. And I don't think that my age is going to limit my career because I look younger and when that wears off, there's a whole category of MILFs that I can draw from".
Anna Bell decided to adopt the porn star stage name 'Anna Bell Peaks' because of her Midwestern roots and ample assets. Upon being asked about her porn star stage name within her September 2015 Fleshbot interview, Anna Bell saucily stated;
"Anna is a name I've used a long time and, well, Peaks seems appropriate for my tit size! Anna Bell had a nice Midwest-type sound to it, which is where I'm from so that was that!".
Instantly recognisable by her collection of colourful tattoos, Anna Bell's captivating body artwork has since featured within several best-selling tattooed themed DVD titles such as Inked Angels 5 (2015) for Evil Angel, I Banged My Tattooed Stepsister In The Ass (2016) with fetish porn superstar Joanna Angel for Burning Angel Entertainment, Axel Braun's Inked 2 (2016) for Wicked Pictures, Cum On My Tattoo 6 (2016) for Burning Angel and Whore's Ink 3 (2016) for Evil Angel and Jonni Darkko Productions.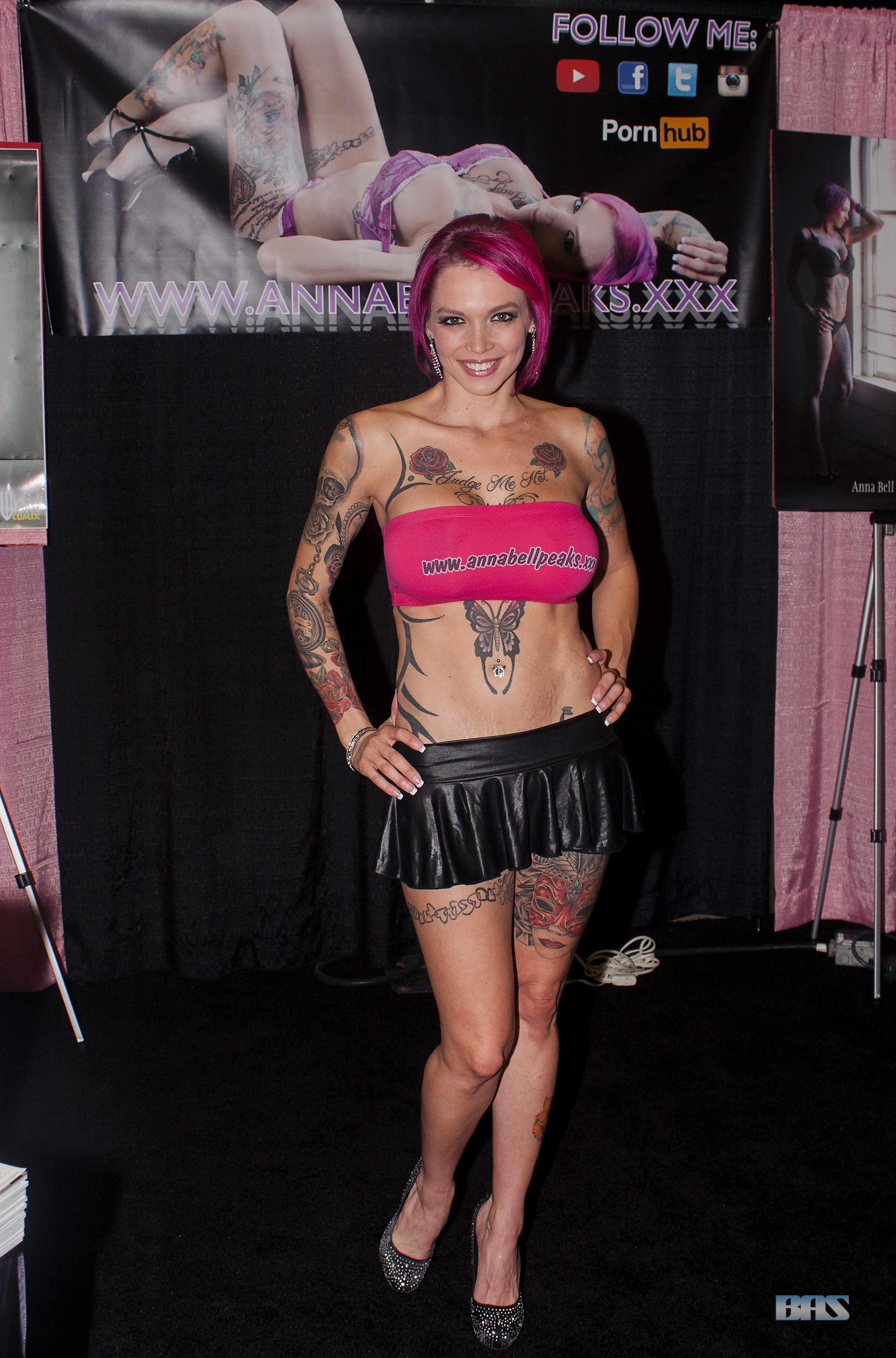 When she first started working within the adult entertainment industry Anna Bell began filming numerous sultry girl/girl sex scenes for leading pornographic production companies such as Little Dragon Pictures, Digital Sin and the Brazzers Network. Fans of Anna Bell's lesbian themed content will not want to miss out on viewing her raunchy collaboration with Adriana Chechik for the Digital Sin production Lesbians And Their Big Toys (2015), her sizzling sex scenes in the Little Dragon Pictures all-girl productions Candy Lickers 2 (2015), Candy Lickers 3 (2016) and Pretty Kitties 2 (2016), as well as her saucy femdom pegging sex scene with Adria Rae for the Digital Sin femdom pegging DVD title The Lesbian Experience: Dominance & Submission (2016).
In addition to filming some fantastic girl/girl sex scenes, Anna Bell has established a reputation as a multi-talented MILF star due to her scene-stealing moments within such best-selling MILF-themed feature releases and taboo relations DVD titles as More Than Kissing Cousins (2015) and Your Darkest Desires (2015) that were both filmed for Desperate Pleasures, Hot And Horny Cheating Housewives (2015) for Immoral Productions, My Wife Is A Black Cock Slut (2016) for the Dogfart Network and Hush Hush Entertainment, Shane Diesel's Black Bull For Hire 4 (2016) for Digital Sin that was nominated for "Best Interracial Movie" at the 2017 AVN Awards, and the Porn Pros DVD feature releases A Mother's Love 7 (2016) and Big Tit MILFs (2016).

In fact, Anna Bell has filmed a wide range of kinky web content throughout her prolific porn star career including a spectacular ZZ Hospital – No Love, Just Lust medical role-play sex scene with Tiffany Star for the Brazzers Network porn site hotandmean.com, some raunchy sex scenes for the Desperate Pleasures foot fetish production First Time Footjobs (2015), as well as performing in Party Of One (2015) for Digital Sin, Female Masturbation (2015) for New Sensations also starring Aidra Fox, Abigail Mac, Scarlet Red, Keira Nicole, Carter Cruise and Karmen Karma, featuring within the raunchy sex toy play production I Love Big Toys 41 (2015) for Digital Sin that earned Anna a "Best Solo/Tease Performance" nomination at the 2016 AVN Awards, starring in the Sticky Video DVD titles Facial Cum Catchers (2016) and I Want It In My Mouth (2016),  as well as performing in Twenty: Self Pleasuring (2016) for Digital Sin, Deep Throat League 2 (2016) for Evil Angel, POV Punk 12; Tig Ol' Bitties (2016) for Burning Angel Entertainment, and Exposed POV 4 (2016) for Spizoo with Alix Lynx, Jasmine Jae and Savana Styles. Upon being asked to name her favourite fetishes within her September 2015 Fleshbot interview, Anna Bell mentioned that;
"My biggest fetish is panty stuffing. I love it—I would do it anytime! It's the knowledge that a stuffed panty is getting wet and cummy with my juices that is such a turn on!  I was surprised to find out I love my feet bitten and teased and kissed, inside of the arch. Johnny Castle bit the inside of my arch in one scene and it was like instantaneous arousal pleasure and orgasm that followed! I don't really know what is considered fetish. I like being tied up, I love the exchange of control during sex, and I love my nipples teased and bitten and sucked. There's not much I don't like, and I'm super open minded to try just about anything once!".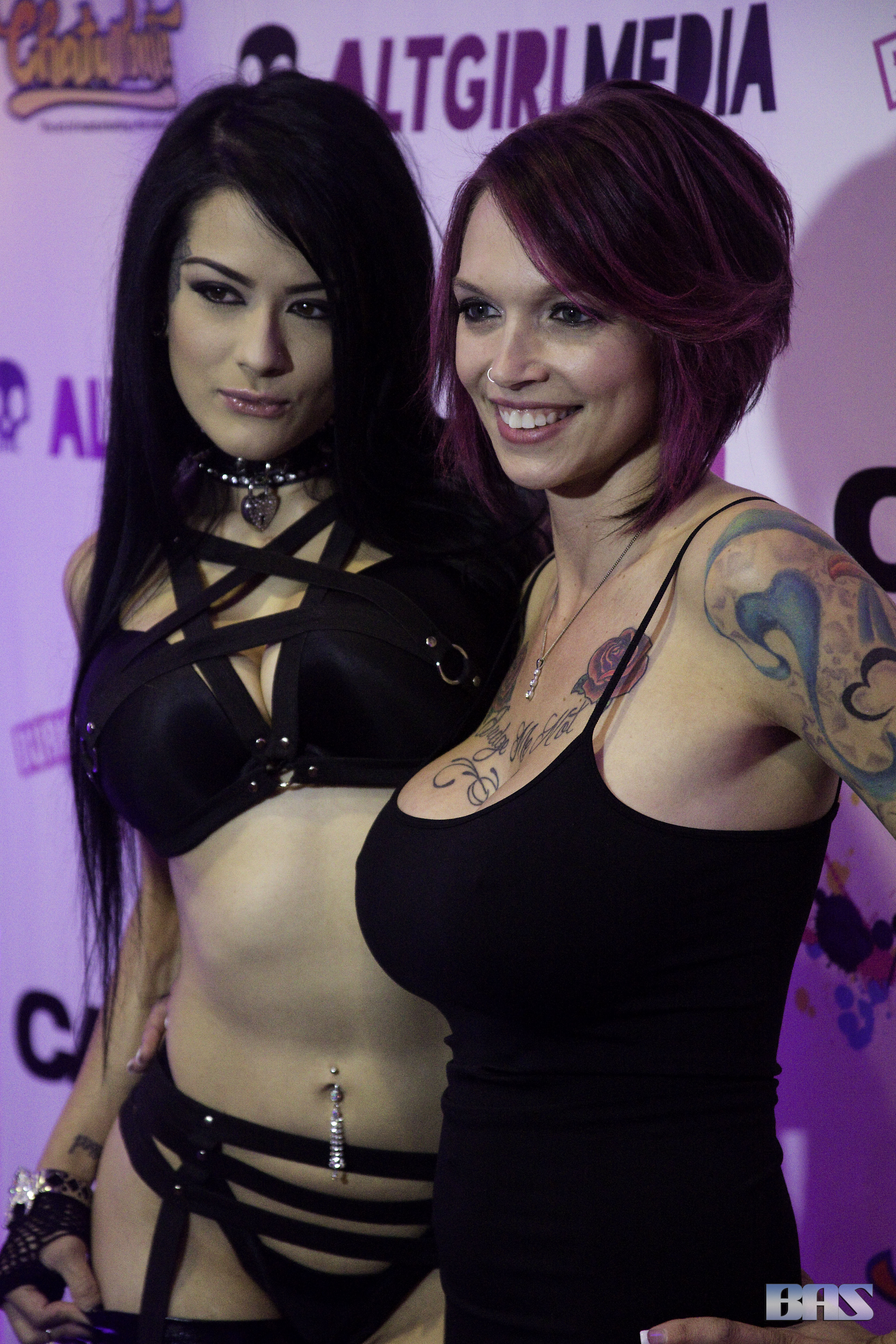 Anna Bell has become famous for her saucy squirting sex scenes in Squirtamania 45 (2015) for Immoral Productions, Axel Braun's Squirt Class 3 (2016) for Wicked Pictures, Evil Squirters 2 (2016) for Evil Angel, Squirt In My Gape 5 (2016) for Elegant Angel also starring the sultry squirting queen Daisy Ducati, Squirt-A-Holic (2016) for New Sensations starring Riley Reid, Luna Star, Dani Daniels, Cindy Starfall and Romi Rain that was nominated for "Best Specialty Movie – Other Genre" at the 2017 AVN Awards, and Interracial Squirt (2016) for Elegant Angel that was wholeheartedly endorsed by XCritic column writer Sex Reed who enthused within his April 2016 review that;
"I found this to be a very sexy film. The casting was quite good, as it is always good to see Kleio Valentien and Zoey Monroe on screen. Zoey put in the messiest scene, and it might have been my favorite. She says early in the scene that she doesn't squirt much because she doesn't want a wet bed, here she doesn't have that inhibition. Harlow Harrison and Anna Bell Peaks also put in great performances. The behind-the-scenes video includes some solid work, too, like Anna Bell Peaks telling about the time her squirting ruined a cameraman's shoes and Zoey Monroe saying what the longest distance she's ever squirted. It was a solid effort with very few flaws, and fans of interracial scenes and/or squirting should be delighted to pick this up. From me, it comes highly recommended".
Talking about her squirting skills in her Porn OCD interview that was promoted via caramelstgirls.com in December 2016, Anna Bell commented that she had learned how to squirt five or six years ago;
"Had sex with a guy who teased me with the tip of his cock and when I exploded, it was so hot he didn't want to ever stop fucking me. Decided I definitely had to do this again and again!…Pressure build up, clenching of the pussy muscles, the orgasm build, then whoa! A huge release of pleasure!".
As well as shooting some sensational squirting sex scenes, Anna Bell has also filmed some thrilling three-way, group sex scenes and gangbangs. Fans of Anna Bell Peaks' raunchy adult film content should check out her thrilling three-way sex scene with Katrina Jade and Prince Yahshua that was distributed via blacksonblondes.com in November 2015, her group sex scene with Jillian Janson, Nikki Benz, Riley Reid, Keiran Lee and Ryan Driller for the horror themed fetish porn feature release Hot Chicks Big Fangs 2 (2015) that was nominated for "Best Special Effects" and "Best Makeup" at the 2017 AVN Awards, her Triple BJs (2015) group sex scene with Kalina Ryu, Riley Jenner and Mike Adriano that was produced by Evil Angel and Mike Adriano Media as well as her epic group sex scene with Rachel Madori, Toni Ribas, Mr. Pete, Tommy Pistol, Ramon Nomar and Tommy Gunn in My Hot Wife's Gangbang 3 (2016) for New Sensations. XCritic column writer John Boy praised Anna Bell's performance in My Hot Wife's Gangbang 3 in a November 2016 online review, advocating how;
"The flick features Anna Bell Peaks, 2016 Inked Awards Starlet of the Year, who gives an incredible performance devouring 4 hard dicks until they pop all over her. Anna Bell is joined by Rachel Madori, the recently retired porn star who has left a great body of work that her fans will enjoy and this scene is among them. Featured starlet Anna Bell experiences her first double vag and she takes it in every position possible. Her pussy is stretched to its limit when the guys fill it with 2 cocks at once until she cums. Anna Bell is also a huge squirter and she erupts in showers of ecstasy all over everything around her. The gangbanging in this flick is hard and fast and that's the way these 2 starlets love it. They are constantly begging to be double stuffed, fucked in the ass and throat fucked. It doesn't end until Anna Bell and Rachel are covered in jizz, coating their throats and tits. I recommend this flick. The production quality is great and these cock hungry babes are a pleasure to watch, especially when the hard fucking leads them to cum again and again".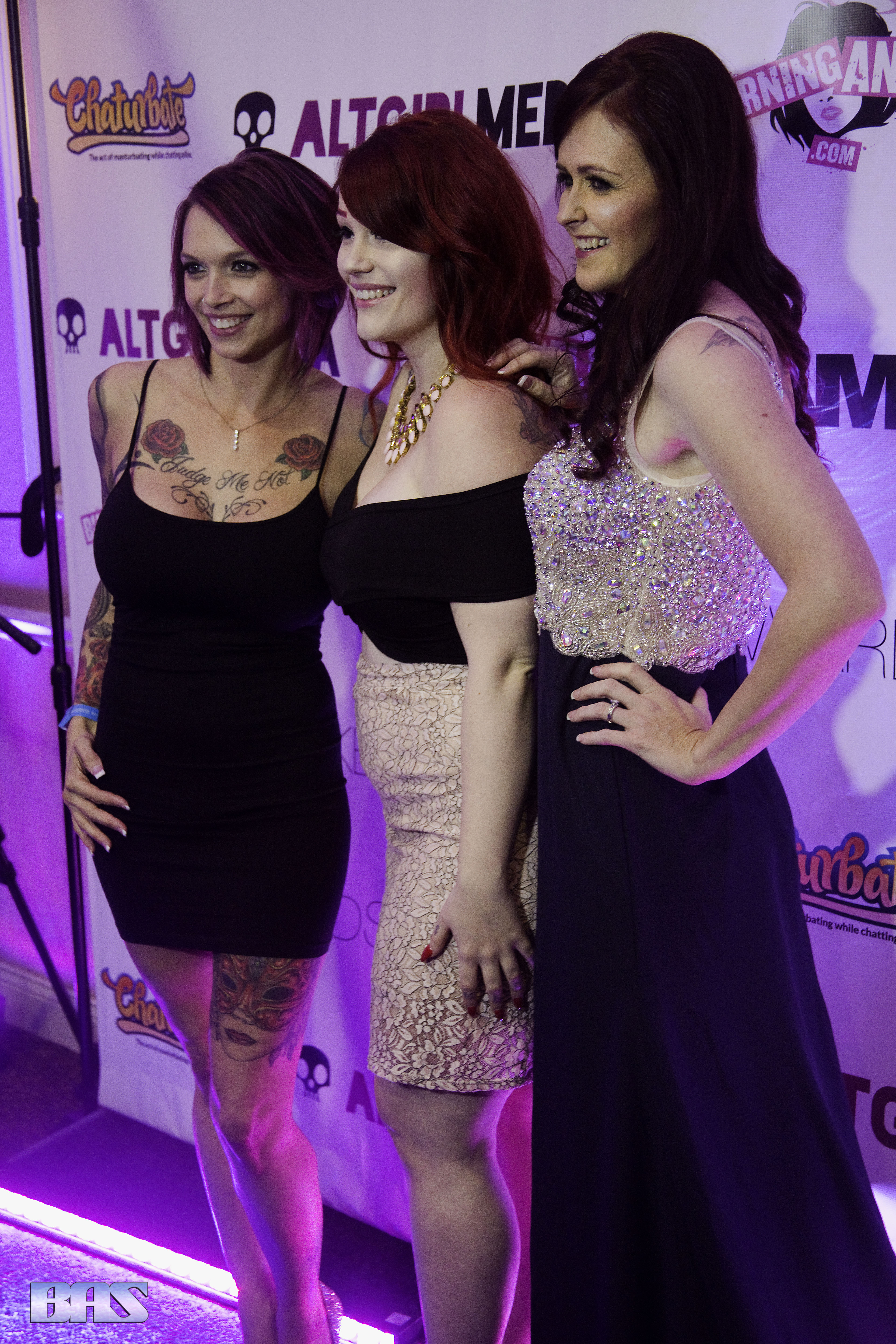 In addition to her best-selling DVD feature releases, throughout her prolific porn star career Anna Bell has collaborated with a wide range of mainstream porn sites and fetish porn networks on all manner of raunchy sex scenes which can be viewed via the Brazzers Network porn sites bigtitsatwork.com, doctoradventures.com, pornstarslikeitbig.com and bigtitsatschool.com, the Dogfart Network porn sites cuckoldsessions.com, blacksonblondes.com and gloryhole.com, the Reality Kings porn site rkprime.com, the MyXXXPass Network porn site throated.com, the Bang Bros Network porn sites bangbrosclips.com and bigtitcreampie.com as well as the Naughty America porn sites naughtyoffice.com and myfriendshotmom.com; the list goes on!
If we had to name some of Anna Bell's sauciest online sex scenes then we'd recommend viewing her Art of Flesh sex scenes with Preston Parker for puremature.com in April 2015, her Ugly Stepsister three-way sex scene with Joanna Angel and Toni Ribas for burningangel.com in December 2015, her epic Gangbang Creampie 45 sex scene for gangbangcreampie.com in 2016 as well as her September 2015 Whiteroom Volume 6 sex scenes and her March 2016 Thou Shalt Not Print Marks Upon Thee three-way sex scenes with Kleio Valentien and Ryan Madison that she filmed with Kelly Madison Productions for pornfidelity.com. Anna Bell loved collaborating with Ryan Madison and Kelly Madison Productions and mentioned during her September 2015 Fleshbot interview that;
"Oh they were wonderful to work with! Their style was crazy wild so it was more extreme than other scenes I've done, and they had a great story line idea and we worked hard to shoot it just right. The scene turned out great and the editing made the whole video incredible. And Ryan! The hardest fuck on camera I've had to date. He really did know how to take control of the scene and push me up against the wall, fuck me deep and hard, and just made for hot, hot, smoking hot sex! FYI, I'd absolutely do a sequel to that scene we did, and I promise this time we won't kill off the lover. Maybe she could just join us for a hot threesome??? (Fingers crossed!)".
In October 2016 Anna Bell starred within the award-winning dark comedy porn production Cindy: Queen Of Hell (2016) for Burning Angel that won "Best Comedy" and "Best Supporting Actress" for Joanna Angel at the 2017 AVN Awards. Anna Bell has always loved working with Joanna Angel and cited her as one of her main adult film industry role models within her September 2015 Fleshbot interview;
"Joanna Angel is a big role model because she MADE the inked porn star a brand. Her business skills to make an entire company are admirable, and I hope I can make a name for myself as she did. Kendra Lust is a big role model for me because she is older and maintains her body and her class in a way that is inspiring to me. She is nice and excellent at what she does. I am driven, goal-oriented and a very hard worker, and I look up to those who are the same. I see those attributes in a few porn stars I've met, and those are the ones I want to follow".
Cindy: Queen of Hell was a commercial and critical success that received rave reviews from fans and film critics alike including XCritic column writer cyber5 who commented within his November 2016 online review that;
"This is an impressive production. The acting is on point with Xander and Leigh really portraying their roles very well. Xander leans towards the comedic side of things, which he explains at some point. Joanna and Small Hands both are also totally believable in their roles, as is pretty much everyone in this flick! I'm pretty sure this film will get multiple award nominations from AVN and XBIZ. It's already taken some awards home from the Inked Awards…The fact that the performers actually played double-duty by being involved in the technical aspects of this production is also noteworthy. Joanna assembled a highly creative and capable cast and crew here. Xander even stepped up to the plate and co-directed this, a first for him. All in all, I liked what I saw. The guys are as impressive as the girls here, even when confronted with  multiple holes to drill. If you are a feature fan, and like your Angels inked, then this is a must-own title. Highly Recommended".
However, without a shadow of a doubt, Anna Bell's most popular DVD feature release to date has been the epic comic book caper Suicide Squad XXX: An Axel Braun Parody (2016) for Wicked Pictures that won "Best Screenplay: Parody", "Best Art Direction", "Best Makeup", "Best Three-Way Sex Scene (Boy/Boy/Girl)", "Best Parody", "Best Non-Sex Performance" and "Best Director: Parody" at the 2017 AVN Awards as well as "Parody Release of the Year" and "Best Actor – Parody Release" at the 2017 XBIZ Awards and which also earned Anna Bell a "Best Supporting Actress" nomination at the 2017 XBIZ Awards for her saucy cosplay three-way sex scenes as the cool and captivating Killer Frost with Katy Kiss and Lucas Frost. Suicide Squad XXX: An Axel Braun Parody was wholeheartedly endorsed by XCritic column writer Apache Warrior who highlighted within his August 2016 online review that;
"Suicide Squad XXX is a very entertaining and fun film that provides very hot cosplay sex and creative dialogue. Past award winner Kleio Valentien (Harley Quinn) steals this movie as well as Tommy Pistol as the Joker. Both of them will receive their share of awards nominations and most likely wins. However, this time Kleio is going to win for Best Actress. Tommy will win for Best Supporting Actor. A masked Asa Akira provides two thrilling sexual performance. Axel Braun shows off his creative mind with his amazing screenplay that makes you think like when the Riddler is on his riddle spree or makes you laugh when Harley is acting naturally funny. The film's sets look authentic and the makeup looks impressive. Mr. Braun made a film that any loyal Suicide Squad fan would be impressed in. This production will be tough to beat at awards time. I highly recommend it".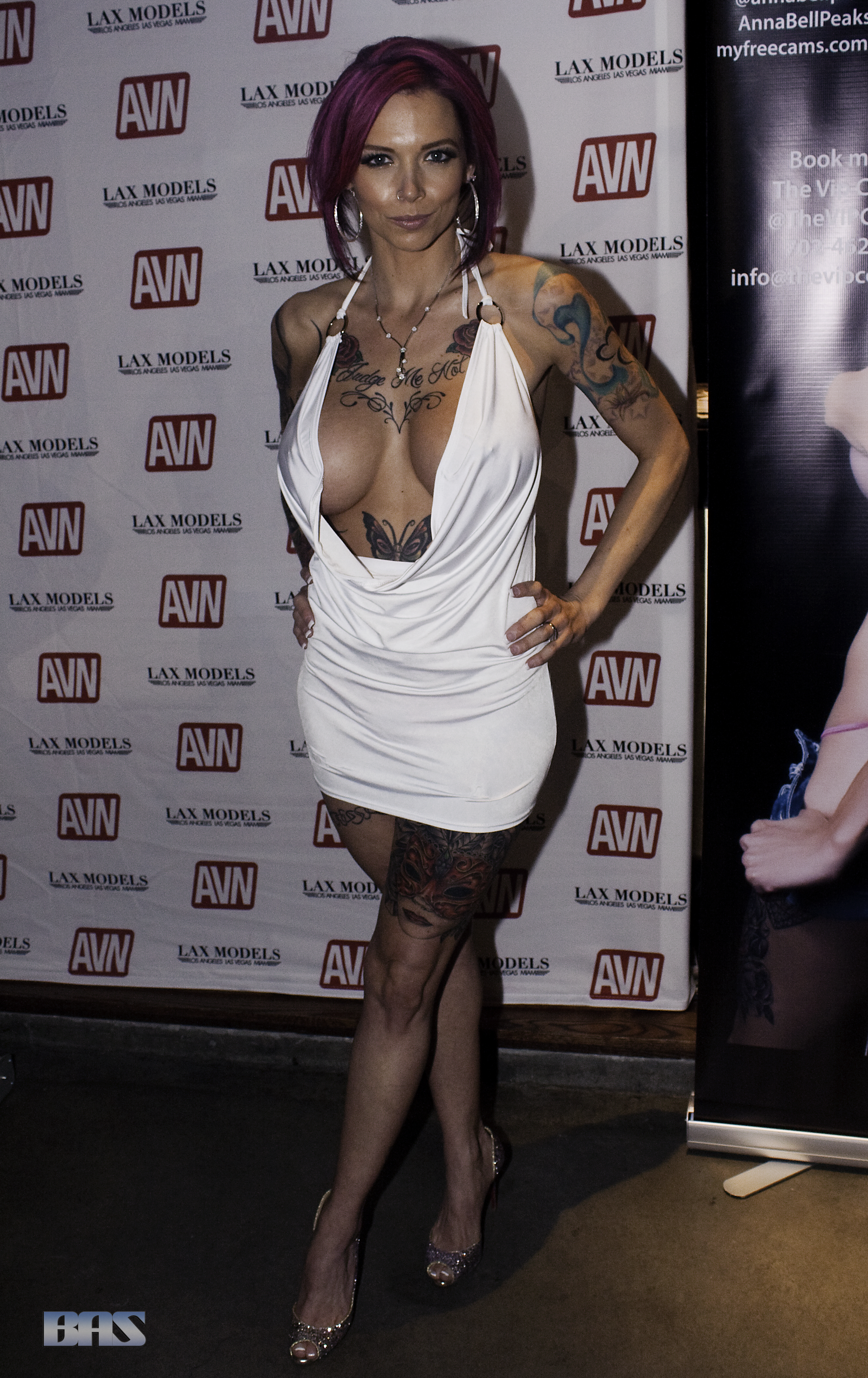 Anna Bell Peaks : Adult Film Award Wins & Notable Nominations
As matters stand, Anna Bell has reached the #1 slot on Freeones several times throughout 2015 and 2016 and won the coveted title of Bang Bros "Porn Star of the Year" for 2015. Within less than a year of working within the adult entertainment industry, Anna Bell was nominated for 5 prestigious awards categories at the 2015 Inked Awards whereupon she proceeded to win "Camgirl of the Year" and "Perfect Pussy". Consequently, Anna Bell was invited to feature within the annual New Sensations DVD title The New Stars of XXX 12 (2016) alongside her fellow rising starlets Alexis Adams, Cadence Lux, Lana Rhoades, Alison Rey, Yhivi, Sydney Cole, Marley Brinx, Gina Valentina, Brittany Shae, Leah Gotti, Lucy Doll and Pepper XO. Upon achieving these prominent adult film industry landmarks, Anna Bell has always taken the time to thank her fans for their loyal support throughout her webcamming and subsequent porn star career. Anna Bell sincerely stated during her September 2015 Fleshbot interview that;
"I am nothing without fans. I really am just me! And I'm happy that people like me for who I am. If I could describe me in one word, it would be that I'm a pleaser. I am happy when you are happy, I'm aroused when you are aroused. So knowing so many men and woman love what I do means I'm a 24 hour ball of sexual energy just aching to explode on the next willing victims!… My fans are the most important driver of my porn scenes and my live Webcam experiences. When a fan tweets out to a producer or company to shoot me day in and day out, they notice! So diehard fans, decide where you want to see me next, then make it your goal to pester that production company daily until they take notice and give you what you want! (Which is more of me!)".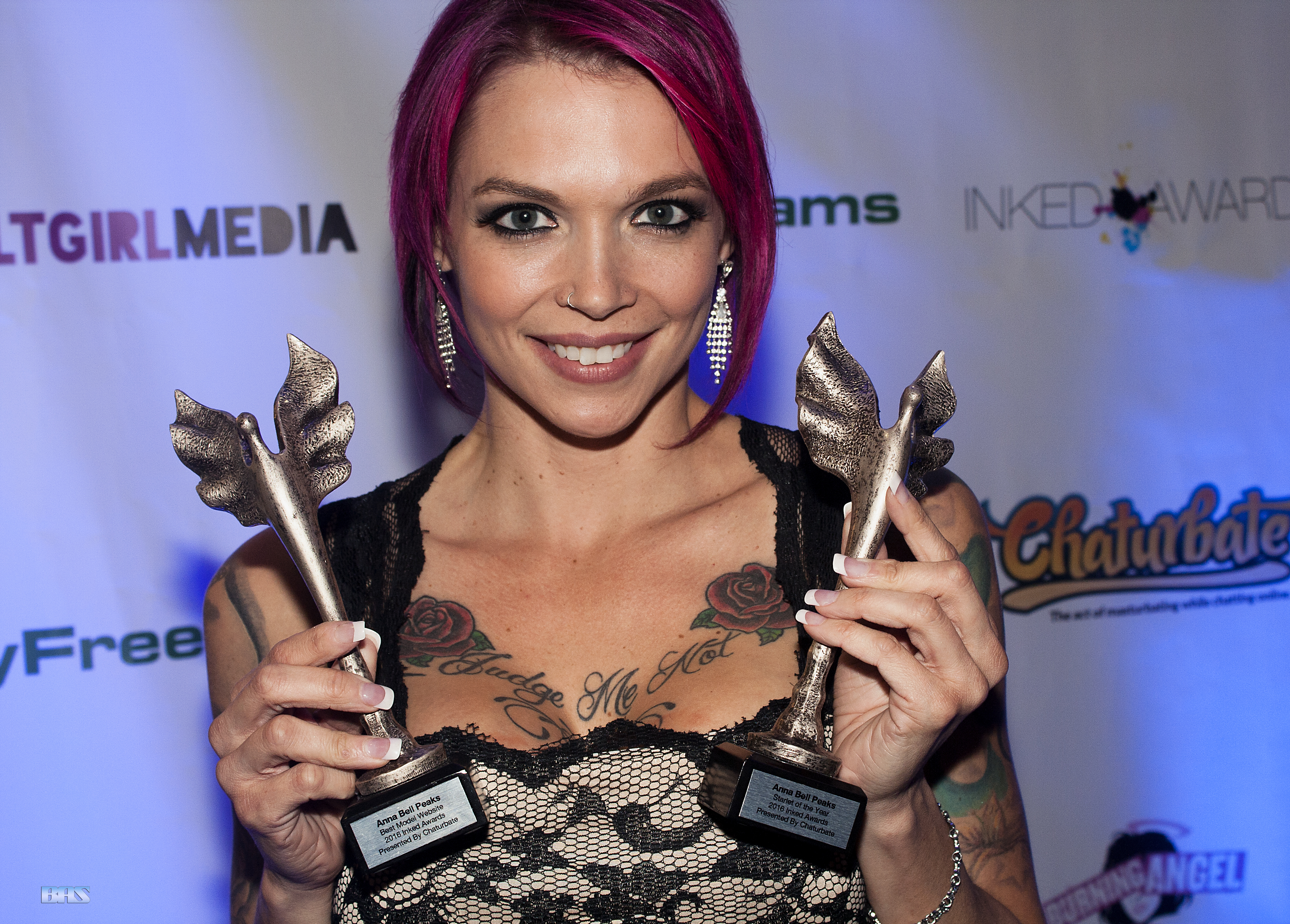 Anna Bell has continued to receive a wealth of adult film award nominations throughout 2016 and 2017; most notably when she took home the coveted titles of "Starlet of the Year" and "Best Model Website" at the 2016 Inked Awards! Some of Anna Bell's most impressive adult film award wins and notable nominations have been listed below;
2015: Inked Awards winner "Camgirl of the Year"
2015: Inked Awards winner "Perfect Pussy"
2015: Inked Awards nominee "Best Ass"
2015: Inked Awards nominee "Social Media Queen"
2015: Inked Awards nominee "Best Tits"
2015: Nightmoves Awards nominee "Best Ink"
2016: Inked Awards winner "Starlet of the Year"
2016: Inked Awards winner "Best Model Website" xxx

2016: Inked Awards nominee "Best Pussy"
2016: Inked Awards nominee "Social Media Queen"
2016: Inked Awards nominee "Best Group Sex Scene" I Banged My Tattooed Stepsister In The Ass (with Joanna Angel and Toni Ribas)
2016: AVN Awards nominee "Best Solo/Tease Performance" I Love Big Toys 41
2016: AVN Awards nominee "Biggest Web Celebrity (Fan Award)"
2016: AVN Awards nominee "Hottest Newcomer (Fan Award)"
2016: Nightmoves Awards nominee "Best Adult Star Feature Dancer"
2016: Nightmoves Awards nominee "Best Online Presence"
2017: AVN Awards nominee "Best Porn Star Website" annabellpeaks.xxx
2017: AVN Awards nominee "Most Spectacular Boobs (Fan Award)"
2017: AVN Awards nominee "Web Queen (Fan Award)"
2017: XBIZ Awards nominee "Best Supporting Actress" Suicide Squad XXX: An Axel Braun Parody

2017: XBIZ Awards nominee "Best New Starlet"
Anna Bell was thrilled to receive these notable adult film award nominations and enthusiastically conveyed during her Porn OCD interview how;
"I'm really flattered, astonished that I have three nominations for AVN's my first year. To me it's validation that I'm doing things right, and that people like me for who I am. The absolute best part is that I'm just ME. I didn't become someone else in front of cameras to make people like me. And to know I'm loved and wanted for who I am means the world to me…when I entered porn that I wanted to be the next Bonnie Rotten. Not to replace her or to do everything she does, by any means. I just knew that she was the number one most known most shot inked adult performer, and I wanted that position for myself! She is not currently performing and neither are a couple other names in the inked community, so damnit I want to rise straight to the top and take my place there! I hope that doesn't sound rude or haughty. I'm driven and I set goals and I strive to be the very best at what I do".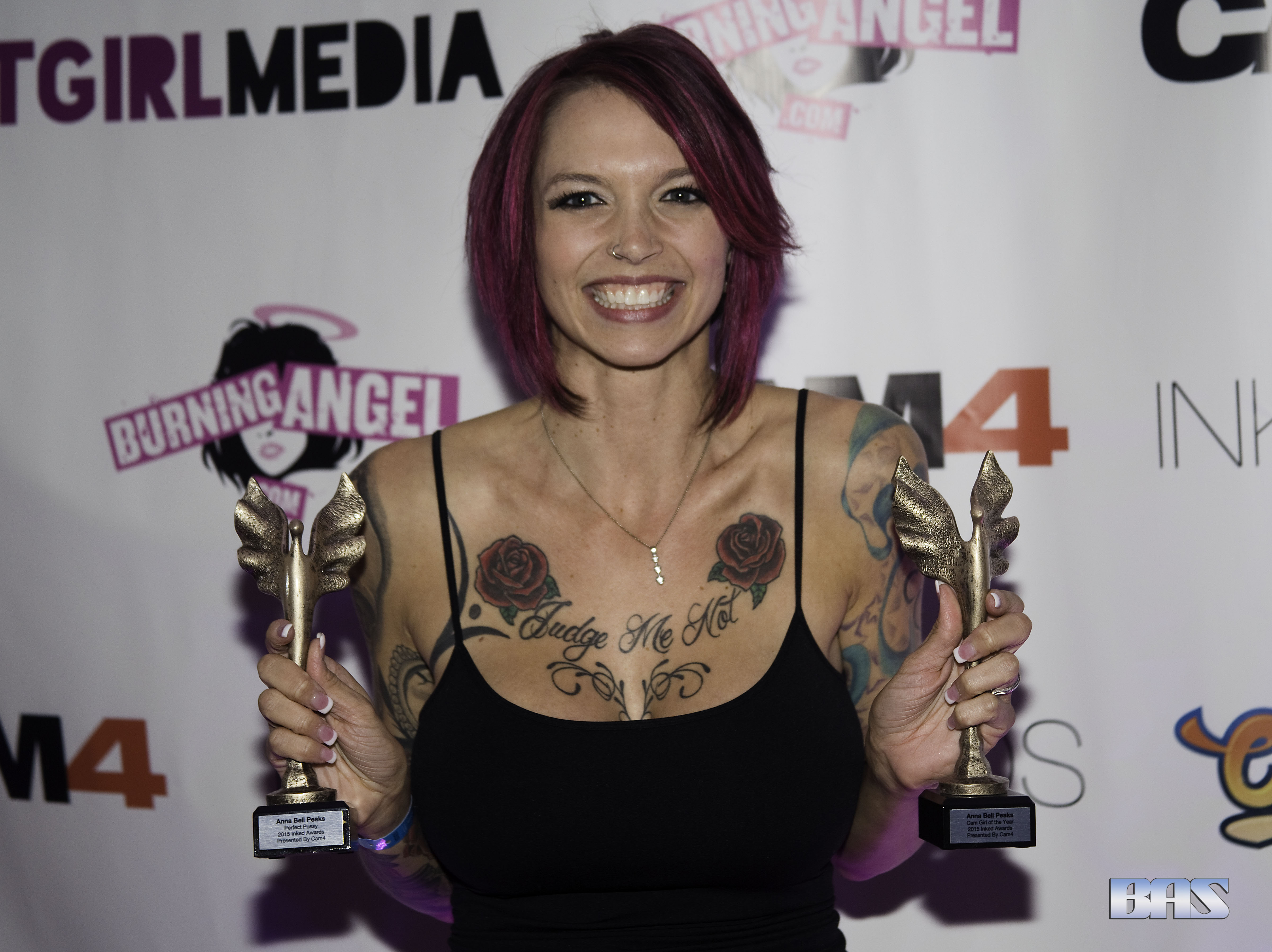 Anna Bell Peaks : Feature Dancing Tours, Official Solo Website & Future Plans
Currently signed with the exclusive adult film talent agency OC Modelling, Anna Bell continues to perform within several best-selling DVD feature releases and films all manner of exclusive new web content for her official solo website, annabellpeaks.xxx, that was first launched in March 2016. Since the summer of 2015 Anna Bell has also performed some spectacular feature dancing tours in association with Lee Network and A-List Features. Anna Bell made her feature dancing debut at the exclusive Sapphire nightclub in New York in August 2015 and has since performed at the famous Spearmint Rhino gentleman's club in Oxnard, at the Blush Exotic nightclub in Pittsburgh, at the Hollywood, Rockstar and RocVenus gentlemen's clubs in Connecticut, at San Diego's illustrious Exposé gentleman's club and most recently at the Double Visions Club in Philadelphia. Talking about her love of feature dancing within a June 2016 AVN press release, Anna Bell enthused that;
"Feature dancing is about the greatest part of my job…I love being able to storm into a town and be the center of attention, and meet so many incredible people. I get to know a lot of people, through camming especially, but to really be right there, face-to-face; it's really special".
In addition to her show-stopping feature dancing tours Anna Bell also remains a frequent feature at adult film conventions such as the Exxxotica Expos in New Jersey and the annual Adult Entertainment Expo (AEE). In fact, Anna Bell ran her very own Anna Bell Peaks Entertainment Booth for the first time at the 2017 AEE which was positioned in pride of place alongside the Burning Angel, Inked Angels and AVN Hall Of Famers Entertainment Booths. When she wasn't manning her own exclusive entertainment booth, Anna Bell also took the time to sign posters and pose for pictures with her fans at the Pornhub Entertainment Booth and was in attendance at the illustrious 2017 AVN Awards alongside her fellow adult film industry professionals. As Anna Bell exclaimed during a January 2017 AVN press release;
"I really like to go in big at these shows…Having my own booth lets everyone know, in case it wasn't clear already, that I am serious and I am here to stay. Of course, it also helps fans find me. It's going to be a lot of fun. We'll be doing a lot of giveaways, have a lot of great things for sale, and there will be me! I can't wait to meet everyone, and know I'll have a great time at this year's show".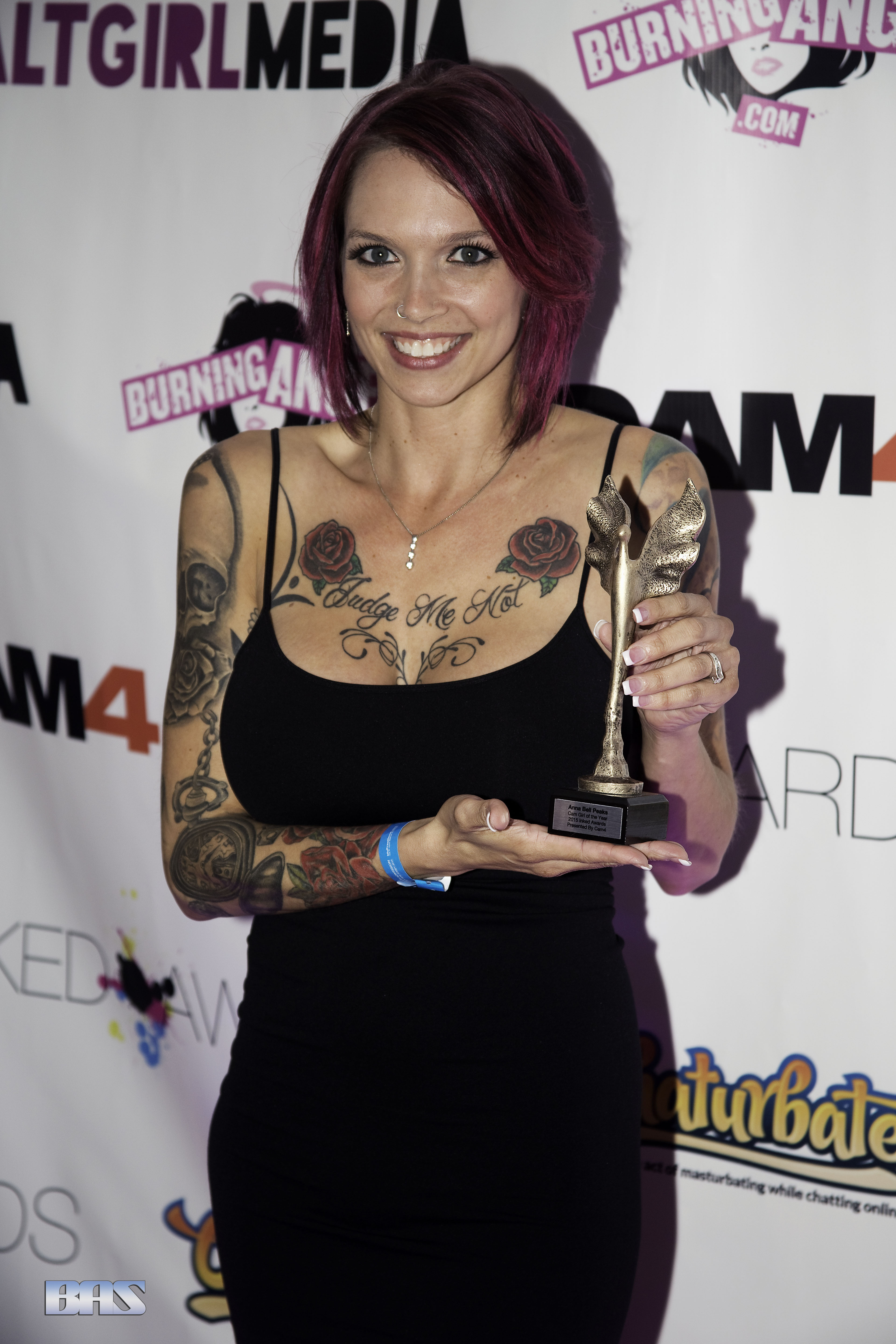 A multi-talented porn star, feature dancer, webcam model and business woman, Anna Bell has become famous for her personable video clips which she posts via her YouTube channel. Anna Bell explained within her Sex Tech Guide interview that she first launched her YouTube Channel in June 2016 in order to remain connected with her global fan following;
"The best answer I can give is I want to reach ANYONE I CAN! I know that as a 'pornstar' with tats and wild hair I'm super noticeable in the world of porn. But in the normal world, I'm just me. I have a family and a Masters degree. I enjoy the gym and having the door opened for me. I love old cars and new Harley's. I love anything outdoors especially the sunshine…I figure even if someone isn't a big Porn watcher, I'm unique in that I'm rare in this world. People want to know me, as me. If they happen to love the work I do as much as I love making it, then I'm so flattered and happy to continue for years!…I watch YouTube like crazy for everything from makeup guides to car reviews to random blogs. I want to be a part of that voice".
In her spare time, Anna Bell loves webcamming, working out, listening to music and spending some family time with her husband and daughter. Anna Bell has mentioned within her July 2015 All Hip Hop interview that;
"I web cam full time when not shooting. Time off, like time I don't work??? Um… … … I spend it with my family or try to get a couple hours of much needed sleep!…I love music, it sets the pace of my mood! If I put on film score music, I'm soothed and relaxed. Classic rock or 80s Rock makes me sexually aroused and feisty, today's hits makes me upbeat and energized. Music makes me happy, I say that phrase All the Time".
Talking about her family life in greater detail during a May 2016 VICE article titled Parenting Advice from Real-Life Porn Star MILFs, Anna Bell conveyed how she has tackled telling her daughter about her adult film industry exploits;
"I worked my entire life as a certified public accountant and now some of the same the same people in my Midwest community that used to look at me as a professional businesswoman now look at me like, "What the hell are you doing?" But it doesn't change the way that I parent. I just really love sex. There's a fun factor to what I do now; the stress is lower and it's really good money…As for advice, it's totally different to have a high-schooler than to have a four-year-old. She already knows what I do. I knew I had to tell her because every high school boy goes on the internet and sure enough within her first month in high school everyone in the city knew her mom was a porn star. We told her before other people found out. It's always good to be proactive and let your children know from you before someone else tells them—that is a bad way for them to find out. We just explained to her that it's legal, that mommy is good at it, and I make a good living from it. We told her when she turns 18 she can do whatever she wants. She can be a CPA, a doctor, a stripper. It doesn't really matter as long as you're happy in what you do. I honestly believe that".
Thus far in 2017 Anna Bell has already starred within several best-selling DVD titles including MILF Threesome Fantasies for Spizoo with Jessica Jaymes and Sarah Jessie, Back In The Butt for New Sensations, Squirt Monsters for Little Dragon Pictures, Doctor's Orders Volume 2 for Brazzers with Xander Corvus and Shane Diesel F'd My Wife 3 for Digital Sin. Never one to rest on her laurels, in February 2017 Anna Bell unveiled her first ever anal sex scene which she shot for her official solo website annabellpeaks.xxx. Anna has been thrilled to share this pivotal moment in her adult film career with her international fan following and exclaimed within a February 2017 AVN press release that;
"I am so excited to be able to share this with fans…I've been looking forward to it for a long time—it was not easy to resist and I feel so free now that I'm having anal on camera. There is a lot of great exclusive content on my site, but there has never been anything like this! I think members are going to enjoy watching it almost as much as I enjoyed doing it".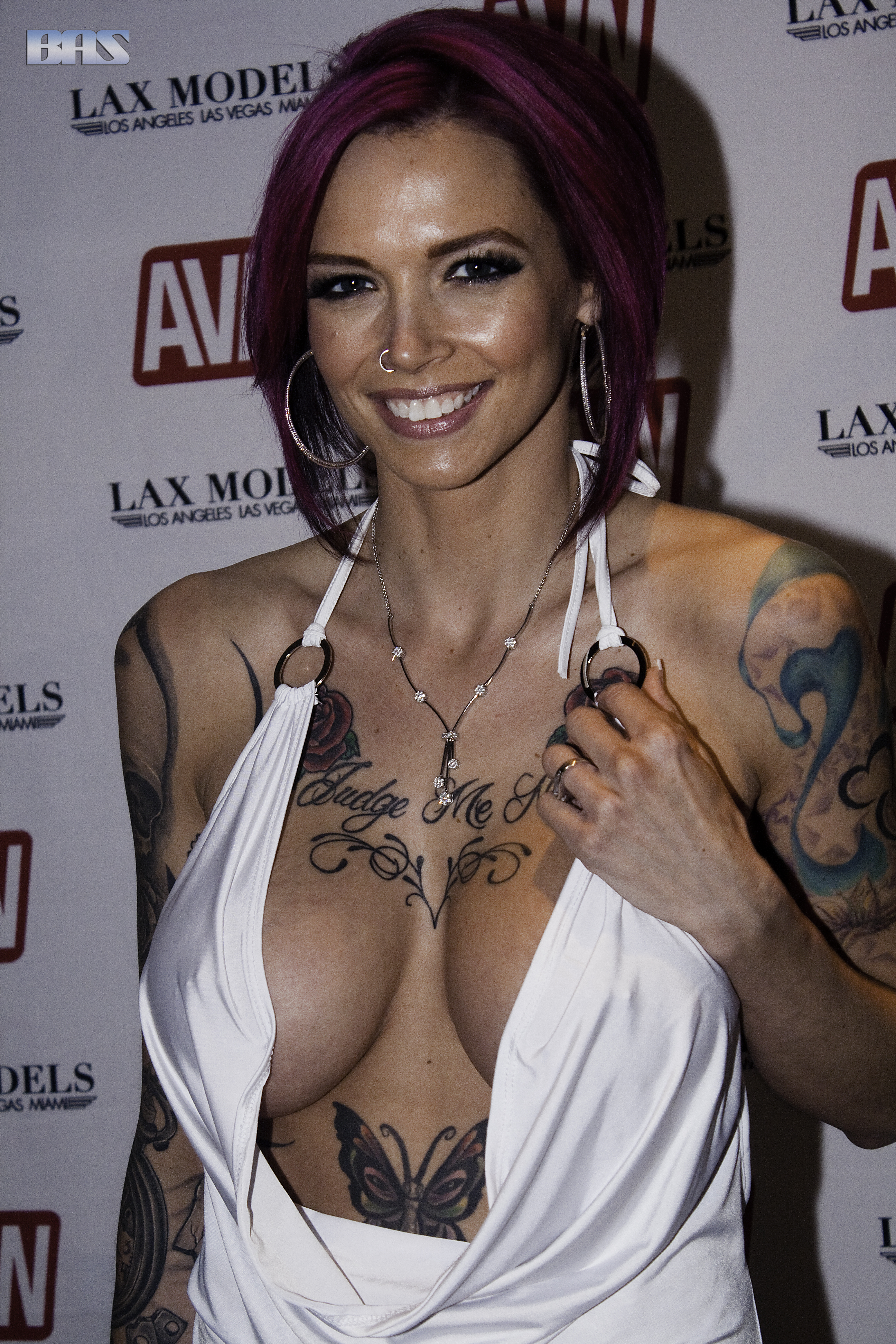 Anna loves her adult film career and shows no signs of slowing down anytime soon. As Anna ardently expressed within her October 2015 AVN Magazine interview;
"I love every second of the industry, every person in it. It has been a wonderful career, a wonderful voyage. I love my life. I'm very happy with what I chose to do. I can't wait to do more of it".
Upon being asked about her future plans within her Sex Tech Guide interview, Anna revealed how;
"I know as a porn star, my impact in the world as a whole might not be as big as if I was a politician, but I have big dreams…I do have a Masters degree in accounting and a CPA license and do expect to use my education win this career is over. If something else happens, I'm all for it. I would love to be a mainstream model, movie star, educator, public speaker, politician, mentor. But I live life to the fullest and I know whatever comes my way I will take it and make it the very best I can be".
With Anna Bell shooting all manner of exciting web content, sizzling DVD titles and saucy live chat sessions on a regular basis, there's no telling what fans can next expect from this phenomenal no holds barred performer! So why not keep yourself updated regarding all of Anna Bell Peaks' new and exciting video clips, raunchy feature releases and captivating webcam modelling sessions by using the links provided below to check out her official social networking channels online today?
Social Networks
Official Website : http://annabellpeaks.xxx/ , https://www.annabellpeaks.org/
Twitter : @AnnaBellPeaksXX
Instagram : @annabellpeaks
Tumblr : http://annabellpeaks.tumblr.com/post/124112664790/anna-bell-peaks-interview-pornstar-interviews
Chaturbate Profile : annabellpeaksxx
MyFreeCams Profile : AnnaBellPeaks
Adult Empire Profile : Anna Bell at Adult Empire
Gamelink Profile : Anna Bell at Gamelink
Facebook : https://www.facebook.com/theannabellpeaksxx
Dreamlover Profile : annabellpeaks
YouTube Channel : https://www.youtube.com/channel/UCuRqetmEVU6AUFHeWa85p7A
IMDB Profile : http://www.imdb.com/name/nm7410360/