Personal Info
Name : Gianna Michaels
Alias : Terah Wicker, Mistress Gianna, Gianni, Genia, Gianna Rossi, Becky, Gianna Michael, Gianna Nelson, Gianna Rossi
Date of Birth: June 6th 1983
Home Town :  Seattle, Washington (US)
Measurements : 34DD – 27 – 38
Bra/ Cup Size :  34DD (75F)
Boobs :  Real
Height : 5'11 (1.80m)
Weight : 145lbs (66kg)
Hair Colour : Brunette/ Blonde
Eye Colour : Green
Shoe Size : Women's 9 (US)
Piercings : Tongue
Tattoos : Stars and crescent moon design across her right shoulder blade and a five-pointed star on her lower back
Years Active : 2004 – present
Number of Scenes : 500+
Since 2004 buxom beauty Gianna Michaels has established an extremely successful porn star career and has amassed a devoted fan following. Born and raised in Seattle, Washington, Terah Wicker was actually a shy and awkward girl before she transformed into adult film superstar Gianna Michaels. During a 2015 Fleshbot interview Gianna explained how;
"In high school, I was quiet. loner. socially awkward. had two really good friends. I was into soccer and basketball. I had two "boyfriends" but I was so shy I didn't speak to them or know how to act around them. I gave one a peck on the lips and that's about it. LOL……. needless to say that didn't last long…I hadn't watched porn at all before entering the adult industry…I don't think I started off as a strong woman in the adult industry. However…. experience, confidence, and understanding myself and my sexuality allowed me act in that manner…I realized my boobs were going to feature so largely in my life my freshman year of high school. I just wasn't ready for the attention I received at that time".
During a RogReviews interview, that was conducted at the Adult Entertainment Expo in January 2008, Gianna explained how she began to develop confidence in her body during her sophomore year in high school. Gianna commented that;
"In high school. I was probably up to a B-cup. In high school, that's decent. Then it got to be C… It was like, 'Holy shit!' Whatever the fuck the second year in is, I started wearing the little shirts and the tight jeans…I loved the fucking attention I got, I'd have to say…They're bigger now too, goddamnit".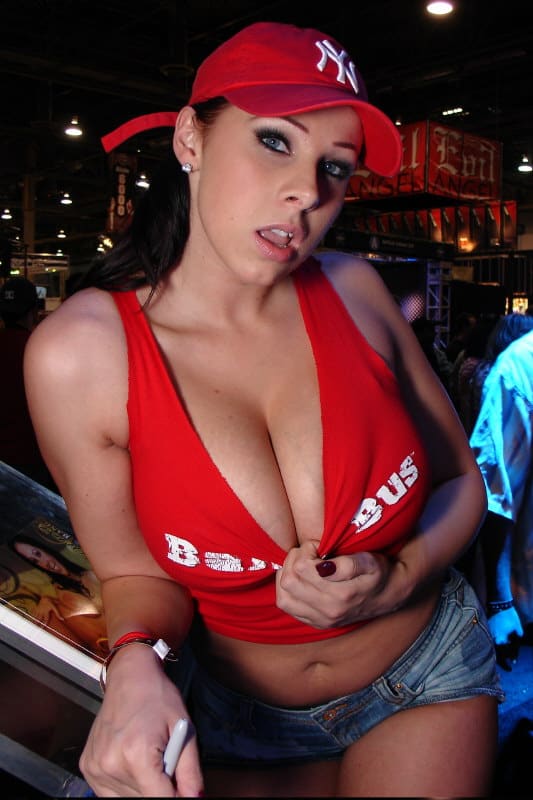 Despite the significant self esteem boost that Gianna received due to her natural assets, after graduating from high school she did not immediately begin to pursue an adult film career. Instead, Gianna worked at a hamburger restaurant in Seattle called Dick's Drive-In and in 2001 moved to California where she began working as a receptionist. However, it was whilst working as a receptionist that Gianna was approached by a modelling scout with a job proposal. During a RogReviews interview Gianna explained that;
"I was approached by an agent walking home from work in the steaming hot San Fernando valley. I was wearing a skin tight tank top and sweat glistened in between my cleavage like glitter. lol…. yeah and I didn't really take it seriously so I blew it off…I ran into the same agent a year later in the same spot walking in the same smouldering heat and he asked me one question………….Still walking huh? lol……. and I said SHIT!!!!!!!!!!!! (in my head of course) decided to give it a shot".
Gianna further elaborated upon her first venture into the adult entertainment industry porn in a 2010 Hush Hush interview. During this insightful interview Gianna revealed how;
"Actually, the porn industry introduced itself to me. I was approached a few times by a couple of different agents randomly while I was walking home from work or just in the process of living my life. It kept on presenting itself and eventually I thought, 'you know what? I am just going to give it a try.' I had no strings attached holding me to it. If I did not like it, I can walk away after the first shoot. I ended up not having an issue with it. I loved the fucking money and loved what I was doing and decided to make a career of it for a while as long as it lasts…I thought going in it was going to be a struggle to stay in porn but after my scene it all felt so normal. I wasn't conflicted in any way by what I had done. I had no guilt or regret or anything. It was what it was pretty much and I decided that I didn't have a problem doing it. There really isn't a long story behind it. My attitude was 'why fucking not?'".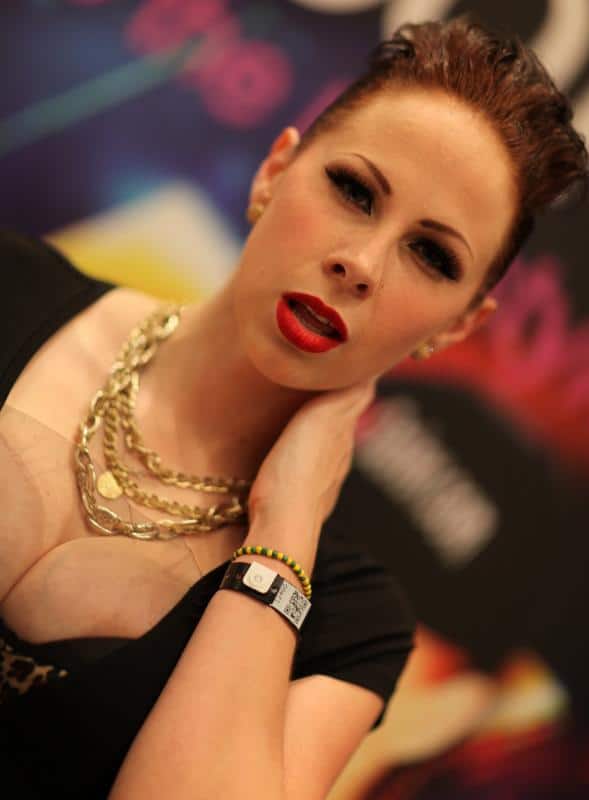 Knowing that she could simply stop if she didn't enjoy it, Gianna decided to pose for her first glamour modelling shoot in 2004. However, Gianna soon discovered that she had a natural talent and passion for modelling. Gianna's alluring looks and raw beauty meant that she was soon approached by numerous adult film representatives to pose for nude photo shoots and to appear within pornographic productions.
Gianna Michaels : Adult Film Career
In this manner, Gianna shot her first ever adult sex scenes in 2004. As Gianna divulged during her 2010 Hush Hush interview;
"I actually did two shoots in one day. One of them was for Rodney Moore which was Goo Girls #17. The other one was for Red Light District at the time for Vince Vouyer in Young Ripe Mellons #7. In those movies I worked with two very cool people. In the first one I worked with Rodney Moore and the second one was Randy Spears. They were both very cool and very comfortable to be around and it all seemed so natural".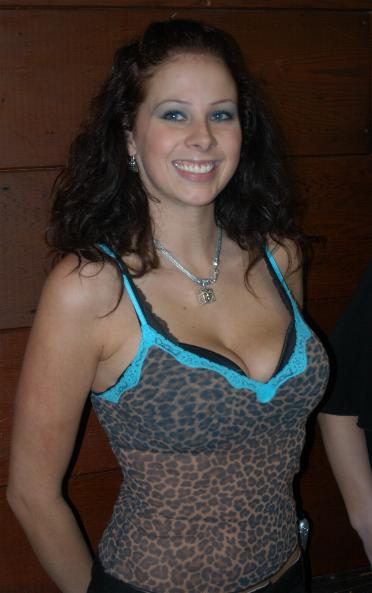 Spurred on by the success of her initial adult film shoots, between 2004 and 2006 Gianna went on to appear within a broad range of DVD feature releases and website sex scenes including Interracial Anal Teens-n-Toys 3, Trust Justice 2, Belladonna: Fetish Fanatic 3, Hooter Nation 2, G For Gianna, Super Naturals 3, 4 and 5, Gianna's Stocking Tease and Hot Caress amongst many others. In fact, between 2005 and 2006 Gianna appeared in over 85 DVD feature releases! Happy to shoot all manner of boy/girl, lesbian, group sex, interracial, POV, gonzo, soft-core and hardcore content, Gianna soon amassed a dedicated fan base and was able to collaborate with popular female porn stars including Alexis Texas, Penny Flame and Ariana Jollee, as well as iconic BDSM performer Belladonna, TS star Vaniity and male porn star Christian XXX.
Over the years Gianna Michaels has attributed her adult film success to her natural look and confident nature. Gianna expressed these views during her 2010 Hush Hush interview and highlighted how she does not fit the stereotypical porn star mould of a thin blonde bombshell who has undergone plastic surgery. Proud of her natural assets and curvaceous figure, Gianna stated;
"I am not every other chick that is in the industry. There is nothing wrong with any of the women that are in the industry because everyone is different…It is just that beauty is in the eye of the beholder. I am grateful for my success and as long as people continue to like me I plan on fucking sticking around".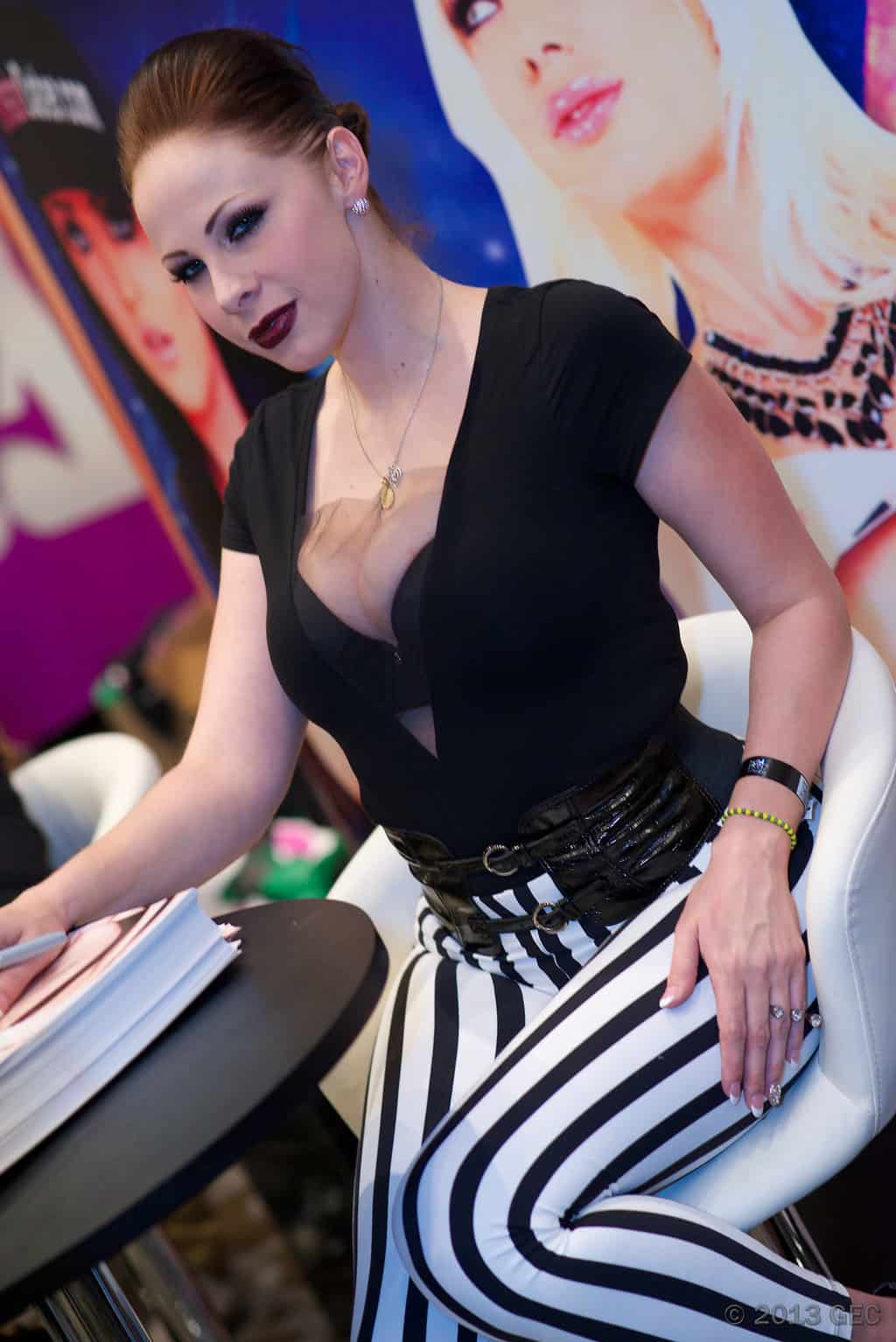 Gianna Michaels : Adult Film Award Wins & Nominations
A pivotal moment in Gianna's adult film career occurred in 2006 when she appeared within the Evil Angel production Fashionistas Safado: The Challenge. This hardcore DVD feature release showcased Gianna in a wide range of raunchy group sex scenes with Melissa Lauren, Jenna Haze, Sandra Romain, Adrianna Nicole, Flower Tucci, Sasha Grey, Nicole Sheridan, Marie Luv, Caroline Pierce, Lia Baren, Jewell Marceau, Jean Val Jean, Christian XXX, Voodoo, Chris Charming, Erik Everhard, Mr. Pete and Rocco Siffredi.
In fact, it  was Gianna's performance within a 12 person group sex scene that featured in Fashionistas Safado: The Challenge which earned her multiple adult film award nominations. Similarly, Gianna's first (and only) anal sex scene which featured within the Evil Angel production Big Wet Asses 15 in 2009 also earned her a prestigious "Best Anal Sex Scene" nomination at the 2010 AVN Awards. Some of Gianna's most notable adult film accolades which she has received to date include;
2006: XRCO Awards winner — "Best On-Screen Chemistry" — Fashionistas Safado: The Challenge
2006: XRCO Awards nominee — "Female Performer of the Year"
2007: AVN Awards winner — "Best Group Sex Scene" — Fashionistas Safado: The Challenge
2007: FICEB Ninfa Awards winner — "Most Original Sex Sequence" —Fashionistas Safado: The Challenge
2008: AVN Awards winner — "Unsung Starlet of the Year"
2008: AVN Awards winner — "Best Sex Scene In A Foreign Shot Production" — Furious Fuckers Final Race
2008: AVN Awards winner — "Best All-Sex Release" — G For Gianna
2008: VOD Awards winner — "Performer of the Year"
2008: Urban Spice Awards nominee — "Best Interracial Star"
2009: VOD Awards nominee — "Performer of the Year"
2010: AVN Awards nominee — "Best Anal Sex Scene" — Big Wet Asses 15
2010: AVN Awards nominee — "Best Tease Performance" — Performers of the Year 2009
2011: Urban X Awards winner — "Best Three-Way Sex Scene" — Sophie Dee's 3 Ways
2011: Honor Awards winner — "CAVR All-Time Top Ten Porn Stars"
2012: Nightmoves Awards nominee — "Best Boobs"
2013: The Fannys Awards winner — "Female Performer of the Year"
2013: The Fannys Awards nominee — "Best Oral (Thirsty Girl)"
2014: Nightmoves Awards nominee — "Best Boobs"
2015: Nightmoves Awards nominee — "Best Adult Film Star Feature Dancer"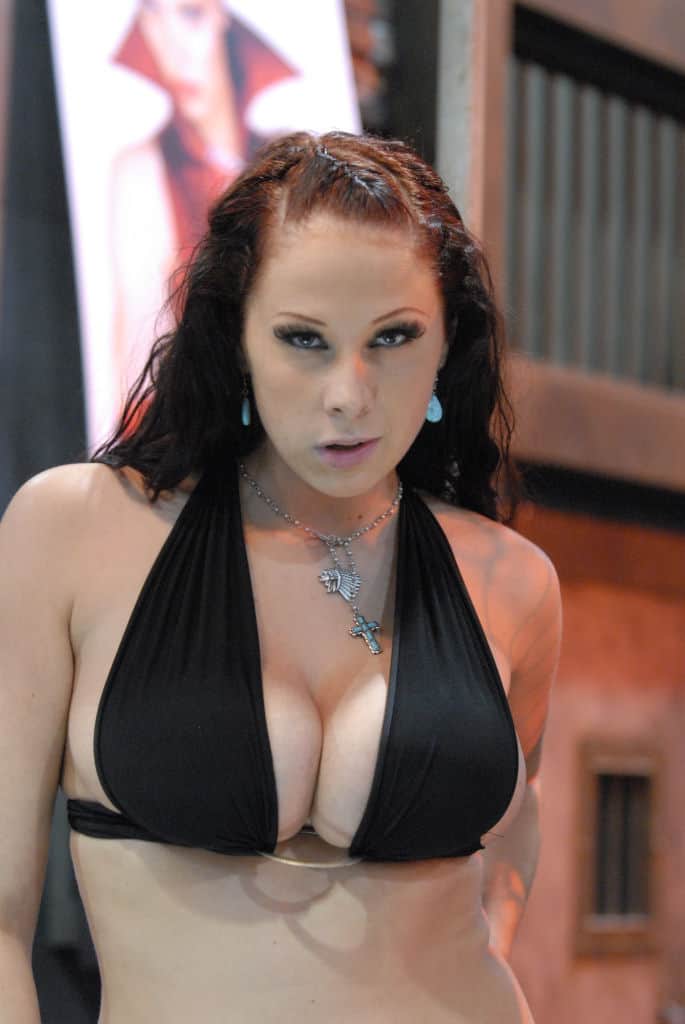 Gianna Michaels : Mainstream Media Projects
In addition to her adult film performances, Gianna has also featured within several mainstream media projects. Amongst some of Gianna's most notable acting credits include; the role of "Parasailing Girl" in the 2010 horror blockbuster Piranha 3D within which she starred alongside fellow porn star Ashlynn Brooke, a guest appearance in the 2010 Showtime TV drama Look: The Series that was based on the 2007 film of the same name, and the role of "Escort #3" in the 2013 short film Criminal within which she starred alongside Welsh adult film performer Sophie Dee. Gianna has also appeared within the Dyme Def music video Do Something and appeared as herself in the 2009 comedy TV series Tosh.0. In 2008, Gianna was one of the porn stars who was featured within the Porn Unplugged documentary; an illuminating project that provided adult film fans with exclusive behind-the-scenes footage from several pornographic productions.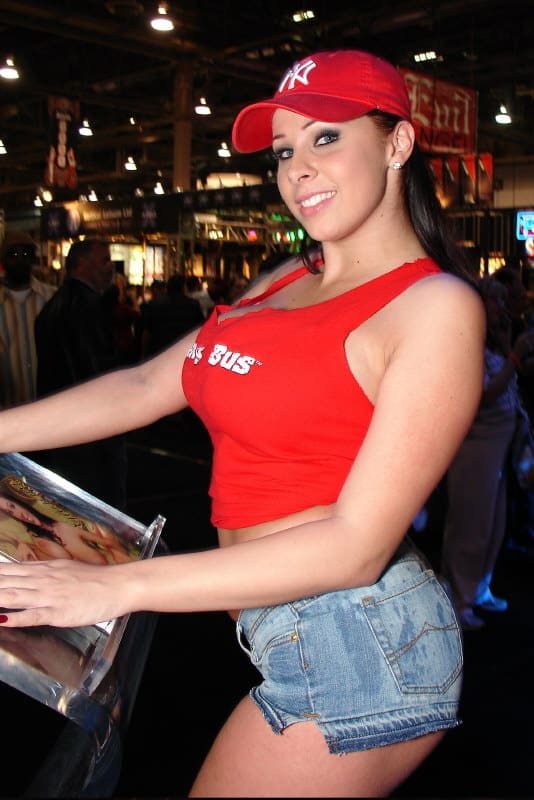 Inspired by her adult film award nominations and successful mainstream media projects, Gianna launched her official solo website in 2012. This online multimedia platform enabled Gianna to create and share a wider range of original adult film content with her loyal fans. Since 2015 Gianna has also hosted a series of live public and private chat sessions via adult cam-sites in an effort to provide a more intimate experience with her fans.
Gianna also continues to perform as part of a feature dancing duo with her former co-star and fellow adult film performer Sophie Dee. Gianna and Sophie have performed in countless gentleman's clubs across the United States of America in the past few years. As Gianna conveyed during her April 2015 Fleshbot interview;
"My intention when I got into the adult industry was to have some fun, make a few good flicks and some ching ching! It all got a little bigger than I had expected. I would love to bring more awareness to things I find close to my heart…There is nothing I would change of my adult film career. Everything happen as it was supposed to…Thank you to all the fans who have supported me throughout my career. I'm excited to be to the point in my career where I can travel all over the county, meet new people and explore beautiful cities".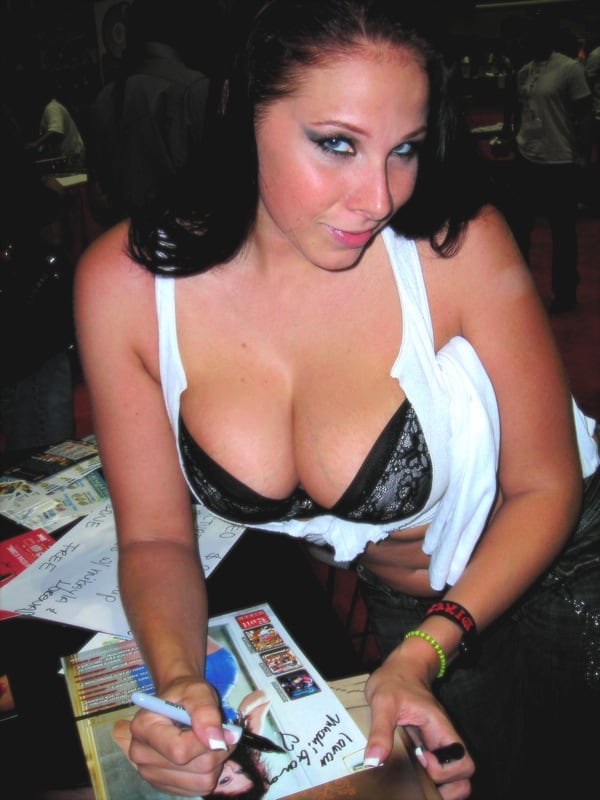 So if you would like to have some fun with Gianna Michaels then please do not hesitate to use the social networking links provided below! From checking her Twitter profile for news on her latest releases, to arranging a one-on-one live chat session with the buxom beauty herself, these official social media platforms enable fans of Gianna Michaels to learn more about their favourite female porn star and to glean exclusive industry insights about her upcoming projects and public appearances!
Social Networks
Cam Sites : Camsoda – giannamichaels4u
Official Blog Site : http@//www.giannaxxx.com
Twitter : @therealgianna
Instagram : https://www.instagram.com/explore/tags/giannamichaels/
IMDB Profile : http://www.imdb.com/name/nm1758119/
Amazon : Gianna's Wish List