Personal Info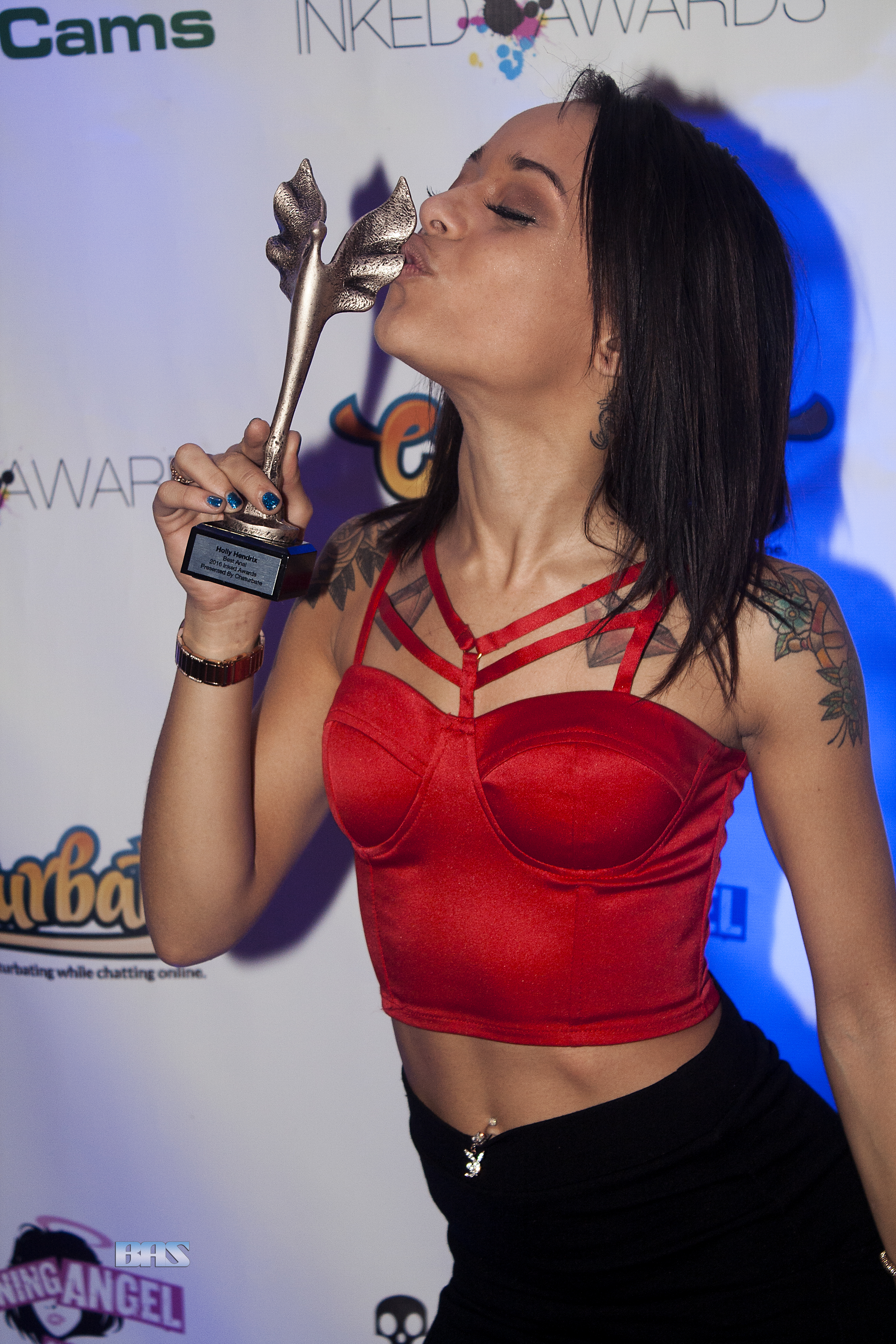 Name : Holly Hendrix
Date of Birth: April 20th, 1997
Home Town : Savannah, Georgia (US)
Measurements : 32AA – 22 – 34
Bra/ Cup Size :  32AA
Boobs : Natural
Height : 4'10 (1.47m)
Weight : 90lbs (41kg)
Hair Colour : Brunette/Blonde
Eye Colour : Brown
Tattoos : Prism diamond designs above each of her breasts, a coiled snake design under her left ear, 'Shameless' script under her right ear, flowers and wheel design on her left shoulder, a floral design on her right shoulder, 'Evil' script on the inside of her bottom lip and a Sun and Moon montage on the back of her neck. As of April 2017 Holly also has several new rose and leaf designs across her shoulder blade, upper back and neck
Piercings : Navel, both nipples and a dermal piercing on her right cheekbone
Years Active : 2015 – present
Number of Scenes : 58+
Meet Holly Hendrix; a captivating cutie who has just been crowned as the "Best New Starlet" at the 2017 AVN Awards! Within less than two years Holly has amassed a massive international fan following and numerous adult film award nominations due to her show-stopping lesbian, boy/girl, anal and DP themed DVD feature releases as well as her impressive collection of kinky BDSM and femdom web content.
Before she transformed into an award-winning adult film star, Holly was born and raised in Savannah, Georgia. Holly has mixed Guyana and American heritage and graduated early from high school when she was 16 years old. In fact, Holly explained within her March 2016 Adult DVD Talk interview that she had already been studying at college for two years by the time she was 18 years old;
"I grew up in Savannah, Georgia my whole entire life. I come from a small town and whenever I come back home, everybody knows who I am. I have 2 brothers and a mom and a stepdad. My biological father is from Guyana and my mom is American, just a Southern woman. I went to high school and graduated early and went to college for 2 years. It was pretty cool already being in college for 2 years at the age of 18. I ended up dropping out and heading for Florida to do porn. I don't really know how it all started but I met a boy and I really liked him. I moved to Florida to be with him and I started doing some modelling. It was mainstream modelling, getting used to being in front of the camera. And, naturally, I just ran into something about doing nude photography. I did my first nude photo shoot and fell in love with it. I met my agent and it just went from there!".
Holly further elaborated within her May 2016 Fleshbot interview how;
"Back in high school, I was so focused on grades and being a good girl. I even graduated after tenth grade and went to college for two years. I was always by myself in college, I never really had a group of friends to hang with or anything. I was definitely dating and having sex since I was fourteen—I wouldn't say I was a complete slut but I was very sexually active. Had lots of sex with my boyfriend in school and even fucked my professor in college".
Holly revealed in her March 2016 Adult DVD Talk interview that she has always been promiscuous and that she lost her virginity when she was 14 years old. Holly also explained within this illuminating interview that she has been having sexual experiences with girls since she was 11 years old;
"I lost my virginity when I was 14. I started dating this guy and, within 2 weeks, we started having sex. It was his idea, I just went along with it. It kind of hurt the first time, the first time I don't even really remember. It just went from there! We would have sex in crazy places. We actually dated for 3 ½ years. He introduced me to sex and I wanted to have sex a lot. And I would have a lot of sex with a lot of people! I was a really, really bad girl…We had threesomes but, outside of our relationship, I did some bad things that I didn't tell him about. I don't really care anymore!…
I did have experiments with girls. I've always liked girls. I've always been infatuated by girls. I just feel so gay sometimes, I can't really describe it. Girls make me feel some kind of way. When I watched porn, I looked for girl/girl porn. I liked watching a woman naked. I had girlfriends in school and we would watch porn together. We would make out and they had roommates who would get drunk and make out with me. We would have girl/girl/girl threesomes. Girls are just so much fun!".
Eager to explore her sexuality, Holly even confided within her October 2016 Adult DVD Talk interview that she has had sex with one of her teachers! As Holly saucily stated;
"He was definitely a great fuck. He looked like a fire-fighter, buff and bronze. He drove an Escalade. What really made it exciting was that he was my teacher. He gave me good grades. When I got a bad grade on a test, if I got like a 70, he would put a 90 on it. Then after everyone left, he said, 'Hey, you saw all the questions you got wrong, I put a 90 on there! You're going to stay after school, you're going to redo it, I'm going to give you all the right answers and you're going to make a 90 on it.' 'OK.' So he got me to pass his classes so that was exciting too".
After dropping out of college and moving to Florida when she was 18 years old, Holly began working as a mainstream model. Before long, Holly was intrigued by the concept of erotic photography and began to pose as a nude model for various artistic projects. Holly has enthused within her May 2016 Fleshbot interview that posing as a nude model awakened her passion for posing naked and was instrumental in her decision to pursue a career as a porn star. As Holly puts it in her own words;
"When I was in my early teens I participated in normal non-nude photo shoots and I've always been destined to be in front of a camera and model. I did my first nude shoot, not like porn, but more artistic-like work, when I was seventeen . . . I fell in love. I wanted to be naked, I wanted to be sexy, I wanted to feel free. I love sex a LOT. Before I even thought about it, I met my agent and just couldn't turn down the offer. I'm glad I made the decision I made, I am so happy with my career and I don't see myself going anywhere but up from here!".
Holly divulged during this March 2016 Adult DVD Talk interview that she has been honest with her family about her adult film exploits and that, even though they do not talk about it, they have been supportive of her porn star lifestyle;
"We don't really talk about it much but he's supportive. We grew up believing we can do anything we want with our lives, no one should tell us what to do. We grew up with liberal parents, freedom to do whatever you want to do in life. We grew up very open minded, he supports me. My little brother, I don't really know, he hasn't talked to me since he found out and I'm sure everyone in his high school talks about me. My mom tells me that people in school are talking about me and saying things to my little brother".
Holly Hendrix : Adult Film Career
In May 2015 Holly filmed her first ever sex scenes with male porn star Bruno for the popular teen porn site supertinyteens.com. Holly discussed shooting her first ever sex scenes and coming up with her porn star stage name 'Holly Hendrix' within her March 2016 Adult DVD Talk interview;
"My first scene was scary. I wasn't nervous. I knew what to expect. I had a really good time. I had sex with Bruno for the first time. It was a brutal scene, it was a BDSM, getting spanked and tied up. All that stuff just makes me feel so ecstatic and fills me up with so much adrenaline that I can't really think about much except for what's going on and how awesome I feel. I just remember feeling amazing and wanting to do it over and over. It's like the first time you get high…
I was living in Hollywood, Florida when I came up with Holly. Holly is just a bright, beautiful name to me. It fits my character so well. I am fucking Holly and it fits me so well, I don't know how to describe it. And I was a very, very big Jimi Hendrix fan. Purple Haze is awesome!".
Spurred on by the thrill of shooting her first ever sex scenes, Holly proceeded to star in a wealth of taboo relations porn productions such as Holly Hendrix My Sister with James that was uploaded via the Tug Pass Network teen porn site petite18.com in July 2015, Ass In Chaps with Pauly Harker with that was distributed via the Reality Kings porn site8thstreetlatinas.com in October 2015, Casting with Holly Hendrix with J-Mac that was uploaded via the Bang Bros porn site hoinheadlights.com in November 2015, and Coochie Smooch that featured Holly in a spectacular group sex scene with Amara Romani, Cece Capella, Dylan Daniels, and Pauly Harker that was distributed via the Reality Kings website in December 2015.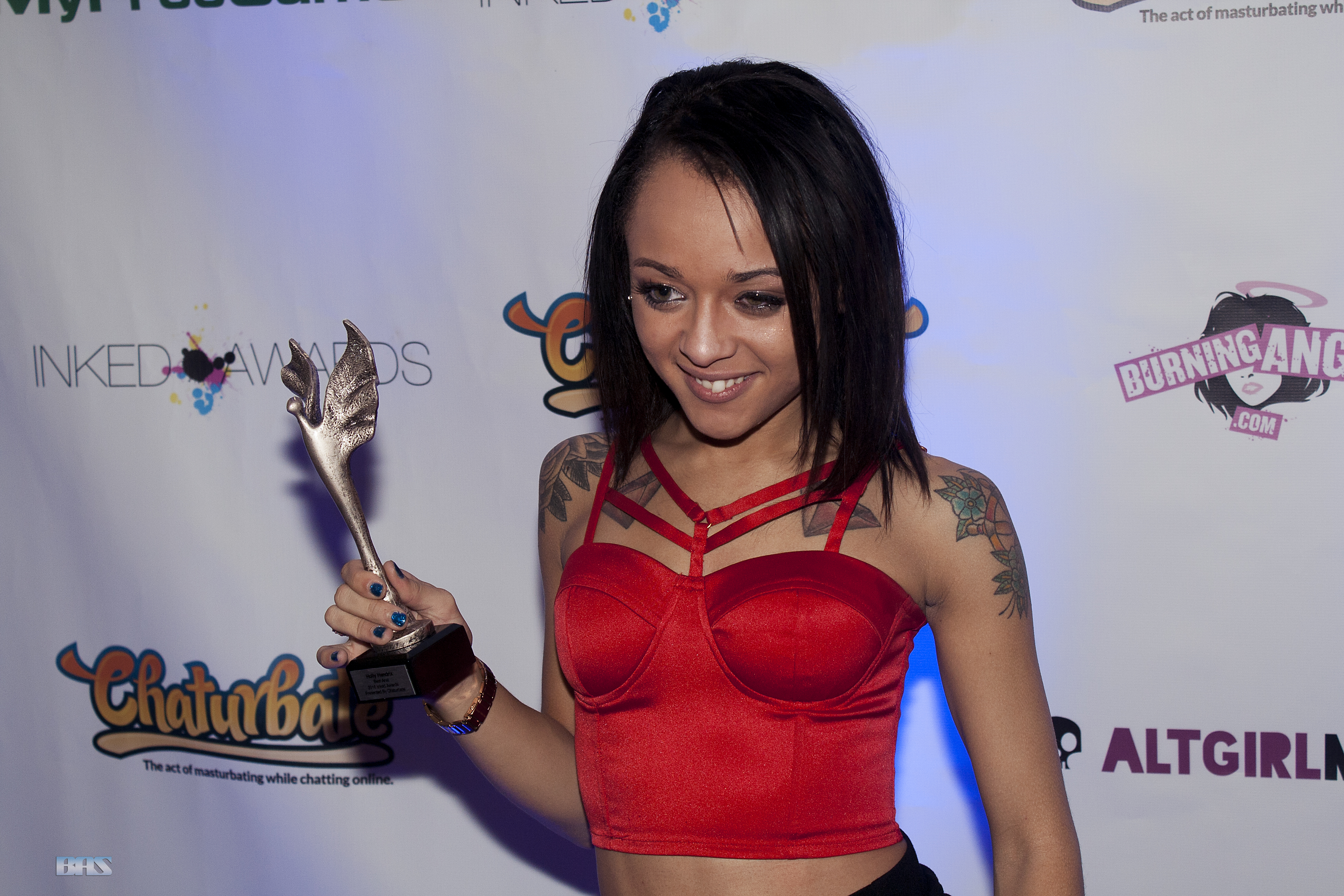 In November 2015 Holly filmed her first ever anal sex scene for the Mofos porn site let'stryanal.com. Holly's anal sex scene debut was titled Spinner's Bubble Butt Gets Banged and Holly explained within her March 2016 Adult DVD Talk interview that;
"I started doing anal about 3 or 4 months into the industry. My first was Let's Try Anal for MOFO's and, yes, it was absolutely my first time actually performing anal sex in my life. A lot of people do question that but that was my first time ever. I ended up really liking it. It hurt really bad at first, there were cuts and it was difficult. Once I got the hang of it, I realized something I never realized before—a feeling that felt soooo good. It was so different from having regular vaginal sex. It's just sooo much better. It's so intense, I can't explain it".
Holly has since starred within several best-selling anal-themed DVD feature releases including her epic anal-themed star showcase Holly Hendrix's Anal Experience (2016). Filmed by Jonni Darkko for Evil Angel in September 2016, this anal-themed signature showcase featured Holly in five sizzling three-way and group anal sex scenes with Adriana Chechik, Amara Romani, Alex Jones, Chad Alva, Eric John, Filthy Rich, Jacob Jones, Wrexxx, John Strong, Markus Tynai, Brad Knight, and Jonni Darkko. Talking about shooting with Jonni and Adriana, as well as appearing within her first ever double anal and blow bang sex scenes, for Holly Hendrix's Anal Experience during her October 2016 Adult DVD Talk interview, Holly enthused how;
"I think it's the best piece of work I've ever done since I've been in the industry. I enjoyed creating the movie with Jonni and I'm glad he actually made me become a part of it as far as the directing and putting all the outfits together and the casting and everything like that. He gave me a say-so. I feel that our teamwork and collaboration is what made the movie so awesome. Definitely, Jonni has made the masterpiece that I wanted for my movie…
We met the morning before the shoot and she taught me all kinds of stuff. Like how to prep, taught me a lot of different things about anal, stuff I didn't even know. Because we got together beforehand and talked a lot and got to know each other, we made an awesome scene. She showed me so much! She even taught me how to stretch my butt open so that she could fit a fist in there! (laughs) That was our first time working together and then, later that week, we did another scene. It should be coming out soon…
Dude, I looked back on it and that was the best one I've done out of all of the double anal penetrations I've done! I felt I did way more! I was cumming whenever I watched it. 'Wow, I just did one! Look, I did it again! 2! Oh my God, I'm taking it more!' Fuck, I didn't even know that I did it so much for my first time ever doing it. It looked like I had way more experience in that video than all the other ones! I definitely felt like I pushed myself more for the showcase…
Oh my goodness, I was so sexually deprived! I was frustrated! I had all these dicks in my mouth and they wanted me to just keep sucking them! I felt kind of bored. (laughs) So, of course, I turned my blow bang into a gangbang. I just needed to get fucked. I just couldn't help myself. That's how that turned out. But I really liked it. I loved having that many cocks around me. I never had that many cocks around me at once before!".
Fans of Holly's anal-themed DVD titles should also check out her Holly Hendrix Swallows After Taking It Up The Ass sex scene also starring Peter Green that was released via the Bang Bros teen porn site bangbros18.com in December 2015, her Anal Tutor hardcore sex scene with Sean Lawless for the Brazzers Network porn site teenslikeitbig.com in April 2016, and her Evil Angel and Mike Adriano Media DVD title True Anal (2016) that showcases Holly in an epic three-way anal sex scene with Amara Romani and Mike Adriano. Holly has also filmed for the Evil Angel DVD feature release Ass Wide Open 3 (2016) that was directed by Aiden Riley, Anal Freshmen (2016) for Evil Angel and BAM Visions that was directed by Claudio and Mick Blue, the Elegant Angel production Anal Students 3 (2016), Young Anal Adventures (2016) for Reality Junkies, Anal Cuties 4 (2016) for Hard X, Her Anal Obsession with J-Mac for holed.com in June 2016, Le Wood's Anal Finishing School (2016) that was directed for Evil Angel by fetish porn superstar Francesca Le, Anal Dolls (2016) for Evil Angel that was directed by Toni Ribas, Anal Obsessed (2016) for New Sensations and Anal Perfection (2016) for Digital Sin alongside Keisha Grey, Nickey Huntsman and Marley Brinx. There's just no stopping prolific porn star Holly Hendrix!
An accomplished girl/girl performer, Holly has filmed a wealth of raunchy lesbian adult film content for Girlfriends Films, Zero Tolerance and Airerose Entertainment. Fans who are eager to discover Holly's sauciest girl/girl sex scenes should check out her captivating collaboration with A.J. Applegate for the Zero Tolerance production Lesbian Ass Eaters (2016), her sultry sex scenes in Lesbian Fantasies (2016) for Airerose Entertainment with Piper Perri and most recently her sizzling sex scenes in Women Seeking Women 137 (2017) for Girlfriends Films with Kristina Rose.
Throughout her prolific porn star career, Holly has established a glowing reputation as a sensational teen porn star due to her phenomenal performances in the teen porn DVD feature releases and the taboo relations titles Teen Yoga (2016) for Wicked Pictures also starring Aidra Fox, Alex Grey, Jillian Janson, Alexa Grace and Tiffany Watson, Step Sibling Coercion 2 (2016) for Team Skeet, Pure 7 (2016) for Airerose Entertainment and Mick's Anal Teens 3 (2016) for Evil Angel and BAM Visions. You can also watch Holly showcasing her raw sexuality within the teen porn productions Once Upon A Time In Daddy's Room for sislovesme.com in February 2016, Manhandled Teens (2016) for Lethal Hardcore, I Blackmailed My Babysitter's Ass (2016) for Evil Angel, Horny Latin Teens (2016) for Brazzers, Disciplined Teens 4 (2016) for Team Skeet, Daddy Fuck My Ass (2016) with Steve Homes that was directed by Joanna Angel for Burning Angel Entertainment, and Naughty Girl Gets Anal From Friends' Father sex scene with Cristian Devil that was distributed via tushy.com in August 2016.
Holly explained within her XCritic column interview that she feels working within the adult entertainment industry has made her a stronger, more confident person;
"Well, I've grown into a stronger woman. Yes, very life changing. Before porn, I believe I was weak. Not weak, but definitely not nearly as strong as I am today. I don't hesitate to speak up for myself. I've matured and bloomed like a rose. I feel like I'm on a different "level" than many of the girls I come across in this industry. I can't relate with hardly anyone, I don't have a big porn girl "clique" because most girls I meet just seem so sad all the time. Always complaining about money or drugs, or their boyfriend. I feed off of these people's negative energy and it gives me every reason to be even more positive than I ever was. I don't want to see myself like them. I am so headstrong about this career; I've grown so much since I've began. I can, now, clearly see the path I am on, and the destination which I want to reach before my days in porn are over". 
Consequently, after making her spectacular anal sex scene debut in late 2015 Holly had renewed vigour and bolstered self confidence. As such, Holly decided to broaden her sexual horizons by starring within some raunchy double penetration (DP) themed productions including 1st DP For Holly with Mick Blue and Markus Tynai that was distributed via hardx.com in June 2016 and which was also featured in the Hard X DVD title DP Cuties (2016). Holly has since starred in the epic DP themed DVD title Manuel DPs Them All 5 (2016) for Jules Jordan Video with Abella Danger, Kimber Woods, Zoey Monroe, Steve Holmes and Manuel Ferrara.
In recent months, Holly has featured within a broad spectrum of anal, DP, teen porn, taboo relations and amateur porn DVD titles including Oil Overload 15 (2016) for Jules Jordan Video and Chris Streams Productions with Criss Strokes and Markus Tynai, Fitness Sluts (2016) for Evil Angel, Fantasy Solos 15 (2016) for Kick Ass Pictures, Sporty Girls 4 (2016) for Elegant Angel also starring Dani Daniels, Blair Williams and Rilynn Rae, Too Big For Teens 20 (2016) for Reality Junkies, the Bang Bros Network DVD compilation titles Bang Bros 18 Volume 11 (2016) and Ho In The Headlights Volume 10 (2016), the Evil Angel and BAM Visions DVD title Mick Blue's Best Day Ever 2 (2016) that showcases Holly in some epic group sex scenes with A.J. Applegate, Amara Romani, Anikka Albrite, Gia Paige, Morgan Lee and Mick Blue, the ATKingdom feature release ATK Anal Delight With Holly Hendrix (2016), Violation Of Piper Perri (2016) for AMK Empire, Ass Vs. Pussy 4 (2017) for B. Skow and Girlfriends Films, and most recently Holly starred within the Amateur Allure DVD compilation title Amateur Introductions Volume 24 (2017).
Performing within these best-selling DVD titles has earned Holly the coveted title of "Best New Starlet" at the 2017 AVN Awards and "Best Anal" at the 2016 Inked Awards both of which have cemented her status as one of the most popular and adventurous teen porn stars in the adult entertainment industry. In fact, Holly has received a wealth of impressive adult film award wins and notable nominations throughout her porn star career which have been listed below;
2016: Inked Awards winner "Best Anal"
2017: AVN Awards winner "Best New Starlet"
2017 AVN Awards winner "Most Outrageous Sex Scene" Holly Hendrix's Anal Experience (with Adriana Chechik and Markus Tynai)
2017: XRCO Awards winner "Superslut of the Year"
2017: Spank Bank Awards winner "Fun Sized Fuck Toy"
2017: Spank Bank Technical Awards winner "Immeasurable Carnal Prowess in a 4'10 Frame"
2017: AVN Awards nominee "Hottest Newcomer (Fan Award)"
2017: AVN Awards nominee "Best All-Girl Group Sex Scene" Violation Of Piper Perri (with Anya Olsen and Piper Perri)
2017: AVN Awards nominee "Best Double Penetration Sex Scene" Oil Overload 15 (with Criss Strokes and Markus Tynai)
2017: XBIZ Awards nominee "Best New Starlet"
2017: XRCO Awards nominee "New Starlet of the Year"
2017: XRCO Awards nominee "Orgasmic Analist of the Year"
Holly has been thrilled to receive these prestigious adult entertainment accolades; especially the 2017 AVN Award for "Best New Starlet"! Holly has attributed her ongoing adult film industry successes to the support of her die-hard fan following. Talking about her fans within her XCritic column interview, Holly sincerely expressed how;
"I have many fans! I definitely single out my most loyal, and respectful fans from the others. My fans are everything to me, my biggest boost of motivation. I like to have relationships with my fans; they deserve to know a side of me that's different than just that girl on screen. I have become good friends with only one of my fans, I will seriously message him like he's a diary… I do try my best to make time to reply to emails and DMs that stack up so quickly!… I love gifts, cards, and lovely little messages in my emails. But what really gets me most is the time spent on me. I've had a fan write the longest article just about me. Long paragraphs describing just my asshole and how magnificent they believe it is. I just believe when one dedicates so much time into another person, it proves they care for you. The same fan also baked me a cake (my favourite kind of cake ever) on my 19th birthday to send me a picture of it, and it was a cake with my face on it! I was so touched by the effort and time someone would take to make a cake for me… As a performer, I plan on being in porn movies for as long as I can. I have an idea of when that might be, but I can't be too sure, I can't determine the future. I will have done everything I can possibly do on camera. Everything I've wanted. Once I am done performing on camera, I do want start a porn company".  
Holly Hendrix : Fetish Lifestyle Market & Future Plans
In addition to taking the mainstream porn industry by storm, since January 2016 Holly has also filmed a diverse array of raunchy fetish porn, kinky femdom clips and compelling BDSM content for the fetish porn network Kink.com. Fans who want to discover Holly's kinkster side will love viewing her first ever Kink.com sex scene Anal Domination Of Holly Hendrix that was distributed via their Sex & Submission web series in January 2016.
Since making her Kink.com debut in January 2016, Holly has starred in two hardcore sex scenes for Kink.com's The Upper Floor web series in February 2016 and April 2016 titled Black Mailed: Stepmother & Daughter Sexually Punished alongside MILF star Cherie DeVille and Tiny 18 Year Old Anal Slave Double Stuffed with Bella Rossi and Marco Banderas. Fans of Holly's BDSM content will also want to check out her October 2016 Hardcore Gangbang sex scene When Clowns Attack: FBI Agent Gets Double Anal And Fisting! and her most recent December 2016 Sex & Submission suspension bondage themed sex scene with Ramon Nomar titled The Debt Collector.
Holly has stated within previous interviews that she remains just as raunchy in her spare time as when she is in front of a camera. After all, as Holly hotly hinted within her XCritic column interview;
"When I'm not getting down and dirty for the camera, I am probably getting down and dirty off camera. Let's be real! [Laughs] I do have interests outside of work. They include playing guitar, singing, cooking, writing. I listen to music so much, I love singing to my favorite songs. I love rock, I love hard rock, I like music I wouldn't even mention in an interview because I don't want to scare anyone. [Laughs] I love to shop; show me the closest thrift store (even if I made a million dollars a day, I'd never lose my passion for thrift shops).  I am a sun-slut, I enjoy being outdoors, I love to sit in the sun for hours at a time. I go to the beach a lot; I'm always at my pool. I'm also a huge marijuana consumer. I can say that's also an interest. I take weed seriously, and I love finding new glass and new strains to smoke. Marijuana is the only drug I consume". 
To date, Holly has filmed a multitude of sizzling fetish porn sex scenes including a kinky Brutal Castings (2016) collaboration with Bruno Dickems for Fetish Network and some raunchy BDSM sex scenes for Aiden Riley's Evil Angel fetish porn production Choked and Soaked (2016) alongside fellow fetish porn starlets Abella Danger, Alexa Nova and Gabriella Paltrova. In recent years, Holly has honed her squirting skills and featured within the November 2016 fetish porn DVD title Squirt Gangbang 5 for Elegant Angel. This sizzling all-girl porn production showcased Holly in a saucy group squirting sex scene with Adriana Chechik, Daisy Ducati, Kat Dior, Kleio Valentien, Luna Star, Marika Hase and Zoey Monroe. Fans of Holly's squirting sex scenes should also check out Squirt In My Gape 5 (2016) for Elegant Angel alongside Kleio Valentein and most recently Evil Squirters 3 (2017) for Evil Angel with Riley Reid, Ashley Adams, Cadence Lux, Toni Ribas and Ramon Nomar.
Having conquered multiple mainstream porn genres as well as frequently featuring within a variety of fetish porn productions, Holly has no plans to retire any time soon. In fact, upon being asked about her future adult film industry plans within her March 2016 Adult DVD Talk interview, Holly revealed that she would love to launch her own website and eventually become a director;
"I see myself as a porn director. I want to direct porn. I'm ready for that lifestyle. I'm ready to go ahead and do it all. I want to do everything I possibly can do. I want to build a huge name for myself and then start an amazing ass porn company. I want to hire a bunch of girls that want to make amazing porn…anals and gangbangs and nasty shit. Nasty, dirty, disgusting stuff. I want to shoot stuff that only the top, nastiest, baddest bitches would do".
You can follow Holly Hendrix on her ascent to adult film superstardom by visiting her official social networking channels online today. By using the links provided below, you can interact with brunette beauty Holly Hendrix via Twitter, check out her most recent fetish porn sex scenes via Kink.com, and keep yourself updated on her latest DVD feature releases and upcoming porn star projects. What more could you ask for?
Social Networks
Twitter : @hollyhendrix_
Kink Profile : Holly Hendrix 58890
Adult Empire Profile : Holly Hendrix at Adult Empire
Gamelink Profile : Holly Hendrix at Gamelink
IMDB Profile : http://www.imdb.com/name/nm7539215/