Personal Info
Image Sourced from Wikimedia, Attribution :  © Glenn Francis, www.PacificProDigital.com
Name : Jillian Janson
Alias : Jillian Brookes, Anna Lynn, Annalynn Grace
Hometown : Minneapolis, Minnesota (US)
Date of Birth: May 23rd 1995
Measurements : 34C – 25 – 38
Bra/ Cup Size : 34C (75C)
Boobs : Natural
Height :  5'7 (1.70m)
Weight : 136lbs (62kg)
Hair Colour : Brunette
Eye Colour : Blue
Shoe Size : Women's size 8 (US)
Years Active : 2013 – present
Number of Scenes : 160+
Born and raised in numerous small towns within Minneapolis, Minnesota, Jillian grew up with her mother in a single parent household. When she was 14 years old Jillian got her first job at McDonald's in order to help support her mother who had recently become unemployed. As Jillian explained during her Men's Mag Daily interview;
"I didn't have a lot of things growing up. I had the basics but if I wanted something extra like clothes then I had to go out and get it for myself. The rule with my parents was basically the money they had was to keep a roof over our head, keep us healthy, and with a full belly. I didn't have a lot of material things so I know how to live on very little. After I started working I realized it was about more than the money. I really liked being out there and meeting new people. I got some experience as well so it was worth it".
When Jillian was 15 she moved to Indiana to live with her estranged father but by the time she was 16 years old she had moved back with her mother and had begun working as a beauty advisor at Walgreen's. By the time Jillian had turned 18 years old she had worked as a telemarketer for a year before becoming a waitress and hostess at Marie Callender's. Unsatisfied with her string of retail and service jobs, Jillian began webcam modelling in the summer of 2013 whilst she was still a senior in high school. Jillian explained during her April 2015 interview with X Rent DVD how she stumbled upon her webcam modelling job simply because there was nothing else to do in Minnesota! As Jillian puts it in her own words;
"I was always interested in pornography, because I watched it when I was younger. There was nothing to do in Minnesota. All you had was the internet or TV. And, of course, everyone surfs up when they're horny. Porn. As the years had gone by, as I started to learn more about the categories and what's out there, I got on this web cam. You know how you go on a porn site and an advertisement pops up for LiveJasmine or something like that? I decided to sign up for web camming and two days into it, my agent found me and I've been with them ever since. It's just ironic, because I wasn't even going to go on that night and then he found me. He flew me out to California a week or two later and here I am".
By the time she began webcam modelling in 2013 Jillian had already lost her virginity. During her October 2013 Adult DVD Talk interview, Jillian mentioned how losing her virginity had coincided with discovering porn;
"I started having sexual relations when I was 13 years sold. And I got into porn as well. I don't remember how I got into it, but I started watching it. So I knew in general what happens. I had a lot of sex in my personal life and I did some webcamming and that's how my agent found me. I'm pretty open on webcam so I felt, "Why not?" So I looked into it and didn't listen to my dad's negativity but my mom was supportive…it unleashed something inside of me. I love sex! Once I started, I couldn't stop!…That's another reason I was always independent. Because people judged me. In 9th grade I had an incident where I had sex with one of my friend's brothers. He had a girlfriend at the time and the two girls were friends. She basically got all the girls against me and it was horrible. So I had a reputation".
Jillian was discovered by an agent through her webcam modelling work and by August 2013 she had begun erotic modelling in California; just three months shy of her 18th birthday! Jillian posed for her first erotic modelling shoot in late 2013 and the photos were featured within Barely Legal magazine. Jillian described her Barely Legal magazine shoot in a February 2015 Kink E-Magazine interview, noting how;
"I've always been known as an outgoing and photogenic individual when I had my clothes on, so when the clothes came off I seemed to keep that potential. I modeled my first time for Barely Legal Magazine, and the people on set were extremely nice and understood I was unaware of what to do so they were very polite and taught me a few pointers. Based on the compliments I was by receiving from the companies I worked for, I realized that everyone was admiring my youthful beauty, developing body, and sweet outgoing personality. So I had the confidence to continue down the wonderful path my career was leading me".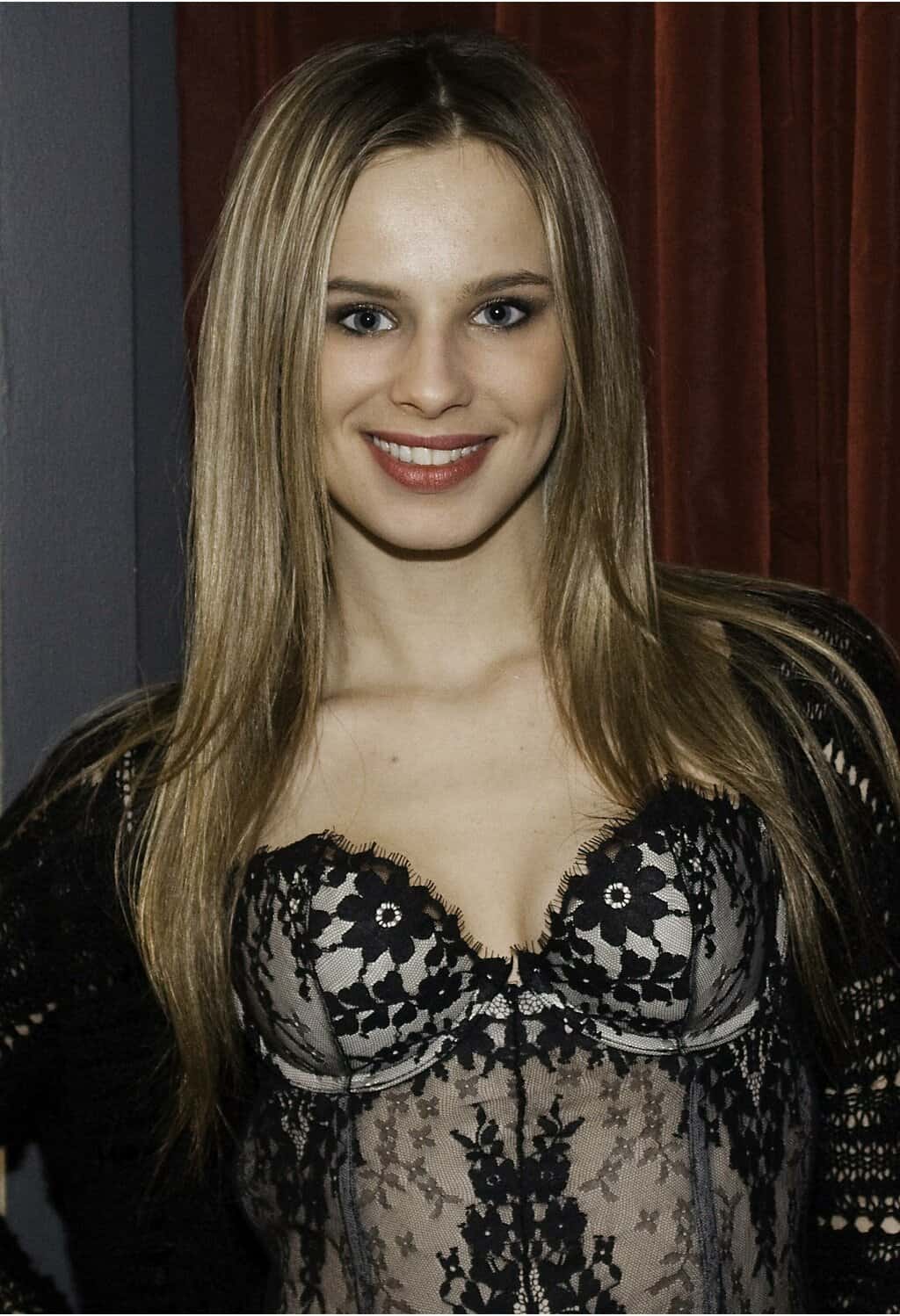 After posing for her first erotic modelling shoot, Jillian began to shoot her first ever sex scenes for Amateur Allure which were featured within the 2013 DVD feature release Fucked Hard 18. Jillian has no regrets about starting her porn star career at a young age but unfortunately Jillian's classmates discovered her adult film exploits and she was bullied. These ongoing taunts resulted in Jillian dropping out of high school and moving to California. As Jillian explained during her Kink E-Magazine interview;
"When my classmates found out about it, they became very disrespectful calling me names and teasing me which resulted in me moving from that environment in order to put it all behind me. I'm very fortunate that I did since it allowed me to pursue this great career and explore life by experiencing so many wonderful opportunities!". 
Jillian embellished upon this tumultuous period in her life during her Adult DVD Talk interview in October 2013, explaining how;
"I told my best girlfriends, I trusted them. I know they didn't tell anyone. But I told some guys who had dropped out of high school a few months before. But they told some guys in my school, who were jocks and were popular. And then it started spreading around. My school district had split into two a couple of years ago, so both schools knew who I was and everything. Like I said, I was independent and didn't want to deal with the drama, so I left. A huge question that everyone asks is if I'm going to finish high school. Yes, of course, I'm going to get my GED or my HEP, which is the High School Equivalency Program. I just have to test out then I get my diploma like I would if I walked out on that stage".
In addition to being bullied by her classmates, Jillian was also disowned by her estranged father who could not come to terms with her adult film exploits. Fortunately, Jillian's mother stood by her during this tough time and Jillian maintains a close bond with this side of her family. As Jillian explained during her X Rent DVD interview;
"Well, I kind of got both worlds. My mom is the lenient person that knew about my sexual habits and I was able to talk to her about it. I was able to sit her down and say, "Hey, mom, this is what I want to do. I love sex and you know I'm old enough to do this. I can make my own decisions and it's a very good financial opportunity and the fact that it's in my dream state that I wanted to live in," it was a win-win-win. But with my dad, that was an accidental discovery. I had accidentally linked my porn Instagram to my real name on Facebook and my family, my aunt looked at it and she told my father and my father just kind of freaked out a little bit. We don't have a very close bond. He still looks at me as a little girl and doesn't want to see me like that. I hope he comes around and accepts it, because it's what I do. It's what I love. I mean, it's how he made me, right? (Laughs) I love my mom's side. They definitely support me a lot and I always lived with them".
Jillian even explained during a November 2014 Adult DVD Talk interview how her mother's family supported her when she first started to establish her porn star career;
"I've had my ups and downs. When I started in the industry and moved out here, I moved into my own apartment, which was a new thing for me. I was handling bills and life on my own for my first time. That was fun while it lasted but, unfortunately, I got into a relationship that delayed my career. I learned from it and I grew from it. I moved back home to be with my family who loves me. And I love them. My sister has 3 little girls and I love each and every one of them and I love spending time with them. At the time, my career was slowing down and I wanted to get back on track. Within a couple of months, my career is where it is today and I love it!".
Jillian Janson : Adult Film Career
As mentioned above, Jillian filmed her very first sex scenes in late 2013 for Amateur Allure. During the first year of her porn star career Jillian experimented with a wide range of popular adult film genres and niche fetish themes including lesbian-themed erotica, anal and interracial releases, teen porn and BDSM content. As Jillian explained during her February 2015 Kink E-Magazine interview;
"I absolutely love satisfying all of my sexual desires and capturing the moments of experiencing things I've never done before. As I was a fan of anal, and enjoyed watching it on the Internet, I decided to try it out for my first time on camera…It wasn't long after when I realized I liked trying new things and satisfying myself in ways I had never done before. As the fetish world of bondage and BSDM were always a very big sexual interest of mine I never really had the opportunity to explore much with it, but I plan to now as I have more desire".
In this manner, Jillian filmed her first lesbian sex scene with female porn star Sharon Lee in October 2013 for the DVD feature release It Takes Two. Jillian discussed within her October 2013 Adult DVD Talk interview why she decided to save her first lesbian experience for porn;
"I started watching porn when I was 15 and went into the lesbian categories all the time because there was certain things that they did that the other categories didn't do it for me. I was always curious but I wanted to wait until the time was right. I didn't want to do anything with anyone in high school and it would go around. The industry was the time to do it so the first time with anyone other than a guy was last Wednesday with Sharon Lee. And yesterday was a good scene too with Maddy O'Reilly and a guy".
Some of Jillian's most popular online sex scenes and DVD feature releases that were distributed during this time include; Sweet Lynn for Reality Kings in August, Bound Helpless Girls, Tickled Silly and Sexy Bondage Playthings for FM Concepts in September, Perky for Kelly Madison Productions in November as well as Supreme Booty for Evil Angel which was nominated for "Best Big Butt Release" at the 2015 AVN Awards.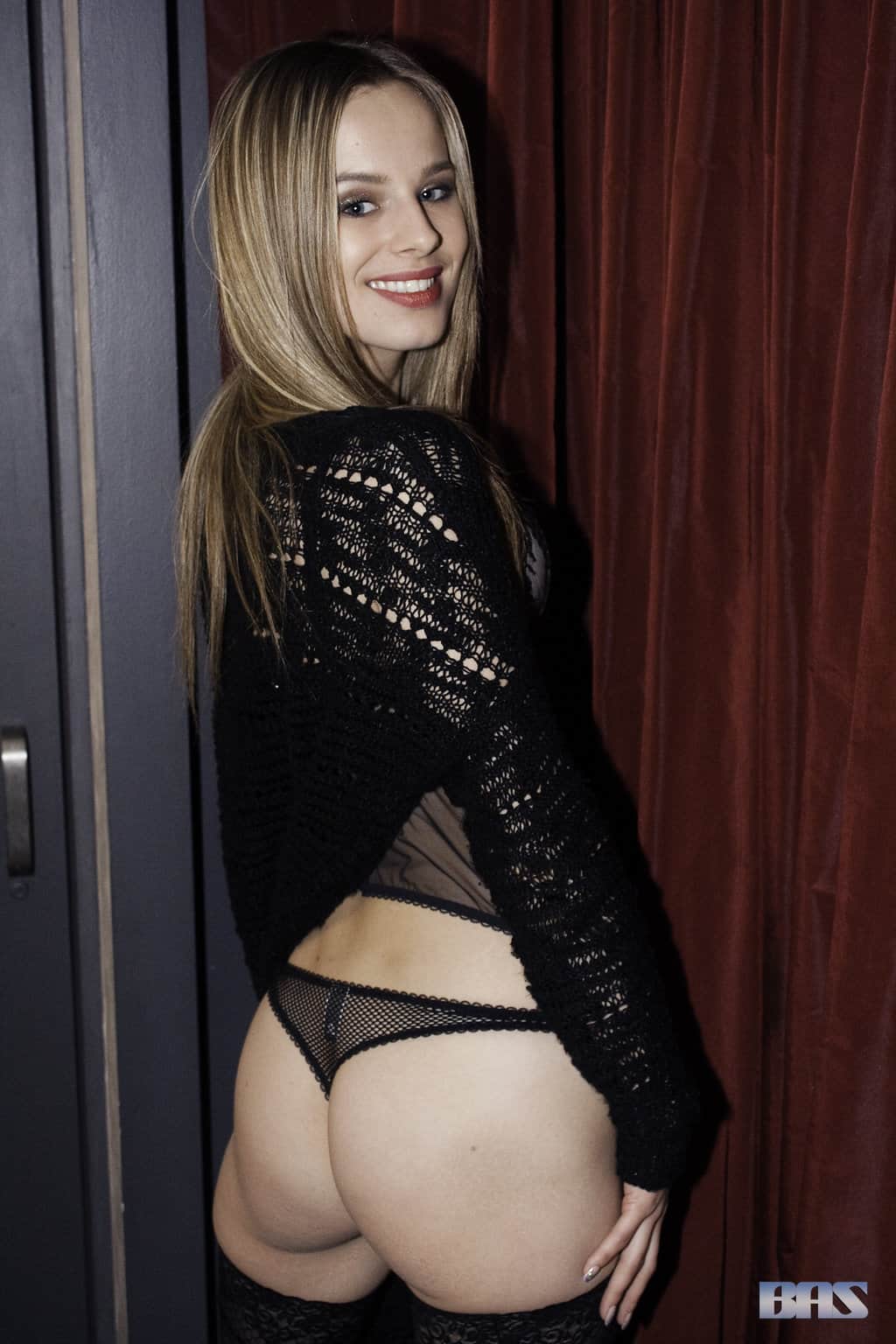 Jillian's first anal sex scene featured within the Jules Jordan Video production Slut Puppies 8. Jillian revealed during her February 2015 interview with Adult DVD Talk that she had not even intended to film her first anal sex scene yet! As Jillian explained;
"Basically what had happened that day was that I was scheduled for a regular boy/girl. But I had worked so much that week, that my vagina couldn't handle it; it was cut. I was sore. I was doing Criss Strokes and he has a long penis and, at that moment, I realized that my vagina was that bad. When he put it in, I cringed, it hurt so bad. I love Greg Lansky to death and you can't just quit on him. Once he starts, he likes to finish, like most men. (laughs) I felt so bad, I didn't want to give up so I said, 'Can you just stick it in my ass?' (laughs) And Criss said, 'Fuck yeah! Fuck yeah!' (laughs) Greg said, 'OK, if that's what you want to do!' So I was not prepared, I did not clean out my booty, I did not put Imodium in my stomach, I was not prepared at all. And that's probably why I was cringing and couldn't handle it because I had a 10" cock in my ass for the first time. (laughs) And I probably had steak and potatoes the night before too, I can't really remember. It was a spur of the moment kind of thing and it was awesome that my first anal was on camera".
Throughout 2014 Jillian continued to film anal sex scenes which were featured within multiple Jules Jordan Video, Bang Bros Network and Evil Angel productions such as; All Things Anal 2, Manuel Ferrara's Reverse Gangbang 2, Anal Exploring The 19 Year Old, Anal Ambitions, Big Anal Asses 2, Black and White 2, Orgy Masters 6 and Fresh Girls which was nominated for "Best Young Girl Release" at the 2015 AVN Awards.
Jillian also began to shoot interracial releases early on in her career, ardently stating in her Adult DVD Talk interview that;
"I do a variety because I love it. I know a lot of people in the industry tell girls to hold off on doing some things but, for example, I did interracial right away. Why? Because I love it. I'm not going to hide what I love. The same thing with anal".
Fans of Jillian Janson should check out her most popular interracial releases for Blacked.com, Jules Jordan Video and Mile High which include; Minnesota Teen Tries First Interracial Threesome , My First Interracial 2, Interracial Orgies, Interracial Threesomes and Brunettes Go Black which was nominated for "Best Interracial Movie" at the 2016 AVN Awards.
In addition to her adult film performances, Jillian also began feature dancing in March 2015. Whilst discussing the possibility of feature dancing in the future during an early Kink E-Magazine interview, Jillian enthused that her favourite aspect of it would be;
"the fact that my fans are able to enjoy my presence, as I'm able to tease them since they would love seeing me work my way around a big pole as much as they love watching me on camera!".
In May 2015 Jillian filmed her first signature showcase Just Jillian. This Jules Jordan Video pornographic production was a hit among fans and adult film critics alike; earning Jillian multiple nominations at the 2016 AVN and XBIZ Awards for her performances with Mick Blue, Erik Everhard, James Deen and Ariana Marie. If you'd like to learn more about Jillian's adult film award successes then listed below are all of the prestigious adult entertainment accolades for which Jillian has been nominated throughout her porn star career;
2014: Nightmoves Awards nominee "Best New Starlet"
2015: Nightmoves Awards winner "Best Female Performer"
2015: Spank Bank Awards winner "Prettiest Girl In Porn"
2015: Spank Bank Awards winner "Best Smile"
2015: Spank Bank Technical Awards winner "The Human Party"
2015: Spank Bank Technical Awards winner "Teenage Dream"
2015: AVN Awards nominee "Best New Starlet"
2015: AVN Awards nominee "Best Group Sex Scene" Manuel Ferrara's Reverse Gangbang 2 (with Adriana Chechik, Dani Daniels, Carter Cruise, Aidra Fox, Candice Dare and Manuel Ferrara)
2015: AVN Awards nominee "Cutest Newcomer (Fan Award)"
2015: XBIZ Awards nominee "Best New Starlet"
2015: XRCO Awards nominee "New Starlet of the Year"
2016: AVN Awards winner "Best POV Sex Scene" Jules Jordan's Eye Contact (with Aidra Fox and Jules Jordan)
2016: Spank Bank Awards winner "Dirty Little Slut of the Year"
2016: Spank Bank Awards winner "Wet Dream Girl"
2016: Spank Bank Technical Awards winner "Friendliest Drop Dead Beauty On Earth"
2016: Spank Bank Technical Awards winner "Rave Monster"
2016: AVN Awards nominee "Best Anal Sex Scene" Just Jillian (with Mick Blue)
2016: AVN Awards nominee "Best Double Penetration Sex Scene" Just Jillian 9with Erik Everhard and James Deen)
2016: AVN Awards nominee "Best Girl/Girl Sex Scene" Women Seeking Women 110 (with Prinzzess)
2016: AVN Awards nominee "Best Three-Way Sex Scene (Girl/Girl/Boy)" Just Jillian (with Ariana Marie and Erik Everhard)
2016: AVN Awards nominee "Best Oral Sex Scene" Just Jillian
2016: AVN Awards nominee "Female Performer of the Year"
2016: AVN Awards nominee "Favourite Female Porn Star"
2016: XBIZ Awards nominee "Best Scene – All-Sex Release" Just Jillian (with Ariana Marie and Erik Everhard)
2016: XRCO Awards nominee "Orgasmic Analist of the Year"
2016: XRCO Awards nominee "Orgasmic Oralist of the Year"
One of Jillian's favourite DVD feature releases that she filmed in 2015 was the lesbian themed erotica Lesbian Family Affair 2. This Filly Films production enabled Jillian to collaborate with MILF star Kendra Lust and rising starlets Abby Cross and Whitney Westgate as well as one of her adult film idols; the British performer turned director Tanya Tate. As Jillian enthused during her Adult DVD Talk interview;
"Tanya, oh my goodness. Tanya! I remember when we actually met, we were in Dion's office at Filly Films. I was there talking to him getting ready for shoots that week and Tanya was talking to him that she needed a girl because she lost one for that week. 'CoughAhemCough' hoping she'd pick me! (laughs) I had just talked to him about how much I loved Tanya and her accent just before she walked in. I said, 'I would love to work for you this week! Please!' (laughs) and there it was. We had a great scene for Lesbian Family Affair 2. It was also with Abby Cross and it was so hot hearing her talk to me. Just hearing her say 'hello', I'm like melted butter in her hands! And she's my publicist, it's even more amazing. She texts me all the time and I'm like 'Tanya, why don't you call me more often?' She called me a couple days ago and that was the first time hearing her voice since AVN and it's a change of culture for a second. It just turns me on because it's not something I hear every day. I tell her, 'Tanya, why don't you call me more often! You have such a sexy accent and it's going to waste!' (laughs)".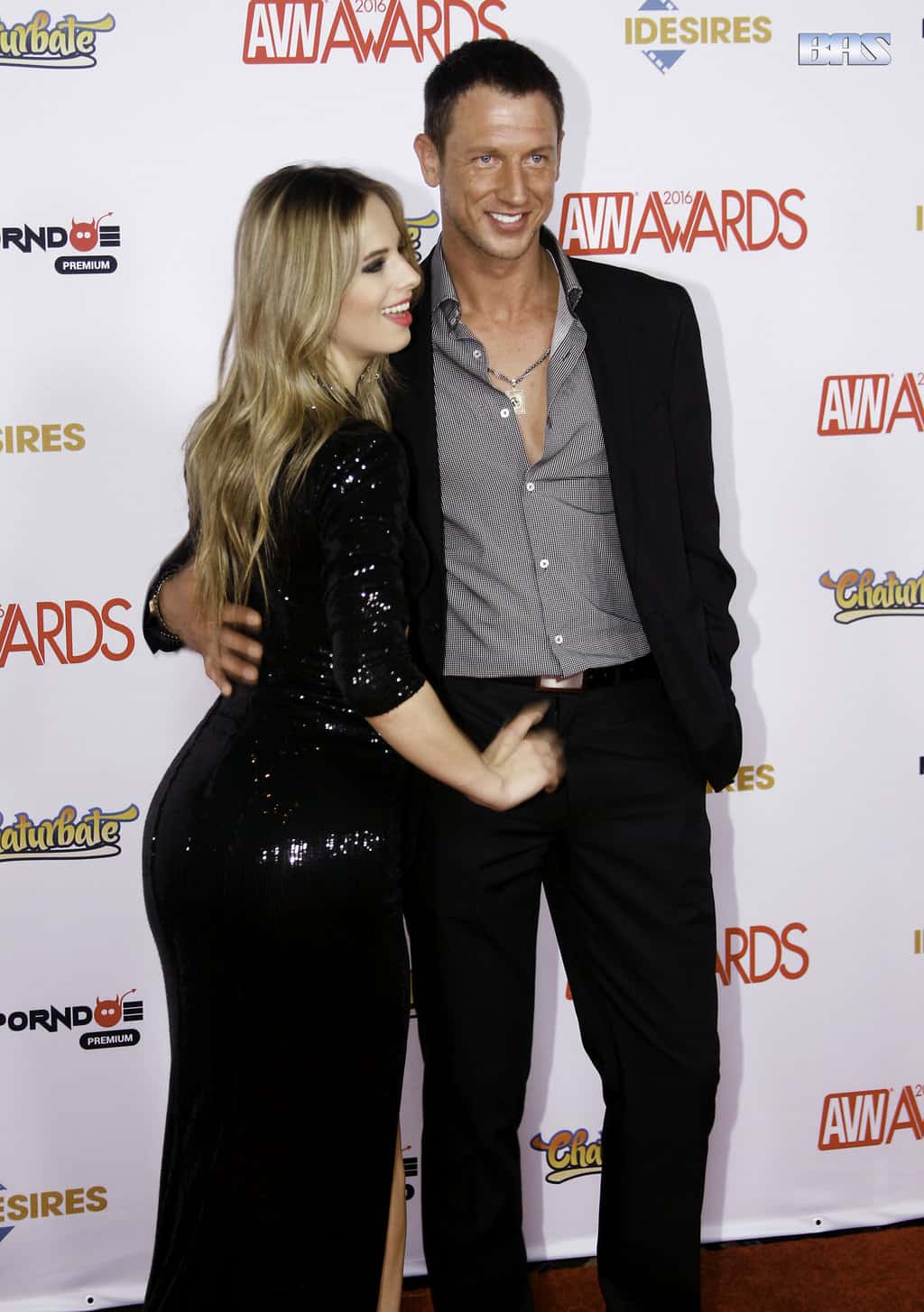 Throughout 2015 Jillian also reunited with Aidra Fox in a saucy sex scene for the Girlfriends Film production Wet For Women 3, starred in a threesome within the Nubile Films production I Caught My Stepsister And Her Friend, performed alongside Dakota Skye in the Web Young production Fool For Love and featured within the popular Jules Jordan Video production Anal Boot Camp 3 with Abella Danger, Bonnie Rotten, Adriana Chechik, Dakota Skye and Skin Diamond which was nominated for "Best Anal Movie" at the 2016 AVN Awards. There's just no stopping Jillian Janson!
As matters stand, 2016 has already been another momentous year for Jillian Janson's adult film career. Not only has she received numerous adult film award nominations at the 2016 AVN Awards in January, but so far she has already performed in a three-way sex scene with Shyla Jennings and Carter Cruise for the Nubile Films production Only The Best, she has starred alongside Chanel Preston in Love To Lick for Reality Kings and she has featured within the Evil Angel DVD feature release Throat Training 2 alongside Aidra Fox and Casey Calvert. Jillian has even been named within CNBC's iconic "The Dirty Dozen: Porn's biggest stars" list for 2016! When asked about her future plans for the remainder of 2016 and beyond, Jillian stated during her X Rent DVD interview how;
"I want to do a lot of things. I really do want to continue in the industry and create something different and new with the industry. Everyone's doing the same thing. I feel like I want to make it different. Someday in the future, I would like to become a photographer or director. One day I hope to have my own company, but it could be a photography company or something. I just want to have some sort of business line, products and stuff and just start branding myself and getting myself out there more".
When she isn't feature dancing in local nightclubs, performing within popular DVD feature releases or attending adult film conventions and award ceremonies, Jillian loves to chill at home with her cat Chloe. As Jillian conveyed within her XCritic column interview with adult film blogger Apache Warrior;
"I only have one cat, but you can go ahead and call me a crazy cat lady since I love how much she likes to snuggle me. I've had her for about 3 years and she's the best pet I've ever had. I also love dogs since we had them growing up, but I don't have any considering I travel a lot right now for my career".
Jillian also loves to travel and commented during her May 2016 Rock It Reports interview how her feature dancing performances have enabled her to visit some amazing locations. Moreover, Jillian is of Irish, Norwegian, Scottish, Swedish and Welsh descent and has always wanted to travel across the globe in order to explore her European roots;
"I absolutely love to travel! Feature dancing has allowed me to travel anywhere I want to go. The place I was dying to go and was fortunate enough to be booked at was Sapphire in New York! I plan to travel all over the world from London to Hong Kong as soon as I get my passport".
Want to learn more about Jillian Janson's international travels, adult film career, latest pornographic productions and upcoming adult cam-site sessions? Then head on over to her official social networking channels using the links below!
Social Networks
Kink Profile : Jillian Janson
Twitter : @xoJillianJanson
Instagram : @xojillianjanson
Facebook : https://www.facebook.com/xojillianjanson
IMDB Profile : http://gb.imdb.com/name/nm5947080/
Amazon :  Jillian Janson Wish List
Tumblr : http://xojillianjanson.tumblr.com/