Personal Info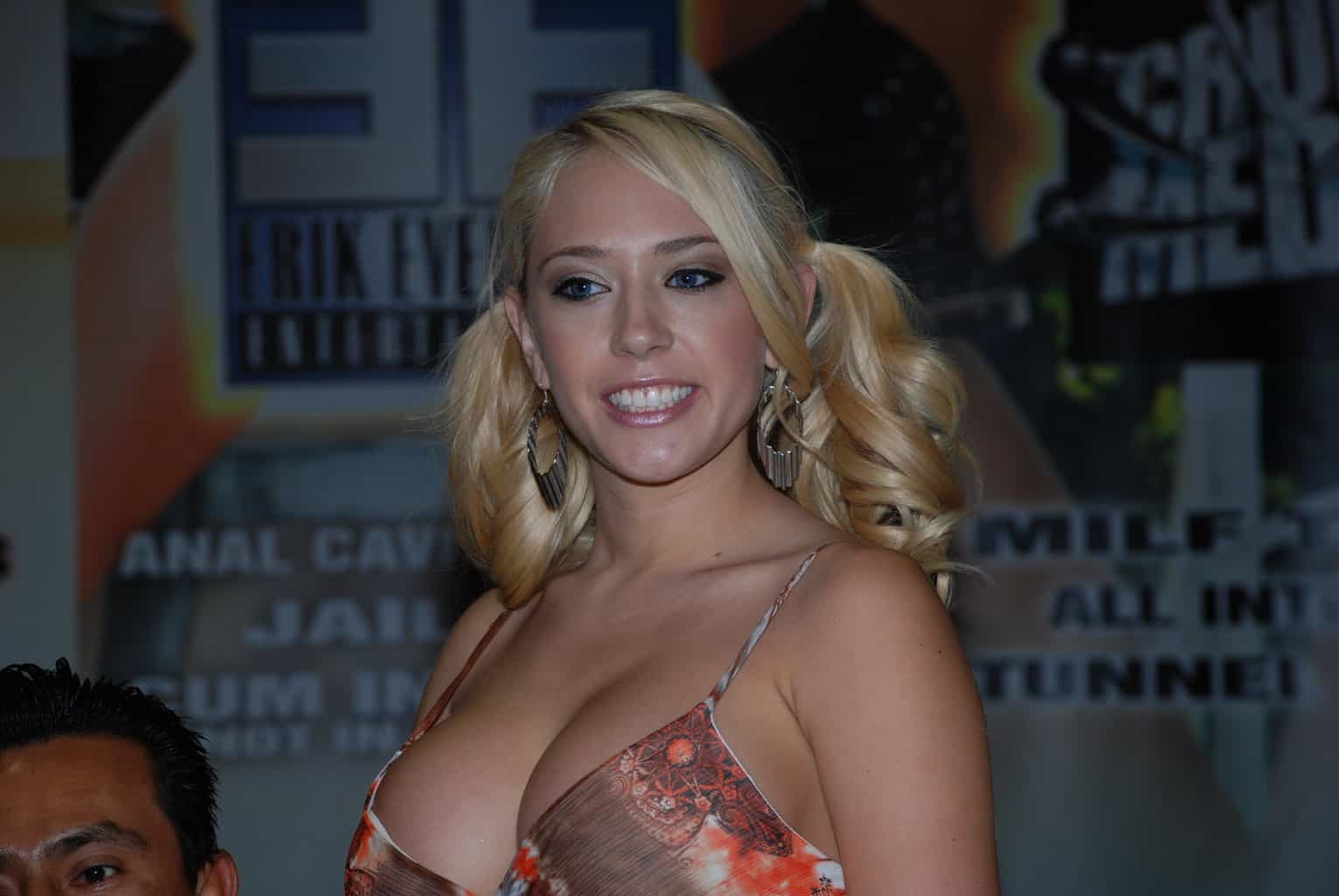 Name : Kagney Linn Karter (born Kagney Linn Necessary)
Alias: Ivory, Bunny, Kagney Linn Karlen, Kagney Lynn Karter, Kagny Linn Karter, Kagney Lin Karter
Date of Birth: March 28th 1987
Home Town : Harris County, Texas (US)
Measurements : 34E – 25 – 36
Bra/ Cup Size : 34E (75F)
Boobs :  Enhanced
Height : 5'4 (1.63m)
Weight : 119lbs (54kg)
Hair Colour : Blonde
Eye Colour : Blue
Piercings : Navel, vagina, right labia
Shoe Size : Women's 8 (US)
Years Active : 2008 – present
Number of Scenes : 398+
Blonde, blue-eyed and breathtakingly beautiful, Kagney Linn Karter is a true Southern belle and one of the most successful female porn stars within the adult entertainment industry! Over the past eight years, Kagney has entertained and enthralled thousands of fans across the globe due to her stellar performances in multiple pornographic parodies and anal sex shoots as well as her mesmerising magazine modelling shoots and her captivating feature dance nightclub routines.
Born in Harris County, Texas, but raised in both Saint Joseph, Missouri, and then Ridgway, Pennsylvania, Kagney demonstrated a wide range of academic and athletic talents as a child. Not only did she run track and perform as part of the cheerleading squad in her high school years, but Kagney also participated in speech and debate extracurricular activities. After high school Kagney worked as a hostess for a Mexican restaurant in her hometown and also worked at a local Office Max branch. When asked about her Southern roots, Kagney has enthused how;
"I'm really so Southern at heart. I love BBQ. I love ribs. I can't stop eating meat. I could never become a vegetarian. I don't see how people do it. So yeah, I eat really good and I always have. So I'm just really used to Southern hospitality and doing things with integrity and being honest. Sometimes I'm like, 'oh, it's hard to say I came to California to pursue a dream of acting and became a porn star,' but you know what I live it up to the fullest. It's the honesty and integrity in me that will take me all the way. So I think it's important not to pretend that I am something that I'm not and just let people know the truth".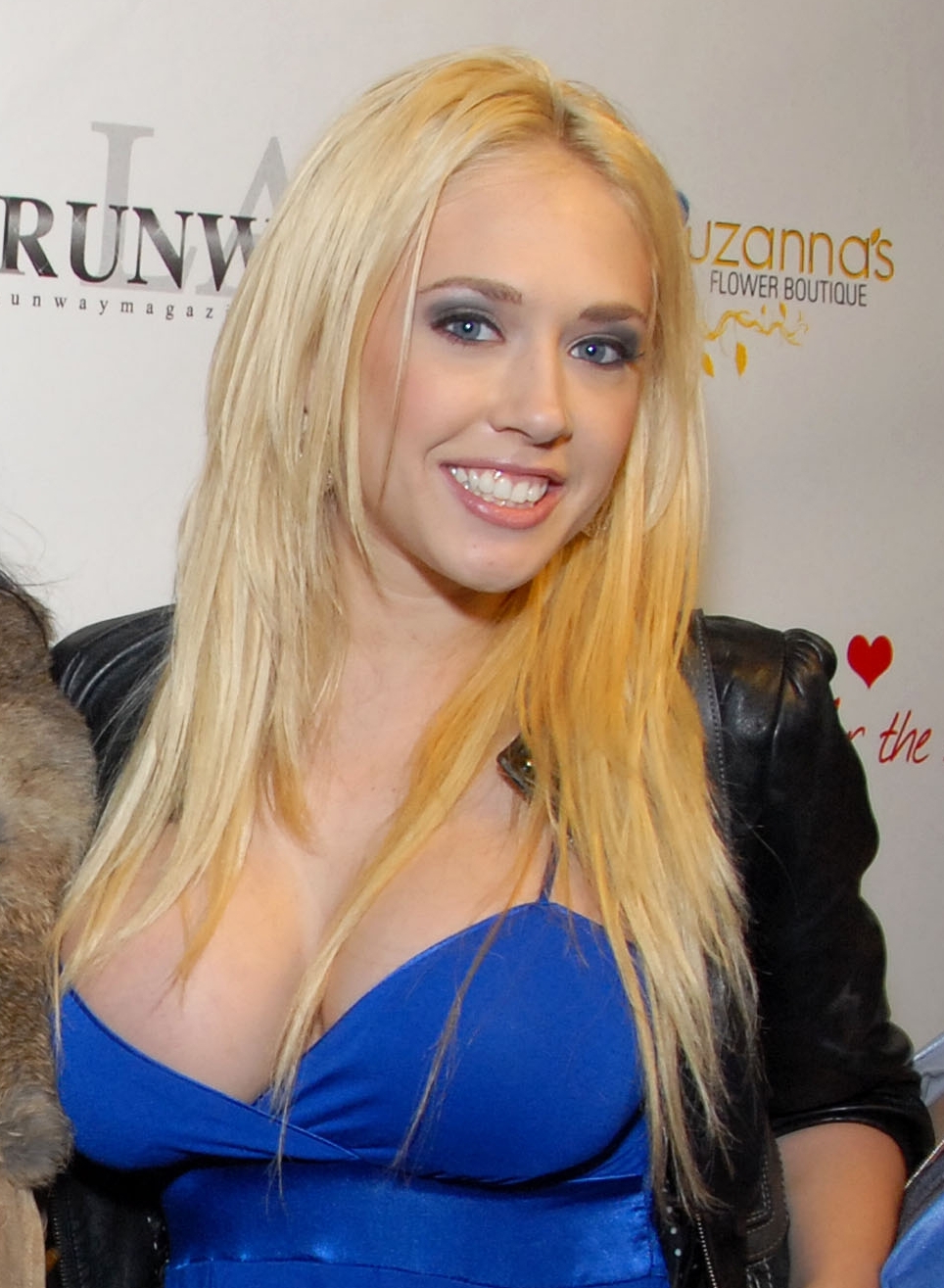 Kagney's adult entertainment talents began to emerge when she started to perform as an erotic dancer in nightclubs across Missouri. Kagney was so successful as an erotic dancer that she was actually named the state's "Showgirl of the Year" by renowned strip club chain Déjà Vu  in 2007 and was voted second runner-up for their national "Showgirl of the Year" accolade in the same year.
In 2008 Kagney moved to California where she had originally intended to pursue acting and singing rather than an adult film career. When asked about her musical preferences, Kagney has always conveyed how;
"I love blues, so I have like a very sultry voice, I would say. … I write. I don't play any instruments though. But it's nice to connect with those who do. It's just a hobby of mine. Eventually, I would love to produce sexy soundtracks for movies. I think that would be cool. I know a lot of people who produce their own soundtracks to their videos and stuff. I know William H. does for Elegant Angel. I thought gosh, that would be a really good way for me to channel my singing voice as well in this industry. I do get in the studio every so often. I have tracks that need to be laid. … I was into more acting. That's always just been a hobby of mine, kind of a side thing".
Unfortunately, Kagney had a falling out with her manager after he discovered that she had been working as an erotic dancer. Despite this setback, Kagney remained in California and continued working as an erotic dancer. In fact, it was through her job as an erotic dancer that Kagney began to pursue modelling as a possible career avenue. Kagney's stunning looks soon enabled her to sign with LA Direct Models whereupon she began to pose for glamour shoots with the famous erotic photographer Holly Randall. Holly has always been an ardent advocate of Kagney's, stating in a 2009 AVN press release that;
"She's a bubbly, free-spirited girl with a real love for her job…Unbeknownst to many, she also has a beautiful singing voice. I could tell from our very first shoot together that she was going to become a big star".
Kagney Linn Karter : Adult Film Career
In September 2008 Kagney filmed her first ever sex scene with male porn star Johnny Sins for Naughty America. When asked about shooting her first ever adult film scene in a 2009 AVN interview, Kagney revealed that;
"It was fun. It was easy. It was a breeze. I wasn't nervous or anything. Probably had a little bit of jitters, but once I really decided I was going to get into the business, I just knew it. It wasn't like an unsure thing for me. It was either you're going to do it and make it your career or you're going to keep pursuing other dreams. But with this, I felt like it's time, you know…. I just felt like a calling. It felt like it was perfect for me. And in this business, they don't say like you have to wait. You get in and you can be hands-on right then. …
It was easy, once I made this decision to not be nervous or not have hesitation it was this is it, I'm going to do it and there's no turning back. There's no looking back. It was either all or nothing. I mean it wasn't like, 'Oh I'm going to do porn to get extra money so I can see about my acting career. It was, you know what I love acting but this is also a way where I can find all the things that I love to do and put it into one thing and it would great for me. I thought you know what I'm going to do it. I'm gonna be a porn star. I really feel like I can take it all the way in this business. I'm just excited. I'm totally driven".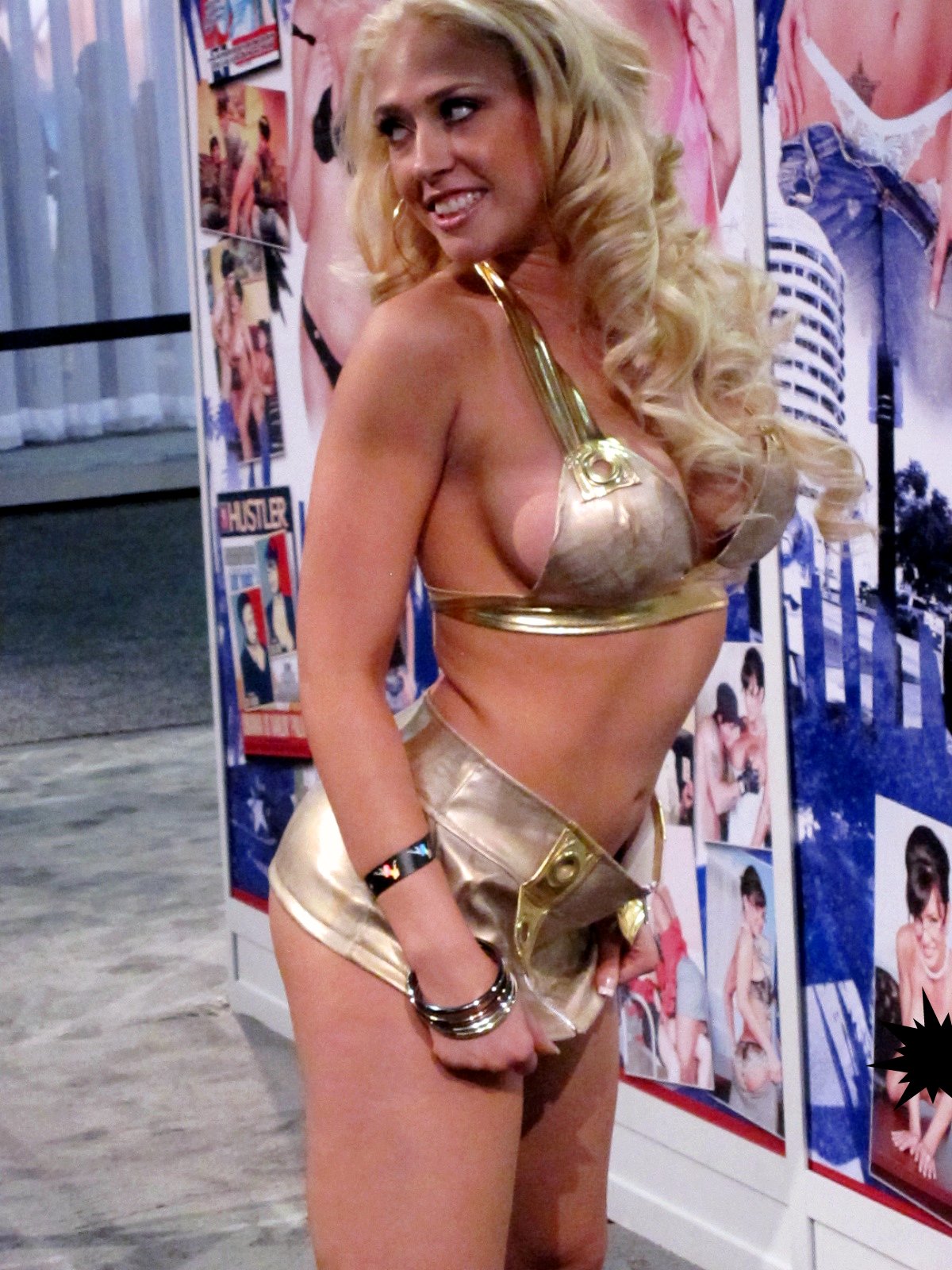 Named after internationally renowned film star James Cagney, Kagney decided to use her real first and middle names as part of her porn star stage name. In previous interviews Kagney has revealed that she chose 'Karter' as her stage surname because it "just fit perfectly".
In no time at all Kagney began to make waves within the adult entertainment industry due to her breathtaking blonde bombshell looks and alluring personality. After all, within less than a year working within the adult film industry Kagney was featured on the cover of Hustler magazine in April 2009 and was named the "Most Searched Porn Star" on FreeOnes.com whereupon she attracted over 145,000 online searches from her adoring fans! Throughout 2009 Kagney was also named Twisty's "Treat of the Month" in April, was named Penthouse magazine's "Pet of the Month" in June, posed as the cover model for Adult Video News magazine during the same month and in October Kagney was featured on the cover of renowned adult film photographer Holly Randall's new book Erotic Dream Girls. In 2009 Kagney also entered the 2009 Fame Registry list which outlined the "Most Popular Porn Stars" within the adult entertainment industry and was also signed to Rising Star PR's public relations roster. At the time the founder of Rising Star PR, Devan Cypher, noted how;
"Kagney is exactly the kind of client we're looking for…She's smart and beautiful and knows what she wants. We're just here to help her get there".
This meteoric rise to fame continued throughout 2010 when Kagney signed an exclusive performing contract with the leading pornographic production company Zero Tolerance Entertainment. Commenting on the signing of this contract, Zero Tolerance Entertainment's president and founder Greg Alves stated;
"Kagney's appeal is undeniable and signing her to a contract is a major coup for us…In a relatively short period of time, she has become incredibly popular, and we feel confident that with our marketing team and production schedule Kagney will become a household name".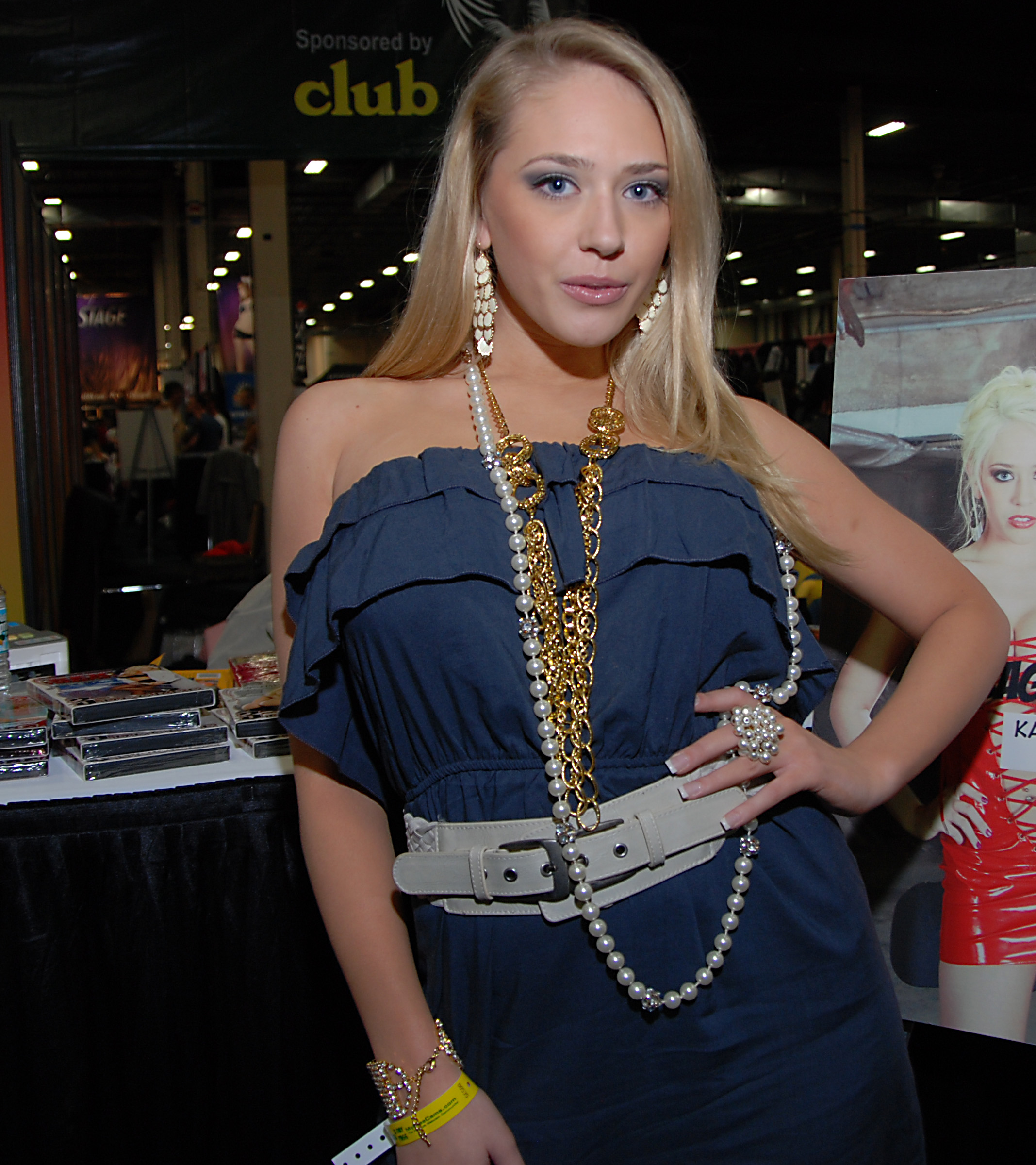 During 2010 Kagney appeared within Twisty's first ever full length DVD feature release, Members Only, and appeared in numerous Zero Tolerance Entertainment productions including Double Decker Sandwich 13 and Blonde Bombs. Kagney also featured within the Third Degree Films (which is Zero Tolerance Entertainment's sister label) DVD feature release Kagney Linn Karter: Superhero Sex Therapist. When asked about her thoughts on her cinematic successes and ever-expanding fan base during an 2010 AVN press release, Kagney enthused how;
"To sign a contract with Zero Tolerance is truly a dream come true…I've long considered them to be the preeminent company in XXX and for them to pursue me and welcome me with open arms … I couldn't be happier. Together, we're going to do some great things!… 2010 is going to be an amazing year with some huge projects for me, and Kagney Linn Karter isn't going nowhere!".
Kagney truly lived up to this statement because, by the end of 2010, her adult film performances earned her the "New Starlet" accolades at the AVN Awards, the XBIZ Awards and the XRCO Awards; the three biggest award associations within the adult entertainment industry!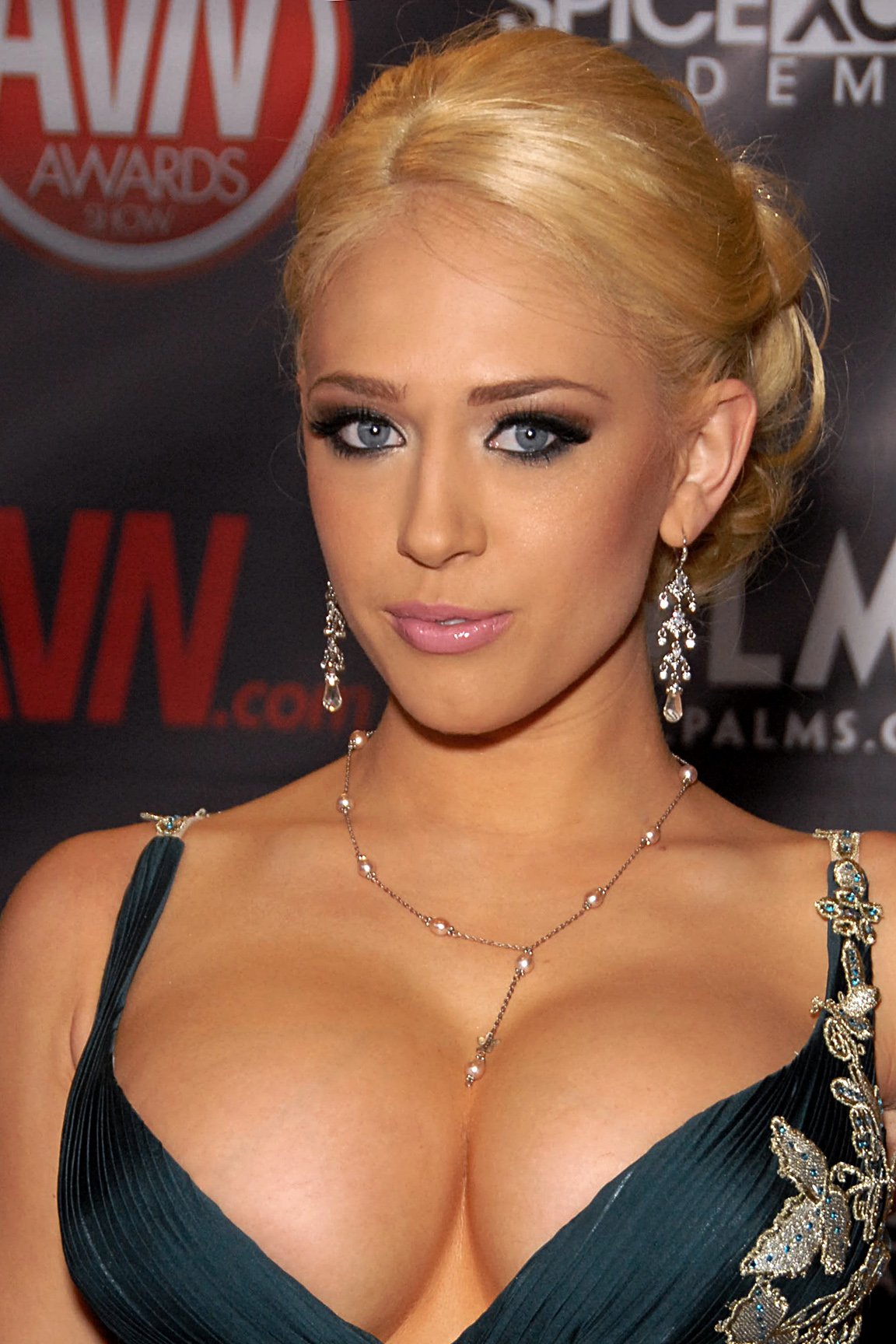 Image Sourced from Wikimedia and copyright of © Glenn Francis, www.PacificProDigital.com
Kagney was also named the "5 Star Award" winner by the online adult film database PornstarGlobal in 2011. As part of winning this impressive accolade, Kagney was granted domination rights of the PornstarGlobal homepage for the entire year. Following in the footsteps of porn superstars Jenna Haze and Sunny Leone, PornstarGlobal's founder heralded Kagney Linn Karter via an AIP Daily press release as "the next mega superstar of Adult Entertainment".
2011 was a big year for Kagney Linn Karter because it marked the filming of her first ever anal and interracial sex scenes. Starring alongside male porn star Manuel Ferrara in five erotic vignettes, these saucy sex scenes appeared in the DVD feature release All About Kagney Linn Karter. Kagney followed the success of this pornographic production with her second anal film Big Wet Assess 19 and her third anal film Kagney Linn Karter Is Relentless which featured all manner of raunchy anal, DP, DPP and DAP scenes. Kagney's anal sex shoots continued to prove extremely popular with her fans; so much so that her performance with Prince Yahshua in Prince The Penetrator won her an Urban X Award for "Best Anal Sex Scene" in 2012!
In 2012, Kagney filmed her first ever gangbang scene in Gangbang 3, an Elegant Angels production. AVN reported on this landmark occasion in January 2012, conveying how;
"The movie will be released on DVD and Blu-ray and is directed by the award winning Mason. The release date is scheduled for the end of February….
'Shooting Gangbanged 3 was so incredibly hot' says the movie's star, Karter 'My favourite part was when I squirted everywhere! I had a lot of fun being the centre of attention from seven guys! It was a blast!'…
'We're very honoured Kagney Linn Karter has shot her first gangbang for Elegant Angel' says Elegant Angel general manager, Graham Travis. 'This series has quickly become a fan favourite. We received an incredible amount of suggestions on all the forums and blogs and Kagney was one of the most popular girls requested. We're really excited about the possibilities of continuing this series throughout 2012′". 
In addition to her anal, interracial and gangbang DVD feature releases, Kagney can also attribute a large portion of her ardent fans to her impressive collection of pornographic parodies. Amongst her most popular parody DVD feature releases include; Beverly Hillbillies XXX: A XXX Parody, The Official Silence of the Lambs Parody, Godfather: A Dreamzone Parody, Birds of Prey XXX: A Sinister Comixxx Parody, Not Married With Children XXX 1 and 2, Parody, Brides Maids XXX, Dancing With Pornstars, Divorce 2: This Ain't The People's Court, Grand Theft Auto: XXX Parody, Katwoman XXX, Mork and Mindy: A XXX Parody, Tomb Raider XXX, Not the Bradys XXX: Bradys Meet The Partridge Family, Not The Bradys XXX: Marcia Goes To College, Superman vs. Spiderman XXX: An Axel Braun Parody, This Ain't Star Trek XXX 2: The Butterfly Effect and WKRP In Cincinnati: A XXX Parody.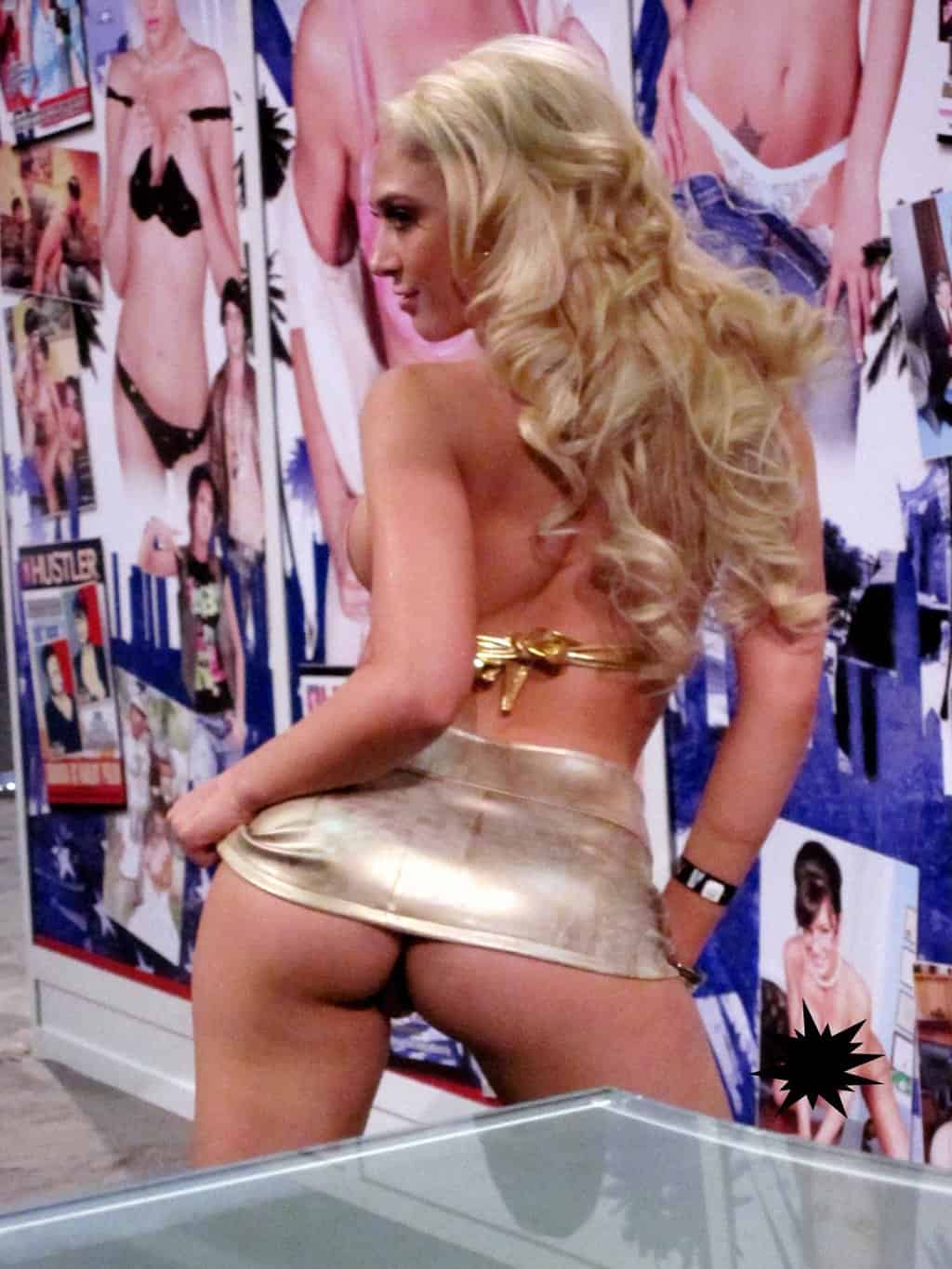 Throughout 2010 and 2011 Kagney also featured within numerous Zero Tolerance Entertainment official parody productions of the Bounty Hunter, Friday the 13th, Hogan Knows Best, The Howard Stern Show, Jersey Shore, Psycho and Wife Swap. The significant commercial success of these official parody productions resulted in two DVD compilations being distributed in 2013 which were titled Official Scary Parodies: Killer Fucking Compilations 1 and 2.
Throughout her prolific porn star career Kagney Linn Karter has received an impressive 37 adult film award nominations for her erotic modelling shoots, DVD feature releases and website sex scenes. Some of Kagney's most prestigious adult film award wins and nominations include;
2009: RogReviews' Critics Choice Awards nominee — "Best Newbie"
2010: AVN Awards winner — "Best New Starlet"
2010: AVN Awards winner — "Best POV Sex Scene" Pound the Round POV
2010: XBIZ Awards winner — "New Starlet of the Year"
2010: XRCO Awards winner — "New Starlet"
2011: AVN Awards nominee — "Female Performer of the Year"
2011: PornstarGlobal Online Awards winner — "5 Star Award"
2011: MissFreeOnes nominee — "6th Place"
2012: Urban X Awards winner — "Best Anal Sex Scene" — Prince The Penetrator
2012: AVN Awards nominee — "Best Porn Star Website"
2012: AVN Awards nominee — "Best Actress" — Official Silence of the Lambs Parody
2012: AVN Awards nominee — "Best Anal Sex Scene" — All About Kagney Linn Karter
2012: AVN Awards nominee — "Best Double Penetration (DP) Sex Scene" — Kagney Linn Karter Is Relentless
2013: AVN Awards nominee — "Best Anal Sex Scene" — Prince The Penetrator
2013: AVN Awards nominee — "Best Group Sex Scene" — Gangbanged 3
2013: AVN Awards nominee — "Best Supporting Actress" — Godfather: A Dreamzone Parody
2014: AVN Awards winner — "Best Boobs (Fan Award)"
2015: AVN Awards nominee — "Social Media Star (Fan Award)"
2015: AVN Awards nominee — "Favourite Female Porn Star (Fan Award)"
2016: SpankBank Awards winner — "Instagram Girl of the Year"
Kagney Linn Karter : Chris Brown Controversy
In January 2015 Kagney was involved in a heated Twitter feud with the controversial singer/songwriter Chris Brown. Whilst working as an escort, Kagney alleged that she was hired by Chris Brown who paid her $2500 for an evening of her company. However, Kagney alleges that Chris Brown expected her to sleep with him and that when she refused he began bullying her online and sending her indecent images of himself. Kagney named and shamed Chris Brown for these alleged incidents via Twitter and Tweeted the indecent images that he allegedly sent to her. Entertainment news outlet TMZ reported in 2015 how;
"Kagney Linn Karter went on a Twitter assault a few days back aimed at CB [Chris Brown] … claiming he paid her $2,500 to be his escort. Kagney says CB thought the deal included sex, and when she refused to sleep with him he began bullying her online…
Karter responded with a series of angry tweets, saying things like, "I WILL NEVER F*** A WOMAN BEATER EW DISGUSTING" and "HE IS PURE EVIL :(." …
But the tweet de résistance came when she posted photos of a penis which she says was attached to Brown, writing, "i can slap bitches now with chris browns d*** on my timeline all day say some SLICK S*** **pulls out CBs d*** WHAP." Poetry, ain't it?…
But the pic and all the Brown tweets are now gone — as well as everything she tweeted — because our sources say CB's legal team got her Twitter account suspended".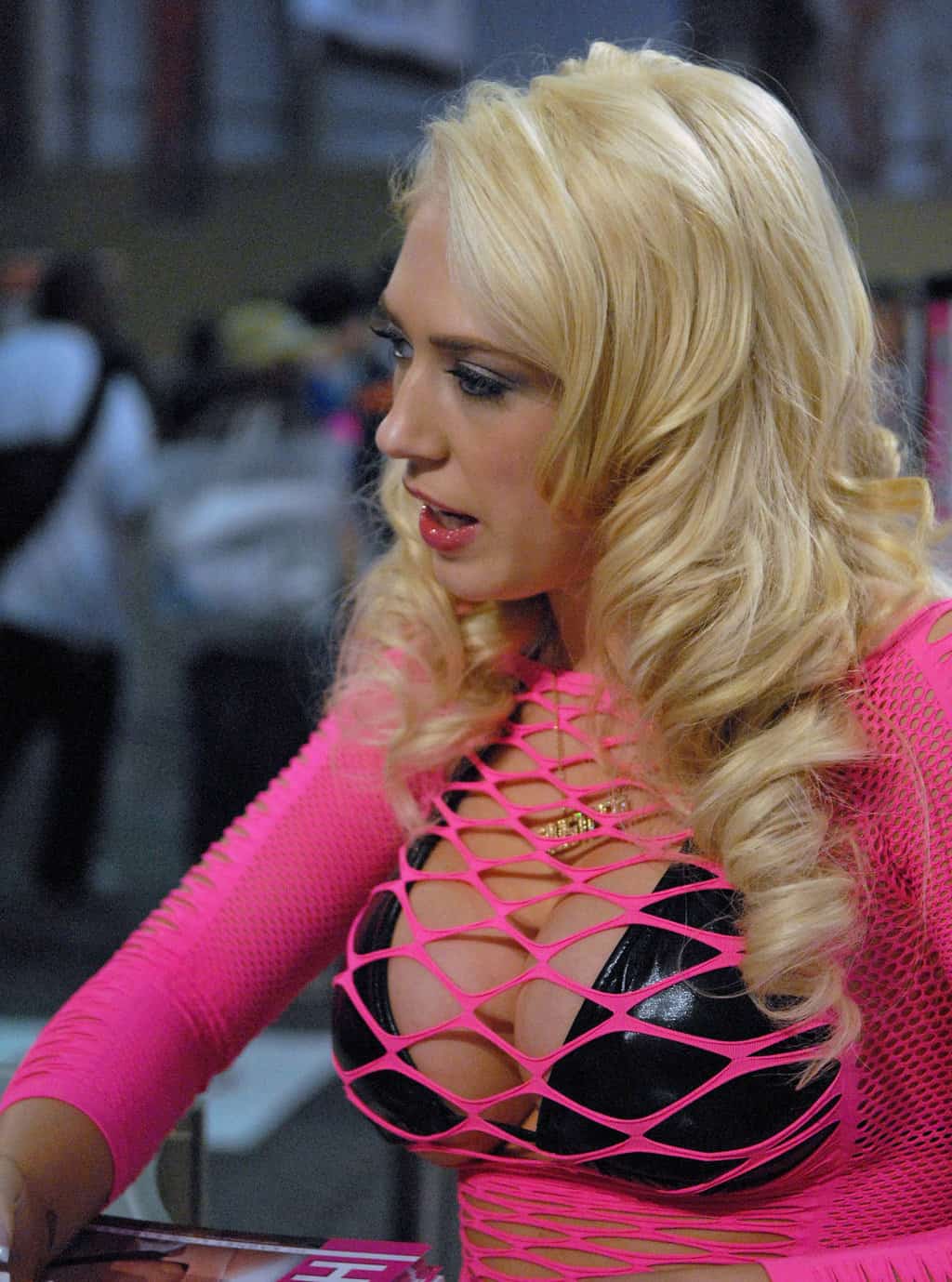 The political and pop culture news site, The Judiciary Report, also covered this Twitter feud, citing how;
" In a series of tweets, Karter says that Brown paid her $2,500 to be an escort for him for one night. Karter claims that she had no plans of having relations with the 'New Flame' singer. She says that when she refused to sleep with Breezy, he had a fit and began sending her explicit pictures of himself (one can be seen here), bullying and stalking her. In her tweets she said the night she spent with him was 'the worse night of her life' and deciding to be his escort was the 'worse decision she ever made'".
Although Kagney's social networking channels are once again active, she noted at the time how she was forced to delete her Instagram profile following a barrage of hateful comments from Chris Brown fans and that her Twitter account was suspended by Twitter due to the fact that she posted 'explicit' images. Fortunately, Kagney has risen above this controversy and moved on to better and brighter projects!
Kagney Linn Karter: Mainstream Media Projects And Upcoming Appearances
Throughout her adult film career Kagney has always been keen to participate in various mainstream media projects amongst which include; appearing on The Howard Stern Show in 2009 and participating within the Louis Theroux documentary "Twilight of the Porn Stars" in 2012. Aired on the BBC in the United Kingdom, this illuminating documentary offered a unique glimpse into the day-to-day lives of famous porn stars and tackled important issues such as how the adult film industry was struggling to compete with free porn alternatives available via the Internet. You can find the links to all of Kagney's biographical documentaries within the social networks section located at the end of this bio.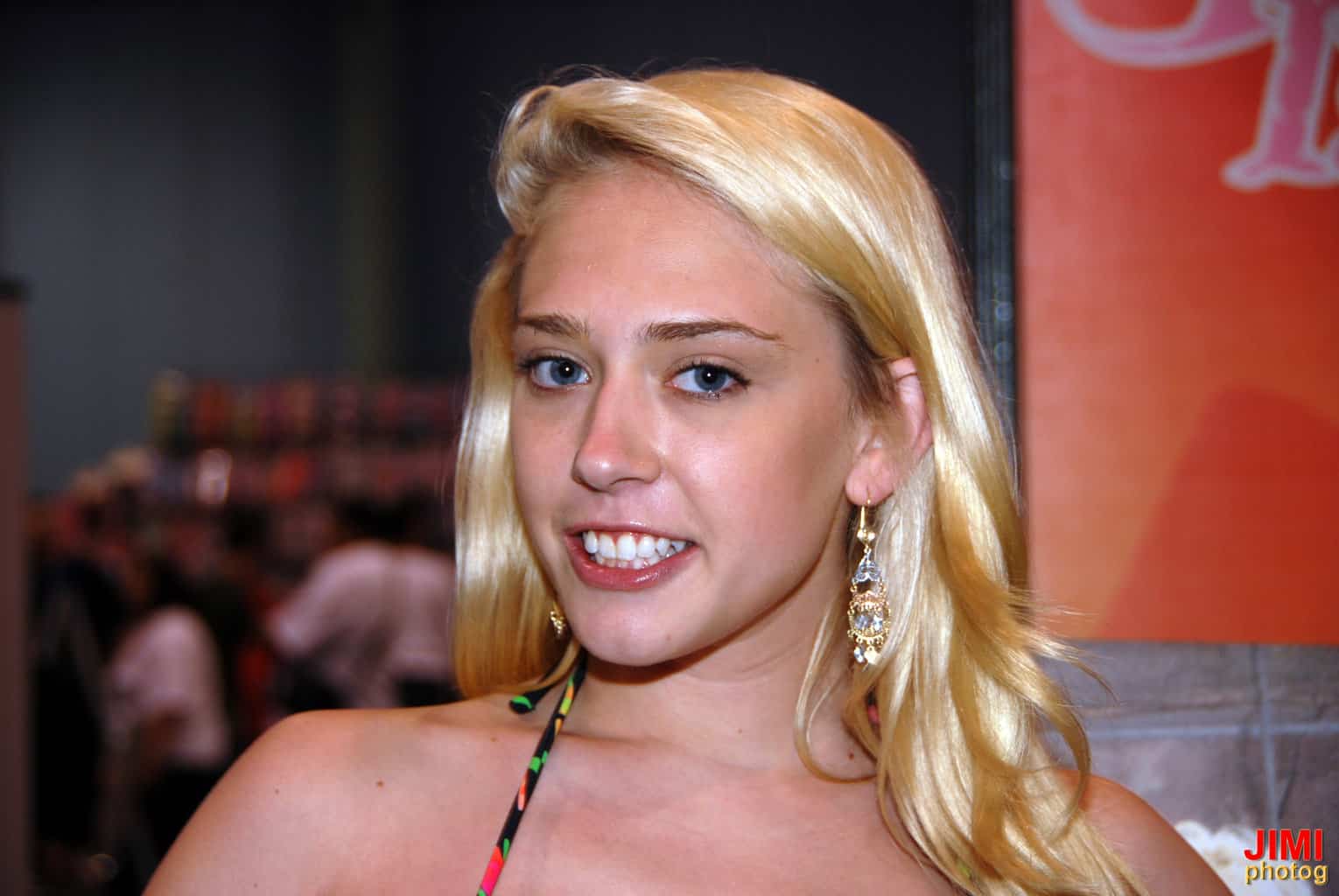 In addition to these mainstream media projects, Kagney also continues to be a frequent feature at the Exxxotica Expos and AdultCon events across the nation whereupon she has always been happy to pose for photos with her adoring fans and sign autographs alongside her friends and co-stars Alexis Texas, Asa Akira, Rachel Roxxx and Tori Black. Kagney has hosted countless meet and greet sessions throughout her adult film career and can often be seen performing and guest hosting at Las Vegas nightclub events as well as at the Cheetahs Hollywood nightclub in Los Angeles.
In fact, in June 2016 AVN announced that Kagney would reprise her erotic dancing talents after she signed an exclusive feature dance contract with The Lee Network. As Derek Hay, representative for The Lee Network, enthused during an AVN press release;
 "We are thrilled to add the talented Kagney Linn Karter exclusively to our star-studded roster…She brings an award-winning resume of spectacular onscreen performances and a long list of sell-out live shows on the very competitive feature dance circuit. In September, Sapphire Las Vegas patrons will have the opportunity to see an amazing entertainer resume her craft!".
Kagney herself exclaimed how;
"A lot of my fans have been waiting for me to start touring again so that they can see me live and in action… So I'm pleased to be able to give them an opportunity to meet me in person once more… and what better place to kick off my new tour schedule than Sapphire in Sin City?".
Kagney will make her feature dancing debut at the Sapphire night club in Las Vegas, Nevada, on September 16th 2016. The details for arranging a VIP meet and greet session with Kagney at this feature dance nightclub extravaganza can be found within our social networks section provided below.
However, if you just can't wait until September, why not check out Kagney's various social networking channels online today? With just a few short clicks you can learn about all of Kagney's upcoming performances and DVD feature releases by visiting her Twitter and Instagram profiles, as well as securing a live chat session with the porn superstar herself by visiting Kagney's adult cam-site profiles! What more could you ask for?
Social Networks
Twitter: https://twitter.com/kagneytweeets
Instagram: https://www.instagram.com/kagneylinnkarter/
Official Blog Site: http://www.kagneylinnkarter.com/kagneylinnkarter.php
Cam Sites: chaturbate
Biographies: https://www.youtube.com/watch?v=448Z58UPMyk , https://www.youtube.com/watch?v=3XCmARN6ARc
Feature dance VIP reservation details : (US) 702-869-0003