Personal Info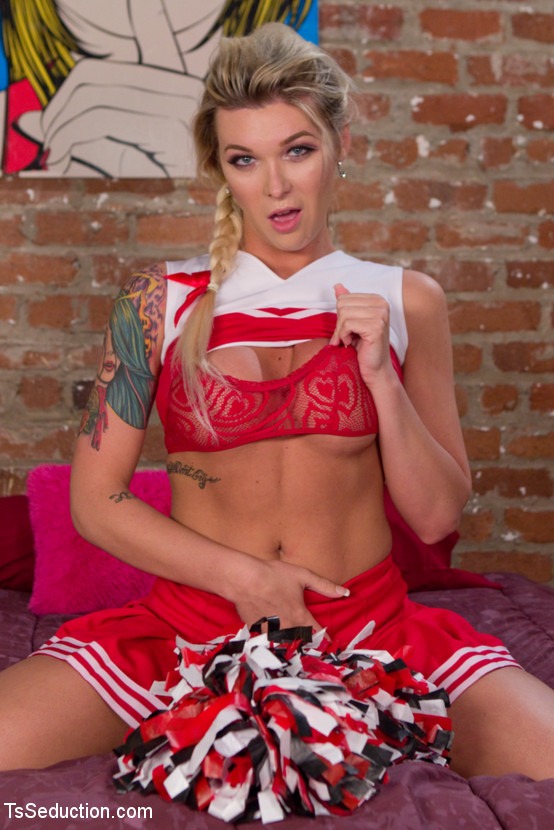 Aubrey Kate at TS Seduction – Image source
Name : Aubrey Kate
Alias: TS Aubrey Kate, Aspen Kate, Aubrey Cates
Date of Birth: November 7th 1990
Home Town : Orange County, California (US)
Measurements : 34D – 26 – 28
Bra/ Cup Size : 34D (75E)
Boobs :  Enhanced
Height : 5'10 (1.78m)
Weight : 125lbs (57kg)
Hair Colour : Blonde
Eye Colour : Blue
Shoe Size : Women's 10 (US)
Tattoos : Script on outside of right hand, large design on right shoulder and upper arm, design running down both sides of lower belly
Piercings : Navel
Years Active : 2013 – present
Number of Scenes : 35+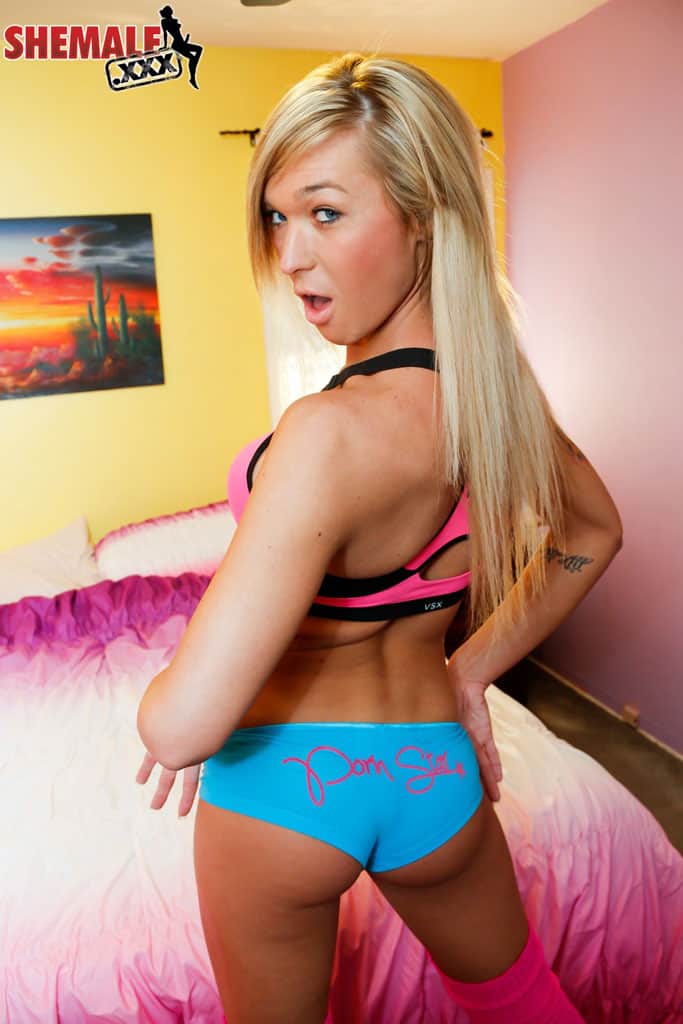 Based in Las Vegas, Nevada, Aubrey Kate is one of the hottest transsexual stars in the adult film industry. Her blue eyes, long blonde locks and slender frame combined with her amicable personality and ambitious nature have earned her thousands of admirers as well as the respect of her fellow transsexual performers
Since an early age Aubrey had always been aware of her gender identity. She recounts how, ever since she was roughly three or four years old, she was interested in make-up, dance and dolls;
"I had pink everything: lip gloss, make up. I did gymnastics. I loved putting my hair in ponytails I had every Barbie they had at the store my aunt would take me to."
It was at this age that Aubrey also began to dress as a woman. Although she was confident in her gender identity throughout her childhood, Aubrey waited until she was 17 years old before she began her transition process. In previous interviews and an XCritic column Aubrey has explained how;
"I was wearing my aunt's high school cheer uniform and gymnastics leotard like every day at age 4. I even would wear it under my clothes to school. It was too big so I would tie the Back with a ponytail, but then probably 17 is when I started the transition…
I was a sheltered kid growing up. I started dressing up when I was 17, and then took it more seriously when I moved back to California when I was 18. My best friend and I would go shopping three times a week in [Los Angeles] and get matching outfits and then go out every night…Then I moved to Las Vegas to attend college…I got my breast augmentation May of 2012. After that, there was no turning back. I was never really on hormones. I started performing in September 2013″.
Additionally, since  she was four years old, Aubrey Kate has always been an avid dancer; from performing traditional Irish dance in competitions across the US and Europe to learning dance gymnastics in her teenage years. This passion for dance has imbued Aubrey with an instinctual rhythm, flexibility and grace which eventually led to her becoming a successful and extremely popular go-go dancer on the Las Vegas circuit for many years.
It was whilst attending college and performing as a dancer that Aubrey was approached to film her first ever pornographic shoot. After being listed on an adult job site for several years Aubrey describes how she was contacted by renowned production company Kink.com to film her first sex scenes;
"I was on Eros Guide since the day I turned 18. Kink.com kept calling me and asking if I would film for them. They probably called three times before I said yes, but what really gave me the push was my really good friends Sheena Ryder and Charity Bangs. They told me a lot about [the adult industry] and helped me get a lot of work… My first scene was a solo, which was a little scary. I drove from California to Vegas, got my makeup done at my friend's workplace on the Strip and then drove to the shoot. I was a little early so I had to wait in the heat. It was a very hot summer in Vegas…
"I started filming the last week of July, 2013. I've been asked to film for a while, but kept turning it down. I wasn't happy with myself and was very self conscious. One day I got a call from Kink again and I said "You know what…let's do it".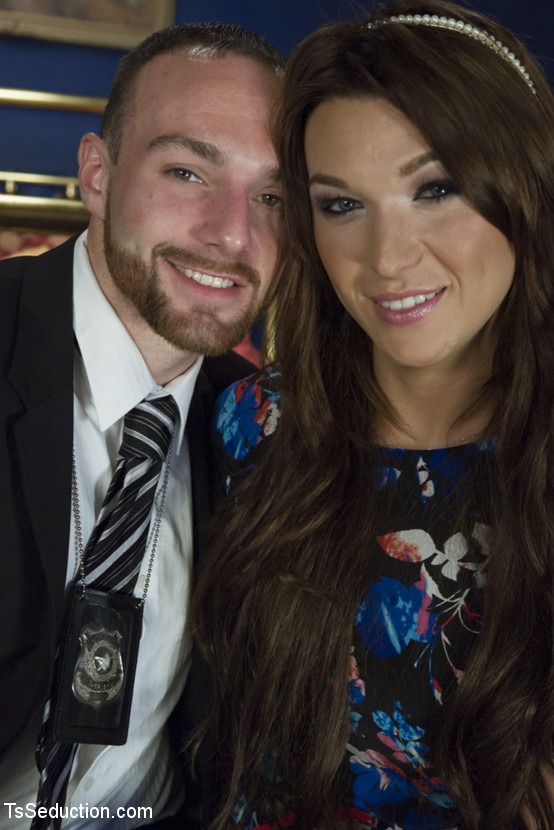 Aubrey Kate at a shoot for TS Seduction – Image source
Aubrey described her first pornographic shoot further detail within her own personal column that was posted on the AIP Daily website in 2013. Within this article Aubrey revealed how;
"I have been getting calls to do adult film content for almost a year now. I would just hang up or tell them I wasn't interested. I have always wanted to do it and thought it was something hot (kind of like a fetish for me). I am just a very shy person, so I was scared that would show on camera and make me look bad and not sexy. Finally about a couple months ago in July I received a phone call from Kink.com and they offered me a scene and they interviewed me over the phone and I was instantly booked… A few friends that I know in the industry found out that I said yes, and they started forwarding my name and information to a bunch of companies and directors…
My First scene was for shemalestrokers… It was a solo scene just getting to know me from my personality to every inch of my body. I was super nervous in the beginning, but it was shot very professionally. It wasn't awkward or anything like that, i just didn't really know what to do or what to expect. I have never really watched or seen any transsexual porn before, so I just did what I could from my imagination and what was on the top of my head… I remember that day I went to go film, it was like 110 outside and you can't have air on while you film or you will have that crazy background noise… I remember it being so hot i was sweating and it kind of made me sweat which I guess is a little hot.
After the scene I walked to my car I called my mom and my two best friends and told them everything. I didn't regret anything but I felt, wow "I actually did it." From that moment, I said to myself… now that one is out, mine and well be the best I can be and do as much as I can to make my adult film career succeed to its full potential".
After merely a few short months working within the adult entertainment industry, Aubrey had soon worked with every major TS production company in the United States. Often appearing on the cover of her pornographic production collaborations, Aubrey's blonde locks and stunning beauty soon enamoured a large fan following. When asked about her first two DVD covers, Aubrey exclaimed how;
"Seeing not only one but two DVD covers with me really makes these past few months of hard work, travelling, and shooting all worth it".
Appearing in numerous popular productions and featuring on the DVD covers for these shoots earned Aubrey several adult film award nominations including;
2013: Tranny Awards nominee — "Best Hardcore Performer"
2013: Tranny Awards nominee — "Best Solo Model"
2013: Tranny Awards nominee — "Best New Face"
2014: XBIZ Awards nominee — "Transsexual Performer of the Year"
2015: Nightmoves Awards nominee — "Best Transsexual Performer"
2015: Transgender Erotica Awards nominee — "Best Hardcore Performer"
2015: Transgender Erotica Awards winner — "Best Transsexual Performer (Fan Choice)"
2015: XBIZ Awards nominee — "Transsexual Performer of the Year"
2016: XBIZ Awards nominee — "Transsexual Performer of the Year"
2016: AVN Awards nominee — "Transsexual Performer of the Year"
2016: AVN Awards nominee — "Favourite Transsexual Performer (Fan Award)"
2016: AVN Awards nominee — "Best Transsexual Sex Scene" — Trans X-Perience 3
By this stage in her career, Aubrey had already worked with most of the major pornographic production companies including Evil Angels, Shemale Club, Shemale Pornstar, Devil's Films, Shemale XXX, Trans 500, TS Seduction and TransSensual Productions. By collaborating with these prominent production companies, Aubrey has been able to appear in all manner of pornographic parodies, hardcore sex scenes and alternative modelling shoots with some of the biggest names in the transsexual adult film community. From appearing with Venus  Lux, Jessy Dubai and TS Foxxy in She-Male Perverts to hosting a "Leather and Lace Party" in New York City with Morgan Bailey and in the Grooby Girls 2015 Calendar with Domino Presley, there's no stopping Aubrey Kate!
Aubrey has attributed this success with the enthusiasm and open minded attitude that she brings to every shoot, noting how;
"Every shoot has been a pleasure to work for. Everyone has been super nice and welcoming".
"I have enjoyed shooting for all the companies so far and being contacted by new fans who enjoy seeing my work…look forward to all of you getting to know me more".
Following her initial adult film award nominations, Aubrey soon signed with HotWendyPR in order to create more adult film content which would be shared with a broader online and offline audience. Amongst this new content included the extremely popular TS Massage series which was released in 2015 by trans-erotica studio TransSensual.
One of Aubrey's most popular shoots to date has been Aubrey Kate's TS Fantasies (2015); a collection of four sex scenes where Aubrey explored her deepest, darkest desires with the help of TransSensual, Mile High Media, Nica Noelle and some of her fellow transsexual porn stars. Director Nica Noelle was quick to praise Aubrey's performance in this scenes, commenting in an AVN press release how;
"Aubrey is such a strikingly beautiful woman, and at the same time she is so down to earth. She's a pleasure to work with and the guys all go crazy for her. Aubrey is one of those girls who seem to be everyone's 'type,' and I get so many requests from guys who want to work with her, or do their first TS scene with her. I'm excited about this movie, as it gives us a chance to show our fans the many sides of Aubrey Kate".
Aubrey also went on to collaborate with Nica Noelle in the Transsensual series TS Girls On Top which featured Jessy Dubai, Madison Montag and Sunday Valentina. Speaking about how this new collaboration deviated from the typical TS porn genre, Nica Noelle enthused that;
"Fans of TS porn sometimes want to see the woman in control; they love to watch a flawlessly beautiful, ultra-feminine girl take down a cis-male and make him submit to her cock. In TS Girls On Top we have some of the hottest female tops in adult film showing their male co-stars who is boss. I think it's going to be a huge hit with the fans".
Aubrey has always been eager to participate in this type of raunchy, groundbreaking content that embraces all of the talents and beauty that the transgender community has to offer. Speaking in recent interviews, Aubrey has expressed her desire to convey truth and honesty in all her work and to show her audience the hardcore, action-packed content that she loves to film. Aubrey has expressed how, at this point in her adult film career;
"I couldn't be any happier. I would never have expected to film as much as I already have…I am so blessed and so excited. I have done so many things on sets that I would never have imagined doing in my personal life. Every experience has been amazing, and everyone is so nice…I want everything to be real. I don't try to be anything but me at all times. On- and off-camera, I am pretty much the same. I want truth and honesty in my films. I want the audience to see me in real action… One day, I would love to do a gang bang or orgy. I would love to be the centre of attention with a straight cast — and take all of their TS virginities".
In August 2013, Aubrey Kate was the subject of a controversial shoot with Rod Daily. This particular shoot became a contentious issue when Rod Daily announced via Twitter in September 2013 that he was HIV Positive. The shoot, which was produced by Kink.com, used both condoms and testing and Aubrey was confirmed as passing both of her HIV screening tests which she undertook before and after filming.  Aubrey confirmed in an AVN press release that she shot a scene with Rod Daily in August when he had received a clean test and that she had since been tested twice and received a clean test panel both times. Commenting on the whole experience, Aubrey stressed how;
"It is very sad when anyone has to face something as personal as this issue, and having it discussed by many people just adds to the confusion…I did shoot with Rod Daily August 1st and since have tested negative twice. I hope this clears up any rumours or dialogue when my name is mentioned in this unfortunate situation. I value my place in the industry and will continue testing procedures required of me as a professional adult".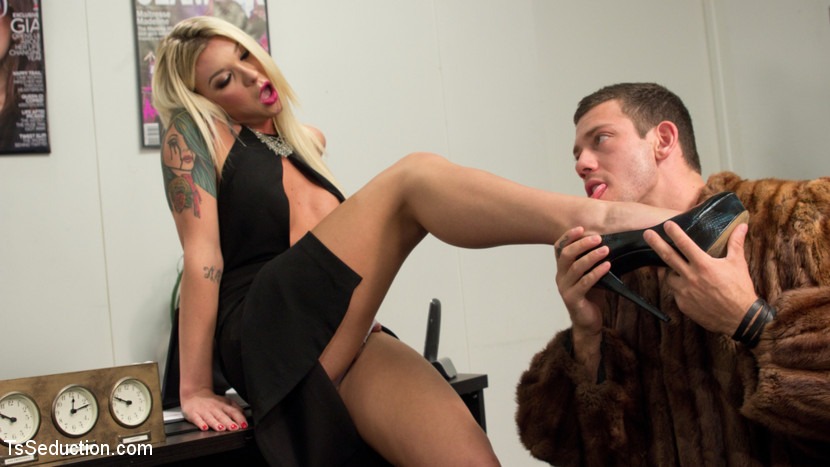 In addition to her film performances, Aubrey has also posed as the cover model for TS Playhouse 2: Threeway Freeway; a production where she shared some raunchy scenes with her fellow transsexual porn stars Venus Lux, TS Foxxy and Carmen Moore. By participating in these ongoing collaborations with her friends and former co-stars, Aubrey, Venus, Foxxy and Carmen have had more freedom to create all manner of wild, hardcore sex scenes that their fans know and love!
Aubrey was also chosen to be the cover model for the June 2015 Transformation 94: 3rd Annual Sexy Swim Issue, an issue which made history due to the fact that it was the first ever issue in the history of the company to hit electronic newsstands in conjunction with its hard copy release! The full details regarding this digital edition were covered in an AVN press release, with a quote from Transformation's Editor-in-Chief Hanna Rodgers stating that;
 "Of course, we will always want to sell hard copies because the print photo quality is beautiful and makes these issues collectible, but we understand the demand of rapidly changing media environment and we would like to make Transformation accessible to as many people as possible…The idea for a swimsuit issue originally came from my readers who wanted to see more themed issues. I thought the summer edition would be a great opportunity to show the world a variety of beautiful t-girls in their sexiest swimwear and prove that all gender identities are equal in our eyes…And I couldn't be happier about having Aubrey Kate as our cover girl this year because she is the epitome of a sun-kissed California blonde bombshell, plus she has incredible natural talent as a model".
Following the immense success of their previous Transformation 93 Issue which was created in collaboration with Grooby Productions, the company reached out to performer Aubrey Kate for an exclusive photo shoot for this annual swimsuit edition. Commenting on her appearance in this definitive issue, Aubrey enthused;
"I am so honoured to be on the cover!…I have wanted to do this for so long. It was so sunny and hot in the middle of the desert, but was definitely one of the most fun shoots to do. It was certainly an adventure getting to this location. I love photo shoots and I really hope this is just the beginning".
As well as modelling for this swimsuit issue, Aubrey Kate has also featured in the Grooby Girls 2015 Calendar alongside Domino Presley, Hazel Tucker, Kim Bella and many more top transsexual porn stars. The calendar was shot by industry leading photographers including the AVN award-winning Blackula. Founder of Grooby Productions, Steven Grooby, expressed his excitement at this new annual calendar venture;
"This is the first time we've done a calendar in about 10 years and we're hoping to do it annually," said Grooby.com owner Steve Grooby. "We wanted to make the calendar international and it was extremely hard to get down to only 12 models".
True to his word, Steven Grooby released a Grooby Girls 2016 Calendar following the roaring commercial success that was the 2015 calendar. Aubrey reprised her role in this full-colour 10 inch by 15 inch calendar alongside fellow transsexual superstars Domino Presley, TS Foxxy, Aubrey Starr, Honey Foxx, Madison Montag, Luna Rose, Holly Parker, Diana Love, Miran and Megan Snow. The proceeds of this calendar were donated to the Trans Adult Industry Foundation and in an AVN press release Steven Grooby stated;
"This is our second annual calendar and the choice for whom to include this year was even harder than last," said Grooby owner Steven Grooby. "We trawl through 12 months of content, looking not only for 12 models but for the perfect image of them all and I believe our 2016 calendar represents the some of the finest transsexual adult models in the world.  Although we make it as a promotional gift for the industry, we do a limited run which we offer to the public for sale".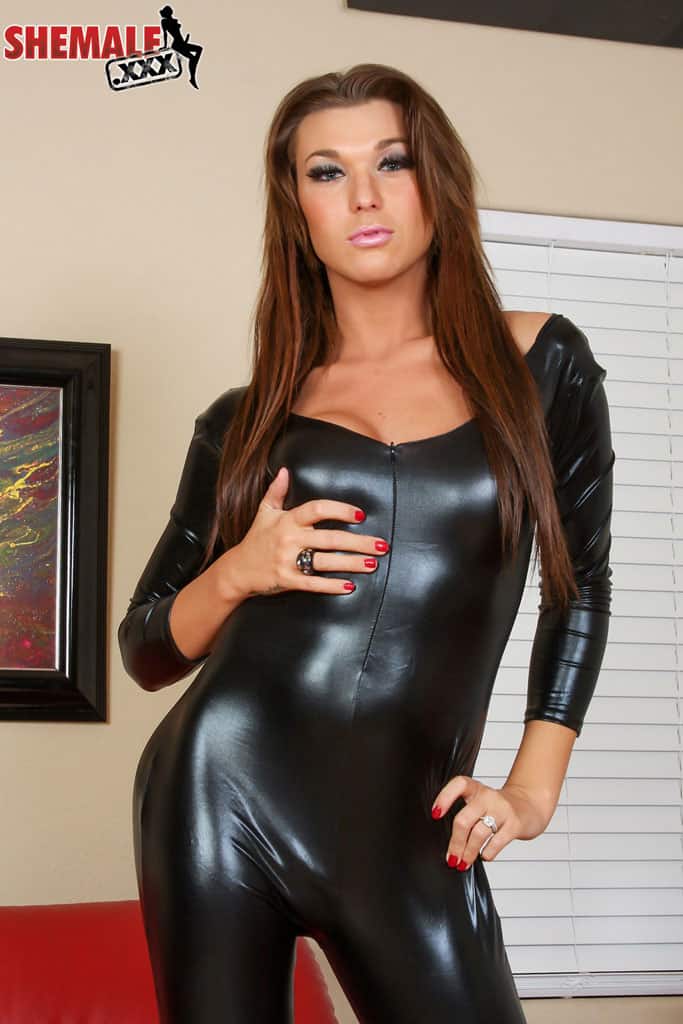 Fans of Aubrey Kate eager for a chance to meet this transsexual superstar in person will be happy to hear that she is a regular host at some of the US's hottest transsexual nightclubs! For example, in August 2013 Aubrey hosted New York City's largest transsexual party, "Tranny Strip" at the Evolve Lounge. The theme for the event was "Love Ball" and coincided with the birthday celebrations of featured dancer Leslie Polanco. Proceeds from the event were donated to the TS Organisation from the NYC Gay Centre. Speaking prior to the event in an AVN press release Aubrey commented that;
"I look forward to hosting Tranny Strip and being able to introduce myself to the great guys of NYC," said Aubrey. "Being new in the Industry I am so excited to be able to give guys a chance to check me out and person and hopefully then check out my work".
In April 2015 Aubrey returned to co-host "Tranny Strip" once more, with the monthly T-Girl Events evening being held at the Headquarters Gentlemen's Club in New York City. Supported by her co-stars Natassia Dreams and Jessica Fox, this erotic event featured over 20 transsexual dancers and performers alongside music by DJ Chelsea Monroe.
A popular feature at the Headquarters Gentlemen's Club and "Tranny Strip", in September 2015 Aubrey once more returned to New York City to co-host the renowned "Leather and Lace Party" alongside Morgan Bailey. With Aubrey representing leather and Morgan representing lace, the event was a sensational hit! You can learn more about the 15 champagne room suites, stream of saucy transsexual performers and decadent VIP lap dancing lounges that featured throughout this event by checking out our Morgan Bailey bio.
In fact, Aubrey was such a popular feature at the Headquarters Gentlemen's Club that they threw her a joint birthday bash with Jessy Dubai! Sponsored by T-Girl Events, these birthday celebrations featured appearances and performances by Dina Delicious, Selena International, Seasons Beste, Persia Lace, Ebonee Excell, Miss Pearl, Jamey Paris and Aby alongside music from TS Noriko, MC John Ed and DJ MK. As mentioned in a AVN press release, these birthday celebrations were an elaborate event; abound with champagne room parties, VIP lounges and live performances from the sexiest transsexual dancers in New York City!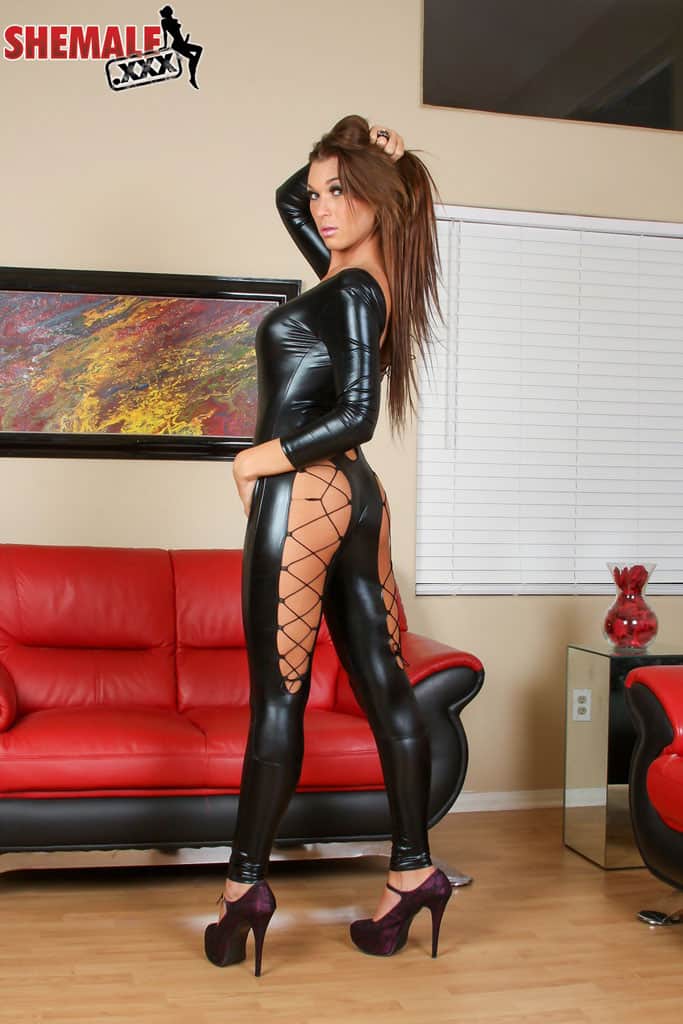 Never one to pass up a good party, Aubrey has also co-hosted Syren, the pre-awards party that was held at the Share Nightclub in Las Vegas following the Adult Entertainment Expo in 2015. Hosting the event alongside her fellow porn stars Venus Lux, Carmen Moore, TS Foxxy, Jessy Dubai, Mia Isabella and Tyra Scott, this exotic evening event celebrated the first ever exclusively TS booth to be hosted at an adult film convention; Venus Lux Entertainment. Aubrey was a fan favourite feature at this TS booth throughout the expo; signing autographs, posing for pictures and offering fun, fierce and feisty giveaways to lucky fans. You can learn all about this exclusive TS booth within our Venus Lux bio online today.
Most recently, Aubrey has attended the official 2016 Transgender Erotica Awards Pre-Party which was organised by NYC's T-Girl Events at the Cheetahs Club in Hollywood. Aubrey was once again joined by her friends and fellow performers Jane Marie, TS Foxxy, Kylie Maria, Domino Presley, Michelle Austin, Natassia Dreams, Penny Tyler, Jamie French, Georgina Van Der Meer, Jessy Dubai, Dicky Johnson, Morgan Bailey, Tiffany Starr, Tyra Scott, Tasha Jones, and TS Jesse amongst many, many more!
As well as appearing in adult films and hosting exclusive nightclub events, Aubrey has always been eager to meet and greet her fans at intimate panels; such as the public screening of her 2016 DVD Real Fucking Girls and its accompanying documentary. This public screening provided fans with an exclusive opportunity to meet the cast and crew, ask them all about the film and the ways in which the scenes were inspired by experiences from the performer's own lives. The entire event was hosted at Gray Studios in North Hollywood, California, and serves as a prime example of Aubrey's dedication to meeting her fans and showing her appreciation for their ongoing support. Aubrey is also known for her public and private live chat sessions that she hosts on chaturbate. Upon talking about these live cam-site sessions, Aubrey has commented that;
"I am always here to have a good time and always fulfil each and every fantasy that will leave you wanting more and more".
If you'd like to learn more about the blonde beauty that is Aubrey Kate, why not have a look at her social networking channels that we've listed below? From following her career on Twitter, to checking out her latest personal blog posts and real-time private adult cam-site sessions, Aubrey continues to explore new aspects of the genre and always keeps her fans informed about all of her upcoming productions and public appearances. There's a lot to love about Aubrey Kate!
Social Networks
Amazon : Aubrey Kate
Shemale.porn : Aubrey Kate at Shemale.porn
Shemale XXX : Aubrey Kate at Shemale XXX
Shemale Pornstar : Aubrey Kate as Tomb Raider
Email : aubreykatewinter@hotmail.com
Twitter : @AUBREYKATEXXX
Instagram: officialaubreykate