Personal Info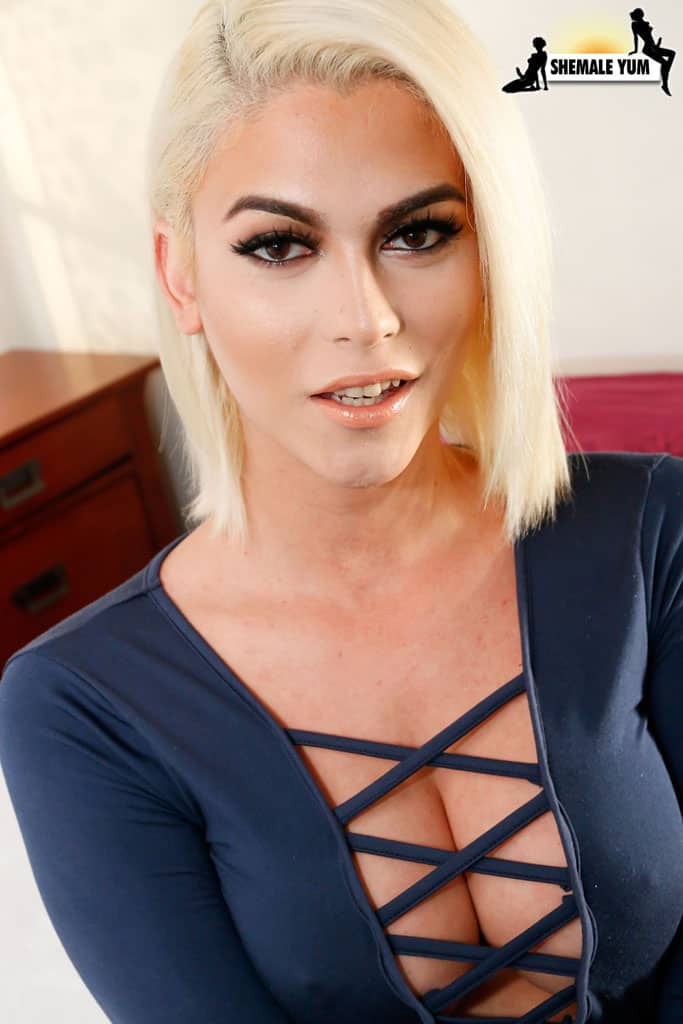 Name : Domino Presley
Alias: Jazmine Aviance Turner
Date of Birth: January 8th 1987
Home Town : Atlanta, Georgia
Measurements : 34DD – 23 – 36
Bra/ Cup Size : 34DD
Boobs :  Enhanced
Height : 5'7 (1.71m)
Weight : 115lbs
Hair Colour : Brunette
Eye Colour : Brown
Dress Size : 4 – 6 (US)
Shoe Size : Women's 9.5 (US)
Tattoos : Geisha design on her left shoulder, cat design on her lower back, dragon design on her right arm, and a multicoloured dice motif on her left arm with script above and below it
Years Active : 2009 – present
Number of Scenes : 55+
Without a shadow of a doubt, Domino Presley has become one of the most well known transsexual performers within the adult entertainment industry. Born in Atlanta, Georgia, in 1987, Domino began her transition into the transsexual superstar her fans know and love when she was 19 years old by undergoing breast augmentation and butt surgery. She has discussed undergoing gender reassignment surgery in the future but at the moment is happy in her body. As she proclaimed herself in a 2012 gramponante.com interview;
"I'm a woman. I'm a chick with a dick".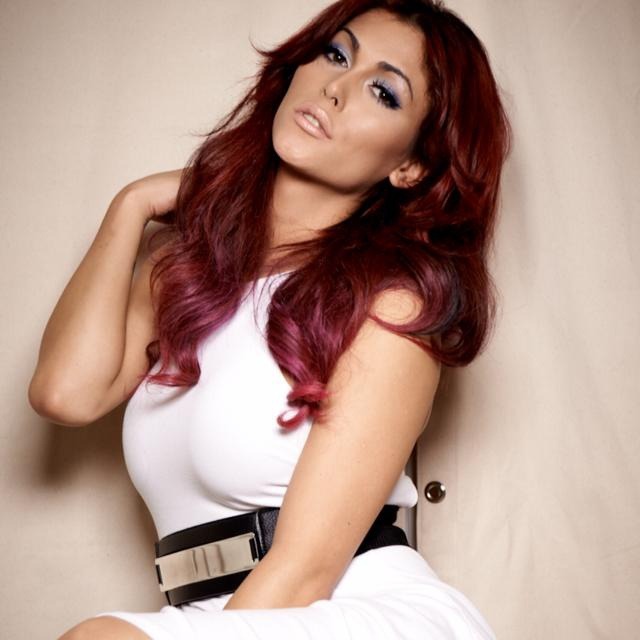 Domino Presley in 2013 – Image Source
Over the course of her adult film career Domino has been happy to discuss her transition process in the hopes of helping others. For instance, during a 2011 freakinawesomenetwork.net interview Domino expressed how;
"Well I'm 24 years old. I always knew I was supposed to be a female, I just didn't know I actually could become one till I was 19. As soon as I met my first transsexual I started hanging out with her and learning more about transitioning. I started taking hormone shots and testosterone blockers to appear more feminine. My body reacted very well to the medication and now I look like this. I never felt like a gay boy and was never attracted to them either".
Following her transition process, Domino appeared on the Jerry Springer Show; an appearance that has become one of the most replayed episodes in the show's history!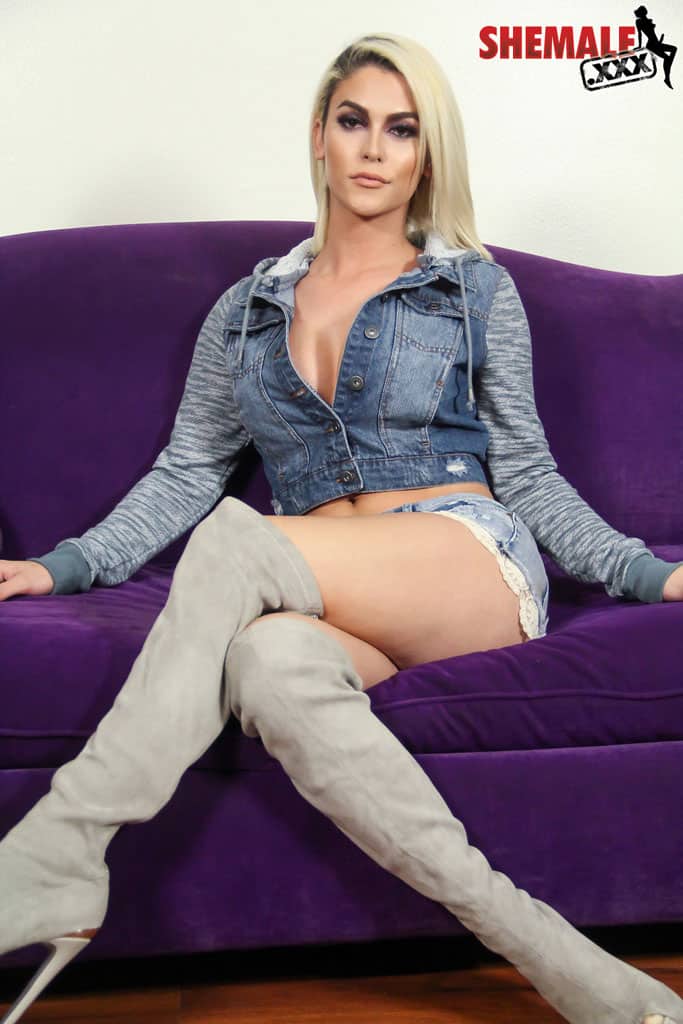 Domino began to become involved with the adult entertainment industry when she was 20 years old. Under the alias 'Jazmine Aviance', Domino performed as a drag queen. Although Domino still performs in drag shows under this alias when she visits her hometown of Atlanta, she has spoken in interviews about the tension to which transsexual performers are often subjected within the drag community. Speaking in a 2012 interview, Domino highlighted how;
 "Some drag queens think that trannies are trashy…I think it's just jealousy. They're jealous they can't land a straight guy…They'll say, 'Don't forget you were once a boy!'".
Domino Presley : Adult Film Career
Following numerous successful nightclub appearances, alongside several glamorous modelling shoots and captivating YouTube videos, Domino Presley soon began to amass a loyal fan base who have remained by her side throughout her career in the adult entertainment industry. At the end of 2009, porn star superstardom beckoned when Domino shot her first pornographic production with renowned director Buddy Wood for Shemale Yum Productions. Titled Domino Presley In Skirt, this solo sex shoot was first distributed via She Male Yum on March 26th 2010 and before long Domino was starring in a series of saucy She Male Yum solo shoots and hot hardcore sex scenes with Brittney Markham, which was distributed on April 30th 2010, and with Christian XXX, which was distributed on May 28th 2010, which were all filmed by Buddy Wood.
Domino continues to collaborate with Buddy Wood via frequent live performances onstage at Buddy Wood's T-Party hosted at the Blue Moon Nights club in Los Angeles. Head down there on Thursday evenings to catch a glimpse of the mesmerising brunette beauty that is Domino Presley!
In no time at all, Domino Presley soon began to be approached to work with some of the biggest T-Girl studios within the adult entertainment industry; including Grooby Productions, Shemale Yum, Frank's TGirl World, Shemale Pornstar, Third World Media, Evil Angel, Shemale Club, Shemale.XXX, Devil's Films, Bob's Tgirls, CX WOW Studios, pure-ts.com, Exquisite and TGirl Films among many others.
From 2010 onwards Domino began to feature within a variety of fan-favourite TS DVD series including; Next She-Male Idol 2 for Evil Angel and Joey Silvera Productions alongside rising starlets Bailey Jay, Jessica Fox, Bee Armitage, Karolly Mel and Naudy Nadia, Transsexual Babysitters 12 for Devil's Film which also starred Morgan Bailey, Jesse Flores and Paris A, and She Male XTC 8 for Evil Angel which was nominated for "Transsexual Release of the Year" at the 2012 XBIZ Awards and featured Domino alongside famous transsexual performers Vaniity, Aly Sinclair, Morgan Bailey, Kimberly Kills, Jesse Flores, Honey Foxxx, Hazel Tucker and Carmen Moore. During this time Domino also filmed multiple blowbang sets for Dreams to Reality Studios titled Tranny Nurse Surprise and Transsexual Babysitting N Blowjobs which were distributed by Michael Kahn's World throughout 2010.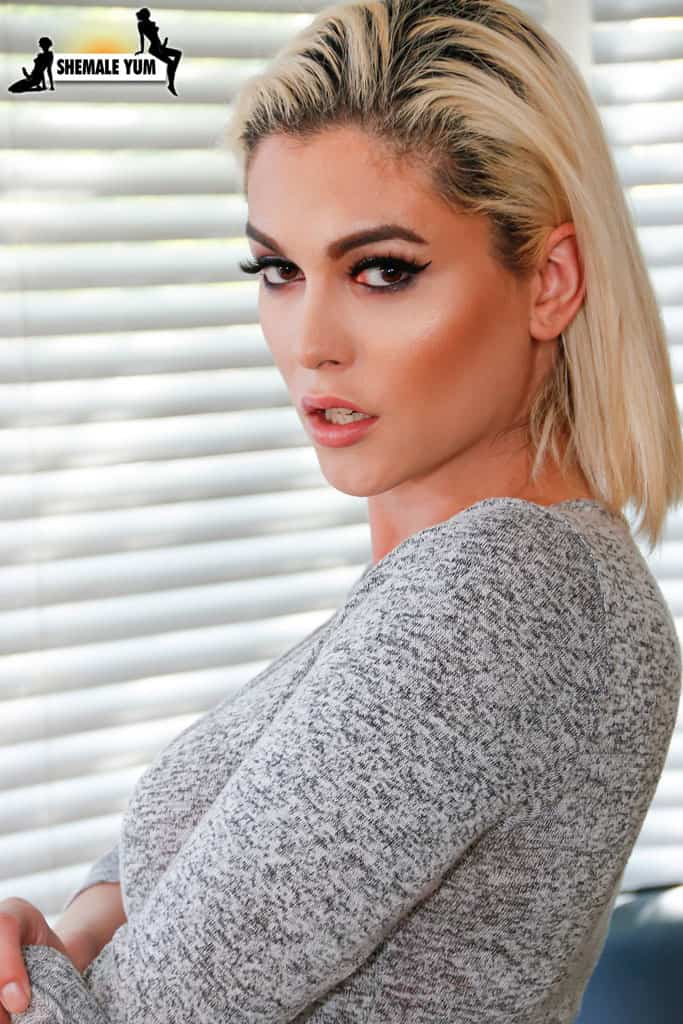 A defining moment in Domino Presley's ascent to transsexual superstar came in June 2010 when she made her debut performance within Sammi Mancini's award-winning She Male Strokers TS DVD series. Titled She Male Strokers 40 and distributed by Rodnievision, Domino posed as the DVD cover model for this fan-favourite feature release alongside Mia Isabella. Before the end of the year, Domino was sought after to appear in She Male Strokers 43 for which she also posed as the DVD cover model with Victoria Di Prada. Distributed in December 2010, She Male Strokers 43 showcased Domino in a solo sex shoot and enabled her to collaborate with prominent transsexual stars such as Joanna Jet, Jamie Markham, Tyra Scott, Mia Isabella and Victoria Mason. Over the years Domino has become a frequent feature in Sammi Mancini's trail-blazing TS DVD series; featuring within She Male Strokers 45 (2011) alongside Amy Daly, Tyra Scott and Wendy Williams, She Male Strokers 46 (2011) with Aly Sinclair, Khloe Hart and Brittney Markham and She Male Strokers 54 (2012) that also starred Paige Daniels, Brittney Markham and Ashley George.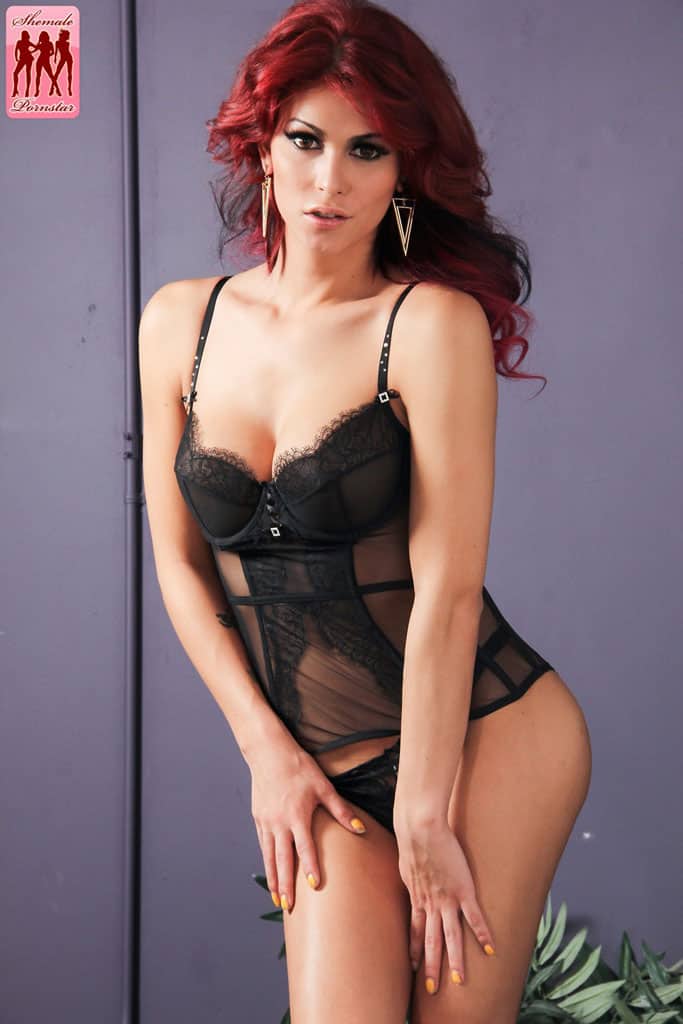 Domino Presley at Shemale Pornstar
Within merely a year of working within the adult entertainment industry, Domino Presley won the "Shemale Yum Model of the Year" and "Best New Face" at the 3rd Annual Tranny Awards in 2011.  Spurred on by this adult film awards success and her ever-expanding porn star portfolio, in 2011 Domino Presley also launched her own high value website in collaboration with Grooby Productions. By doing so, Domino became a 'Grooby Girl' alongside well known porn stars Hazel Tucker, TS Lucia and Amy Daly! As a bona-fide Grooby Girl Domino was showcased within Third World Media's captivating feature release Shemale Pornstar: Domino Presley (2011) alongside Christian XXX, Oliver Vegas and Brittney Markham which was nominated for "Best Transsexual Release" at the 2012 AVN Awards as well as starring within Domino Presley: Transsexual Goddess (2012) that was filmed by Buddy Wood and Remy X. for Grooby Productions. Domino's signature showcase was even endorsed by XCritic adult film blogger Apache Warrior who noted that;
"Domino Presley Transsexual Goddess is a new film from the studio Grooby Productions and directors Buddy Wood and Remy X. Since it stars one of the most popular and gorgeous transsexual performers in the industry, the title is very appropriate. She is best known for her beautiful looks and sex appeal… She looks so yummy that her true fans are going to be drooling. Her good hand job work on herself is hot. I really enjoy her stares at the camera… she does show that she is a goddess of beauty…This film is a very good showcase of Domino Presley and her sex appeal. Her fans will want to grab it. It is also a good film for newcomers who may want to check out a tranny flick. The sex is not harsh at all. Furthermore, Domino is so gorgeous with a remarkable body that guys who are not into tranny sex may find her quite appealing. I recommend this film".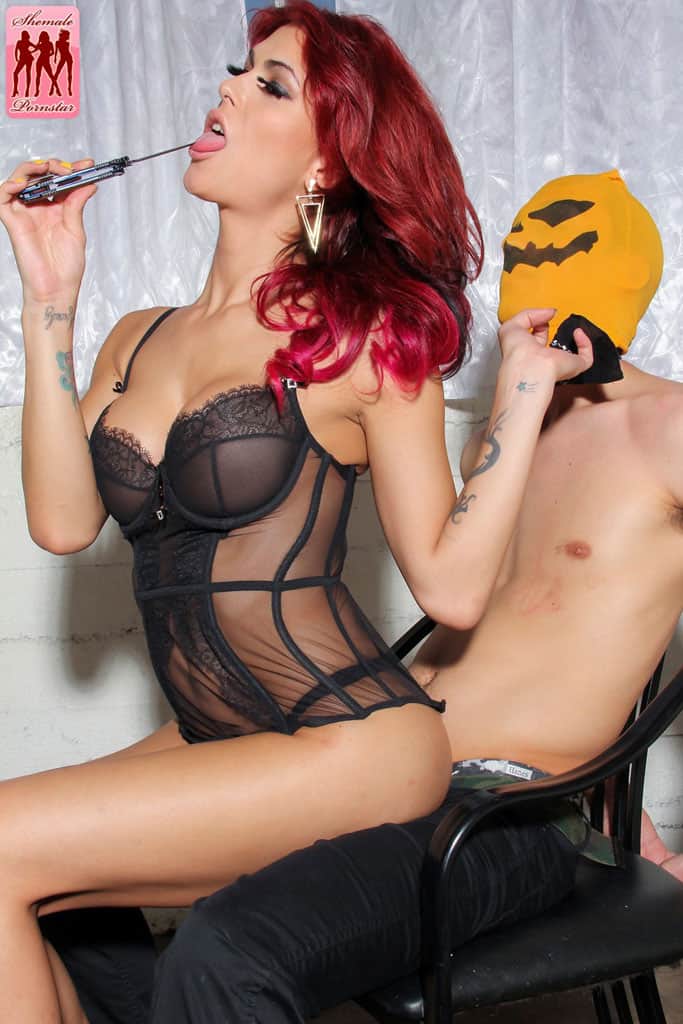 Domino Presley at Shemale Pornstar
Domino enthused about these exciting new career opportunities within a Hot Movies For Her interview and divulged how working within the adult entertainment industry has enabled her to indulge in her wilder sexual fantasies;
"My personality definitely is shown in movies but I've shot a few TS on TS scenes, which would most likely never happen with me in my real life. I'm a much bigger slut in porn".
Domino's amicable personality, intelligent nature and alluring sense of humour are also evident in the public chat discussions and private chat sessions which she hosts via the adult cam-site Chaturbate within her own room dominopresleyxxx . Whether you just want to chat with the girl herself, send her some sexy lingerie to wear from her wish list, or simply sit back and watch as Domino herself puts it "Love to stroke my hard cock for you and play with my butt plug while you stroke your cock and throw your coins at me", these public and private chat sessions offer a unique glimpse into the life of one of the most successful transsexual porn stars in the adult film industry.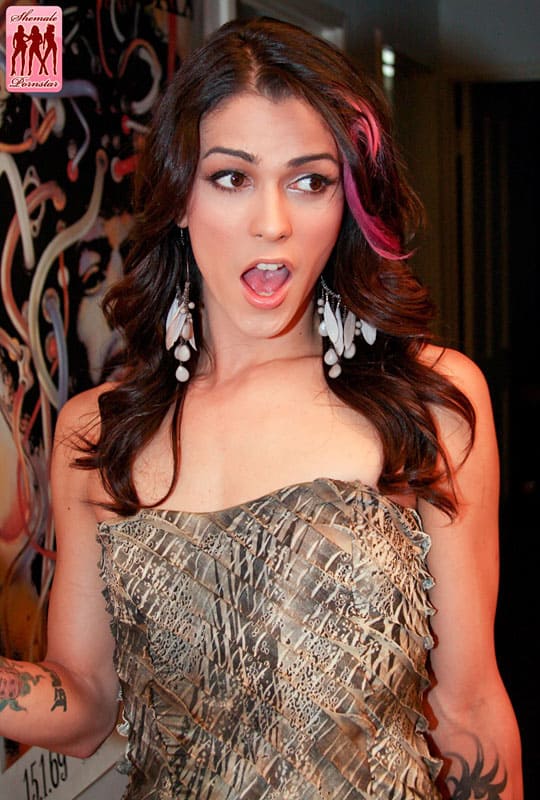 Domino Presley at Shemale Pornstar
In addition to her live chat sessions with her international fan following, throughout 2011 Domino continued to feature within a variety of popular TS DVD titles. If you loved watching Domino perform via She Male Yum and within Sammi Mancini's She Male Strokers DVD series then we recommend viewing; USA T-Girls 3 (2011) for Shemale Club also starring Morgan Bailey, Sarina Valentina, Hazel Tucker, Doll and Paris Pirelli, Transsexual Superstars: Bailey Jay (2011) for Shemale Club with TS Foxxy, Sarina Valentina and Bailey Jay herself, She-Male Police 1 (2011) that was filmed by Joey Silvera for Evil Angel and starred Domino alongside Aly Sinclair, Bailey Jay, Honey Foxxx, Jesse Flores and Kimberly Kills. She-Male Police 1 was nominated for "Best Transsexual Release" at the 2012 AVN Awards and received a rave review from XCritic column writer Crimson Clown who commented how;
"Evil Angel does not skimp out on giving consumers what they want. They garner a group of beautiful transsexual performers, pin them against ready and able men, and provide us with a glimpse at the best of what they can do on-screen. Domino Presley is the spotlight for most of the first half of the movie, and she poses for the camera with assorted giggles taking arms and meeting up with the lovely Bailey Jay and Aly Sinclair, all of whom prepare to do battle on the mean streets of California for three hours… Highly Recommended; And I mean that as someone with an open mind who went in to this completely hesitant. "Shemale Police" takes some beauties and gives them a podium to perform, and creates something of a fantastic bit of TS porn for folks who can appreciate or discover the fetish".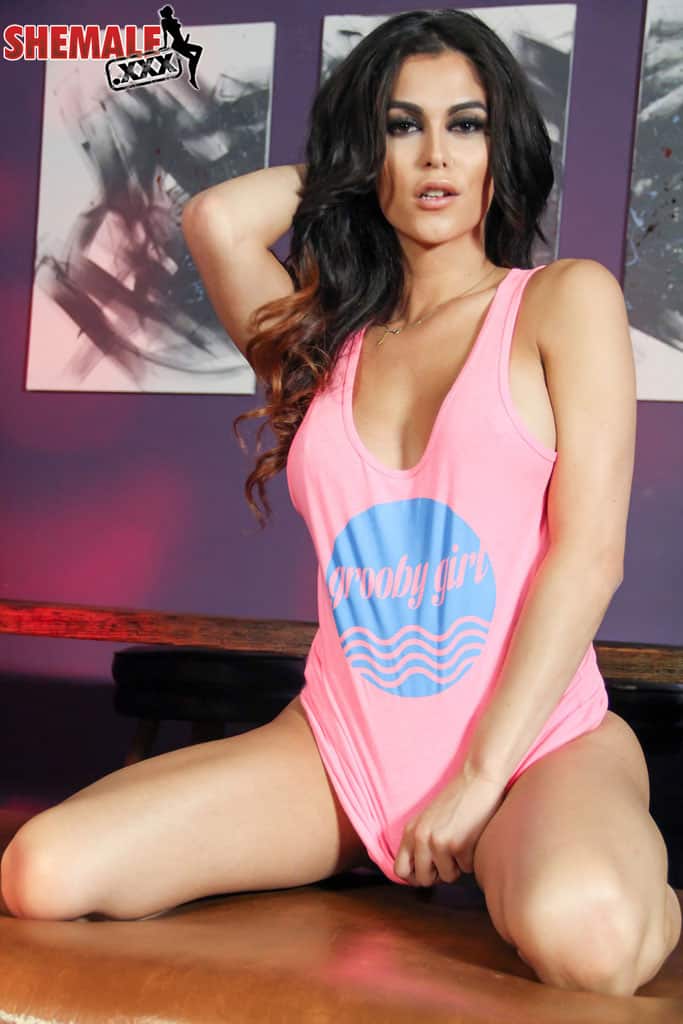 Domino has proceeded to feature within a wide range of best-selling DVD titles and fan-favourite online sex scenes over the course of her show-stopping adult film career. Fans who are eager to discover some of Domino Presley's sauciest sex scenes will not want to miss out on viewing; Glorious Shemales (2013) for CX WOW Studios that starred Domino,  Eva Lin, Khloe Hart, Bella and Birdmountain in a series of raunchy sex scenes with Christian XXX, True History of She-Male Cock 2 (2013) which was directed by Joey Silvera in collaboration with Evil Angel and showcased Domino alongside such  rising TS starlets as Alessandra Ribeiro, Bailey Jay, Mia Isabella, Nicolly Navarro and Stefanny Gold, True History of She-Male Cock 3 (2014) which was nominated for "Transsexual Release of the Year" at the 2015 XBIZ Awards and TS Cock Strokers 7 (2015) for Trans 500 Studios alongside Wendy Williams, Brittney Markham and Kylie Maria, as well as Domino's numerous online sex scenes for Trans 500's trans-friendly porn site transatplay.com such as Deep Stuffing With Domino and Simply Me.
Thus far in 2016 Domino has performed within a variety of highly anticipated feature releases and online video clips such as TS Cock Strokers 10 for Trans 500 Studios with Gisele Ferrara, Laura Araujo and Deborah Mastronelly, Tranny Blowies 1 for CX WOW Studios alongside Tasha Jones, Kimber James, Kylie Maria and Dona Abelar, filmed a steamy sex scene with Robert Christian titled Domino Does The Online Thing for ikillitts.com in May 2016 and was showcased within the Grooby Productions DVD feature release Domino Presley: Transsexual Icon. Within merely six years Domino Presley has evolved from a rising TS starlet into one of the most highly sought after transsexual performers within the adult entertainment industry.

Domino Presley : Red Carpet Hostess & Radio Talk Show Appearances
Domino's personality, talents and stunning looks have been so well received by fans since she first appeared on the adult film and cam-site scene that she was asked to host the red carpet for the 4th Annual Tranny Awards in 2012. During these awards Domino captured exclusive interviews with the industry's biggest stars as they made their way into the awards ceremony and showcased her quick wits and stunning beauty to a wider network of adoring fans. It was at these awards that Domino was also presented with the "Shemale Yum Model of the Year" for the second year in a row by Steven Grooby, founder of Grooby Productions.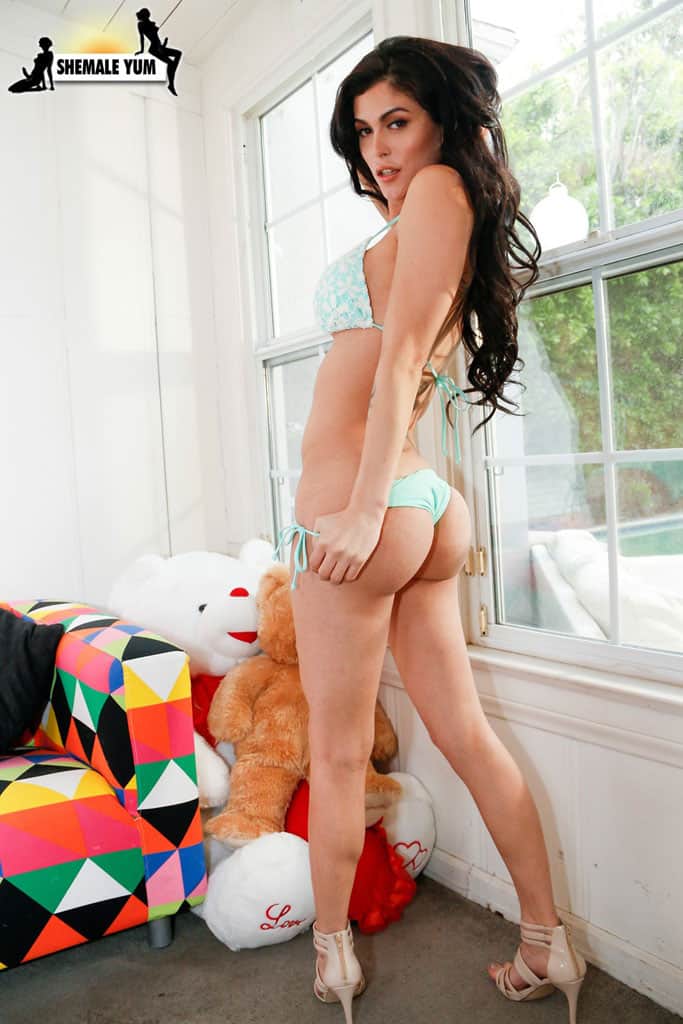 Throughout her adult film career Domino has made multiple guest appearances on radio talk shows and at exclusive nightclub events, as well as attending multiple adult entertainment expos. For instance, following her red carpet hosting role at the in 2012, Domino and her fellow transsexual performers Morgan Bailey and Jennifer Paris came together to  host the after party for the 4th Annual Tranny Awards at Club Voyeur in West Hollywood. Within the same year Domino also appeared at the nightclub release party for TS Jesse's sex toy line.
In fact, over the course of her prolific porn star career Domino has become a popular guest host at "New York's Best Transsexual Party", the famous Tranny Strip exotic erotic extravaganza! Often hosting these opulent nightclub events alongside fellow transsexual performers TS Foxxy, Eva Lin and Morgan Bailey, Domino has entertained and enthralled her fans at Tranny Strip ever since she stole the show when she hosted their very first annual "Cirque De Tranny" event .
In 2011 Domino appeared at the Shemale Yum booth at Adult Con, held at the Los Angeles Convention Centre alongside fellow transsexual performers Morgan Bailey, Amy Daly, Khloe Hart, Celeste, Michelle Austin, Sunshyne Monroe, Jenna Rachels and Estelle L'Amore as well as director Buddy Wood. This Shemale Yum booth was a landmark moment for transsexual porn stars because it served as the first time that transsexual performers ever featured on the Adult Con floor to promote their video projects.
Domino has also made guest appearances at mainstream media events such as the red carpet premiere for the indie flick Gun Hill Road at Club Tranzit. Recommending this feature film, which was named the winner of the 2011 Sundance Jury Award, Domino enthused in an AVN press release how;
"This is one of the best movies I've seen in awhile…It's about a transgender transitioning, something I understand well. I'm honored to be a part of the celebration. Make sure to keep your eye on the stage when I go-go dance. My fans who missed my signing at last month's Adultcon are excited to finally be able to see my new boobs for the first time".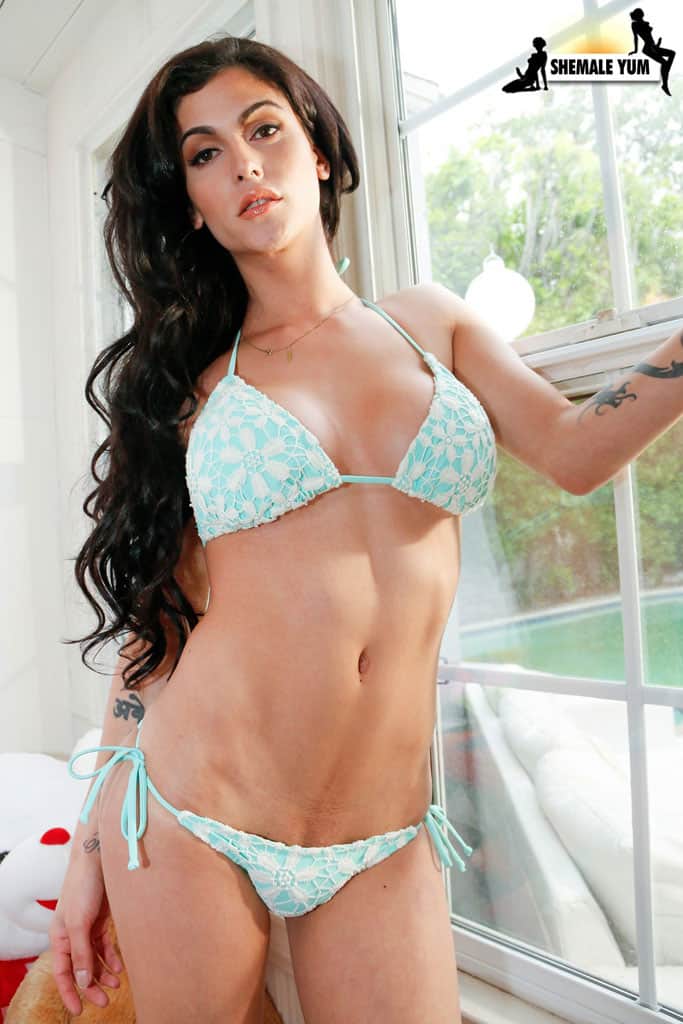 One of Domino's most popular public appearances occurred in 2012 when she and Brittany St. Jordan appeared as hostesses on "The Porn Star Road Trip"; a raunchy road trip that was sponsored by the AVN Media Network, Exxxotica Expo, the Adult Trading Card Company and Punnani.com in 2011. Appearing at the Exxotica Expos in Chicago and Los Angeles, this raunchy RV enabled fans to get up close and personal with their favourite TS, straight and gay porn stars.
When Domino began to establish herself as a transsexual porn star, she had no idea the amount of praise and recognition she would receive from her fans. As she conveyed in a 2012 interview;
 "When I went to my first L.A. tranny club, I couldn't believe all the fans…I felt like I grew up on a farm. I didn't know there were so many people into this. For a long time I thought it was just me".
Similarly, speaking just after her 2012 Tranny Awards win, Domino ardently enthused;
"Wow, two years in a row—this tells me that the fans really love me and I appreciate their support," Domino said. "Grooby has been fabulous with my website, and very supportive as well. 2012 is on its way to being the Year of Domino Presley".
Alongside her multi-faceted hosting skills, best-selling feature release performances and captivating modelling prowess, Domino has continued to receive a string of adult film awards nominations and prestigious adult entertainment accolades from the Tranny Awards as well as the AVN Awards and XBIZ Awards. Some of Domino's most impressive adult film award wins and  nominations to date have been listed below;
2011: Tranny Awards winner — "Best New Face"
2011: Tranny Awards winner — "Shemale Yum Model of the Year"
2012: Tranny Awards winner — "Shemale Yum Model of the Year"
2012 AVN Awards nominee — "Transsexual Performer of the Year"
2012 XBIZ Awards nominee — "Transsexual Performer of the Year"
2016: Tranny Awards winner — "Best Solo Model"
2016: Tranny Awards winner — "Bob's TGirls Model of the Year"
Domino Presley : Webcam Model, Charity Work & Upcoming Projects
Unlike many porn stars, Domino's cam-site career actually began after her initial adult film productions. As mentioned above, Domino continues to make live chat appearances on various cam-sites such as Chaturbate as well as via her official solo website TS Domino Presley so if you want to get up close and personal with this seductive superstar then these webcam modelling platforms are a great place to start!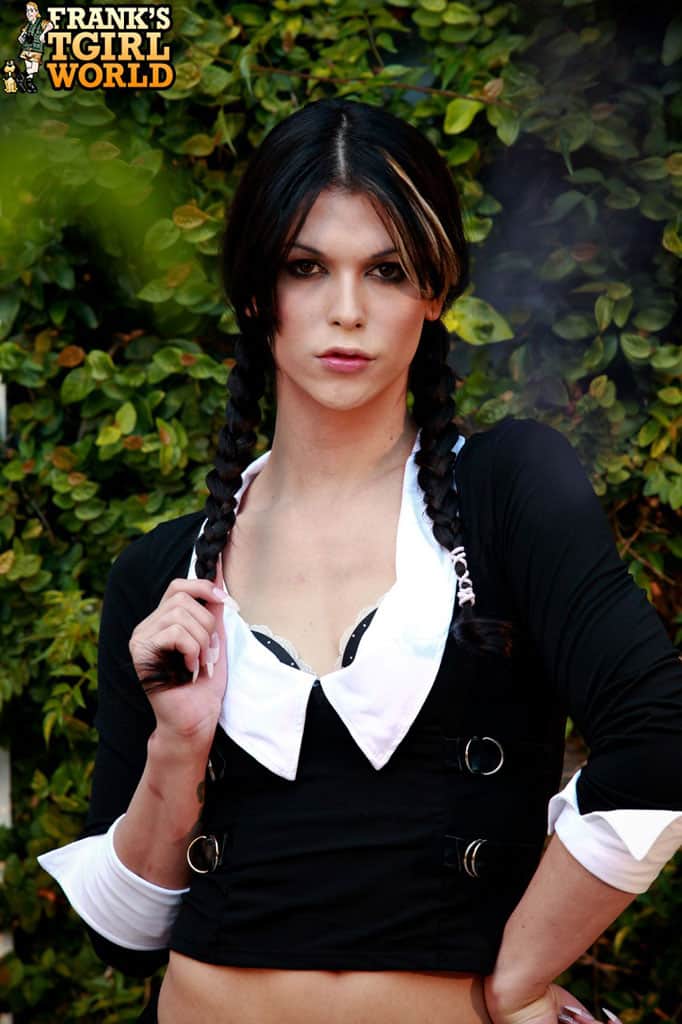 Domino Presley at Frank's T Girl World
In addition to her on-screen exploits, in recent years Domino has also posed for photos which featured within the annual Grooby Girls 2015 Calendar and the Grooby Girls 2016 Calendar. With the help of her fellow transsexual performers Kim Bella, Hazel Tucker, Megan Snow, Diana Love, Kandii Redd, Sheylla Wandergirlt, Camilla La Princessa, Karina Shiratori, Jenna Rachels, Ana Paula Smith, Sofia Ferreira, Kylie Maria, Miran, Holly Parker, TS Foxxy, Aubrey Kate, Luna Rose, Kate, Aubrey Starr, Honey Foxxx and Madison Montag, these charity calendars have been instrumental in raising money to support the work undertaken by the Trans Adult Industry Foundation.
Domino continues to act as an inspirational role model for upcoming transsexual porn stars. Within her previous interviews Domino has shared her own experiences and offered exclusive industry insights in the hopes that her words will help aspiring transsexual porn stars to establish their own careers as well as to encourage viewers to show more respect for the transgender community. She advocates how men meeting transsexual porn stars for the first time should;
"Talk to them like a girl; don't talk to them like a tranny".
She also advises aspiring transsexual porn stars;
"not worry about being the Next Somebody Else. Instead be the Best You. Don't have too much of an ego—which is difficult for a tranny—and try to be humble. Don't go in with an attitude. It never hurts to ask questions, and if it sounds shady, it probably is".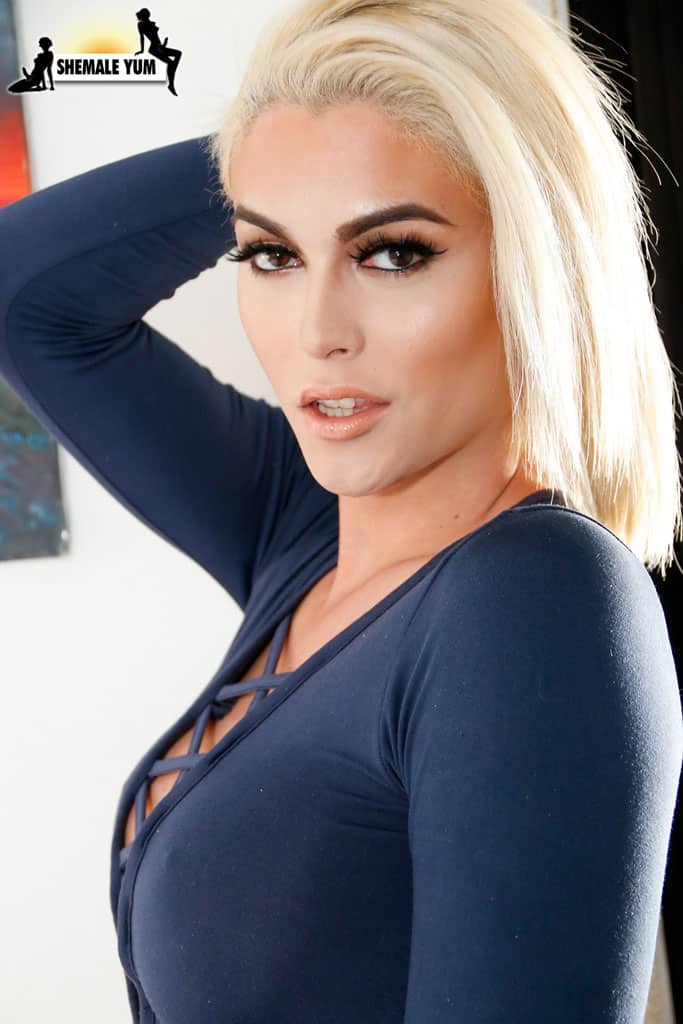 Speaking about her own experiences, Domino has conveyed how;
"We all started somewhere…But I wish there had been someone to tell me to avoid shady things…you show up expecting to do this one thing for a certain rate, and they keep piling on things for you to do, and it eventually becomes three scenes with a BJ and you're stuck with a nasty looking homeless guy…"
If you'd like to learn more about the wonder that is Domino Presley then you've come to the right place! Using the official social networking links provided below you can read Domino's official blog site which she updates regularly with humorous, insightful posts. You can also follow her on Twitter to find out about her upcoming productions and adult entertainment event appearances. Why not also check out some of Domino's previous adult film appearances and web content that has been inspired by her work via sites such as Shemale Idol? Given that Domino has announced her future aspirations to direct transsexual women in scenes "that showcase their beauty in a new light", you can expect to enjoy more captivating adult film content from this stunning transsexual porn star for many years to come!
Social Networks
Amazon : Domino Presley
Official Blog Site : TS Domino Presley
Shemale Pornstar : Domino Presley at Shemale Pornstar
Shemale XXX : Domino Presley at Shemale XXX
Shemale Yum : Domino Presley at Shemale Yum
Frank's T Girl World : Domino Presley at Frank's T Girl World
Twitter : @DominoPresley
Instagram : Official Domino Presley account
Chaturbate Profile: Dominopresleyxxx
IMDB Profile : http://www.imdb.com/name/nm4128327/