Personal Info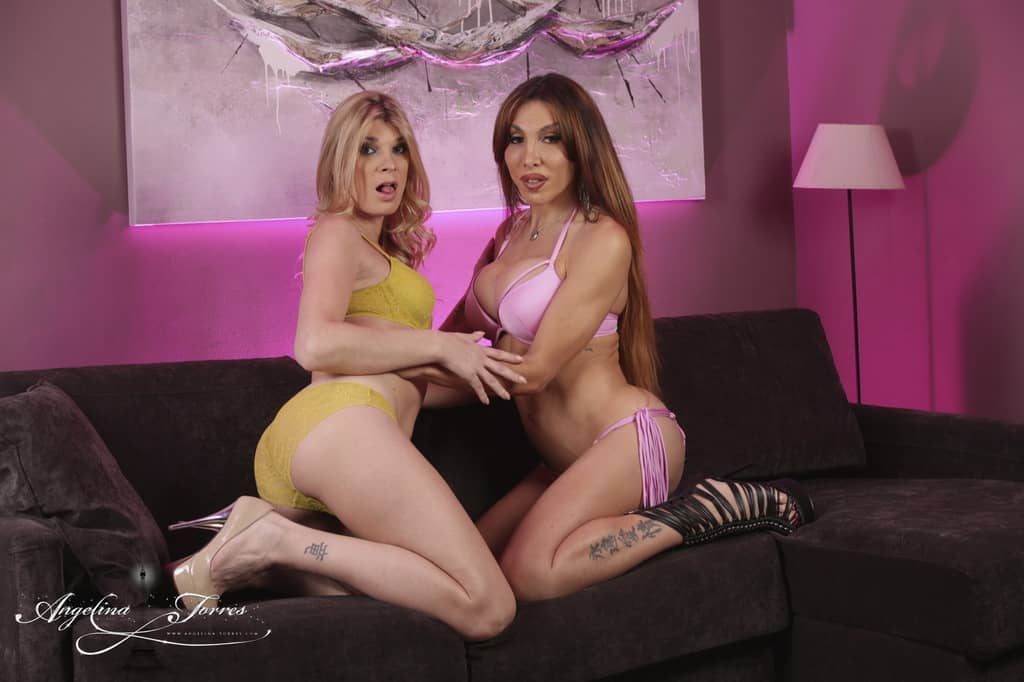 Eva Paradis at Angelina Torres
Name : Eva Paradis
Date of Birth : May 17th
Home Town : Naples (Italy)
Measurements : 34DDD – 26 – 34
Bra/ Cup Size :  34DDD
Boobs :  Enhanced
Height : 5'7 (1.76m)
Weight : 143lbs (65kg)
Hair Colour : Blonde / Brunette
Eye Colour : Brown
Tattoos : 10 tattoos including four Chinese characters on the side of her right calf, a large multi-coloured butterflies and cherry blossoms design across the right side of her rib cage, a red flowers design along her right hip/bikini line, a black tribal design on her right shoulder/upper arm, three small symbols along the left side of her rib cage, and a large flower with vines design in the middle of her lower back. As Eva jokingly stated during her May 2016 Porn OCD interview; "Anytime I do get a tattoo, I always promise myself that is the last one. I have ten tattoos now".
Years Active : 2014 – present
Number of Scenes : 15+
Meet Eva Paradis; a beautiful Italian TS star who has just been nominated for the coveted title of "Trans Performer of the Year" at the upcoming 2017 XBIZ Awards! Although she lives in London, England, Eva Paradis was actually born and raised in Naples, Italy. Eva is proud of her Italian roots and expressed during her May 2016 Porn OCD interview that;
"Italy is an amazing country where you can actually feel how warm and friendly the people are. No matter where you come from and even if you are a stranger, the Italian people will make you feel like you are at home".
Stunningly beautiful with an impressive intellect to match, Eva actually taught herself how to speak English when she moved from Italy to the United Kingdom in 2006. As Eva explained during her Porn OCD interview;
"I didn't actually learn to speak English at school. I learned by myself when I moved to London. At the beginning it was hard, but now I can actually even dream in English lol. I know it sounds funny, but I actually dream sometimes in Italian and sometimes in English… The weather and the people and the mentality all are different. Even the way they drive is different lol. I am used to it now, but London is an amazing city to live. With more sun it would be perfect".
Eva has always been confident in her true gender identity and has never felt the need to 'come out' as transgendered. As Eva aptly stated during her Porn OCD interview when she was asked about when she decided she wanted to live as a transsexual;
"If you were in front of me and you asked me that question, you would know my reaction already. I would ask you when did you decide that you wanted to live like a guy? You don't decide, obviously you just live and grow up the way you are. In my case as a transwoman...I am laughing now. Why? You make it sound like I had to tell my friends that I had some kind of bad disease lol. I didn't say anything to be honest as all was normal. I have lived all my life as you see me now a beautiful Italian girl. With a extra powerful thing between my legs".
Eva Paradis : Adult Film Career
Eva Paradis at Angelina Torres
Eva has been working within the adult entertainment industry since 2012 when she launched her independent solo website, evaparadisxxx.com. Eva discussed the early stages of her adult film career within her Porn OCD interview, divulging how;
"I started my website four years ago as independent and it was fun as I used to spend a lot time updating, but after two years in the industry, SMC Productions spotted me and as you know they have only the best girls in the industry, so they asked me to sign with them. I am happy to say now that I have been part of the SMC family for two years and so happy to be part of it. Yes we do business together, but we have become like a family".
In this manner, Eva made her official adult film modelling debut in April 2014 via the popular transsexual porn site Shemale Club (aka SMC Productions). When asked about her emotions upon filming her first ever solo sex shoot, Eva revealed within her Porn OCD interview that;
"Well as with anything, for the first time I was very nervous. I just let myself get into it and had fun… Every week something new comes up and every day I get a new fantasy or fetish to show in my scenes".
In no time at all Eva began to establish a devoted fan base via Shemale Club due to her sizzling solo sex shoots and her saucy hardcore sex scenes with male porn stars Wolf Hudson and Toni (aka Antonio Aguilera). Consequently, it was no surprise when Eva was named "Shemale Club Model of the Year" in January 2015. As AVN's Media Network reported;
"Members throughout the year are able to vote, rate and comment on models, video and picture updates and at the beginning of each year a "Shemale-Club.com T-Girl of the Year" is awarded. Members have voted and the model with the highest ratings for 2014 is Italian transsexual starlet Eva Paradis. Some of the previous winners include Jonelle Brooks and Jane Marie". 
Eager to please her ever-expanding international fan base, Eva has continued to update her Shemale Club profile and evaparadisxxx.com with a wealth of raunchy photo sets and hardcore sex scenes. Since August 2014 Eva's exclusive video clips have also been showcased via the popular transsexual porn site TGirl Network. Fans of Eva Paradis will not want to miss out on such saucy sex scenes as; her January 2015 hardcore Shemale Club sex scenes with Wolf Hudson, her May 2015 latex fetish-themed photo set for evaparadisxxx.com, her Horny After School and  Golden Showers sex scenes that were promoted via evaparadisxxx.com and Shemale Club in August 2015, and her July 2016 POV sex scenes for evaparadisxxx.com titled POV: Fill Me Up With Cum. Eva has also collaborated with male porn star Lance Hart on various sex scenes for his PervOut Network porn site, Sweet Femdom, such as Suck Eva Paradis's Cock, Feet And Dirty Fuck, Hardcore TS Fucking and Nasty Sex among many more!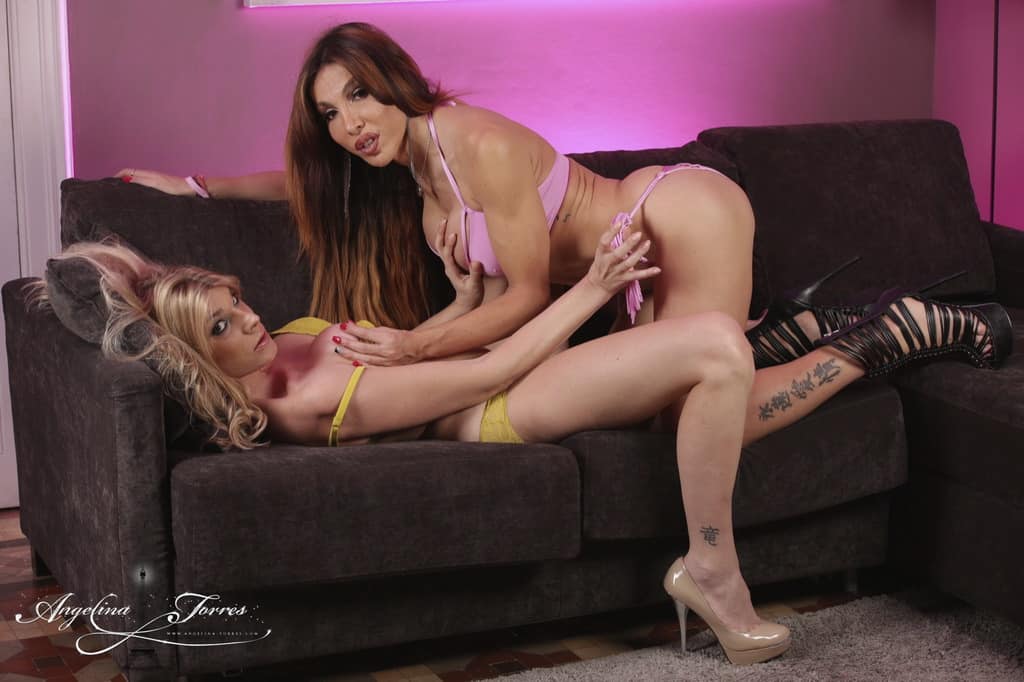 Eva Paradis at Angelina Torres
Over the years Eva's diverse array of solo sex shoots, hardcore Shemale Club sex scenes and kinky TGirl Network collaborations have earned her a wealth of praise from fans and film critics alike. For instance, prominent adult film blogger TS Caramel enthused about Eva's June 2015 Spanish photo set, ardently expressing that;
"This London-based Italian beauty has delivered one of the best solo performances I've seen anywhere on her official Eva Paradis XXX website. On top of that, it comes with over 130 hi-res images to gaze at in awe. It's also one of the most satisfying individual model websites I've seen in ages, especially since I love seeing unexpectedly kinky hardcore scenes. Eva has perfected the perfect balance of glamour and fetish with her work. In the solo video shot in Spain, I could tell in the first few seconds, with Eva strutting poolside, that the entire production would be top shelf".
Eva's consistently captivating web content resulted in her winning the prestigious "Best Solo Model" and "Best Solo Website" accolades at the 2016 Transgender Erotica Awards. Eva remains a frequent feature at these distinguished adult film awards ceremonies and has announced her intentions to attend the annual AVN Awards and the Adult Entertainment Expo (AEE) in January 2017. Always prepared for a party, in January 2016 Eva joined her fellow transsexual superstars Venus Lux, Michelle Austin, TS Foxxy, Aubrey Kate, Jessy Dubai, Honey Foxx, Natassia Dreams, Morgan Bailey and Buck Angel at Venus Lux's  "Syren"  XBIZ Awards pre-party which was held at the Off Beat Bar in Los Angeles. Given that Eva has recently been named as one of the notable nominees for the 2017 "Trans Performer of the Year" XBIZ Award, it seems highly likely that fans will spot Eva Paradis at another Las Vegas pre-party in the near future!
Spurred on by her 2016 Transgender Erotica Awards wins, Eva filmed a thrilling transbian group sex scene with fellow TGirl Network stars TS Foxxy, Jessy Dubai and Danielle Foxxx which was commercially released in March 2016. Talking about this terrific trasbian sex scene during her Porn OCD interview, Eva conveyed how;
"Yes, Foxxy is a naughty sister to me and a SMC girl too, and yes it was a fun day to work with her and Jessy Dubai".
In April 2016 Eva teamed up with another TGirl Network superstar, Sarina Valentina, in order to shoot some saucy sex scenes that featured on both evaparadisxxx.com and sarinavalentina.com.
In May 2016 Eva appeared in the Trans 500 Studios sex scene Ass Pounding Audition with male porn star Travis that was distributed via their fan-favourite porn site ikillitts.com. In addition to starring within this epic anal sex scene, Eva filmed some accompanying behind-the-scenes content for their fan-favourite porn site behindtrans500.com. During this time Eva also featured within the 2016 Evil Angel DVD feature release TS Factor 3 that was directed by award-winning adult film cinematographer Joey Silvera. Performing in TS Factor 3 enabled Eva to collaborate with prominent transsexual performers Aspen Brooks, Mia Li, Tori Mayes, Taryn Elizabeth, Giselly Soares, Mara Nova and Freya Wynn as well as male porn stars Robert Christian, Alex Victor and Mike Panic.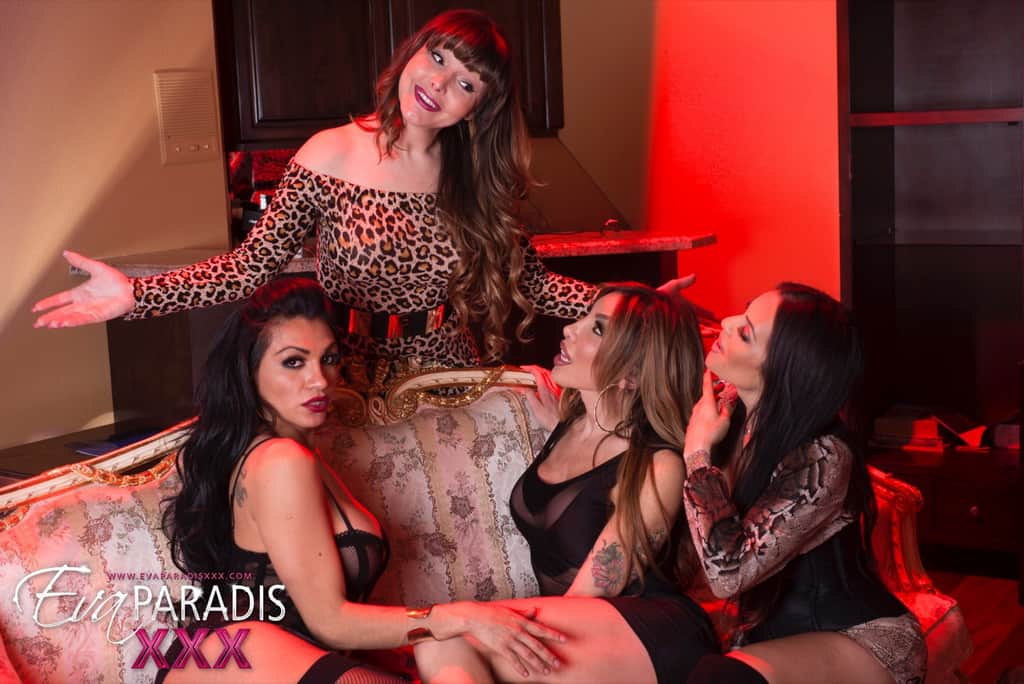 Eva Paradis at Eva Paradis XXX
In June 2016 Eva joined Kelly Clare, Kimber Lee and many more of her fellow SMC Productions performers in launching the brand new transsexual porn entertainment network Tgirl-Club.com. XBIZ News reported on this new business venture via a June 2016 press release, highlighting how;
"Tgirl-Club.com offers models the opportunity to reach fans with all their social media profiles and websites, sell individual clips and photos, interact with fans, and enter contests, to name a few incentives…This site is another income revenue for models to maximize their content to the fullest. Currently, transsexual stars like Eva Paradis, Kelly Clare and Kimber Lee have already signed up with other top models…SMC has the largest solo network, Tgirl-network.com, which showcases over 30 individual websites with such superstars as Foxxy, Sarina Valentina, Bailey Jay, Kimber James, Jonelle Brooks, TS Jesse, Morgan Bailey, and many other of the hottest trans women on the Internet". 
In addition to filming a broad spectrum of soft-core, hardcore, solo, POV, gonzo, fetish porn, femdom and BDSM content, Eva Paradis is also a multi-talented webcam model who continues to host a series of public and private live chat sessions via her official solo website with her international fan following. Fans who are eager to catch up on some of Eva's wildest webcam content will not want to miss out on viewing her March 2015 Webcam Sex scenes with male porn star Toni (aka Antonio Aguilera) and her May 2016 Dirty Webcam Show content that showcased Eva and Barcelona beauty Sylvia Rubi testing out some saucy sex toys.
In the summer of 2016 Eva travelled to Spain with some of her fellow SMC Network performers in order to film some exclusive video clips for their official solo websites. Eva explained during her May 2016 Porn OCD interview how;
"SMC took some of the girls to Spain to shoot content for our websites and to do some glamour photo shoots. So while we were there, we had the idea to do something different and this project was something that came up while we were working hard on our scenes".
In November 2016 Eva was thrilled to receive her first ever nomination for "Trans Performer of the Year" at the upcoming 2017 XBIZ Awards. Ecstatic to receive this notable nomination, Eva revealed during her Candy.Porn interview that;
"I was incredibly happy to see my name of the lust of XBIZ Awards nominees," says Eva Paradis. "I know there's stiff competition (no pun intended) like Venus Lux, but I am hopeful that I will win this esteemed award. Thank you XBIZ for nominating me!".
Most recently, in November 2016, Eva returned to Spain in order to spend two weeks filming some high quality photo sets with SMC Network stars Angelina Vallis, Sunshyne Monroe and Mia Isabella. Excited about the commercial release of these exclusive new video clips, Eva enthusiastically stated within a November 2016 AVN press release that;
 "2017 is going to be my year—I've already branched out and started filming with top adult studios and I can't wait to work with more…My priority will always be my SMC site, where I can have control over what I shoot and interact with my fans. I'm excited to work with Erika and her team and achieve world domination!".
True to her word, Eva has set about broadening her adult film industry influence by hiring The Rub PR to represent her. Eva has also revealed her plans to attend the Adult Entertainment Expo (AEE), XBIZ Awards and AVN Awards in January 2017 as well as announcing her intentions to film some exclusive new web content whilst she will be in Las Vegas; there's just no stopping Eva Paradis!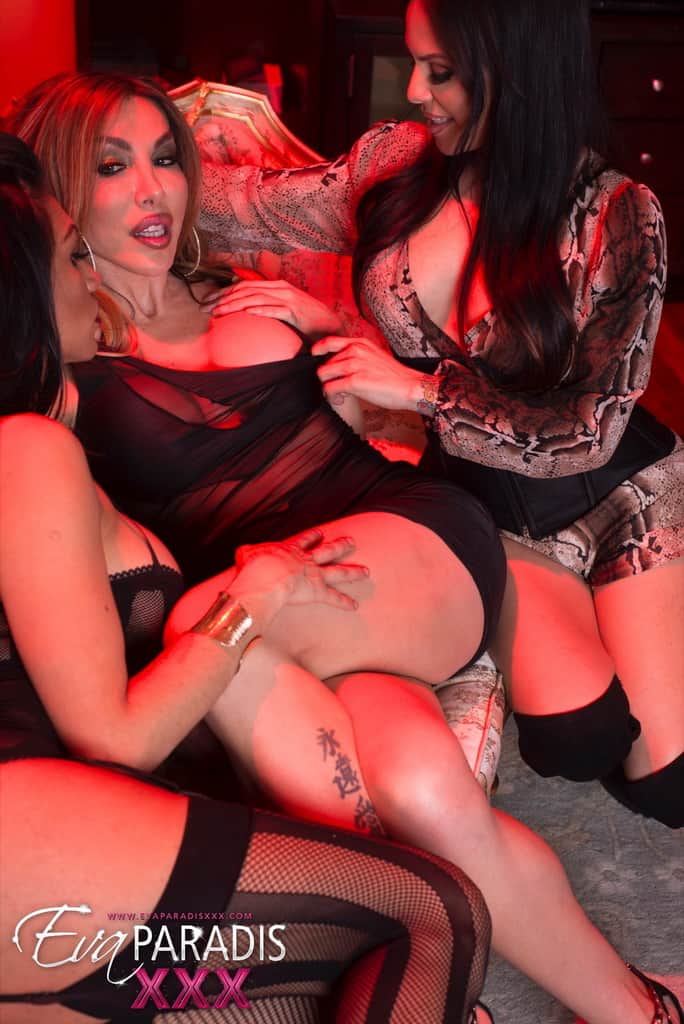 Eva Paradis at Eva Paradis XXX
When she isn't shooting new content for her website, hosting live chat sessions or travelling across the globe, Eva commented within her Porn OCD interview that she loves shopping, socialising with her friends and watching TV marathons in bed;
"One day I wanna be glamorous, one day classy and one day just chill and wear no makeup and wear whatever I see in front of me. On a night out, I love to be bright and shine like a star and men and woman wish to be next to me…I love to do all the normal stuff like just spending a full day in bed watching vampire diaries, go out with friends and get crazy, go shopping which is an addiction for me. No matter if I need something or not, I will have to buy it lol".
If you'd like to learn more about the exotic European adult film star Eva Paradis then why not head over to her official solo website online today? By using the links provided below you can check out Eva's latest video clips, glean some exclusive adult film industry insights from her Twitter and Instagram profiles, and even chill with the sultry transsexual superstar herself via a live chat session! What more could you ask for?
Social Networks
Official Website : EvaParadisXXX
Twitter : @evaparadisxxx
Instagram : @evaparadis
Snapchat : eva.paradis
Official Facebook Fan Page : https://www.facebook.com/official.evaparadis
Escort meetings : ts eva paradis
Angelina Torres : Eva Paradis at Angelina Torres