Name : Hazel Tucker
Date of Birth: January 7th 1989
Home Town : Northampton, Massachusetts (US)
Bra/ Cup Size : 36D (80E)
Boobs :  Enhanced
Height : 5'7 (1.70m)
Weight : 135lbs (61kg)
Hair Colour : Brunette/ Black/ Red
Eye Colour : Green/Hazel
Tattoos : Butterfly design on lower back 
Years Active : 2008 – 2014
Number of Scenes : 23+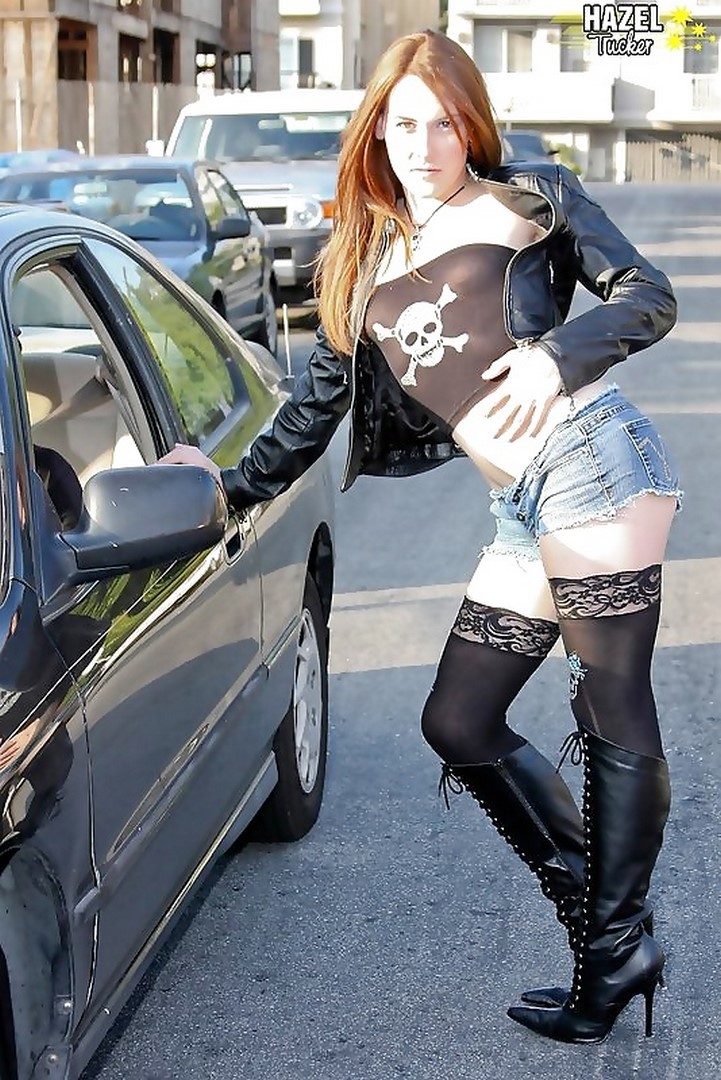 Hazel Tucker image uploaded by mgurl – image source
By combining her innocent looks with some truly kinky talents, Hazel Tucker has remained one of the most alluring transsexual performers within the adult entertainment industry! Despite retiring in 2014, Hazel continues to attract a strong fan following which has often led to this brunette beauty making return appearances at annual adult entertainment expos and hosting exclusive chat sessions via live cam-sites such as chaturbate.
Although she is known for her unabashed confidence in front of the camera, whilst she was at school Hazel always struggled to understand her sexuality and gender identity. In previous interviews Hazel has described how she tried to be a boy at school in order to fit in and came out as gay. However, Hazel always knew that she was different; a feeling that was only strengthened when she hit puberty. In fact, Hazel has described how;
"The first time I saw a Playboy magazine I was about 13 years old  I flipped through the pages and I can remember thinking how beautiful the centerfold was and how I wanted to be like her.  It was like everything clicked in place…like I finally understood myself more. I admired her beauty and wanted so bad to feel and look as sexy as she did naked. I imagined being her, naked in front of the camera and wished I could be a model too".
As Hazel began to research her sexuality on the Internet in further depth, she soon discovered the transgender community and finally found a platform through which she could honestly explore her feelings regarding her true gender identity. Following these personal revelations, Hazel began to purchase hormones online and initiated hormone replacement therapy when she was 16 years old. Hazel also underwent a breast implants procedure when she was 20 years old. In 2012, Hazel underwent further breast augmentation surgery which enlarged her bra size from a modest 34A to a buxom 36D. Despite embracing her gender identity in her teen years, Hazel has admitted that she still has much to learn about her sexuality. Within interviews she has openly expressed;
"To be honest I am still exploring my sexuality just like any young person I learn new things about myself daily it seems and porn has helped me to open up sexually like I never have been able to before. I lost my virginity at 17, around the same time I started living my life full-time as a woman. So I have only been on the "sex train" 3 years.  (Blushing) But I have gotten a little into role playing. Although I am more of a submissive/bottom girl from time to time I like to be the aggressor.  BDSM? Hmmmmm…we'll have to wait and see if I travel down that path sooner or later".
When Hazel was 19 years old she took it upon herself to forge a career within the adult entertainment industry. In previous interviews Hazel has conveyed how, although working a string of odd-jobs enabled her to pay for her transition process, they left her feeling unfulfilled. During these interviews Hazel commented how;
"Well,  before porn I was a server in a family restaurant.  It was my first real job and helped me be able to afford my transition at the age of 16.  I waited tables for 2 years until I was 18 and then went on to beauty school and became a nail technician. Turned out I didn't have the knack for doing nails and made very little money doing it.  After the nail career didn't work out I tried being a phone sex operator. It was a lot of fun but got to be a little  constricting on my time out of the house. Plus the real thing is always so much better".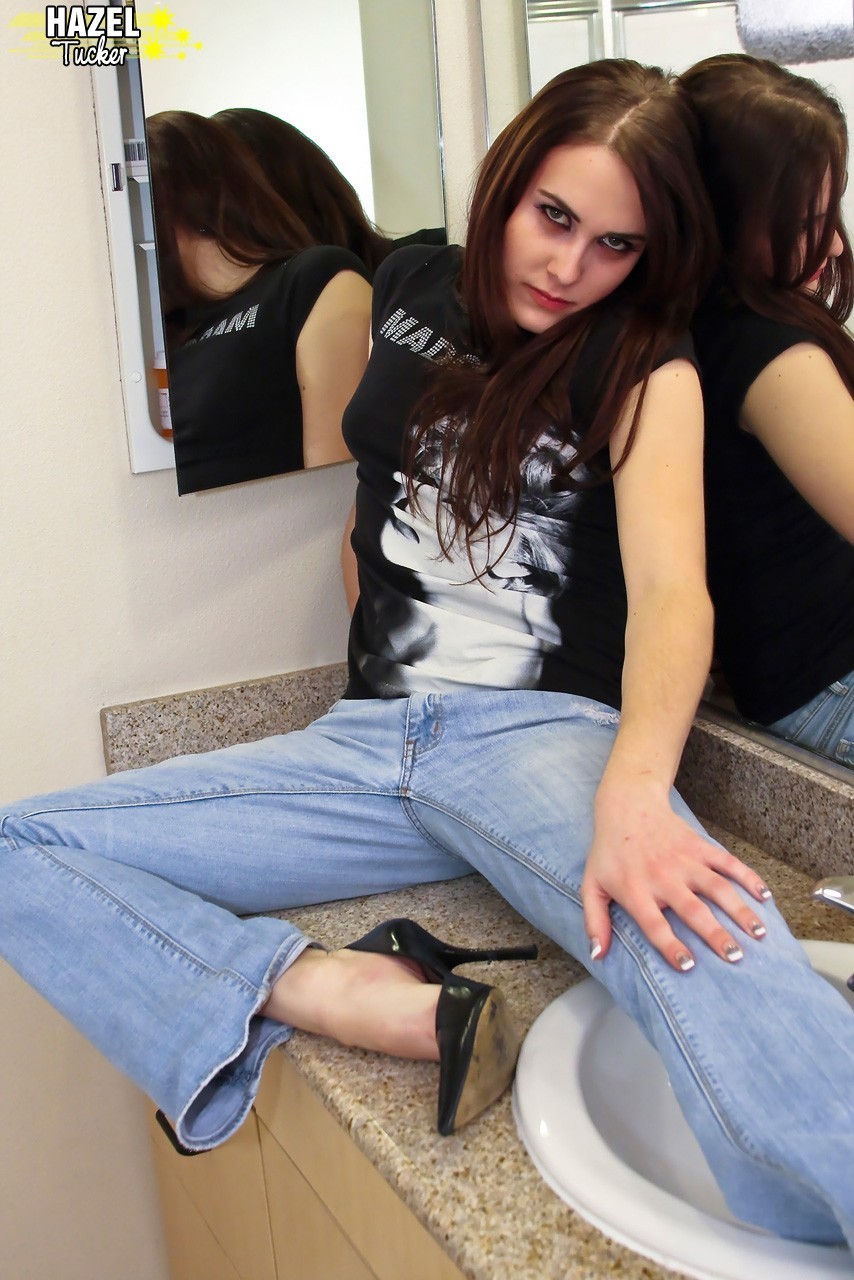 Hazel Tucker uploaded by LaruentG – Image source
Seizing the opportunity to pursue a more exciting career, Hazel wrote to Grooby Productions inquiring about working for them in 2008. Representatives from Grooby Productions quickly seized the opportunity to work with Hazel and arranged for her to be flown from her hometown Northampton to their main offices in Los Angeles, California. It was here that Hazel filmed her first ever pornographic production shoots. Describing the entire experience in her own words, Hazel revealed that;
"In late spring of  08 I was looking for something new and exciting to do and had been pondering the idea of maybe doing porn. My boyfriend at the time, whom I had mentioned wanting to do porn to, had sent me a link to a Grooby Productions site. I clicked on the "Model Applicants" link and emailed a few pics of myself in. I never thought they'd even get back to me but I was so psyched when I received a response.  In the email it said they wanted to fly me out to California to shoot. That's how I met Buddy Wood and how I became the "Independence Day" girl".
As mentioned above, Hazel's first adult shoot was in the summer of 2008 when she appeared as the "Independence (4th of July) Girl" on the Shemale Yum website. This raunchy shoot established Hazel's image as the sweet All-American girl next door with a kinky twist! This persona earned Hazel a large fan following throughout her career as all manner of straight, gay and transgender fans flocked to admire her natural beauty, charismatic personality and raunchy talents. Speaking about this loyal fan base in a caramelstgirls.com interview, Hazel enthused about her immense appreciation for her fans and how their admiration for her is the best part of her career;
"The best part I'd have to say are my fans. It makes me feel so good to get  messages and poems in emails. Also knowing that my work is out there making someone's day makes me smile and is actually quite a bit of a turn-on. I think I might have a little bit of an exhibitionist in me…well, I have a lot of things in me so… (laughing)…
It's very touching to know that I inspire other girls. It's something I never thought about before to be quite honest. I never thought doing porn would make me a role model. I always thought quite the opposite actually. There are so many trans girls out there who do so much more important things, like my friend Jacqueline-who helped organize the first annual New England Trans Pride. Girls like her are the real role models out there that other trans girls should look up to. But for girls breaking into the industry that admire me, I'd have to tell them to keep their eye on the prize. Goals are important and the industry is a great place to make them come true, but only for so long. I would tell them to save as much money as they can and don't let things like partying and drama get in the way of making their dreams come true. It's hard for me to give advice when I still feel the need to take it…
I want people to understand I try my best to be myself on camera even though I am an actress of sorts.  My goal is to give my viewers a peek at how I really am but also show them my naughty sex-kitten side that I don't always get to show off.  I like to stay as true to myself on camera and I think that that's what gives me that "Girl Next Door" feel. I really am just your average girl…but with a little something extra".
This humble approach to her iconic adult film status has earned Hazel the respect of her fans and fellow porn stars over the years. After her initial Shemale Yum modelling shoots, Hazel made her official adult film debut in Hazel Does Hollywood. Created in collaboration with the renowned adult film director Buddy Wood, this pornographic production earned Hazel her first ever adult film award wins.
In fact, by the time she was 23 years old, Hazel had worked for almost all of the major TS production companies; including Evil Angels, Shemale Club, Devil's Film and Third World Media amongst others. Some of Hazel's most popular productions filmed during this time included American She-Male X 6, SheMale Strokers 32, 35, 40, 47, 51, 56 and 64, which included some of Hazel's most famous solo scenes, USA T-Girls 3, Transsexual Cheerleaders 4 and Shemale Bedtime Stories.
Hazel also featured in many of her fellow transsexual star's most successful productions; such as Morgan Bailey's Bad Day and Amy Daly The Translesbian. Several of these on-screen appearances resulted in Hazel receiving multiple adult film award nominations from some of the most prestigious awards associations in the adult entertainment industry. Amongst Hazel's many adult film award accolades include;
2008: Tranny Awards winner — "Best New Face"
2009: Tranny Awards winner — "Best Website Model"
2009: Tranny Awards winner — "Best DVD Model"
2009: Tranny Awards winner — "Best DVD Release" — Hazel Does Hollywood
2010: AVN Awards nominee — "Transsexual Performer of the Year"
2011: AVN Awards nominee — "Transsexual Performer of the Year"
2012: AVN Awards nominee — "Transsexual Performer of the Year"
2012: Nightmoves Awards nominee — "Best Transsexual Performer"
It is Hazel's confidence, bubbly personality and great sense of humour which have enabled her to enjoy this uninhibited adult film career. Hazel is happy to talk about the funniest moments in her career, often divulging in interviews personal anecdotes such as;
"The great thing about this job is that it is so much fun and there is always time for a good laugh. I have already had so many hilarious moments on the job happen within my first year in the industry. I'd have to say my favourite was recently, when I was working with a genetic girl for the first time.  I had never been with a girl before and I got a little carried away and injured my "girl package". Let's just say a bruised ball doesn't look or feel so pretty. Later I went to the doctor and he said something along the lines of, "Wow, I have never seen anything like this before"(Giggling)".
As well as enjoying a light-hearted laugh and experimenting with various sexual scenes and experiences, Hazel has also been able to utilise her status as an iconic transsexual porn star to inspire other members of the transgender community. During website interviews and radio talk show appearances, Hazel has highlighted some of the greatest tensions and prejudices that face the transgender community. Tackling these misconceptions head on, Hazel has stated that;
"The misconception I feel that is most common is the idea that certain stereotypes dictate gender and even what it means to be a transgender person. Although I believe that some stereotypes have some basis of truth behind them, most are false. Even many transgender people have a hard time with this one.  Just because a boy likes dolls doesn't make him a girl/gay. Just because a girl likes her hair short doesn't mean that she is necessarily masculine. When I was a little kid you could catch me strutting my stuff in my mom's pumps wearing a tool belt while fixing my toy car. (smiling hard) Gender is what we are wired to be in the brain (male/female/something in the middle). Sex is just the equipment between our legs.  I think this is the hardest thing to help others understand because it's difficult to relate to something you have not personally experienced/had an issue with yourself. And each of our feelings (even as trans people) vary from one another's, so it's hard to really understand each other exactly…
My least favorite part of the job is  the lack of respect I feel that our niche gets from some of the main stream porn world. I have to give a hand to girls like Kimber James, who have worked and are still working hard to make things better for all of us in transsexual porn.  Another thing that kind of makes me frustrated from time-to-time are the misunderstandings that some people have when it comes to me (and other girls) cumming and sometimes even getting fully hard. I think some producers and fans of ts porn expect girls to be feminine yet well-hung and also produce a decent cum-shot. What they seem to not get is that for me to look as feminine as I do I have to take male hormone-blockers along with female hormones which affect penis function and size.  It especially affects functionality if a girl was young when she started to transition because she has halted her development as a male by stopping male puberty. This is the reason I cum just a drop if not anything at all. I even feel the pressure to go on and off my hormones for work so that I don't upset some of my fans, which can be not so good for my health".
Similarly, when asked how she defines herself, Hazel has explained how;
"I would have to say in my day to day life I don't think about myself as anything other than a human young lady. I guess that's because that's all I know myself to be deep down. But when amongst other people especially sys-gendered women I consider myself a transsexual woman.  I have had genetic women confront me and say "You're not a woman and you'll never be one so you couldn't possibly understand what we (genetic women) go through." Well, in a sense these women are right. I am not the same as them, nor do I pretend to be some kind of undercover imposter. I am of a different kind of women with different experiences and different perspective. Just like being a white woman doesn't necessarily make you understand what it's like to be a woman of color- I do not pretend to know what other girls go through. However, my sense of womanhood I feel helps me connect with other different kinds of women. I am a woman by instinct and a transsexual by experience. I believe that the feminine power, which distinguishes us all as women, is universal and connects us all to each other. Sometimes that's hard for people to see but I think with time it will be better understood".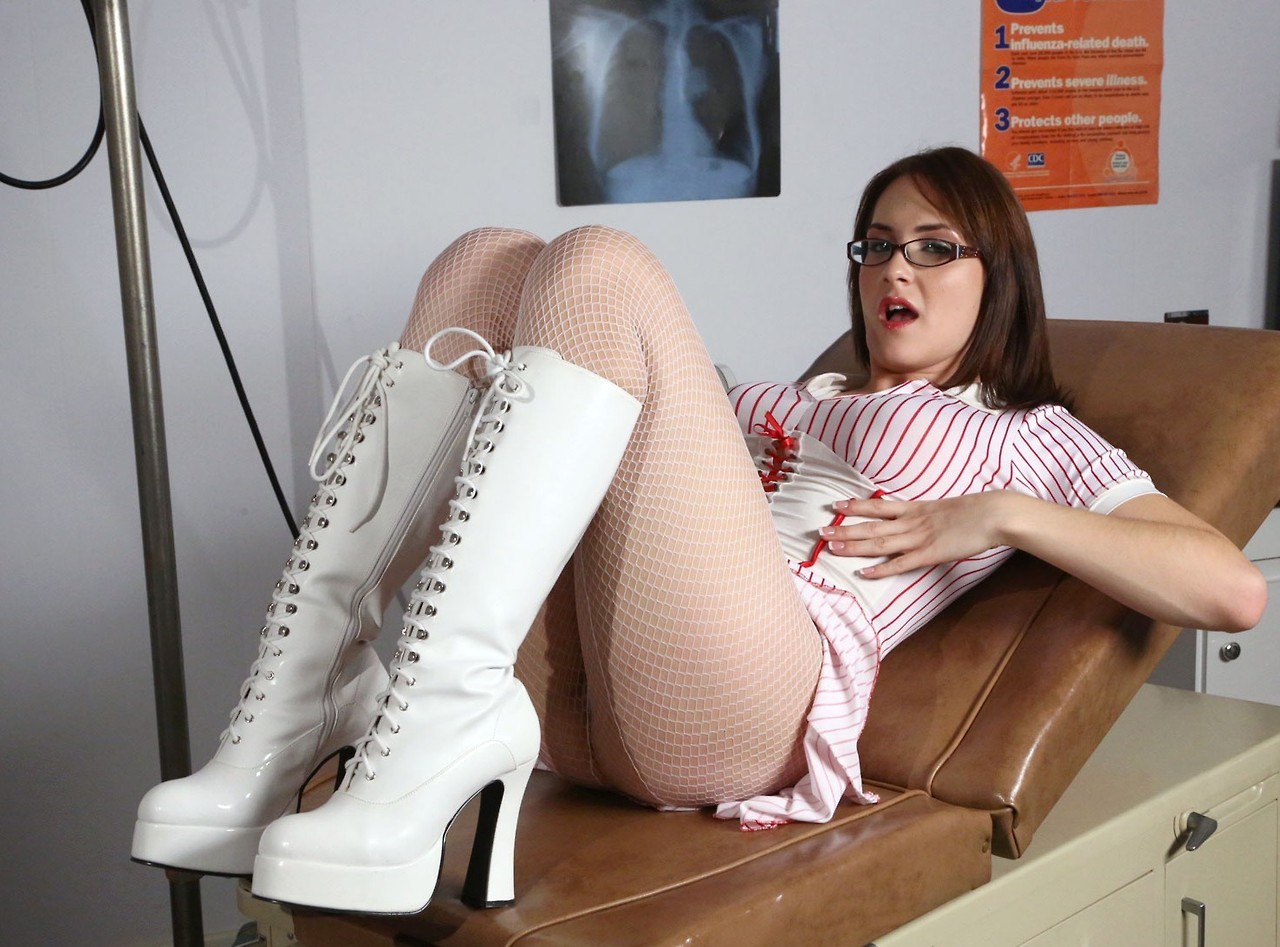 Hazel Tucker uploaded by DREADON – Image source
In this manner, Hazel has become an inspiration for many aspiring transsexual porn stars as well as young people in general within the transgender community who may be struggling to come to terms with their gender identity. When asked about her own personal mentors and role models growing up, Hazel has commented that;
"I would have to say that my mother was and still is my main female role model in life . I have learned a great deal from her about how one can be feminine and yet also be strong. Watching her these past 20 years has helped me learn so much about what it really means to be a woman. Even when we don't see eye-to-eye I know that having her for a mother has made me a better person. "I don't think you'll ever read this but, 'Thanks Mom!' " As for a transsexual mentor…When I first started researching transsexual porn-before I got into the industry, I came across the beautiful and talented Danielle Foxx. I admired how well spoken she was and how good of a performer she came across as.  Never did I think that someday Buddy Wood would introduce the two of us and we'd become friends. Danielle has taught me a great many things in the short time that we've known each other and I am so happy to have met her.  She is a friend, big sister and mother all-in-one to me and I am so thankful she is here to guide me along my journey".
In this same manner, despite having confidence in her own gender identity and career path, Hazel has admitted that she often struggles with divulging her sexuality to partners at the beginning of relationships. Hazel has spoken candidly about her previous relationships in interviews, revealing how;
"I am always honest with anyone I even think I am going to get involved with or doing anything sexual with. Honesty is the best policy in my book and has helped me to be safe and true to myself. I always try to not get too flirtatious with boys who don't know because sometimes it's just too much of a hassle to break the news and sometimes it's just not safe. However, if I am in a public safe place and I get to the point where I feel comfortable enough to tell the guy, I will. Some take it better than others, but I've noticed the more honest and upfront I am, the more guys who are not so cool with it will respect me. Most guys are just so blown away they are speechless or just feel totally confused and embarrassed. It's hard for me but I understand it is just as hard for them to deal with sometimes. It's not easy having everything you thought you knew about yourself  challenged by your sexual attraction to one person. Putting myself in their shoes has helped me to deal with this better".
In February 2011, Hazel attended the 3rd Annual Tranny Awards which was held at the Blue Moon Nights nightclub in North Hollywood, California.  Alongside her fellow actresses Amy Daly and Olivia Lowe, Hazel presented the award for "Best DVD" that was awarded to Hazel's friend and co-star Morgan Bailey. Many of Hazel's co-stars were nominated for awards at this star-studded event; including Yasmin Lee, Domino Presley, Mia Isabella, Vaniity, Jessie Flores and many more!
Later in the evening, Hazel made a guest appearance at the decadent red carpet event which accompanied the 3rd Annual Tranny Awards. Also held at the Blue Moon Nights nightclub, this exotic event was sponsored by Grooby Entertainment and enabled Hazel to dance the night away with her favourite co-stars Bailey Jay, Mia Isabella, Yasmin Lee and Morgan Bailey as well as her beloved directors Joey Silvera, Buddy Wood and Ed Hunter. To learn more about Hazel's cinematic collaborations with these distinguished directors and stunning transsexual porn stars, why not check out their xxx bios? 
However, despite these exciting nightclub appearances, Hazel is definitely a creature comforts kinda girl! For instance, during her caramelstgirls.com interview Hazel revealed how much she loves simply staying in, listening to music, and watching movies;
"I love music. Without it I think I would die. I constantly have the CD player or radio on. If not listening to music I sometimes read a good book. The Internet I think is my favorite pass-time-yes, I'm one of those web-geeks. Shopping is also another hobby of mine that I have had to retire for a little while. I am one of those girls that could spend all day at the mall if money permitted. (Laughing) Watching movies is another favorite of mine. I usually stay home and rent a handful at a time. My favorite genres are horror and comedy.  I rarely go to the movies but when I do it's always a treat. But I have to say there is nothing better than a good movie and cuddle-fest under a big fuzzy blanket. (winks)".
As well as her sex scenes, modelling shoots and awards ceremony appearances, Hazel has also featured as one of the calendar girls for the extremely popular Grooby Girls 2015 Calendar. Shot by industry leading photographer Blackula and featuring some of the most well known transsexual performers in the industry, such as Kim Bella, Domino Presley and Aubrey Kate, you can read all about this exclusive calendar shoot within our Aubrey Kate xxx bio.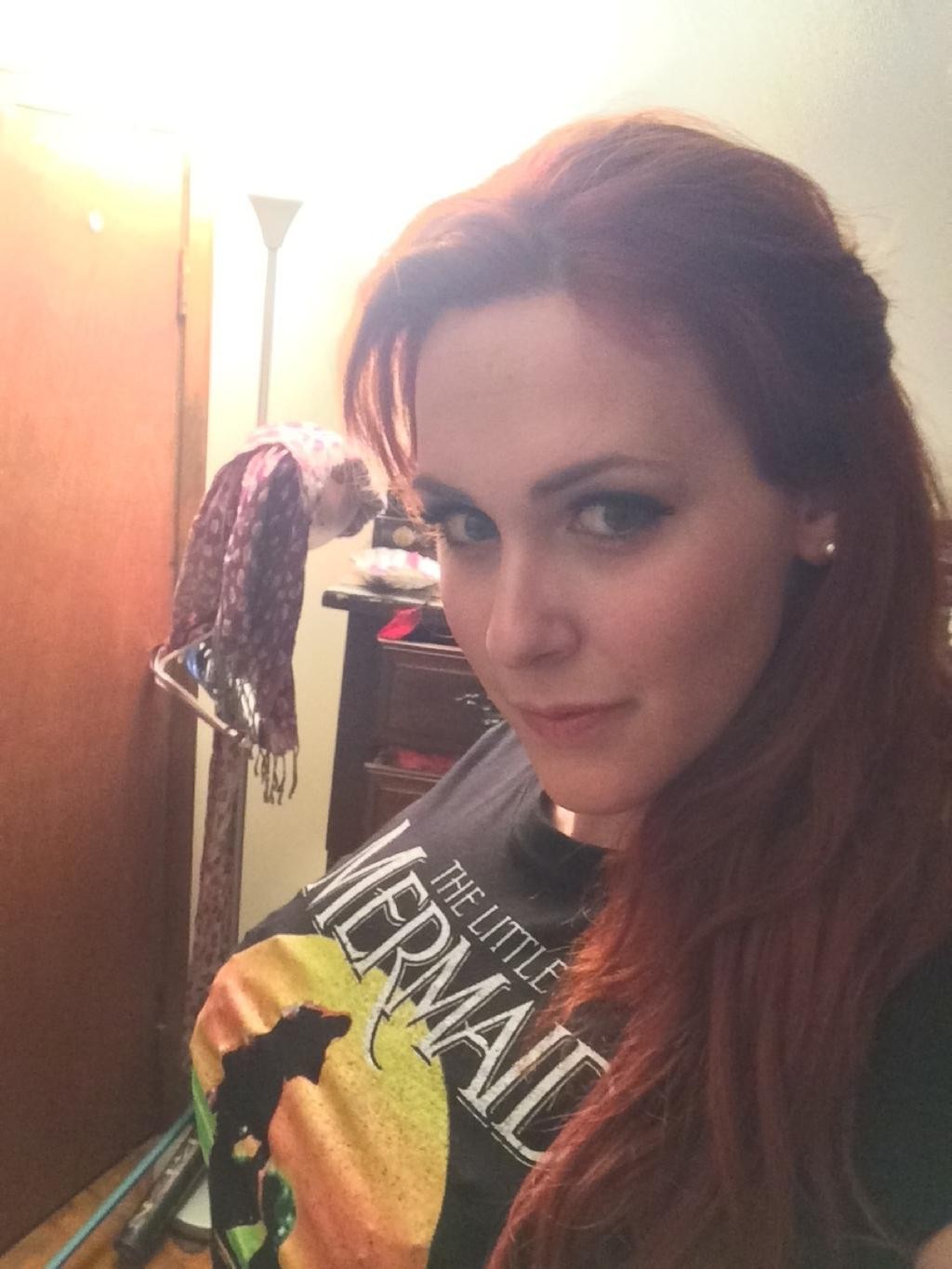 Hazel Tucker uploaded by Unbekannt – Image source
In 2014 Hazel decided to retire from the adult film industry to pursue other career avenues. In previous interviews Hazel had discussed how she would eventually like to;
"Maybe even get into makeup artistry or photo editing: two things I have recently become very interested in. I hope to be more financially settled and to have completed my transition. Just like any young girl I wanna take on the world and do everything. Hopefully five years gives me time to narrow it all down. As for when I'm a grown-up…I love kids and want to be a mom someday in the future. But I have a lot of growing up to do before I can even think about settling down with someone and having a family of my own".
However, despite officially hanging up her garters and retiring from the adult entertainment industry, you can still enjoy a wide range of Hazel Tucker's iconic adult film content and cam-site appearances online today. In fact, Hazel continues to manage her official blog site and social networking channels. What's more, you can still access all manner of official and inspired Hazel Tucker content via live adult-cam sites such as chaturbate. Check out these adult entertainment platforms online today for a chance to enjoy some public and private chat sessions with the "Independence Girl" herself!
Social Networks
Amazon : Hazel Tucker Wish List
Official Blog Site : http://www.hazel-tucker.com/tour/