Personal Info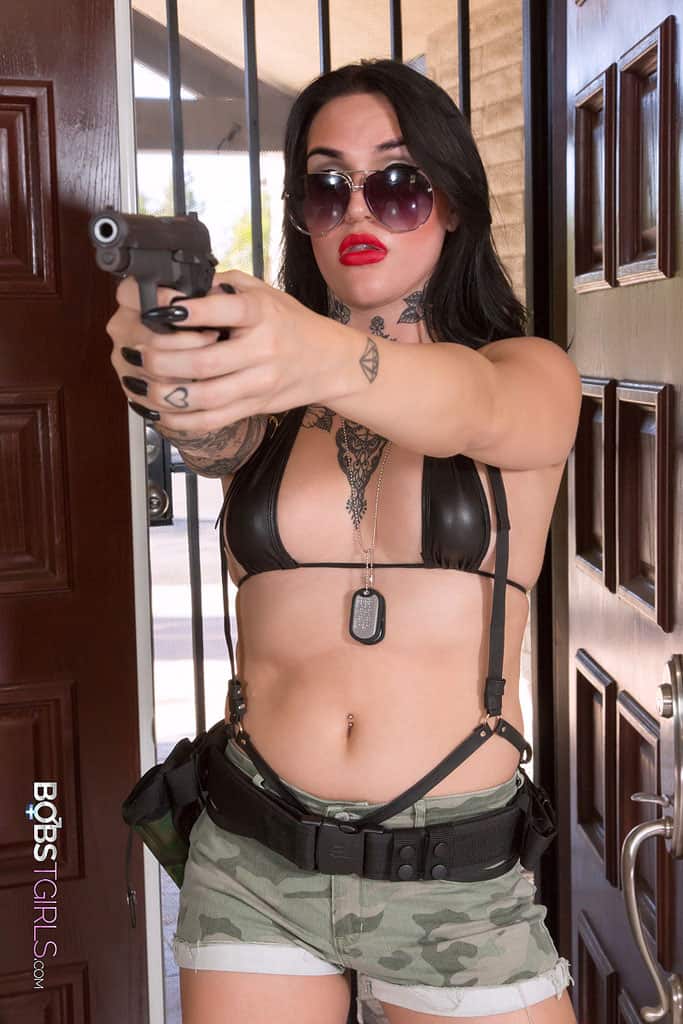 Nadia Love as Nadia Croft at Bob's T Girls
Name : Nadia Love
Date of Birth: September 17th, 1990
Home Town : Riverside, California (US)
Hair Colour : Brunette/ Black / Blonde
Eye Colour : Green
Tattoos : Full right arm sleeve incorporating various floral and pin-up girl designs, cross symbol on her right ring finger, heart symbol on her left ring finger, diamond design on her left wrist, decorative script across her right foot, floral design on her right wrist and hand, two matching floral designs on either side of her hips, large decorative script across her upper back/shoulder blades and large intricate floral designs on the right side of her neck, across her collarbone, down her neck and above her breasts
Piercings : Navel
Years Active : 2016 – present
Number of Scenes : 10+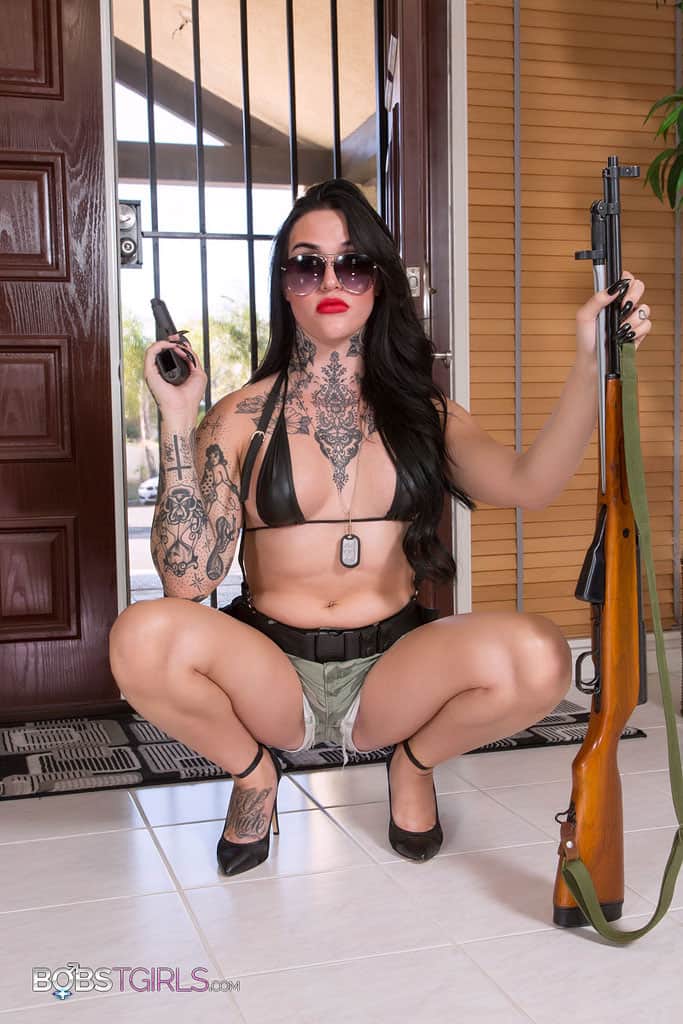 Nadia Love as Nadia Croft at Bob's T Girls
Introducing terrifically tattooed TS starlet Nadia Love! From the moment she filmed her first ever solo sex scenes for Shemale Yum in the summer of 2015, Nadia has stood out from all the rest and has been mesmerising adult film fans with her buxom beauty, vibrant body art and raw sexual charisma. Whether you're a fan of Nadia's Shemale Strokers 83 (2016) and Tranny Handies 3 (2016) DVD compilation titles, or if you just can't get enough of her scintillating live chat sessions that she hosts via Chaturbate, there's no disputing that curvaceous cutie Nadia Love is one of the most sensational TS starlets in the adult entertainment industry.
Hailing from Riverside, California, Nadia made her adult film modelling debut in June 2015 when she posed for an alluring Bikini Babe Nadia Love poolside solo shoot that was photographed by the award-winning adult film director Buddy Wood for the Grooby Network porn site Shemale Yum. Nadia's adult film industry debut was an instant hit that proved so popular among fans that Nadia was crowned as Shemale Yum's "Model of the Month" in June 2015! Buddy Wood loved working with Nadia and enthused via her official Shemale Yum profile that;
"Nadia Love is gorgeous! A beautiful face, an amazing body and a winning personality make her the complete package. This is definitely a girl you could bring home to meet the parents. I was amazed at how friendly and sweet she was but still so damn sexy! Supermodel good looks with all the sexy parts in all the right places and just enough tease to make it fun. I love this girl and I think you guys will too".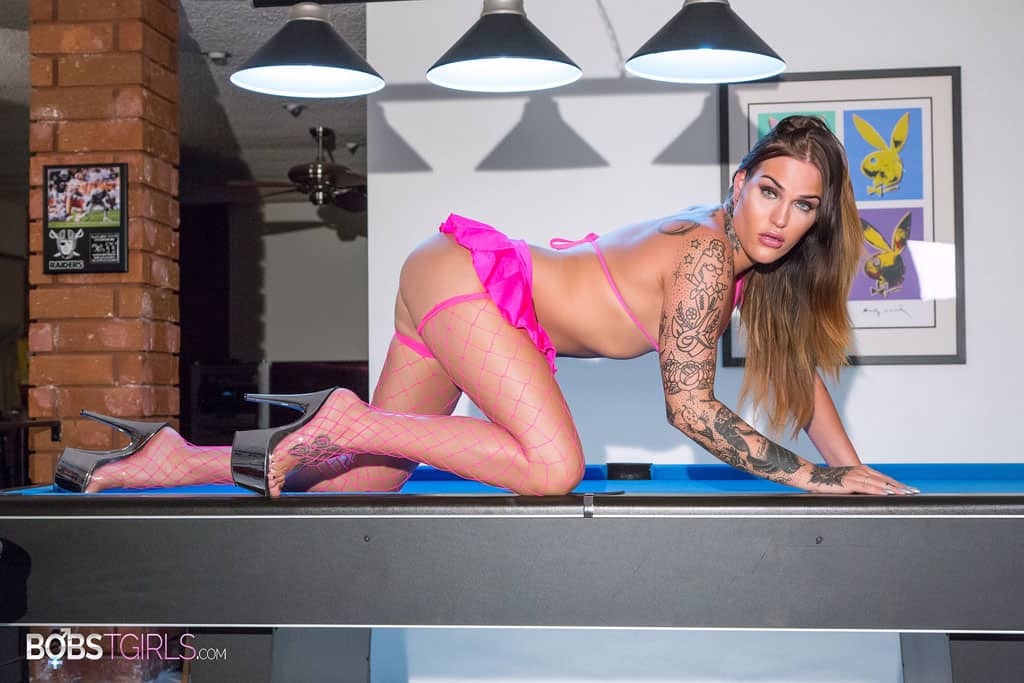 In fact, Nadia has continued to collaborate with Buddy Wood on several saucy solo sex scenes for Shemale Yum including The Beautiful Nadia Love in July 2015, Beautiful Lovely Nadia Love in March 2016 and Sexy Nadia Love Strokes Her Cock! in June 2016 as well as her hot Nadia Love Tastes Robert Axel's Big Hard Cock! hardcore sex scenes in December 2016.
In addition to her ongoing Shemale Yum porn productions with Buddy Wood, from August 2016 onwards Nadia began shooting some sizzling solo sex scenes and hardcore web clips for the Grooby Network porn site Shemale.XXX with the help of famous porn cinematographer Blackula. As matters stand, Nadia has filmed a sultry Nadia Love Is Hot In Gold! solo shoot in August 2016, some raunchy Nadia Love Jacks Off! solo sex scenes in September 2016 and a steamy Horny Nadia's Sexy Hardcore sex scene that was uploaded via Shemale.XXX in October 2016. Nadia's thrilling solo shoots have been highly recommended by fans and film critics. After all, as one Grooby representative aptly put it within an August 2016 Grooby News press release;
"Nadia is the epitome of the gorgeous super vamp model! She has a sultry stare that pierces the camera, dramatic makeup, and lingerie and tattoos to match! This girl is beauty and edge! Enjoy this scene of Goddess Nadia in her killer gold lingerie! You won't be able to get enough!".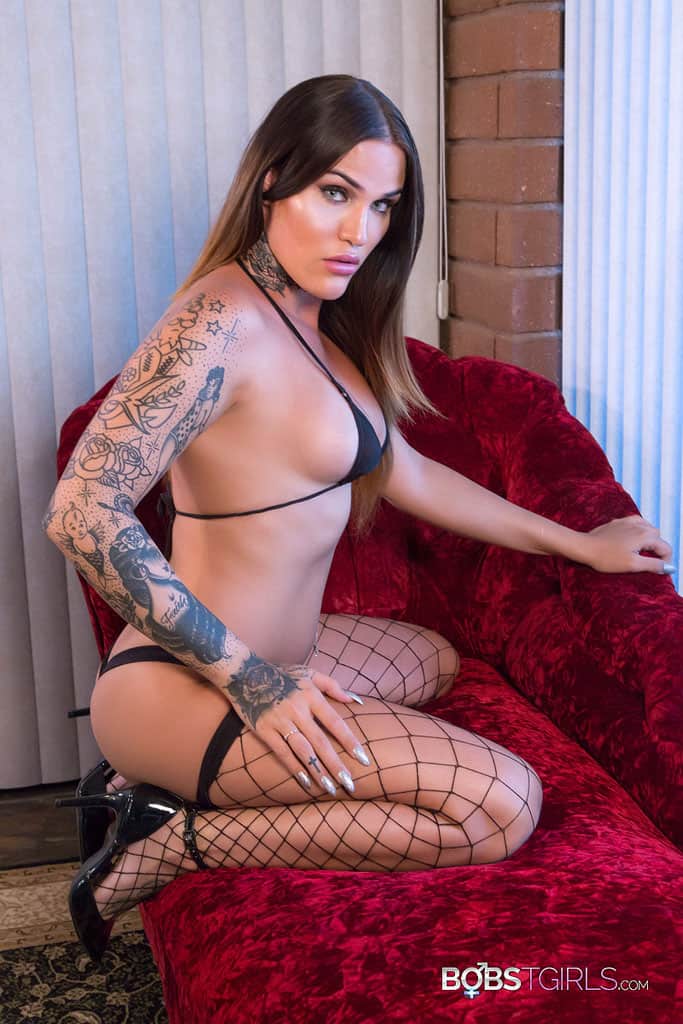 Fans of Nadia's seductive Shemale.XXX shoots will also not want to miss out on viewing her sultry foot/leg fetish themed photo set, titled Nadia Love In Black Fishnets, that was uploaded via the leading trans-friendly porn network Bob's TGirls in August 2016; a must see solo shoot for die-hard Nadia Love enthusiasts!
In fact, Nadia's scintillating black fishnets themed photo set received a rave review from prominent adult film blogger TS Caramel who enthused in her August 2016 Caramel's TGirls article how;
"I had to do a double take when I saw the new Bob's Tgirls set with beautiful Nadia Love. I first saw her on Shemale Yum last year and asked myself, "Is it possible that she's even hotter than back then?" Maybe, maybe not. That would be a tough feat for anyone. You see what I mean with the sample photo set, but she's even more stunning entering the room in a dental floss bikini and those stockings. Her back is facing you at first and then she faces you flashing a dazzling smile. The red chaise lounge is the perfect prop for Nadia to kneel on and shake her hot ass. Bob zooms out a bit to capture her shapely legs also. Then she lowers her v-string panty a bit and bends over again. The view is insane!…Nadia begins to undo one of the straps of her high heels. If you were upset that she was wearing shoes that covered her dainty feet and perfectly pedicures toes, she's got you covered. Not only that's she performs a little toe wiggling and arch flexing foot shoe for her pretty ped loving fans…You just might fall in love with Nadia Love on Bob's Tgirls".
When she hasn't been shooting some sensational solo sex scenes for the Grooby Network, Nadia has been treating her fans to some steamy sex scenes with Christian XXX. We recommend checking out Nadia's Stunning Beauty Nadia Love Jerks Off Her Boy Toy POV sex scenes that were filmed for Christian XXX's transsexual porn site Pure-TS.com in July 2016. Christian XXX has since showcased Nadia within his CX WOW Studios DVD compilation title Tranny Handies Volume 3 (2016) alongside fellow rising TS starlets Mara Nova, Britney Boykins, Sue Lightning, Jeena Doucure, Lexi Cooper, Salina Simone, Trixie Turner, Juliana Nogueira and Lina Cavalli.

A defining moment in Nadia's adult film career came in October 2016 when she filmed her first ever solo sex scenes for Sammi Mancini's award-winning Shemale Strokers TS DVD series. Nadia's sensational solo shoot was featured within Shemale Strokers 83 (2016) also starring fan-favourite transsexual performers Aspen Brooks, Casey Kisses, Lianna Lawson, Chanel Santini and Sue Lightning. Talking about the commercial release of Shemale Strokers 83 within an October 2016 XBIZ News press release, Sammi Mancini eagerly expressed that;
"This latest edition of 'She-Male Strokers' is definitely one of the best we've put out this year…It features fan favorites and even a few newbies. Every scene is amazing and each girl delivers a command performance. The fans are really going to enjoy this one".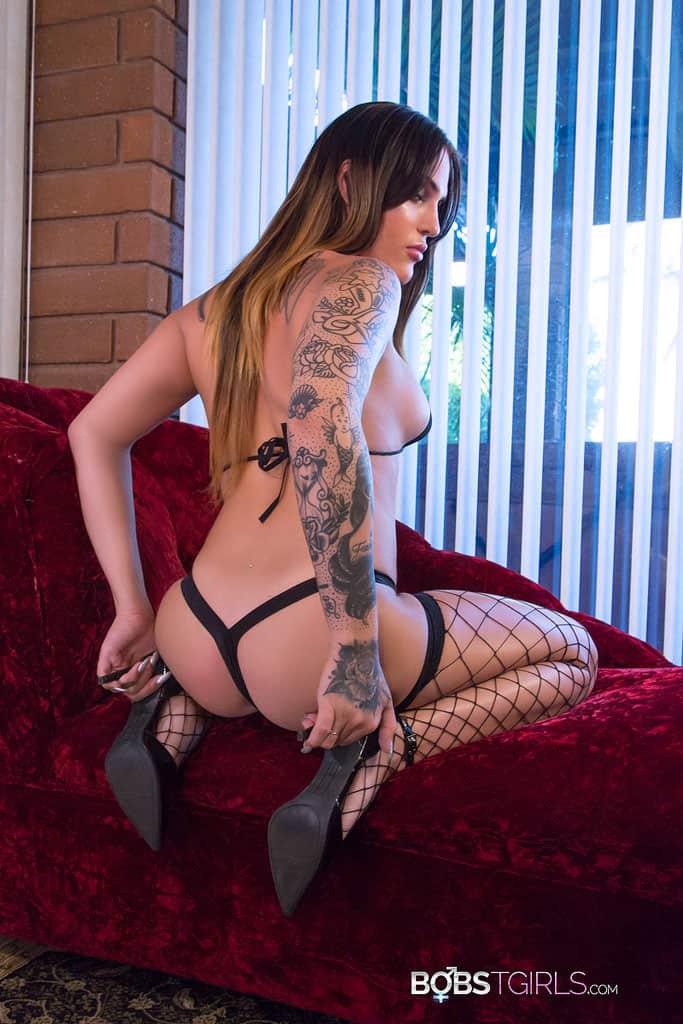 A natural born performer, Nadia's captivating curves, sizzling stage presence and amicable personality have earned her an avid fan following as well as a notable nomination at the 2017 Transgender Erotica Awards for the coveted title of "Best Solo Model". Nadia was thrilled to receive this prestigious adult film award nomination and she remains extremely grateful to her loyal fan base for their ongoing support and praise. As a matter of fact, when she isn't performing in porn Nadia loves hosting some kinky live chat sessions via Chaturbate with her international fan following as well as interacting with her global fan base via Twitter, Instagram and Snapchat. Fans of Nadia Love will also be happy to hear that this terrifically tattooed starlet often attends TGirl Nights parties which are held in exclusive gentlemen's clubs across the nation. Most recently, Nadia attended Jamie Jameson's TGirl Nights Super Bowl Party in Long Beach, California, alongside her fellow Grooby Girls Tori Mayes, Sofia Ferreira and Isabella Sorrenti.
If you'd like to learn more about Nadia Love's upcoming porn productions, live chat sessions and public appearances then please feel free to use the links provided below to check out her official social networking channels. Keep yourself connected with your favourite tattooed TS starlet online today!
Social Networks
Twitter : @tsNadialove
Instagram : @1patriciajames
Snapchat : patriciajames1
Chaturbate Profile : 1socalnatasha
Shemale Yum : Nadia Love at Shemale Yum
Shemale.XXX Profile : Nadia Love at Shemale XXX
Adult Empire DVD Profile : Nadia Love at Adult DVD Empire
Gamelink DVD Profile : Nadia Love at Gamelink