Personal Info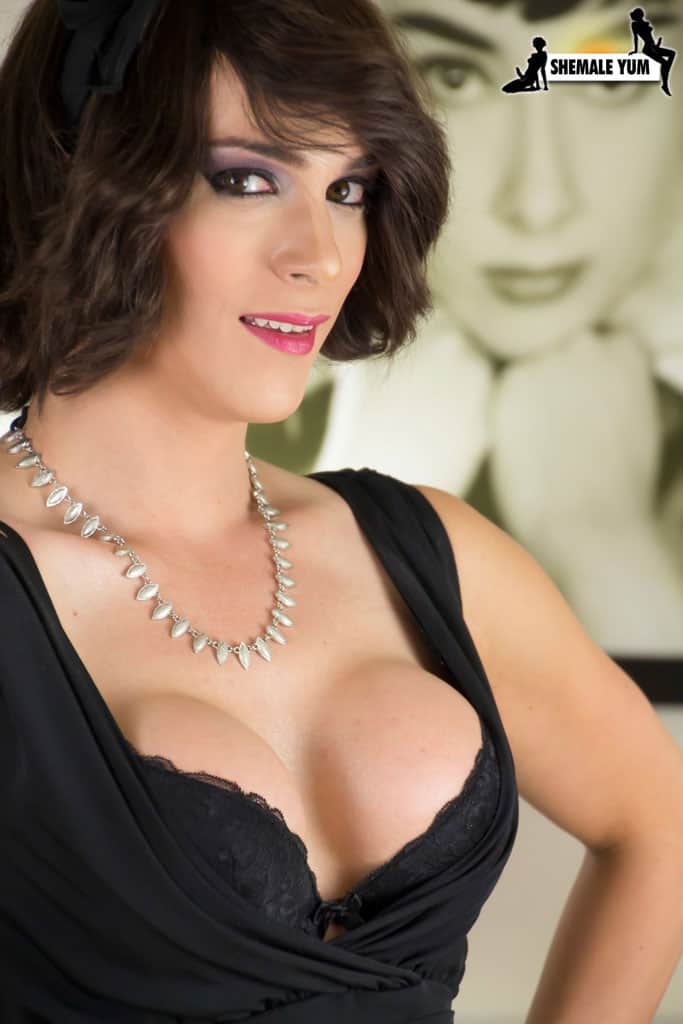 Name : Nina Lawless
Hometown : Mexico City (Mexico)
Date of Birth: June 8th 1989
Measurements : 34D – 26 – 34
Bra/ Cup Size : 34D
Boobs :  Enhanced
Height : 5'5 (1.65m)
Weight : 129lbs (59kg)
Hair Colour : Black/ Brunette/ Blonde/ Red
Eye Colour : Brown
Tattoos : Arabic script on the upper section of her right arm which has since been covered up by a black band and a large armour plating design across her right shoulder and upper breast, a large design on the upper section of her left arm of armour plating and a green dragon's eye which continues across her shoulder and upper breast, as well as a series of colourful character designs that make up a sleeve on her right forearm and part of her right hand
Years Active : 2014 – present
Number of Scenes : 30+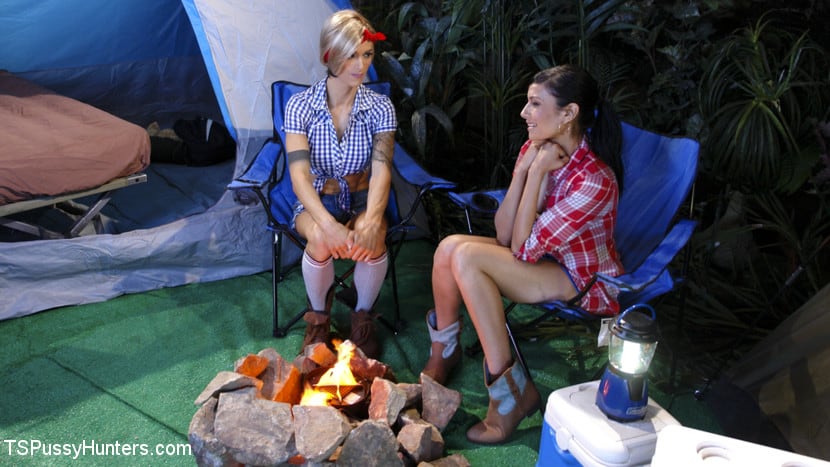 Nina Lawless at TS Pussy Hunters
Since 2014, transsexual porn star Nina  Lawless has taken the adult entertainment industry by storm with her captivating looks, confident nature and charismatic personality!
Although she now lives in San Francisco, California, Nina Lawless was actually born in Mexico City, Mexico, and this Latino lovely is of Welsh and Spanish descent. Ever since she was a child Nina has always been a keen dancer and chef; training in both ballet and the culinary arts. In fact, when Nina was asked to name one of her role models during a She Male Heaven interview in January 2015, she cited the famous American chef Anthony Bourdain, and explained that;
"From kitchen to addiction to world travelled journalist with a show now on CNN. He embodies the well rounded and life hardened but hopeful individual I hope to grow to become".
In addition to her culinary talents and passion for dance, Nina is a charismatic individual who is an inspiration to aspiring transsexual performers due to her body confidence. After all, as Nina revealed during her She Male Heaven interview, her decision to commence her transition process and publicly embrace her true gender identity was always an obvious choice for her;
"It was not hard coming out and for me personally I don't see being transgender as being a hard life. Life is hard for most everyone no matter who you are…I chose to fight my way to where I am today but I wouldn't go as far as to say that my life is hard because I am transgender, life is hard because it is life. I feel that if you want something and know you deserve it then you simply go for it, period, no questions asked no matter what's in the way".
Nina Lawless : Adult Film Career
Nina's assertive personality, stunning looks and ambitious nature equipped her with the necessary resources to pursue a career as a porn star. Before filming her first ever sex scenes, Nina had previously worked in local nightclubs as an erotic dancer; skills which resulted in Nina landing a feature dancing role at the 2014 Transgender Erotica Awards (TEAs). Following this feature dancing and guest hosting role at the TEAs, Nina made her debut appearance on the She Male Strokers website in March 2014 via a 33 minute solo shoot which offered viewers a glimpse into the life of this rising porn starlet.
Spurred on by the positive fan response from her She Male Strokers online content, Nina appeared within a variety of DVD feature releases and website sex scenes throughout the year. Some of Nina's most popular pornographic productions that were filmed in 2014 include; Transsexual Cheerleaders 15 for Devil's Film, TS Pussy Hunters: New TS Talent Nina Lawless Dominates Daisy Ducati With Her Cock for Kink.com and Transsexual Nurses 13: Code Red for White Ghetto. Nina also appeared in Transsexual Sexcapades; a Trans 500 Studios DVD feature release that was distributed by Pure Play Media in September 2014. Nina starred alongside Eva Lin, Daisy, Alessandra Ribiero, Juliana Souza and Rafaella Ferrari.
At the end of the year Nina appeared within All T-Girls Volume 1; a DVD feature release which marked the beginning of a new DVD series for renowned adult film director Radius Dark. Within this Third World Media and Grooby Productions collaboration Nina performed all manner of four-way sex scenes with her fellow TS stars Chelsea Marie, Miranda Meadows and Michelle Firestone.
Following the success of All T-Girls Volume 1 when it was distributed in November 2014, in January 2015 Nina was cast in the latest instalment of the extremely popular Rodnievision DVD series; She-Male Strokers 67 and 71. Distributed by Exquisite, Nina was chosen to pose as one of the cover models for She-Male Strokers 71 alongside her friend and fellow TS star Melanie. Both She-Male Strokers 67 and 71 showcased Nina and her fellow TS stars Kendra Sinclair, Jonelle Brooks, Kelli Lox, TS Gina Hart, Kelly Klaymour, Penny Tyler, Korra Delrio, Jasyln Lee and Lexa Harding in a wide range of solo sex shoots.
Nina's string of successful DVD feature releases throughout 2014 and into 2015 earned her multiple adult film award nominations at the 2015 Transgender Erotica Awards; including "Ms. Unique" and "Best Hardcore Performer". Nina was awarded with the title of "Ms. Unique"; an impressive accolade which resulted in Nina being invited to star in the Grooby Network DVD feature release; the aptly titled The TEA Show 2015. Also starring Jessy Dubai, Kylie Maria, Kelly Klaymour, Michelle Firestone, Korra Del Rio, Robert Axel and Christian XXX, The TEA Show 2015 showcased the hottest TS porn stars who had impressed fans and adult film critics alike at the Transgender Erotica Awards. Speaking about this star-studded DVD feature release in an XBIZ news article, Grooby's Marketing and Editorial Director, Kristel Penn expressed how;
"We wanted to give fans a title that features some of our favorite standout performers from this year's show. Much like we did with previous bestselling DVDs, "5th Annual and 6th Annual TS Awards The Winners'". 
As matters stand, Nina has received multiple adult film accolades over the past two years for her raunchy porn star performances. Some of Nina's most notable adult film award wins and nominations have been listed below;
2015: Transgender Erotica Awards winner — "Ms. Unique"
2015: Transgender Erotica Awards nominee — "Best Hardcore Performer"
2016: Transgender Erotica Awards winner — "Kink"
2016: AVN Awards nominee — "Favourite Transsexual Performer (Fan Award)"
2016: AVN Awards nominee — "Best Transsexual Sex Scene" — She-Male Idol: The Auditions 6
2016: AVN Awards nominee — "Best Transsexual Movie" — She-Male Idol: The Auditions 6
2016: AVN Awards nominee — "Best Transsexual Movie" — Trans-Visions 3
2016: XBIZ Awards nominee — "Transgender Release of the Year" — Trans-Visions 3
2016: XBIZ Awards nominee — "Transgender Release of the Year" — Hot for Transsexuals 1
Throughout 2015 Nina continued to appear in a wide range of online sex scenes and DVD feature releases. Some of her fan-favourite sex shoots featured within the popular TS DVD series; TS Playground. Nina appeared in TS Playground 20 and 21, both of which featured  stellar casts including; female porn star Adriana Chechik, male porn stars Christian XXX, Alex Victor and Max Scar as well as many popular TS stars including Vixxen Goddess, Bruna Butterfly, Brenda Castro and Nicole Bahls.
In July 2015 Nina also appeared alongside Jonelle Brooks, Kendra Sinclair, Aubrey Kate, Nickey Huntsman, Sheylla Wandergirlt and Vixxen Goddess in the Evil Angel production Trans-Visions 3. This popular pornographic production was directed by Joey Silvera and featured a diverse array of saucy sex scenes between incredibly feminine TS stars, male performers and biological female porn stars. Nina and her fellow cast members were rewarded for their cinematic exploits when Trans-Visions 3 received nominations for "Best Transsexual Movie" and "Transgender Release of the Year" at the 2016 AVN and XBIZ Awards. Nina has since appeared in Trans-Visions 6 within which she shared a sex scene with Nina Stark. Hopefully Nina will continue to feature in future instalments of this popular TS DVD series in the years to come!
In September 2015 Nina was featured within TransSensual's new and exciting DVD series TS Massage. Starring leading TS porn stars Vixxen Goddess and Aubrey Kate, this massage-themed erotica was created by leading adult film director Nica  Noelle who told AVN reporters that;
"Massage-themed movies are among my favorite to shoot because I can really focus on the sensuality, tension and build up leading into the actual sex scene. I had fun tying a few of the scenes together here, so it has a bit of a 'feature' feel even though the scenes can also stand on their own. The cast is beautiful, and the sex is on point all the way through. The fans are going to love it!".
Nina has since collaborated with Nica Noelle and Aubrey Kate within the TransSensual production TS Beauties. XCritic adult film blogger Apache Warrior endorsed the TS Beauties cast upon the production's commercial release in October 2015, expressing how;
"The women in this film are beauties with superstar Aubrey Kate and sex goddess Gina Hart leading the way. The sex scenes are personal and at times erotic. Nina Lawless and Riley Quinn's performances are the most memorable and personal". 
In 2015 Nina starred in She-Male Idol: The Auditions 6 alongside Ashley Luvbug, Bianca Hills, Delia Delions, Fernanda Cristine, Kate England, Vixxen Goddess, Thalia Brasil and male porn stars Robert Christian, Tony Lee and Alex Victor. She-Male Idol: The Auditions 6 was directed by Joey Silvera, distributed by Evil Angel, and Nina's performance with Ashley Luvbug earned them both a nomination at the 2016 AVN Awards for the prestigious "Best Transsexual Sex Scene" accolade. As XCritic column writer Apache Warrior enthused when this film was commercial released in September 2015;
"Nina Lawless was her usual outstanding self in her performance with cutie pie Ashley Luvbug".
Over the years Nina Lawless has amassed such a devoted fan following due to her ability to perform in all manner of soft-core and hardcore content. Some of her most popular pornographic productions incorporate elements of the BDSM genre, such as her appearances within Aiden Starr's Hot For Transsexuals DVD series. Created in collaboration with Evil Angel in October 2015, Nina starred alongside fellow TS porn stars Jonelle Brooks, Tyra Scott and Honey Foxxx and also shared some raunchy scenes with male porn stars Mike Panic and Brock Avery. Hot for Transsexuals 1 was so well received by fetish and TS porn fans that it was nominated for "Transgender Release of the Year" at the 2016 XBIZ Awards.
Spurred on by the success of Hot for Transsexuals 1, in March 2016 Nina appeared in the Evil Angel DVD feature release TS Factor 1 alongside Anna, Deborah Mastronelly, Fon, Kassondra Raine, Nicoly Sanches, Toei, Barbara, Bo Ryder, Diego Alemao, Name and Tony Lee. Directed by award-winning adult film personality Joey Silvera, TS Factor 1 was a popular pornographic production amongst fans due to the broad range of sex scenes it depicted between its cast members. As such, Nina was recruited to appear in the latest instalment of this DVD series, TS Factor 6, which is expected to be distributed in late 2016. As Justin Rich, Evil Angel's domestic sales manager, aptly stated in an XBIZ press release;
"There's something for everyone, whether the fan prefers TS-on-male, TS-on-genetic female, TS-on-TS or intimate, solo moments…Joey proves again the special sense of she-male beauty that has lifted the entire transsexual porn niche. And buyers should note that his new series always do well".
Most recently, Nina has starred alongside Tiffany Starr, Aubrey Kate, Honey Foxxx, Rebeka Refuse, Mistress Cybill Troy and Mistress Elena DeLuca in the hardcore superhero parody production Trans-Fantastic Four. Distributed in August 2016, this DVD feature release was directed by Blackula who discussed in an XBIZ press release how;
"When we came up with the idea, we realized no one in our genre had touched the cosplay market yet…When the girls realized this, they really gave it their all. This was such a fun shoot — everyone got really into character".
Nina Lawless: Personal Views On Relationships & The Transgender Community
Despite her confidence in her own gender identity, Nina has expressed in previous interviews that the transgender community as a whole has yet to be fully embraced by mainstream media and society in general. As Nina expressed during her She Male Heaven interview in January 2015;
"Trans women aren't really that "popular" in my opinion. I think that in the media today there are a lot of popular drag queens and that we, regardless of having well known trans representation, are thrown in with the drag community…
Drag Queens are very popular and I think straight America just kind of throws us in there with them assuming they understand and are in the know but ultimately are accepting us based upon the misconception that we are just spirited gay men underneath a layer of makeup – which is a pill perhaps a bit more easy for them to swallow…
A common misconception…Hmm…That transvestites, cross-dressers, and drag queens are Transgender individuals…As if to say, they most absolutely are not…
What bothers me is that we have representation…but those that are in the lime light and representing us (while being absolutely wonderful individuals) don't represent us full circle. At the moment I don't feel there is a strong representation for the trans sex working community, which is a great deal of us and at the very least 3/4's of the trans population. The representation that we have are at that sweet spot where they are accepted and even if they did sex work to survive or just because they enjoyed it they don't delve too deeply and share it. I feel we need the face…that representation in the media that is the sweet and sour and represents the sex working trans individuals unabashedly".
Following on from this point, Nina highlighted that it is these misrepresentations in the mainstream media that can often make it so difficult for transsexuals to date people who are not transgendered. However, Nina does not necessarily regard these differences to be a bad thing. In Nina's opinion, a non-transgendered person;
"will never really understand and they keep trying and it get's kind of annoying. Just accept that you can't ever understand and be ok with that. Being different and having different experiences is what makes life with your partner interesting".
Nina hopes that by vocalising her personal opinions she can shed some much needed light on these important issues. In so doing, Nina and fellow transsexual performers can start a dialogue which will encourage a more positive public perception of the LGBT community and transgendered people can begin to become accepted within mainstream culture.
If you'd like to learn more about this inspirational transsexual performer and her latest projects then why not visit Nina's official social networking channels today? Nina continues to update her solo website, Twitter profile and adult-cam site accounts with exciting new content and exclusive insights about her upcoming DVD feature releases and public appearances!
Social Networks
Official Blog Site : ninalawless.com
Shemale Yum :  Nina Lawless at Shemale Yum

Twitter : @TSNinaLawless
Chaturbate Profile : Chaturbate
Kink Profile : Nina Lawless 52751
Email : Tsninalawless@gmail.com
IMDB Profile : http://www.imdb.com/name/nm6718422/