Personal Info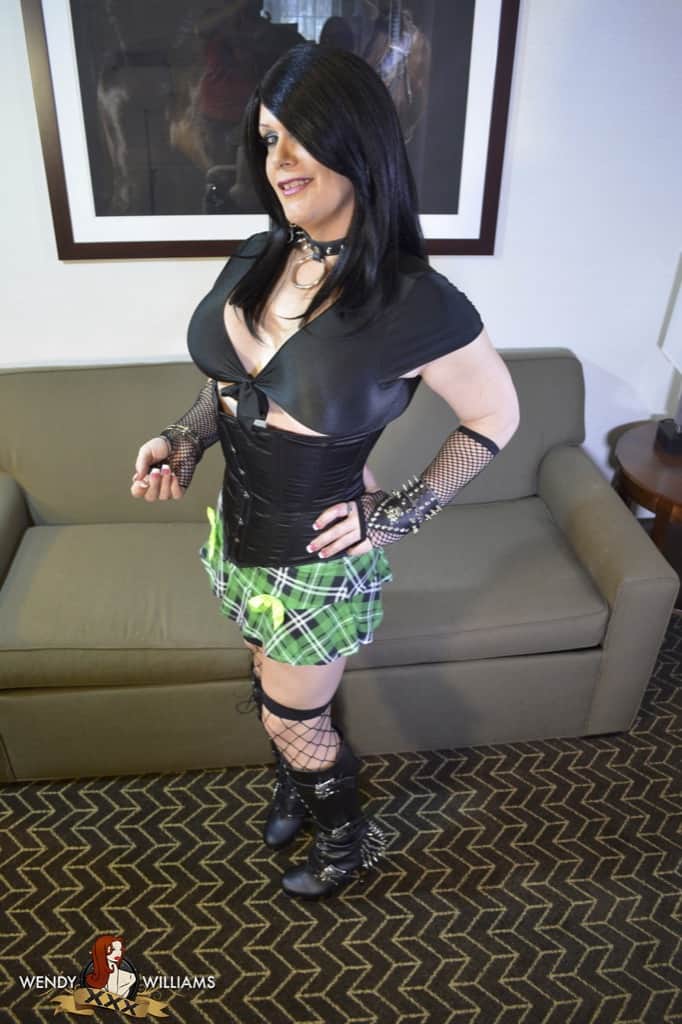 Raven Roxx at Wendy Williams XXX
Name : Raven Roxx
Hometown : Killington, Vermont (US)
Date of Birth : May 15th, 1976
Measurements : 36DD – 26 – 32
Bra Cup/Size : 36DD
Boobs : Enhanced
Height : 5'6 (1.67m)
Hair Colour : Brunette/ Blonde/ Red/ Black
Eye Colour : Blue
Tattoos : A large roses and filigree design on her upper right arm and a vibrant Harley Quinn design across her lower back with accompanying 'Wild Card' script. Talking about her tattoos during her December 2016 Caramels TGirls interview, Raven explained how;
"The ink on my right arm is a cover up, but I love roses and filigree, so naturally that's what I went with. Plus I just wanted to erase an obvious male tattoo to appear more feminine. I've always loved Harley Quinn, so when I did my lower back piece, I wanted the focal point to be a cute version of her. The banner reads "Wild Card", which I thinks describes me well. I just love tattoos. Some of the sexiest men and women in my mind are covered in tattoos".
Piercings : Navel, nose and tongue
Pets : One dog. Talking about her pets in her XCritic interview, Raven mentioned that;
"I love animals, they are so cute.  Over the course of my life, I've had dogs, cats, birds, and horses.  Without a doubt, I'm a dog person.  I have a 16 year old dog who is my baby. I love that dog like he was a child of mine". 
Years Active : 2015 – present
Number of Scenes : 10+
Introducing rising TS starlet Raven Roxx! Famous for her intimate live chat sessions and saucy solo website content, Raven Roxx is an up and coming transsexual performer who has just been nominated for "Best Trans Cam Model" at the 2017 XBIZ Cam Awards. Watch this space!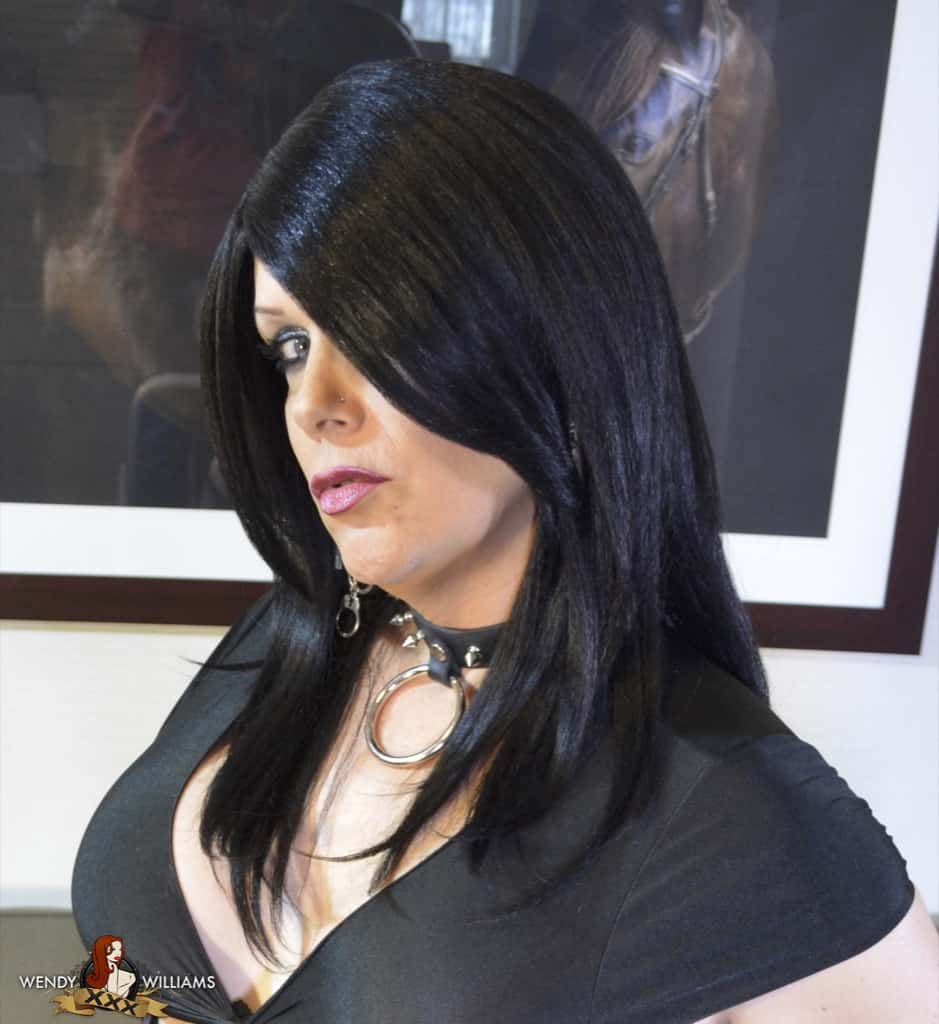 Raven Roxx at Wendy Williams XXX
Born and raised in upstate New York, Raven has been aware of her true gender identity from a young age but did not feel that she could openly embrace it due to her conservative upbringing. As Raven herself explained within her January 2017 Adult DVD Talk interview;
"My first memory of feeling like I wasn't in the right body I was 4-5 years old. It's literally the first time I ever wore clothing specifically designated for the opposite gender. I wasn't even sure what to call it but I knew I wasn't like the other kids. All during my adolescent years I cross dressed. I hid it very well though and no one had a clue. I thought I was alone, and no one else in the world felt this way. In high school I had more girl friends than guy friends, and I was always more comfortable around girls. I felt like I just didn't fit in with 'the guys'… I guess if I had to label it I'd say pansexual. I'm attracted to men, women and transsexuals".
Raven has been happy to discuss her childhood years in previous interviews and has highlighted within her XCritic interview with Apache Warrior that;
"I always knew I was different.  I knew from the age of 4-5 years old that I wanted to be a girl.  But I came from a hyper homophobic family so I learned to suppress and hide.  I did it by doing high school sports, joining the military, getting married, buying fast cars and making them go faster.  I created a male "character", but that's all he ever was.  Raven is who I've always been.  In 2013 I finally was brave enough to actually start pursuing my dream of transitioning and living my life as Raven….I was a happy kid.  I can't say my gender dysphoria was so be that it ruined my childhood.  I was not a very outgoing kid, probably a more shy, border lining introvert.  I sound like a psychologist!  But I rode bikes, played video games, had snowball fights. I played in Little League, and Pee Wee wrestling.  I had a very typical childhood".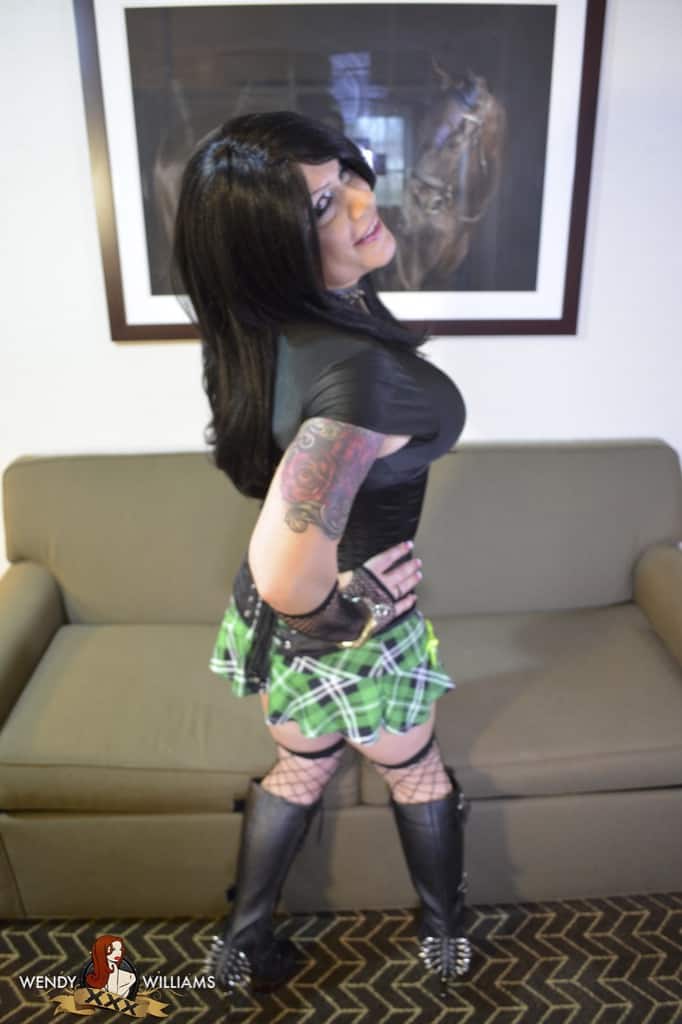 Raven Roxx at Wendy Williams XXX
After graduating from high school, Raven became married, enlisted in the military and was stationed in Fort Knox, Kentucky. In the years that followed, Raven decided to settle in Kentucky and has frequently expressed her love for the Bluegrass State. As Raven stated within her December 2016 Caramels TGirls interview;
"I ended up in Kentucky because I was stationed at Ft Knox back in the late 90's. I was totally sucked in by the beauty of the Bluegrass region. I moved to Georgia to pursue my career but after several years I was offered a position that allowed me to return to this beautiful state. While Kentucky isn't exactly known for being a liberal leaning socially progressive place, I actually have met some of the sweetest, most genuinely supportive people here. Plus it is a very pro second amendment state and I love my firearms!".
After many years of feeling conflicted with her true gender identity, in the summer of 2013 Raven decided to fully embrace her true self and commenced with hormone replacement therapy. During this time Raven met Kimber Haven who has supported Raven throughout her transition process and adult film career. Raven has always been eager to praise Kimber and ardently enthused within her December 2016 Caramels TGirls interview how;
"We had actually known of each other and were friends on Facebook for a few years before ever meeting. Immediately following the collapse of my marriage because I came out, Kimber messaged me because she knew I was in a dark place. She gave me her contact info and told me if I needed to chat, she was there. Obviously I did, and she invited me to come over to do a makeover since I was still fairly new to makeup. She did my makeup, but things ended up getting a bit steamy. After that night, we realized we had a lot in common, and we started hanging out a lot. As time went on we got really close. Then in July of 2015, we took a trip to Orlando, Florida together. That's when I discovered just how wild she was, and how wild I could be. We have been on many trips since then, and we seem to push the limit just a little further on each and every time. After the first trip of debauchery, Lexis Steel of Twiceasnaughty.com now comes on all the trips too…
Kimber and I kind of experimented a bit early on, but the way our personalities mesh, we soon found that her dominant side seems to really bring out my submissive side. Kimber is by nature, very dominant with me. I'd be lying if I didn't admit that Kimber has had huge influence on me, but I'd be remiss to not mention Lexis. She is Kimber's sexy Latina wife, and I value her opinion and input as much as Kimber's. They both have helped me become the person I am, a total bimbo slut".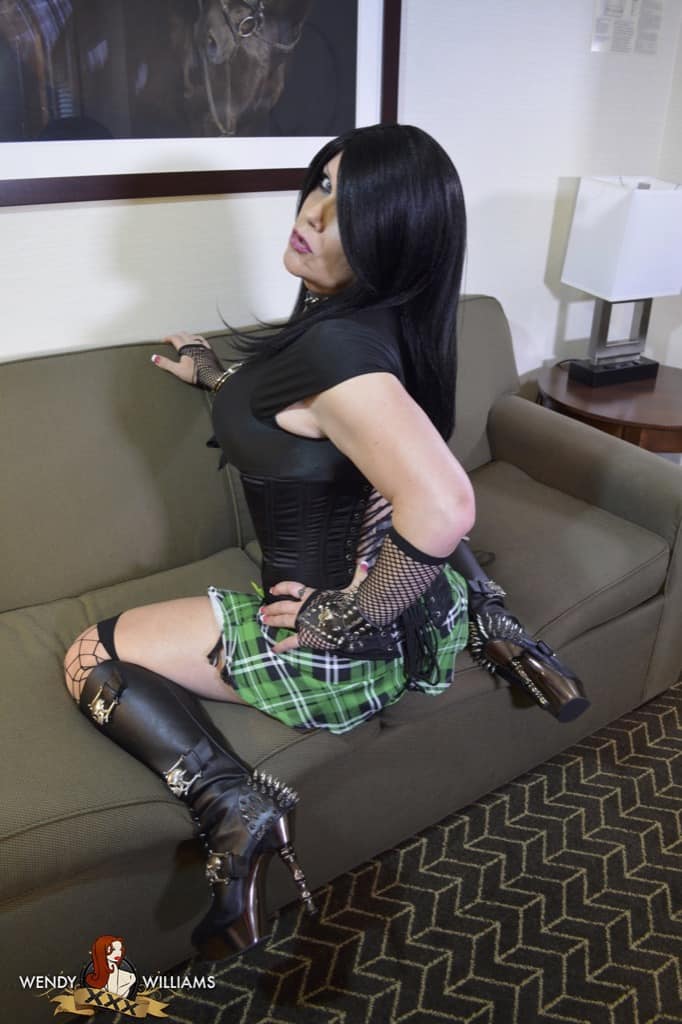 Raven Roxx at Wendy Williams XXX
By 2015 Raven had transitioned and was fully embracing life as a woman. During this time, Raven began attending Wendy Williams' famous TGirl Parties in Lexington, Kentucky with Kimber Haven. Before long, Raven and Kimber began performing at these TGirl Parties as exotic dancers and when Kimber began to pursue a career as a porn star Raven decided to follow suit! As Raven herself explained within her XCritic interview;
"Around the middle of 2015, I had successfully transitioned fully and was living as a female. The act of coming out was like a drug to me. I was fortunate in my transition and it went very well, so after all the excitement and attention started to dissipate I felt this void, and life went back to being boring. Around that same time, Kimber Haven (@KimberHaven) and I had been frequenting The Lexington Tgirl parties that Wendy Williams (@TsWendyWilliams) puts on, and Kimber had actually started dancing there. She suggested I speak to Wendy to see if she needed another dancer, and she did so I started dancing. Not long after, Kimber started doing porn, of course I naturally was like "I want in" when I was able to see how much fun she was having.  So Kimber set up a Betty Page/fireplace shoot and had me come over.  The photo shoot went really well but then we got to the solo masturbation video part.  Now I had never jerked it in front of anyone, so it literally took me 15+minutes to get off.  Now, I can rub one out on cue.  It's funny how that works".
In this manner, Raven chose the porn star stage name 'Raven Roxx', launched her official solo website RavenRoxx.com and created a webcam profile on the adult cam site Chaturbate. And the rest, as they say, is history! Talking about the origins of her porn star stage name within her January 2017 Adult DVD Talk interview, Raven commented that;
"Well, after deciding I wanted to do porn, I was talking with Kimber Haven (@Kimberhaven) and she was like 'you need a good porn name. Any ideas?' Back in the early days I was very goth looking and I went by the name Cynister VanHelsing. Obviously, that wasn't going to cut it, but I still wanted something that represented my punk/metal roots. After some brainstorming Kimber threw the name out as a possibility. I actually liked it and it still gives a dark vibe but has a porn sound to it so I was like 'hell yeah!'".
Raven Roxx : Adult Film Career
As mentioned above, Raven Roxx began working in the adult entertainment industry in 2015 when she filmed her first ever solo sex scenes for her official solo website, RavenRoxx.com, that were photographed by her friend and fellow porn star Kimber Haven. Raven discussed the creation of her official solo website and the beginning of her adult film career within her January 2017 Inside The Porn interview, divulging how;
"It all started from boredom believe it or not.  I had successfully transitioned and I was out to all my family and friends.  For me that was a very exciting point in my life.  But once I was fully out, that high was fading, and I was a bit addicted to it.  I started looking for another high to replace the one I was losing.  Kimber Haven(@Kimberhaven) saw that I was in a funk and at first she suggested that I start dancing at the Lexington Tgirl Party hosted by the legendary Wendy Williams (@TsWendyWilliams) which I did.  That was fun but I was looking for more.  So Kimber approached me about doing some porn.  Kimber showed me how to set up my website and actually filmed my very first movie I ever shot, a solo masturbation scene".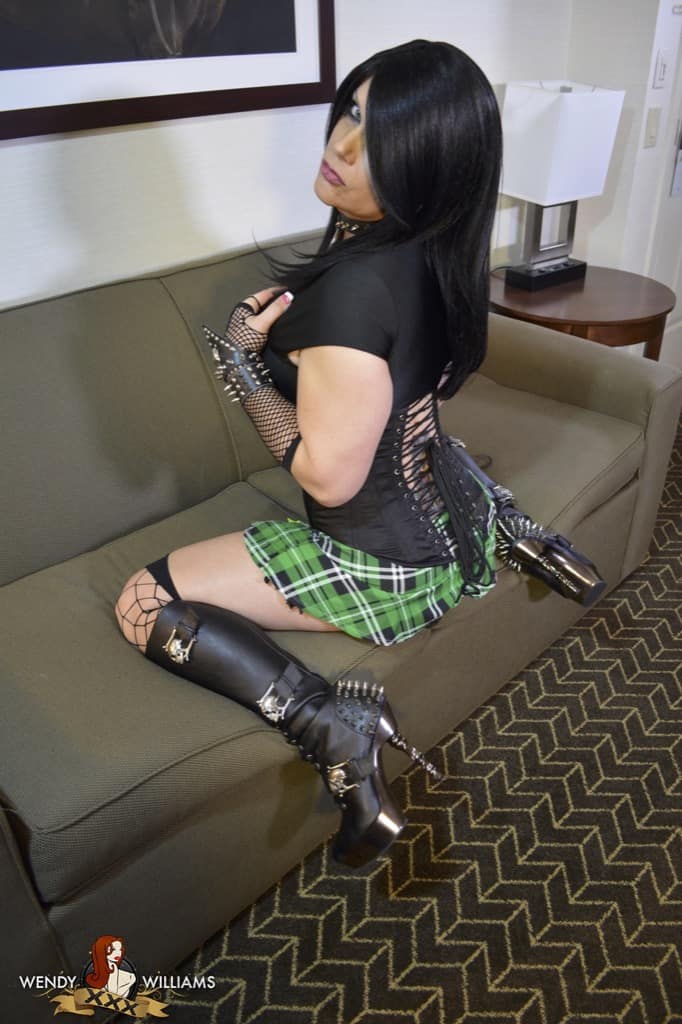 Raven Roxx at Wendy Williams XXX
After making her adult film industry debut, Raven began to shoot a wide range of seductive solo photo sets and hot hardcore sex scenes for RavenRoxx.com that she was able to launch in collaboration with Model Centro. Some of Raven's sauciest photo sets include her amazing army-themed Tranny Militia photo set, her raunchy Tranny Pet and Kimber's Play Chest hardcore sex scenes that she filmed with Kimber Haven, her kinky Wonder Shemale cosplay shoot, her compelling Car Trouble auto-themed sex scenes with Razor Rammington and her naughty schoolgirl Too Bad For School photo set. Fans of Raven Roxx's kinky web content will also want to check out her titillating Tranny Cum Whores three-way that she filmed with Kimber Haven and Denzel Dickstone, her ravishing Rock Star photo set, her thrilling Bad Boy Gets Dominated femdom BDSM sex scenes, her alluring I Was Horny hardcore sex scenes within which Raven starred alongside Donovan Longwood and her raunchy Chaturbate Cam Show three-way with Kimber Haven and Razor Rammington; not to be missed! Raven loves shooting all manner of exclusive web content and has saucily stated via her official solo website that;
"This website is the only place where I will post my most dark, dirty, and kick ass pics and videos. I built this especially for my fans, because I love y'all so much.  So if you want to be a part of the dirty fun I have, create an account now. This VIP account will provide you updates for new shoots, trips I'm am planning, and performance dates, It will also let you see when I get dirty with some of my close transsexual friends.  So if you wanna keep up with me, make sure you're keeping up with all of me.   I try and do a little something special for my new fans, so expect some exclusive live shows for when you get inside. I like being real and accessible for all my fans, and I really like having fun and enjoying myself!   Why not come inside, and have some naughty fun with me?".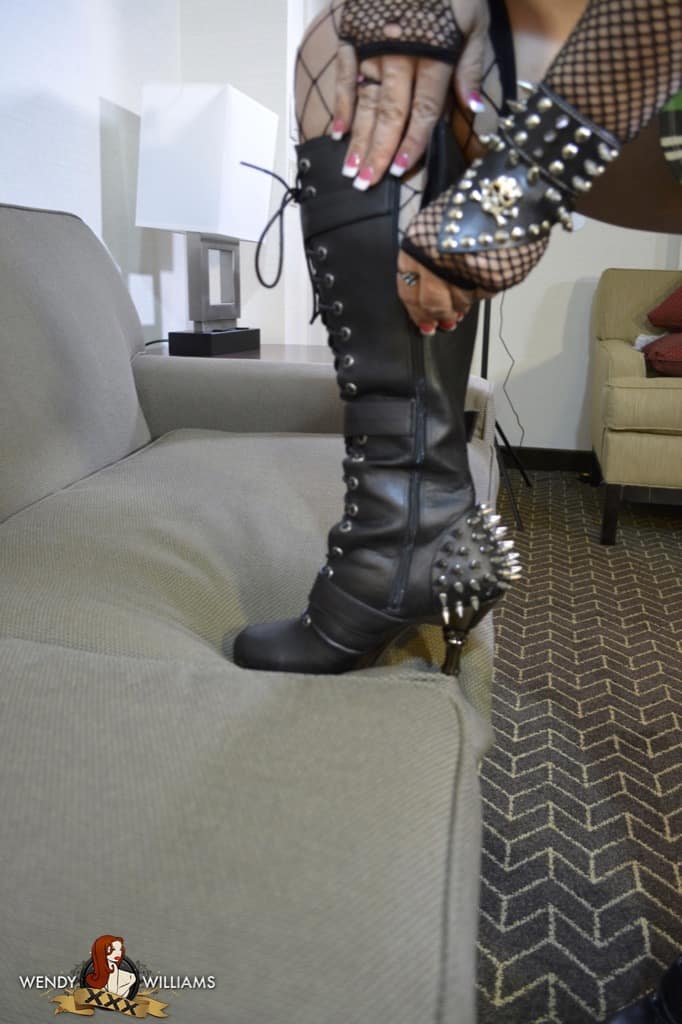 In addition to her ever-increasing collection of exclusive solo website content, from 2015 onwards Raven began to amass a devoted fan following due to her intimate live chat sessions that she continues to host via the adult cam site Chaturbate. Raven has always enjoyed performing as a webcam model and has enthusiastically stated within her XCritic column interview that;
"I think for me, I love camming because I get to know my fans. It's different than just doing porn in that there is a genuine, candid interaction between the performer and the viewer. I truly love my fans, and camming gives them a way to engage me instead of just watching me in a movie, and wondering what I'm like to chat with. I also get immediate feedback about what the guys (and girls) want, what they don't. Trust me, they tell you pretty quickly both ways".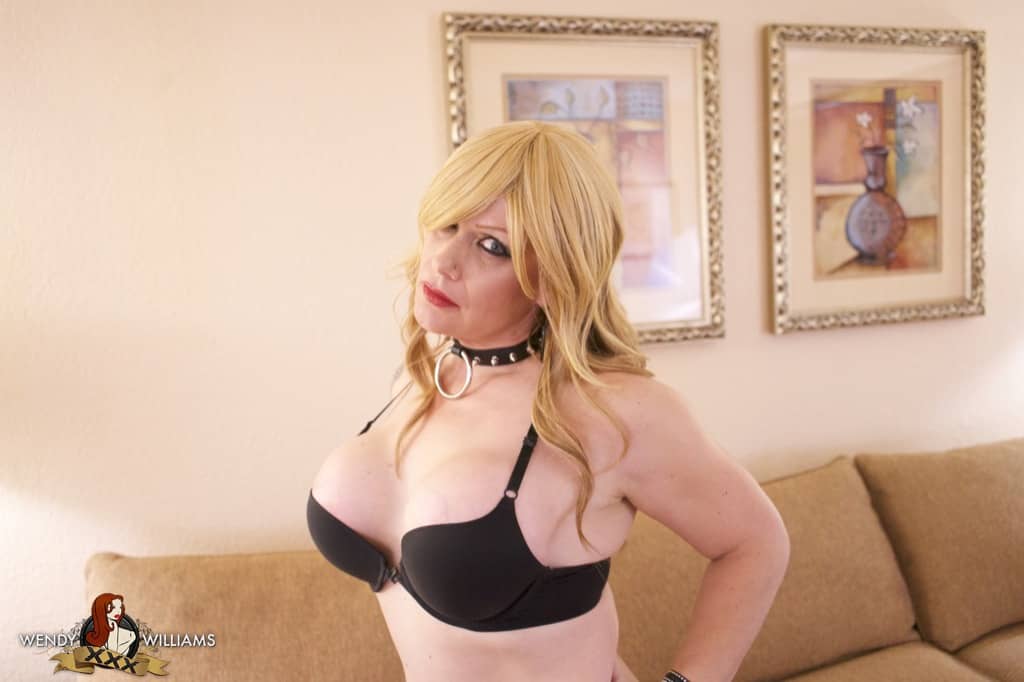 Raven Roxx at Wendy Williams XXX
In fact, Raven's live cam shows have proved so popular among fans and film critics that she has been nominated for "Best Trans Cam Model" at the upcoming 2017 XBIZ Cam Awards alongside fellow fan-favourite porn stars Kylie Maria, Kelly Pierce and Kimber Haven. Talking about receiving this notable nomination via an April 2017 XBIZ News press release, Raven eagerly expressed that;
"I am very excited and honored to be nominated by XBIZ for Best Trans Cam Model…I really enjoy interacting with those in my chat room, putting on a dirty show or just answering questions from curious, novice Trans admirers. I want to also thank Chaturbate for having such a great platform for webcam models to express ourselves and for providing great support".
Throughout her adult film career Raven has also filmed a series of seductive solo sex scenes for transsexual porn superstar Wendy Williams and her official website WendyWilliamsXXX.com among which include Bad Ass Raven Roxx, Raven Roxx Cum Solo, Raven Roxx in Black and Raven Roxx in Red. Raven loves shooting with Wendy Williams and has sincerely expressed within her XCritic interview how;
"Wendy is absolutely amazing. She has without a doubt been one of the most influential figures in transsexual porn.  She was fighting for recognition when I still was hiding in the closet wondering if anyone else was like me.  I knew who Wendy was long before I knew her.  She is a powerhouse in transsexual porn, a legend, and I'm proud to call her a friend.  I owe a large part of my success directly and indirectly to her".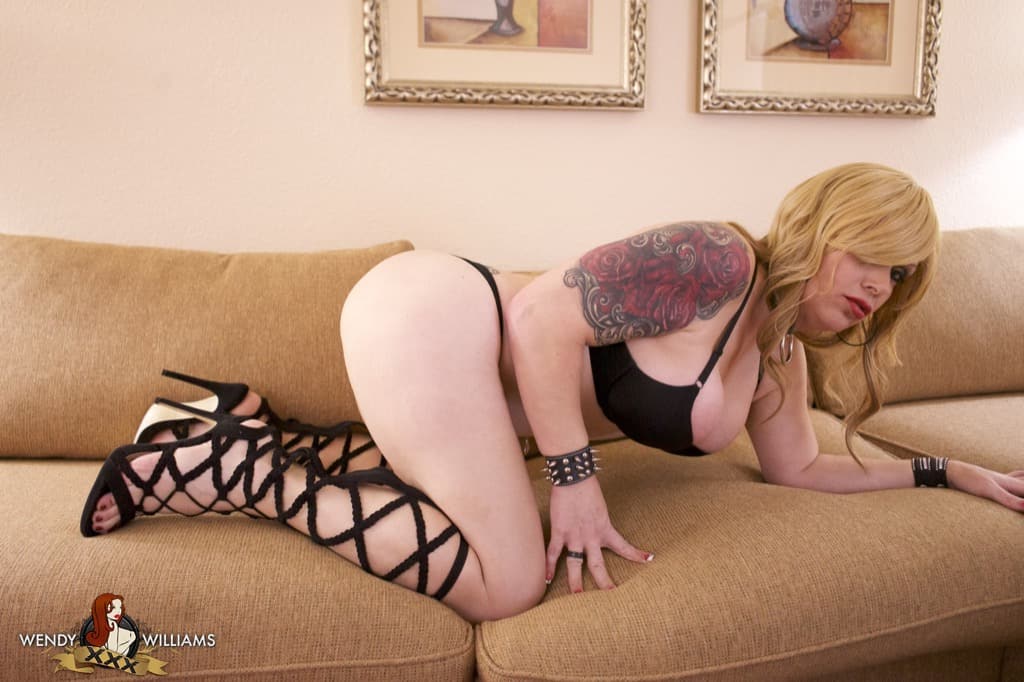 Raven Roxx at Wendy Williams XXX
A multi-talented porn star and webcam model, Raven also manages her own pornographic production company, Badgirl Maffia Productions, with her friends, fellow performers and business partners Kimber Haven, Lexis Steel and Lana Heart. Fans of 80's themed parody porn productions will want to keep an eye out for the Badgirl Maffia Productions feature releases Doggs Angels and T Team. As Raven hotly hinted within her January 2017 Adult DVD Talk interview;
"We are in the middle of producing a new porn spoof of the A-Team called the T-Team. If you are a child of the 80's you know what I'm talking about. It's going to be sexy yet hilarious. Anyone who's seen Doggs Angels knows how we do!".
In January 2017 Raven attended the annual AVN Expo in Las Vegas, Nevada, whereupon she was interviewed by WoodRocket.com and Industry XXX Radio. Attending the 2017 AVN Expo enabled Raven to shoot once again with Wendy Williams for WendyWilliamsXXX.com as well as filming for the first time with prominent porn director Sammy Mancini for his Shemale Strokers web series. Raven discussed shooting her Shemale Strokers debut within her XCritic interview with Apache Warrior, highlighting how;
"It was actually a last minute deal. Wendy called me while we were in Las Vegas for the AVN's, and asked if I wanted to shoot for Shemale Strokers. I was like 'hell yeah I wanna shoot for Strokers!'  So she gave me the info and it was set up.  Now I don't know how many of your readers have attended the AVN convention so I'll explain.  My shoot was set for 10:30am.  AM!!!  We had been out partying our asses off the night before and I had gotten maybe 3 hours of sleep if I was lucky before I had to get ready.  But I did and I got to the shoot 20 minutes early.  An old military adage comes to mind '15 minutes early is 5 minutes late'. I wasn't going to be late to a Shemale Strokers shoot.  But the shoot went very well.  Once we hammered out hair and wardrobe it went pretty quickly…
Later that day Kimber asked me how the shoot went.  She also asked who shot me.  Now I'm gonna admit something here, I don't watch a ton of porn.  I don't even like watching my own. So I said it was a guy with a baseball cap and glasses.  She asked if his name was Sammy, and I said yeah, that's it.  She then excitedly says, 'that's Sammy Mancini!  He's the owner of Shemale Strokers you ditz!'  I knew what Shemale Strokers was but I didn't know who owned it.  I even have a membership to their site.  But Sammy if you read this I'm sorry, you were such a sweetie.  Had I realized who you were I'd have tried to put the moves on you!".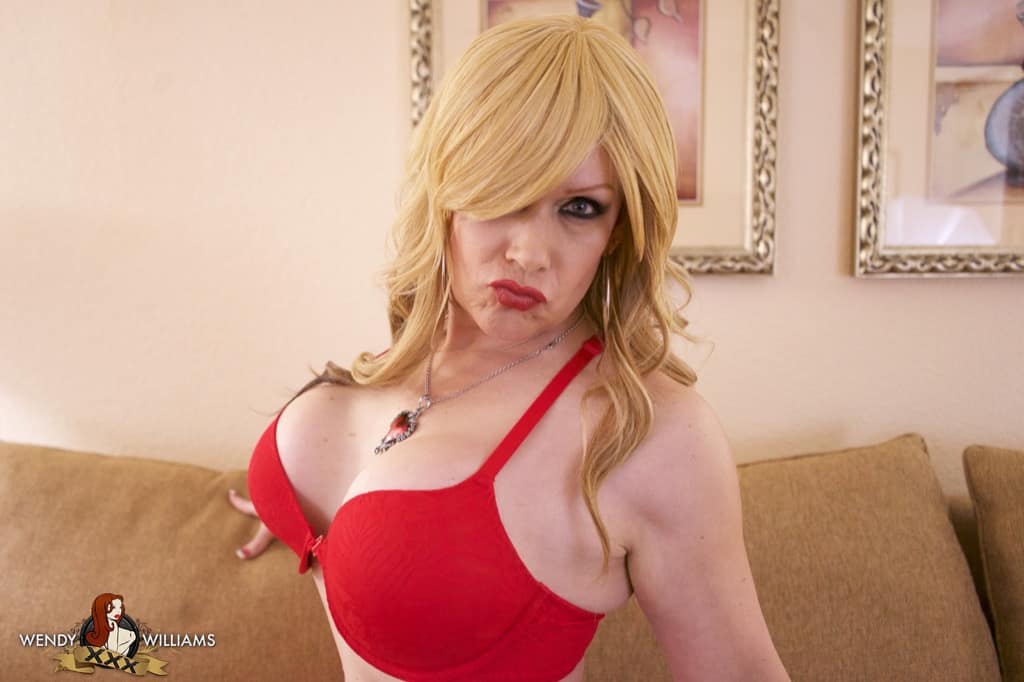 Raven Roxx at Wendy Williams XXX
During her 2017 AVN Expo adventure Raven also managed to shoot a thrilling femdom pegging three-way with Julie Rocket and Thor Johnson for her official solo website. Raven loved attending the 2017 AVN Expo as it enabled her to meet and greet her ever-expanding fan following. Talking about her fans during her XCritic interview, Raven mentioned that;
"I love going to the events and meeting new people.  The AVN's, Fetish Con, stripping.  These are all places where you meet some really cool people. Being an adult performer has put me in the path of some of the sweetest, most genuinely good people I've ever met.  I mean I love fucking…..a lot.  I can fuck without being in porn though.  But just don't meet people this cool outside the adult entertainment community…
I'm kind of new to having fans, but I love my fans!  It is an awesome feeling when someone approaches you and says something like 'I know you, you're Raven Roxx'.  Which is usually followed by 'I absolutely loved Lunchtime'. If you don't know, Google my name and Lunchtime, you'll see why.  I have always loved helping girls earlier in their transition so it's really not surreal to me being seen as a role model.  I am the kind of person that will go way out of my way to help someone if I know they will genuinely appreciate it.  With fans though, when someone approaches me and says they love my work it's actually quite humbling as opposed to surreal.  I'm just doing what I enjoy doing, the fact someone wants to watch me do it is just cream on top".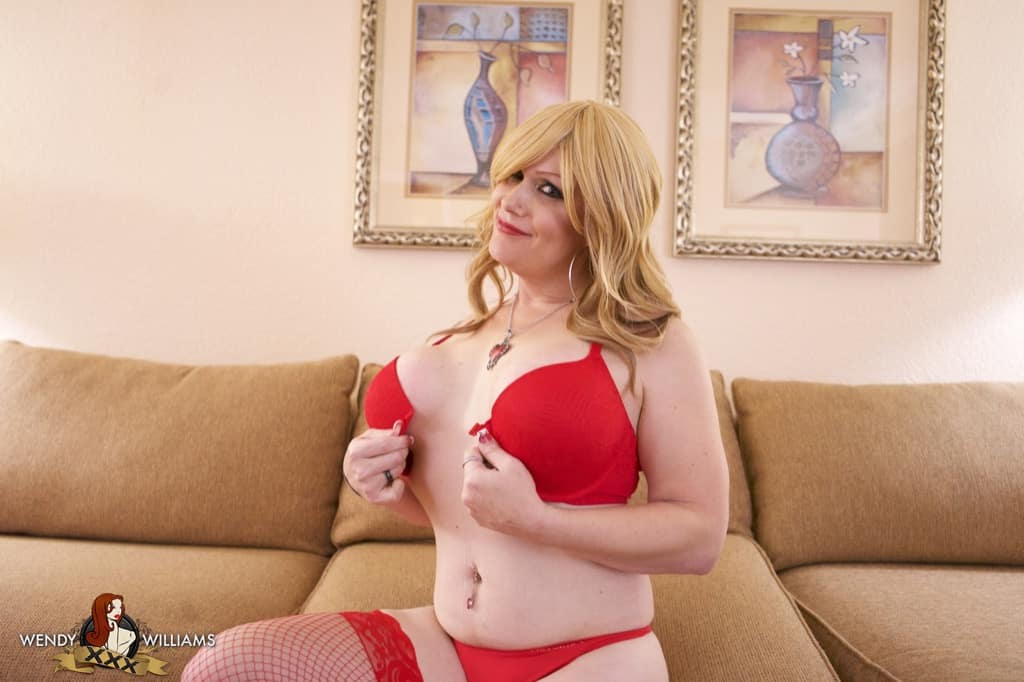 Raven Roxx at Wendy Williams XXX
In April 2017 Raven has announced that she will be hosting a radio talk show on the Demonseed Radio Network with Kimber Haven and Lexis Steel titled The Totally Inappropriate Radio Show. Raven announced this exciting hosting opportunity via her official solo website, conveying how;
"Hey guys I have some cool news!  Kimber, Lexis and I have our own radio show on Demonseed Radio Network called The Totally Inappropriate Radio Show.  As the name infers, we are going to be talking about all kinds of nasty shit.  So make sure you tune in on Saturdays from 6pmEST to 8pmEST and have a ball with us.  You can even call in and be part of the shenanigans if you'd like!  Muah!".
Upon being asked about her future adult film industry career plans during her April 2017 Grooby News interview with Becca Benz, Raven stated that she has no plans of retiring any time soon. As Raven puts it in her own words;
"I hope not for a good while.  What I will say is that I want to end my porn career like the show Seinfeld ended; I'd rather end it on a high than try to drag it out to where people only remember the downward spiral at the end because I held on too long".
What does the future hold for Raven Roxx? Only time will tell! Until then, why not keep yourself updated regarding Raven Roxx's ever-evolving adult film career by visiting her official social networking channels? From voting for Raven at the 2017 XBIZ Cam Awards, to catching up on her exclusive web content and learning all about her upcoming live chat sessions and public appearances, use the links provided below to stay up close and personal with ravishing adult film star Raven Roxx online today!
Social Networks
Official Website : ravenroxx.modelcentro.com
Wendy Williams XXX : Raven Roxx at Wendy Williams XXX
Trans 500 : Raven Roxx at Trans 500
Twitter : @TsRavenRoxx , @badgirl_mafia
Chaturbate Profile : tsravenroxx