Personal Info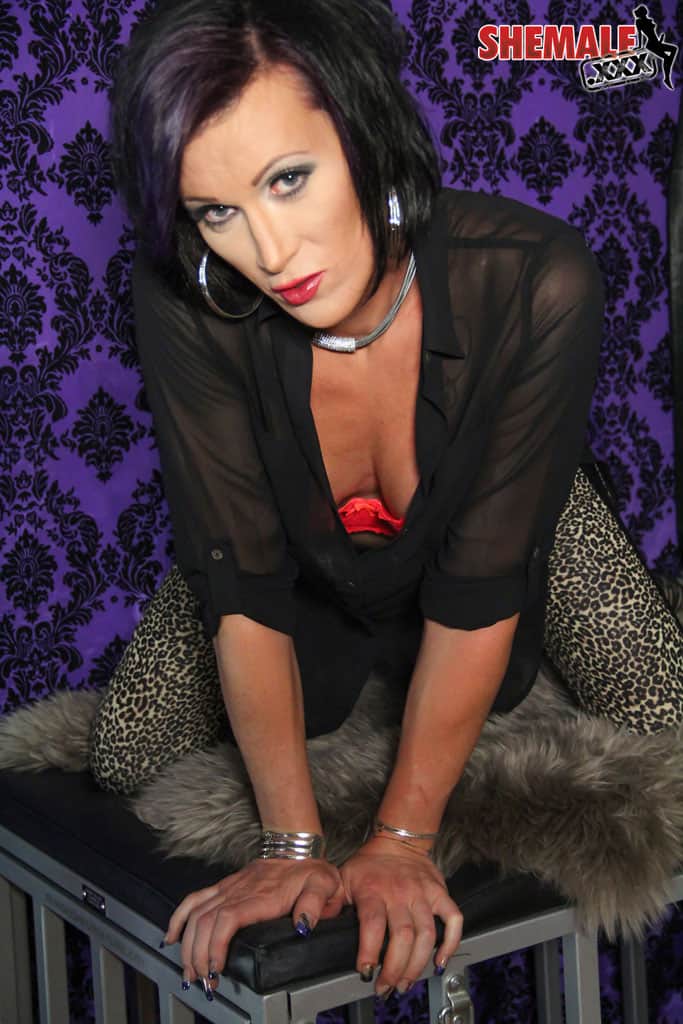 Name : River Stark
Alias : Wicked Trans Witch
Date of Birth: June 27th, 1988
Home Town : Wisconsin (US)
Measurements : 36 – 29 – 36
Bra/ Cup Size :  36D
Boobs : Enhanced
Height : 5'9 (1.75m)
Weight : 149lbs (kg)
Hair Colour : Brunette / Black / Purple
Eye Colour : Blue
Tattoos : River often jokes about her tattoos via Twitter and has various designs across her body including; the female gender symbol with a fist in the centre across her right collarbone, circular symbol across her left collarbone, numerous star designs along her right hip and upper right thigh with matching stars designs along her upper left thigh, and script on the right side of her rib cage with a red kiss design and footprint design on either side of it.
Piercings : Navel and both nipples
Years Active : 2015 – present
Number of Scenes : 10+
River Stark is a multi-talented porn star, producer, director and webcam model who has garnered a devoted fan following over the years due to her powerful performances in pioneering porn productions such as My TS Teacher (2015), TS Massage Volume 2 (2016) and Transition (2016).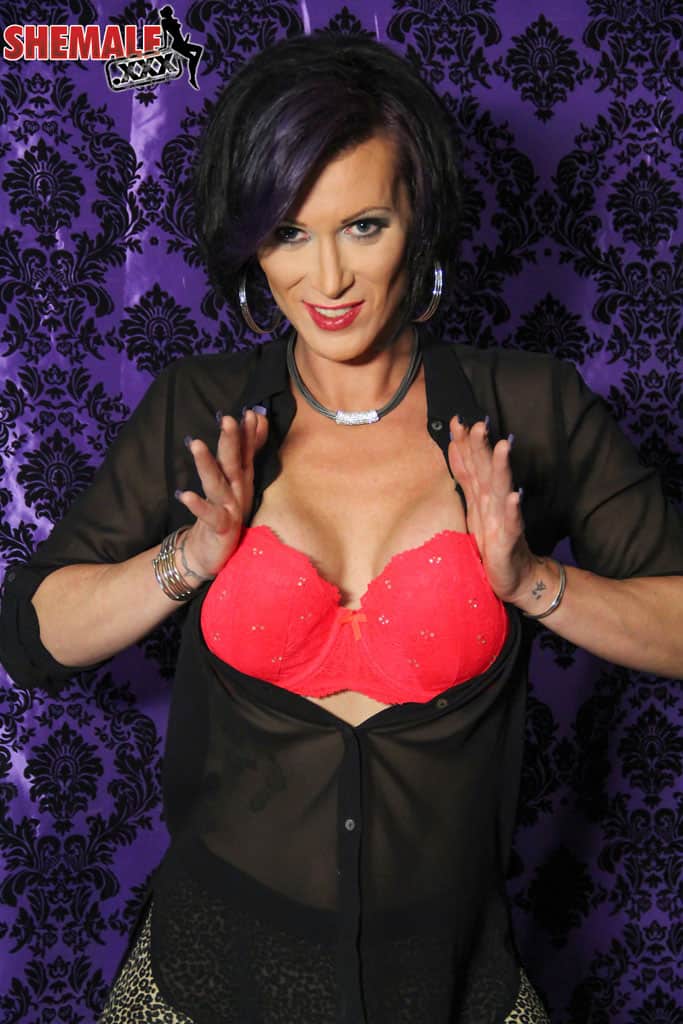 Before she began to take the adult entertainment industry by storm with her ravishing solo sex shoots and captivating hardcore sex scenes, River Stark was an ambitious individual living in Wisconsin. River has mixed Russian and Irish heritage and she has always been an intelligent and adventurous individual with a broad spectrum of interests that range from reading and learning Swedish, to cycling, honing her skills as a photographer and travelling the world. As River puts it in her own words;
"Several years as a student pursuing two degrees, and time as a busy professional gave me the chance to explore my fantasies and shape the power of my own sexuality. I've discovered the freedom to explore far beyond the seemingly quiet, nerdy, good-girl persona to find a more mature and fiery side as a woman who can also command her own desires while creating them in others. I have discovered how to weave those two experiences and states into one balanced package.
I have perfected a craft few get to experience and taken adventures on the way that I used to have only been able to dream about as I read my favorite books. I work out intensely five times a week, spend my free time reading (I love historical fiction and human behavior) and learning Swedish, hanging out with my friends, and travelling to some of the most amazing locations in the world".
River Stark : Adult Film Career
River made her adult film modelling debut in October 2015 when she filmed some saucy solo sex shoots for the internationally renowned Grooby Network porn site Shemale.XXX which were titled Tall Sexy River Stark and River Stark Jacks Off!. Both of these sizzling solo sex scenes were filmed by the award-winning adult film cinematographer Blackula with whom River has continued to collaborate on a wide range of raunchy web content for Shemale.XXX including her River Stark Takes A Ride On Eli's Big Cock hardcore sex scenes in November 2015, her River Stark Polishes Her Pole solo sex scenes in December 2015 and her spectacular Stunning River Stark Jacks Off! solo sex shoot in January 2016. In fact, Blackula even chose River to star as one of the terrifically tattooed TS starlets within his Grooby Productions DVD feature release Blackula's Tattooed TGirls (2016). Starring within this Grooby Productions DVD title enabled River to feature alongside famous transsexual performers Morgan Bailey, Baby Bratt, Athena Addams and Isabella Sorrenti.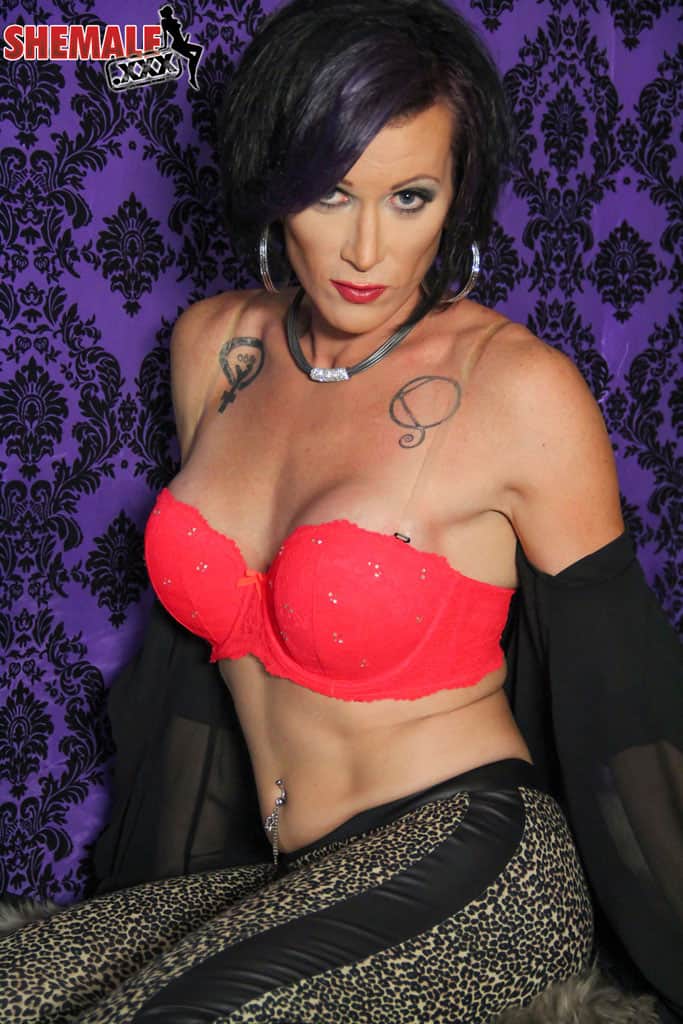 Throughout her adult film career River has worked with several award-winning cinematographers including the pioneering TransSensual Studios director Nica Noelle. River's first ever DVD collaboration with Nica Noelle was the TransSensual Studios DVD feature release My TS Teacher (2015) also starring award-winning transsexual performers Aspen Brooks and Jessy Dubai. Throughout the production of My TS Teacher Nica was inspired by River's raw sexuality, pure charisma and innate understanding of the character she was portraying. As Nica ardently expressed within a January 2016 XBIZ News press release;
"This was my first time working with River and she's just amazing…I thought she brought just the right tone of repressed lust and longing to the role. She's got such a powerful aura and she's so smart, she really understood her character and knew how to make her come to life".
Consequently, it was no surprise that Nica has continued to collaborate with River on such best-selling TransSensual Studios productions as TS Massage Volume 2 (2016) with TS Foxxy and Sunday Valentina, as well as the pioneering TS DVD production Transition (2016) with Mercedes Carrera, Erica Lauren and Aspen Brooks. The plot of Transition is actually based on River Stark's life as a transgender soldier transitioning back into civilian life and the emotional conflict and adversity which she had to overcome. Nica Noelle explained the parallels between River's real life and the character she portrayed in Transition within a September 2016 XBIZ News press release, highlighting how;
"'Transition' mirrors TS star River Stark' s real life and I'm thrilled she worked with us to tell this compelling story that deals with a transitioning trans person and how it affects their relationships…It was both Mercedes and Erica Lauren's first time working with TS performers — they were both enthusiastic to be a part of this and it shines through in their scenes. It is such a unique and important film and everyone contributed so much".
River discussed the process of shooting Transition within this September 2016 XBIZ News press release, revealing that;
"Everything fell in its place with this film. Mercedes and I got to work on something meaningful that went beyond just bodies coming together on camera; thankfully it involved a lot of other equally dedicated people. I believe Nica's amazing directing allowed pieces to shuffle and fall in the right order to give everyone involved an immense sense of ownership in what we were creating, which you don't see a lot of in what we do…I feel like that all culminated in the naming of the film itself…The title 'Transition' came up, and it just made sense. For me it meant a few different things. It was a social and medical transition of a character in a film; transition of a soldier from battle to civilian life; a transition away from the narrative that sex workers are exploited drones; a transition from the stigma that stands between trans people and mainstream porn; a transition away from casting cisgender [non-trans] people as trans people, and so on. The first time I heard the film's name I was all about it, as was the case with the entire film. It has definitely turned into one of the best projects I've been a part of and something I plan on doing more of in future work with other directors, or possibly wearing that hat myself".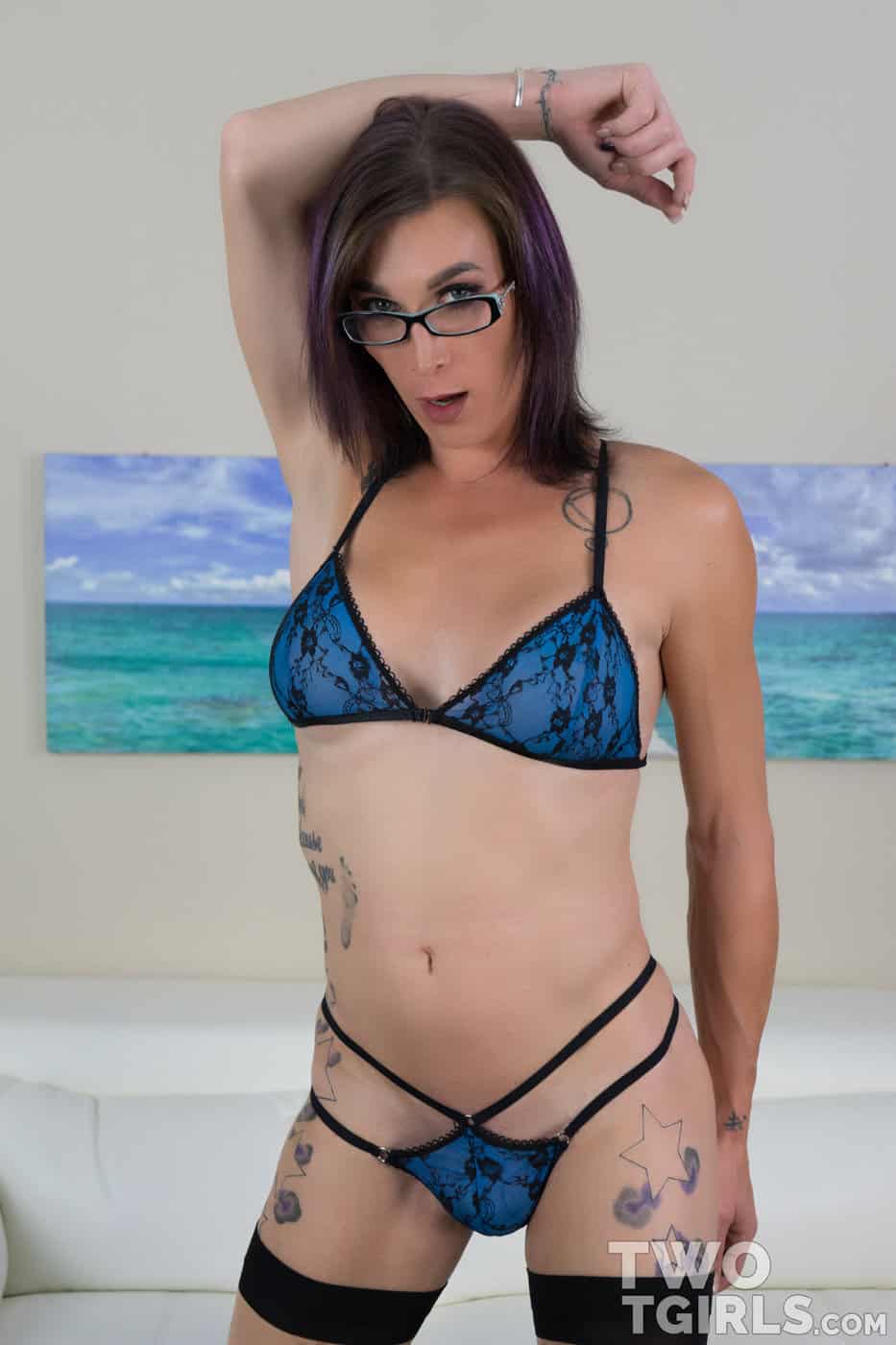 In fact, River discussed the process of shooting Transition in great detail within an October 2016 Fleshbot interview titled The Making of TransSensual's Transition by River Stark. Throughout this in-depth article River explained her creative process, discussed working with female porn stars Mercedes Carrera and Erica Lauren on their first ever TS sex scenes, and revealed the ways in which Transition differs from conventional TS DVD feature releases;
"This film "Transition" is something that I'm really proud of as a performer. There aren't a substantial number of opportunities in adult film to touch on issues that real people face in a impactful way or make a express political statement, aside from its very existence being political. So, when Mercedes pulled the trigger on her first TS film with me, I knew it would be a great opportunity to be both political and have it, hopefully, cover something substantial beyond just fucking".
Transition was a smash-hit among fans and film critics, with Mile High Media's Vice President, Jon Blitt, praising Nica and River's  cinematic talents during an October 2016 XBIZ News press release;
"Nica took the true story of River Stark's transition and brought it to life, capturing all her emotion and struggle…This is a film sure to redefine what fans expect from the trans genre — and regardless of your sexuality, there is no denying the power of 'Transition'".
Furthermore, Transition was also highly recommended by XCritic column writer Apache Warrior who commented within his online review how;
"The acting performances by River Stark and Mercedes Carrera are very good. We can feel and believe the emotion that each of their characters are going through. It was nice to see Mercedes' watery eyes. As far as the TS sex debuts of Mercedes Carrera and Erica Lauren, fans will want to see them hooking up with more trans performers in the future. They are great. Mercedes is sexy while Erica is fun and sensual. Mercedes Carrera deserves to win Best Non-TS Performer (Female) at the 2017 Transgender Erotica Awards. I highly recommend this film".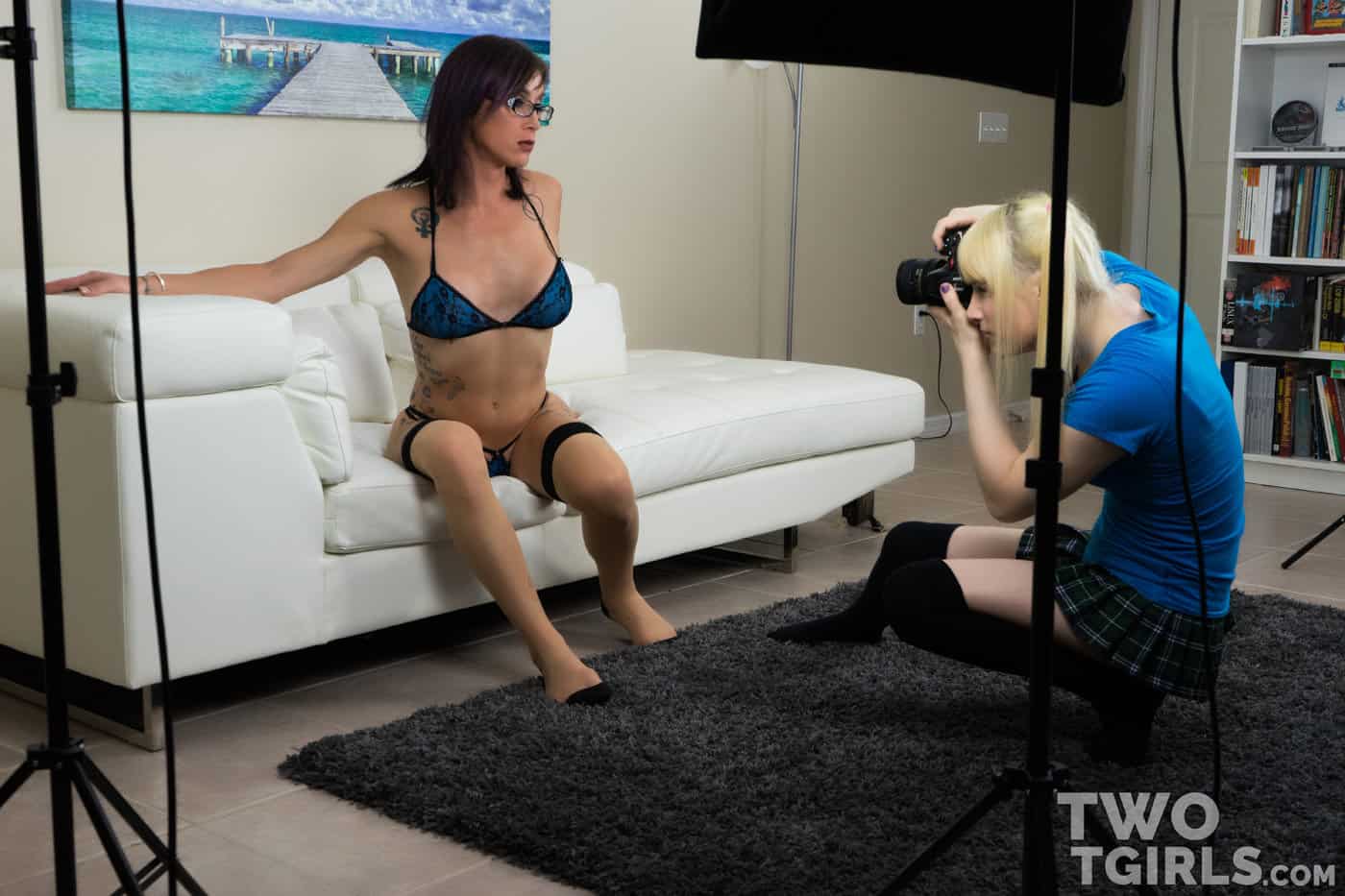 As matters stand, River has received a wealth of praise from her international fan following, numerous adult film critics, and from her fellow transsexual performers. In fact, Chryssi Steele named River Stark as one of her top three TS stars to watch in 2016 during her February 2016 caramelstgirls.com interview;
"Natalie Mars, Emy Amethyst, and River Stark would be the three that I would watch the closest personally. All three have gathered a decent following in a short amount of time and I think this year definitely belongs to them".
In addition to her ongoing DVD collaborations with Nica Noelle and TransSensual Studios, River has worked with leading adult film directors Joey Silvera, Francesca Le and Mark Wood on several fan-favourite TS DVD series for Evil Angel. For instance, fans of River Stark will not want miss out on viewing her raunchy transbian sex scenes with Nina Lawless that were featured within Joey Silvera's Evil Angel DVD title Trans-Visions 6 (2015). One of River's most popular Evil Angel DVD titles to date has been She-Male Perverts 3 (2016) starring Alura Jenson, Kate England, Natassia Dreams, Stefani Special and Jamie French, and which showcased River in a thrilling three-way sex scene with Francesca Le and Robert Christian that was directed by Francesca Le and Mark Wood.  River paired up with Robert Christian again in 2016 in order to shoot a sizzling hardcore sex scene for Rogue Adventures 42 (2016) also starring Taryn Elizabeth, Alexa Scout, TS Sophie, Leticia Castro, Toei and Icey.
Fans of River Stark should also check out her impressive collection of online sex scenes for leading trans-friendly porn sites such as Bob's TGirls, ShemaleStrokers.com, Kink.com, Shemale.XXX, Shemale Pornstar, Tgirls.porn, CrashPadSeries.com and TwoTgirls.com among others. Some of River's most popular online sex scenes include; her compelling Crash Pad Series sex scenes with female porn star Viviane Rex in March 2016 and her raunchy April 2016 Tgirls.porn sex scenes with Spanish female performer Amarna Miller; both of whom were featured in the Grooby Productions DVD compilation title TGirls Porn Volume 5 (2016) alongside adult film stars Freya Wynn, Evie Elliot, Oxcetalene Lane, Taurus and Mona Wales.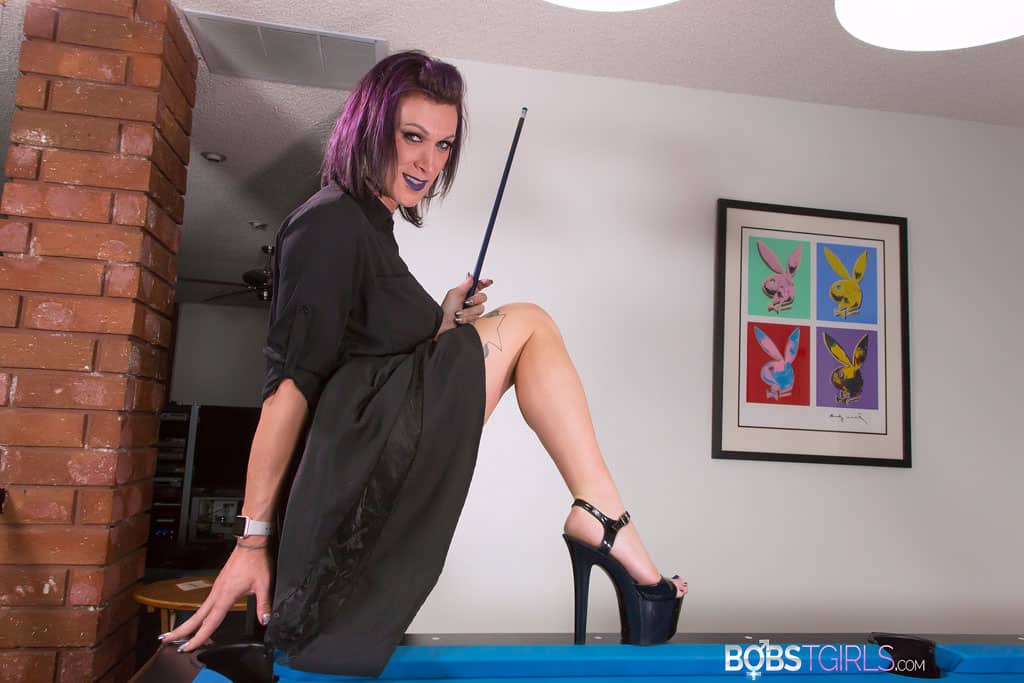 River is a multi-talented porn star with a passion for all things femdom, kinkster and BDSM related. As such, fans who are eager to discover River's kinkier side will love watching her raunchy femdom sex scene with Jonah Marx titled TS Film Director Works Her Actors With Her Giant Hard Cock! that was distributed via the fetish porn network Kink.com in May 2016 as part of their best-selling TS Seduction web series, as well as her first ever solo photo set for Sammi Mancini's fan-favourite Shemale Strokers web series in June 2016, her alluring Stark Shooting Stick solo sex scenes for Bob's TGirls in July 2016, her formidable River Stark Takes A Ride On Eli's Big Cock hardcore sex scenes which were uploaded to Shemale Pornstar in March 2016 and her pair of phenomenal transbian sex scenes with Mayumi Sparkles for TwoTgirls.com. Thus far, River and Mayumi have filmed some sensational Pornception transbian sex scenes for TwoTgirls.com in November 2016 and reunited in fantastic fashion with a titillating transbian nurse role-play sex scene that was distributed via TwoTgirls.com in January 2017 titled Nurse Gets Fucked By Patient.

River Stark : Ongoing Adult Film Projects & Future Plans
As well as being a captivating porn star, River also excels as a webcam model, producer and director who has hinted via her Chaturbate profile that she plans to form her own pornographic production company in the near future;
"I'm sassy as hell, and I love being that way. I'm also in the process of starting up my own porn company, so stay tuned for stuff from that in the future".
Always eager to hone her photography skills, throughout 2016 River has overseen several fan-favourite Shemale Yum sex shoots for rising TS starlets Ashlee Nova, Bailey Love and Ada Black. Thus far, River has directed Ashlee Nova's first ever solo sex scenes Ashlee Nova Is A Sexy Debutante in April 2016 and Sexy Curvy Ashlee Nova! in July 2016, Bailey Love's first ever solo sex scenes Meet Bailey Love in April 2016 and her subsequent Stunning Bailey Love Strokes It! saucy sex shoot in July 2016 as well as directing Ada Black and Heisenberg's hot Ada Black Meets Heisenberg hardcore sex scenes in April 2016. River has received overwhelming endorsements from these rising TS starlets due to proficient photography skills, calm, confident nature and comforting approach. In fact, Bailey Love expressed her sincere gratitude to River within her April 2016 caramelstgirls.com interview. During this insightful interview Bailey highlighted how River helped her to calm her nerves before shooting her first ever solo sex scenes. As Bailey puts it in her own words, she attributed the success of the shoot to;
"The comfort level of the performers and the skill level of the photographer. In my shoot with Shemale Yum, I would say the only reason I probably didn't start hyperventilating was because River Stark (my photographer) was so very helpful and patient with me and she really knew how to get good shots even if/when I wasn't giving her a lot a good stuff to shoot. I think Tia is an expert at getting her girls in their comfort zone".
In recent months, River has continued to received wholehearted endorsements from her international fans, film critics and fellow performers. For instance, Krissy Kyung, the famous adult film blogger, trans erotica author, LGBTQ advocate and contributing editor for Transformation Magazine, praised River's fearlessness and confident nature within her June 2016 Grooby News interview, advocating how;
"Recently, I've been inspired by the many, MANY young, smart, fiercely independent girls out there making their own way in the world either within the porn industry or since leaving it – Athena Addams (cool, collected, and an intelligent marketer), Krista Michaels (seriously talented artist and independent thinker), River Stark (fearless for what she believes and willing to say it), Kelly Klaymour (nose to the grindstone, make a business type of girl), Mona Wales (a leader in cross-over work – and totally hot) – all doing awesome things – for themselves, the industry, and the community. I like to do a lot of "off in the distance" watching and observing of girls… does that sound creepy? From what I've seen, I think the future of the porn industry is in very good hands".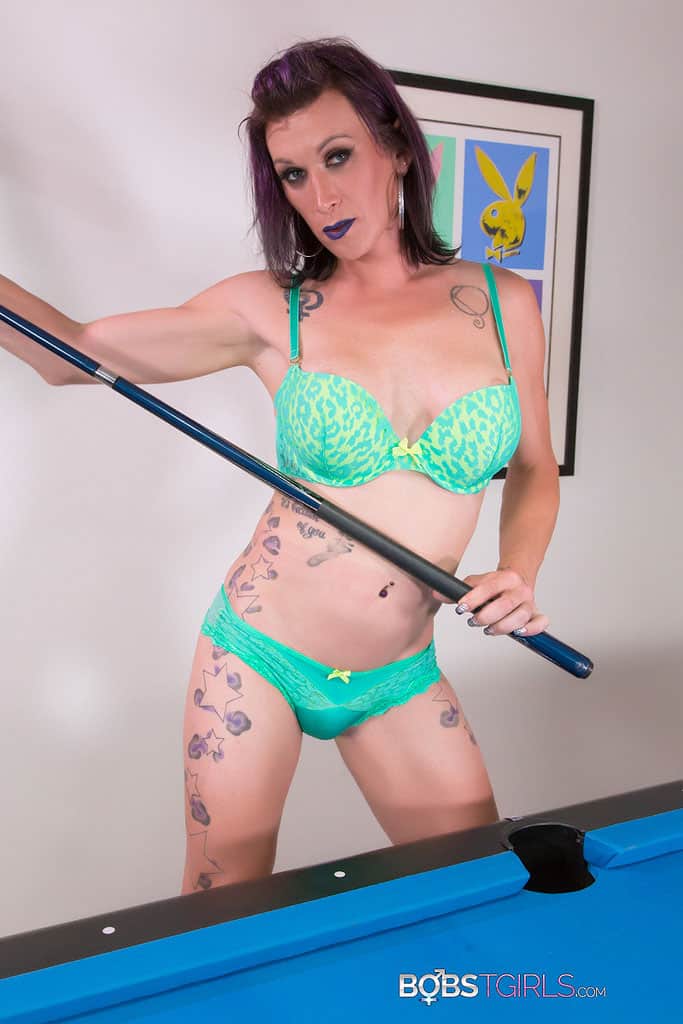 As matters stand, River lives in Los Angeles, California, whereupon she has been nominated for "Favourite Trans Porn Star (Fan Award)" at the 2017 AVN Awards as well as having attended the 2016 Transgender Erotica Awards. Given her ever-expanding porn star portfolio, River is expected to attend the 2017 Transgender Erotica Awards in March and we have no doubt that she will begin to receive many adult entertainment accolades in the years to come! In the meantime, you can follow River Stark's ascent to adult film superstardom by visiting her official social networking channels online today using the links provided below. In no time at all, you can check out River's latest DVD feature releases and exclusive web content, learn more about her upcoming adult film projects, or even secure yourself a spot within one of her public and private live chat sessions. What more could you ask for?
Social Networks
Twitter : @WickdTransWitch
Shemale Pornstar Profile : River Stark at Shemale Pornstar
Shemale.XXX Profile : River Stark at Shemale XXX

Chaturbate Profile : riverstark
Kink Profile : River Stark 58705
Tgirls.porn Profile : River-Stark at T Girls Porn

Two Tgirls Profile : River Stark at Two T Girls

Adult Empire Profile : River Stark at Adult Empire
Gamelink Profile : River Stark at Gamelink
YouTube Channel : River Stark's YouTube Channel
Slixa Escorting Profile : https://www.slixa.com/wickdtranswitch
Periscope Profile : https://www.periscope.tv/WickdTransWitch/1eaKbRnVRMoKX
Tilt Profile : https://www.tilt.com/tilts/river-starks-reconstructive-surgery
Wish Lists : Net A Porter, Amazon.com
IMDB Profile : http://www.imdb.com/name/nm7915765/