Personal Info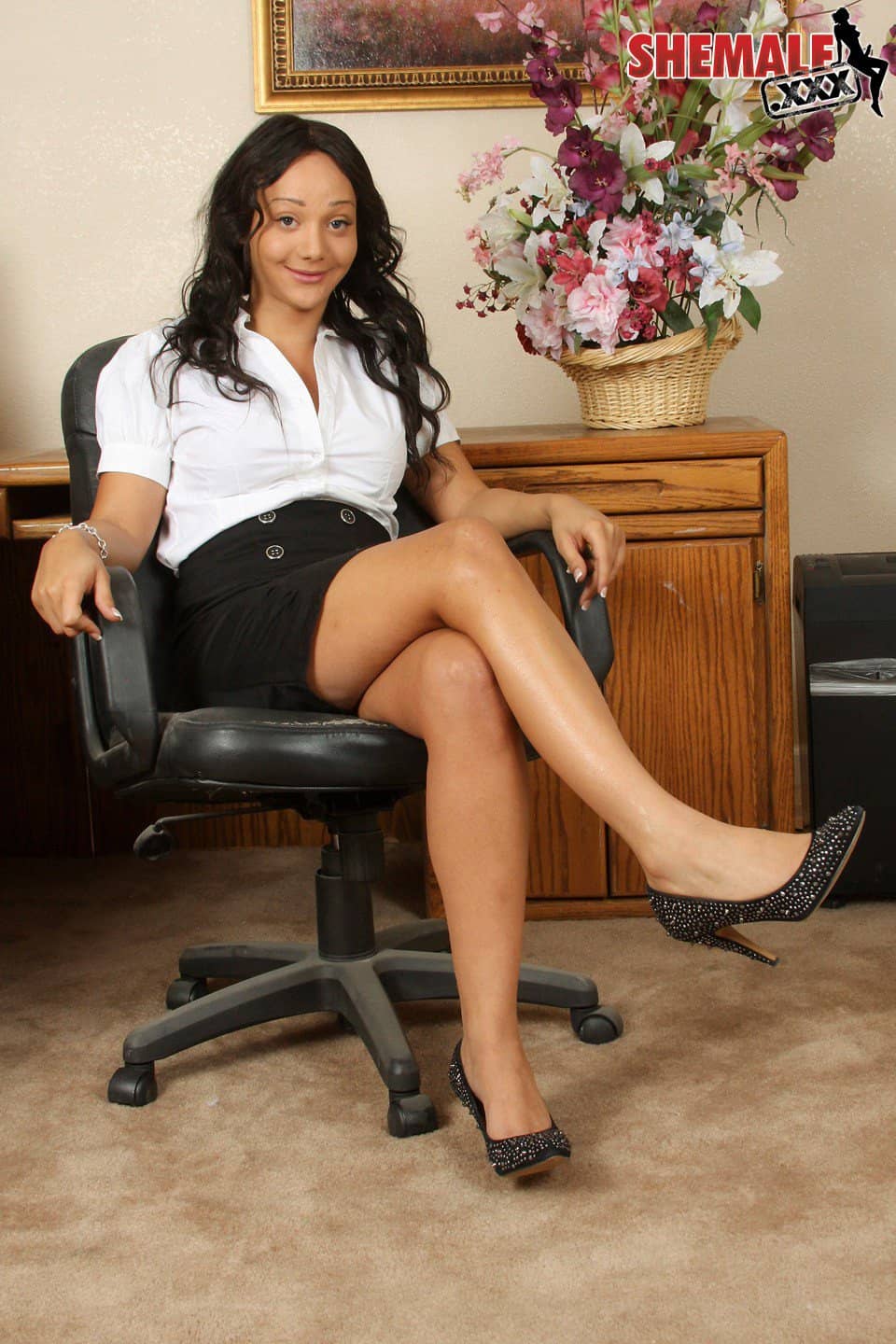 Sunshyne Monroe at Shemale XXX
Name : Sunshyne Monroe
Home Town : Houston, Texas (US)
Date of Birth: January 1st, 1992
Measurements : 32DD – 28 – 34
Bra/ Cup Size : 32DD
Boobs :  Enhanced
Height : 5'7 (1.70m)
Weight : 125lbs (kg)
Hair Colour : Brunette / Black
Eye Colour : Blue
Tattoos : Paw print designs on her right shoulder blade, a star design on the side of her left hip and 'Shaun' script on her upper left thigh
Piercings : Navel
Years Active : 2010 – present
Number of Scenes : 20+
Meet 'The Body' transsexual superstar Sunshyne Monroe! Recently nominated for "Transsexual Performer of the Year" at the 2017 AVN Awards and 2017 XBIZ Awards, Sunshyne has been thrilling her international fan following since she first began uploading exclusive video clips onto YouTube in 2010.
Known for her curvaceous figure and amicable personality, Sunshyne has mixed Portuguese and Dominican heritage and can speak some Portuguese and Spanish. Sunshyne has joked about her diverse roots within her Transformation magazine (Issue 83) interview, commenting that;
"This is probably the number one question I'm asked: "What are you?" (laughs) But, yes, my father is Portuguese and my mother is half Dominican and white. With that said, my Portuguese is pretty bad…but my Spanish is a little better".
Sunshyne explained within her October 2015 Adult DVD Talk interview that she has been aware of her true gender identity for as early as she can remember;
"For long as I can remember some of my first memories are of me knowing that I was a woman. I remember wearing towels on my head and pulling up tube socks pretending like I was wonder woman. lol".
As Sunshyne elaborated within her March 2013 Transformation magazine interview;
"I knew by the age five or six that I was different. I always knew I was a girl and my family knew as well. But my mom did make me wait till I was eighteen to make the change so that I could have a child if I wanted once I got older".
Upon graduating from high school Sunshyne began working as a feature dancer in local nightclubs. Sunshyne also started posting sexy video clips via YouTube and managing her independent website, Sunshyneland.com. Sunshyne's raunchy internet antics soon earned her a dedicated fan following as well as attracting the attention of adult film talent scouts. Although Sunshyne initially declined any opportunities to perform in porn, she explained within her Adult DVD Talk interview that she eventually decided to pose for her adult film modelling debut after being contacted by famous adult film director Buddy Wood;
"For years I said no I became popular through YouTube and the companies asked me for about two years at first I said no because I was under age then I said no just because I was just so scared. I was doing a club appearance in LA and Buddy Wood asked me to do an appearance at a another nightclub. For the next few days we chatted and he asked me to do a photo shoot and the rest is history…my first shoot was with Buddy Wood for Yum. I was super scared I went into the house and did my make up in five minutes and came out and he says Sunshyne just calm down slowdown good and take your time. Lol You have to understand I was so young I think I was 19 and never been to LA and had no idea what I was doing".
In this manner the transsexual superstar Sunshyne Monroe was born! Sunshyne explained how she came up with her porn star stage name during her Transformation magazine interview, noting that;
"Sunshyne is a nickname I have had since high school and I just went with it. People would say that when I smiled it was like sunshine came in (lol) and its kinda "my thing" now. The look of the site went well with my image at the time but I feel a change may be in order someday. We are working on a new layout and video right now in fact. I've gone through some changes since my site started, not only physically, but I've grown a lot sexually in the last year as well. I'd say that in the last 4 months I've done the best work I've ever done and I'm happy it's all on my site".
Although Sunshyne was initially reluctant to pursue a career as a porn star, she has stated within her XCritic column interview that she loves working within the adult entertainment industry and is grateful for the ways in which porn has enabled her to broaden her sexual horizons. As Sunshyne herself stated when she was asked to name her favourite aspect about working within the adult entertainment industry;
"I would have to say being able to try things that in my everyday life I would not be able to. There are things that I didn't even know I would like and now I know I do due to me doing them in porn".
Sunshyne Monroe : Adult Film Career
Sunshyne made her adult film modelling debut in July 2011 for the Grooby Network porn site Shemale Yum. Sunshyne's first ever solo sex shoot was directed by Buddy Wood and it was titled Bikini Sunshyne Monroe. Sunshyne's first foray into the adult entertainment industry was a  certifiable success which earned her the title of "Shemale Yum Model of the Month" in July 2011. Sunshyne described the process of shooting her first ever sex scenes during a September 2014 AIP Daily blog post, revealing how;
"My first time doing a set wasn't as hard as I thought, it would be it was a solo for shemaleyum. At the time I can remember I was so nervous I was shaking. I arrived to the location it wasn't what I thought it would be it was just a normal house you would never that porn was being shot there unless someone told you. I walked in and went straight to the bathroom to get ready. Arriving on set I was in a blue denim skirt and a purple and yellow bathing suit top. I looked in the mirror and was so nervous I washed my face and did my makeup over. The photographer was really laid back but was very aggressive with his words towards me. Mind you this was my first time shooting porn so I had no idea how to take him and it certainly didn't help with my nerves. I walked in the room and there was couch he then directed me to bend over (straight to the photos). It was a solo so I pretty much just took a few photos and played with myself. I was offered a hardcore at the same time for another company. I'm happy I did the solo first because it was a good way to start and feel comfortable. It's crazy when you watch porn you don't think of all the technical things that go on behind the camera and a simple solo showed me how hard we both worked to get the right poses, lighting, and the perfect shot. Obviously it wasn't too bad as three years later I am still working in the Adult Industry!".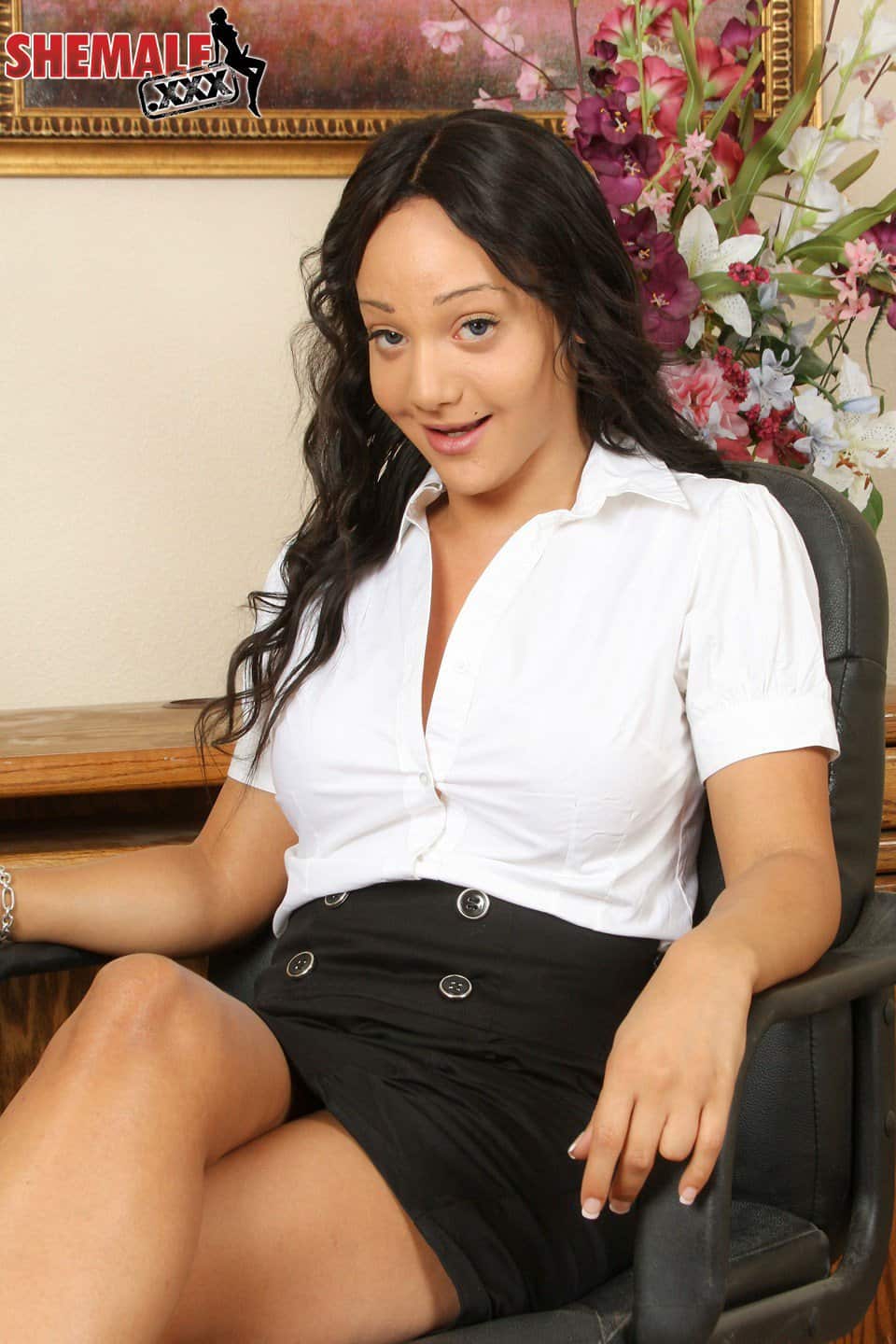 Sunshyne Monroe at Shemale XXX
Sunshyne has since filmed multiple saucy solo sex shoots for the Grooby Network porn sites Shemale Yum, Shemale.XXX, Frank's TGirl World and Bob's TGirls including Sunshyne Monroe Cums For You! in September 2011, Office Lady Sunshyne Monroe Solo in February 2013 and Sunshyne Monroe Bodystocking Solo in June 2013.
In August 2011 Sunshyne filmed her first ever hardcore sex scenes for the popular Kink.com series TS Seduction. Titled Brand New TS Hotness: Introducing Sunshyne Monroe, this feisty femdom sex scene with male performer Leo showcased Sunshyne's porn star potential and led to her starring within multiple instalments of Kink.com's TS Seduction web series such as Huge Splashing Cum Shot from The Demure TS Sunshyne Monroe with Parker London in December 2011 and The Nurse Is In Your Ass With Her Cock with male porn star Marcus Ruhl in March 2013. Sunshyne has also been featured within the March 2012 Kink.com fetish porn compilation TS Seduction Pop Shots Vol. 1 alongside famous transsexual BDSM stars Brittney Markham, Sasha Strokes and Yasmin Lee.
After making her hardcore sex scene debut in August 2011 and performing within multiple fan-favourite instalments of Kink.com's TS Seduction web series, Sunshyne was signed up by the leading transsexual entertainment network Shemale Club Productions (SMC). As a result, Sunshyne proceeded to star within a wealth of popular online sex scenes and best-selling DVD feature releases such as the 2011 Devil's Film DVD title Transsexual Cheerleaders 7 with Amy Daly, Jesse Flores, Teighjiana, Wolf Hudson and Jay Ashley as well as the Shemale Club production USA T-Girls 4 (2012) that was directed by Nick Milo and starred famous transsexual performers Vaniity, Jonelle Brooks, Jenna Belle, Jenna Rachels and Danielle Foxxx. Sunshyne has also appeared within the Devil's Film and Goodfellas Productions DVD feature release America's Next Top Tranny 13 (2011) alongside Amy Daly, Celeste Fuentes, Madison Montag, Wolf Hudson and Jay Ashley which went on to win "Best Transsexual Release" at the 2012 AVN Awards and "Transsexual Release of the Year" at the 2012 XBIZ Awards.
In January 2012 Sunshyne teamed up with Shemale Club in order to transform her solo website, Sunshyneland.com, into an official members site. As Sunshyne expressed within her May 2016 TS-Newsreel interview;
"Sunshyneland is really my baby. I launched it even before I started doing adult films, but if you're asking when it became a member site, I believe in 2012. The one thing I can say about my site is that it has a little of everything, from orgies to me peeing everywhere, topping, bottoming and bareback, you name it. And if you love tranny feet I don't think there is any better".
Throughout her adult film career Sunshyne has collaborated with award winning director Joey Silvera on a wide range of best-selling Evil Angel DVD feature releases. Among these popular porn productions include; She-Male Idol: The Auditions 3 (2011) with Sarina Valentina, Eva Lin, Candi Love, Tiffany Starr, Genesis, Mia Isabella and Sasha Stokes, and the 2013 DVD title How To Please A She-Male 4 with Annalise Rose, Rafaela Ferrari, Katie Summers, Kelly Clare, Nicolly Dieckman, Honey Foxxx, Clara Nunes, Cassie Sparkles and Angela Bratzz.
In addition to working alongside Joey Silvera, Sunshyne has often collaborated with award-winning director Sammi Mancini. Sunshyne performed within Sammi's best-selling DVD title Bang My Tranny Ass 11 (2013), with Venus Lux, Kelly Clare, Ashley Nicole, Delia DeLions and Eva Lin, and has been showcased within multiple instalments of his Rodnievision/ Mancini Productions TS DVD series She Male Strokers. To date Sunshyne has starred in She Male Strokers 53 (2012) and She Male Strokers 57 (2013) alongside Eva Lin, Addy Rose, Jordan Jay, Bora Gin, Tiffany Starr, Sadie Hawkins and Danni Daniels.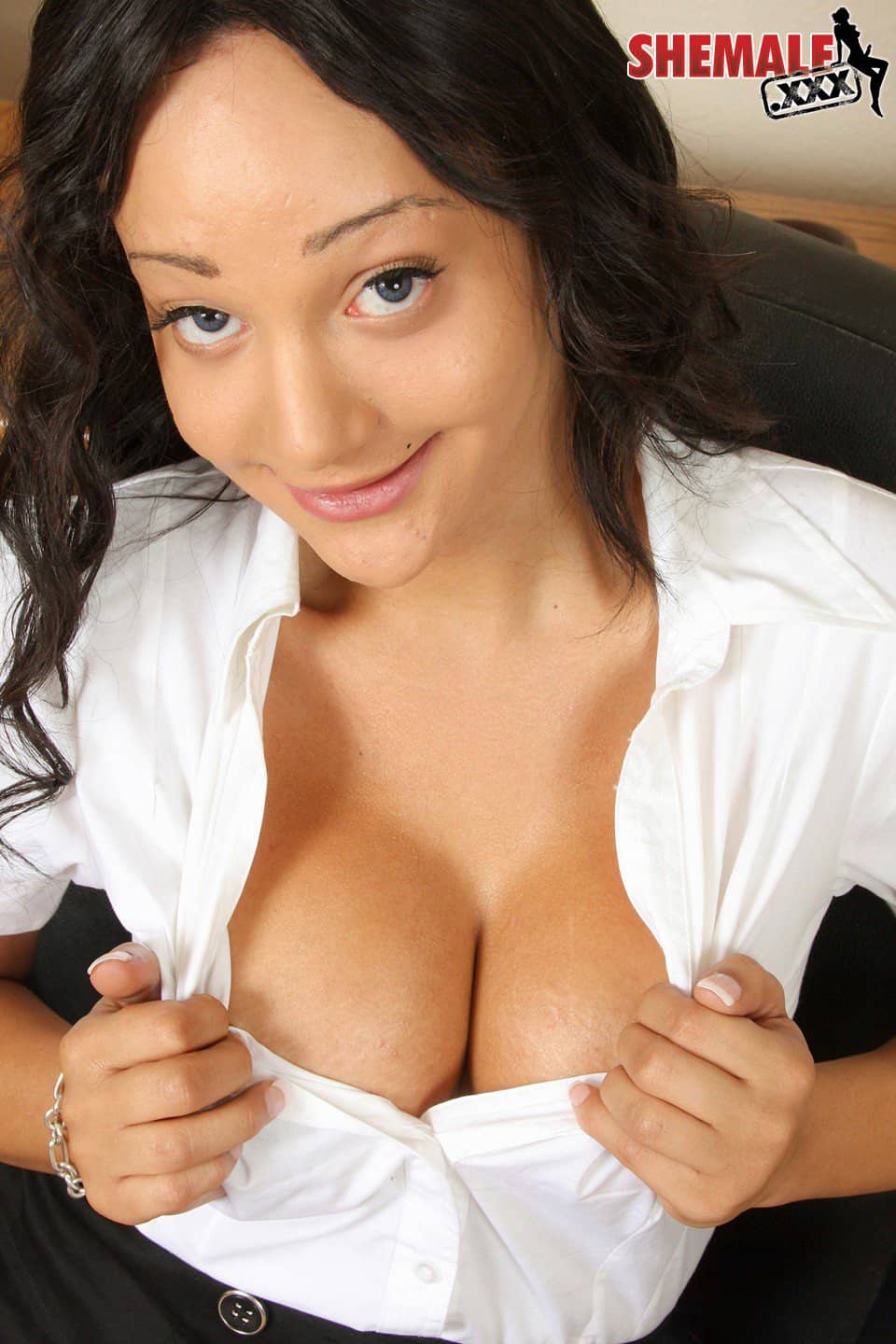 Sunshyne Monroe at Shemale XXX
Throughout 2013 Sunshyne began to feature within multiple DVD titles and online sex scenes for the leading transsexual production company Trans 500 Studios. Fans of Sunshyne Monroe will not want to miss out on viewing her Room Service sex scene with Robert Chivas that was filmed for the Trans 500 porn site tsgirlfriendexperience.com in June 2013, and Sunshyne's sex scenes within the Trans 500 DVD title Eva Lin's TS Dream Dates (2014) with Jonelle Brooks, Perla Lohan and Eva Lin that was nominated for "Best Transsexual Release" at the 2014 Nightmoves Awards.
Many of Sunshyne's international fan following regard her most popular Trans 500 Studio production to date to be the 2013 DVD title TS Girlfriend Experience 3. Directed by Josh Stone and featuring Sunshyne alongside TS superstars Natassia Dreams, Tyra Scott and Vaniity as well as male porn star Rico Steele, TS Girlfriend Experience 3 was a smash-hit that won "Best Transsexual Release" at the 2015 AVN Awards and which received a notable nomination for "Best DVD" at the 2013 Tranny Awards. TS Girlfriend Experience 3 also received rave reviews from fans and film critics such as Apache Warrior who advocated within his XCritic film review that;
"I enjoyed this film since it gave a good representation of how an escort situation occurs in the room between the customer and the woman. I especially like seeing the trannies change into their outfits in the bathroom. The top scenes are the Vaniity, Sunshyne Monroe, and Natassia Dreams performances. All of them provided a good stuffy atmosphere and intense fucking. Meanwhile, Tyra Scott and Bianka provided very good eye candy and jacking off appeal. TS Girlfriend Experience 3 is a recommended treat".
In fact, Sunshyne has received multiple adult film award nominations throughout her porn star career including;
2012: Tranny Awards nominee "Best Hardcore Model"
2013: AVN Awards nominee "Transsexual Performer of the Year"
2013: Tranny Awards nominee "Best Solo Model"
2013: Tranny Awards nominee "Best Solo Website"
2015: Transgender Erotica Awards nominee "Best Solo Performer"
2017: AVN Awards nominee "Transsexual Performer of the Year"
2017: XBIZ Awards nominee "Transsexual Performer of the Year"
Sunshyne has always been extremely grateful upon receiving these notable nominations and has often attributed her adult film industry successes to the ongoing support of her international fan following. As Sunshyne enthused within her May 2016 TS-Newsreel interview;
"I just want to tell them thank you, as I said before they give me a wonderful life and I hope they enjoy what I have for them".
Sunshyne Monroe : Adult Film Industry Hiatus & Comeback Career
In 2015 Sunshyne decided to take a brief hiatus from shooting online sex scenes and DVD feature releases in order to focus upon developing her official solo website and to pursue her alternative business ventures. Sunshyne explained during her Adult DVD Talk interview that;
"Well I do own a few other businesses that have been taking up my time just like with porn when I'm doing something I want to do it right and I want to put all my time and energy into that project so that it can be the best they can be".
Sunshyne made her triumphant return to the adult entertainment industry in October 2015 when she launched her brand new official solo website, clubsunshyne.com. This innovative multimedia platform enabled Sunshyne's fans to purchase rare signed merchandise and to request exclusive solo videos from the brunette beauty herself. As Sunshyne herself explained in greater detail during her TS-Newsreel interview;
"it's basically an online store where you can purchase everything from signed DVDs to cum filled panties. I will be adding a VOD feature with clips exclusive to Clubsunshyne.com. I super happy with the response I've been getting, people really seem to love the personalized scenes".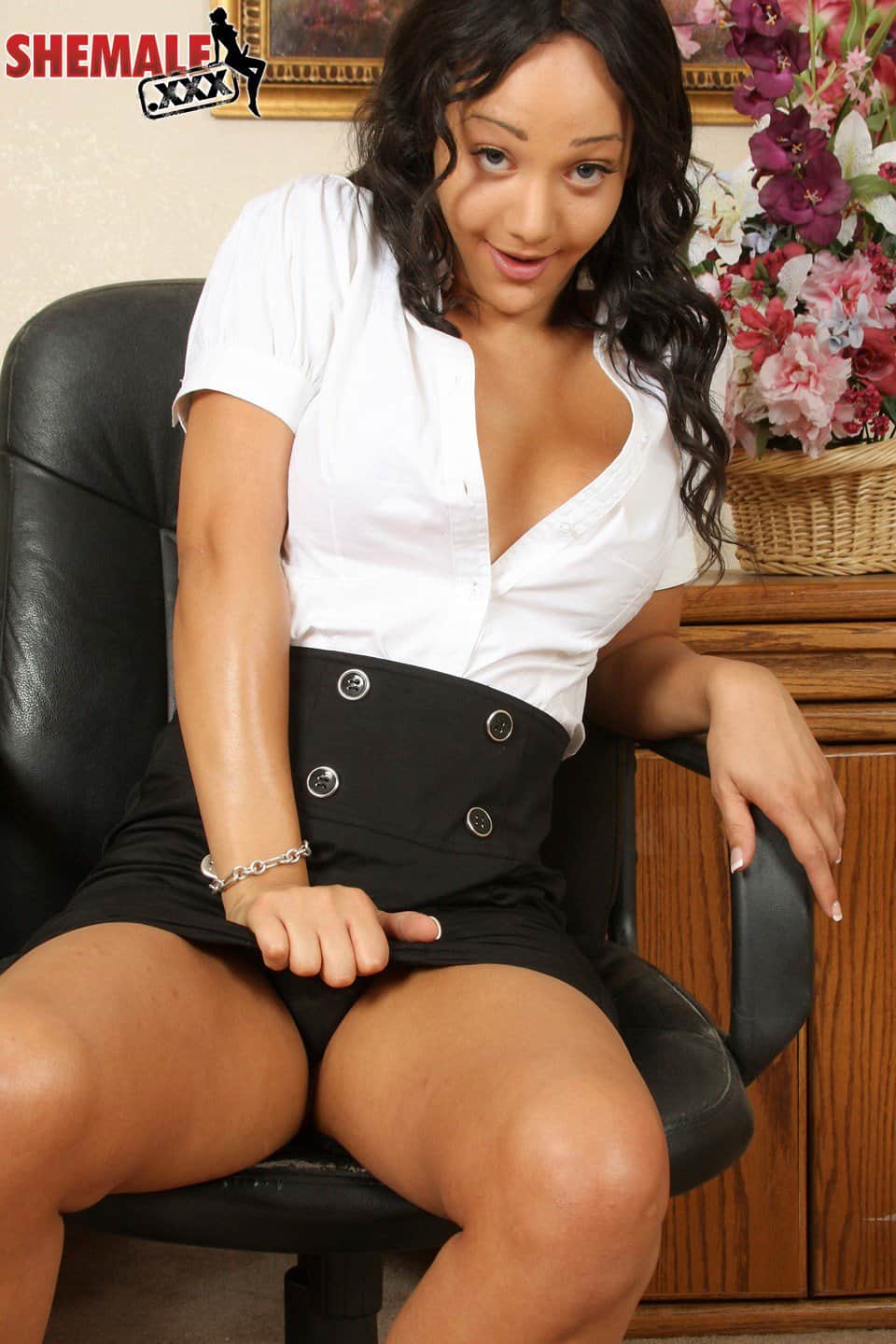 Sunshyne Monroe at Shemale XXX
As matters stand, Sunshyne also continues to manage Sunshyneland.com in collaboration with Shemale Club (SMC) and from late 2015 onwards she began to upload exclusive new web content once again. Ever loyal to her original solo website and its long term members, Sunshyne enthused within her October 2015 Adult DVD Talk interview how;
"Sunshyneland.com is my baby. I had to say even before I was signed to SMC. You can expect everything from hot solo scenes to Tgirl on Tgirl action, bareback, me topping, me bottoming everything. Cum piss and tears LOL".
Always eager to explore exciting new business ventures, in October 2015 Sunshyne signed with Hot Wendy PR and expressed during an AVN press release that;
"I'm so pumped to be back with Hot Wendy PR. She knows the business so well and has excelled in the TS industry for so long—who wouldn't want her professional advice? There are so many exciting things I have coming up. I can't wait for all my fans to see what the wait was all for".
From 2016 onwards Sunshyne has begun to film some saucy sex scenes with her fellow transsexual performers Kelli Lox, Chelsea Marie and Penny Tyler. Some of Sunshyne's hottest translesbian sex scenes include; her raunchy May 2016 shoot with Kelli Lox that was distributed via TGirl Network and Sunshyneland.com, her hot hardcore sex scenes with Penny Tyler that were filmed for Sunshyneland.com in June 2016, and her sizzling  Walk On The Wild Side shoot that was filmed with Chelsea Marie in Las Vegas for Sunshyneland.com in July 2016 and which served as Sunshyne's first ever facial sex scene! Sunshyne loved shooting with Chelsea Marie and noted within her XBIZ News press release how;
"Shooting with Chelsea was simply mind blowing…It really felt like we were just having sex; I didn't plan on getting a facial at all, but it felt right. So I just kinda did it, LOL. Everyone behind the scenes was shocked".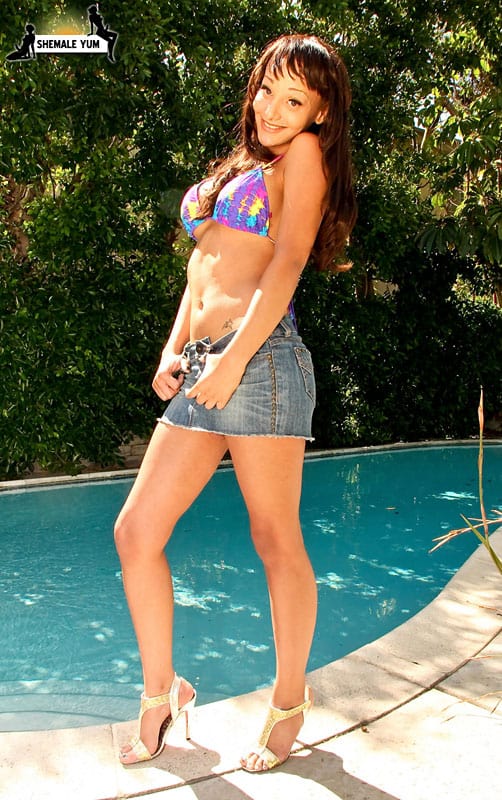 Sunshyne Monroe at Shemale Yum
In July 2016 Sunshyne has featured within a raunchy three-way sex scene with Kelli Lox and Antonio Aguilera that was distributed via VirtualRealTrans.com. When asked about her decision to begin shooting these types of TS-on-TS sex scenes during her TS-Newsreel interview Sunshyne revealed that;
"This is something that for me if you were to have asked me two years ago I would have said you were crazy! However my sexuality has grown so much, I'm just more open about sex in general, this is for sure the tip of the iceberg. People are going to be shocked at some of the things I'm going to be releasing, as for the two young ladies you are inquiring about, I asked Omar for a few girls I should do scenes with, as I really don't watch Trans porn at all, and they were on the short list of girls, I have a few more that should be released soon".
Sunshyne has continued to shoot exclusive video clips for Sunshyneland.com such as her foot fetish themed solo sex shoot Feet Lick in August 2016. Sunshyne also hosted a 'Win A Date With Sunshyne' contest via her official solo site in May 2016 wherein one of her American, Australian or European fans was offered the chance to get up close and personal with the brunette beauty herself!
Fans of Sunshyne Monroe rejoiced in September 2016 when she released her first ever signature showcase; The Adventures of Sunshyne Monroe: The Body (Volume 1). This stunning SMC Productions signature showcase featured Sunshyne in three hardcore sex scenes with Chelsea Marie, Kelli Lox and Penny Tyler as well as a fantastic foot fetish solo shoot and a stunning solo modelling session that was shot in the Nevada desert. Sunshyne was thrilled to unveil her first ever signature showcase in September 2016 and commented within an AVN press release that;
"It feels funny that after six years in the industry, this is my first showcase DVD. I did, however, want to wait for a body of work I was truly proud of. Even now, I think maybe I should have done this or changed that, but I must say I'm in love with the final product, and I hope my fans love it as well". 
Most recently, Sunshyne has been spotted filming in Spain with her fellow Shemale Club transsexual performers Eva Paradis, Mia Isabella and Angelina Vallis so you can expect to see some more scintillating shoots appearing on Sunshyneland.com in the near future!
Sunshyne Monroe : TS Business Mogul & Future Plans
In addition to her best-selling DVD feature releases and fan-favourite online sex scenes, Sunshyne Monroe is also a multi-talented feature dancer, presenter and entrepreneur who has pursued a broad spectrum of exciting business ventures within the adult entertainment industry. For instance, in July 2011 Sunshyne made history when she joined her fellow Grooby Productions transsexual stars Domino Presley, Morgan Bailey, Amy Daly, Michelle Austin, Khloe Hart, Angelina Torres, Britney Markham and Jenna Rachels in hosting the first ever Shemale Yum entertainment booth at Adultcon in Los Angeles. This groundbreaking entertainment booth served as the first time that transsexual performers had ever exhibited their adult film projects at Adultcon alongside mainstream porn stars. Grooby Productions founder, Steven Grooby, discussed this landmark success within an August 2011 Grooby News press release, stating that;
"I know the event was a definitely success… The girls educated the public about shemales and potentially our sites will reach a whole new audience. We handed out company postcards and virtually none were left. Plus, the girls were photographed with a vast array of fans, including couples and women. Be on the lookout for Grooby Productions to be attending more tradeshows in the future".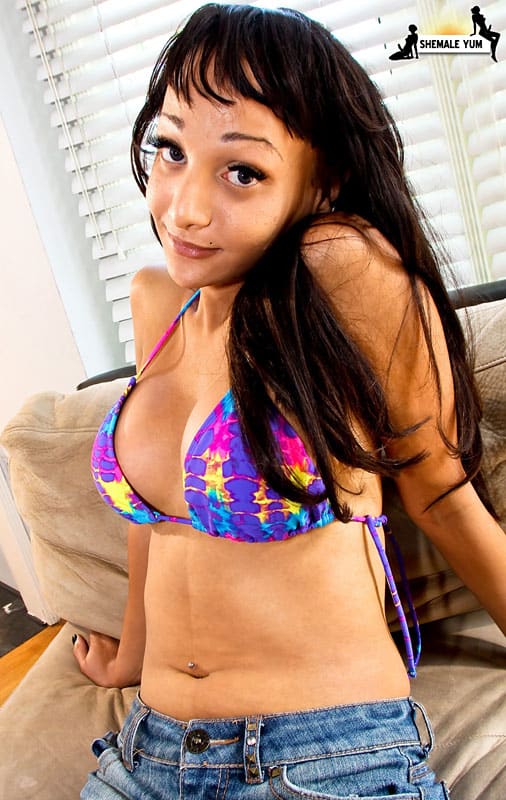 Sunshyne Monroe at Shemale Yum
Furthermore, in November 2012 Sunshyne was one of a select few transsexual stars to be featured via Texan transsexual superstar Lexi Wade's brand new website MoreThanJustPorn.com. Joining Mia Isabella, Paris Pirelli and Jesse Flores among many more transsexual starlets, Sunshyne participated in several exclusive interviews that were uploaded via this brand new site which was created in order to give TS fans an amazing opportunity to connect with their favourite performers!
As well as attending adult film conventions and managing her various website development projects, Sunshyne is also a talented feature dancer and presenter who has hosted the famous Tranny Strip nightclub event on multiple occasions. Heralded as 'New York's Biggest Transsexual Party', Sunshyne is a frequent feature at the Evolve Lounge in New York City alongside her fellow transsexual performers and feature dancers. As Sunshyne exclaimed within  a January 2013 Grooby News press release before she was due to host Tranny Strip for the first time;
"I always enjoy hosting a good event what better then Tranny Strip…I love the big apple, I certainly can't wait to see all my friends and fans come out and have some fun with me".
Since 2011 Sunshyne Monroe has been a integral part of the Grooby Network. As such, it was with great pride that Sunshyne able to become one of the sponsors for the Transgender Erotica Awards in 2016. Sunshyne ardently enthused within a February 2016 Grooby News press release how;
"I am so pumped to be a sponsor for this year's TEAs…After taking a year off from filming, it's going to be nice to see all my old friends, make new ones, and highlight my new work. This is a great start to what I believe is going to be a great year for me".
Grooby's Marketing and Editorial Director, Kristel Penn, also commented within this press release that;
"I'm excited about Sunshyne's return to the industry and think it's fantastic she's chosen to support our show…I'm looking forward to seeing what she has planned for the year ahead!".
As matters stand, Sunshyne continues to perform live chat sessions via her official solo website, frequently features within multiple best-selling DVD feature releases, and regularly updates Sunshyneland.com with a steady stream of exciting new web content. A multi-talented adult film star, feature dancer, presenter, website developer and entrepreneur, Sunshyne also writes blog posts and informative articles which enable her fans to glean exclusive industry insights from 'The Body' herself! In her spare time Sunshyne loves to go swimming several times a week, listen to music and, of  course, to party with her friends! As Sunshyne has stated within previous interviews;
"I love music and of course I love to party. I'm for sure the life of the party when I go out".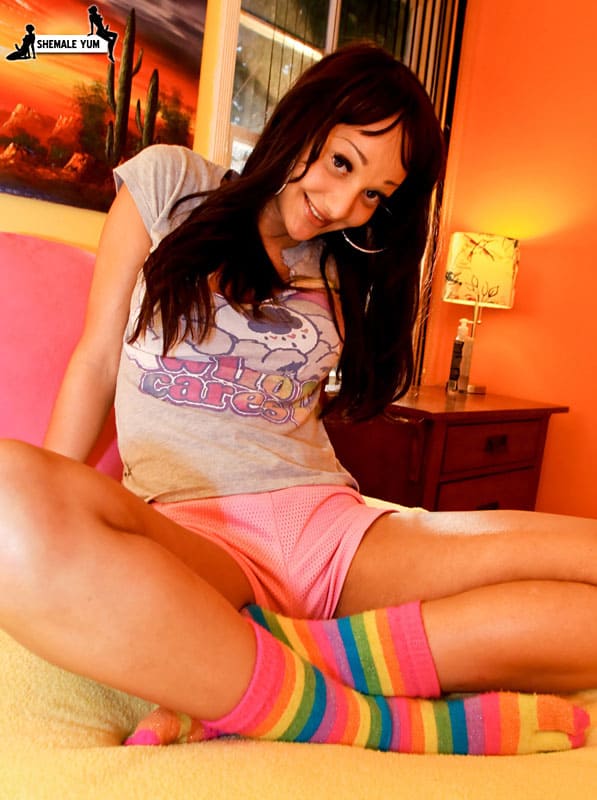 Sunshyne Monroe at Shemale Yum
When asked about her future adult film industry plans, Sunshyne has conveyed that;
"I just want to continue to do original and appreciated work. I want to leave a footprint and I think I already am. My first website was candyland themed and now there's tons of girls with a lollipop and glitters websites I was the first TransStar to use Monroe as a last name and now there is 20. Some people would be annoyed by this but I truly see as a complement…
I own two other non porn related companies one I've had for years now that keeps me busy. I will be doing a few club appearances this Fall, you can find the dates on clubsunshyne.com once they are announced. I'll be doing free webcam shows for members of Sunshyneland, that will start in July".
You can keep yourself updated regarding all of Sunshyne Monroe's latest video clips, live chat sessions and modelling shoots by visiting her official social networking channels online today! All of the links needed to stay in touch with transsexual superstar Sunshyne Monroe have been provided below;
Social Networks
Official Website : Sunshyneland.com
Shemale Yum Profile : Sunshyne Monroe
Shemale.XXX Profile : Sunshyne Monroe
Twitter : @Sunshyneland
Instagram : @sunshynexoxo
Kink Profile : Sunshyne Monroe
IMDB Profile : http://www.imdb.com/name/nm4774760/