Personal Info

Name : TS Foxxy
Alias: Alyssa, Alyssa Gomez, TS Foxxxy, Foxxxy
Date of Birth: April 11th 1983
Home Town : Tuscon, Arizona (US)
Measurements : 36D – 26 – 36
Bra/ Cup Size : 36D
Boobs :  Enhanced
Height : 5'2 (1.57m)
Weight : 114lbs (52kg)
Hair Colour : Black/Brunette
Eye Colour : Hazel Brown
Shoe Size : Women's 10 (US)
Tattoos: Kanji design on lower abdomen, tribal designs on both calves and across her left foot, large cross on her right shoulder and a large tribal design covering her left arm as well as across her lower back and along her spine
Piercings : Navel
Years Active : 2003 – present
Number of Scenes : 43+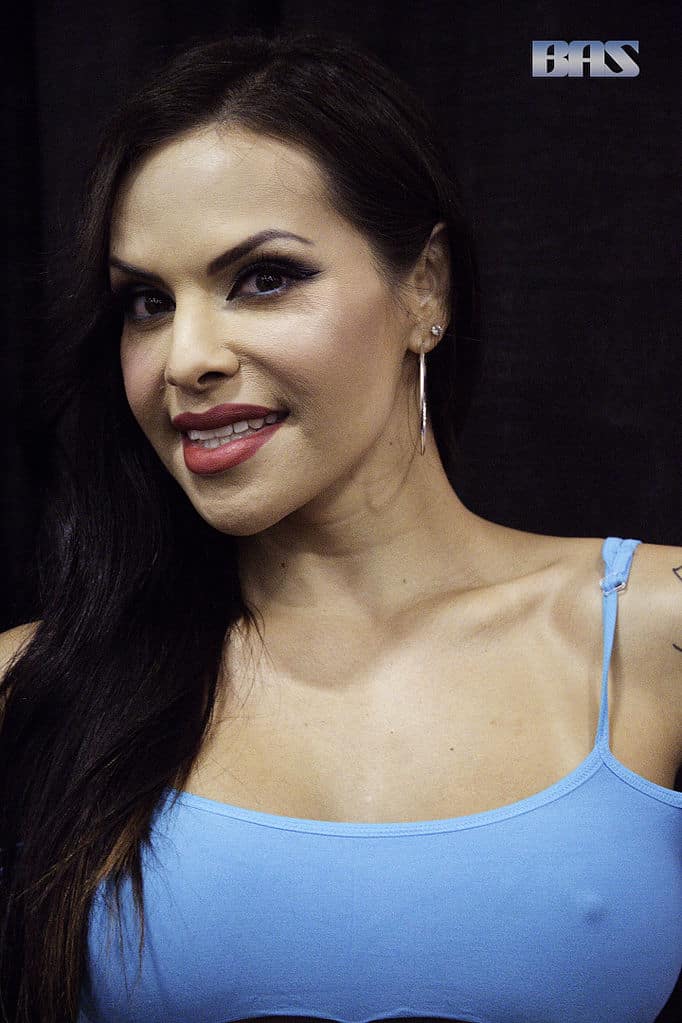 Image Sourced from Wikimedia by Baldwin Saintilus
Affectionately known as the 'Small Wonder', TS Foxxy is one of the most well known and admired transsexual porn stars in the adult film industry. Her bubbly and optimistic personality, combined with her natural femininity and raw talents, have earned her a series of adult film awards and nominations as well as a dedicated fan following who have tracked her career since the start.
Since an early age Foxxy has approached life with an eternal optimism and respect for all walks of life. As a child she cared for all manner of cats, dogs, fish and birds, as well as working in a pet shop for several years. During a Wendy Williams interview, Foxxy commented that she did not become fully aware of her gender identity until she reached puberty. In this interview, Foxxy openly discussed how;
"It wasn't until I hit puberty that I noticed myself being attracted to men maybe as my hormones were jumping and I was becoming a sexual being. Although I had little crushes on girls and had girlfriends I just didn't understand why I thought girls were pretty yet boys turned me on sexually. I was always a feminine boy into my appearance, hygiene, health, and fitness but didn't think it was because deep inside I associated and related my thoughts as an average girl would….
 I did grow up playing mostly with the girls in my family and lived myself through them, making them model, doing their makeup, hair, buying them clothes that I would wear lol. Fantasizing about men became more frequent and I was so turned on, I never felt gay as I was never flamboyant or wanted to be with a gay boy/man….
I felt so feminine that I wanted a straight masculine guy. Dressing as a girl for halloween was probably the first sign of me wanting to become a woman and feeling comfy in woman's dresses. I found myself putting on my mom's makeup while she was at work and putting on her dresses and heels and dance around the house lol. by my high school years I knew I wasn't the same".
Despite struggling with her gender identity as a teenager, Foxxy has always maintained a very close bond with her family. She has enthused in previous interviews how;
"I am very very fortunate to have such a close bond to my family. They have never treated me any different since I was a child and maybe because I was always feminine they all thought I was going to be gay but again in a smaller city, transgender was not common so that would have been the last thing on their minds so I was a bit of a surprise but not shocking as my mom had many gay and lesbian friends and even one good friend who was a transgender woman who she would go out clubbing with and was explained to use as we were mature to understand. My family has followed my transition and has supported me in all the choices I have made for myself and has loved me no less. I get a lot of friends telling me how they wish they had the same bond as I do with my family especially with their mom who I consider my best friend, confidant, and my rock".
After several years of feeling conflicted with her gender identity, Foxxy decided to fully embrace her place within the transgender community when she was 17 years old. During her interview with Wendy Williams Foxxy revealed how it was at this pivotal time in her life that;
" I knew I was different and had been exposed to the gay community and met many new friends outside of school and was becoming more comfy in being myself. I built confidence and courage and realized that I'm gonna be who I want to be and not care what people say. I became more daring and adventurous in my daily wardrobe and started going to parties and gay events and fundraisers and was dressing up practically every weekend secretly away from home. I graduated high school and was caught by my mom dressing up and that was when I came out and told her what I was doing and who I wanted to become was when I started my transition. the fear of my family disowning me was what was keeping me from transitioning earlier in life but soon as I got the support I went full force lol".
Following her transition process, Foxxy began working as a go-go dancer in a alternative nightclub in Las Vegas, Nevada; the setting which would prove to be the launching pad of her porn star career! It all began in 2003, when Foxxy was 20 years old, during the week of the prestigious AVN Awards. Numerous photographers, directors and performers affiliated with the adult entertainment industry descended upon Las Vegas for the week and several representatives from Grooby Entertainment and Shemale Strokers soon spotted Foxxy's natural beauty and seductive charm. Over the course of the week these representatives approached Foxxy several times asking her to shoot for their sites. Foxxy divulges that;
"I was so clueless about the TS industry or industry period lol.. my curiosity got the best of me and I shot for Franks T-Girl World and Shemale Yum and then the following week I shot for Shemale Strokers. I did sexy photos, stripped, tease video, and solo jerk off video which was so nerve wrecking being naked and being naughty in front of a stranger and camera but after I got my check I was happy to see how the photos came out and I actually felt more confident about myself and body and realized that it wasn't such a bad thing after all".
And the rest, as they say, is history! One week in Las Vegas soon escalated into a thriving porn star career during which time Foxxy worked for a multitude of major pornographic production companies including Evil Angels, Devil's Film, Kink.com and many, many more. Foxxy also continues to host live cam shows on sites such as where fans can send her gifts in return for an exclusive one-to-one show and tell!
Throughout this flourishing porn star career Foxxy's bubbly, optimistic nature has earned her a loyal fan following and enabled her to arise victorious in what can be a harsh and often critical genre. Speaking about her eternal optimism, Foxxy stated how;
"I have always been such a fun loving outgoing friendly person who made friends everywhere I went and made the best of every situation I was in so I was always a favourite amongst my family and my peers growing up. I guess I just always had that vibe and always happy and smiling. I never liked drama or to be upset or make enemies and most people say my mother and I have the same exact personality and gestures and she's always be the life of the party so guess growing up having her raise us as a single parent really did reflect on how we were as a person…
I also kept myself out of the TS "scene" where in most cases that's where all the catty and competitive attitudes where and especially in the big cities. I also never really hung around other girls in the film industry living in Vegas it was a very small community and I was one of 2 well known film stars in Vegas for a long time and we were friends. Also my friends were not involved in any way with porn and it helped me remain the same down to earth person I was and I never had to act better than anyone and my ego or attitude never changed. I love to live life and see people happy around me so I always make sure it's a Foxxy time when I'm around lol.".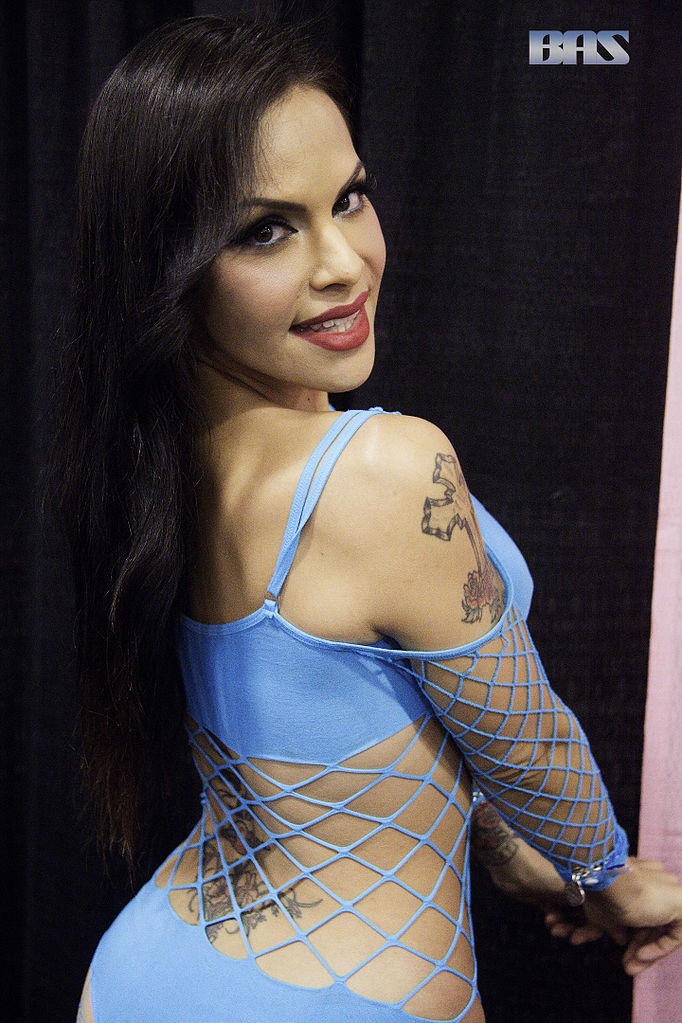 Collaborating with some of the most popular pornographic production companies in the adult film industry has earned Foxxy a string of adult film award wins and nominations which have been listed below;
2009: AVN Awards nominee — "Transsexual Performer of the Year"
2011: Tranny Awards nominee — "Best Hardcore Performer"
2011: Tranny Awards nominee — "Best Hardcore Model"
2012: Tranny Awards winner — "Best Hardcore Model"
2012: XBIZ Awards nominee — "Transsexual Performer of the Year"
2013: AVN Awards winner — "Best Transsexual Sex Scene" — American Tranny 2 (2012)
2013: AVN Awards nominee — "Best Transsexual Sex Scene" — TS Playground 1
2013: Nightmoves Awards nominee — "Best Transsexual Performer"
2013: Tranny Awards nominee — "Best Hardcore Performer"
2013: Tranny Awards nominee — "Best Solo Model"
2013: Tranny Awards nominee — "Best Solo Website"
2013: XBIZ Awards nominee — "Transsexual Performer of the Year"
2014: AVN Awards nominee — "Best Transsexual Sex Scene" — TS Girlfriend Experience 1
2014: AVN Awards nominee — "Transsexual Performer of the Year"
2014: Nightmoves Awards nominee — "Best Transsexual Performer"
2014: XBIZ Awards nominee — "Transsexual Performer of the Year"
2015: AVN Awards nominee — "Best Transsexual Sex Scene" — America's Next Top Tranny 18
2015: Nightmoves Awards winner — "Best Transsexual Performer"
2015: AVN Awards nominee — "Transsexual Performer of the Year"
2015: XBIZ Awards nominee — "Transsexual Performer of the Year"
2016: AVN Awards nominee — "Best Transsexual Sex Scene" — She-Male Perverts
2016: AVN Awards nominee — "Transsexual Performer of the Year"
2016: AVN Awards nominee — "Favourite Transsexual Performer (Fan Award)"
When asked to name her favourite scene to shoot out of all of her previous pornographic productions, Foxxy revealed that;
"It would have to be the parody Venus Lux and I did about the Asian nail salon. Very stereotypical yet funny and sexual. I liked it because we had a great time, laughing and making it up on the spot that made it turn out to be an award winning scene for us. We focused more on acting then we did on sex which made it different compared to the normal sex scenes".
In fact, TS Foxxy has collaborated with transsexual superstar Venus Lux on a wide variety of modelling shoots, sex scenes and public appearances. From hosting radio talk shows and nightclub parties together, to filming sex scenes and sharing the spotlight at Venus Lux Entertainment's TS booth at adult film conventions and expos, TS Foxxy has always had a strong friendship with her fellow transsexual porn stars. You can learn more about Venus Lux the actress, director and business woman as well as many more of TS Foxxy's transsexual co-stars by checking out their xxx bios online.
Speaking of collaborations, TS Foxxy is a frequent feature on the Las Vegas nightclub scene. Having lived and worked in Las Vegas for the past 12 years, she has strong connections with some of Nevada's most high profile clubs, casinos and exclusive expo events. Foxxy is always quick to thank her loyal friends and fans for these industry connections, stating how;
"Those same people I have known since day 1 are still part of the Vegas nightlife till this day and they take care of me and my friends and since becoming a local celebrity I have met new admirers that are familiar with my work which leads to more benefits for me but what is hard for me to handle is knowing they have seen me naked, being really naughty, and doing crazy stuff lol. Then I become shy and embarrassed lol".
When asked about additional transsexual porn stars that she would love to work with, Foxxy has expressed a desire to share some scenes with the following stars;
"Let's start with females… there's a handful I would love to work with such as Kendra Lust for her beauty and muscle toned body, Phoenix Marie for her beauty and wild anal ways, Jenna Jameson and Tera Patrick both because they were girls I grew up watching and seeing them both have the bad girl look yet hot MILFS, Dani Daniels for her sexy ass self period! Jesse Jane because she is a sexy little thing, petite like me and so bubbly and fun and I could see myself dominating her lol, and then there's a tie between Bonnie Rotten and Christy Mack. Both tatted, sexy, fun girls that I know are bad girls on and off camera which I fit right in with them lol. My list could go on but I couldn't just name one ha ha ha…
As for the men, well I love men, nice big penises, and beautiful bodies and there are so many of those in the gay, straight, and ts industry that I def can't point out one… some I have secretly already had sex with so it narrows down my list but my list is long so I'll leave this one to be continued lol".
With such a long list, we think it's safe to say that the Small Wonder will continue to thrill, seduce and enthral her fans for many years to come! Foxxy has also recently commented how she is working with a new publicist and has expressed an interest in participating in more mainstream media projects.
Although she is currently based in Las Vegas, Nevada, Foxxy has always loved San Diego; having visited this city every summer as a child with her family. In previous interviews Foxxy has discussed how she loves to visit San Diego whenever she can and would love to relocate there in the future. In the long term, Foxxy has revealed aspirations of directing her own pornographic productions. On the other hand, Foxxy has also revealed that if she ever retired from the adult entertainment industry then she would consider owning a holistic healing centre or her own spa. As she explains in her own words;
"I love spiritual healing, relaxation, pampering, and making people feel good. I'm told I have healing hands and energy so I'd have to put my healing powers to use. I also love cooking and eating so my other option would be a chef and owning my own small intimate restaurant".
However, above all else Foxxy has remained appreciative of her fan base. She has always taken the time to express her gratitude for her fan base who have made her who she was, always commenting in interviews how;
"A very big thank you to everyone who has followed me or is now following me throughout my career and has supported me in everything I have done. Without you all I wouldn't still have one of the longest ts porn careers in the industry and still going strong! love ya!".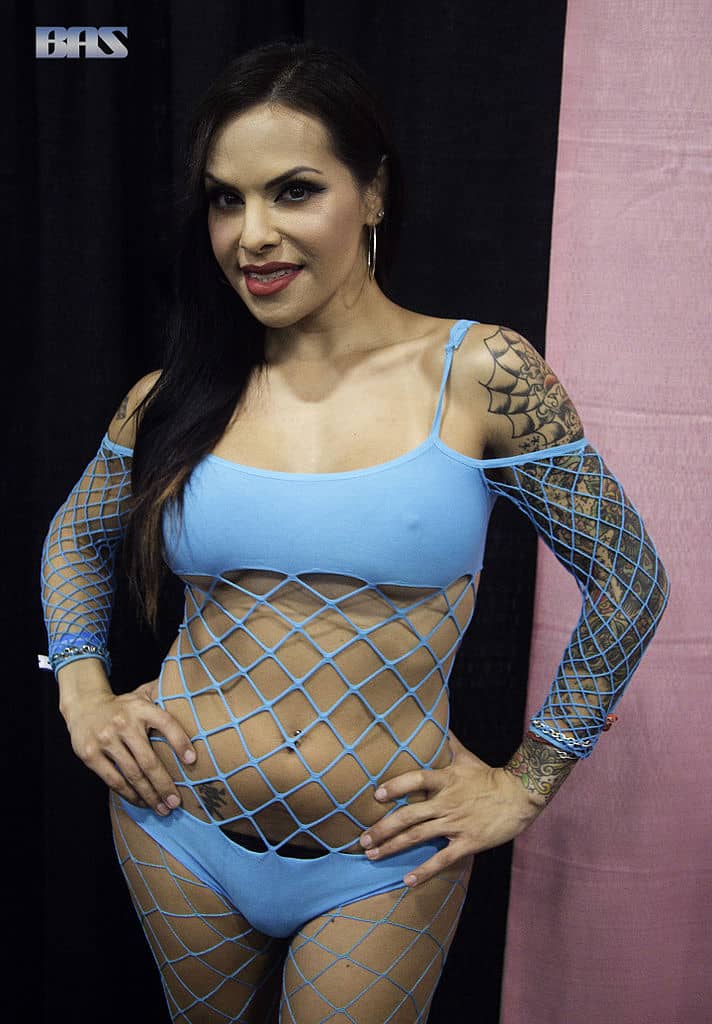 In addition to thanking her fans for their loyalty, Foxxy has often taken the time to draw attention to transgender issues during her interviews and radio talk show appearances. Foxxy has discussed transgender issues in various radio talk show appearances and interviews. For instance, when she was asked about the tensions caused when cross over male talent mixes with mainstream and transsexual pornographic productions, Foxxy strongly expressed how;
"Hypocrites that are stupid and think that we all don't have sex on film with multiple tested partners for money regardless of sex or preference. It's a freakin job in the sex industry lol… geez that's one thing that bothers me about the industry is fools who think a "straight" man can and should only film with females yet females can film with other females who are bisexual, have multiple men bang them at same time, do cream pies, yet a single male is ridiculed and blacklisted because he films TS porn that doesn't do have the stuff the "straight" industry does on film?…
Crazy thing is a few of those same haters refuse to work with certain men who have done gay porn and crossed over to straight and the gay industry dislikes when the "gay/bisexual" performers cross over to TS. We get it from both end of the industry. I hear from girls that love us TS and are friends that it's their agent that doesn't allow them and other girls that dislike TS girls that blacklist the men from shooting with them if they have ever shot with ts. As for why, I couldn't give a reason good enough to pin point the answer… you would have to ask the haters themselves".
Similarly, Foxxy has also publicly expressed her views about the stories in the mainstream media in recent years which report on young transgendered people committing suicide due to a lack of support from their family, friends and local community. In response to these heartbreaking tragedies, Foxxy has offered her own experiences as an advisory tale;
"The hard thing for me wasn't being accepting by friends, it was the fear of being disowned by family. In my mind that was always popping up and at times it was stressful but what helped me was meeting the right people who became friend of mine in the LGBT community and how my older gay friends were so close to each other as a family and we were each other support and I think that helped me a lot was already associating with positive loving fun people in the GLBT community and being the young one…
As for family it won't always be easy and you will always have someone in family or in society that will be saying negative things about it and you will find out who is supportive and who is not and some will come to realize that your still the same person inside and will come around later but it's your heart that you need to follow and do what makes you happy in a positive way. You gotta prove to yourself that you are strong and what your doing is for yourself, no one else and it will make you a happy person. So whether you have family support or not, remember there is also a family in the community that will love you, accept you, and help you. never feel alone!".
Foxxy continues to appear on transgender panels at adult entertainment expos, as well as co-hosting radio talk shows with Venus Lux and other fellow porn stars in order to raise awareness towards these transgender issues. You can learn more about these initiatives within our Venus Lux bio.
As matters stand, Foxxy currently produces her own official blog site where she uploads seductive photos, new films and exclusive updates about her latest projects and upcoming appearances. Talking about this raunchy content Foxxy enthuses how;
"I've learned a lot though out my career and have met many great performers and worked with them as well. I also have expanded my sexual appetite for trying new things and learning what my audience likes. So I have a variety of scenes that include me being a top, bottom, glamorous, submissive, dominant, girl next door, also with women, other transgenders, and men of course. So a little bit of everything for everyone !! I'm very big on photos and behind the scene videos and personal videos with friends so you'll get to see me in all aspects of me being me".
Why not check out Foxxy's blog site and cam-site profiles online today for a chance to chat with the Small Wonder herself? In the section below we have included all of the links to her current social networking channels so that you can remain updated with the latest modelling shoots, public appearances and live content to come from this beautiful and well loved performer.
Social Networks
Amazon : FOXXY'S WISH LIST
Official Blog Site : http://www.ts-foxxy.com , Foxxy (TS) Free Galleries , Foxxy (TS) Videos
Facebook : https://www.facebook.com/alyssa.gomez.963
Twitter : @Foxxy702
Kink Profile: TS Foxxy
Chaturbate: chaturbate
Instagram : im_foxxylicious
Snap Chat : xxx702xxx