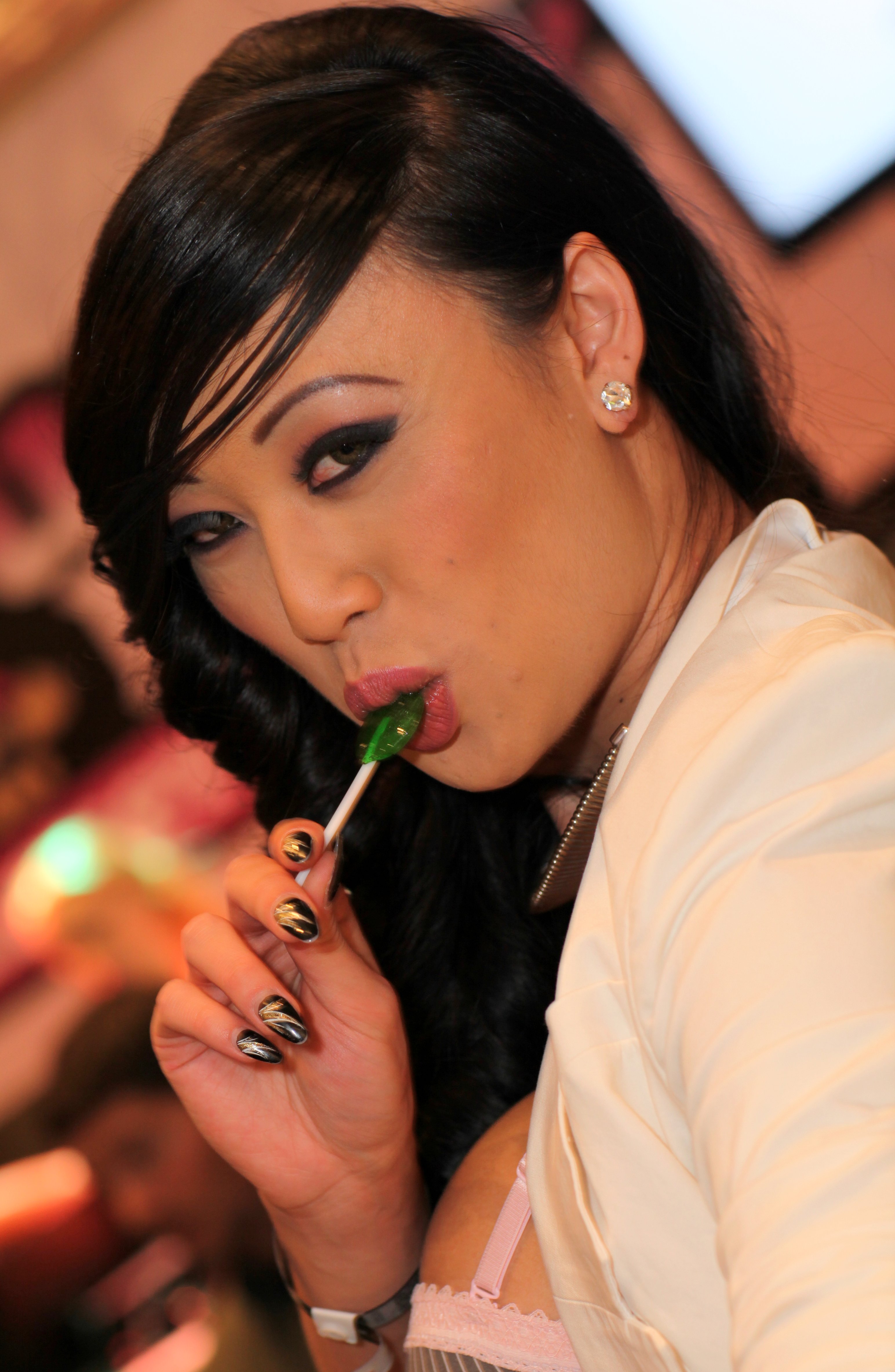 Vemis Lux at the 2013 AVN Expo in Las Vegas – by Michael Dorausch
Name : Venus Lux
Alias: Venus, Venus Luxe
Date of Birth: October 10th 1990
Home Town : San Francisco, California (US)
Measurements : 34C – 24 – 29
Bra/ Cup Size : 34C (75D)
Boobs :  Enhanced
Height : 5'10 (1.78m)
Weight : 129lbs (59kg)
Hair Colour : Black/ Red
Eye Colour : Brown
Shoe Size : Women's 9.5 (US) 
Years Active : 2012 – present
Number of Scenes : 55+
Remember the name Venus Lux; because this transsexual porn star is on her way to superstardom! Despite having only worked in the adult entertainment industry for four years, Venus Lux has amassed a series of prestigious award wins, a devoted fan base and has established herself as a formidable businesswoman within the adult entertainment industry. Fans and colleagues are right when they describe Venus Lux as a triple threat, from acting to directing and producing, this black-haired beauty has it all!
Born and raised in San Francisco, California, you can thank Venus Lux's Chinese and Mongolian descent for her natural femininity and raw beauty. The only child in her family, Lux is half deaf in her right ear. Venus has discussed in interviews the tense relationship that she has with her father. In a VICE interview she commented that;
"I don't get along with my father. I remember one dream where he became a blob. I was trying to mould him into a human form again, but he just dried up in my hands."
Throughout her youth Venus always knew that there was something different about her. Consequently, after cross-dressing for several weeks in 2009, Venus decided to begin her transition process by undergoing hormone replacement therapy and breast augmentation surgery.
Venus Lux : The Actress
Following her transition process, Lux initially worked a series of jobs as a bartender, stripper and escort before her potential as a porn star was discovered by a Kink.com talent scout. Following an email from this talent scout in 2012,  Lux left her string of odd jobs behind and filmed her first pornographic scene with Kaylee Hilton for tspussyhunter.com.
During these early years Venus worked with every major adult production company; from Kink.com and Grooby Entertainment to SMC, Evil Angel, Rodnievision, Devil's Film and Bob's TGirls Productions. Some of  Lux's most popular pornographic productions created during this time include; Transsexual Prostitutes 72, America's Next Top Tranny 17, Transsexual Cheerleaders 11 and The Next Shemale Idol 5. Indiscriminate in her choice of co-stars, Venus made a name for herself due to her willingness to film all manner of gonzo, POV and hardcore domination scenes with male, female and transsexual co-stars.
Venus also collaborated on TS, I Love You , a production which was defined as "boundary breaking" by AVN. TS, I Love You was a groundbreaking production that challenged gender stereotypes and jettisoned both Dana Vespoli and Venus Lux into the forefront of adult film industry. Venus also went on to collaborate with Dana Vespoli again in Girl/Boy  and Girl/Boy 2.
These popular pornographic productions earned Venus Lux a distinguished reputation amongst fans and colleagues within the adult entertainment industry. So much so that, within her relatively short adult film career, Venus Lux has amassed an impressive 9 award wins out of 23 nominations to date. As matters stand, some of Venus Lux's most prestigious adult film award wins and nominations include;
2013: Nightmoves Awards nominee — "Best Transsexual Performer"
2013: AVN Awards nominee — "Transsexual Performer of the Year"
2014: Tranny Awards winner — "Best Scene" — Asian Nail Salon (Won with TS Foxxy)
2014: Tranny Awards winner — "Best Solo Site" — Venus-Lux.com
2014 : Tranny Awards winner — "Best Hardcore Model"
2014: Nightmoves Awards winner — "Best Transsexual Performer (Fan Choice)"
2014: XBIZ Awards winner — " Transsexual Performer of the Year"
2014: AVN Awards nominee — "Transsexual Performer of the Year"
2015: Nightmoves Awards nominee — "Best Transsexual Performer"
2015: AVN Awards winner — "Best Transsexual Sex Scene" — TS, I Love You (Won with Dana Vespoli)
2015: AVN Awards winner — "Transsexual Performer of the Year"
2015: XBIZ Awards winner — " Transsexual Performer of the Year"
2016: AVN Awards winner — "Transsexual Performer of the Year"
Venus has never been shy about expressing her glee and sincere gratitude at receiving these awards. In fact, whilst discussing her very first AVN Award wins in a 2015 interview, Venus enthused how;
"My first AVN win—actually my first two AVN wins. The week was so intense, doing the trade show. For four days straight, I was wearing heels and having to stay at the booth for eight hours a day…It definitely made my week…I was so nervous [when they opened the envelope]…How wrenching it would be if I didn't get it—and what if I did? Is my makeup okay? Am I dressed properly? When they called my name, I was on Cloud Nine. It was the best highlight of my whole entire career".
During this interview Venus discussed how she felt her win was attributed to her crossover appeal, commenting how;
 "I cross over to straight porn a lot because I have sex with girls a lot. Most other [TS] performers stay within the industry: TS-and-TS's, TS solos, TS-and-guys. I pretty much have sex with everyone: females, males, transsexuals. Also, I'm a top. I'm a dominant person in most of my films. I'm rarely the submissive one. I think that makes me unique. Most of the girls in the industry are submissive….
I'm very known to, basically, fuck everything that moves. I'm known for that. I have no prejudice. I think sex is sex, and I'm the one who reaches out to both genders. This gives me a variety of ways to express my persona. We are beautiful women. We have tits, we have long hair, but we have something extra. We don't have a vagina—but we do have a hole…We're also relatable. We have a penis, so we know how it works. And we could have lived an older life as a male. We understand certain things: You want to glance at that girl? That's okay. Just don't fuck her when we're together".
Venus also revealed how she celebrated her prestigious win;
 "Falling asleep. I went out for a celebratory drink, had some food, then I went to bed. I had a long week. And she was shooting for Kink.com the next Monday".
You can check out Venus Lux's post award win celebration content on link. Moreover, when asked about her subsequent AVN award wins, Venus has revealed how;
"I thought the first time was difficult enough; now winning again has sealed the deal, meaning that my performances have been well received…As a performer, you're always challenging yourself to be a better performer and to reach new heights, and when you have that expectation of yourself, nothing really seems to be satisfactory, so I'm always working hard, and now that I have a second AVN Performer of the Year underneath my belt, it feels very accomplished…
"Thank God for my staff…Unfortunately, I kind of stumbled on stage and forgot to thank my staff who have been with me for so long, and have helped me assemble the things I have and really see my vision and have stayed with me through thick and thin and helped me establish my brand further".
One of the defining moments in Venus Lux's adult film career arose following her 2013 and 2014 adult film award wins and nominations. In 2014 Venus signed an exclusive three year distribution deal with Pulse Distribution. This lucrative opportunity has equipped Venus with creative control over her DVDs because she now owns her own studio Venus Lux Entertainment. Venus enthused that this new distribution deal provided her with;
"the opportunity to reach a broader audience…I'm ecstatic at the idea that more people will be able to see what I do and get to know more about my work. I think these DVDs are going to reach a lot of new fans that may not have been aware of my videos before. I chose these titles specifically because I wanted to make an impactful first impression".
This distribution deal enabled Venus to experiment with acting and directing new and exciting exotic sub-genres including femdom fetishes, parody, cosplay, and hard-core domination. For instance, during this time, Lux starred in the hilarious and raunchy reality comedy series Hard Times which followed a family of porn stars down on their luck, living in the suburbs and trying to make ends meet! When she first signed her Pulse Entertainment deal Venus enthused that it was;
"a huge step forward for me in my career…The contract took 8 months to close and I'm very proud to have completed negotiations for my company's first exclusive deal. Having the ability to make decisions about storylines and genres, and having creative control over productions is something I'm excited, nervous, thrilled and every other emotion about. Fans can anticipate scenes they've never seen on DVD before; I'm not going to hold back!"
In the same year as signing this impressive distribution deal, Venus launched her newly refurbished website, Venus-Lux.com, which went on to win the "Best Solo Site" awards at the 2014 Tranny Awards. As matters stand, her website is one of the few independent websites run for transsexual performers.
During her four year adult film career, Venus Lux has collaborated on several mainstream media productions. Amongst these productions included; Venus appearing as herself on the Comedy Central TV series Brody Stevens: Enjoy It! in 2012, appearing in the "Brody Stevens Dating Game" episode of The Naughty Show in 2013, featuring in an article posted on VICE in 2014, and participating in a Buzzfeed video titled "I'm A Sex Worker But I'm Not…" in 2016 which dispelled many of the myths and stereotypes surrounding the adult entertainment industry. Venus has also appeared on the cover of numerous publications including Transformation Magazine.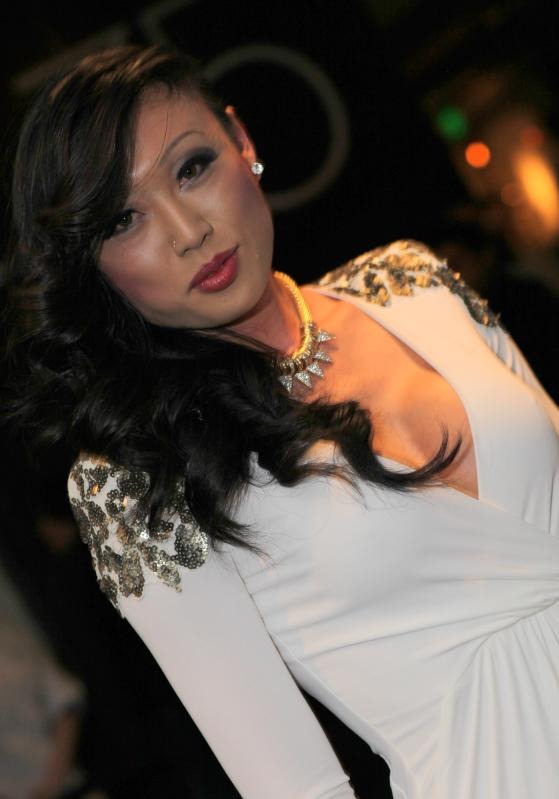 Venus Lux at the 2013 AVN Awards held at the at the Hard Rock Hotel & Casino in Las Vegas – Image source
Furthermore, in the spring of 2016, Venus Lux founded both the Syren Network and the website TS Fetishes. Most recently, Venus has featured in a documentary titled "After Porn Ends 2" which is due for release in 2017. This documentary will be a sequel to the popular documentary "After Porn Ends" ; both of which chronicle the lives of former adult film performers who have retired from the industry.
As if her thriving acting, directing and business careers weren't enough, Venus has also launched a revolutionary new type of adult cam show wherein she continues to mentor amateur models on the basics of adult film scenes. Billed as Lux's first "model recruitment BTS cam show", this project tests aspiring porn stars to see whether they've got what it takes to establish a thriving career in the industry. It also enables Venus Lux fans to watch exclusive gonzo content and POV scenes which have made Venus so popular over the years. You can view this recruitment cam footage as well as a wealth of live content created by Lux's protégés on adult-cam sites such as chaturbate.
Combine all of these award wins, mainstream media appearances and production company collaborations together and Venus Lux looks set to retain her prominent status as one of the most popular and powerful transgender performers within the adult entertainment industry!
Venus Lux : The Business Woman
As well as earning multiple acting awards, Venus Lux has established herself as a formidable businesswoman within the adult entertainment industry. For instance, in 2012 Venus began to write a column on her blog site titled "Venus Rising". However, as her column began to generate more followers and praise, Lux's natural business acumen enabled her to seize the opportunity and form these columns in a book titled "Venus Lux Diaries" which was commercially released as an e-book on Amazon in March 2015 and plans for a hard-book cover edition have been proposed. When asked about her inspiration for writing these columns, Venus has since explained how;
"The work I did on Venus Rising was very special to me…It also provided me the opportunity to educate, inform and assist those going through their own transformations. I'm very proud of what I have written and hope that people who order Venus Lux Diaries can take something special away from reading it".
Due to the ongoing popularity of "Venus Rising", Lux continues to write regular columns which are now posted on AIP Daily's website every Sunday morning. Within this column Venus tackles topics ranging from relationship dilemmas to gender identity debates and transgender issues. Venus has also announced her plans to turn her remaining columns into a expanded novel or autobiography in the future.
Following the success of "Venus Lux Diaries"  in March 2015, Venus Lux launched TransGlobal Magazine in October 2015; an independent entertainment company that Venus specifically designed as a platform for aspiring transgender performers. When asked about her motivations behind this ambitious business venture, Venus revealed in an AVN interview how;
"Transglobal magazine has been a passion project of mine since Day One, before the adult industry, before anything happened…I worked in non-profits for eight years before joining the adult industry, so having this kind of outlet to be able to express myself and share my experiences to a community that I'm very well immersed in and a part of, I need to feel that sense of giving back somehow, and so I created Transglobal magazine to be able to help others have a platform to express themselves and to showcase their stories and experiences as a transgender person, and to inform those who don't know too much about the transgender world and its many lifestyles…TransGlobal doesn't just cater to the transgender community…We want everyone to feel welcome and, hopefully, create a better understanding of who we are. The addition of these new features helps in that ideal".
In the future Venus has plans for this independent entertainment company to evolve into a vast worldwide network that encompasses a magazine, video segments such as "Transparent as a Trans-Parent" a TGM podcast network, a YouTube channel that will feature original content including "The Venus Lux Show", ongoing updates from Venus Lux's long-running "Venus Rising" columns, public meet and greet events, merchandise, social media channels and all manner of multimedia content which is specifically designed to "nurture transgender voices around the world".
As Venus aptly stated in her own words via a 2015 AVN press release;
 "I'm so proud to present a new hub for transgender info, entertainment, services, and resources…TransGlobalMagazine.com has been a long time passion and goal of mine. Now I have the ability to inspire, educate, and advocate for my community in an effort to make a difference worldwide. I hope others may now recognize my true intentions of life and join me in spreading positivity and change".
This adult entertainment mogul has also been working on producing her very first transsexual toy line; promising something for everyone. Who knows? Some of these toys may soon start to feature in her adult-cam videos! As well as these transsexual sex toys, Venus has even launched her own branded lube! Manufactured in collaboration with Spunk Lube for both men and women, this limited release was available exclusively to Lux's fans at Adult Con and followers on her website. Is there anything this woman can't do?!
Venus Lux : Ambassador For Transgender Issues
Since breaking into the adult entertainment industry in 2012, Lux has established herself as an ambassador for transgender rights. For many years she has strived to raise awareness for overlooked and often mistreated transgender performers. Venus  has managed to achieve landmark victories for transgender performers through the creation of her own transgender production booth for adult film conventions.
Branded as Venus Lux Entertainment, Venus has mentioned in interviews that she was inspired to create her own production booth after being rejected from other companies' booths at the Adult Entertainment Expo (AEE). As matters stand, Venus Lux Entertainment is the only TS booth at AEE. Proud of this accomplishment, Venus stated in a 2015 Daily Dot interview that;
"I thought, I'm gonna make something happen for us girls to have a place to sign and say, 'Look, we're a niche genre but we're still beautiful women. We just have something extra…The industry and the general public are not open about that…We do not get interviewed at all on the red carpet by the Playboys, the HBOs," she says. Compared to porn's biggest names employed by the biggest studios, TS performers are not considered "a marketable product that [the media] can advertise freely".
Furthermore, in a bold move to raise awareness to the talents of her fellow transgender performers, Venus sponsored her own red carpet event at the Share Nightclub two days before the 2015 AVN Awards. Welcoming the entire porn star community, be they straight, gay or transgender, this event demonstrated a brighter and more inclusive future for the adult entertainment industry as a whole.
Lux has publicly stated how she hopes that events like this will earn more respect for transgender porn stars. Despite their strong fan following, Lux highlighted in her 2015 Daily Dot interview how the industry as a whole still mistreats transgender performers;
 "We're a good selling point…They look at us as humans one day, and the next day it's 'Whip it out, I need you to come hard.' Until there's a transgender woman who owns a production company, who has a voice in the transsexual community, it's gonna be male-dominated and we'll be absorbed. And we won't have a voice of our own".
Moreover, Venus has also criticised derogatory terms directed at the transgender community. For stance, when she was asked about her feelings towards the term 'she-male', Venus stated;
 "It means I am half male, half female. But I consider myself female, with something extra".
Throughout her adult film career, Venus Lux has remained a ardent and vocal advocate for the transgender community. Most recently in 2016, Venus launched a change.org petition which asked that the X-Rated Critics Organization (XRCO) Awards include specialty categories for transgender performers and other genres. When asked about this petition in an AVN press release (by which time the petition had already collected almost 100 signatures), Venus expressed;
 "I created this Change.org petition because there is a lack of advocacy and visibility for genres that aren't included at the XRCO Awards…I am calling upon fellow performers, producers, directors, and fans to help create evolution. XRCO is one of the oldest awards ceremonies in the adult industry, going on 32 years, yet it is one of the last award ceremonies to give recognition to transgender, gay, and BBW performers. These are just some examples of growing genres that could use more visibility and support…XRCO is one of the few award ceremonies that I enjoy supporting, especially last year, when I presented an award to Asa Akira…But I feel it's time to include other genres, to showcase an equal comradery".
Above all else, Venus is ardent about her ambition to support the transgender community and raise awareness to the issues that transsexual performers face when trying to establish their careers. Speaking in an exclusive interview following her 2016 AVN Awards win, Lux highlighted how;
"In the transgender industry, we have no managers, no agents," she noted, "so you have to be able to dictate your own career and control the success. That's the reason why I choose to show others the experiences I've been through and to elaborate on some of the things that could be beneficial to them—and also for those who haven't had the opportunities I've had in the past, to help them create their own voice".
In addition to creating her own production booth, Venus Lux has also previously been involved in cinematic projects aimed at highlighting gender identity issues. For example, in 2013 Venus worked with famous art photographer Dave Naz on his "Trans" project which aimed to unearth the real lives of transgender stars. Dave Naz has talked about this project an interview with Adult Video News (AVN), wherein he stated that;
"the folks that I'm working with now are all transgender female, and that's all I'm focusing on right now, because I hope to make my photos of them into a book and have supplemental videos that kind of tell the stories of the people that I'm shooting. The video that's currently posted on my site with Eva Lin, Venus Lux and Riley Kilo,  I think I also got lucky in that these are three people that really articulated well about their lives and their experiences, and so I just hope to continue that, and I have several portraits that go along with that in this trans series".
This project eventually transformed into a 63 minute documentary titled "Identity: In & Beyond the Binary", which was released in 2015. If you'd like to learn more about this groundbreaking project, why not check out the full details which are covered in our Eva Lin bio?
Ultimately, it is this willingness to stand up for herself and her fellow transgender performers through whatever means necessary that has earned Venus Lux the respect and adoration of thousands of loyal fans and fellow co-stars.
Venus Lux : Expos, Talk Shows, Nightclub Appearances & Charity Work
Throughout her acting and directing career Venus Lux has hosted her own TS booth at multiple adult entertainment expos and has appeared as a guest on numerous talk shows in order to discuss her upcoming projects, charitable endeavours and personal experiences. Some of Venus Lux's most famous radio talk show, adult film expo and nightclub appearances have been listed below;
2012: After making a guest appearance on the "Kelly Payne Show", Venus also made a guest appearance at Tranny Strip, a nightclub which is heralded as "New York's Best Transsexual Party",
2013: Venus participated in an in-depth interview with "The Sport Swami" for the radio talk show Last Call. During this interview Venus revealed exclusive insights about her first year in the adult film industry,
2013: Venus Lux Enterprises sponsored the Tranny Awards; an event for which Venus presented an award, earned four nominations, and also hosted the 5th Annual Tranny Awards Celebration Party at Club Dragonfly in Hollywood! Lux co-hosted this "Hung Angels and Shemale Devils" themed erotic extravaganza alongside fellow transsexual porn stars Domino Presley and Morgan Bailey (You can check out their adult film accolades within each of their bios)

2014: Venus shared tips on how to sleep with a transsexual in a feature for Simply Sxy Magazine,
2014: Venus hosted her own Venus Lux Entertainment booth at the Exxotica convention where she was sponsored by Transformation Magazine and com. Venus also participated in "Porn Star Karaoke" at this expo,
2015: Venus appeared as a special guest on "The Week in Sex" ; a popular podcast hosted in front of a live audience at New York's Museum of Sex.
2015: Venus co-hosted an hour long call-in show with Mia Isabella for Vivid Radio in order to celebrate "Pride Month",
2015: Venus discussed her upcoming projects and answered caller questions on "Inside The Industry" alongside fellow transgender actress TS Foxxy,
2015: Venus hosted her own Venus Lux Entertainment booth at the Adult Entertainment Expo (AEE) in Las Vegas where she was joined by fellow transsexual porn stars Mia Isabella and TS Foxxy,
2016: com invited Venus to be a guest moderator on their talk show. During this guest appearance, Venus was extremely open about her sex life as a transsexual. When asked about this guest appearance, Venus divulged that she discussed personal aspects of her life "in the hope that others can learn from them and adopt new ideas into their own lives",
2016: EMMNetwork released a two part interview with Venus Lux. Lasting almost three hours, this interview was recorded at Arminta Street studios and offers fans an exclusive glimpse into her personal life and past experiences. From discussing her acting and business successes, to speaking candidly about her childhood, being bullied, dealing with discrimination, her transition process and past relationships, this interview offers a raw and revealing glimpse into the struggles, joys and relationships that have made Venus Lux into the woman we see today,
2016: Venus appeared as a featured guest on Sex with Emily (com), a radio talk show hosted by Dr. Emily Morse where she discussed her career, sexuality and transgender issues,
2016: At the Adult Entertainment Expo (AEE) Venus participated in two seminars titled "One Size Doesn't Fit All: Selling To Every Body" which highlighted the benefits of different sex toys for varying body types to retailers and manufacturers, and a second panel titled "Sex For Every Body" which offered suggestions on how to make sex more enjoyable for different body types,
2016: Venus made history by participating in the Adult Entertainment Expo's first ever panel dedicated to the transgender community. Titled "Exploring Trends in Transsexual Erotica", this panel was moderated by Grooby Entertainment's marketing director Kristel Penn and Venus appeared alongside fellow prominent transgender performers, directors and businessmen including Jessy Dubai, TS Foxxy, Aiden Starr and Fran Marquez.
Venus also remains dedicated to supporting charitable causes and has volunteered with the Salvation Army for many years. In fact, in 2012 she reached out to her fans at Thanksgiving to encourage them to support this worthwhile cause. The first 25 people to show proof of themselves donating their time to the Salvation Army, or an alternative food drive organisation or charity for the homeless, would receive one week's free membership to her site! Speaking about this charity fundraiser Venus commented that;
 "I really like to give back and get involved in charity work—it's a very important part of my life," said Lux. "I also want my fans to lend a helping hand to others in need, and giving away a one-week free membership to my site should be more incentive to do a good deed".
Venus has also participated in numerous fundraisers launched by her fellow porn stars. For instance, Venus took part in the PAW: Protecting Adult Welfare's Bare Bowling "Fun" draiser in 2013. Alongside her fellow porn stars, Venus Lux knocked down some pins and posed for some raunchy photos in order to raise money for PAW: Protecting Adult Welfare.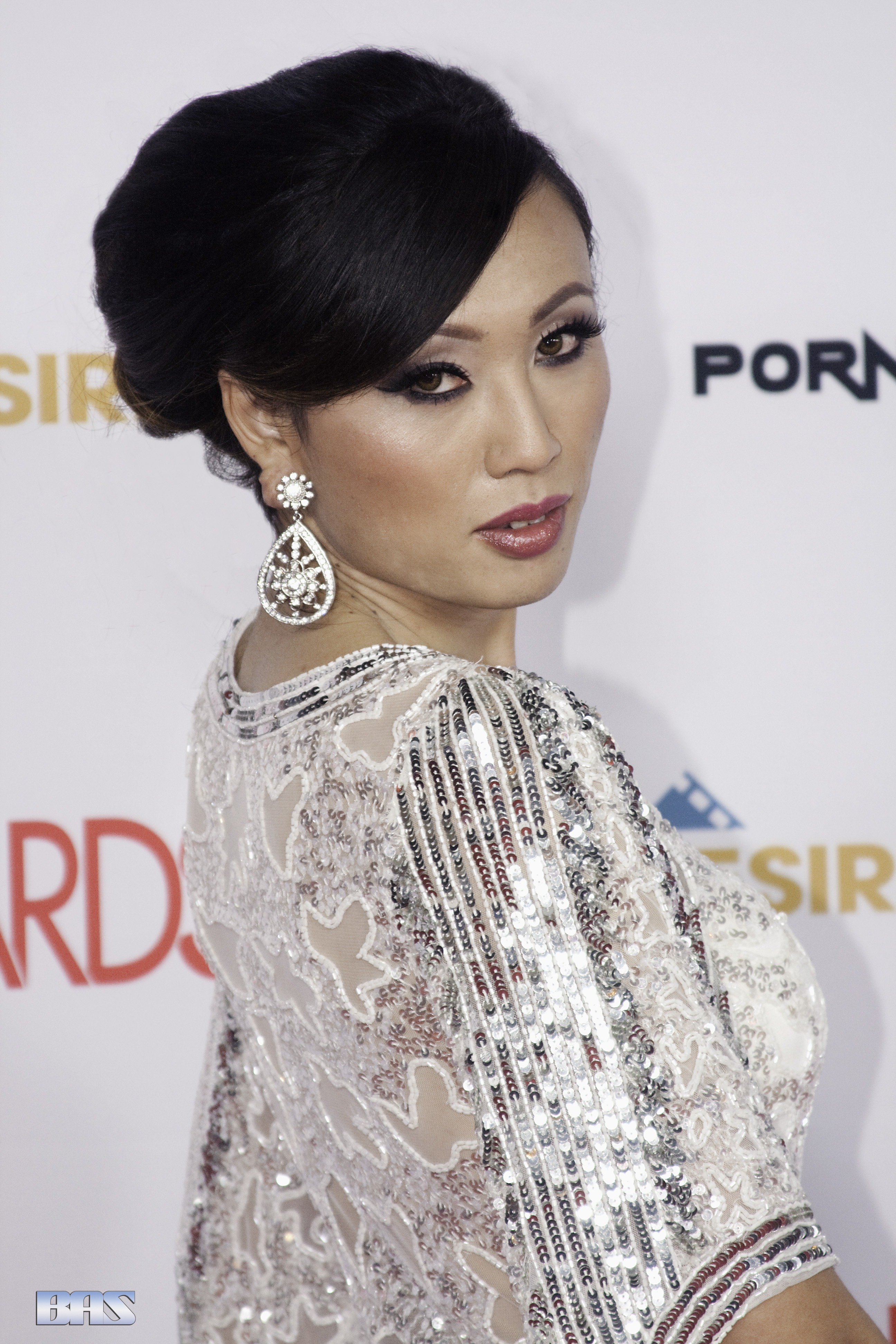 Venus Lux at the 2016 AVN Awards – Image source
All in all, Venus Lux is an outstanding actress, director, business woman and ambassador for the transgender community. Whenever she has been asked if she regrets her adult film career or if she has plans for retiring Venus has commented on the benefits that porn has had on her life. For example, in an interview with Fleshbot.com Venus expressed that;
"Being in the public eye and bombarded with ignorance, my life as a transgender woman has empowered me as an individual to make an impact on society, either with my voice or my actions, regardless of any backlash," Venus said. "Had it not been for porn, I would still be dwelling on my insecurities and hoping for change".
"There aren't many barriers that withhold my capabilities…but I will always default to sensuality, seduction, charisma, passion and versatility. Genders don't even matter to me. If the connection is good, anything can happen. I truly like what I do and who I work with. My philosophy is to do whatever feels good. Porn has definitely revolutionized my outlook on sex, gender and personal interests".
As such, this powerhouse porn stars shows no signs of slowing down, if anything this girl is just warming up! Given that Venus Lux only seems to be limited by the number of hours in a day, you can expect to see a lot more from this transsexual superstar in the coming years! If you'd like to learn more about her latest exploits, why not check out her cam-sites and social media channels today? Listed below are all of the links that a die-hard Venus Lux enthusiast will ever need:
Social Networks
Shemale Yum : Venus Lux at Shemale Yum
Shemale XXX : Venus Lux at Shemale XXX
Official Blog Site : Venus-Lux.com
Twitter : @VenusLux
Instagram : instagram.com/VenusLux
Pictures : http://www.starfactorypr.com/venus_lux.zip
Amazon : Venus Lux Wishlist