Twitter : @TheJaclynTaylor   Instagram : @thejaclyntaylor   Camsoda : thejaclyntaylor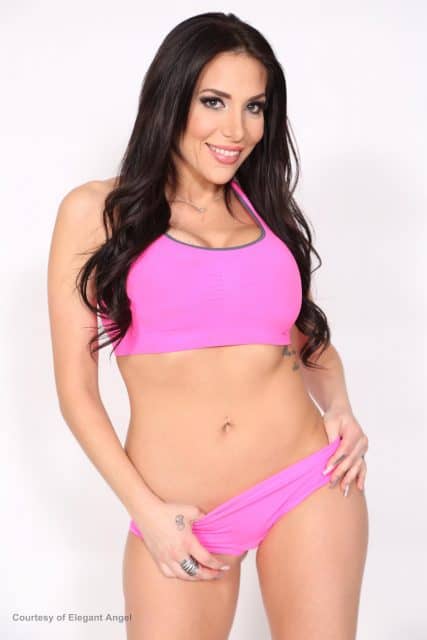 Jaclyn Taylor in Busty Workout 2 – Elegant Angel – Adult Empire Galleries
Personal Info
Name : Jaclyn Taylor
Date of Birth : February 15th
Hometown : New Jersey (US)
Measurements : 34DD – 25 – 31
Height : 5'3 (1.60m)
Hair Colour : Black/Brunette
Eye Colour : Green
Tattoos : Script across the left side of her rib cage, a bow on her finger, a design on the side of her hand, a design on the back of her right hip and a cross on a chain across her right ankle and foot
Piercings : Both nipples
Shoe Size : Women's 8 (US)
Years Active : 2014 – present
Number of Scenes : 50+
Jaclyn Taylor is a captivating adult film actress and former Playboy model who has been performing in porn since late 2014. Famous for her saucy Brazzers Network web clips, amazing all-girl DVDs and intensely alluring VR sex scenes, Jaclyn remains a fan-favourite performer who was nominated for "Best Virtual Reality Sex Scene" at the 2018 AVN Awards.
Wondering where it all began? Born in New Jersey but raised in Florida, Jaclyn has mixed Romanian, Sicilian and Russian heritage. Currently based in Los Angeles, California, Jaclyn always been a sociable individual with an interest in the adult industry. As Jaclyn mentioned within her March 2015 Fleshbot interview;
"In high school, I was pretty innocent sexually, dated mainly athletes, all of my friends were cheerleaders, I was definitely a social butterfly…I was definitely a big fan of porn, I can't say I had any favorites, but if I wanted to get "off" I just turned on porn".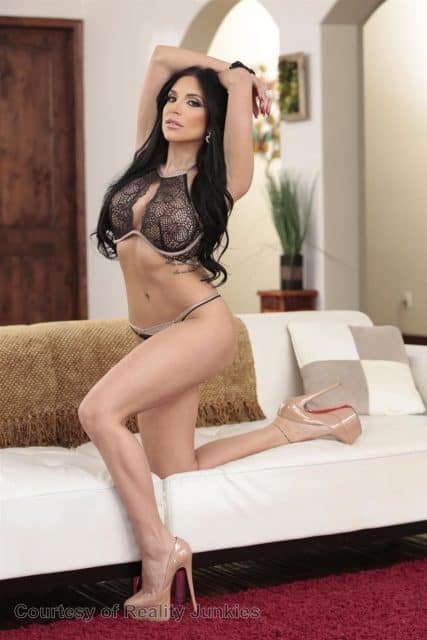 Jaclyn Taylor in Couples Seeking Teens 21 – Reality Junkies – Adult Empire Galleries
Jaclyn first started working in the adult entertainment industry in 2013 as a glamour model when she sent some photos to Playboy. Jaclyn was contact by Playboy in September 2013 whereupon she flew out from New York to California for a casting session. Before you know it Jaclyn was visiting the Playboy Mansion and collaborating with famous body paint artist Mark Frazier! Over the next year Jaclyn was featured within several international editions of Playboy magazine including Playboy South Africa and Playboy Poland. Jaclyn has also competed in several Bikini Fitness modelling shows and she was featured in Kandy Magazine in December 2013. Talking about this pivotal period of her life within her October 2015 AVN: Fresh Faces interview, Jaclyn explained how;
"I sent pictures way before that to Playboy castings. They called me around September 2013 and asked me if I would fly to California. At that time I was living in New York and they asked me if I would fly to California to meet with them. For me it was always something I always wanted to do. I always dreamt of being in Playboy and to be a glamorous nude model. It was a big thing for me so I ended up flying out here to California to go to the casting and when I went to the casting, everything went fine and I was invited to go to a party at the Playboy Mansion…
I got asked by a guy named Mark Frazier who does the body paint models for Playboy. He asked me if I wanted to be a body paint model for the Playboy Mansion and at other various parties in Beverly Hills. I took him up on the offer and I started getting body painted for the Halloween party at the mansion and for different events. From there that was it. I got an agent based in New York; I shot some pictorials and they got picked up for Playboy South Africa and Playboy Poland. I didn't appear in the American version, just international. I'm on the Playboy morning show—the TV show and the radio show—every week".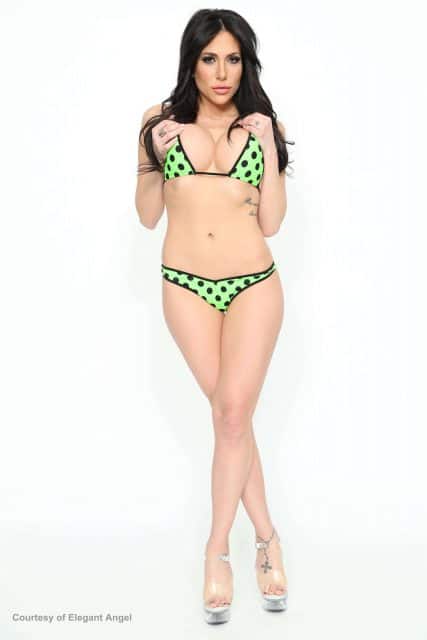 Jaclyn Taylor in Massive Boobs 2 – Elegant Angel – Adult Empire Galleries
Jaclyn has fond memories of working for Playboy and when she was asked to share her favourite memory of Hugh Hefner during her December 2017 Slickster magazine interview she conveyed how;
"Hugh Hefner, I get asked about him quite often, and to be honest, he was truly such a sweet and gentle man, In my company.  I used to work parties at the playboy mansion, and attend movie nights, I think those are my favorite memories.  Simply having dinner there and watching movies, really showed his true character and it was nothing short of respectful, genuine, and kind".
So just how did Jaclyn progress from posing for Playboy to performing in porn? A major turning point occurred in late 2014 when Jaclyn was contacted by Keiran Lee who asked if she was a performer and invited her to visit a Brazzers film set to see whether she would wish to pursue a career in porn. As Jaclyn explained in her October 2015 AVN: Fresh Faces interview;
"I knew some people in the business prior to ever coming in, so it was always in the back of my mind. Keiran Lee, he had messaged me and said to me, "You're really beautiful. Are you a performer?" And I said, "No, I just model." So he said, "Why don't you come on a porn set for Brazzers and see what it's all about and if it's something you want to do, we can set you up with a shoot." So I ended up going on set for Brazzers with Keiran Lee. He was performing with a girl and I just saw how things went on set and from that point on I knew I wanted to do this. It was really fun, I loved being there and everyone is really cool. It seemed like something I wanted to do. I'm a very sexual person. For me I thought, "Why not work and enjoy what I'm doing?" Modeling for Playboy was just very different. You take some photos and you're done. But in porn you're on set all day long. It's just very different but that does explain how I got into it".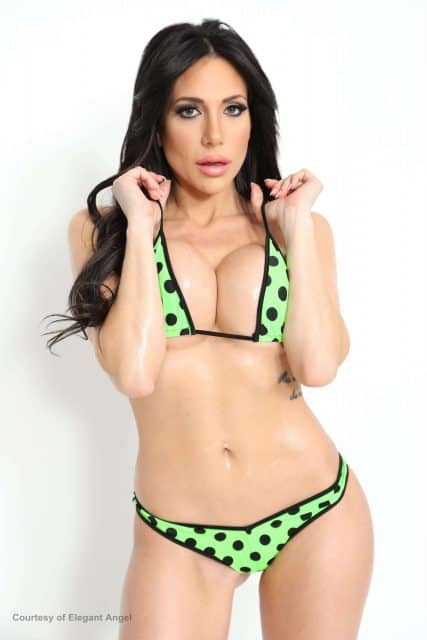 Jaclyn Taylor in Massive Boobs 2 – Elegant Angel – Adult Empire Galleries
Jaclyn Taylor : Adult Film Career
In November 2014 Jaclyn filmed her first ever sex scenes with Keiran Lee. Titled Interviewing The Ex, Jaclyn's official adult film industry debut was promoted via Brazzers Network in January 2015 and it has since been showcased in the Brazzers DVD Work Hard…Fuck Harder (2016). Talking about shooting her porn debut during her October 2015 AVN: Fresh Faces interview, Jaclyn revealed that;
"I planned it a month or two ahead. At that point I thought it would be great, it would be awesome and that was it. I wasn't nervous. Two or three days before my scene I started thinking, "OK, I'm kind of scared of doing this. I don't know if I'll be good at it or what I'll look like on film." I've never been on film. When it got to the day of, I was super nervous. I kept telling myself, "You're not really going to do this." But I ended up just going in and I was very shocked with myself that I was going to do this. I couldn't believe it because I thought about doing porn for a year. So I made the decision to actually do it. I was very surprised with myself and very nervous but once I got on set for Brazzers, I shot my first scene with Keiran and he made me feel really comfortable. He bought me flowers and everyone else was really nice. Once I got there the nerves kind of went away. I left loving it and thinking, "I can't wait to shoot again"…
I'm really glad that I waited because I know who I am. I'm a grown woman…I know what I like and what I don't like and I have more of a voice now…I love performing. Every day is different and it's a lot of fun. I'm really enjoying it. I've made really good friends with a lot of them and hanging out with them on a regular basis outside of work so they've been really awesome with me".
From this point onwards Jaclyn began to star in a steady stream of fan-favourite porn productions including Kiss 3 (2015) for Kelly Madison Productions, James Deen's Slut Training (2015) for Girlfriends Films that enabled Jaclyn to share a raunchy three-way with Gabriella Paltrova and James Deen, as well as the Filly Films production Tanya Tate's Baby Sitting Academy (2015). Jaclyn enjoyed collaborating with British MILF star Tanya Tate on this amazing all-girl movie, enthusing within her October 2015 AVN: Fresh Faces interview how;
"Working with Tanya Tate was amazing. I think the only thing I hated about working with her was that I wasn't performing with her. I think she's absolutely beautiful and I really wanted to shoot a scene with her. But I loved working with her, she's a sweetheart and she's beautiful inside and out. So I would love to work with her again. She's got a really good eye for directing, she knows what she wants and she's got a good vision".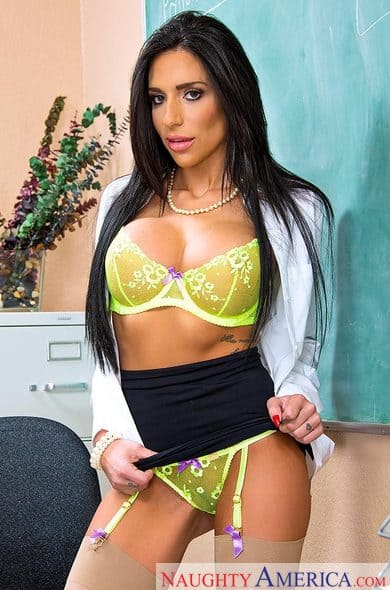 Jaclyn Taylor at Naughty America
You'll be happy to hear that Jaclyn has since collaborated with Tanya Tate on the Filly Films sequel release Lesbian Family Affair 3 (2015) that was nominated for "Best Older Woman/Younger Girl Movie" at the 2017 AVN Awards, "All-Girl Release of the Year: Non-Feature" at the 2017 XBIZ Awards and "All in the Family Theme" at the 2016 XRCO Awards. Jaclyn shared a sizzling three-way with Jojo Kiss and Kylie Sinner in Lesbian Family Affair 3 and received high praise from XCritic column writer Apache Warrior who stated in his January 2016 film review that;
"I enjoyed the four scenarios of these scenes. They were creative and the ladies performed them well. There is very good chemistry among these trios. Tanya Tate receives much credit in writing a good script and providing clear instructions about what she was looking for in these scenes. The viewers will enjoy the hot energy especially when it comes to the pussy eating moments. Abbey Rain and Phoenix Marie are the standout muff eaters in this film while the final scene of Jojo Kiss, Kylie Sinner, and Jaclyn Taylor feels the most taboo with the highest turn-on factor. I highly recommend this film".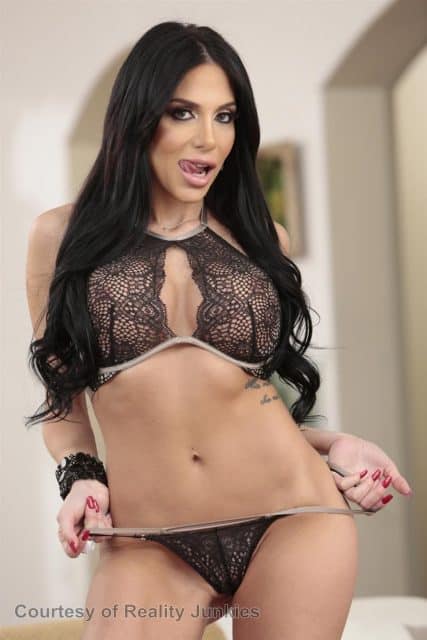 Jaclyn Taylor in Couples Seeking Teens 21 – Reality Junkies – Adult Empire Galleries
Fans of Jaclyn Taylor's lusty lesbian collaborations will also love viewing her terrific three-way with Abigail Mac and Dahlia Sky in All Girls All The Time (2015) for Desire Films, her saucy scene with Daisy Ducati in Dana Vespoli's Sweetheart Video production Lesbian Adventures: Older Women Younger Girls 9 (2016) that was nominated for "Best Older Woman/Younger Girl Movie" at the 2017 AVN Awards, her steamy shoot with Jessa Rhodes which was featured in the Sweetheart Video DVD Lesbian Stepmother 2 (2016) and her sizzling three-way with Allie Haze and Gina Valentina in My Mom's Tits (2017) for Girlsway. Not to be missed!
Interested in checking out even more of Jaclyn Taylor's sauciest sex scenes? Then you'll want to watch her raunchy role-play with Joselyn Kelly and Toni Ribas in Couples Seeking Teens 21 (2016) for Reality Junkies that was nominated for "Best Older Woman/Younger Girl Movie" at the 2018 AVN Awards, her thrilling three-way with Megan Rain and Robby Echo in Moms Bang Teens 14 (2016) for Reality Kings, and her sensational three-way with Penny Pax and Jessy Jones in the Pretty Dirty/Girlfriends Films movie Sugarbabies (2016) which was nominated for "Best Drama" at the 2017 AVN Awards and "Feature Movie of the Year" at the 2017 XBIZ Awards. Jaclyn enjoys exploring her sexuality within this wide range of  MILF/cougar productions, big bust themed DVDs and fantastic feature releases, highlighting in her March 2015 Fleshbot interview how;
"Being a porn star is awesome because I get to explore my sexuality in a way civilians can't. Every day at work, I get to live out a fantasy, which is so much fun! I also love how flexible my schedule is, and for the most part I get to work with an awesome pool of people… I am very submissive, I love the feeling of being controlled, and helpless. Huge turn on for me… I really want to do features and be a part of big projects".
Just can't get enough of captivating cutie Jaclyn Taylor? Then you'll be happy to hear that your favourite adult film actress has shot a wealth of immersive virtual reality sex scenes. We recommend checking out Jaclyn's compelling Cumming Full Circle virtual reality scene with August Ames and Valentina Nappi that was filmed for BaDoink VR in July 2015, her captivating Birthday Surprise collaboration with Nikki Benz that was released via Naughty America VR in July 2015 and her intensely  immersive XXX Surveillance 2 shoot with Jessy Jones for HoloGirlsVR in 2017 which was nominated for "Best Virtual Reality Sex Scene" at the 2018 AVN Awards.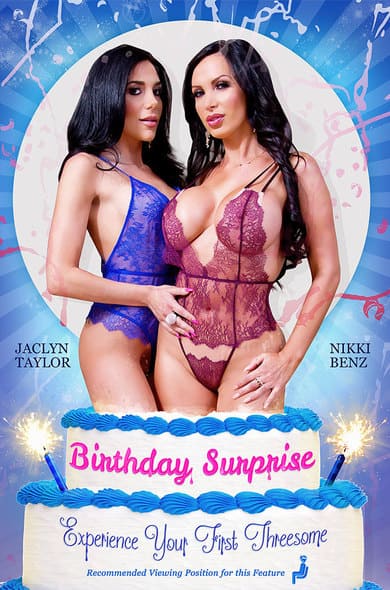 Jaclyn Taylor and Nikki Benz in Birthday Surprise – Experience Your First Threesome – Naughty America VR
With so many popular productions under her belt, Jaclyn was a natural choice to feature on the cover of MV Mag  in March 2018 alongside best-selling author and TV personality Farrah Abraham and fellow adult film star Kayla Kayden. Billed as "part of a collaborative effort to shed further light on sexual empowerment in a connected world",  Jaclyn, Farrah and Kayden were featured in  the centrepiece of MV Mag's 'The Runaway Rebels Issue' which "considers the state of sexual liberties in the entertainment industry and examines a variety of topics from sex positivity and women's rights to style and freedom in an adult world industry".
When she isn't performing in porn Jaclyn enjoys interacting with her fans via social media and hosting live cam shows via Camsoda (under the screen name 'thejaclyntaylor'). Talking about her loyal global fan base during her March 2015 Fleshbot interview, Jaclyn sincerely stated that;
"My fans are a huge part of my life, it's so nice to have such a big fan base that appreciates my work that I put out. I am so humbled when someone tells me they are a fan of mine, to me I'm just a normal girl who does porn, but they always make me feel really special. My fans are the reason I'm growing in this business… Just want to say thank you to all of my fans, for your continued love and support… You make it all happen for me".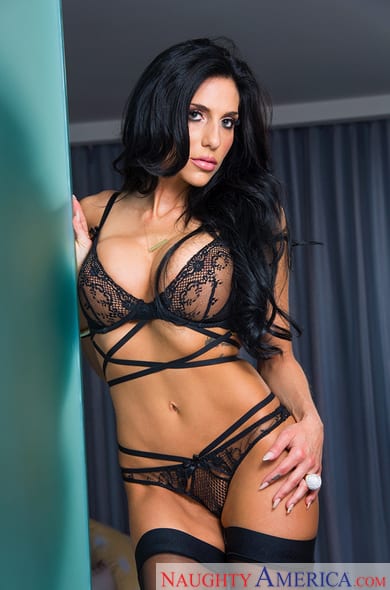 Jaclyn Taylor at Naughty America
Jaclyn also remains committed to supporting charitable causes such as the American Diabetes Association. In fact, in October 2015 Jaclyn participated in AIDS Walk Los Angeles; a 10km walk through West Hollywood to order to raise funds for AIDS charities. Jaclyn participated in AIDS Walk Los Angeles as part of Team Wicked which included Jessica Drake, Brad Armstrong, Kylie Ireland, Tyler Knight, Aleska Nicole, Jeanie Marie, Cassie Pendleton, Andy Appleton, David Lord, Gigi Allens, Jessy Jones, Ashley Manta and Dr. Hernando Chaves; all of whom ultimately raised $15,463 and finished among the top 20 fund-raising teams (#15 to be exact!). Wicked Pictures owner Steve Orenstein praised Jaclyn and her fellow Team Wicked fundraisers, advocating in an October 2015 AVN press release how;
"We're very thankful and appreciative of those who have supported Team Wicked in this great cause…Each year we receive a tremendous response and support from members of the adult community, and this year was another successful year for Team Wicked thanks to this growing support".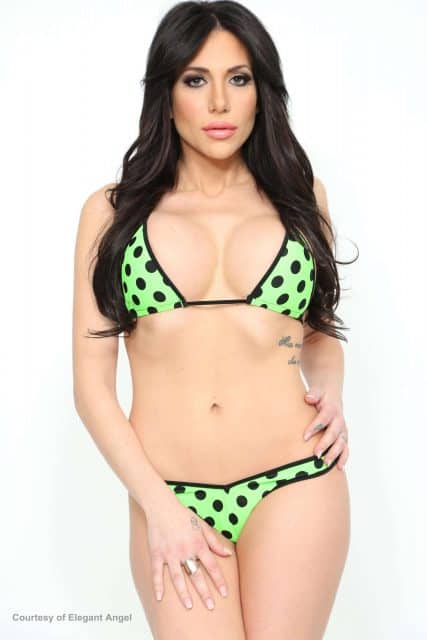 Jaclyn Taylor in Massive Boobs 2 – Elegant Angel – Adult Empire Galleries
Wondering what the future holds for your favourite adult film actress Jaclyn Taylor? Well, when she was talking about her future plans within her XCritic column interview Jaclyn mentioned that;
"I love the acting part, I feel like every scene I'm getting more seasoned as an actress so it's fun to play different characters every day. I can be someone new. I hope to one day appear in a mainstream film, that would be my biggest dream come true… I'm working on putting together a possible first anal film. I'm also currently working on shooting content for my own website, with Crush Girls. It's going to be so great to direct my own scenes…
I don't think too far ahead, I just like to enjoy the process and see where it takes me… I'm a true believer in what's meant to be will happen, so I like to just let fate, and Mother Nature take its course".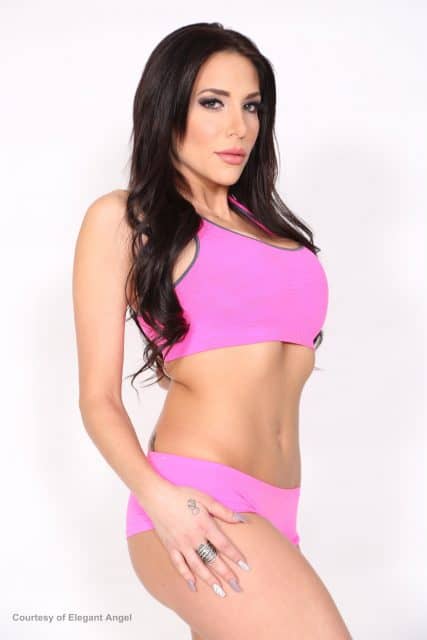 Jaclyn Taylor in Busty Workout 2 – Elegant Angel – Adult Empire Galleries
Keen to remain updated on all of Jaclyn Taylor's upcoming porn productions, personal projects and exclusive web content? Then please feel free to use the links provided below to stay connected with your dream girl Jaclyn Taylor!
Social Networks
Twitter : @TheJaclynTaylor
Instagram : @thejaclyntaylor
Camsoda : thejaclyntaylor
Brazzers : Jaclyn Taylor at Brazzers
Naughty America : Jaclyn Taylor at Naughty America
Girlsway : Jaclyn Taylor at Girlsway
IMDB Profile : Jaclyn Taylor Filmography