Twitter : @KateKennedyxxx   WankzVR : Kate Kennedy VR Scenes   Kink Profile : Kate Kennedy BDSM Shoots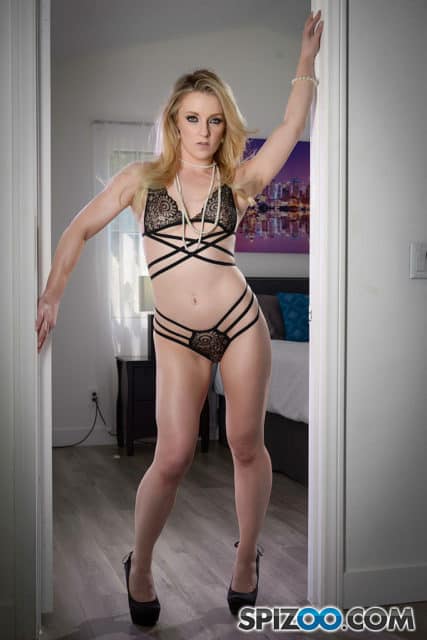 Kate Kennedy's Obsession – Spizoo.com
Personal Info
Name : Kate Kennedy
Date of Birth : April 13th
Hometown : Boulder, Colorado (US)
Measurements : 32C – 25 – 32
Height : 5'2 (1.57m)
Hair Colour : Blonde
Eye Colour : Green
Shoe Size : Women's 7 (US)
Years Active : 2017 – present
Number of Scenes : 20+
Kate Kennedy is a gorgeous petite blonde porn star and glamour model who made her official adult film industry debut in April 2018. Best known for her raunchy web clips, Kate has already started to appear in many fan-favorite ArchAngel Productions, Zero Tolerance and Naughty America productions. Definitely one to watch out for in the years to come!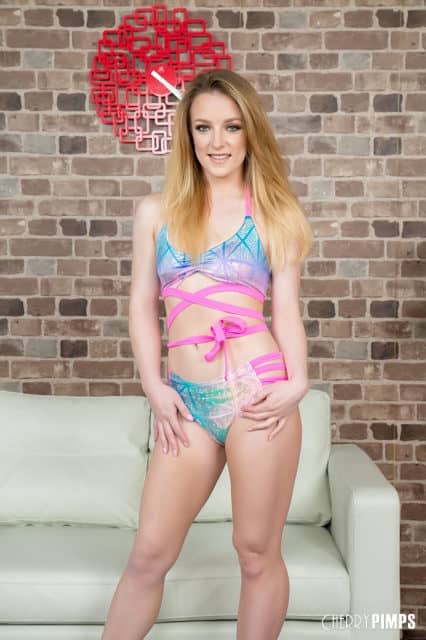 Kate Kennedy – Cherry Pimps/Wild On Cam
So where did it all begin? Originally from Boulder, Colorado, Kate has Irish Catholic heritage. You may be surprised to learn that Kate is a talented woodworker who enjoys restoring old furniture and houses. Kate also attended college and graduated in 2016 with a Bachelor of Sciences degree in Journalism and a Bachelor of Arts degree in Art History. Kate first discovered her passion for porn as a teenager and divulged during her June 2018 Adult DVD Talk interview that;
"I was the biggest porn dork on the planet. Like I said, I grew up Irish Catholic and was so repressed. This is going to sound weird but it wasn't like I was watching porn but I read a lot of porn blogs. I was reading them and because I grew up in a Christian environment, that was the first time I saw women who were so strong and bad ass and thought the way I did. They did stuff that I dreamed about doing. That was huge for me. I was probably 15, 16. I was reading stuff Joanna Angel was writing and Princess Donna was writing and that was the first time I identified with someone like that. Now that I've gotten to meet them in person, it's mind blow-ingly awesome to me".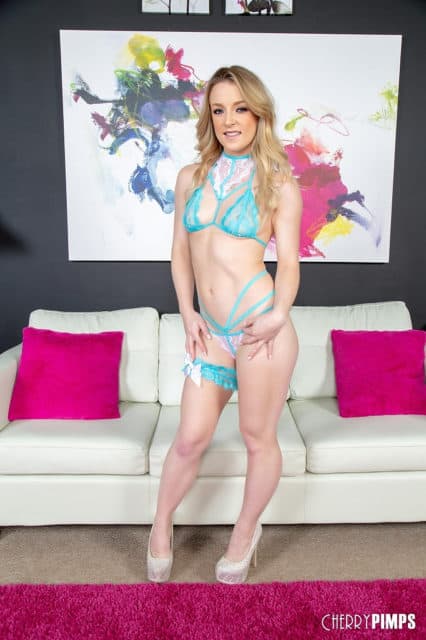 Kate Kennedy – Cherry Pimps/Wild On Cam
Wondering how Kate first started working in the adult film industry? Well, it all started when Kate travelled to Portland, Oregon, with a friend who was pursuing a career in porn. Kate met the director of her friend's shoot and, before you know it, Kate was working as a production assistant and marketing manager for Insex. After six months of working  behind the camera, Kate decided to shoot her official porn debut in April 2018. As Kate explained in her June 2018 Adult DVD Talk interview;
"It was one of those crazy coincidences. I was trying to figure out what I wanted to do and knew I didn't want a 9 to 5 job. I took some time off to travel and came up to Portland with a friend. She was shooting her first scene and I randomly met the director and we talked about marketing in the industry. A few months later he contacted me out of the blue and asked if I would ever be interested in a job in this industry. 'Fuck yeah, I would!' I came up and worked on a set for a day and loved it. It was the most fun I've ever had at work and I couldn't believe people were paying me for it. I worked as a production assistant for 6 months before I started shooting".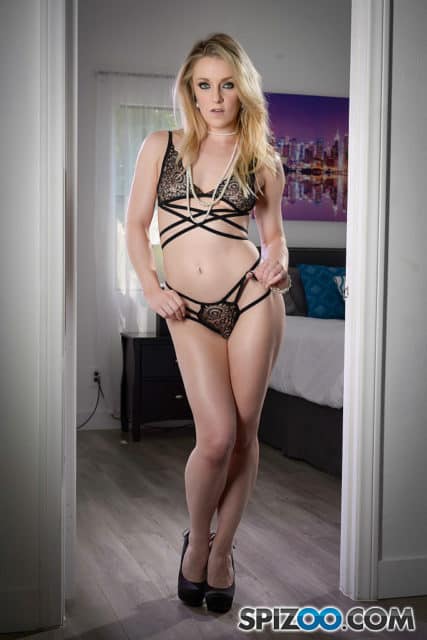 Kate Kennedy's Obsession – Spizoo.com
Kate Kennedy : Adult Film Career
Kate filmed her first ever sex scenes in April 2018 after having worked as a production assistant and marketing manager for six months. Kate's prior work experience for Insex meant that she was well prepared for shooting her porn debut. After all, as Kate highlighted in her June 2018 Adult DVD Talk interview;
"Since I had already been on sets for 6 months, I knew exactly what to expect and I knew everybody who was there. I was super excited. I spent forever on my hair and makeup and I was running around saying, 'It's porn day! It's porn day!'".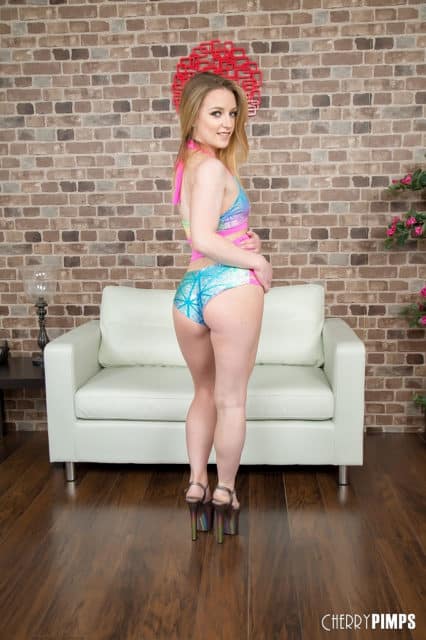 Kate Kennedy – Cherry Pimps/Wild On Cam
Some of Kate's earliest porn productions were her sultry solo shoots for AMKingdom and her raunchy web clips that she released via her official Many Vids profile. Fans of Kate Kennedy will also love watching her kinky scene with Chad Alva in the 3rd Degree production My Stepsister's Pantyhose (2018), her sizzling Pussy Tied bondage shoot which was released via HardTied.com in July 2018 and her titillating Brand New Blonde In Bondage And Machine Fucked solo BDSM session that was unveiled via Kink.com's Fucking Machines web series in November 2018. Kate has loved shooting these raunchier BDSM scenes and saucily stated in her June 2018 Adult DVD Talk interview that;
"I love anything weird or crazy. I did lifestyle BDSM for 3 years before I got into porn. Just some crazy stuff! At the time, I was working conventions and teaching classes, just really getting to try a lot of things that a lot of people don't get the opportunity to…I'm a switch. I do a lot of submissive stuff but I sometimes totally get the urge to grab somebody by the throat and hop on!".
Hold on, it gets even better! Kate has continued to star in a wide range of popular porn productions including an immersive Sunday Funday virtual reality sex experience that was released via WankzVR in August 2018, a sizzling Sex In The Champagne Room scene with Wrex Oliver that was filmed for Team Skeet's Sis Loves Me web series in July 2018 and an intensely alluring Tonight's Girlfriend scene with Mark Wood in September 2018. Fans of Kate Kennedy also have to check out her raunchy Housewife 1 On 1 role-play with Ryan Driller which was promoted via Naughty America in October 2018, her thrilling three-way with Mark Zane and Nathan Bronson in the Zero Tolerance movie She Wants Us Both #2 (2018) and her saucy scene with Jake Adams that was featured in MimeFreak's ArchAngel Productions film Don't Screw My Daughter (2018) starring Gia Vendetti, Kasey Miller and Karma Rx.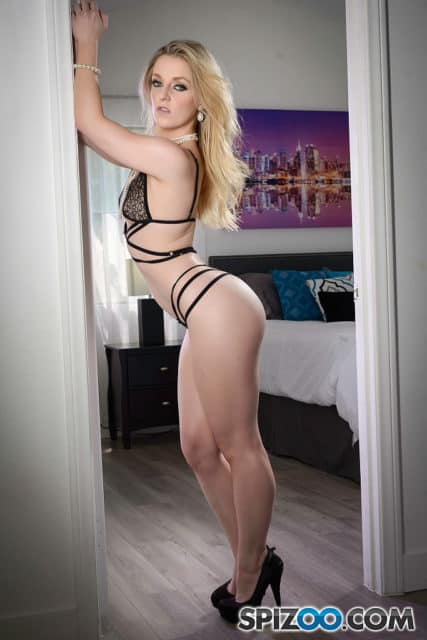 Kate Kennedy's Obsession – Spizoo.com
Alongside her hot hardcore scenes, Kasey is a talented girl/girl performer who has appeared in many fan-favorite porn productions. Our top picks? They'd have to be Kate's titillating scene with Charlotte Cross in the Severe Sex movie Mind Fucked: A Cult Classic (2018), her sensational Lesbian Duo Ryan Ryans and Kate Kennedy Live session with Ryan Ryans that was first broadcast via Cherry Pimps' Wild On Cam web series in October 2018 and her amazing scene with Romi Rain which was featured in the Girlfriends Films movie Lesbian Seductions #64 (2018). Kate loved shooting with Romi Rain for Lesbian Seductions #64 and eagerly expressed in her September 2018 Fleshbot interview that;
"The whole day of shooting was just wonderful. It was my first time working for Girlfriends Films, and their whole crew is so sweet, professional, and just all around awesome to work with. In fact, when we finished fucking, the cameraman leaned into the director and said, 'Um, I'd like to pre-order 50 copies of that, it was so fucking hot!…
I've been a big fan of Romi's for a while, and we shot this the day after they announced that she's hosting AVN 2019, which was so exciting! I can't wait to watch her kill it on stage in January! Let's be real – Romi Rain is SO hot. She's totally my type, and she brings amazing energy to every scene she does. As a new performer, that is invaluable because I get to play off her energy and it definitely made me a better performer!… It was a very relaxed day of shooting; we got to hang out at the pool for about an hour before filming our scene, just talking and getting to know each other, and that made me feel so at ease and really contributed to the awesome chemistry we have together…We also worked with Chanel Preston and Milana May, who are both so sweet and amazing performers. It was so cool to be in a room working with all these badass hot ladies!".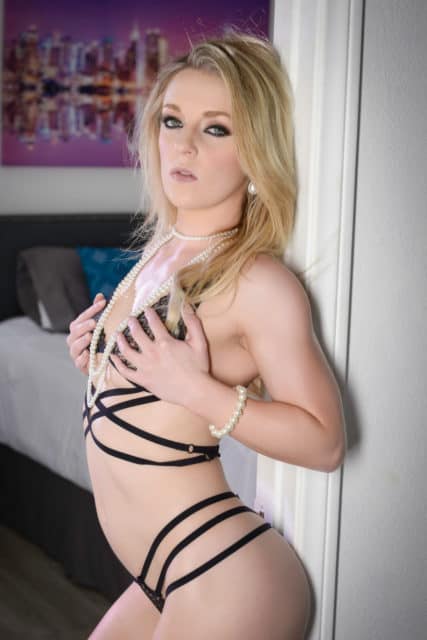 Kate Kennedy's Obsession – Spizoo.com
Want to keep yourself updated on all of Kate's sizzling sex scenes, exclusive web content and upcoming productions? Then use the links provided below to stay in touch with your favorite rising starlet Kate Kennedy!
Social Networks
Twitter : @KateKennedyxxx
WankzVR : Kate Kennedy VR Scenes
ArchAngel : Kate Kennedy at ArchAngel Productions
Kink Profile : Kate Kennedy BDSM Shoots
Naughty America : Kate Kennedy at Naughty America
Spizoo : Kate Kennedy at Spizoo
Tonight's Girlfriend : Kate Kennedy at Tonight's Girlfriend
Wild On Cam : Kate Kennedy at Cherry Pimps/Wild On Cam