Twitter : @minabbsauvage   Brazzers : Mina Sauvage Sex Scenes   Marc Dorcel : Mina Sauvage's French Movies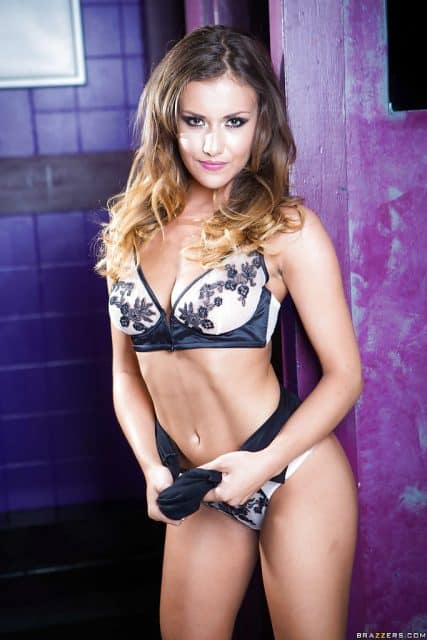 Mina Sauvage in Taking Pics and Stealing Dick – Brazzers
Personal Info
Name : Mina Sauvage
Date of Birth : April 17th
Hometown : Montpellier (France)
Measurements : 34D – 25 – 36
Height : 5'5 (1.65m)
Hair Colour : Brunette
Eye Colour : Brown
Years Active : 2016 – present
Number of Scenes : 20+
Mina Sauvage is a beautiful brunette porn star and glamour model who made her adult film industry debut in February 2016. Over the years Mina's sensational scenes in many Marc Dorcel movies have earned her an avid international fan following. Mina also won "Best Foreign-Shot All-Girl Sex Scene" due to her steamy scene with Megan Rain in the Marc Dorcel/Wicked production Undercover (2018). Mina is definitely one to watch out for in the years to come!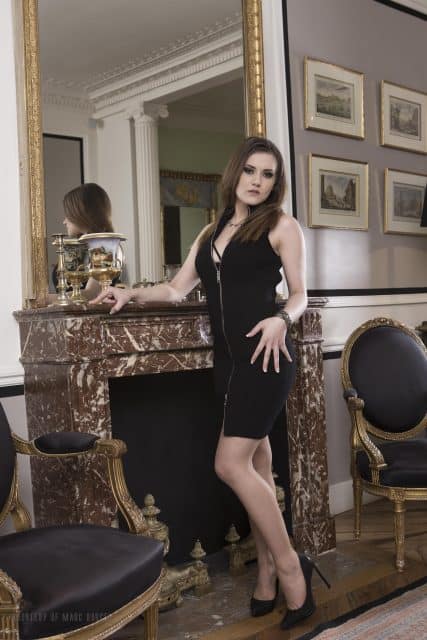 Mina Sauvage in Luxure: The Perfect Wife – Marc Dorcel
So where did it all begin? Hailing from Montpellier in Southern France, Mina has always been intrigued by the adult film industry – having watched porn movies as a teenager. In fact, Mina first started working in the adult entertainment industry during her first year of medical school by performing as an exotic dancer in a champagne bar.
During this time Mina started filming her own amateur videos but she was eager to take things to the next level. So Mina contacted the prominent French production company Marc Dorcel in December 2015. The end result? By February 2016 Mina was making her industry debut in the Marc Dorcel movie L'Héritère/Revenge of a Daughter (2016). Talking about this pivotal period of her life via her official solo website, Mina explained how;
"I come from Montpellier, and I started in porn last February while shooting for Dorcel in Hervé Bodilis' film "the heiress". it immediately pleased me!…I started watching a lot of porn movies as a teenager, and I had been thinking about becoming an actress for a long time. But my life did not allow it. The decision matured in me over time and I dared to send an email to Marc Dorcel in December 2015…
At the time I was a student in first year of medicine, but I quickly stopped. Beside I was doing striptease in a champagne bar, but I did not like the atmosphere and the fact that girls are forced to seek to "sell" to customers. So I started on my own, I was already an exhibitionist…I tried to fuck in front of a camera with a friend, but honestly it was a little disappointing when we watched the video … When you do porn at Dorcel with real professionals, it's something else!".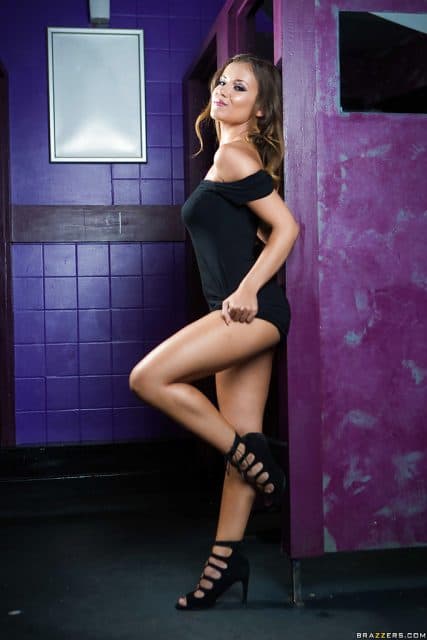 Mina Sauvage in Taking Pics and Stealing Dick – Brazzers
Mina Sauvage : Adult Film Career
Mina made her adult film industry debut in February 2016 when she starred alongside Pascal White in Hervé Bodilis's Marc Dorcel movie L'Héritière/Revenge of a Daughter (2016). Mina enjoyed shooting her porn debut and revealed via her official solo website that;
"For my first casting, I came to Paris alone and I admit that I was stressed. But the director Hervé Bodilis quickly put me at ease by saying to me "We will do big things together". I had the chance to shoot my first scenes of comedy and sex in his blockbuster "The Heiress". I was waiting for it with so much impatience! When the time came, I loved taking action. It was a scene with a little S.M. I was wearing a dog collar and my partner had a hood. It was very exciting and I admit that it made me want to try in my private life".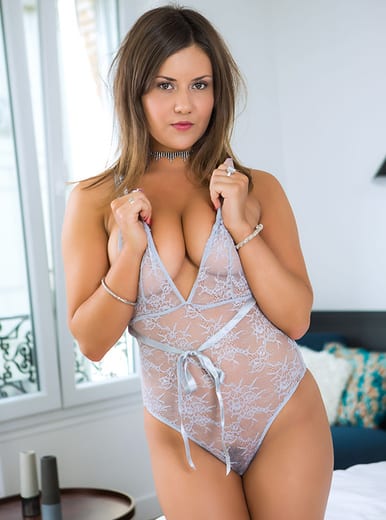 Mina Sauvage in A Pleasant Surprise – Brazzers
Want to know the best part? L'Héritière/Revenge of a Daughter was a critical and commercial success which won "Best Director: Foreign Feature" at the 2018 AVN Awards as well as receiving multiple "Best Foreign Feature", "Best Screenplay" and "Best Cinematography" nominations at the 2018 AVN Awards and a notable "Foreign Feature Release of the Year" nomination at the 2018 XBIZ Awards. Mina's porn debut was also highly recommended by XCritic column writer cyber5 who stated in his December 2016 film review that;
"Wow. Great film making. As usual Herve Bodilis and Pascal Lucas put together an outstanding title for the Marc Dorcel studio. There is some fetish wear involved, and dingy nightclubs but that's not really what's on display here. It is first and foremost a film meant to be watched in one sitting, with a plot that you have to follow. If you are looking for some good BDSM footage, you'll find it here, but it's shot in an entirely different manner than most BDSM stuff: so if that's your goal, you're going to find this way off base. If however, you are a film fan first and don't mind seven scenes of hot girls getting it on then by all means you'll love this flick. For those in the latter category I Highly Recommend this title!…
The aerial cinematography alone is breath-taking and would be right at home in any IMAX theatre. The indoor cinematography is just as good, going between intimate closeups and much wider shots than you see in most adult titles. The wide shots really show off the architecture of the building and the art direction very well. There's a long BTS scene which is usual for this studio – and you really get a good sense of just how complicated and expensive titles like this are to create by watching it. Kudos to everyone involved in this".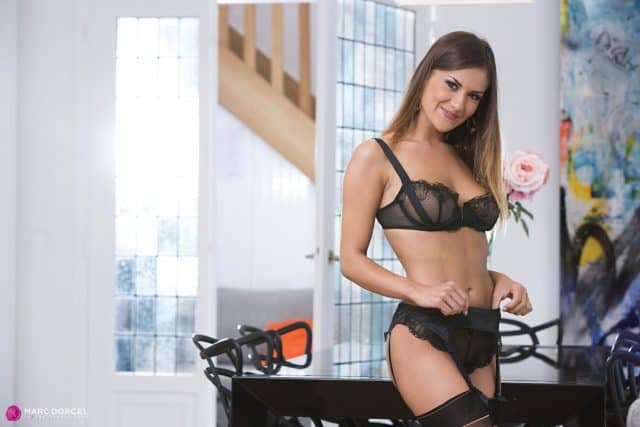 Mina Sauvage – Marc Dorcel Club
You'll be happy to hear that Mina has continued to collaborate with Hervé Bodilis on many more Marc Dorcel movies including Cara & Lucy Escortes de Luxe (2016), Le Journal d'une étudiante/Diary Of A Student (2016) which was "Foreign Feature Release of the Year" at the 2018 XBIZ Awards and which featured Mina as its box cover model, and Luxure: L'épouse parfait/Luxure: The Perfect Wife (2017) that was nominated for "Foreign Non-Feature Release of the Year" at the 2018 XBIZ Awards.
Mina has collaborated with numerous leading French directors (such as Hervé Bodilis, Pascal Lucas, Mark Black and Frank Major) on the Marc Dorcel movies Claire la Soumise/Claire: Desires Of Submission (2017), Luxure: Offerte à d'Autres/Luxure: I Offer My Wife To Others (2017) and Rose Escorte de Luxe (2017) but to name a few! Mina has even been featured in her own Marc Dorcel star showcase Mina Sauvage: Her 1st Summer Camp (2017) within which she shared some thrilling three-ways with Shona River, Kristof Cale and Thomas Stone.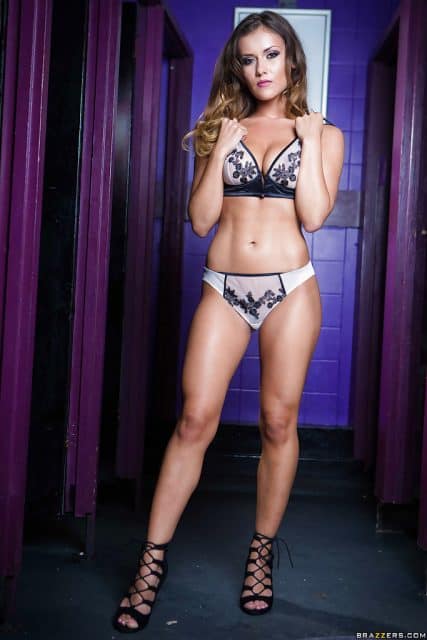 Mina Sauvage in Taking Pics and Stealing Dick – Brazzers
One of Mina's hottest Marc Dorcel movies has to be Undercover/L'Infiltrée (2017) within which Mina shared some steamy scenes with Megan Rain, Phillipe Soine and Dorian del Isla. Also starring Alexa Tomas, Ania Kinski, Apolonia Lapiedra, Cassie Del Isla and Rose Valerie, Undercover/L'Infiltrée earned Mina and her fellow cast members high praise from XCritic column writer cyber5 who highlighted in his December 2017 film review how it was; 
"An extraordinary visual feast! I think this film was released a few days too late to make the list of AVN and XBIZ nominees this year but look for it to get lots of attention next year! Megan Rain plays the lead here but Mina Sauvage gets plenty of screen time also. Both starlets play their respective roles well, Megan meshing well with all these performers on their home turf, across the pond. Dorcel put together an astonishingly highly skilled team for this feature, even more so than usual…
As always with this studio, the locations are gorgeous and prominently featured in the framing of everything, including the sex shots. Unlike American porn, high-end Euro porn seems to treat the location as another key performer and they are captured magnificently here. The cinematography is off the charts fabulous, including drone footage over land and sea! The storyline is dramatic but not overly so. That allows the crew to spread their wings and shoot some actual action footage that is on par with anything mainstream Hollywood is putting out. The storyline is good enough that you care about following it but it doesn't get in the way of your enjoyment of the many naughty scenes present…
There are a couple of performers here that are fairly new to the industry but you can expect them to become "go-to" performers pretty quickly as everyone shines here. If you watch the "making of" video you'll understand that this is really a film with a big budget for these modern times. Dorcel came out of the gates swinging with this film and it looks like a home run to me. I could ramble on for days about just how glorious this looks onscreen but I'll let you be the judge for yourself…go buy this thing! Highly, Highly Recommended!".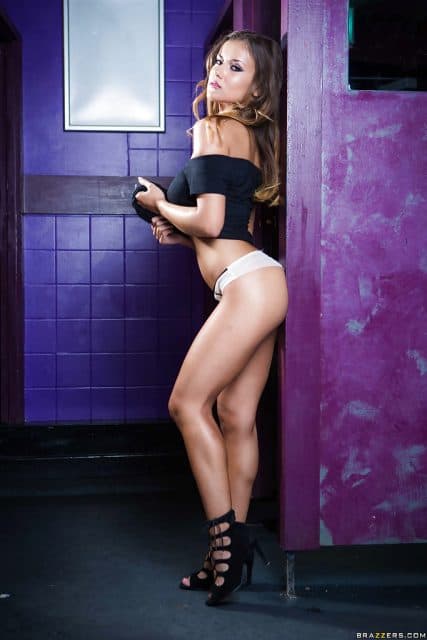 Mina Sauvage in Taking Pics and Stealing Dick – Brazzers
Just when you thought it couldn't get any better, Mina has started to shoot some raunchy web clips for the American porn network Brazzers. Fans of Mina Sauvage will love viewing her raunchy Taking Pics And Stealing Dick role-play with Jordi El Nino Polla in September 2016 and her steamy A Pleasant Surprise shoot with Rico Simmons which was unveiled via Brazzers Network in June 2017. Not to be missed!
Wondering what the future holds for sensational French starlet Mina Sauvage? Well, you'll be happy to hear that Mina has no plans of slowing down any time soon! In fact, Mina has mentioned via her official solo website that she would love to shoot more girl/girl scenes and possibly even collaborate with Penthouse in the future. As Mina puts it in her own words;
 "I had already slept with a girl when I was younger, but it did not really tempt me anymore. There, seeing many beautiful women, I admit that it made me want to again! Alexis Crystal for example…I really want to make a career and I would love to go to the United States. I dream of shooting for Penthouse!".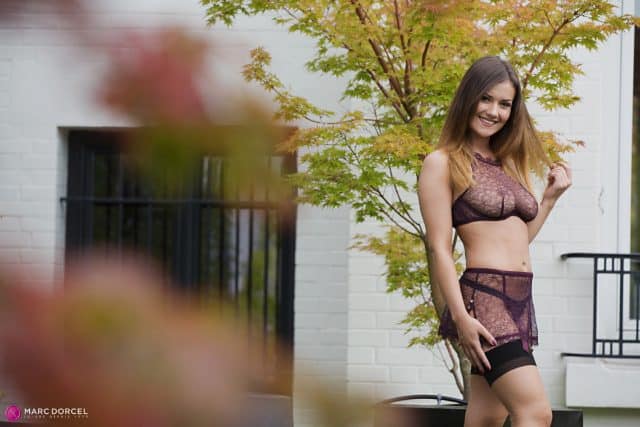 Mina Sauvage – Marc Dorcel Club
Want to keep yourself updated on all of Mina Sauvage's upcoming projects and hottest sex scenes? Then use the links provided below to stay connected with your favorite French starlet Mina Sauvage!
Social Networks
Official Website : Mina-Sauvage.com
Twitter : @minabbsauvage
Instagram : @minasauvage
Brazzers : Mina Sauvage Sex Scenes
Marc Dorcel : Mina Sauvage's Marc Dorcel Movies
Adult Empire : Mina Sauvage DVDs
IMDB Profile : Mina Sauvage Filmography