Website : NorahNova.com   Twitter @Norah_Nova   BaDoink VR : Norah Nova VR Scenes
Personal Info
Name : Norah Nova
Date of Birth : January 28th
Hometown : California (US)
Measurements : 32B – 24 – 34
Height : 5'2 (1.57m)
Hair Colour : Blonde
Eye Colour : Brown
Piercings : Multiple ear piercings, both nipples, hood, nose and navel
Shoe Size : Women's 6 (US)
Years Active : 2015 – present
Number of Scenes : 20+
Norah Nova is a popular porn star, model and cam girl who has been performing in porn since 2015. Best known for her sultry girl/girl scenes and popular porn parodies, Norah continues to star in a wealth of best-selling Hustler Video, Reality Kings, Bang Bros and ATKingdom DVDs.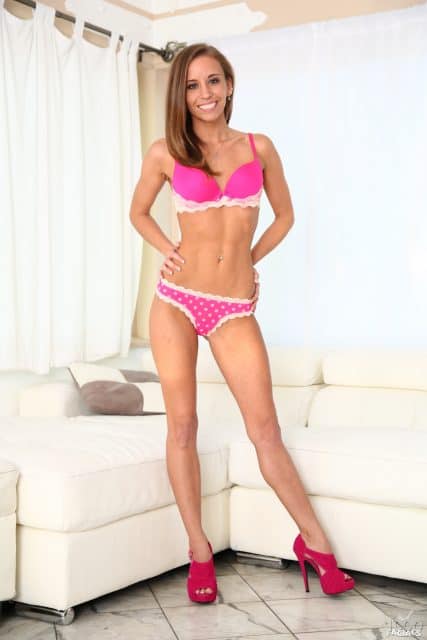 Norah Nova at 1000 Facials
Hailing from California, Norah is a former substitute teacher who studied sociology at college. Norah first began working in the adult entertainment industry as a webcam model after her husband suggested she try camming whilst she was on summer break looking for work. Norah and her husband are sexually adventurous – dabbling in swinging sessions and webcamming together. Norah's lusty live cam sessions soon attracted the attention of adult film talent scouts who approached Norah about shooting her first ever sex scenes. And the rest is history! Norah has discussed this pivotal period of her life within her May 2015 Adult DVD Talk interview, divulging that;
"I didn't feel accomplished just sleeping all day. I was satisfied but I always felt like there was more for me. So my husband suggested camming. He said it was perfect for me. I could make my own hours and wake up when I want too. I wouldn't have to hide myself. I could say and do whatever I wanted and not hold everything in. I could be as beautifully provocative as I want. He also explained to me that I could look at it as one big social experiment. I would be able to use my sociology degree in the work place. So I tried and he was right and I was good…
We have both always been of the school of thought that if you got it use it. We both have been known to flirt to get our way. What I can use is sex and it fucking sells. That lead me to an offer to do porn. We figured why not. We have always been very open sexually so there wasn't going to be big life changes there. It was either going to be fun and I would make more or it wasn't and I could just keep camming. But it was everything and more".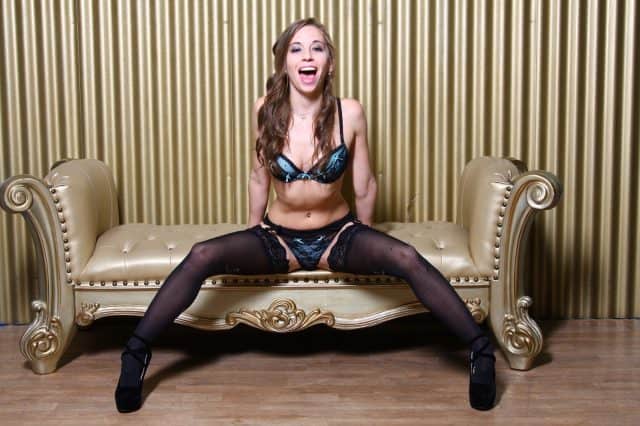 Norah Nova – Society 15 Modelling Profile
Norah Nova : Adult Film Career
Norah made her adult film industry debut in 2015 and many of her initial sex scenes were filmed for the Florida based production companies Bang Bros and Reality Kings. Norah appeared in some of these early sex scenes under the porn star stage name 'Shortie Breeze' before she ultimately chose her sultry stage persona 'Norah Nova'.
We recommend checking out Norah's Sexy Shortie shoot with Peter Green that was released via Reality Kings in January 2016, her saucy scene with Dylan Phoenix in the 3rd Degree production Lesbo Pool Party 4 (2015) and her thrilling three-way with Stacy Sweet and J-Mac that was featured in the Bang Bros DVD compilation title Ho In The Headlights 5 (2015). Norah discussed shooting her first ever sex scenes within her January 2018 AVN: Fresh Faces interview, revealing that;
"I was in the dark about a lot of things. I was the last girl that had my shit together, because I didn't know I didn't have my shit together. When they said 'Action' that was fine, I can do great on sex, but I didn't know what I needed. Like nail polish. Hair stuff. Makeup. I was a cam girl. I was like, whatever, get a scrunchie and move it out of the way. Just do it. I'm a tomboy. I had to turn into a girl. It was like going through puberty all over again".
In the years that followed Norah starred in many fan-favourite porn productions including Subby Girls 2 (2015) for Third World Media, Black Kong Dong 25 (2015) for White Ghetto, Blowjob Fridays 22 (2016) for Bang Bros, Nice Girls Swallow 5 (2016) for Amateur Allure and the ATKingdom DVD 420 Top Shelf Pussy (2017) featuring Jill Kassidy, Gia Paige, Demi Lopez, Lily Adams and Maya Bijou. Norah enjoys experimenting in these popular porn productions and has highlighted in her December 2015 AIP Daily interview how;
"I love to learn so this is a new adventure for me. To see what all goes into the work is amazing. I ask to many questions sometimes. With camming every day I am constantly looking for new ways to improve my work. My fans are wonderful to bounce ideas off of. The one thing I am still not used to on set though is down time.  Somethings take a long time to set up…I love shooting new scenes: new direction, new story lines, new outfits and new locations…I'm still new to this world of fun, I feel I learn something different each day that helps me better my career and myself…
My husband and I have always been swingers, we've always been little different, so it wasn't any change in our lifestyle.  I've always admired porn and being that model was a young girl's dream. The work that goes into making a good scene or photograph. The lighting, objects in the room, technology that is behind it all; It all has intrigued me since I was in high school. So when I was offered the chance to be in this world, I jumped at the opportunity".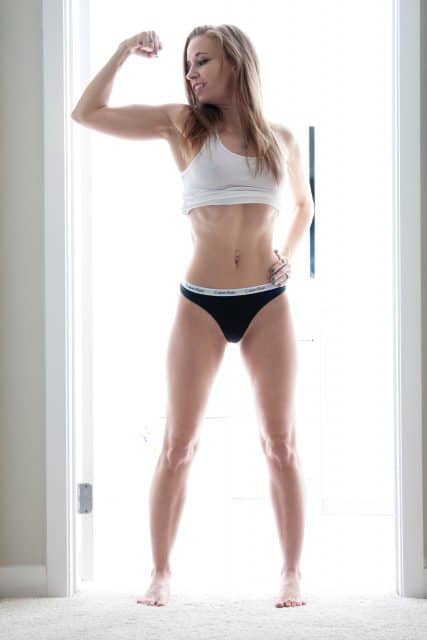 Norah Nova – Society 15 Modelling Profile
Throughout her prolific porn career Norah has been featured in many critically acclaimed porn parodies such as the Ultima Entertainment parody releases Legend of Zelda Breath of the Wild: Ballbusting Cosplay Porn Parody (2017), The Pokémon Go XXX Cosplay Porn Parody (2017) and Wonder Woman Vs. Superman: A Ball Busting Porn Parody (2017) as well as the Tarantino XXX porn parody The Vagnificent Seven (2017) that was nominated for "Best Art Direction" at the 2017 AVN Awards. This Tarantino XXX production was a spoof of Quentin Tarantino's The Hateful Eight and it enabled Norah to collaborate with Lily Cade, Audrey Noir, Lotus Lain, September Reign, Amber Ivy, Vera Drake, Sadie Pop and Jessica Ryan. Director Tarantino XXX had high praise for the cast of The Vagnificent Seven and stated in a March 2017 AVN press release that;
"It is very exciting to be releasing my nominated film The Vag 7 on DVD. I keep saying it over and over again, it is my dream to be directing adult movies and for those movies to actually be in brick-and-mortar store shelves and online shops makes me believe I actually made it in this industry. It's taken me six years for this and I hope to continue pursuing this dream. Thanks to David, Lynton, and VIP Digital Media for again giving me a chance…
Shooting with the entire cast of the film—Lily, Lotus, Audrey, Amber, September, Vera, and Norah—was a true honor. These lovely performers stuck their necks out for me throughout this project and they all did a great job making me look good. I share the glory of this film with all of them".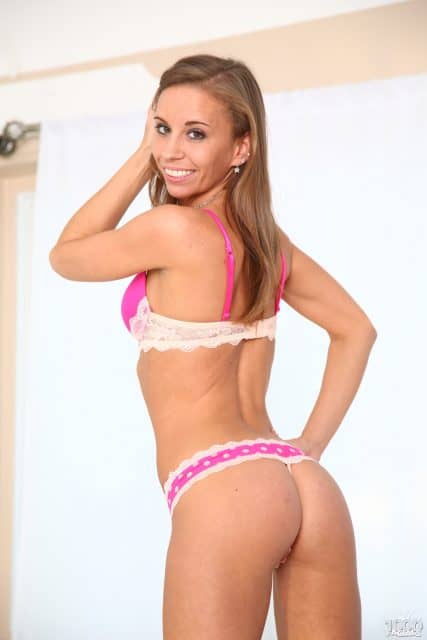 Norah Nova at 1000 Facials
Without a doubt Norah's most popular parody release so far has been the Hustler Video DVD Skanknado (2017). Also starring Amber Ivy, Emma Hix and Edyn Blair, this action-packed Sharknado spoof was an instant hit that received multiple "Best Parody", "Best Special Effects" and "Clever Title of the Year" nominations at the 2018 AVN Awards.
But wait, it gets even better! Norah is also a talented girl/girl performer who has starred in many lusty lesbian releases. We recommend checking out Norah's sizzling scene with Stacy Sweet in Girlfriends 8 (2015) for 3rd Degree that was nominated for "Best All-Girl Movie" at the 2016 AVN Awards, her steamy shoot with Ember Snow in the Hustler Video DVD Cheating Lesbian MILFs (2018) and her thrilling three-way with Nari Park and Amarna Miller in the Filly Films production Lesbian Anal Virgins (2017). Norah enjoyed collaborating with Nari and Amarna on this feisty three-way, enthusing in her January 2018 AVN: Fresh Faces interview how;
"Nari and I were besties, and we were holding Amarna down and fucking her, and they had to stop to make sure that we weren't being bullies to her. I forgot our crazy comes out. There was so much energy in the room, but it was such a happy energy. We were all over each other".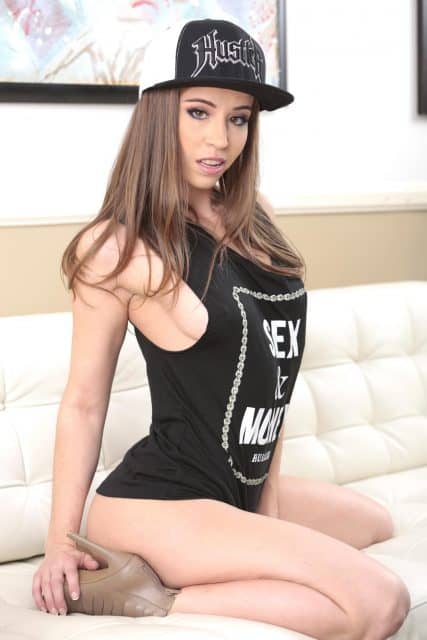 Norah Nova at Hustler Video
In recent years Norah has been featured in a steady stream of best-selling Hustler Video DVDs. Fans of Norah Nova will love viewing her saucy scenes with Summer Day in Lesbian Art of Seduction (2017), her raunchy shoot in Lesbian Perverts (2018) and her sizzling scenes in Hustler First Timers (2017) also starring Christiana Cinn, Alexa Grace and Violet Monroe. During this time Norah also filmed an intensely alluring Super Nova VR experience for BaDoink VR in October 2017. Must see sex scenes for devoted Norah Nova fans!
When she isn't performing in these best-selling porn productions Norah loves interacting with her fans via social media. Norah also enjoys meeting her fans in person at adult film conventions such as the AVN Adult Entertainment Expo (AEE). Norah remains incredibly grateful to her fans for their ongoing support and has conveyed in her January 2018 AVN: Fresh Faces interview how;
"I love the joy it brings to fans. Since I cam, I see my fans. My fans have supplied all of my clothes, my work stuff, my cameras, my computers. My fans brought me here and I love making them happy. I love making their dreams happen…You get to meet a thousand people [at AVN Expos]. People come from all over the country and all over the world and they're all there to celebrate sex. It's like a swap meet of porn".
Currently represented by Kendra Lust's exclusive modelling agency Society 15, Norah continues to star in many popular porn productions as well as hosting regular live cam shows via Hustler Live and updating her official solo website, NorahNova.com, with all manner of exclusive web content.
Wondering what the future holds for sensational starlet Norah Nova? Well, Norah has mentioned in previous interviews that she would love to feature dance and appear in mainstream productions in the future. As Norah explained in her December 2015 AIP Daily interview;
"I don't want to limit myself. I am always looking at new ways to improve. One day I hope to be in a psychological thriller mainstream movie. Scary movies are my favorite.  I was a zombie stripper for Halloween. I'm pretty sexy dead too.  I'd love to feature dance. I even have a pole at our place. It is amazing for working out. If I play on it enough I get these incredibly sexy back ​muscles. Almost feels like wings when I fly on the pole…I am still at the beginning stages of everything. So you might have to jump on my roller coaster with me and see where the ride takes us".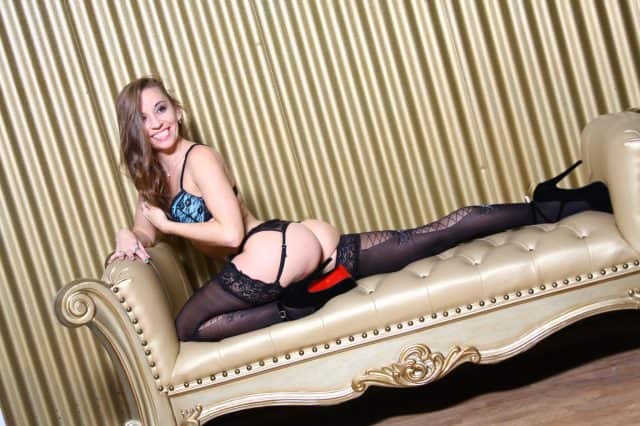 Norah Nova – Society 15 Modelling Profile
Want to keep yourself updated on all of Norah's exclusive web content, latest releases and upcoming live cam shows? Then feel free to use the links provided below to stay connected with your favourite rising starlet Norah Nova!
Social Networks
Official Website : NorahNova.com
Twitter @Norah_Nova
Instagram : @norah_nova
BaDoink VR : Norah Nova VR Scenes
Hustler Video : Norah Nova at Hustler Video
Clips4Sale : Norah Nova
Twitch : Norah Nova
Camster : Norah Nova Chat Room
Reality Kings : Norah Nova at Reality Kings
Bang Bros : Norah Nova at Bang Bros
1000 Facials : Norah Nova at 1000 Facials
IMDB Profile : Norah Nova Filmography