Chaturbate : brittanystjordan  Twitter : @TheBritStJordan  Grooby Girls : Brittany St Jordan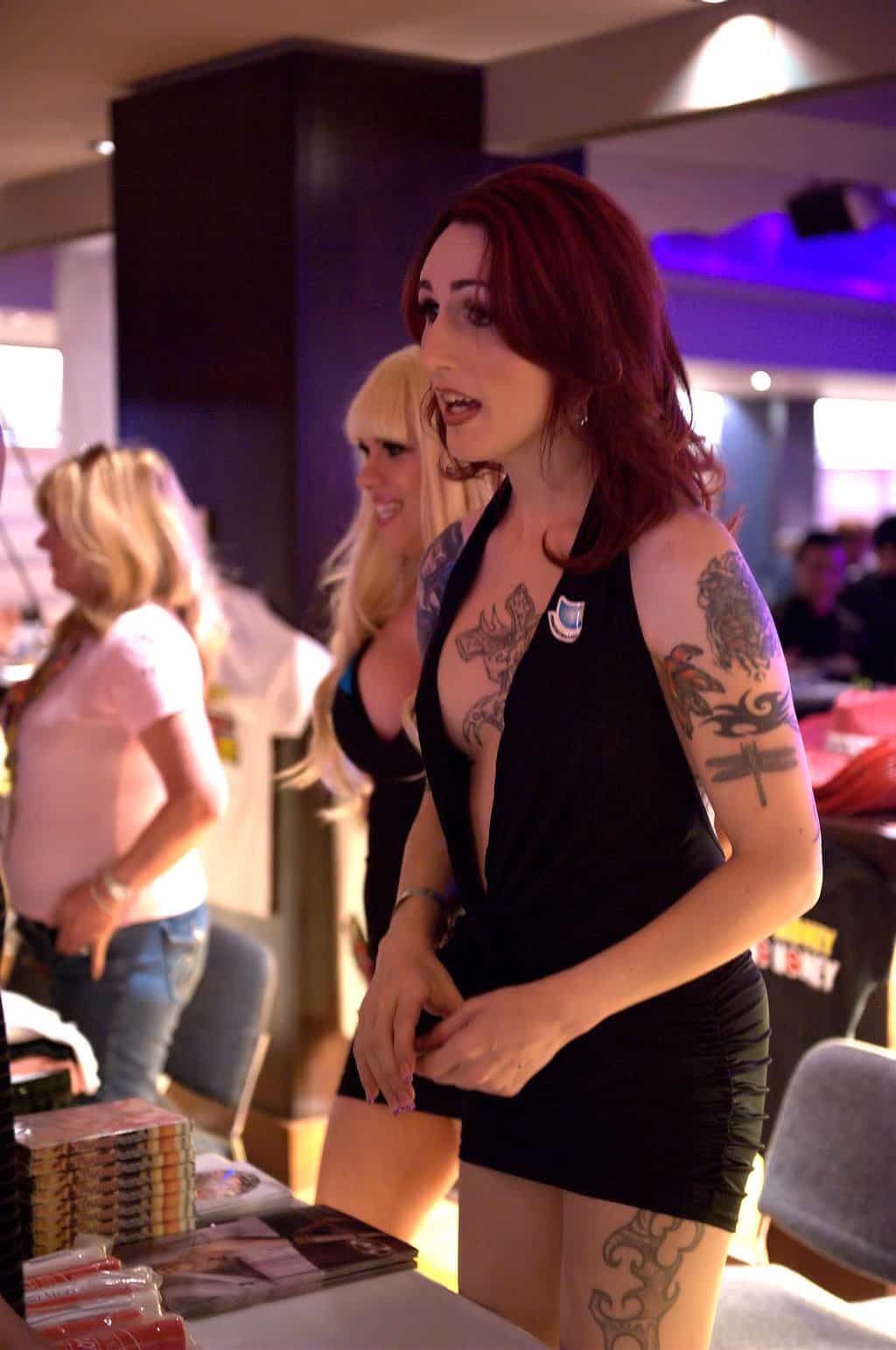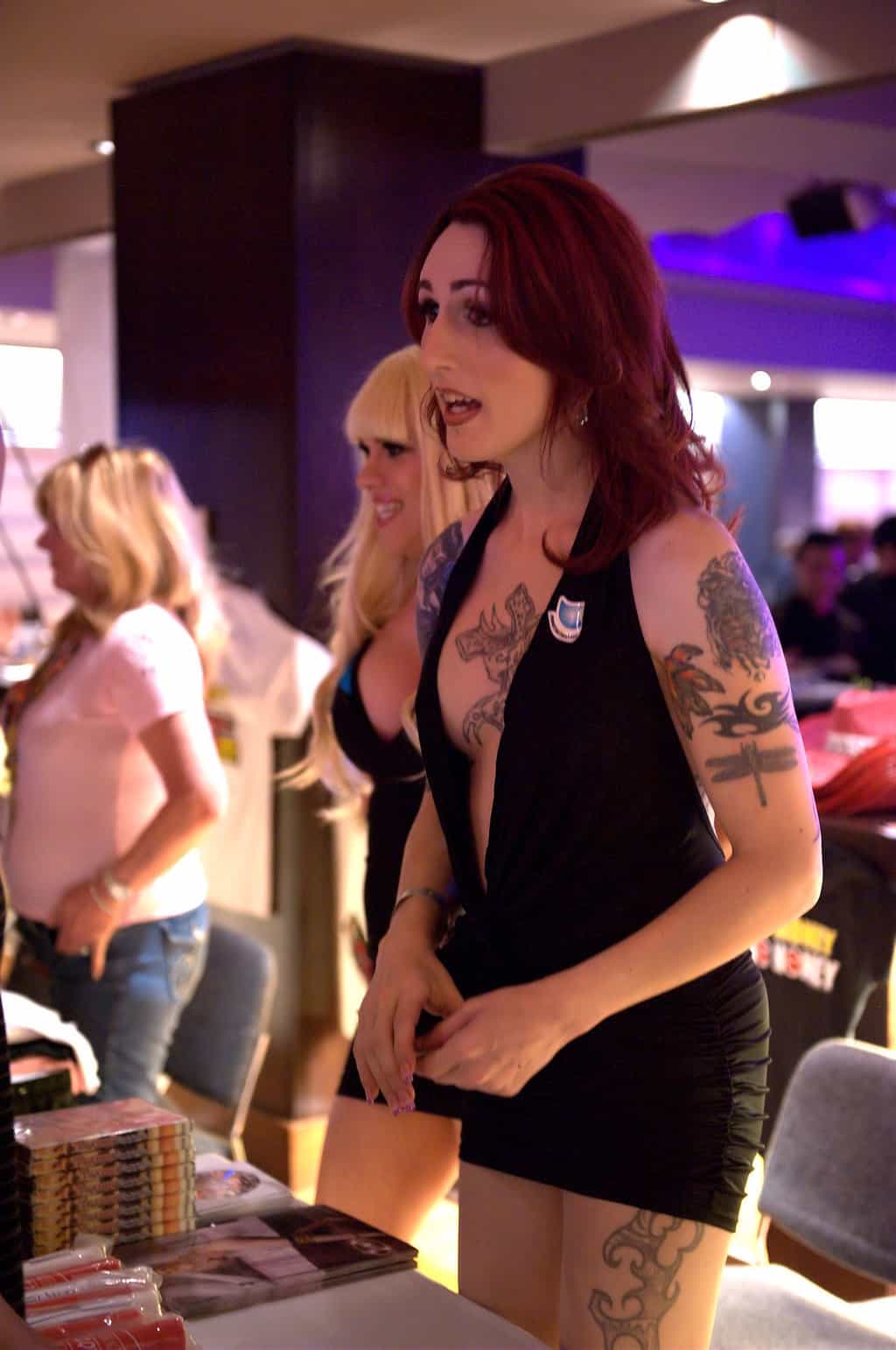 Brittany St. Jordan and Jesse Flores at AVN Adult Entertainment Expo 2012 (Image sourced from Wikimedia, Attribution : LasVegasVegas.com)
Personal Info
Name : Brittany St Jordan
Alias : Britney
Date of Birth: January 16th
Home Town :  Palm Springs, California (US)
Measurements : 34C – 28 – 32
Bra Cup/Size : 34C
Boobs :  Enhanced
Height : 5'10 (1.78m)
Hair Colour : Brunette/ Red/ Blonde
Eye Colour : Brown
Piercings :  Tongue and lower lip
Years Active : 2011 – present
Number of Scenes : 23+
A successful performer as well as a talented photographer and aspiring producer, Brittany St. Jordan has it all! This attractive and highly accomplished transsexual porn star even served in the marines before pursuing a career in the adult entertainment industry.
Although Brittany left active duty to undergo hormone replacement therapy, when asked if she would have remained in the Corps if she had been allowed to transition whilst on active duty, Brittany stated;
"I still would have left. The everyday life of being a Marine is a very stressful existence. I knew it was my time to move on and see what life had in store for me after active duty was over with".
When asked about this transition process, Brittany has commented via her Tumblr blog site how;
"I didn't. I abhor the use of the word transition when used to discuss gender. A transitory state is from a definitive point to another definitive point. Gender is anything but that. It's a constant evolution that changes on a daily basis. It's a state of mind not genitals. No pills, no shots, and no surgery will ever define gender for me. It's something I feel inside of me that is constantly moulded and shaped as I continue to embrace, accept and love new aspects of my inner self that are continually being awakened along the path of my journey".
Describing these younger years in an XCritic column interview, Brittany revealed that;
"I was a loner and stuck to myself. I had a few people I considered friends, but it has always been me against the world. Even to this day, I do as much as I can on my own and only when I really need it will I reach out to someone else. It may sound awful to some, but there is a huge sense of satisfaction at the end of the day when I sit back and look at what I accomplished".
Brittany St. Jordan : Adult Film Career
Brittany initially began to establish herself within the adult entertainment industry in May 2010 when she started performing her own live chat sessions via her chaturbate adult cam-site account. After merely a few short months Brittany had begun to attract a devoted fan base. This positive reception to her live cam-site performances inspired Brittany to further promote herself via social media platforms such as on Facebook and Twitter. Whilst interacting with her new fan following via these social networking channels, Brittany also began to discover fellow transsexual performers such as Morgan Bailey, Amy Daly and several other TS girls living and working within the Los Angeles area. As Brittany conveys in her own words;
" The more I saw them and what they were doing. I got the urge to want to try it as well. So I sent an email with some photos to every TS site that I could get contact information for and told them I wanted to be a model…. I was living on the East Coast at the time so the only one to reply was Steven form Grooby and he said I would be shooting for Shemale Yum. I did my first shoot in July and my first set went up in August and here I am today!".
Following her first adult film shoot Brittany went on to appear in a multitude of solo scenes, group TS DVD releases and raunchy modelling shoots. Some of Brittany's fan-favourite pornographic productions include; Filthy SheMale Sluts 16, Amy Daly: The Translesbian! 2, Transsexual Cheerleaders 8, Shemale Does POV, She-Male Strokers 52, Forbidden Lovers Vol. 1, I Kill It TS, Transsexual Babysitters 21, Michelle Austin: The Voluptuous Diva, She-male XTC 9, Rogue Adventures 37, She-Male Strokers 49, America's Next Top Tranny Season 12: Gangbang Edition, She-Male Strokers 47, 49 and 52 , Bang My Tranny Ass 9 and Transsexual Prostitutes 68.
These performances earned Brittany's a wealth of adult film award wins and nominations including;
2011: Tranny Awards nominee — "Best Up and Comer"
2011: Tranny Awards nominee — "Best Hardcore Performer"
2011: Tranny Awards nominee — "Best Non-Typical Model"
2012: Urban X Awards nominee — "TS Interracial Performer of the Year"
2012: AVN Awards nominee — "Transsexual Performer of the Year"
2012: Nightmoves Awards nominee — "Best Transsexual Performer"
2012: Tranny Awards nominee — "Best Internet Personality"
2013: AVN Awards nominee — "Best Transsexual Sex Scene" — Rogue Adventures 37
2013: AVN Awards nominee — "Transsexual Performer of the Year"
2014: AVN Awards nominee — "Best Transsexual Sex Scene" — I Kill It TS
2016: Transgender Erotica Awards winner — "Best Solo Site"
Brittany St. Jordan : Transgender Rights Activist
Many of Brittany's most popular pornographic productions were filmed with her TS friends Michelle Austin, Joanna Jet and TS Foxxy as well as her best friend and former roommate Amy Daly. In addition to appearing together in Forbidden Lovers, Amy Daly: The Translesbian 2 and  Rogue Adventures 37 amongst many other successful shoots, Brittany and Amy have also appeared on several radio talk shows together in order to discuss transgender issues. You can learn more about the exploits of this dynamic duo by checking out our in-depth Amy Daly biography.
Most notably, in 2012 Brittany and Amy both participated in a 90 minute meeting with AVN executives alongside Wendy Williams in order to discuss the mistreatment of transgender porn stars at the AVN awards and adult entertainment expos. This meeting came about due to Brittany's mistreatment at the AVN awards. Describing this negative experience in a 2012 Luke is Back interview, Brittany explained how;
"The fiasco started earlier that day when we went to pick up our tickets. Steve Javors, from AVN, was handing out the tickets for the talent who were going to attend the awards. I was with Jesse, who was also a nominee, and we asked for our red carpet passes. Steve said to find him at the show when we got there and he would have them. We grabbed our tickets and went off to get ready for the evening's event. When we arrived there was a huge line waiting for the red carpet. As the line slowly inched along, the larger studios started arriving with their folks and were being escorted to the front of the line. This is expected and was not a surprise at all. However, there was someone behind us who asked why these people were going to the front. Steve's reply was, "They are presenters and nominees." That was when I informed him that Jesse and I were nominees for TS Performer of the Year and he then told us to wait and we would get our turn…
Even though we had informed them of who we were we waited for three hours before making it to the red carpet as straight girl after straight girl was escorted to the front of the line. Once we were finished on the red carpet the handlers for AVN told us go around another line of folks and to go out into the hallway where other media were present. That line which we were told to avoid was the line for people doing interviews for Showtime and the hallway was devoid of anything except people taking 
personal photos with one another…
For the best male and female performers they get to be seen on stage and receive their award in person. For the TS Performer of the Year the award is sent to the winner in the mail and their name is listed on a screen of other awards for fetish awards at the end of the night when everyone is leaving. This is the biggest mistake made year after year that has been allowed to continue because "that is the way it is." Regardless of if we are doing clown porn or a heated threesome we are still TS performers just as the male and female counterparts are. Denying us the the time on stage and professional recognition amongst the adult industry simply keeps us a footnote sideshow act".

All in all, Brittany and her fellow TS performers had to stand in line for three hours before they were allowed to walk the AVN awards red carpet as the other female performers were sent ahead of them. Even when they finally made it onto the red carpet, event organisers directed Brittany and her TS co-stars away from interviews with the press.
Brittany's online comments about her AVN awards discrimination garnered the attention of Kelly Pierce who wrote her own blog post titled "AVN's Inequality & Segregation Needs To Stop!". You can read more about this article by checking out our upcoming Madison Montag biography.
What's more, Brittany's bravery at standing up for transgender rights even garnered the support of leading adult film executives; including Tomcat, director of Kink.com's TS Seduction site, who agreed that;
 "Not sharing the stage with Ts performers has allowed the majority of non-trans performers to dismiss them as outsiders and perpetuated discrimination against a group who should be equally praised for the work they do and the revenue they generate for the industry".
This online support from fans, directors and fellow performers enabled Brittany, Amy Daly and Wendy Williams to orchestrate a meeting with AVN executives following the AVN awards. Through their combined efforts, Brittany and her friends were able to reach an agreement with AVN executives wherein they created an additional AVN awards category "Best Transsexual Sex Scene" and enabled winners of "Transsexual Performer of the Year" to collect their award onstage for the first time. Speaking about this progress in a salon.com article published in February 2012, Brittany commented that;
"Whether or not I ever get nominated again or get invited to anything with AVN again, the fact that the Transsexual Performer of the Year will be on stage and seen by everybody? That's huge".
Unfortunately, despite these successes many organisations did not follow suit. As reported in an AVN press release in 2012;
"AVN has had occasion to rethink its attitude toward transsexual/transgendered performers and their participation in its Award Show, resulting in an additional award category (Best Transsexual Sex Scene) and increased stage presence for transsexuals at the show itself…So it was with some disappointment that, when searching for information on some TS's performances during 2012 on the Internet Adult Film Database, we discovered that every trans person for whom we searched was listed as "male"—and that some earlier trans movies were still labelled as "gay".
In response to this mistreatment, Brittany St Jordan and her fellow transsexual performers were quick to publicly criticise IAFD stating;
"It is unfortunate that a leading source of information concerning the adult industry is blinded by ignorance and has chosen to refuse to treat transsexuals with the respect which we deserve…From a technical standpoint I am puzzled how adding a third gender option is any more difficult than adding any other additional choices of breast size or kinky attributes. The issue with this is that the people running this database have no concept of what being transsexual is. Although there are some who simply put on a wig and a dress for money, this is a small number of transsexuals within the adult industry…
We know from day one that we are feminine in spirit…It is the world around us that puts into little boxes and puts labels on us based upon what is between our legs. Continuing this forced gender damnation only serves to add to the general confusion most of society has towards transsexuals. When a user sees us labelled under 'male,' it only serves to continue promoting ancient and outdated ideas towards the transsexual community. The same goes for FTM [female-to-male] transsexuals as well. Our classification of our gender should be based upon our belief in ourselves instead the convenience of having only two options to choose from. If IAFD wishes to stay with the choice system, then talent should be classified on how they self-identify versus how someone perceives them to be…
We are now living in times where transsexuals are done being the freak show side act that we have been in the past. Transsexuals are finished allowing the world around them define who we are and who we should be. The days of being trapped by society's labels based upon misunderstanding and disinformation are behind us now. As we go into the new year and beyond, society is going to embrace the transsexuals as the tremendously amazing people which we truly are. It will be the companies, such IAFD, who are unwilling to change that will fade away and be replaced with more accepting and caring companies who embrace the now as well as exemplify the future…
We are all far more than simply porn stars with pretty faces…We are people and now is the time the industry treats us as such. 'Tranny,' 'shemale,' and all of the demeaning terms need to stop. We are transsexuals and that is how we should be labelled. If more than two syllable words are too difficult for some, then TS is more than appropriate. Derogatory terminology is avoided when promoting other genres of adult entertainment so it is time that transsexual content gets the same treatment. All journeys begin with a single step and today is the day to begin the voyage towards the day where the ignorance is vanquished and transsexuals are exemplified for the beautiful individuals the world knows we are".
These strong words and continued resilience to fight prejudice and discrimination against the transgender community have earned Brittany St Jordan overwhelming admiration and respect from her fellow transgender performers as well as her loyal fan base. To show her appreciation for this ongoing support, Brittany continues to post regular blog articles, appear on radio talk shows and produce hard-hitting content which strives to confront and resolve the key issues that members of the transsexual community face on a daily basis.
In order to do so, Brittany has appeared on several radio talk shows throughout her career, as well as making guest appearances at adult entertainment expos and hosting transgender nightclub events. For instance, in August 2011 Brittany appeared with fellow transsexual superstar Domino Presley on the "Porn Star Road Trip"; a raunchy road trip sponsored by AVN Media Network, Exxxotica Expo, the Adult Trading Card Company and Punnani.com which showcased the industry's hottest straight, gay and transsexual porn stars in a brand new 2012 Road Trip RV. Brittany and Domino made their first public appearances with the "Porn Star Road Trip" which promised to "Bring Porn to the People" at the Exxxotica Expos in Chicago and Los Angeles where they both served as hostesses for their adoring fans. Cory Biggs, CEO of the Porn Star Road Trip, exclaimed about this exotic extravaganza in an AVN press release, enthusing how;
"Exxxotica is home base to us! It seems like we travel from Exxxotica to Exxxotica given the frequency and diverse locations around the country. These shows offer us an amazing opportunity to meet more and more fans and let them know we bring Porn Stars to their hometown".
Moreover, Brittany and Domino's attendance on this raunchy RV also marked the first time that this annual event was ever sponsored by TrannyStarTweet.com as well as its usual sponsors iFriends.net  PornStarTweet.com, WebGirlTweet.com and BBWGirlTweet.com. Speaking about this breakthrough for transsexual porn stars, Pete Housley, CEO of the Naughty Tweet Network stated;
"Diversity is core to what the Naughty Tweet Network represents…Since the inception of the company we have always embraced and endorsed variety. With a diverse portfolio of web and social media products we bridge the gap from mainstream to fringe and everything in between".
In October 2011,Brittany became the first transsexual model ever to produce her own content and build her own website using Grooby Network's unique webs development technology. Established in 2011 by Grooby Productions, the Grooby Network project was created so that transgender models could operate their own websites at an affordable rate whilst also benefitting from the backing of Grooby Production's 15 years of industry experience as the leading production company for transsexual pornographic productions. Speaking about this groundbreaking moment for transsexual performers, founder of Grooby Productions and the Grooby Network, Steven Grooby, advocated during an AVN press release how;
"We set up our network to give transgender models an alternative to working with companies that produce solo sites, take 50% of the profit and give the model little or no ownership or creative identity," stated Grooby CEO, Steven Grooby, "Our system means the models must work harder, but the site is all theirs. We guide and advise them, let them use our promotional outlets and affiliates, and provide servers, software, DMCA services, full customer support and billing strategies, but they ultimately remain in control of their website and all the content. Brittany's been a fantastic model and performer on a number of our sites and put a hell of a lot of work into getting this site ready—we're excited to help her on the next stage of her career".
Ecstatic with this opportunity, Brittany also commented during this AVN press release how;
"It was an obvious choice for me to go with Grooby…They were the first company to work with me and have always supported my career. I designed all my own graphics, produced all the shoots and have had control of my site all the way. Why would I need to sign an exclusivity contract or give away 50% of the revenue, like some companies demand? I look forward to giving my fans what they want to see and being able to interact with them on a daily basis".
Achieving this landmark moment in the adult entertainment industry enabled Brittany and Grooby Productions to pave the way for fellow transsexual performers, such as Michelle Austin, to own and operate their own websites. In this manner, Brittany St Jordan has been a pioneer for transgender rights throughout her adult film career; using her popularity and prominent status to raise awareness towards the issues facing the transsexual community.
For instance, over the years she has appeared on "Dr. Suzy's Birthday Bacchanal" radio talk show in June 2012 alongside long-time friend and co-star Morgan Bailey to discuss transgender relationship issues, has featured on the popular radio talk show "Inside the Industry" with Amy Daly in January 2012 to promote the upcoming 4th Annual Tranny Awards in Los Angeles, and also appeared on the  blog talk radio show, What's Brewin After Dark, in December 2011 to discuss transgender issues, her latest projects and relationship dilemmas with George Brew and Katie Summers.
Brittany St. Jordan : Professional Photographer
In addition to her work as a transsexual porn star and transgender rights activist, Brittany has also always been a keen photographer; even going back so far as 2004 when she began to take photography seriously whilst serving on active duty in the Marines. Unable to have access to traditional photography studios in order to develop the images she needed, Brittany used her initiative and taught herself how to create her own!
Since these early amateur photography days in the Marines, Brittany has seized every opportunity the adult entertainment industry has given her to hone her photography skills. In so doing, Brittany has become a highly skilled artist with the intrinsic ability to capture and create true works of art. Her adult modelling experience has equipped Brittany with unique perspective on how to secure the perfect shot.
Over the years, these exceptional modelling, acting and photography skills have attracted the attention of seasoned adult film photographer Michael Kahn. Impressed by Brittany's talents, Kahn recruited Brittany to help him develop a new transsexual website which incorporated product and modelling shoots for Sex and Metal toy designers as well as BDSM furniture. Brittany has also photographed a wide range of straight, gay and transsexual porn stars to help them expand their solo websites.
In recent years, Brittany has also shot for Nica Noelle, the renowned director with whom she previously collaborated with as a model for Forbidden Lovers. Brittany has also broadened her photography skills to incorporate DSLR video production; a skill set which she has continued to use to shoot videos and photos for her own site as well as several solo models. By combining her ever-expanding photography, videography and editing skills, Brittany has evolved into an extremely talented producer with aspirations of continuing creating projects for transsexual performers long after she has retired from modelling and acting herself.
As well as porn and photography, Brittany also possesses a keen passion for music, especially heavy metal, and is an avid gamer girl. As Brittany divulges;
"Heavy metal concerts are a must in my life. Nothing cleanses the soul like a few thousand watts of shredding guitars and thumping bass drums. No matter what kick in the nuts life delivers, a good metal show makes the world all better again..
I am also a gamer girl as well. I have been mostly into PS3 games, however, my roommate has turned me onto Warcraft. So that is my time waster of choice these days. When I get the chance, I also enjoy going to wineries and doing wine tastings. I have to travel quite a distance to do that here in CA though. All of the good places are up north of L.A. You can also count on me visiting national parks throughout the year. Just as much as I love the chaos of a live metal concert, I also enjoy the serenity of nature as it is meant to be".
During this XCritic column interview Brittany also discussed her favourite aspects of performing in adult films, commenting how she loves;
"That at any given point through the day, I am that one thing that someone uses to get through that particular moment. Whether they want to escape work, fantasize about particular scenarios, or just jerk their dick and get off, I am there for them. I don't do this to make money for surgeries, buy expensive clothes, or drive a sports car. I do this so that people out there can have some good quality entertainment to make their life just a tad better than it was before…
I do it all for the fans. Even on my cam shows, if there are 2 or 22 people watching the show I still give my all. They still came to see what I promoted and I am there to give it to them. The fact that I am able to do this as a career is still the most amazing mind fuck of it all and I am grateful for it every single day".
As matters stand, Brittany continues to enjoy performing for her fans via real-time adult cam-site chat sessions, DVD feature releases and starring within her own modelling shoots. Fans of Brittany St. Jordan can stay updated regarding all her latest modelling shoots, photography and producing projects via her official website. As Brittany says in her own words;
" I will always deliver the best possible artistic production possible with the resources I have available to me. This site is more than just a place to dump content for people to jerk off to. It's a place for me to showcase my pornographic art as a model, photographer and producer. It's also a place for people to come and show their appreciation for my craft. Whether it's through membership on here, my cam shows on Chaturbate or through gifts on my wish list it's all of the support you provide that keeps me waking up and keeping this going day after day".
So why not check out the social networking links provided below to keep in touch with the blonde bombshell that is Brittany St. Jordan? Using the links below you can view her latest blog site content, keep updated on her public appearances via her Twitter profile, or even reserve yourself an exclusive private chat session with the blonde bombshell herself!
Social Networks
Chaturbate : brittanystjordan
Twitter : @TheBritStJordan
Grooby Girls : Brittany St Jordan at Grooby Girls
Facebook : brittany.stjordan
Email : brittanystjordan@gmail.com
Tumblr Blog Site : brittanystjordan.tumblr.com