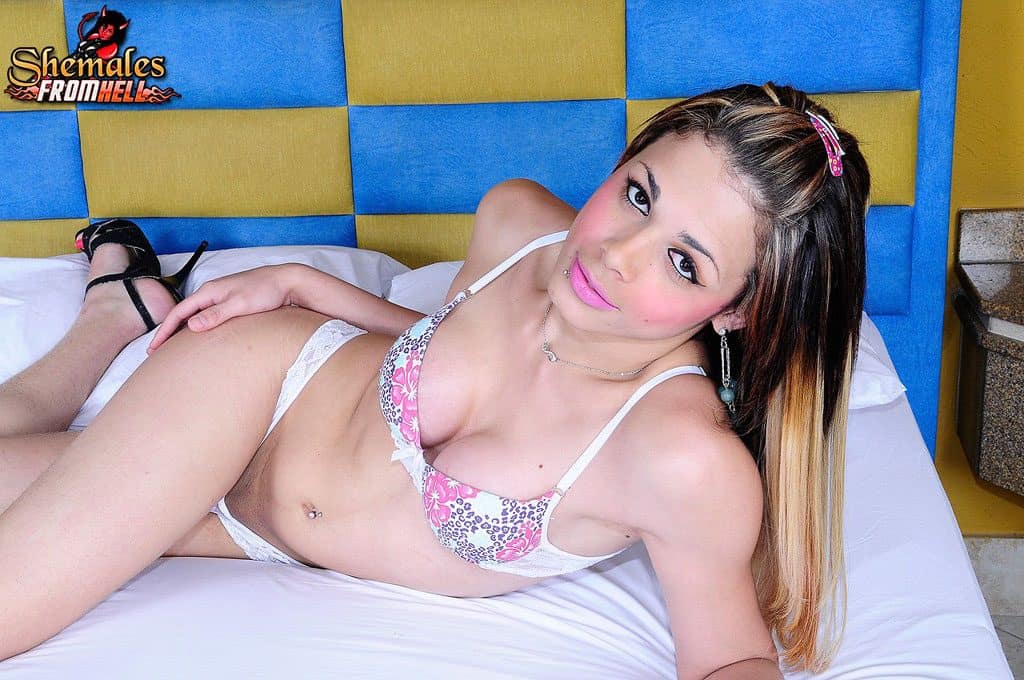 Bruna Castro at Brazil TGirls XXX
Bruna Castro – Personal Info
Name : Bruna Castro
Date of Birth: April 17th, 1991
Star Sign : Aries
Hometown :  Sao Paulo (Brazil)
Height : 5'9 (1.75m)
Hair Colour : Black / Brunette / Blonde
Eye Colour : Brown
Tattoos : 'Luciana' script on the outside of her right forearm
Piercings : Navel and right lower lip piercing
Years Active : 2012 – present
Number of Scenes : 20+
Introducing beautiful Brazilian babe Bruna Castro; a lusty Latina TS pornstar who has been thrilling fans across the globe since she made her Grooby Network adult film modelling debut in May 2012!
Born and raised in Sao Paulo, Brazil, Brazilian beauty Bruna Castro began her adult film career when she was 21 years old. From May 2012 onward, Bruna started to collaborate with several leading pornographic production companies in the United States of America. Bruna made her US adult film  modelling debut with a saucy solo sex shoot titled Bruna Castro Strokes For You! that was filmed by prominent porn cinematographer Frank Druchman for the Grooby Network porn site Frank's TGirl World.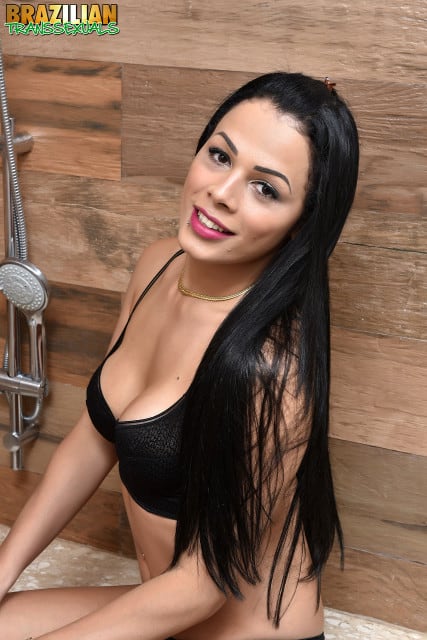 Bruna Castro at Brazilian Transsexuals
Consequently, from the summer of 2012 onward, Bruna Castro began filming a wide range of sultry solo sex shoots and hardcore web clips for the Grooby porn sites Brazilian Transsexuals, Frank's TGirl World, Brazil TGirls XXX and TGirls XXX. Bruna has been ranked as the #1 TS star on Brazilian Transsexuals. Some of Bruna's sauciest solo scenes for this popular porn site include her Bruna Castro Cums Hard! shoot in January 2013, Bruna Castro Shoots A Hard Load! that was first released in March 2013 as well as Stunning Bruna Castro Masturbates! in July 2013 and Bruna Castro Stretches Her Tight Ass! in February 2014 all of which were filmed by famous adult film photographer Khan. Bruna has even collaborated with Khan on some hot hardcore sex scenes for Brazilian Transsexuals among which include her hot hardcore sex scenes with Alicia Garcia that were first released in July 2013 and her formidable femdom sex scenes with Yasmin Mattos which were unveiled in February 2014.
Fans of Bruna Castro's sizzling Grooby web content should also check out her Beautiful Bruna Castro! solo sex shoot that was filmed by Louie Damazo for TGirls XXX in November 2012, her titillating three-way with Lohanna Finanthelly and Alex Victor that was filmed by Khan for Brazil TGirls XXX in March 2013, her Hot Bruna Castro Fucking With Marcus sex scenes that were distributed via Brazil TGirls XXX in February 2017, along with her Bruna Castro Fucks Almeida hardcore web clips and her sultry Amazing Bruna Castro solo sex scenes that were both directed by Louie Damazo for Brazilian Transsexuals in January 2017 and February 2017. Most recently, Bruna has filmed a sultry Bewitching Bruna Spreads Her Legs! solo sex shoot that was photographed by Frank Druchman for Frank's TGirl World in March 2017.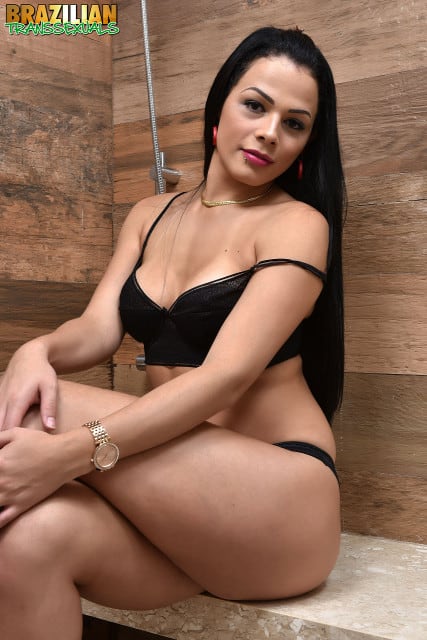 Bruna Castro at Brazilian Transsexuals
As well as her Grooby Network web collaborations, Bruna Castro has filmed a variety of saucy solo sex shoots and hot hardcore web clips for the trans-friendly porn sites SMClub, TS Latex, SM Punishers, SM Solos, BB Trannies, Tranny Surprise, SMs Get Barebacked, TGirlz, Frank's TGirl World, Tranny Access, SM Weddings, Tranny Pack and TS Playground but to name a few!
If we had to choose a selection of Bruna Castro's most captivating web clips to date then we'd recommend that fans check out her Poolside Latex TS Bruna Castro fetish porn web clips that were distributed via the Tranny Pack porn site TS Latex in June 2012 and her raunchy Dominant Shemale Punishers In Action three-way sex scenes with Evelin Rangel and Sabrina Xavier that were uploaded via Shemale Punishers in June 2012, as well as her Going Deep sex scenes with Yago Ribeiro in July 2012, her Sharing Meat three-way with Evelin Rangel and Yago Ribeiro in February 2013 and her Dip the Stick sex scenes with Tony Lee in February 2014 that were all uploaded via the Reality Kings porn site Tranny Surprise. Many of these kinky web clips have been showcased within the Reality Kings DVD compilation title Tranny Surprise 39 (2015) also starring sexy TS pornstars Melainy Vilhena, Wanny Naomy, Vivy Dantas, Vivianne Merillo and Bruna Souza.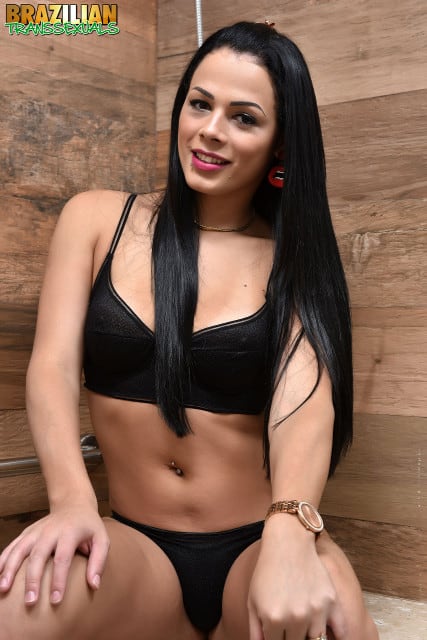 Bruna Castro at Brazilian Transsexuals
In addition to her sizzling selection of online sex scenes, Bruna Castro has performed within multiple fan-favorite DVDs. Fans of Brazilian beauty Bruna Castro should check out Fucked Hard Bareback 3 (2012) for Trans Erotica also starring Viviane Rios, Dany De Castro, Jhoany Wilker and Valentina Santos, 2 Balled Bitches Volume 8 (2012) for Channel 69 for which Bruna posed as the devilishly delightful DVD cover model, the Dream Tranny porn production Fucking A SM Bareback 2 (2013) and Transsexual Barebacking Creampie 5 (2013) for Trans Erotica within which Bruna starred alongside sexy TS pornstars Gabriela Lira, Melainy Vilhena, Monique Martins and Rafaela Ferrari.

Without a shadow of a doubt, Bruna's most popular DVD feature release to date has been Rogue Adventures 38 (2013) for Evil Angel. Directed by Joey Silvera, Rogue Adventures 38 showcased Bruna in a scintillating sex scene with fellow Latina TS star Juliana Souza that earned Bruna the coveted title of "Best  Foreign (Asia/South America) Performer" title at the 2013 Tranny Awards. Also starring Beatricy Velmont, Danika Dreamz, Kelli Lox, Jacqueline Woods, Zoey Monroe, Rico Steele, John Magnum and Alex Victor, Rogue Adventures 38 was a commercial and critical success that went on to win "Best Transsexual Release" at the 2014 AVN Awards as well as earning high praise from XCritic column writer Apache Warrior who enthusiastically stated in his August 2013 film review that;
"Rogue Adventures 38 is the thirty-eighth installment to this highly influential series by legendary director Joey Silvera… Rogue Adventures still has hot turn-on tranny sex especially when there are tranny-girl and tranny-tranny pairings…The two scenes with the most replay value are the Zoey Monroe-Jacqueline Woods performance as well as the Juliana Souza-Bruna Castro pairing. These performers are highly photogenic and beautiful. I love it when Joey Silvera bypasses a regular guy fucker and instead pairs a tranny with either another tranny or a female. I enjoy seeing a lot of pretty performers on screen. In other scenes, Beatricy Velmont and Danika Dreamz are very sexy performers too. This film is going to be replayed a lot. I highly recommend it".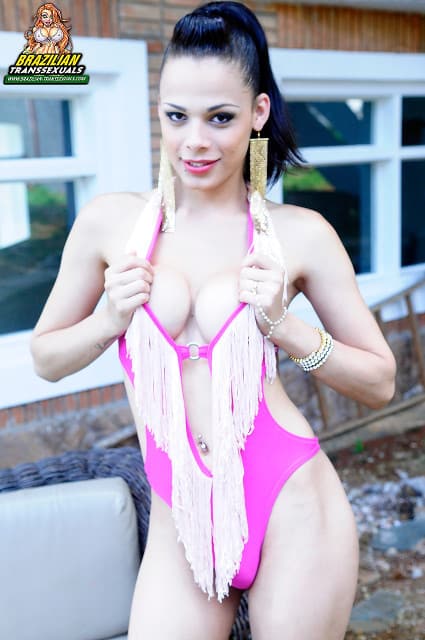 Bruna Castro at Brazilian Transsexuals
Following her award-nominated Evil Angel DVD feature releases, Bruna Castro continued to shoot a broad spectrum of solo sex scenes and hardcore web clips for SMC Network and their popular porn site SMClub. Fans of Bruna Castro will not want to miss out on viewing her sultry solo photo sets that were uploaded via SMClub in December 2012 and January 2013, her hardcore web content with male porn star Raj that was first released in January 2013, her transbian sex scenes with Isabelli Killer which were unveiled in February 2013 and most recently her alluring two-part three-way with Aline Ketson and Terence that has been distributed via SMClub throughout March 2017.
As matters stand, Bruna Castro has been ranked #1 on the Grooby Network porn site Brazilian Transsexuals and she continues to attract a devoted fan following within Brazil, the United States and across the globe. So what are you waiting for? Use the links provided below to stay updated on all of Bruna Castro's latest porn productions and upcoming projects!
Bruna Castro – Social Networks
TS Playground : Bruna at TS Playground
Brazilian Transsexuals : Bruna at Brazilian Transsexuals
Brazil TGirls XXX : Bruna at Brazil TGirls XXX
Frank's TGirl World : Bruna at Frank's TGirl World
TGirls XXX : Bruna at TGirls XXX

SMClub : Bruna at SMClub