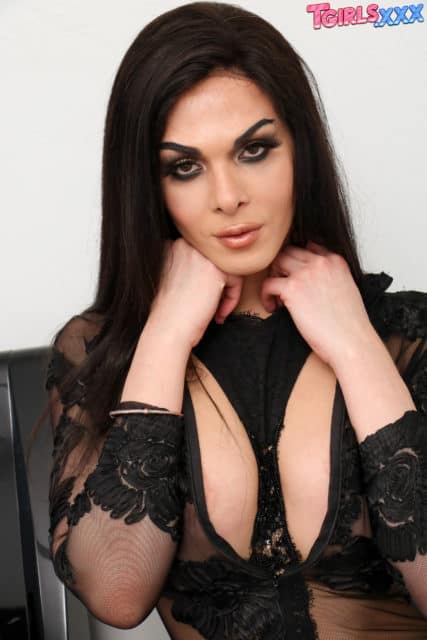 Cumshot Friday: Jenna Tales! – TGirls.XXX
Jenna Tales – Personal Info
Name : Jenna Tales
Alias : TS Jenna
Date of Birth: March 3rd
Star Sign : Pisces
Hometown : New Jersey (US)
Hair Colour : Black/ Blonde/ Brunette/ Light Blue
Eye Colour : Brown
Tattoos : A butterfly design on her right foot
Years Active : 2016 – present
Number of Scenes : 20+
Jenna Tales is a stunning adult film star and glamour model who has been performing in porn since 2016. Within less than a year of making her industry debut, Jenna had already amassed a keen fan following and she received a trio of "Best Hardcore Performer", "Best New Face" and "Best Scene" nominations at the 2017 Transgender Erotica Awards!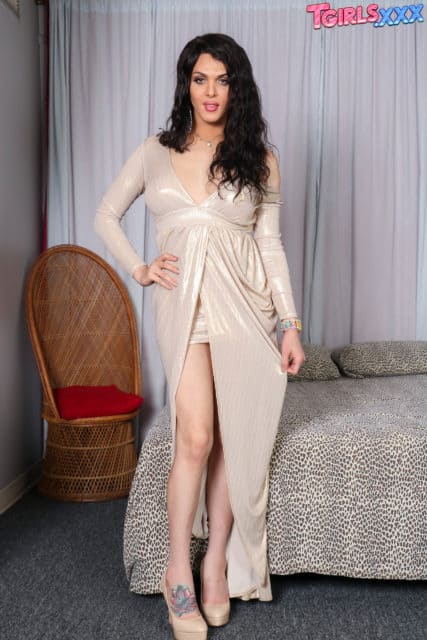 Jenna Tales' Sticky Cumshot! – TGirls.XXX
Jenna Tales : Adult Film Career
Born and raised in New Jersey, Jenna Tales has Cuban heritage and is currently living in Fort Lauderdale, Florida. This Garden State girl made her adult film modelling debut in April 2016 for the popular Grooby Network porn site TGirls.XXX. Jenna's first ever solo shoot was titled Stunning Jenna Tales and it was filmed by prominent cinematographer Jack Flash who showcased Jenna in a devilishly delightful dominatrix-themed scene. Jenna's porn debut received a rave review from adult film blogger Caramel Black who enthused that;
"Jenna's sense of humor is as wicked as her body. If you can't tell by looking at her, Jenna is a Latina and a delightfully vocal model. You don't need me to tell you she's got a beautiful face and body, but when she's totally nude, this fox is ridiculously gorgeous".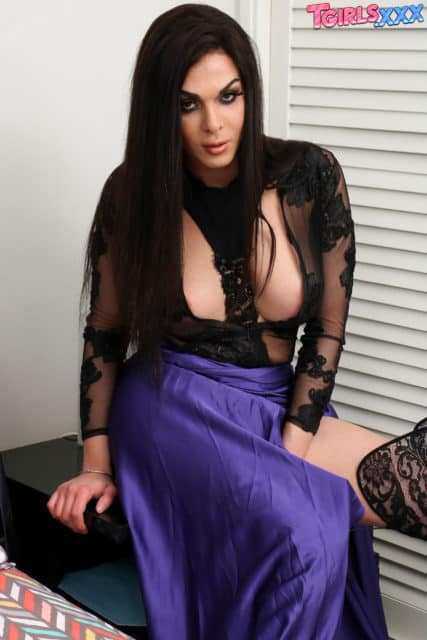 Cumshot Friday: Jenna Tales! – TGirls.XXX
Following the success of her porn deubt, Jenna started to film a wealth of sizzling solo scenes with Jack Flash for TGirls.XXX including Stunning Jenna Tales Strokes Her Cock in May 2016, Stunning Jenna Tales Fucks Her Fleshlight in July 2016 and Jenna Tales Masturbates For You! in August 2016. In June 2016 Jenna filmed her first ever hardcore sex scenes for TGirls.XXX with male porn star Lance Rider – Jenna Tales & Lance Rider Fuck Their Brains Out!. Not to  be missed!
Jenna has also filmed several sizzling hardcore sex scenes with prominent male porn star Christian XXX. Jenna and Christian's first hardcore scene was titled Latina Supermodel Pleases Her Man In Vegas and it was distributed via Christian's popular porn site Pure-TS.com in August 2016.  However, without a doubt, Jenna's fan-favorite Pure-TS.com collaboration has been her three-way with hot TS pornstar Aubrey Kate and Christian XXX in October 2016 titled TS Girlfriends Fuck Their Submissive In Vegas that was nominated for "Best Scene" at the 2017 Transgender Erotica Awards. Over the years Jenna has also been featured in many of Christian XXX's CX Wow DVDs including Big Booty TS POV Sex (2016) and Topped By Two Trans Girls (2018).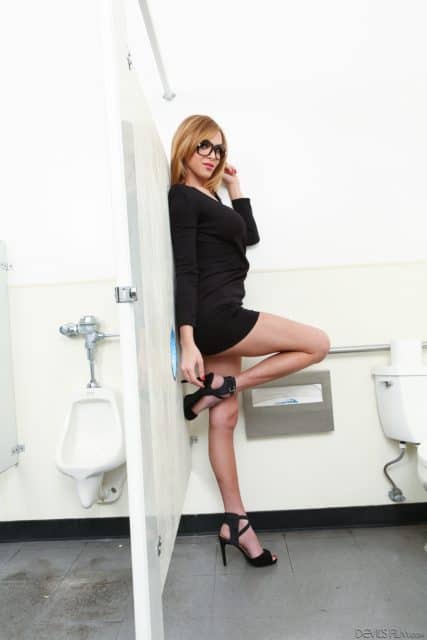 Jenna Tales in Tranny Glory Hole Surprise #3 – Devil's Film
But that's not all. In December 2016 Jenna Tales filmed her second hardcore scene for TGirls.XXX with Smash titled Jenna Tales Rides Smash' Big Cock! that was recently promoted via the Grooby Network porn site TGirlSex.XXX in May 2017. During this time Jenna posed for a festive themed solo shoot, titled Jenna Tales' Christmas Come Early!, which was uploaded via TGirls.XXX the week before Christmas in December 2016. Caramel Black raved about this captivating Christmas themed photo set, expressing within her online review that;
"South Florida's Jack Flash presents beautiful Jenna Tales in her 6th TGirls.xxx shoot originally released on December 19th. It's a Christmas Eve tale that shows Jenna waiting for her date, but he has to work late tonight. She promises that she'll wait before opening her present, but she can't resist seeing the surprise. It turns out to be a sexy Santa outfit and a nice big dildo she can't wait to break in! There's also a cute teddy bear and more lingerie. She asks us not to tell her boyfriend Jack that she's going to try on her sexy gifts before he gets home. I don't know if the producer or Jenna came up with the comical lines in this holiday scene, but they're quite funny and refreshing…This is a erotically fun little holiday porn masterpiece".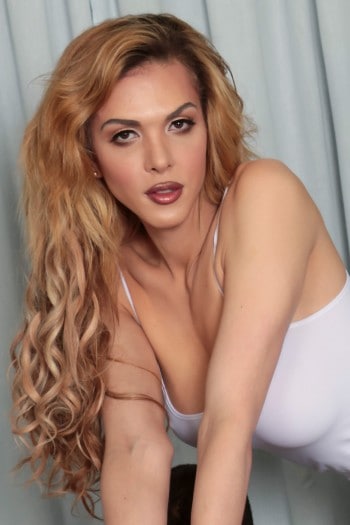 Jenna Tales at TGirlSex.XXX
One of Jenna Tales's most recent TGirls.XXX performances has been her steamy Jenna Tales Takes A Shower! solo shoot that was unveiled in January 2017.Most recently, Jenna has treated fans to a trio of TGirls.XXX scenes. You'll love viewing Jenna's saucy Jenna Tales' Sticky Cumshot! scene in December 2017, her sensual Cumshot Friday: Jenna Tales! scene in June 2018 and her hot Jenna Tales Gets Her Ass Pounded! hardcore scene with Fernando in July 2018. Must see sex scenes for Jenna Tales fans!
Despite having worked in the adult industry for less than a year, Jenna quickly amassed an ardent fan following within the United States and across the globe. In fact, Jenna received multiple award nominations at the prestigious 2017 Transgender Erotica Awards for "Best Hardcore Performer", "Best New Face" and "Best Scene" due to her titillating Pure-TS.com three-way with sexy TS pornstar Aubrey Kate and Christian XXX.  Fans of Jenna Tales will also be happy to hear that was showcased within a multi-page thread for the 99th issue of Transformation magazine in October 2016.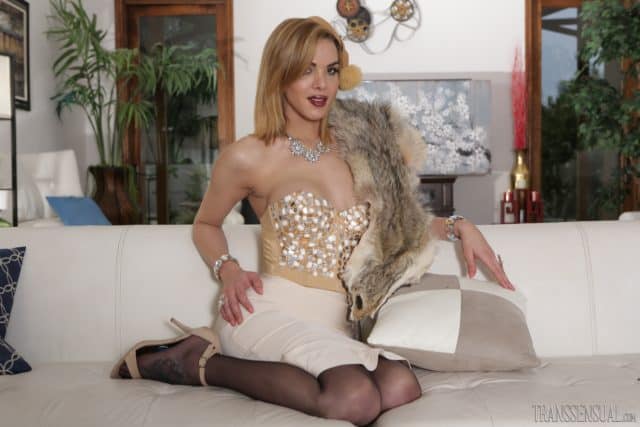 Jenna Tales in TS Girls On Top #2 – TransSensual
Hold on, it gets even better. In addition to her captivating web content for TGirls.XXX and Pure-TS.com, Jenna Tales also starred in many best-selling Devil's Film, Grooby Productions and Trans 500 Studios DVDs.We recommend checking out Jenna's raunchy scene with Jaxton Wheeler in the Devil's Film production Tranny Glory Hole Surprise #3 (2016), her seductive solo scene in the Trans 500 release TS Cock Strokers #26 (2017) and her sizzling scene with Gabriel D'Alessandro in the Evil Angel release TS Factor #8 (2017).
Jenna also starred in a raunchy Halloween Threesome with Ramon and Castro Supreme that was showcased in the Trans 500 DVD Transsexual Threesomes (2017), she shared a steamy scene with Chad Diamond in the TransSensual sequel release TS Girls On Top #2 (2017), she shot a raunchy prison role-play with Chad Diamond for the Powersville production Trans Prison (2018) and she was featured in the Evil Angel DVD compilation title TS Mega Cock Strokers #2 (2018) that was nominated for "Trans Release of the Year" at the 2019 XBIZ Awards.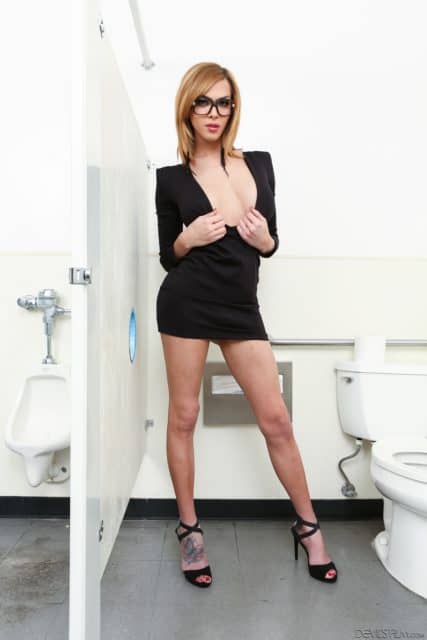 Jenna Tales in Tranny Glory Hole Surprise #3 – Devil's Film
Eager to  learn more about stunning rising starlet Jenna Tales? Then use the links provided below to discover all of Jenna's hottest sex scenes, exclusive web content and upcoming projects!
Jenna Tales – Social Networks
Devil's Film : Jenna at Devil's Film
Evil Angel : Jenna at Evil Angel

TGirls XXX : Jenna at TGirls XXX
TGirl Sex XXX : Jenna at TGirl Sex XXX
Trans 500 : Jenna at Trans 500
TransSensual : Jenna's at TransSensual

Adult Empire : Jenna's DVDs