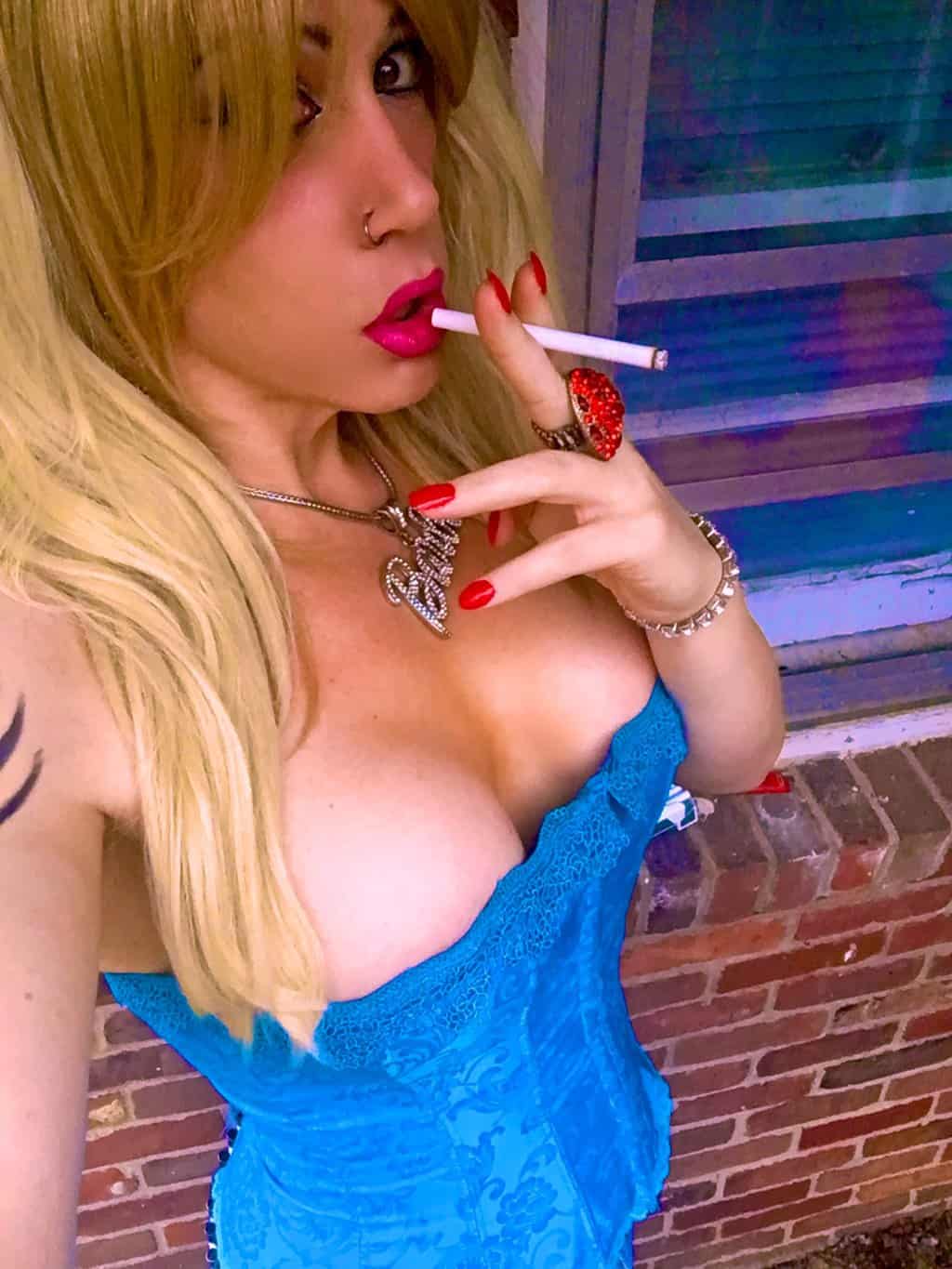 All images in this article have been used with kind permission of Kimber Haven (@kimberhaven)
Kimber Haven – Personal Info
Name : Kimber Haven
Date of Birth : September 17th, 1973
Star Sign : Virgo
Hometown : Danville, Kentucky (US)
Height : 6'2 (1.88m)
Hair Colour : Black / Brunette / Blonde / Red
Eye Colour : Green
Tattoos : Chinese characters travelling down the left side of her abdomen, a multi-colored sleeve on her upper right arm and a multi-colored fan design across her lower back
Piercings : Tongue
Pets : Two dogs (a pit bull named Tiggy and a beagle named Bruno). Talking about her pets in her XCritic interview, Kimber mentioned that;
"I am a dog person for sure and have 2 of them; both rescues that had love to give and just needed someone to love them back. I have a female pit-bull named Tiggy, and a male Beagle named Bruno. They are my babies and they are spoiled rotten. They may have not started off with a good life, but they have one now".
Years Active : 2016 – present
Number of Scenes : 10+
Kimber Haven is a glamorous webcam model, adult film star and producer who has amassed a loyal fan following within the United States and across the globe due to her amazing live cam shows that she hosts via Chaturbate. What sets Kimber Haven apart from her fellow webcam models is the perfect blend of erotica, humour and intimacy that she injects into each and every one of her sizzling live chat sessions. Combine these captivating live came shows with her sultry solo sex scenes for WendyWilliamsXXX.com and SM Strokers, as well as her hot hardcore collaborations for her official solo website Kimber's Playroom, and Kimber Haven looks set to remain as one of the most popular rising TS starlets in the adult entertainment industry!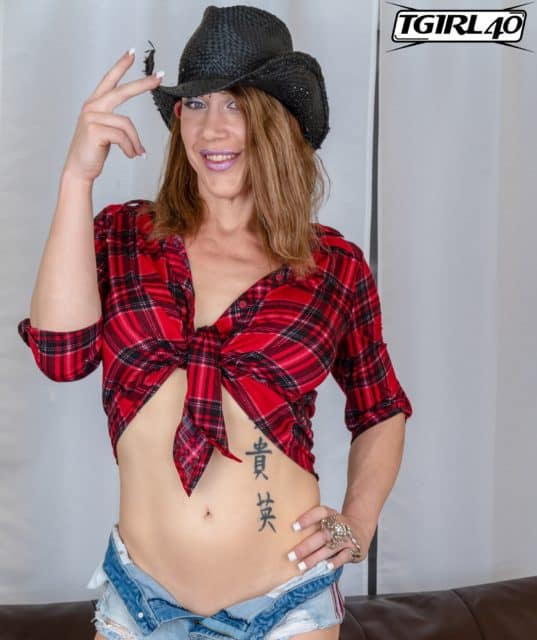 So where did it all begin? Born and raised in Las Vegas, Nevada, but currently living in Danville, Kentucky, Kimber Haven has been aware of her true gender identity from a young age but did not begin her transition process until she was 39 years old. Talking about her younger years during her XCritic interview with Apache Warrior, Kimber commented that;
"Oh, I always knew. I think all trans girls do. Of course a lot of us try and hide it from the world to prevent becoming isolated from our friends and family. I was no exception to that, so I was kind of like a reverse cross dresser. My male persona was a costume I wore for the world but the real me was always Kimber. I think it's that way for a lot of transgender girls…I was a total nerd, dork, geek, and spaz. I was in the chess club, yearbook club, dungeons and dragons club, and I spent all my time collecting and reading comic books. I didn't have many friends at all, and was in no way popular. I didn't get picked on a lot though because I'm a giant".
Kimber Haven discussed her childhood in greater detail during her January 2016 TS Dreamland interview with Caramel Black, revealing how;
"My earliest memory is when I was 8 years old and got caught dressing up like a girl by my daddy….whew..was he pissed! I never really felt I fit in because of my feelings as a kid. So I guess that's why I started doing comedy and celebrity impressions…to help me fit in and try to make friends. Of course back then I just thought I was a freak with how I felt because the transgender community we have now didn't really exist back then. So I had no idea there were so many others like me. The only exposure I ever had to girls like me where in the pornos…After my daddy came unglued, I repressed my feelings for a long time and they resurfaced when I was a teenager. My parents would spend all night out gambling at the casinos and I had the house to myself. So I would dress up and put on make-up (raiding my mommies shit) and grab our VHS camcorder and video… me trying to be sexy for the camera…..this was how I spent my alone time".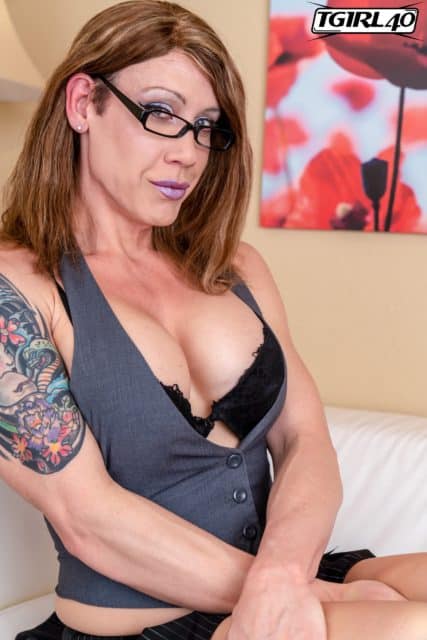 After graduating from high school, Kimber Haven worked as a heavyweight cage wrestler and celebrity bodyguard. During this time Kimber also became married and raised a son who serves in the US Marine Corps. Kimber commenced hormone replacement therapy in 2013 and has received the full support of her wife, son and mother. Kimber discussed her family life and transition process within her January 2016 TS Dreamland interview, conveying that;
"My family consists of two big brothers and my mommy. They had no idea and I came out to them about two years ago when I started developing from hormones and was afraid my days of being able to hide it and present as a boy were over. My mommy was awesome and always wanted a daughter anyway, so she was very supportive, despite the fact she HATED transsexuals because my Daddy was a tranny chaser. She'd caught him with a trans escort's number in his wallet once (lol….yep Daddy liked the chick sticks). My brothers turned their back on me…called me freak, man in a dress, gay…..so they were a little less supportive…lol. My oldest brother has come around a bit, but he hates what I do for a living. My other brother told my mom I'm nothing but a faggot who is going to end up getting AIDS and die…..lol. So he is still having a small issue with it and I haven't seen him since telling him. I also have a wonderful 20 year old son who is a Marine. He's a godsend and has had my back every since I came out to him and has been super supportive. He just wants me to be happy. He's a wonderful kid….he turned out great….I must have raised him right… Fuck, I should get Parent of the Year at the next TEA awards…lol. My wife has always supported me too. She's a very special lady…oh yeah…I'm married…have been for 15 years….to a smoking hot Latina goddess. She supports my transition and career 100%…..she oozes awesomeness…
She was magnificent in every way. Beautiful, funny, just all around wonderful and I hit the jackpot and had something really special and I knew it. Last thing I wanted to do was lose her. If you find the Holy Grail, you hold onto that shit tight (mostly because if you take it past the Great Seal, the whole place falls apart…oh shit…started thinking about Indiana Jones…fuck you Attention Deficit Disorder!). We rarely fight…maybe twice a year, but when we do, we make up for lost time and it ends up being a dozy. When I came out to her, it was a really bad fight and I thought we were headed towards a separation. So I laid it on the table…figured if we were gonna break up I might as well be honest. She took it very well….became my #1 supporter and it brought us even closer".
Kimber Haven is a natural born performer and has actually performed as a stand-up comedian and celebrity impersonator before she decided to pursue a career in the adult entertainment industry. As Kimber puts it in her own words;
"I've always been the class clown getting attention by being wild and making people laugh. I love making people laugh. It's like a drug to me. As for my celebrity impressions, well I've spent a lot of time watching movies and TV and would copy the voices I heard when I went to school to make people laugh. I have done a few stand up routines, but it was more a hobby than anything else…. something I wanted to try and look back on and say 'Hey, I did that'. I'm like that with a lot of things. We only get one go 'round and I don't want to look back and say, 'I wish I would have done that'. I want to look back at my lie and when I know it's over say, 'That was one hell of a ride….damn I had fun!'".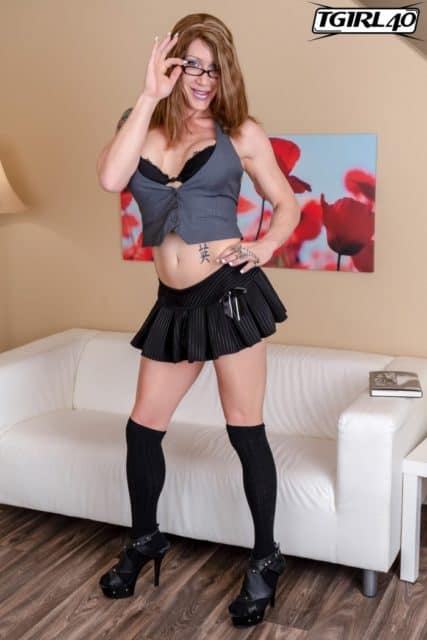 Kimber Haven : Webcam Modelling Shows & Feature Dancing Career
After she retired from her career as a heavyweight cage fighter and celebrity bodyguard, Kimber began performing as a webcam model via popular adult cam sites such as Chaturbate. Kimber instantly stood out from her fellow webcam models due to the thrilling, voyeuristic and creative nature of her live cam shows. Kimber has discussed her approach to webcam modelling during her January 2016 TS Dreamland interview, conveying how;
"I retired from a good career at 40 and got bored sitting on my ass at home. So I went on Adult Friend Finder and started camming, just to talk and chat with people to amuse myself for free. I got such a response and everybody kept saying, 'Why the hell aren't you doing this professionally?!'…
Too many cam shows are all the same. It irks me a little. A trans girl gets on cam…doesn't really talk to anyone unless she gets a tip…checks her Facebook…occasionally flashing a tit for a tip….jerks off…and calls it a day. Most don't even look like they are having fun. You know from watching my cam show I'm not like that at all. I don't see camming as a replacement for video….more like another way to enjoy sex that caters to the voyeur who wants to see the action live instead of a controlled environment".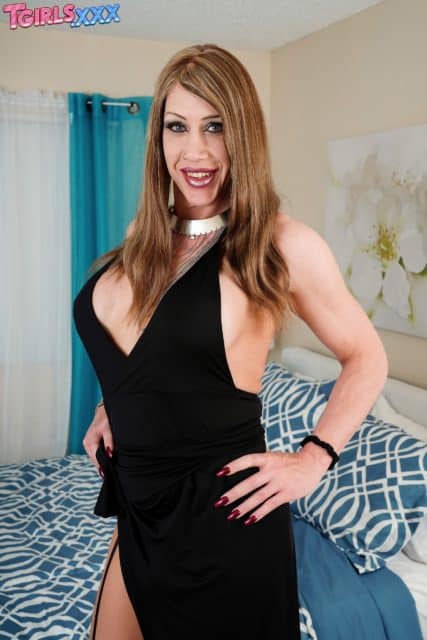 In fact, Kimber garnered such a loyal fan following from her lusty live cam shows that she was contacted by transsexual porn superstar Wendy Williams who offered her a job as an exotic dancer. In this manner, Kimber began performing some sizzling feature dancing shows as part of Wendy Williams' famous TGirl Parties in Lexington, Kentucky. Performing in these exclusive gentlemen's clubs piqued Kimber's interest in the adult film industry and enabled her to forge long-lasting friendships with fellow TS performers such as Raven Roxx. Talking about this period of her life during her XCritic interview, Kimber has revealed how;
"I began as a cam model, and became quite popular doing that because my show was unique and different than others out there. Porn legend Wendy Williams, who also lives in Kentucky, would cam to her fans and they would ask if she knew me. After she had heard my name enough, she hit me on Facebook, and asked me to come down to her T-girl party in Lexington. I of course did. We hit it off and before long she had me up on stage as a featured dancer. Later on, she asked if I would be interested in doing adult entertainment and the rest of my career evolved from there. My first scene was for Wendywilliams.xxx, then I did shoots for Grooby, and SM Strokers/Mancini Productions. I had so much fun and still am! I will keep doing porn as long as it's fun for me, and the fans like what I'm doing".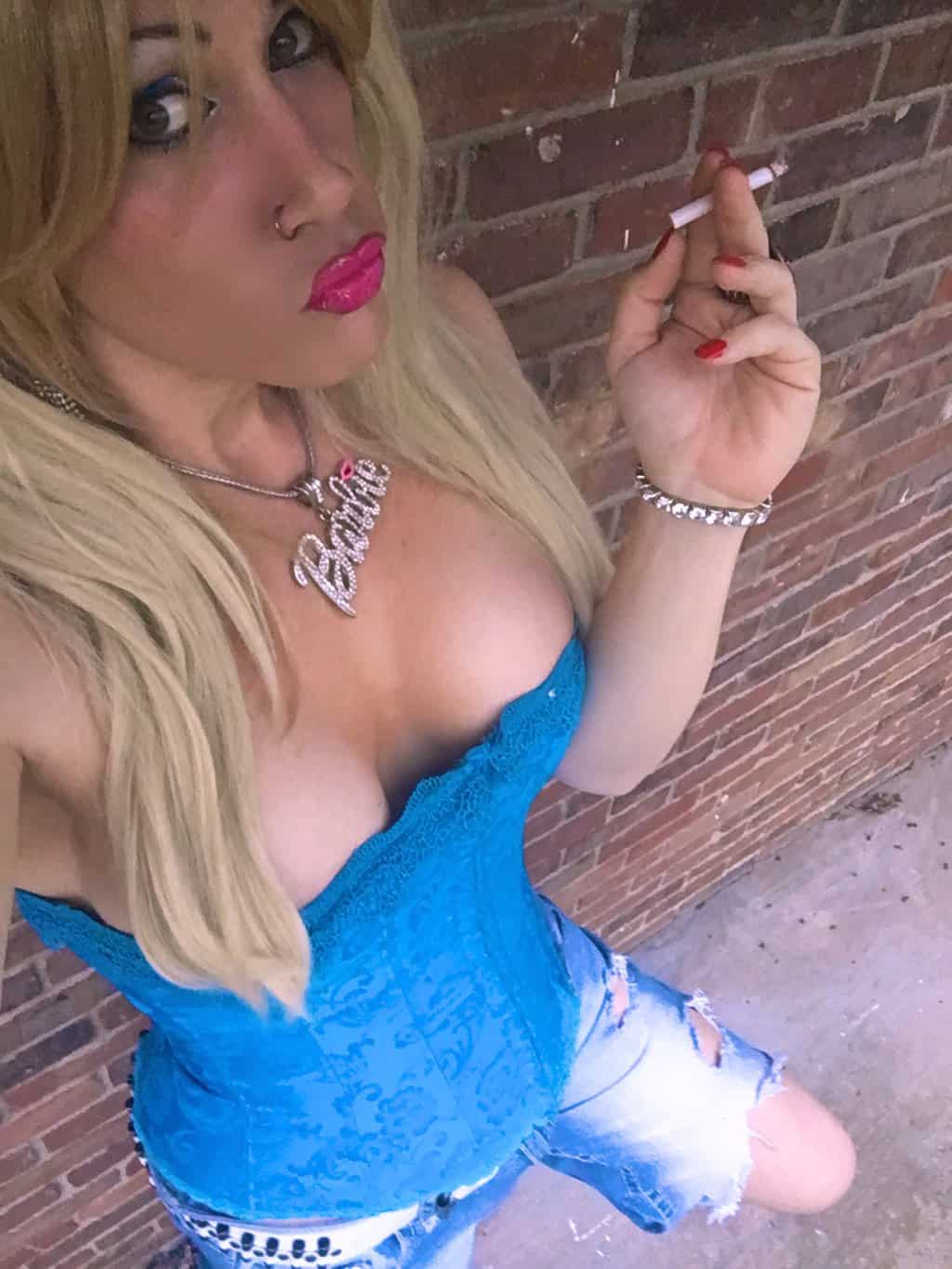 Kimber Haven : Adult Film Career
Following her successful debuts as a webcam model and exotic dancer, Kimber decided to pursue a career in the adult film industry in January 2016 whereupon she filmed her first ever solo sex scenes for Wendy Williams' popular porn site WendyWilliamsXXX.com that were titled Kimber Haven Black Lingerie. In the months that followed, Kimber proceeded to shoot a wide range of kinky solo scenes for WendyWilliamsXXX.com among which include her Kimber Haven Thigh High Boots, Kimber Haven Black Lingerie Video and Kimber Haven Toy Solo Video shoots that were all unveiled in February 2016.
In recent months Kimber has treated her fans to some sultry Kimber Haven In Pink and Kimber Haven Stroking solo shoots that were distributed via WendyWilliamsXXX.com in March and April 2017. Kimber has always been eager to express her immense gratitude to Wendy Williams for her ongoing support and guidance throughout her adult film career. As Kimber ardently expressed within her XCritic interview;
"Wendy is amazing. She will always be special to me. She believed in me and saw something in me when nobody else did. That will stay with me my whole life. Wendy not only took me under her wing, but she taught me so much about the business. I've had large studio shoots, DVD releases, won numerous awards, and have my own production company. None of that would have ever been possible without her seeing something in me and mentoring me. We are like sisters and we have fought pretty bad before because that's just what sisters do. I have mad love for Wendy and would do anything for her. I owe her a lot. There would be no Kimber Haven porn star if there was no Wendy Williams".
After making her adult film industry debut via WendyWilliamsXXX.com, Kimber Haven proceeded to pose for an alluring Meet Kimber Haven solo shoot that was filmed by Omar Wax for the Grooby Network porn site TGirls XXX in February 2016. Kimber swiftly followed her Grooby Network debut with an exclusive live cam show that was broadcast via the popular porn sites SMC Network, Interracial TGirl Sex and WendyWilliamsXXX.com on February 4th, 2016.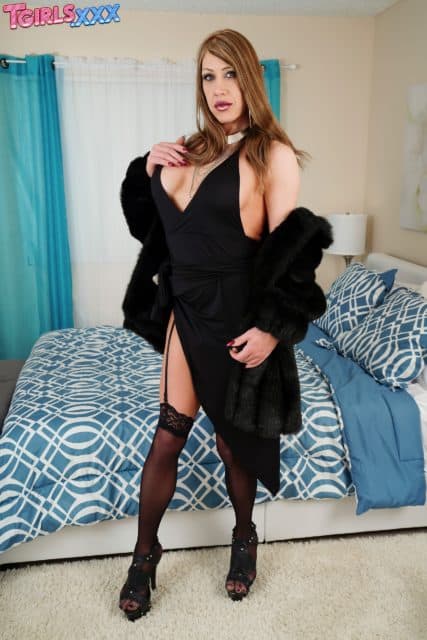 In addition to shooting these kinky web clips for WendyWilliamsXXX.com and TGirls XXX, in January 2016 Kimber Haven launched her official solo website, Kimber's Playroom, in collaboration with Model Centro. Having access to this exclusive multimedia platform has enabled Kimber to produce, perform and promote all manner of raunchy web content for her loyal fans.
Fans of Kimber Haven will not want to miss out on viewing her exclusive Old West Kimber cowgirl themed shoot, her sultry Shower Time solo sex scenes, her fiery Mistress Of The Dark femdom session and her captivating Wonder SM Battles Tranny Quinn cosplay caper. We also recommend viewing her sizzling Kimber Smokes smoking fetish shoot, her formidable Train That Sissy and Kimber Dominates Sissy Boys leather and latex clad femdom sex scenes, her raunchy Lunch Time collaboration with Raven Roxx and most recently her Billy I'm Horny and White Trash Tranny shoots; must see sex scenes for devoted Kimber Haven fans!
Kimber loves collaborating on these exciting new web clips for her solo website and she has enthusiastically stated via Kimber's Playroom that;
"This website is the only place where i will post my most playful, secret, and exciting pics and videos. I built this especially for you guys, my fans, so if you want to be a part of the secret special moments of the fun i have, create an account now. This VIP account will provide you all my updates for new shoots, trips i am planning, and performance dates, so if you wanna keep up with me, make sure you're keeping up with all of me I try and do a little something special for my new fans, so expect some exclusive live shows for when you get inside.. i like being real-time for all my fans, and i really like having fun and enjoying myself! Why not come inside, and have some fun with me?".
Much to the joy of her webcam modelling fans, Kimber Haven also continues to host regular live chat sessions via Kimber's Playroom and Chaturbate. As Kimber herself explained during her January 2016 TS Dreamland interview;
"As you know from my cam show, I'm a bit of a wild child and doing adult film shoots is where I need to be. I'm a very sexual person and a natural exhibitionist, so it just makes sense. Of course I will still be camming. I have a love for creating my own show, but I also am excited being someone else's clay and seeing their creativity when using me for a shoot as well. Whether on video or cam, I'm still gonna be the same wild, fun loving girl I'm known to be. And I think people are gonna respond to the fact that I'm genuine and I'm actually really having the time of my life in front of that camera…
I've always been a hardcore workaholic and thrown myself into everything I do because I don't do anything I don't have a genuine passion for. I didn't really market myself intentionally actually….. I just wanted my fans to have ways of contacting me and being able to talk to me so i got involved with social media. I LOVE talking to my fans from all over the world and answer everyone of them. I spend about 4-5 hours every day talking to my fans. I love it…they are so sweet and dedicated …one even started a Kimber Haven Fan Club – Vegas Chapter……they are so damn dedicated and I love them".
As mentioned above, Kimber loves interacting with her fans via her live cam shows and in person at adult entertainment expos such as Fetish Con, which she attended in 2016, and the AVN Expo, which she has attended in 2016 and 2017. Upon being asked about her loyal fan following within her XCritic interview, Kimber sincerely expressed that;
"I love meeting my fans, and I love that they actually enjoy what I'm doing. When I do porn, I do what turns me on and they respond to that. When a guy comes up to me and says, 'thank you so much I've jerked off to you almost every day', I smile and give them a hug, because it's a cool feeling. It lets me know I'm bringing enjoyment to people, and touching their lives in some way making their lives a little bit happier. By the time my fans meet me at an expo or award show, they already know me. I spend 5 to 6 hours a day talking to them, and respond to everyone who messages me on social media. So, when I meet them I've been talking to them like old friends; it's such a cool moment. They are more than fans to me".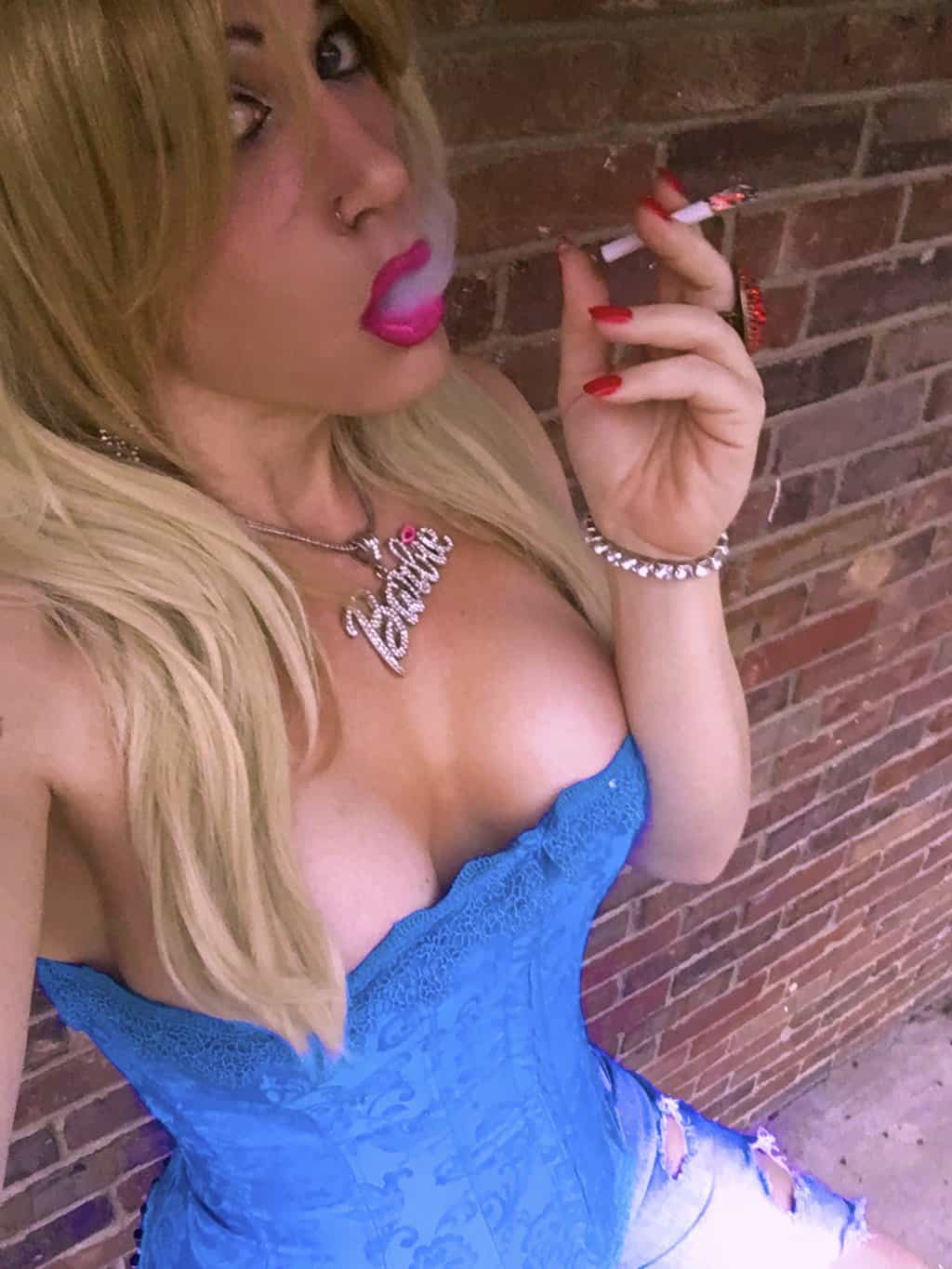 Kimber Haven : My Transgender Story: Becoming Kimber Documentary & Ask A Transsexual Porn Star Web Series
Over the course of her adult film career Kimber Haven has remained committed to supporting her fellow TS pornstars and has served as a role model for young aspiring trans women. Kimber has been incredibly open with regards to sharing her own transitioning experiences and in May 2016 she unveiled her short documentary, My Transgender Story: Becoming Kimber, via YouTube. This illuminating documentary detailed her personal transition process from 39 year old ex-heavy weight cage fighter and celebrity bodyguard Tracy to glamorous webcam model, feature dancer and adult film star Kimber Haven. Kimber discussed her motivations for shooting this documentary via a May 2016 Luke Is Back press release, highlighting how;
"Many people know about Kaitlin Jenner and that has helped acceptance of trans people, but it doesn't address the hell of your reflection not being you and how hard it is to transition. This is why I show before and after images in the video, which you rarely see…I hope this will inspire young women to make that change and be who they were born to be".
Eager to serve as a role model for young trans women, in June 2016 Kimber Haven unveiled the first installment of her Ask A Transsexual Porn Star web series which she uploaded via her official YouTube channel. From discussing on-set accidents and faking orgasms, to impersonating her favourite cartoon characters and shedding some light on her personal cosmetic procedures, Kimber endeavors to utilise this informative Ask A Transsexual Porn Star web series in order to educate her viewers about the everyday lives of transgendered women. Through her signature style of tongue-in-cheek humour and refreshing honesty, Kimber hopes to raise awareness and acceptance towards the LGBT community as a whole. As Kimber herself stated via a June 2016 AVN press release;
"My fans and people in general have so many questions, and I always want them to have the correct information…Educating people about being a trans woman will hopefully bring about more acceptance. It's like GI Joe said: 'Knowing is half the battle.' I hope that everyone will enjoy my weekly show and keep writing me".
Kimber's Ask A Transsexual Porn Star web series has received high praise from her fans and fellow adult film industry professionals alike. After all, as prominent porn blogger Holly Kingston reported in a June 2016 Fleshbot press release;
"This is a super thing and I love how she is making herself so available to people. A lot of people do not necessarily understand trans sexuality and even if you are not necessarily a trans porn fan, being able to freely ask Haven about her sexual journey even if her porn is not your cup of chai. Watch this episode and then say hello to her! I am pretty sure that you will be glad you did".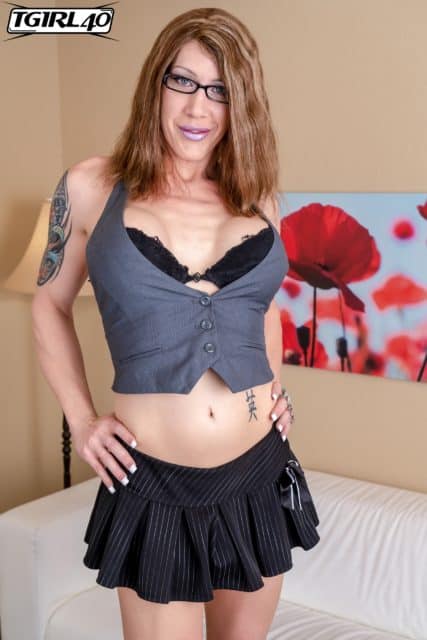 Kimber Haven : Bad Girl Maffia Productions, Radio Talk Shows & Upcoming Projects
A defining moment in Kimber Haven's adult film career came in July 2016 when she filmed her first ever solo sex scenes for Sammi Mancini's award-winning SM Strokers web series. Kimber was thrilled to work with famous adult film director Sammi Mancini and enthusiastically stated via a July 2016 All Adult Network press release that;
"I'm so happy I got to work with SM Strokers —they're one of the best and most popular t-girl sites around…Sammy's one of my favorite directors and it was amazing to work with him and his crew. Make sure to join sm strokers and let them know how much you love my scene, so they will shoot me again and/or put me on the cover of an upcoming DVD".
Throughout her prolific porn star career Kimber has continued to perform as an alluring exotic dancer at Wendy Williams' TGirl Parties in Lexington, Kentucky. In fact, Kimber has even performed within the Taboo Dream Studios DVD feature release Kentucky TGirls (2016). This popular porn production was first released in July 2016 and featured Kimber as one of its glamorous DVD cover models alongside sexy TS pornstars Wendy Williams and Britney Love.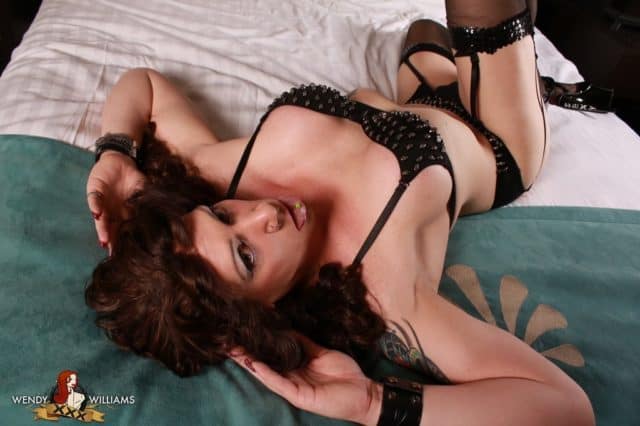 In September 2016 Kimber formed her very own porn production company Bad Girl Maffia Productions with Lexis Steel, Raven Roxx, and Lana Heart. Thus far, Kimber has produced and starred within the Bad Girl Maffia Productions XXX parody Dogg's Angels (2016) and is currently collaborating on another 80s themed parody release titled The T Team. Kimber loved shooting Dogg's Angels and eagerly expressed in a September 2016 All Adult Network press release that;
"We had an amazing time making 'Dogg's Angels' from the acting to the action to the sex…We tried to make it look like the original TV show with the logo featuring three female silhouettes with guns and an explosive background, Dogg's narration and that you never see his face, and the way the capers were laid out and all came together as a plan. This is my first parody, and I'm thrilled with the way it turned out."
When she isn't performing in porn, Kimber Haven thrives as a radio talk show host for the Demon Seed Radio Network. Kimber has made multiple guest appearances on the Gross Misconduct Live radio talk show and she was even nominated for several titles as the 2016 GML Awards including "Favorite Guest", "Most Interesting Guest", "Most Popular Guest" (per website page visits) and "Best Tranny Game Moment". Talking about her ongoing collaborations with Gross Misconduct Live during a December 2016 All Adult Network press release, Kimber mentioned that;
"I love the Gross Misconduct guys—they're so much fun and hilarious!…I'm honored to be up for so many nominations and can't wait to do their show again!".
In fact, Kimber Haven has proved such a popular guest on Gross Misconduct Live that it was announced in April 2017 that she would be hosting her own radio talk show! Titled The Totally Inappropriate Radio Show, Kimber and her Bad Girl Maffia Productions co-hosts Raven Roxx and Lexis Steel host weekly episodes of this raunchy radio talk show that is broadcast via the Demon Seed Radio Network. Kimber announced the launch of this taboo radio talk show in an April 2017 AVN press release, revealing that;
"It's always dream of mine to have my own radio show, and I'm glad that Bobby of Demon Seed is letting us loose—yep, it's like letting the Pitbull of the chain…Get ready to laugh, learn and not believe what you're hearing. We will definitely live up to the name of our show…
The Totally Inappropriate Radio Show will feature transsexual porn stars Kimber Haven and Raven Roxx and production manager/dominatrix Lexis Steel of the notorious Bad Girl Mafia. The show will feature controversial topics and porn star guests. All three ladies will be giving sex advice and the show is completely unfiltered, thus the name of the show. The first guest will be Bad Girl Mafia's first contract star Thor Johnson. Upcoming guests include Alura Jenson and MMAxxxofficial".
Thus far, Kimber and her Totally Inappropriate Radio Show co-hosts have interviewed fetish model Nyssa Nevers, trans pioneer Kourtney Van Wales, Chaturbate cam stars Pervy the Clown and his sidekick Kinky Candy, B-Dogg of Doggvision.com, MILF superstar Alura Jenson and the owners and talent from Birmingham, England's MMA-XXX.com.
In addition to her presenting projects and popular porn productions, Kimber has been named as a spokesperson for the sex toy distributors Adult Toy Overstock and she continues to post some raunchy reviews of their products as part of her Kimber's Toy Chest web series. Talking about these sex toy showcases within a November 2016 All Adult Network press release, Kimber saucily stated that;
"I love toys, and being able to get even more, use them in my videos and do reviews is very exciting…My fans always ask me what toys I like, and now they will know. I'm honored to work with ATO and Quentin and think this is going to be an amazing partnership".
Due to her sizzling solo sex scenes, hot hardcore collaborations, fantastic fetish porn web content and phenomenal live cam shows, Kimber has amassed a devoted fan following as well as a steady stream of coveted adult entertainment accolades. Listed below are some of Kimber Haven's most impressive adult film award wins and notable nominations to date;
2016: 1st Annual Fetish Con Awards winner "Best Fetish Alternative Performer"
2016: 1st Annual Fetish Con Awards winner "Best Transgender Alternative Cam Performer"
2017: Gross Misconduct Live Awards winner "Favorite Guest"
2017: Gross Misconduct Live Awards winner "Most Interesting Guest"
2017: Gross Misconduct Live Awards winner "Most Popular Guest"
2017: AVN Awards nominee "Favourite Trans Performer (Fan Award)"
2017: Live Cam Awards nominee "Best Shemale Live Cam Model"
2017: Urban X Awards nominee "Best Transgender Performer"
2017: Urban X Awards "Best Transgender Site" KimberHaven.com
2017: Fetish Con Awards nominee "Best Transgender Fetish Alternative Performer"
2017: Fetish Con Awards nominee "Best Transgender Alternative Cam Performer"
2018: AVN Awards nominee "Favourite Trans Porn Star (Fan Award)"
2018: AVN Awards nominee "Favourite Trans Cam Model (Fan Award)"
2018: Transgender Erotica Awards nominee "Ms. Unique"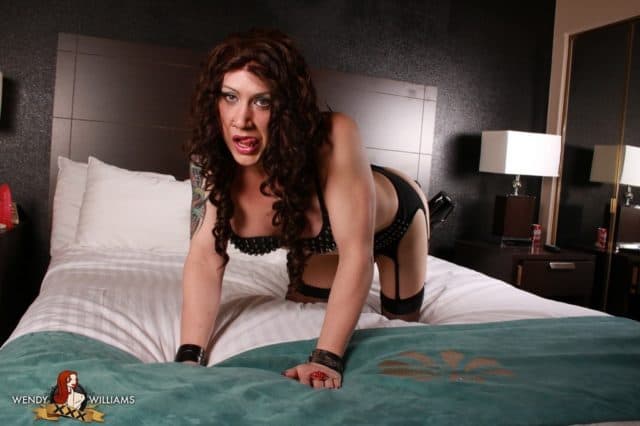 Kimber Haven is an extremely ambitious and hardworking performer who always remains focused on pursuing her next porn script, shooting some scintillating sex scenes and creating unique live cam shows. Upon discussing her down-time during her XCritic interview, Kimber has divulged that;
"I'm working non-stop, so I USED to have hobbies. I have my own production company Badgirl Mafia, and I'm always writing scripts and doing shoots. So, that's how I spend my 'down', time if you can call it that. When I get writers block, I may sit down and strum a bit on my electric guitar to relax so I can clear my mind, and get back to writing. If I get a rare chunk of time that I have absolutely nothing to do, I will binge watch Netflix, check on my stocks, and maybe make a few investments. I would like to say I go out and do exciting stuff in my free time, but that's not really the case for me".
However, despite her hectic schedule, Kimber Haven loves working in the adult entertainment industry. As Kimber put it in her own words during this XCritic interview;
"I love being able to reach people in a positive way and make them happy. Porn stars get a bad wrap, but at the end of the day they do something that brings enjoyment to so many people. Whether it's a lonely guy that got stood up on a Saturday night, or a couple in love looking to spice up their marriage with some naughty films. Few professions bring as much happiness into someone's private lives. I love doing something that people enjoy and that makes people happy".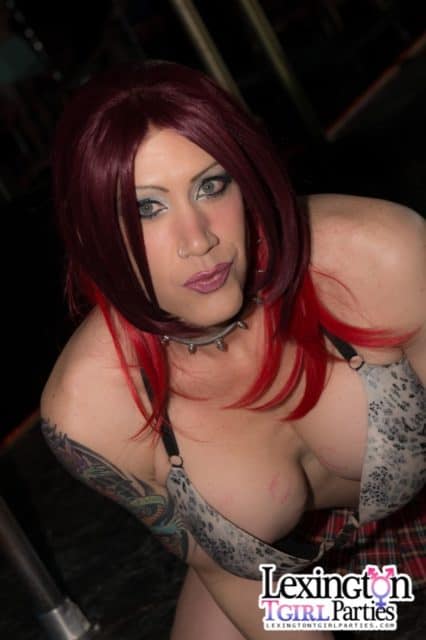 As such, fans of Kimber Haven can expect to enjoy all manner of exclusive new web content and kinky collaborations from their favourite porn star throughout 2017 and in the years to come!
Just can't get enough of Kimber Haven? Want to learn more about her upcoming T Team parody porn production, latest radio talk show appearances, lusty live cam shows and exclusive web clips? Then why not head over to her official social networking channels online today! Use the links provided below to ensure you don't miss one clip, cam show or photo set from captivating kinkster Kimber Haven!
Kimber Haven – Social Networks
Official Website : Kimberhaven.modelcentro.com
Twitter : @kimberhaven
Chaturbate : kimberlynnhaven
SMC Network : Kimber at SMC Network
TGirls XXX : Kimber at TGirls XXX
TGirl 40 : Kimber at TGirl 40
Wendy Williams XXX : Kimber at Wendy Williams XXX
YouTube : Kimber's Official YouTube Channel